Gun prices in 2022 continued to rise across the board, a strong indicator for both collectors and consigners alike going into 2023. While no future price predictions are certain, Rock Island Auction Company's past results demonstrate that when a class of collectible firearm experiences a surge in popularity, it's exceptionally rare for such guns to revert to former lows. In 2023, there are a number of vintage gun genres to watch closely as a new generation of firearms enthusiasts seek to enter the marketplace and veterans look to expand their collections.
When it comes to vintage gun collecting, value can vary considerably based on factors such as model, finish, grips, engravings, condition, serial number range, supporting documentation, and so on. The graphs included in this article use similar examples in their datasets and exclude multi-gun lots and notably rare examples such as prototypes, presentation pieces, and other extremely scarce and atypical gun models. Unless stated otherwise, the condition range used is 2 to 7, which consists of higher-than-average examples of the genre. The buyer's premium is included in the sales price, as this reflects what a gun collector was willing to pay to own the firearm in question.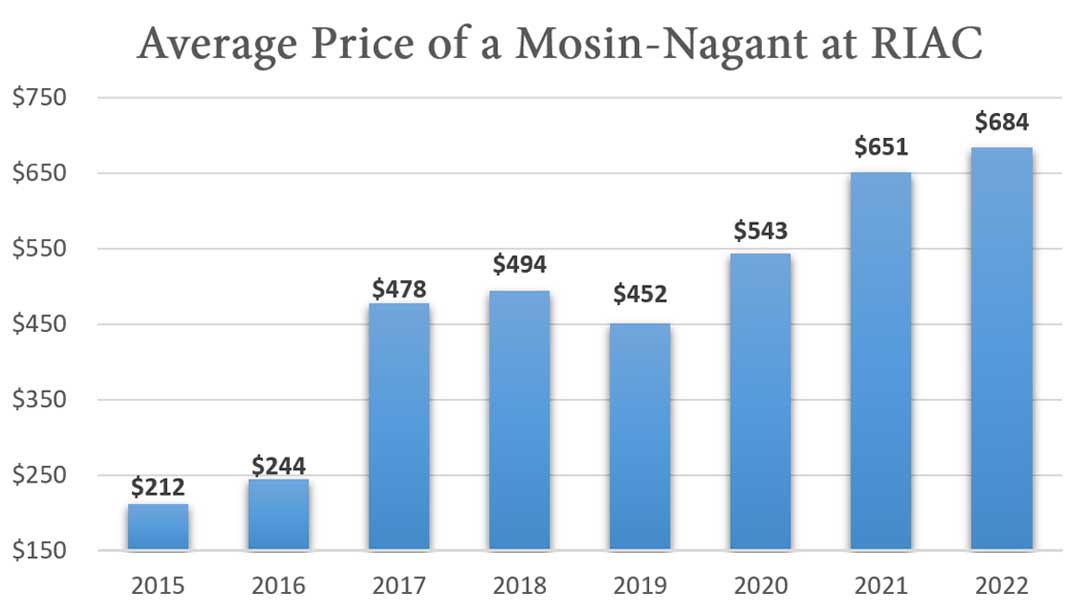 From the full auto machine gun to affordable vintage military rifles like the famed Mosin Nagant, gun prices in 2023 appear positioned to continue their historic uptrend.
Collectible Pistol Prices 2023
Old guns are in greater demand than ever, and the reasons are as varied as the firearms genre itself. Rarity and popularity, seemingly popular opposites, are both big draws in gun collecting. Vintage military pistols like the M1911 are prime examples, and the gun genre's 2023 price looks set to continue an impressive upward trend.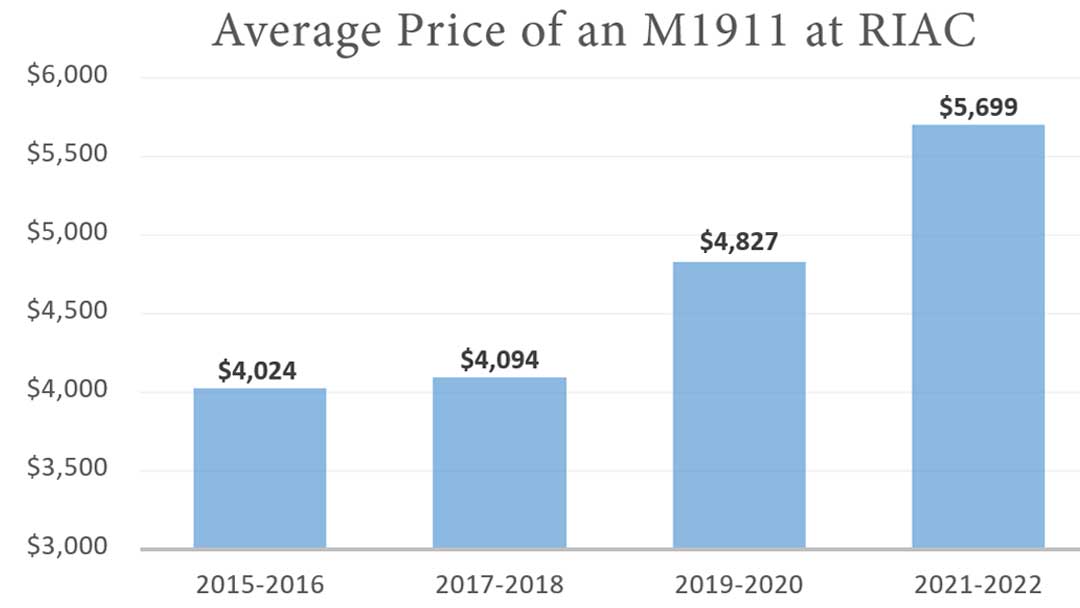 Judging by the continued interest in the M1911 pistol at Rock Island Auction Company since 2014, the famous gun's price seems likely to rise in 2023 as well. The examples analyzed were manufactured by Colt, Remington-UMC, Remington Rand, and Springfield Armory and consist of condition ranges of 2 to 7.
Since 2015, M1911 prices have steadily risen, jumping from $4,094 in 2017 and 2018 before rocketing up $733 dollars in 2019 and 2020, then continuing their impressive rally into 2021 and 2022 with an average price of $5,699. Even the chance to own a legendary pistol like the M1911 has spurred persistent price growth in the genre at every level of the collecting pursuit, including pinnacle examples like the first production M1911 pistol pictured below.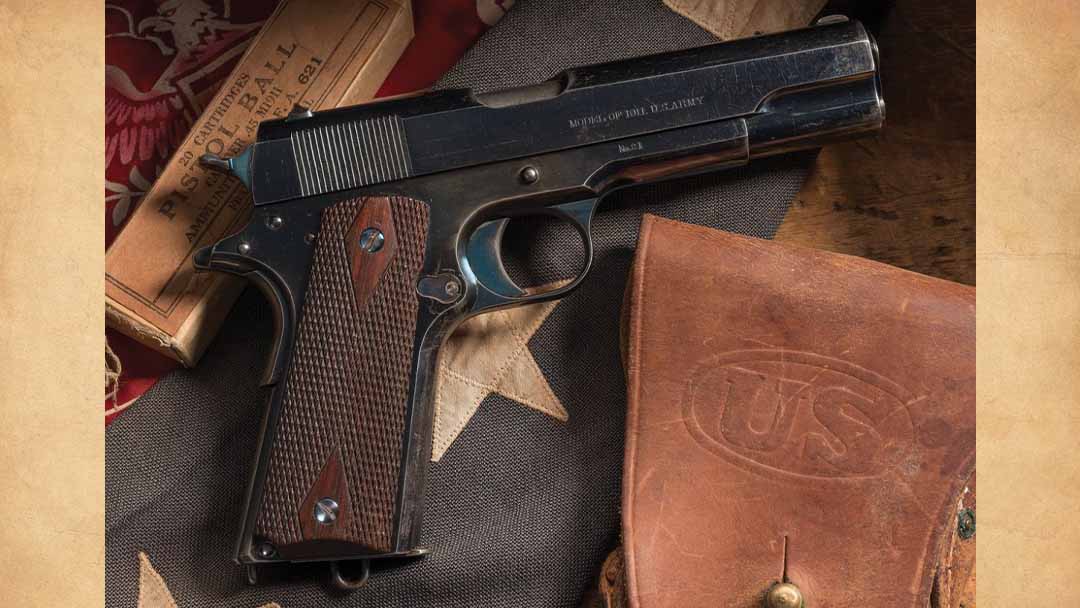 A top-tier example of the M1911 genre that was not included in the graph above. A U.S. Colt Model 1911, made in the first production year with Serial Number 21, earned the impressive price of $152,750 in RIAC's May 2022 Premier auction.
Similar trends can be observed in other WW1 and WW2 military pistols, including the Luger, the Walther, the Japanese Nambu, and early semi-automatic pistols such as the Borchardt C93 and C96 Broomhandle. Vintage guns hold their value and appreciate in nearly every instance, and in 2023's uncertain economy they provide collectors with a hard asset with investment potential as well.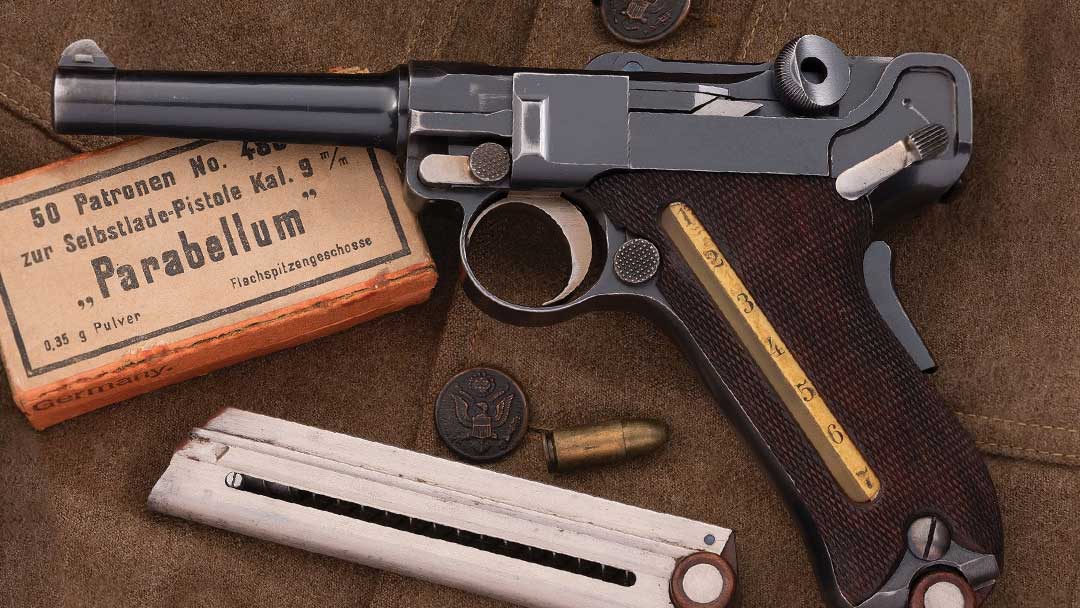 Vintage handgun prices in 2023 look to continue their uptick, especially rare examples of popular genres like the Luger. This U.S. 1902 DWM Catridge Counter Luger drew $70,500 in December of 2022.
Classic Revolver Prices 2023
From the Colt Dragoon to the Single Action Army, most antique Colt revolvers have seen significant price growth in recent years. As the gun collecting pursuit expands, comparatively modern classics like the Colt snake gun family have caught many a collector's eye. For the graph below, we'll examine the average price of one such example, the Colt Python Elite.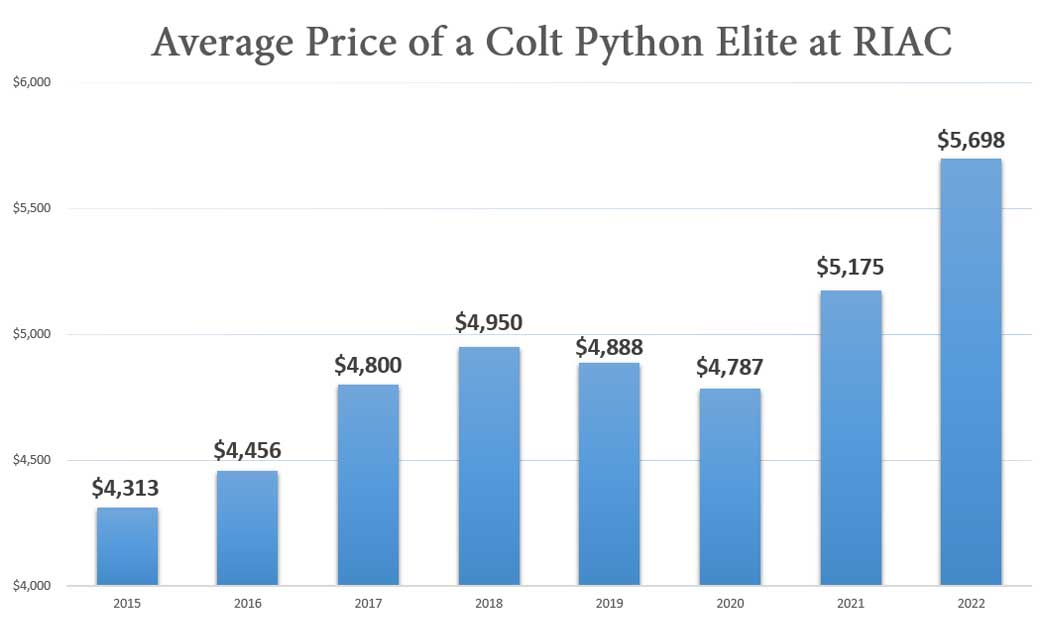 The average value of a Colt Python Elite at Rock Island Auction Company over the past eight years is a positive sign for the gun's price prospects in 2023.
The average Colt Python Elite price at Rock Island Auction Company trended upward from 2015 to 2018, suffering a slight decline the next few years before continuing its forward momentum and breaking the $5,000 price barrier in 2021. The average price for the gun in 2022 proved the Colt Python Elite's rise was no accident, reaching an astounding $5,698. Snake gun collectors should expect the genre to continue its strong showing in 2023.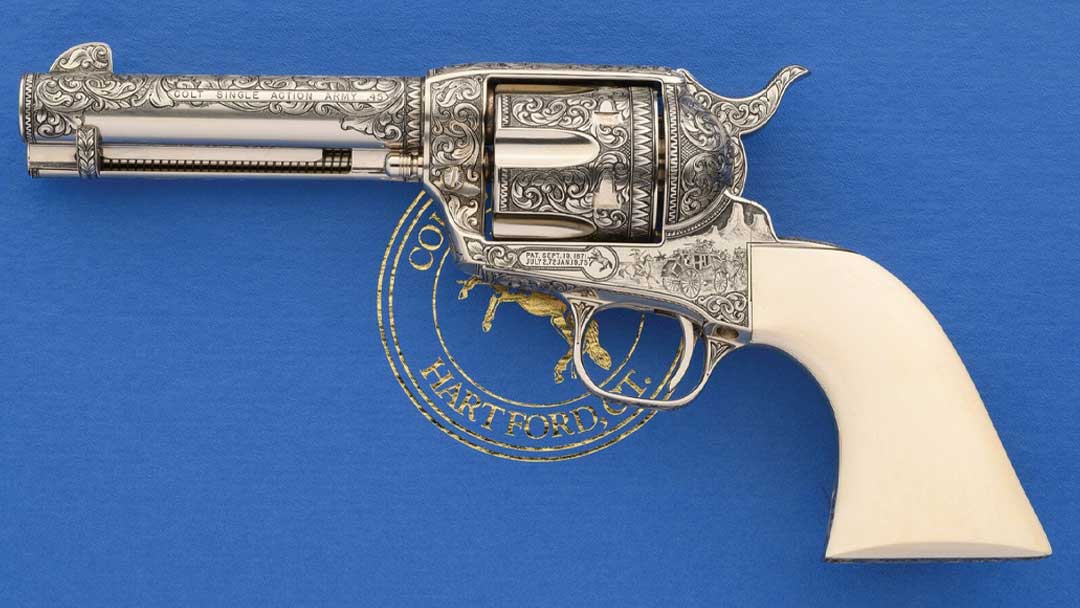 Another example of a classic Colt wheelgun genre making waves at RIAC, Colt Second and Third Generation SAA prices have exploded over the last few years, demonstrated by examples like this Michael Dubber Master Wells Fargo theme engraved Colt Third Generation SAA that more than quadrupled its price estimate and hauled in $55,813.
Going into 2023, rising prices for popular classic guns should come as no surprise. Collectors perceive the supply of vintage Colts as growing leaner, and genres like the Second and Third Generation SAAs represent comparatively scarce Colt wheelgun models that are still available at an attainable price point for a determined revolver aficionado.
Along with antique Winchester lever guns, 19th-century Colt revolvers like the Single Action Army are an unquestionable standout when it comes to holding gun auction price records. Savvy collectors value exceptional condition, and we'd expect any 19th-century Colt wheelgun that retains most of its original quality to fetch a handsome price in 2023 and beyond.
Vintage Shotgun Prices 2023
Classic shotgun prices are looking to continue strong in 2023 as well. Many sporting arms collectors have noticed the Winchester Model 21 putting up especially impressive numbers in recent years, though it can be difficult to objectively gauge these trends unless we examine models that share a specific set of features that are also common enough to provide the number of annual examples necessary to create a meaningful dataset. The graph below looks at post-WW2 Winchester Model 21 Skeet shotguns in 12 gauge chambering. All examples are unengraved and rated in "fine condition."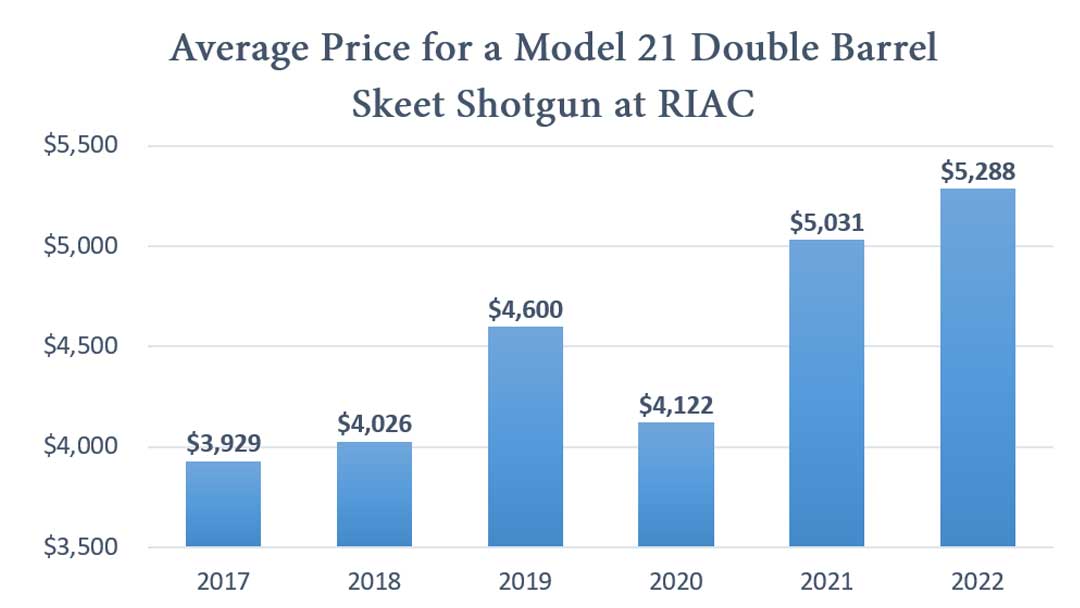 The average price of a post WW2 Winchester Model 21 Skeet shotgun in 12 gauge at Rock Island Auction Company since 2016 has seen a notable increase, especially in 2021 and 2022.
The average price of a Winchester Model 21 Skeet shotgun with the features mentioned above has risen nearly 33% since 2017, climbing from $4,122 in 2020 to $5,288 in 2022. Top-of-the-line models that were not included in the above graph, like the Winchester Model 21 Grand American, have seen similar spikes in value as well, regularly breaking the $40,000 mark like the breathtaking example below.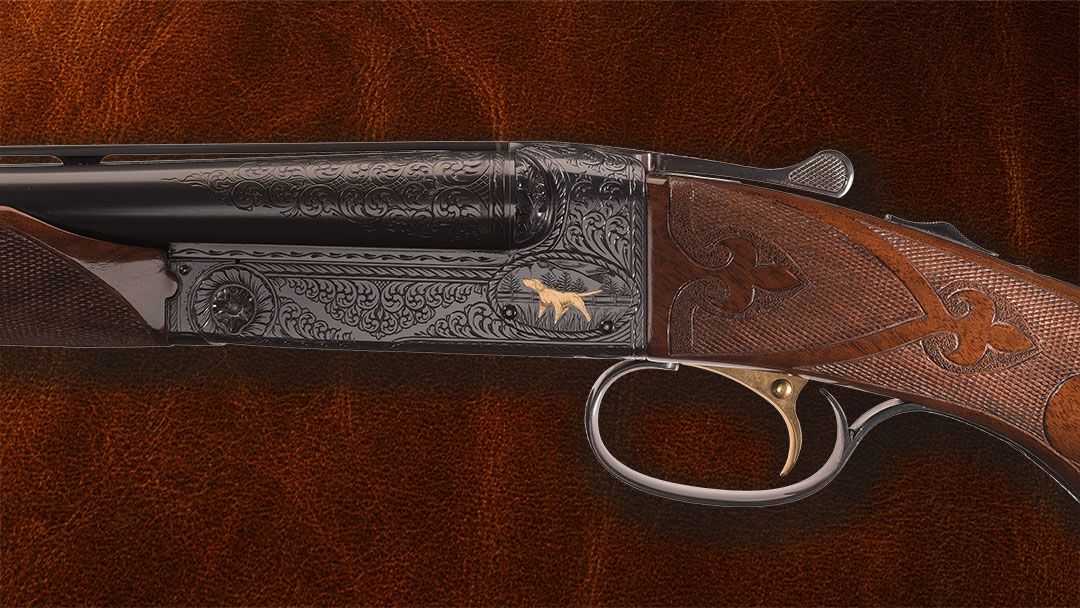 An engraved and gold inlaid Winchester .410 Bore Model 21 Grand American two barrel set with case inscribed to Edward E. Ulrich achieved a price of $44,063 in August of 2022.
Vintage shotguns from notable brands like John Dickson & Son, L.C. Smith, and Simson & Co. have recently seen similar price trends. From benchmark condition examples to pieces marked by a lifetime in the field, the market for classic sporting arms seems poised for a strong showing in 2023.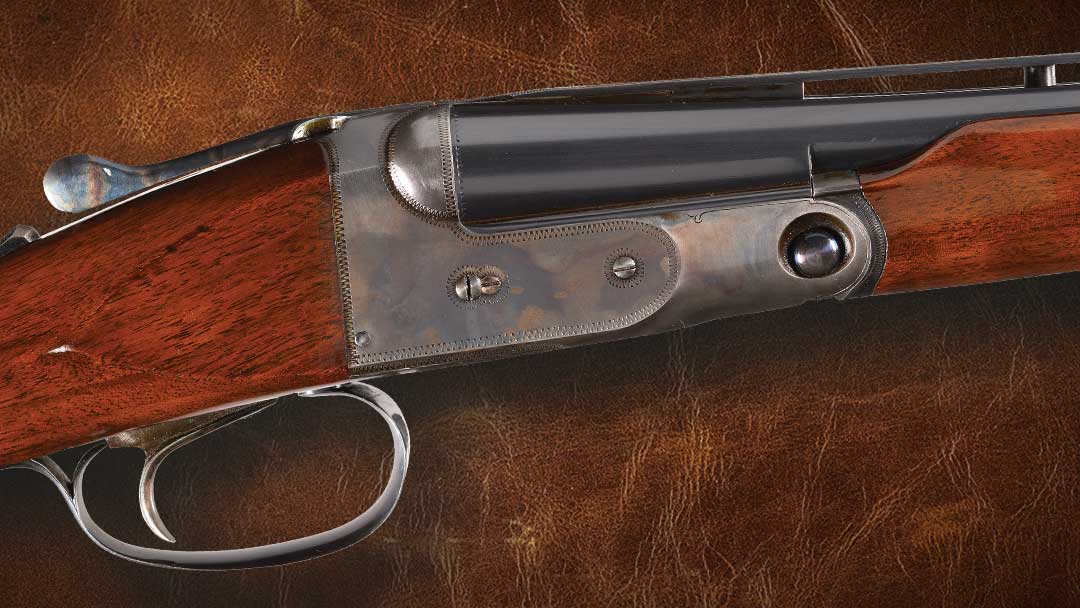 A Parker Brother .410 small bore VHE Grade double gun thundered past its high estimate to find $47,000 in RIAC's December 2022 Premier Auction.
Collectible Military Gun Prices 2023
It's hard to argue that any genre of gun collecting has experienced faster price growth than classic military arms. M1 Garands, K98 rifles, and combat shotguns have all seen their values rise dramatically. Long gone are the days when vintage military guns were so abundant they were modified for hunting or target shooting without a second thought. SVT-40 rifle values in particular have experienced a notable upswing at Rock Island Auction Company, rising in price more than 60% since 2018.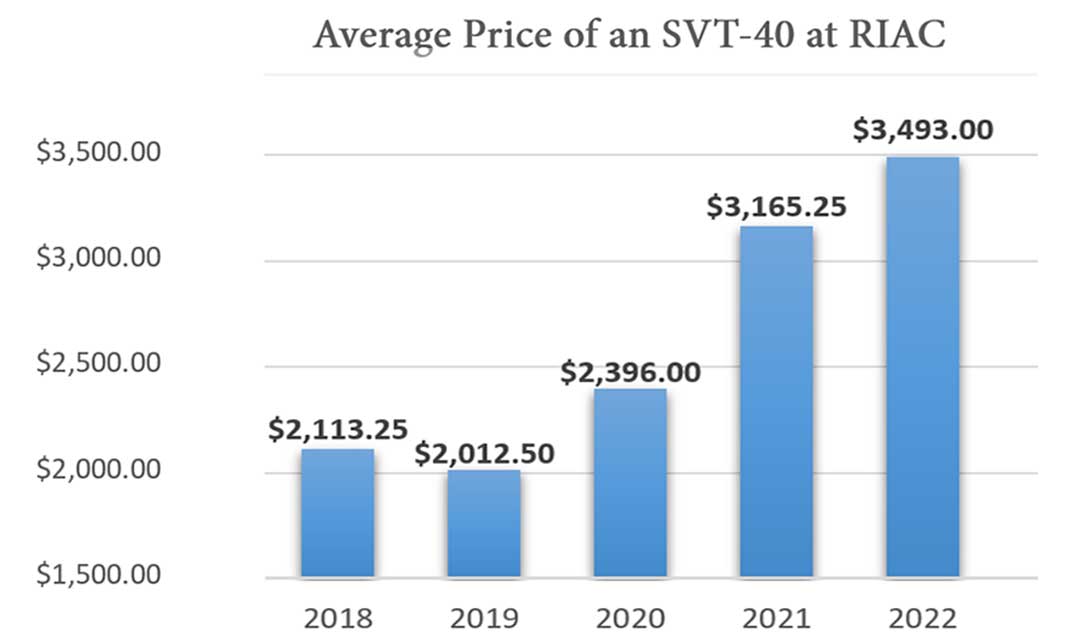 The average value of an SVT-40 at Rock Island Auction Company over the past five years demonstrates the undeniable strength of collectible military gun prices going into 2023.
The average SVT-40 rifle price at Rock Island Auction hovered just over $2,000 in 2018 and 2019 before making a steady ascent over the next three years and ending 2022 with an average of $3,493, an astonishing price for a gun that could be found for less than $1,000 dollars just a decade ago. Many other military surplus guns are following a similar trend.
Classic rifles like the M1 Garand, despite being fairly easy to find in the United States, have seen their average price at Rock Island Auction Company more than double from 2010 to 2022. When it comes to military arms in particular, a whole new generation of shooters and arms enthusiasts are coming of age and are willing to pay to enter the market, setting new price points as a result.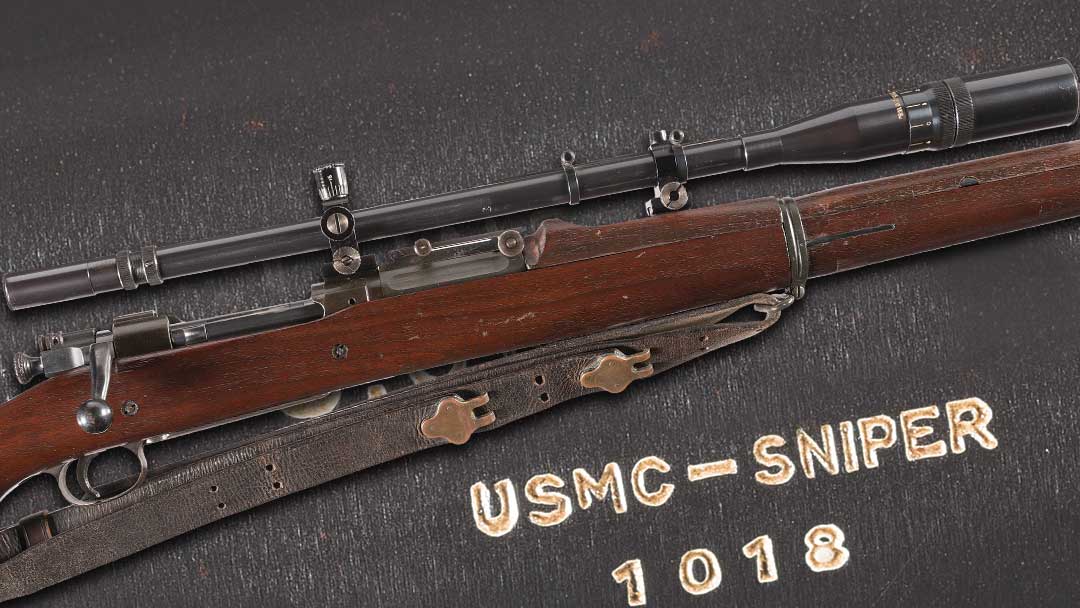 A U.S. Springfield Model 1903 bolt action rifle in 1942 U.S.M.C. sniper configuration earned a price of $18,800 in May of 2022.
Machine Gun Prices 2023
With their blistering performance in recent years, machine gun prices in 2023 should be on the radar of every savvy firearms collector. With an extremely limited pool available, no hope of additional supply, and an expanding interest in the genre, machine gun values were destined to skyrocket, but just how high have their prices soared?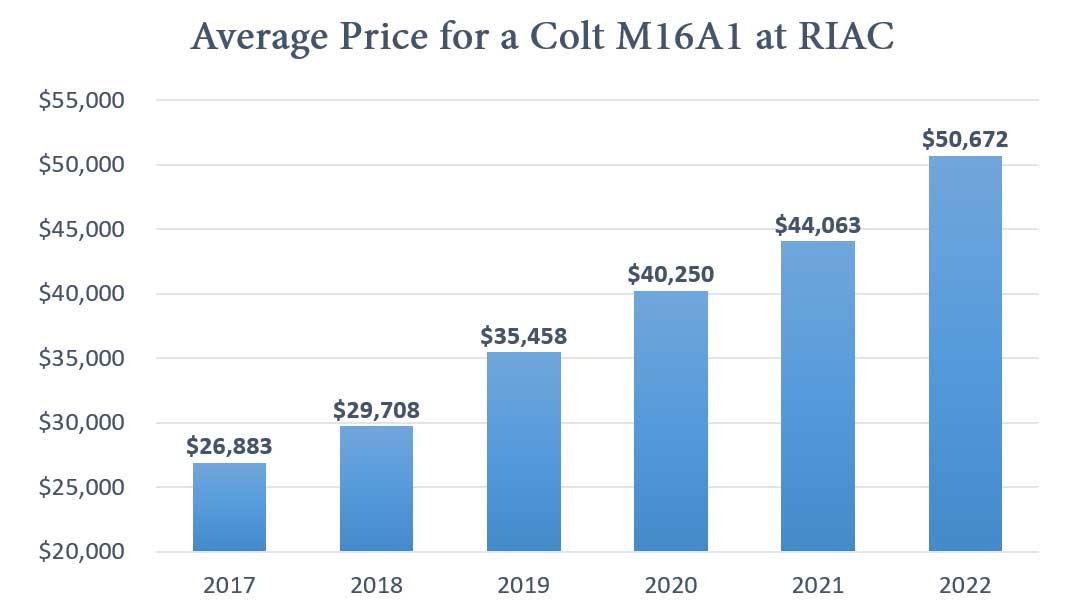 The average Colt M16A1 machine gun price at Rock Island Auction Company from 2017 to 2022.
In six years, the Colt M16A1 machine gun price nearly doubled at Rock Island Auction Company, climbing from $26,883 in 2017 and breaching the $50,000 mark by 2022. Though this M616A1 dataset offers far fewer examples than the other graphs included in this article, it still presents a snapshot of the expanding price ceiling not only for the Colt M16 family but the entire machine gun genre, as demonstrated by the six-figure price tag achieved by the Browning Automatic Rifle example below.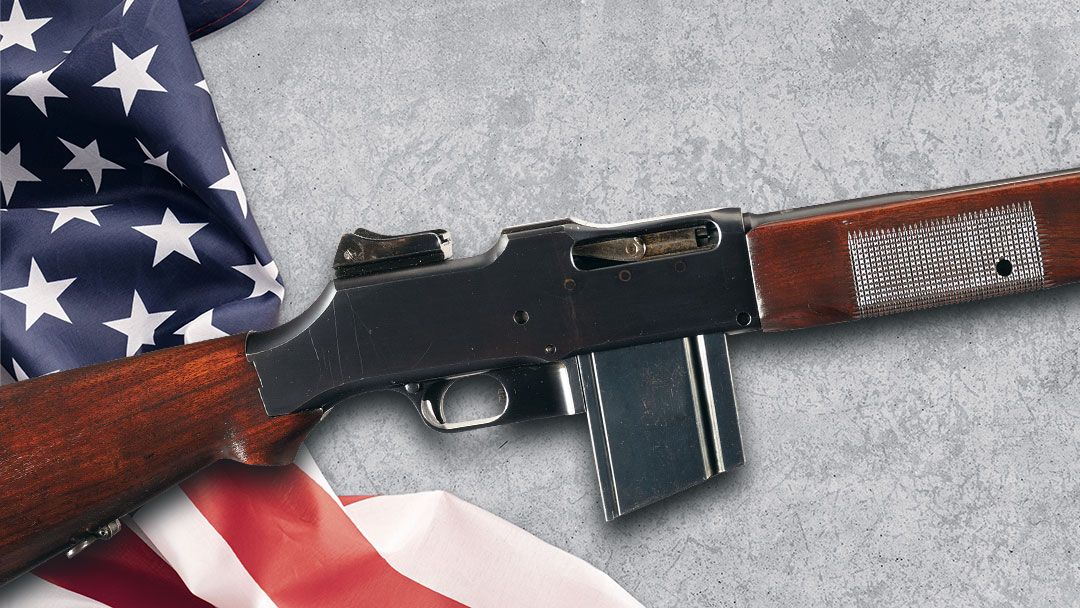 Another machine gun that achieved a six-figure price in 2022, this U.S. Winchester Model 1918 Browning automatic rifle stormed over its high estimate to collect $105,750.
Social media is also a likely factor in the dramatic upshift in machine gun prices going into 2023. Platforms like Facebook, Instagram, and numerous dedicated gun forums offer collectors and arms enthusiasts the means to share their love of heavy firepower in the field with a vast audience. Photos and videos of full auto machine guns in action are especially compelling, an invitation for fellow arms enthusiasts to participate where possible and seek to own some of these fantastic guns firsthand, so it's likely no coincidence that the growth of machine gun prices seems so closely paralleled to the rise of social media.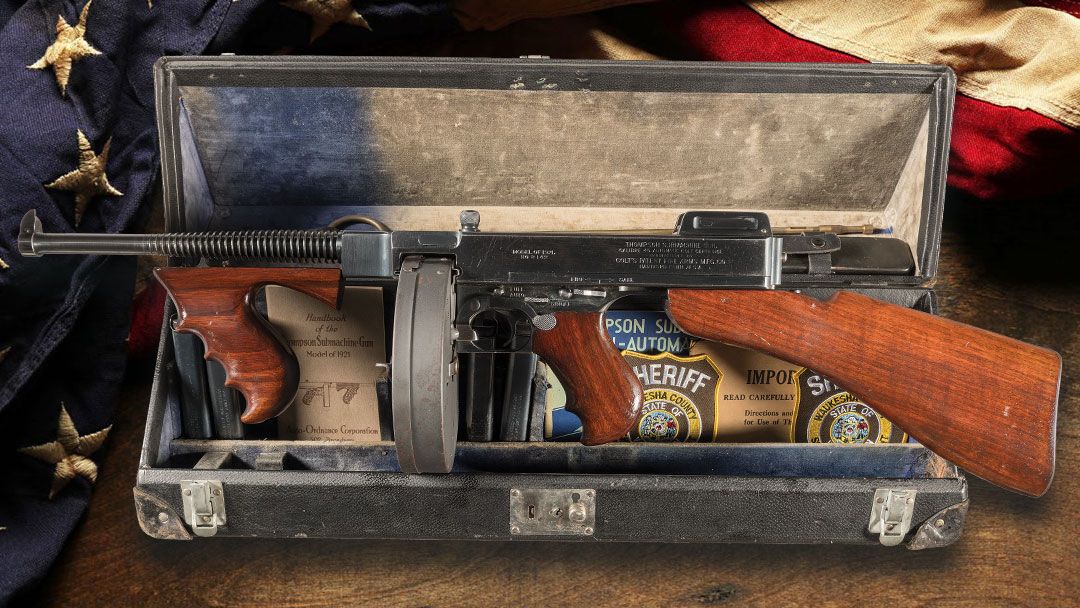 This law enforcement shipped Colt Model 1921 Thompson submachine gun found a price of $94,000 in August of 2022.
Antique Gun Prices 2023
In the United States, the gun collecting community as we know it today started after WW2. Firearms from previous generations, such as Civil War guns and Colonial era flintlocks, were growing increasingly scarce, and Hollywood films like 'Winchester 73' sparked a strong interest in authentic examples of the frontier firearms seen on screen. This demand resulted in higher antique gun prices, which continued to rise as gun collecting became more mainstream and accessible.
This phenomenal Sharps New Model 1863 percussion carbine reached an outstanding price of $94,000 in December of 2022.
The antique gun genre, or those firearms made in or before 1898, covers thousands of models, patterns, and styles dating back to the sixteenth century. Most antique guns have been commanding higher and higher prices at auction, with the most valuable examples demonstrating a combination of history, original condition, and rarity, like the handsomely decorated Liberty Bell pistols below that recently exceeded their estimated price by more than $33,125.
And of course, antique Winchesters remain one of the most popular genres in all of gun collecting. The appeal of vintage lever action rifles and carbines draws in multiple generations of arms collectors, shooters, and fans of frontier history. Thanks to popular media continuing to represent these fantastic firearms, the antique lever action's growth in both popularity and rising price point shows no signs of abating in 2023.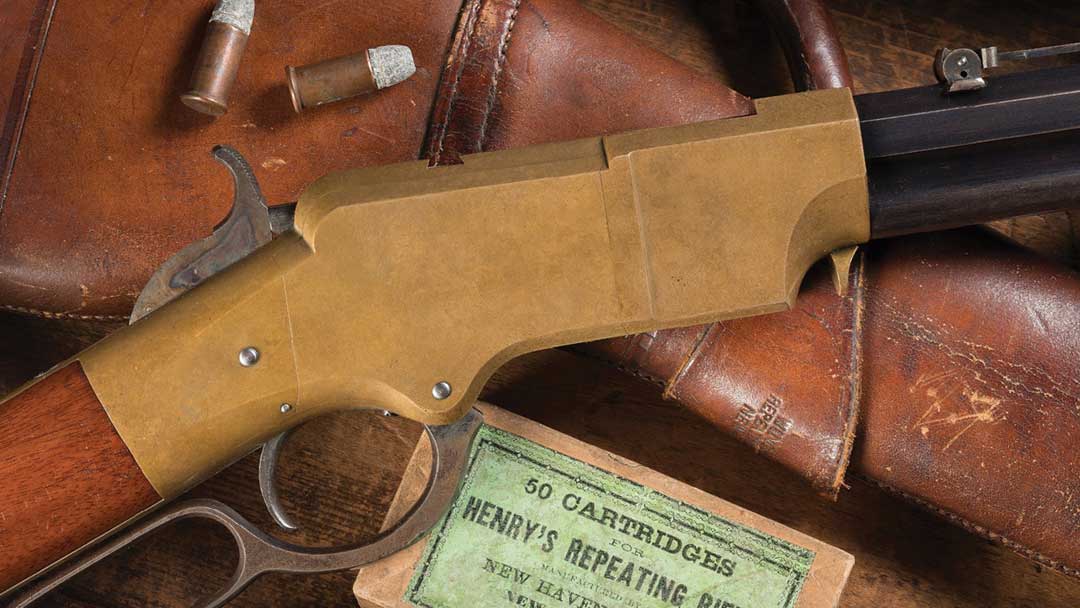 The Winchester lever action family and its predecessors have continued to earn spectacular prices, such as the $223,250 this early production Henry rifle earned in 2022.
Gun Prices and Trends 2023
Judging by the sales data presented above, the demand for vintage guns has only increased over the years, and the prices going into 2023 are likely to continue to reflect this ever-expanding interest in rare firearm models. Whether you're a greenhorn looking to break into the gentleman's pursuit, or a seasoned collector thinking about investment potential, the market for classic guns is hotter than ever.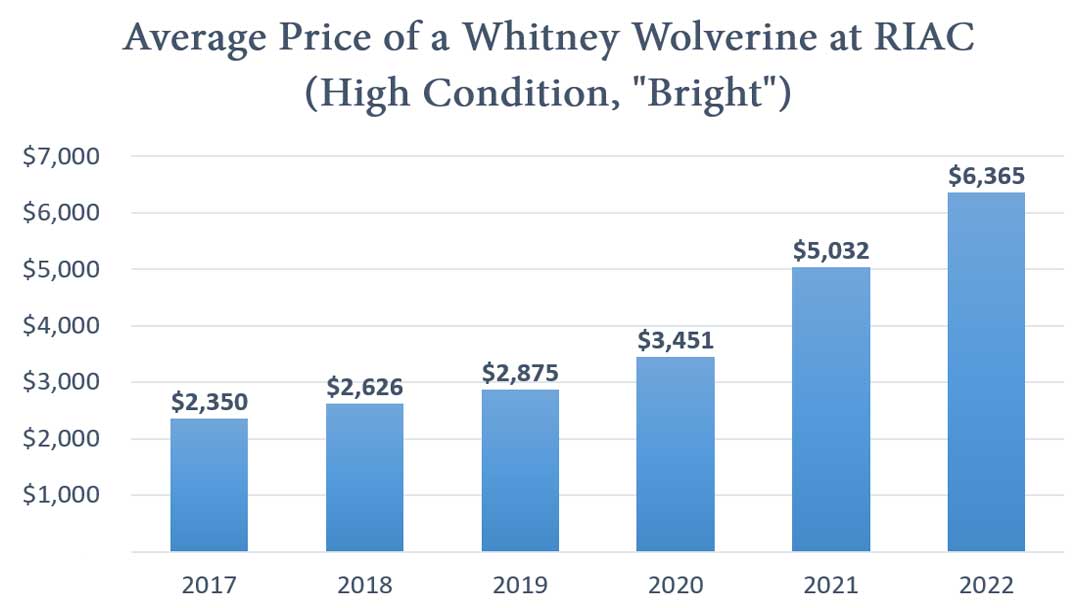 High condition Whitney Wolverine pistols not only more than doubled their price from 2017 to 2021 and rocketed up another $1,333 in 2022.
It's an exciting time for the world of fine arms collecting, so subscribe to the Rock Island Auction newsletter to receive new blogs on the latest gun prices and trends. The graphs in this article were created using the extensive data available in our past online auction catalogs, a free tool that's useful to any level of gun collector.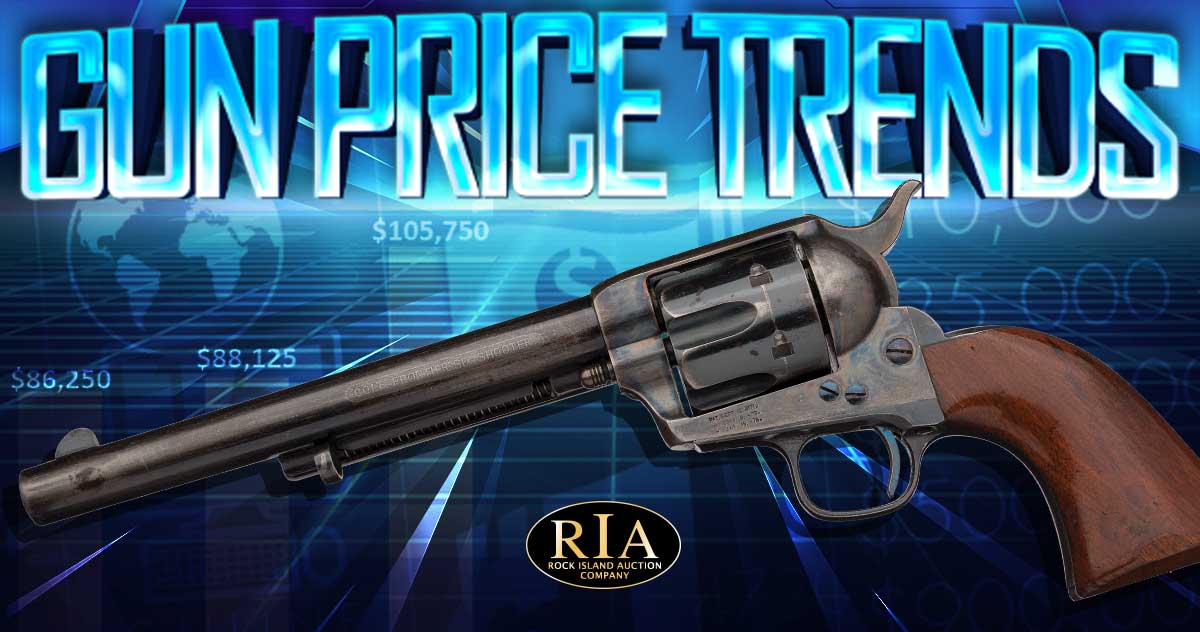 Rock Island Auction Company