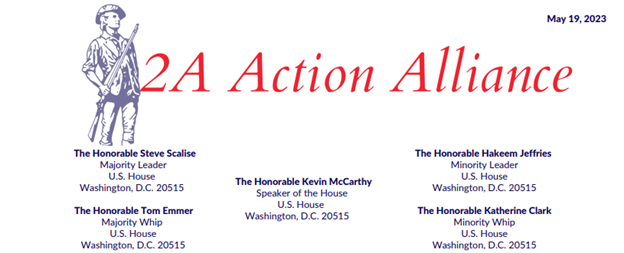 Dear Speaker McCarthy, Majority Leader Scalise, Whip Emmer, Minority Leader Jeffries, and Whip Clark,
We, the undersigned members of the Second Amendment community, urge that Congress reject the arbitrary and tyrannical ban on up to 40 million lawfully owned pistols by the Biden Administration. Congress must not sit on its hands while President Biden and the Bureau of Alcohol, Tobacco, Firearms, and Explosives (ATF) actively usurps the lawmaking process to ban millions of firearms.
Prior to the Biden Administration, ATF issued numerous interpretive guidance letters approving pistol braced weapons for manufacture, sale, and possession without additional restrictions, such as federal gun registration and fingerprinting. For nearly a decade, gun stores sold braced pistols and law-abiding gun owners added them to their collections and home defense setups. Despite there being millions of braced pistols in common use around the country, there has been no statistically significant rise in violent crimes committed with these accessories. They do not make a firearm more dangerous.
Firearm stabilizing braces were originally designed to help Americans shoot firearms that they would otherwise be unable to hold or aim. Braces now allow countless Americans with disabilities—or those who lack the body strength—the ability to shoot the best defensive firearms in a controlled manner. This made it infuriating for gun owners to watch Democrats in Congress misrepresenting these devices as excessively dangerous or capable of turning a semiautomatic firearm to fully automatic. The only unique feature of these firearms is cosmetic—a short barrel.
Despite this false narrative perpetuated by anti-gun politicians, Congress does not have the authority to regulate any gun based on its appearance or resemblance to "military" firearms. With the newest Supreme Court decision NYSPRA v. Bruen, the court correctly affirmed that any law related to firearms must be in line with the text and history of the Second Amendment. There was never a law during the founding era that banned firearms on appearances. The Second Amendment provides the federal government a clear mandate: "The right of the people to keep and bear Arms shall not be infringed."
Congress must, therefore, take threefold action to protect the American people against President Biden's unconstitutional gun ban:
H. J. Res. 44 and S. J. Res. 20 must be taken up pursuant to the Congressional Review Act in both the House and Senate, and the ATF rule must be overturned before it goes into effect on June 1st, 2023.
The Stop Harassing Owners of Rifles Today (SHORT) Act must be signed into law, preventing any future administration from weaponizing the draconian National Firearms Act of 1934 against the American people, by eliminating cosmetic regulations on barrel length, and destroying the federal government's gun registry of short-barreled firearms.
The ATF must be defunded and its ability to harass gun owners dismantled. Bureaucrats must be prohibited from enforcing these unconstitutional infringements on the Second Amendment, especially if President Biden will not sign either the Joint Resolution of Disapproval or the SHORT Act.
If Congress fails to take such actions, millions of Americans will be placed at the mercy and discretion of ATF agents' arbitrary actions. Remember your oaths to the Constitution and the American people.
In Liberty,
Paul Glasco
Legally Armed America
John Crump
John Crump News
Tim Harmsen
Military Arms Channel
Ricky Thompson
Friendly NeighborhoodGun Guy
Black Dawson
Midwest Ordnance
Greg Stewart
Erieshores Prepping
J.S. Mosby
The Idaho Newbie-Tubers
Gregg Chrissakis
OG's Danger Show
Mark Schmidt
The Idaho Newbie-Tubers
Eric Blanford
IraqVeteran8888
Alex Holladay
CTRL+Pew
Shermichael Singleton & John Keys
GunsOutTV
Jared Yanis
Guns & Gadgets
Hank Strange
Hank Strange
Omar Crispy Avila
Crispy11b
Braden Langley
Langley Outdoors
Steve Nelson
Montana MuSINGSOutdoor Channel
Matt Gant
Collier Civilian
Ronald W. Howard
Grey Beard's Garage
Ben Bekker
VC Coins Nevada
Andrew Log
Let's See What Happens
Ava Flanell
Gun Funny Podcast
Jack Gibson
Jack Rabbit 13
Russel Duke Elsea
The Main Man Channel
Jory Thomas
Rougarou Arms
Mark Davis
DLD After Dark
Micah Young
2A Edu
Richard Hughes
Flying Rich Firearms
Ron Wayne
Ron Wayne
Steven Watts
Fragout Designs
John Mullally
KB32 Tactical
Michael Fouty
Smash Time
Leonardo DiBlackio
Leonardo DiBlackio
Lynnard Barnes
Lynnard Barnes
Richard Dunlap
Angry Conservative
Steve Drew
Poppiescorner
Will Flatt
Minuteman4Jesus
Daniel Cunningham
G23Reviews
Tommy Black
Tommy of the Hill People
Michael Cammack
Sacrificial Science
Serfe E. Minott
Cititzen2ACitizenLLC
Chris Villafrance
Urban_Tarzan
John Bass
Wildhorse Firearms Unlimited
Andrew Niemann
Deep South EDC
Waune Owners
Myrphzlaw
Jason
JMPoutdoors
Brad Miles
RCing in SC
James Burke
0thebandit1
Lee Linebarger
JL Shooting Academy
Chris Ellefson
MinTac
Sage Eli
Bradesproduction
Officer Marcos C. Hernandez
Brother Maverick
Anthony Miranda
Armed Scholar
Joel Persinger
GunGuyTV
Clint Morgan
Magdump_Morgan
Jon Patton
The Gun Collective
Brandon Herrera
The AK Guy
The Gun Owners of America 2A Action Alliance has a combined following of over 30 million followers and supporters.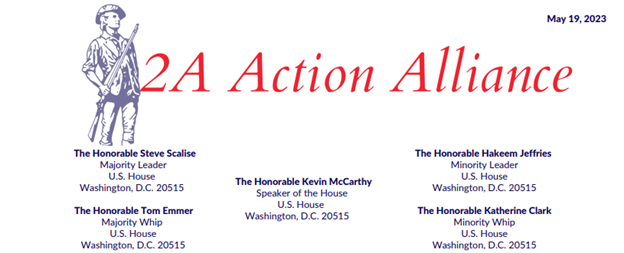 GOA