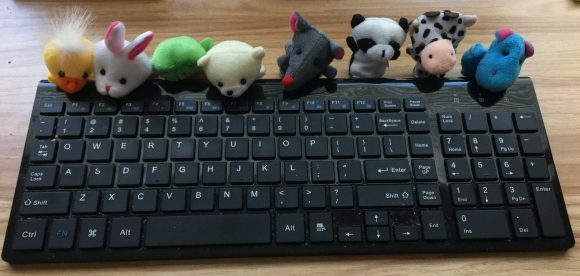 03/13/2022 – Never be too old to learn. As an example, I've learned that at least one of three elements should be present in all firearm articles to assure the article's appeal: short paragraphs to avoid reader boredom, the framing of firearms within martial context and, finally, hunting or trail defense firearms with a dangerous game backdrop. Above, my first attempt to connect. We now resume our regularly scheduled programming….
The Pistol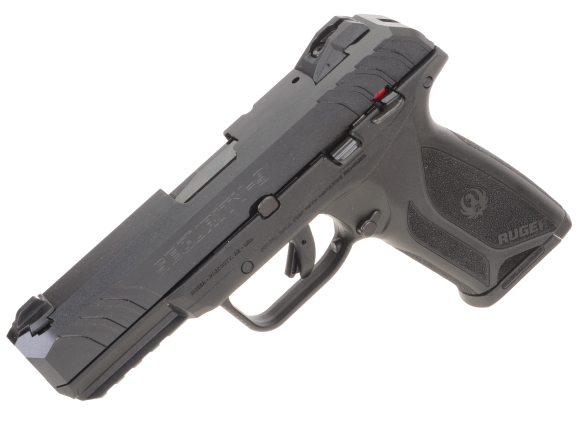 Ruger Security – 9




Manufactured

Prescott, AZ

Model

03810

Caliber

9mm Luger

Internal Chassis

Hard Coated Aluminum

Grip Frame


Long Glass Fiber Filled Nylon

Slide

Deep Hardened Alloy Steel

Type Action

Preset Hammer


Magazine Capacity

15 Rounds

Trigger Pull

5.1 Lbs

Barrel Length


4.0″

Barrel Material


Blued Alloy Steel

Rifling

1:10″ RH

Sights

Drift Adjustable


Overall Length

7.24″

Overall Height

5.00″

Thickness

1.30″ at Safety


Weight

23.8 Oz. With Empty Mag


Safety

Thumb, Trigger

State Approval CA, MA

No, No

MSRP

$459
The Ruger Security – 9 is an iconic concealed carry / self defense pistol. It is a durable, reliable firearm that will last through heavy use.
The Ruger Security – 9 is a relative compact, high capacity pistol, chambered for the 9mm Luger. The top half is alloy steel, the bottom half is comprised of a precision machined, hardened aluminum chassis, held within a long glass fiber filled nylon grip.
The aluminum chassis forms the slide rails and holds the hardened steel fire control components. The pistol is designed for any standard pressure 9mm Luger cartridge and can handle +P, but the manual contains a caution against the use of ammunition nonstandard +P+.
The action is a preset hammer, single strike, double action. The rearward movement of the slide cocks the hammer to approximately 95% of full travel, trigger pull provides the remaining 5% and compression of the pistol's mainspring before sear release. In short, the cycling slide does the heavy lifting, which makes for a relatively short, crisp trigger pull.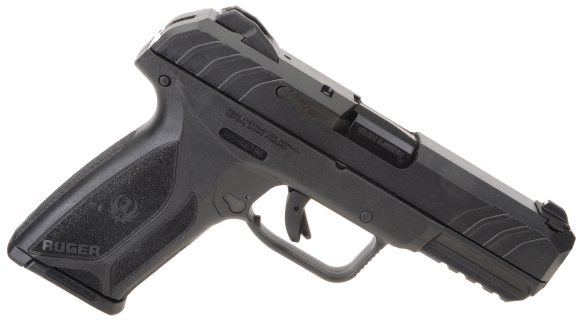 The trigger guard is formed oversize to accommodate gloved hands and an overtravel stop is molded inside the trigger guard. The front face of the trigger guard is ribbed to make it a more effective gripping surface.
The Ruger Security – 9 holds 15 rounds… although I am not sure where they are all hidden as the grip is absolutely comfortable and the trigger is within easy reach. The Security – 9 totally devoid of the feeling of holding a brick on edge that is so common in other 9mm Luger double stack pistols. There is a 10 round model offered for folks who live in blue states with oppressive governments that ignore the U.S. Constitution.

Topside, the Ruger Security – 9 has a flat, non reflective surface. Sights are dovetail mounted for drift removal, the rear sight is drift adjustable for windage. The sights are low profile to minimize the snag and tangle factor. The sight radius is a long 5 1/8″. The small opening at the aft end of the barrel hood allows checking for a loaded chamber.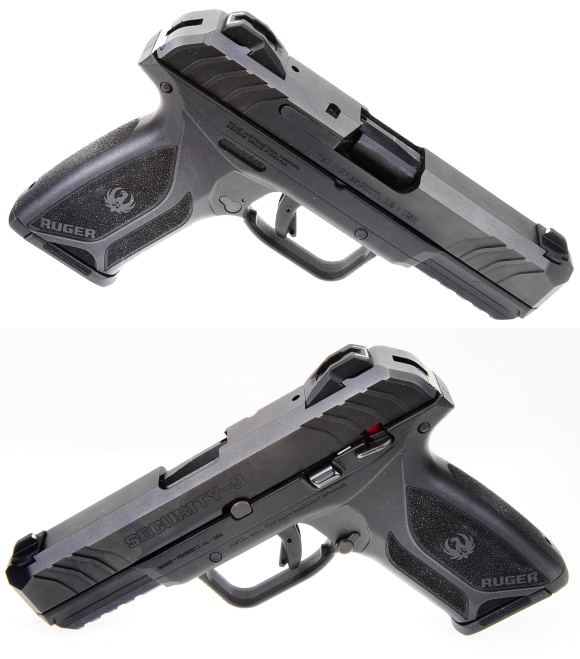 Control layout falls within auto loader conventions, each without the drama of excessive presence. Compression of the trigger safety is incidental to the trigger pull, the thumb safety position is positive and requires only thumb knuckle actuation. I like the magazine release, it is adequate and appropriate for its purpose.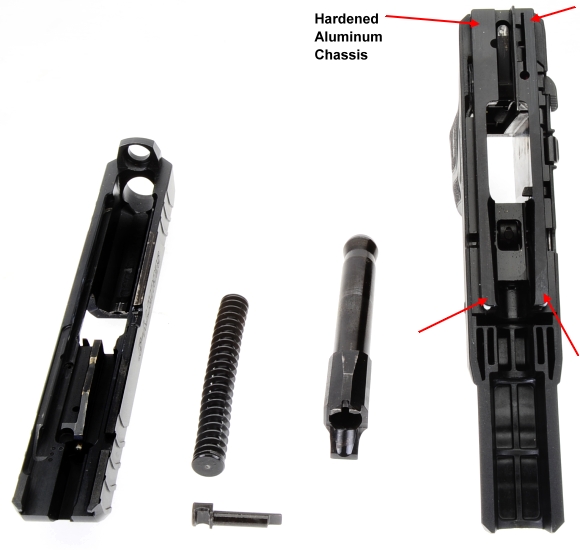 Clean assemblies across the board: alloy steel slide, captive recoil spring, ramped barrel, hardened aluminum chassis inset into poly grip frame. Long stretches of slide rail, arrows, provide a good deal of repeatable slide stability.
As a defensive weapon, there isn't a criticizum about the Ruger Security – 9. Its 4″ barrel and slab sides make for a pistol that is relatively easy to conceal and gives up little in ballistic performance to a 5″ barrel pistol.
From a rest, the Security – 9 can put up sub 2 1/2″ 5 shot, 25 yard groups. Better yet, the long grip supports all fingers and puts leverage on the side of the shooter. Subsequently, shot placement from a standing position is easily in critical areas of a silhouette target. And if you miss with the first shot? You have 14 more to sort it out.
A Carbine Packs More Power. Could Be.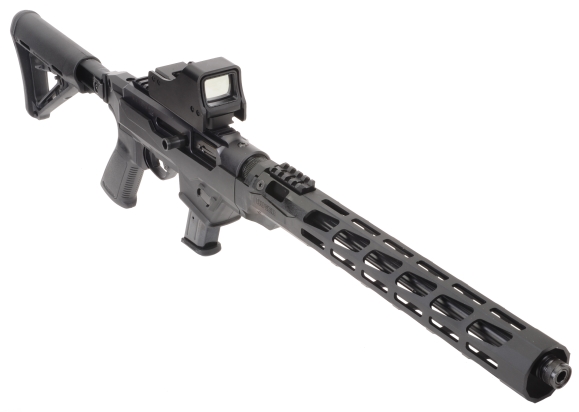 Ruger PC Chassis Carbine


Company
Ruger
Point of Manufacturer
Newport, NH

Model #

19122
Type of Action
Dead Blow = Blowback

Caliber
9mm Luger

Magazine Capacity
*17
Magazine Type
RugerSR9 / Glock

Barrel Length

16.12″ 1/2″- 28 Muzzle threads

Barrel Material
Chrome-Moly

Barrel Finish
Black Oxide
Rifling Twist Rate
1:10″ RH 6 Groove

Receiver Material
7075-T6 Aluminum
Receiver Finish

Type III Hard Coat
Handguard

M-Lok Free-Float

Handguard Material

Anodized Aluminum

Stock

Chassis System

Chassis Material
Glass Filled Polymer

Buttstock Type
Magpul MOE, Aluminum Mount

Length of Pull
10.5″ – 13.75″
Comb Above Bore ℄

0.5″

Heel Above Bore ℄

0.5″

Sight Accommodation

Picatinny Rail
Aux Sight Mount

Picatinny Rail

Trigger Type
10/22 Derivative

Weight – Actual

7.3 Lbs

Overall Length
32.25 – 35.50″
Safety
Cross Bolt

MSRP
$979.00
When the Ruger PC Carbine was reintroduced a pistol caliber carbine in December 2017 and Ruger aptly dubbed it… the PC Carbine, I was shocked, amazed and awestruck.
In fact, I distinctly remember thought bubbling, "Huh? Wait.. What?".
Now there are nineteen models, a composite of 9mm Luger and 40 S&W chambers. The PC Carbines are all well made, function reliably and are a manifestation of thoughtful engineering.
The PC Carbine is fun to shoot and both 9mm Luger and 40 S&W ammo are relatively inexpensive in factory or handloaded form.
Truth be told, when introduced, the PC Carbine's looks and system origins caused me to dub them a firearm platypus; a unification of high functioning systems that might, in some ways, lack aesthetic synergy.
That began to change substantially when Ruger offered configurations with free-float handguards and then finished the job with this chassis system version.
The platypus has evolved into a pit bull or, at the very least, a honey badger with significant attitude.
There is more. The Ruger PC Carbine clearly is the nucleus of a highly configurable system, with growing support from both Ruger and third party suppliers of parts and accessories.
A not so quick walk-around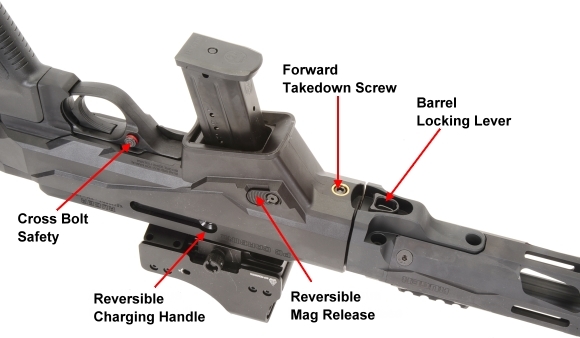 I think we get most of the salient controls and hardware in the above shot. The cross bolt safety is positive in actuation and it is easy to read its status. The charging handle, shipped right side, can be installed for either left or right side operation. The magazine release is supplied installed on the left side, but can be swapped to the right side.
Removal of the front takedown screw and one rear top takedown screw allows the chassis to be removed. As a takedown firearm locking the bolt back, depressing the barrel locking lever and rotating the barrel/handguard assembly counterclockwise breaks the gun down.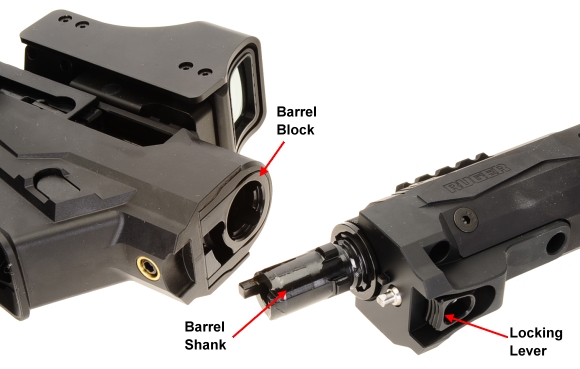 While it is easy to removed the barrel from the action, the lock up is tight. An adjustment knob on the barrel assures the union will remain tight and precise with heavy use and over long periods of time.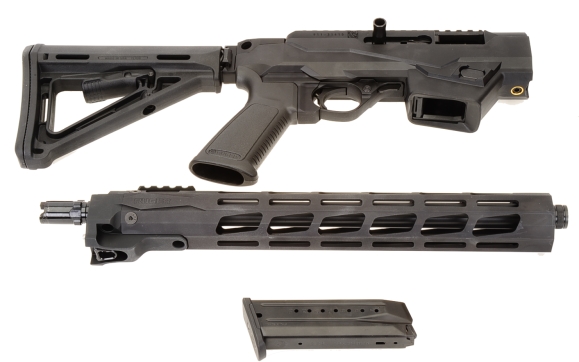 Being able to collapse the stock and break down into major components with each less than 17″ long make the PC Carbine a firearm that is easy to bring along backpacking or traveling.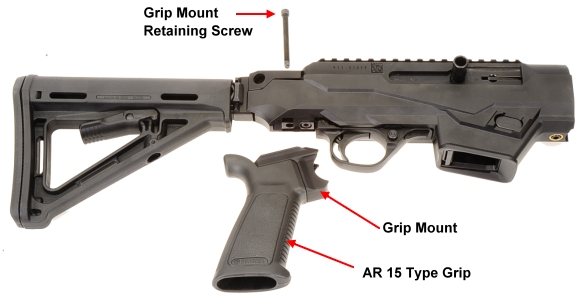 A single top screw passes through the chassis and secures the grip mount with the mount adapting AR-15 type grips to the PC Carbine.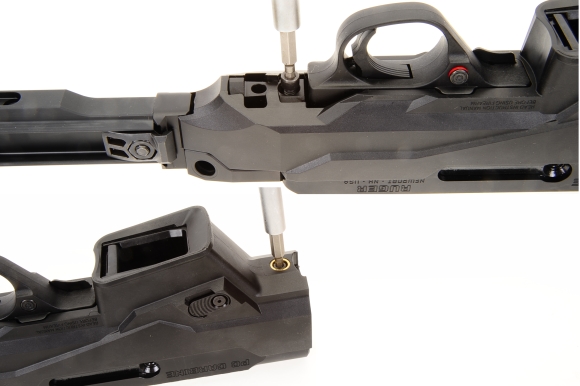 Loosening front and rear takedown screws permits the chassis and Magpul MOE stock from the carbine's receiver, and the stock detached from the chassis.
The Ruger PC Carbine manual provides full details and illustration for detail stripping.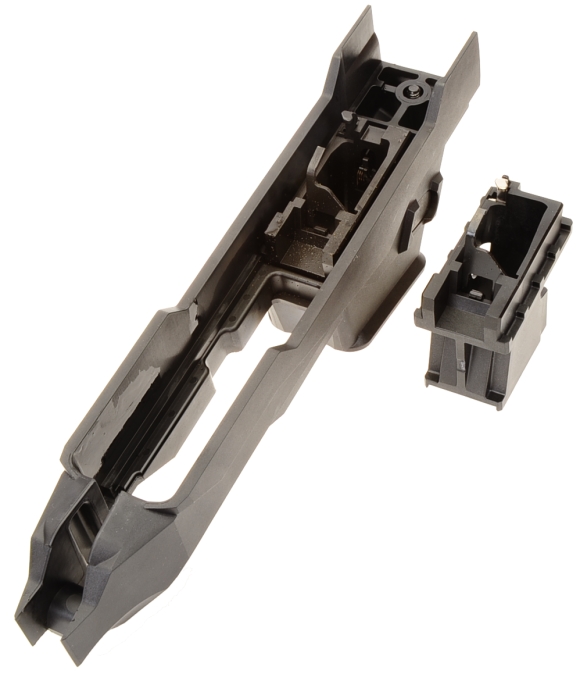 With the chassis removed, interchangeable magazine wells can be swapped. As shipped, the Ruger Security – 9 is installed and the Glock adapter is packed in the box. A third adapter is available from Ruger that takes Ruger American Pistol magazines.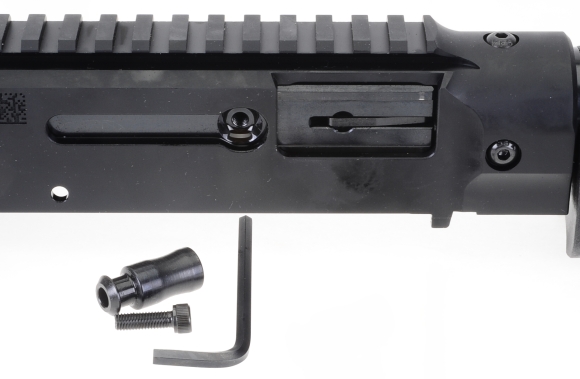 The charging handle is easily swapped from right to left side of the receiver by removing one cap screw. The charging handle cap screw is torqued to 65 in-lbs and it is suggested torque is verified every 1,000 rounds. The magazine release swaps sides in a similar fashion.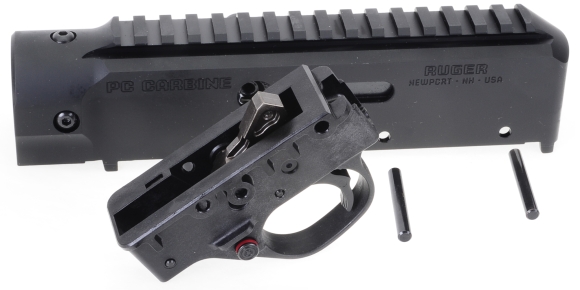 The trigger guard assembly is removed for cleaning and maintenance by pushing out the two trigger guard retaining pins. The manuals used the term "drift" but they are lightly held and solidly retained by the stock when assembled. Trigger pull measured a crisp 4 Lbs 13 Oz.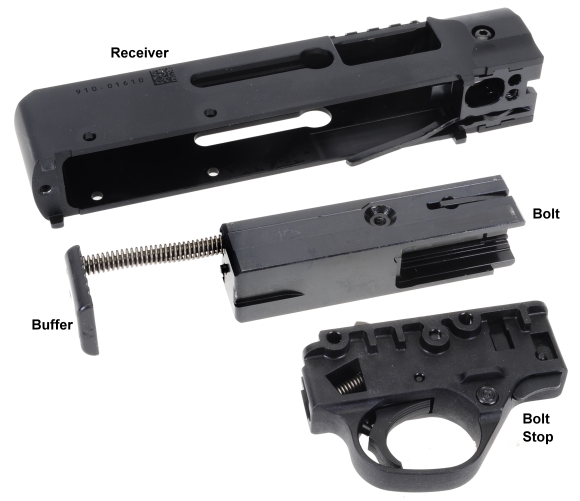 Disassembly is straight forward. With the trigger guard assembly removed, the bolt is removed from the receiver by tugging upward on the buffer. Note on handling: Care should be taken not to depress the bolt stop with the trigger guard on its side as this may cause the bolt stop retaining pin to fall out, the bolt stop to drop down and a small spring to magically appear, roll off the bench and fall into a large box full of scopes. The spring will eventually be identified as the bolt stop spring and reinstalled after an hour of searching through storage boxes. Certainly not my experience , but it could happen.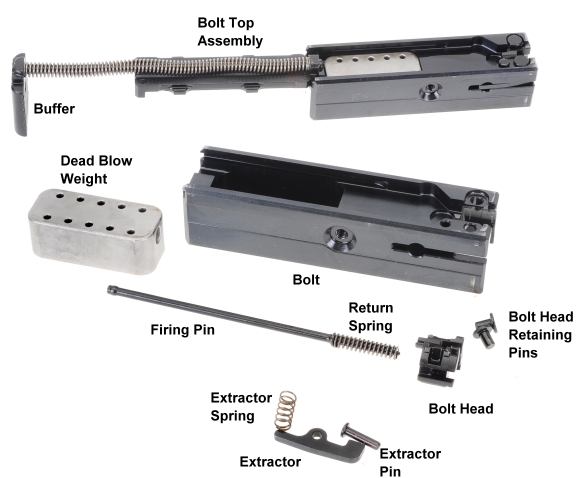 The Ruger PC Carbine is easy to clean and service, the manual provides exceptional step by step detail. The use of a 9.4 ounce tungsten weight recessed into the bolt body reduces required buffer spring rates and greatly dampens recoil. In fact, only a post baby boomer would think the PC Carbine has recoil… and perhaps some fancy lad engineers.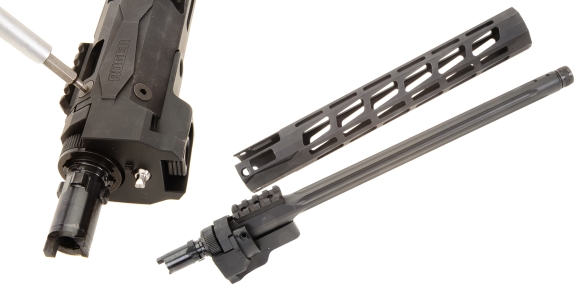 Four cap screws are removed at the base of the handguard, a little wiggling… the handguard, and it pulls forward and off. Underneath is a nifty fluted barrel, capped with with a 1/2″x28 threads and a thread protector that can facilitate the use of many types of muzzle devices. Vestigial traces of a front sight, in the form of mount holes, can easily find a useful purpose.
Joe, why are you taking these down and showing their innards? Because someone will have to clean them. Someone will have to repair them and someone will want to judge reliability based on design or parts count.
The high protean. if not protein, 9mm Luger
The 9mm Luger has been with us since 1902. It has been the choice of military and police both domestic and abroad. The 9mm Luger has also been overwhelmingly sought by sportsmen, competitors and individuals seeking self defense.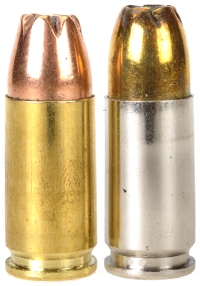 The 9mm Luger is currently offered in 217 different factory loads. I am beginning to believe the 9mm Luger may succeed as a commercial cartridge.
​So what could be better than having not one, but two types of ammunition sharing firearms, like a 9mm Luger pistol and carbine?
Only two types of 9mm Luger ammo were selected to illustrate the differences between a compact 9mm Luger pistol and a 9mm short barrel carbine…. because that was all that was essential.
Data collection from these two rounds seemed to point the best direction to further experimentation, without spending weeks of burning through ammo and attempting to arrive at a conclusion that would be subjective in at best.
Not knowing how either firearm would be used by each reader, it seemed better to just bring some information and let the reader decide preference for one over the other, or if both were necessary.
A speed bump story

Cartridge
Type
Weight
Grains
Rated
MV FPS
Pistol
MV FPS
Carbine
MV FPS
FPS +/-
Δ

IMI Systems
JHP
115
1150
1147
1299
152

Remington UD
JHP
124
1100
1085
1267
182

OK, but then what? So the pickup is 13% – 16% feet per second…
Results Remington 124 grain Pistol 4″
Near-Zero – yds.
13
Mid Range – yds.
43
Far-Zero – yds.
71
Max Ordinate – in.
+1.5
Point Blank – yds.
81
Best Zero : Range 0 – 100 yards
Yards
0
10
20
30
40
50
60
70
80
90
100
Velocity – fps
1085
1065
1046
1029
1013
998
984
971
958
946
934
Energy – ft.-lbs.
324
312
301
292
283
274
267
259
253
246
240
Momentum – lbs-sec
19
19
19
18
18
18
17
17
17
17
17
Path – in.
-1.50
-0.29
0.61
1.19
1.45
1.36
0.93
0.14
-1.02
-2.56
-4.48
Results Remington 124 Grain – Carbine 16″
Near-Zero – yds.
15
Mid Range – yds.
48
Far-Zero – yds.
80
Max Ordinate – in.
+1.5
Point Blank – yds.
90
Best Zero : Range 0 – 100 yards
Yards
0
10
20
30
40
50
60
70
80
90
100
Velocity – fps
1267
1235
1204
1175
1149
1124
1101
1080
1060
1042
1025
Energy – ft.-lbs.
442
420
399
380
363
348
334
321
310
299
289
Momentum – lbs-sec
22
22
21
21
20
20
20
19
19
18
18
Path – in.
-1.50
-0.43
0.41
1.00
1.35
1.44
1.25
0.77
-0.01
-1.09
-2.49
Results IMI 115 Grain – Pistol 4″
Near-Zero – yds.
13
Mid Range – yds.
45
Far-Zero – yds.
74
Max Ordinate – in.
+1.5
Point Blank – yds.
84
Best Zero : Range 0 – 100 yards
Yards
0
10
20
30
40
50
60
70
80
90
100
Velocity – fps
1147
1122
1099
1078
1059
1040
1023
1008
993
979
966
Energy – ft.-lbs.
336
322
309
297
286
276
267
259
252
245
238
Momentum – lbs-sec
19
18
18
18
17
17
17
17
16
16
16
Path – in.
-1.50
-0.35
0.53
1.12
1.42
1.40
1.06
0.39
-0.63
-1.99
-3.72
Results IMI 115 Grain – 16″ Carbine
Near-Zero – yds.
15
Mid Range – yds.
49
Far-Zero – yds.
81
Max Ordinate – in.
+1.5
Point Blank – yds.
92
Best Zero : Range 0 – 100 yards
Yards
0
10
20
30
40
50
60
70
80
90
100
Velocity – fps
1299
1265
1232
1202
1173
1146
1122
1099
1078
1058
1040
Energy – ft.-lbs.
431
408
388
369
351
335
321
308
296
286
276
Momentum – lbs-sec
21
21
20
20
19
19
18
18
18
17
17
Path – in.
-1.50
-0.45
0.37
0.97
1.33
1.44
1.28
0.85
0.12
-0.90
-2.23
The information on the exterior ballistic table differences makes a point or results in a snooze. Personally, I can't find a deciding factor on these tables. Clearly the carbine has an edge in point blank range or kinetic energy.
What I do find that is a practical advantage is that the carbine is easier to shoot accurately, particularly at longer ranges. It's heft eliminates recoil and diminishes muzzle blast and report. But then the pistol is easy to conceal and carry.
The carbine is great fun to shoot. The pistol is more pedestrian.
Lots of… stuff can be mounted on the carbine; sight systems, light systems, infrared systems, muzzle devices. The pistol has a rail and can carry some, but not much of the same.
And then some weird stuff happened…
Cartridge

Weight




Grains

Recovered




Weight -Pistol

Recovered




Weight – Carbine

Penetration"




Pistol

Penetration"




Carbine

IMI

115

106.5

85.0

17.0

11.25

Rem Ultra Defense

124

123.2

123.7

16.5

14.75
So, while velocity for the carbine is significantly higher, the bullets penetrated significantly less.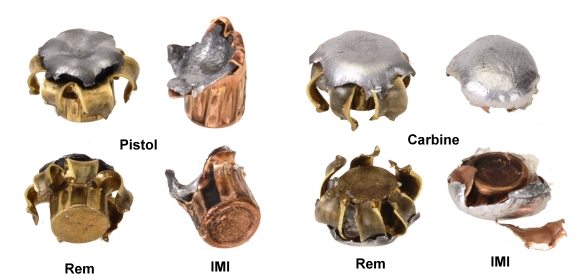 Understanding what happened to the IMI was relatively straight forward. The bullets were marginal on impact velocity, even with the 4″ pistol barrel. They shed a good deal of weight. In the case of the carbine, the fully mushroomed bullet has a much larger frontal area, much more dragged, and stopped short.
[videopack id="43263″]https://www.realguns.com/wp-content/uploads/pistolcarbine3.mp4[/videopack]
The Remington Ultra Defense retained its weight, regardless velocity, regardless penetration. So difference between pistol and carbine was less dramatic. I would go so far as to say the carbine favored heavier bullets with lower velocity to be at its best. The pistol could 5 shot group under 2.5″ from a rested position. The carbine shot 1/2″ to 3/4″ better.
So I guess I have to conclude with a question. Which do you think is better, or does the difference warrant owning both?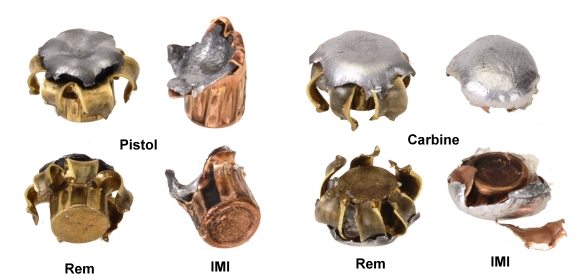 Real Guns – A Firearm and related publication