03/06/22 – After sixteen years of writing about Ruger, within a broader mix of manufacturers, I apparently fell from grace and was shut out of the Marlin introduction. So I sat and watched them feed "Better Guns & Groceries", "Hank the Dancing Cop's YouTube Channel", etc. T&E firearms and information, while letting me twist in the wind. Why? Who knows? Where does a 400 pound gorilla eat bamboo?
The Real Guns objective is not to become a YouTube channel, because I do not want to create videos with utterances like, "Hey guys and gals! Chuckin' Chad here, in my garage, with a new episode of 'Gun Wacky'". Additionally, I do not want to work for pennies so YouTube can make dollars by wrapping unrelated ads around Real Guns original content. We already do that for Facebook.
Real Guns followers are voracious readers, who can cut through 1,200 words, flying in formation, through bad syntax, bad grammar, misspellings, and my corny jokes to find the gist of what I had not clearly… gisted. Oh! Had not thought of that. Ruger may just think my work sucks. Fair enough. So thank you for the years. You have been really nice people. Shall we move on?
Ruger takes on resurrecting, restoring and enhancing the Marlin name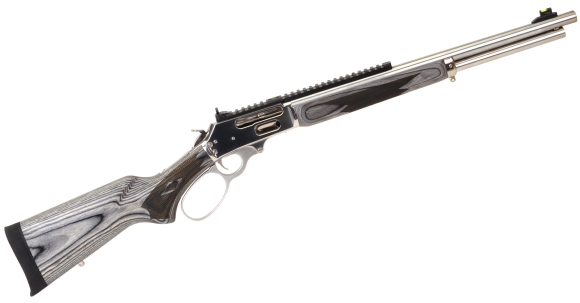 I am not sure people realize how courageous Ruger was to take on the Marlin brand. The Marlin company rode the name into the ground. Remington purchased Marlin and the social media bullshitted themselves into defining the old Marlin as firearm perfection, while assassinating Remington at every effort they made to produce these firearms.
Early Remington production? Remington had it coming. They tried to extract value out of original Marlin inventory they received with the acquisition and produced some serious monstrosities. Rifles with the appearance suggesting they were handled with sandpaper gloves, chewed up fasteners apparently tightened with butter knives, stocks barely hanging on for dear life to hardware.
Missed by social media divot heads was the fact the Remington produced Marlins were incredibly accurate and fit and finish got so much better with time and manufacturing experience. Better than the late guns produced by the predecessor Marlin company.
Ruger needed a traditional firearm to bring balance to the company's offerings and Marlin was a fortuitous opportunity. Ruger also knew that cowboydukewayne@rhinestonecowboy.com was waiting to pounce on social media if Ruger could not meet the fantasy version of the original Marlin. Fortunately, Ruger is staffed talented people and their manufacturing technology and operational management is second to none.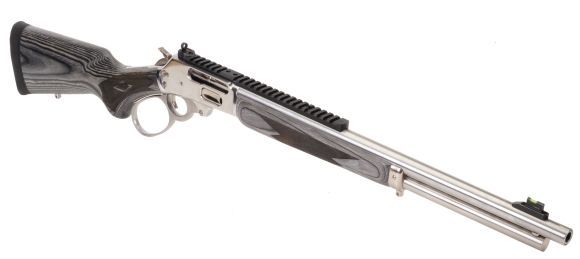 Now that the subject Ruger built Marlin has been shot, taken apart, and compared to my own Remington built Marlins and Marlin built Marlins, it would be okay to begin with a conclusion, You know, in the event I take a narcoleptic nap while producing poorly structured sentences, misspellings, inappropriate paragraph breaks, and less than expressive conceptual representations and forget to finish this piece.
Marlin Model 1895 SBL


Origin
Mayodan, NC

Manufacturer
Marlin
Order#
70478
Type
Lever Action
Caliber
45-70 Government

Magazine Capacity
6+1
Barrel
19.00″ – 11/16″x24 Threads

Rifling
1:20″

Nominal Weight
7.3 Lbs

Overall Length
37.25″
Stock
Gray Laminate Hardwood

Hardware
Polished/Satin Stainless

Length of Pull
13.38″
Drop at comb
1.25″
Drop at heel
2.00″
Sights
Adjustable Ghost Ring / Tritium

Optical Sight Mount

Picatinny Rail

Trigger Pull
4 lbs. 12 oz.
Safety
Cross Bolt Safety
MSRP
$1399
The conclusion? The word to sum up Ruger's handling of their acquisition of Marlin is "respect". Respect for the Marlin rifle's history and lineage, respect for the Marlin name and respect for existing and potential customers.
The subject Marlin Model 1895 SBL is production line firearm. Laid alongside Marlins, made by both Marlin and Remington between 1956 and 2014, the Ruger Mayodan, NC Marlin is the slickest of the bunch, functionally and aesthetically. Standout is the precise fit of metal to metal and metal to laminated stocks, undamaged fastener slots, and uniform finishes.
The action cycles smoothly and locks up solid. None of the grit when the aft lever lug engages the locking bolt or the locking bolt engages the breech bolt as what was an earlier Marlin tradition. Additionally, the lever does not pop open under recoil with modern pressure 45-70 factory and handloads…  I'm guessing, because….
Ruger's Marlin manual disavows the use of anything other than standard pressure ammunition which is 28,000 psi by SAAMI transducer measurement. This ammo makes for a well behaved deer, black bear and hog rifle, however, there is a lot more potential in the use of modern over pressure ammunition. With loads in the 38,000 psi to 40,000 psi range, the combination of rifle and cartridge are suitable for large and dangerous North American game and, no doubt, more.
Higher than standard pressure 45-70 ammunition has been in use since the introduction of the Hepburn designed 45-70 in 1895. In fact, there was ammunition of that era head stamped Marlin 45-70 that was loaded to proof pressure levels of 40,000 CUP, which is now both cup and psi standards for proof loads.
I am not suggesting that Ruger accommodates non-standard 45-70 Gov't ammo on the say of specialty loaders. I am suggesting that perhaps Ruger could create a modern, higher pressure SAAMI / CIP  cartridge entry that would better utilize the Marlin's potential without a wink and a nod, or even work cooperatively with high pressure factory ammo makers to approve specific products as Ruger does with Hornady. Yes, you may call me mashugana, but make it Mr. Mashugana.
Refinement rather than revolution
I was hoping the initial release would have been walnut and blued, but the combination Ruger selected is more appropriate. The upgraded stainless barreled action and laminate stock are more in keeping with today's hunters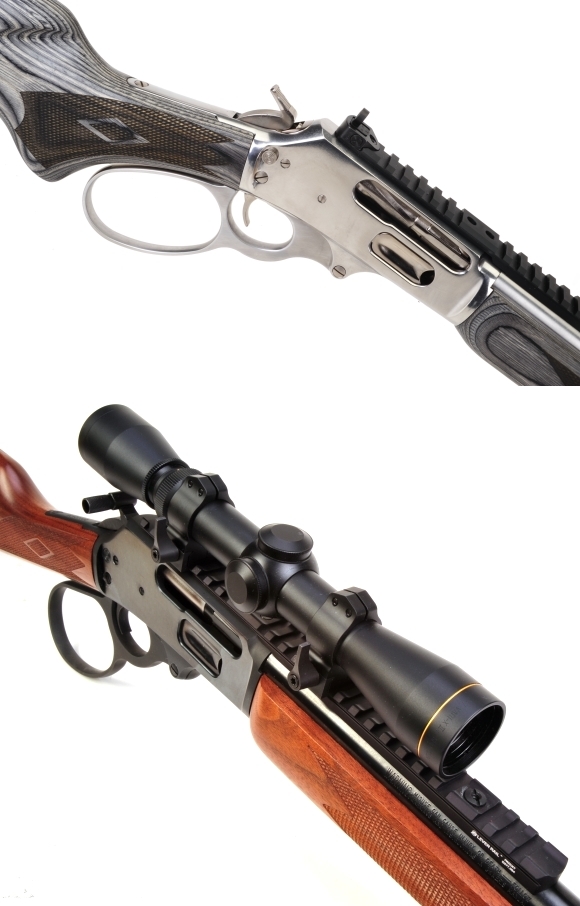 The big loop lever, Picatinny rail, fiber optic sights is not new. Wild West Guns was producing special versions of this type for about 14 years. The walnut stock gun pictured above is from 2010, the subject of a Real Guns . They make sense for a hunter and are flexible in configuration. However, the Ruger produced version is nicer, more cleanly finished and with some refinements.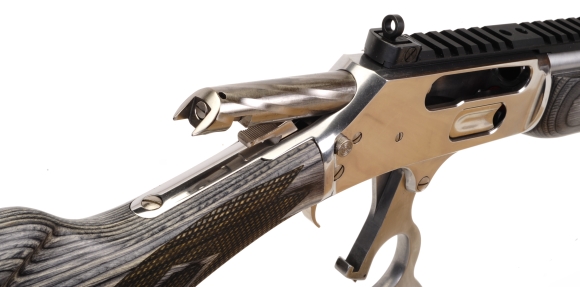 The nickel plated bolt fluting is a nice touch. Mostly aesthetic, but also keeps the bolt clear and non-binding. The polished finish is uniform and not polished to edge rounding. This is the first Marlin I have handled in years that did not try to bite my thumb when pushing big rimmed 45-70 rounds through the magazine door. The checking is very clear and free of wood… fuzz.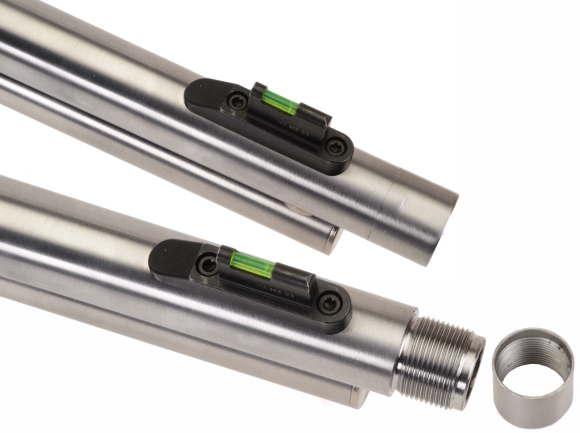 Machined parts are clean, more so than ever when the original Marlin company or Remington production.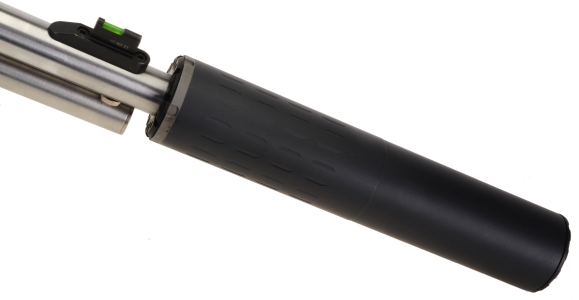 The Marlin's muzzle threads are to facilitate the use of muzzle devices, which may be brakes or suppressors. In this case, a relatively large capacity SilencerCo Hybrid 46 has been installed. The Marlin's front sight is high enough to clear even the large silencer tubes.

Unlike many Marlin and Remington produced Marlins, the Ruger produced Marlin lever locked up solid and compressed the trigger lock without further shooter assistance. It is also noteworthy that the excellent wood to metal fit and cleanly polished metal parts are on the bottom side as well as the top.
In the words of Louis Armstrong, "What a wonderful world this could be"
Just a handful of the many 45-70 loads that could make the Marlin one of the most flexible, big centerfire production rifles made.
 Cartridge
Bullet
Type
Bullet
Weight
Grains
Rated FPS 24″ Barrel
Recorded FPS 22″ Barrel

Recorded FPS 19.00″ Barrel


3 Shot




100 Yard




Groups



Winchester  Super X
JHP
300
1880
1693

1661

1.1

Winchester Supreme
FNSP
300
1880
1712

1672

1.2

HSM A-Frame
FNSP
350
2050
2183

2102

0.9

Buffalo Bore Magnum
FNJ
350
2150
2205

2125

1.0

Remington Core-Lokt
SP
405
1330
1051

1179

0.9

Buffalo Bore Magnum
LFN
430
1925
1999

1904

1.1

Garrett Hammerhead
LFN
540
1550
1547

1528

1.3


The Marlin, even with stout loads, shot well with suppressor on or off. On, muzzle blast and recoil was diminished significantly, accuracy was as good.
Others who participated in assessment and testing…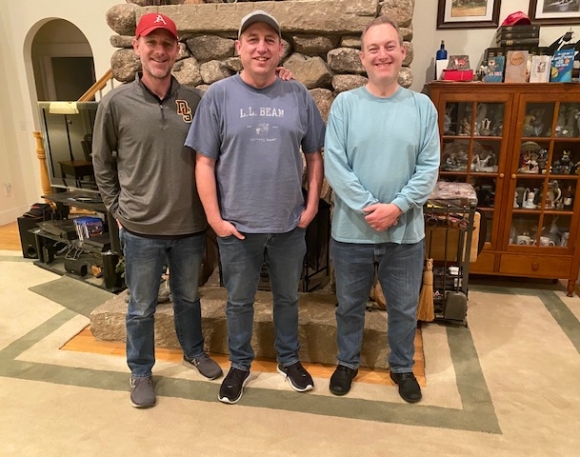 Cannot test without a crew. Three strangers were asked to shoot the Marlin and render an opinion. They are left to right, Mike, Joe and Rich D'Alessandro. All reported smooth cycling, no misfeeds or misfires. They liked the look, fit and finish and deemed it "very cool". I concur.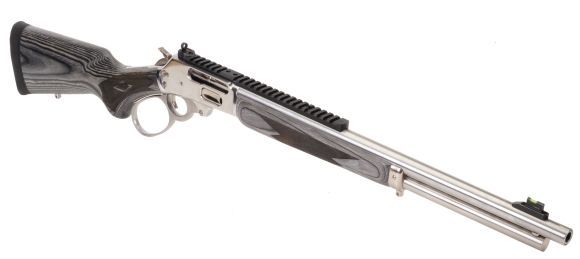 Real Guns – A Firearm and related publication