05/15/2022 – Why is it TALO and not Talo? Because TALO is an acronym. No, not a giant spider. It is a wholesale buying cooperative operating in Texas, Arkansas, Louisiana, Oklahoma and the first letter of each of those states is represented in TALO.
As they have since 1965, TALO commissions major firearm manufacturers to produce exclusive editions to TALO's specifications, then sells them through stocking resellers throughout the country. In the case of the subject Ruger GP100,  TALO and Ruger began with the outstanding GP100 revolver and finessed the configuration.
 TALO GP100 – 357 Magnum
Manufacturer
Ruger – Newport, NH
Model Number
 1782
Type
SA/DA
Caliber
357 Magnum

Capacity
7
Barrel Length
3.0″
Rifling
1:18.75″
Weight (Actual)

38.0 Oz

Overall Length
8.50″
Grip
Checkered Hardwood

Frame & Cylinder

Stainless Steel
Rear Sight
Adjustable W/E
Front Sight

Fiber Optic – Green

Trigger Pull DA/SA
10 Lbs 3 Oz / 4 Lbs 6 Oz
MSRP
$1,199
Ruger manufactures twenty nine, seven shot Ruger GP100 models. Of those twenty nine, twelve are TALO exclusives. Differentiating the subject TALO model from others in the GP100 seven shot variations are the combination of a 3″ barrel with adjustable sights, an unfluted cylinder and hardwood combat grips
A decision on form, not performance
The GP100 series Ruger has been in production since 1985, an upgrade to Ruger's Security Six double action Ruger that was introduced in 1971 and discontinued in 1989.The GP 100 stainless steel version went into production in 1987.
In comparison to its Security Six predecessor, the GP100 offered improved trigger function, a more robust frame and locking system, an improved peg mounted grip, and interchangeable front sights.
The GP 100 series is a medium frame, double action product, which places it in physical context between the company's compact frame SP101 and it's large frame Redhawk, and its even more stout Super Redhawk.
All steel alloy or stainless steel Ruger double action revolvers have solid sided frames and are modular in design, which makes for high durability and ease of service and maintenance.
Thirty seven years of making essentially this same product has given Ruger a wealth of manufacturing experience with this model and the same amount of time to finesse and refine the design in response to customer feedback.
So different, yet so much the same….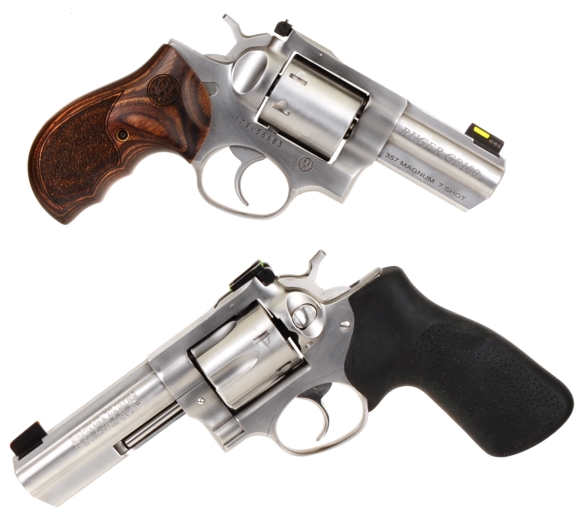 I have owned five GP100s is various configurations and chambers while in the process of finding the one that suited me the best. The non-TALO gun pictured above is my personal revolver. It is shot with great frequency and, like those that came before it, has proven to be both accurate and reliable, precise.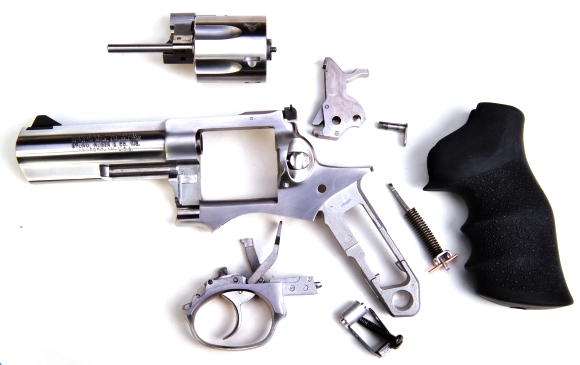 The point is that the TALO is a unique configuration of a long produced, highly reliable and accurate revolver. The TALO has inherited that pedigree, so the only consideration is configuration and aesthetics. Even then, the GP100 series has a peg grip frame that accepts many grip styles and they utilize  standard dovetails for sight mounting so an owner is not limited to what shipped from the factory.
Traveling in the same circles

As indicated on the table below, the cylinders, six shot and seven shot, have common dimensions, with the exception of the space between chambers. The outer walls are the same, as is the diameter of the circle formed by the chambers. I have had no problems with the seven shot GP100, even with my aggressive handloads.
 Revolver

Cylinder




Length "

Rear




Cylinder




Diameter "

Rear Chamber
Outer Wall


Thickness "

Adjacent




Chamber Wall




Thickness "

GP100

1.609

1.546

0.080

0.122

TALO GP100

1.608

1.545

0.081

0.055
Sights? Hell, even I can see them…

The TALO's rear sight has a white outlined notch. The front sight is a bright fiber optic piece. The front sight sits in a notch that is dovetailed at the front to the raised rib. If there is a preference for a different color fiber optic front sight, pushing a punch in the hole in front of the sight… no, not the bore, the hole above it, releases the sight for changing.
Compact grip, but a handful for most…
Boot grips are great on small frame guns and offer OK control, but the combat grips used on the subject TALO GP100 add that one extra finger position to keep the pinky in the scheme of things. The round but helps with concealment.
The Ruger GP100 is a true triple lock; front latch, cylinder latch and center pin lock. The tight cylinder lock up contributes a great deal to GP100 accuracy and safety of operation. Exceptional frame strength means a revolver beginning with a 0.006″ or so cylinder gap, will have the same cylinder gap after thousands of rounds have been fired.
Seven is enough…
I do not know when the need for fifty round auto loader magazines came into prominence. I was pretty busy in the mid to late '60s and then I put in a lot of hours throughout the '70s and '80s, so maybe then. Not knowing a seven round handgun was useless under any circumstances, I just stumbled through those decades with a seven shot 1911 Commander or six shot revolver. Not sure how I survived.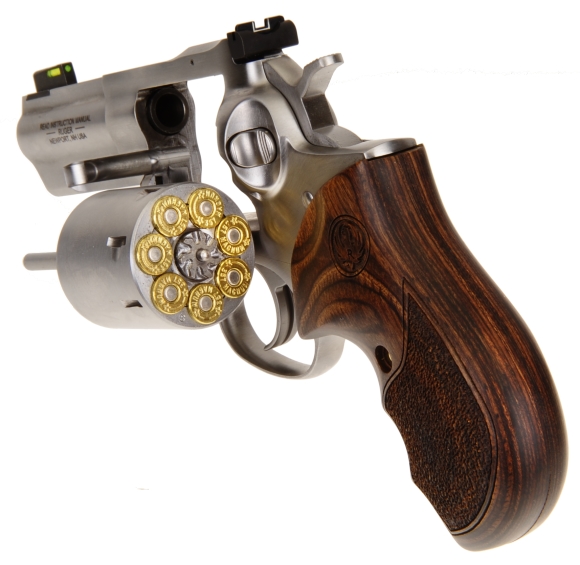 I do not question another person's decision to want or need more, and I certainly don't question their right to do so, I am just all set with seven. So the TALO GP100 gives me all of the capacity I need and, if all else fails, a couple of speed loaders with get me through. It keeps the weight down and a concealable handgun compact.
Does it use conventional bullets, or electric rechargeable?

Three types of 357 magnum ammunition were used in checking out the TALO GP100. Types or similar I use frequently: Hornady Critical Defense 125 Grain FTX, Remington Performance Wheel Gun 158 grain lead SWC, HSM Bear Load 180 grain FPGC.
The Hornady fits the bill for concealed carry. The Remington ammo is a good concealed carry and trail load. The HSM ammo is a good, deep penetrating  deer and hog hunting load and trail load.
None of them are particularly harsh recoiling. No mountain goat climbing muzzle on discharge. No great muzzle flash or report beyond what would be expected of centerfire, medium capacity cartridge operating at elevated chamber and bore pressure.
Here comes the table…
I do not know why people don't like tables. They are so organized and telling, compared to me droning on and on trying to deliver the same information through a narrative or maybe through chaotic, beat, free verse with jazz accompaniment. Hmm…. Maybe next time.
Ammunition
Bullet
Weight
Grains
Bullet
Type
Factory
Rated
FPS
Actual FPS
4.2″ BBL

Actual FPS
3″ BBL
5 Shot
Group "
25 YD

Hornady Critical Defense

125
FTX
1500
1489
1339


2.2

Remington Wheel Gun

158
LSWC
1235
1317
1195


1.7

HSM Bear Load

180
LFP
1200
1093
1112


1.9
Everybody has a theory as to why revolver chronograph readings can defy logic. I can only reshoot where a reading appears to be an anomaly to confirm or correct. After that, I just write 'em as I see 'em. I like the 180 grain performance out of the TALO and I liked the TALO's shot from a rest accuracy. The differences between 4.2″ and 3″ barrels is negligible for the vast majority of applications, but the compact size difference is meaningful.
In summary… Yeah, I know, finally…
Looks good, shoots straight, comfortable to carry. But then those comments should not come as a surprise if you read the rest and didn't just skip through the pictures. I think what stands out, besides the aesthetics, is the extra round without a size increase penalty and the stoutness of the revolver.
I like double action revolvers and I do not cock the hammer to lighten trigger pull. It is an unnecessary step to get to discharging a round and practice can get you to the same place without resorting to thumbing a hammer. Nice revolver.