It is Dec. 19, 1913, in Kansas City, Kansas, and gray-haired Harvey S. Faucett looks at the newspaper and laughs at the fantastical account of his adventure decades ago when the West was still wild and dangerous. The tall tale leaves him both bemused and sullen as he recalls the true events of 1877.
The newspaper account tells the story of three men, two experienced frontiersmen, Harvey "Arapahoe Harve" S. Faucett and Henry "Ranger Hank" Wormwood, helping an eastern greenhorn "college kid" by the name of Zechariah "Zack" Chafee get the body of his colleague Professor Henry Newton east to the railroad for it to be transported home for burial. Together the three men took Newton's remains hundreds of miles by wagon to the railhead and came under assault from numerous Native American raiders and fought for their lives in a running battle for nearly 200 miles. Using both revolvers and rifles, Faucett and Wormwood fired off shots to good effect, taking out many of the enemy ponies and some of the warriors, including a deadly shot by Harve at some 500 yards just before the U.S. Cavalry came to the rescue. The kid pledged Harve his lifelong friendship that day and sent him a magnificent engraved rifle as thanks.
This closeup of the Providence Tool Co. Peabody-Martini "Kill Deer" rifle shows the engraving that recognized the friendship formed on the frontier as Harvey "Arapahoe Harve" Faucett and "Ranger Hank" Wormwood helped Zechariah Chafee get the body of the dead Professor Henry Newton back east.
Some of the account is true, but Faucett was going to have to write to his dear friend Chafee and explain the situation. Had he known the tall tale was going to be published he would have given them "proper data" about the events. He picked up his rifle, a beautiful piece of eastern craftsmanship: A Providence Tool Co. Peabody-Martini "Kill Deer" rifle in .45-70 Government with a 28-inch part octagon, part round barrel fitted with a combination blade and folding globe front sight and a notch and ladder rear sight with the sliding aperture missing, and he was going to have to ask if he could still get a replacement for the latter. The left side of the frame has the inscription "H.S. Faucett/From Z. Chafee for Services/1877." This rifle was among his most prized possessions and an important memento of a friend lost, a treacherous journey, and a lifelong friend he hadn't seen in many years.
All of the above is based on the truth as documented thoroughly by the late Greg Lampe in the provenance binders that accompany this historic rifle. Creative liberty has been taken to imagine Faucett holding the rifle, but the thoughts are directly taken from his letters. As you read through the copies of the original letters from Faucett to the "college kid" Zechariah Chafee you get a real sense for who Faucett was as a friend, how connected he became to the young man he helped guide across the plains and the Badlands, and how much he truly appreciated this rifle, received in appreciation for his help getting Chafee and Professor Newton's body across hundreds of miles of hostile terrain.
Harvey S. "Arapahoe Harve" Faucett, left, and Henry "Ranger Hank" Wormwood both served as scouts and lawmen during their careers on the frontier of the American West.
"Kill Deer" Rifle from the "College Kid"
Faucett wrote to Chafee for decades even as the two men did not see each other in person for a considerable time. In his letters, Faucett makes mention of the rifle on numerous occasions. On Sept. 2, 1877, Faucett wrote to his "Dear Friend Zack" in reply to Chafee asking if Faucett and Wormwood would like anything to remember Professor Newton by. All they asked for was a photograph of the professor if one was possible. He also noted that the ramrod and wiper for his rifle was left at the stable in Sydney, Nebraska, where their journey ended. A handwritten note by Chafee was added to the letter stating, "Z.C. Providence 9th mo 11th 1877 The best presents will be two 'Providence Tool Co. Rifles' properly engraved." The last two words were underlined several times followed by the name "Burough."
By Nov. 22, 1877, the rifles had arrived in the legendary frontier town of Deadwood in the Dakota Territory. Faucett wrote to Chafee, "I am well pleased with my gun and must congratulate you on your good judgment in choosing a gun for the frontier more especially on account of the calibre amount of powder &c. I am unable to express my feelings of regards to the giver, for such unmerited tokens of friendship, but suffice to say I will ever keep my gun in grateful remembrance of the giver and trust Hank (referring to Henry Wormwood) will do the same…I have not had any photos taken yet, but as soon as I get rested and cleaned up a little, (get some of the ruff off) I will have some taken…The one Hank sent was taken at RC agcy, but in a short time I will send you one. I don't want to get any unless they are good ones, and the artist here now is not good. But there is a new gallery fitting up as soon as tis done, I will sit for a negative." A copy of a fantastic photograph of Faucett dressed in buckskins with a cartridge belt, knife, revolver, and this rifle presented across his legs accompanies the rifle, likely the same portrait he sent his dear friend in Providence, Rhode Island.
Faucett continued to write to Chafee over the years, and the rifle came up again.  On April 27, 1913, he told Chafee that he was writing down his frontier experiences and "I still have the old rifle you sent me and love it as a true and tried old friend." Five years later, he wrote to Chafee saying, "I am now 73 years of age, but there is a betting chance that we will yet have to fight the Germans here at home, and in this event, I am ready to go and help the boys." He also asked if Chafee could send him a replacement peep sight for his rifle. He notes, "The peep sight I want is for the back sight. I have all in place but the peep or thumbscrew sight." His drawings show that he was looking for the aperture still missing from the rifle now. So even at 73, Faucett was prepared to fight for his family, his friends, and his country with a single shot black powder cartridge rifle. It certainly paints an interesting portrait of Faucett that fits the story of his life in the West.
This closeup of Harvey S. Faucett's Providence Tool Co. Peabody-Martini "Kill Deer" rifle, reads "Kill Deer/Peabody & Martini Patents" and subtle scrolling on the receiver.
Sad Fate of Professor Newton
While the newspaper account may have been far-fetched, the true origin story of this fascinating historical rifle in the recipient's own writing is like something from a classic Wild West novel with four central characters. To reiterate, Harvey S. Faucett was also known as "Arapahoe Harve," and alternately the "Eagle of the Trail." His frontier companion was Henry Wormwood, who was recognized in the Dakotas as "Ranger Hank." The two men guided Eastern intellectuals Professor Henry Newton and his young assistant "the college kid" Zechariah Chafee through the Black Hills in 1877 during a time of Native American raids following the Great Sioux War.
Newton and Walter P. Jenney led the Newton–Jenney Party of 1875, a scientific expedition sponsored by the U.S. Geological Survey to map the Black Hills of the Dakota Territory after Custer's expedition there. Escorted by government troops and others, including Calamity Jane who didn't get along with Faucett, Newton and Jenney confirmed the presence of gold, fueling the gold rush and the tensions that led to the Great Sioux War of 1876-77 which included the famous Battle of Little Bighorn.
In a full account of his adventures, Faucett indicates Professor Newton first hired Wormwood and later himself as guides as he continued to study the mines and mountains of the Black Hills in 1877 accompanied by Chafee, who served as his assistant. Chafee hunted and fished during the expedition and once got lost after going out to hunt deer and was rescued by Wormwood and Faucett. Wolves surrounded their camp hoping to get some of the venison. According to Faucett's account, the men fought off "the brutes with revolvers, I brought out my (Faucett's) King patent Winchester rifle and loading the magazine with 15 cartridges also, one in the gun waited until they were gathered thick under the tree on which hung Mr. Chafee's meat and then let them have it." Coyotes then came and ate the dead wolves. The next day, Faucett claimed "a hundred or more wolves followed us" and that Chafee used his own Winchester to wound several which were then attacked by the remaining wolves.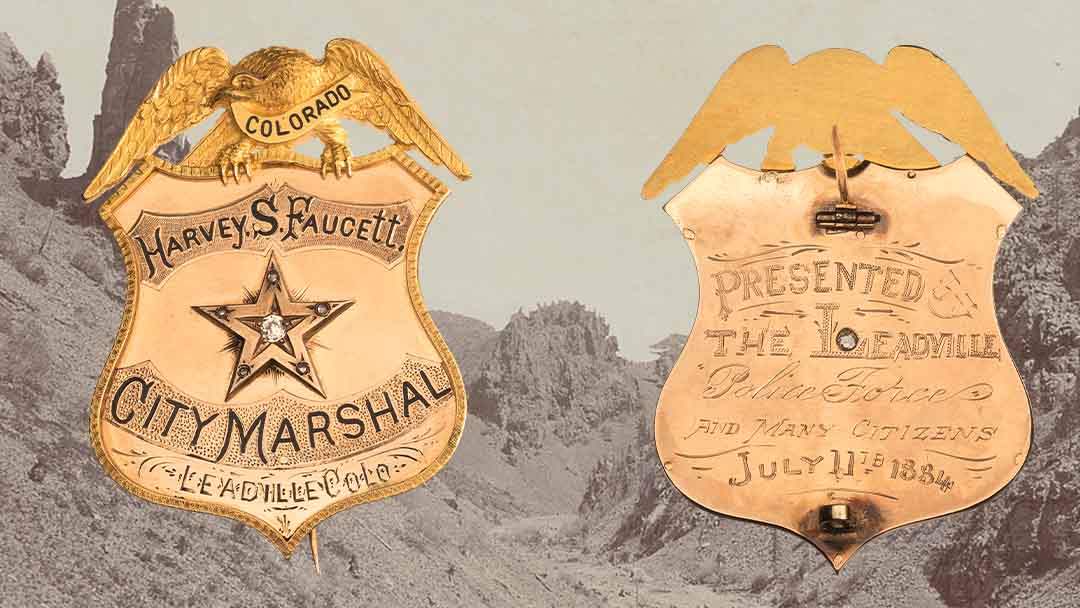 This stunning shield shaped badge has an eagle with a "COLORADO" marked banner in its mouth on top and "HARVEY S. FAUCETT/CITY MARSHAL/LEADVILLE COLO" on the shield. All but the last marking are highlighted with black enamel. The five-pointed star at the center has a five small diamonds and one larger diamond in the center. The back of the shield is inscribed "PRESENTED by/THE LEADVILLE/Police Force/AND MANY CITIZENS/July 11TH 1884." The badge's presentation is recorded in the Leadville Daily Herald on July 12, 1884, which reads: "BADGE PRESENTATION Harvey S. Faucett Presented with a Handsome Badge by the Police Force. Last night at 12 o'clock, when the police changed shifts, there was quite a little surprise sprung on City Marshal Faucett by the boys. Officer Ledford made a few introductory remarks, in which he referred to the high esteem in which the police force held their chief, and then asked him to accept a slight token of their high regard, at the same time presenting him with a handsome gold badge. The marshal was taken completely by surprise, but he managed to thank the donors for the beautiful present, and acknowledging in his modest way his appreciation of the esteem which was evidenced by the elegant badge…"
Faucett wrote that the professor complained of feeling ill shortly after the run-in with the wolves but continued on for a week or more until he was convinced to return to Deadwood for medical attention. Wormwood and Faucett remained at the camp as the easterners returned to Deadwood. While they were away, Wormwood led a party of men to help an immigrant train that was attacked by Native Americans near Spear Fish Stockade and helped drive off the attackers and guided them to safety before returning to the camp two miles from the stockade where Faucett remained with the livestock.
On Aug. 5, 1877, Wormwood went to Deadwood and learned of Newton's death that morning. Heartbroken at the loss of their companion, the three remaining men – Faucett, Wormwood, and Chafee – agreed to travel with the professor's body about 300 miles in order to get his body to the railroad at Sidney, Nebraska. They were armed to the teeth with revolvers and Winchester rifles. Comically, the kid's sidearm was a .22 revolver, presumably a Smith & Wesson No. 1. They were three men traveling across a vast lawless region.
Given the recent Great Sioux War and continuing raids, the three men were concerned they might be ambushed out on the frontier, especially as they crossed the inhospitable Badlands towards Nebraska. Again a wolf pack threatened their camp, but this time they withheld their fire for fear the gunfire might attract a much more dangerous foe. After eight days of travel, the men reached the safety of Sydney. Faucett and Wormwood saw Chafee and the professor's remains off to complete their journey to New York by train.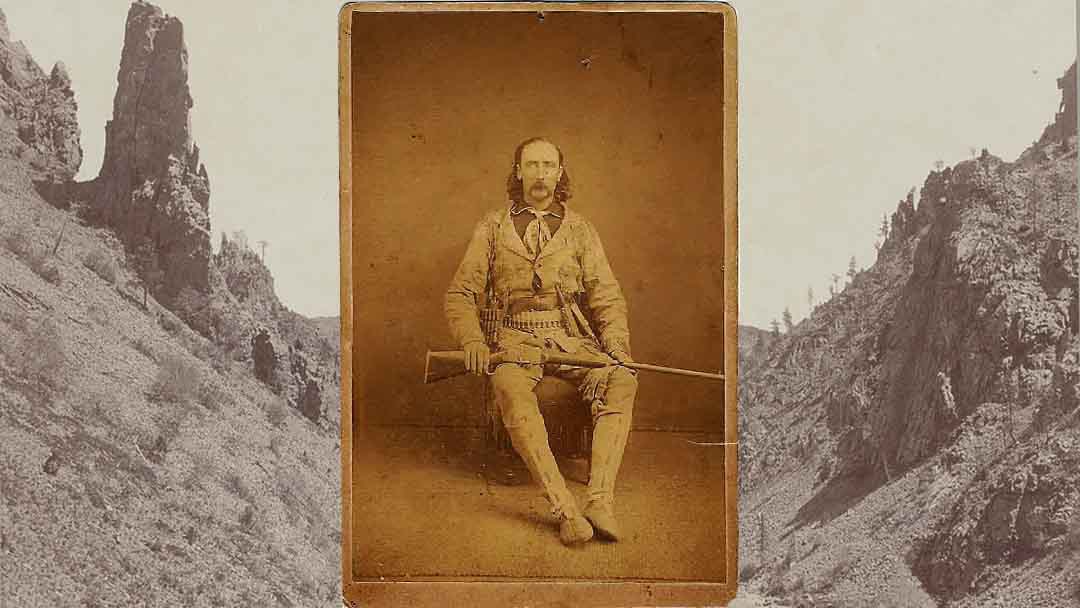 Harvey S. Faucett was as good as his word in his letter to Zechariah Chafee when he wrote to thank him for the Peabody-Martini style rifle he received, writing that he would get his picture taken with it.
The Chafees of Rhode Island
Chafee was part of a long line of Rhode Island's Chafee family to bear the name Zechariah, and he became a successful businessman back in Providence. His father (1815-1889) ran the Builder's Foundry in Providence, which produced artillery and ammunition during the Civil War, and was the treasurer of the Quidnick Company in 1877, the trustee of the A. & W. Sprague Manufacturing Company, and the president of the Bank of America in Providence in 1880. He may have also been involved with the Providence Tool Company as suggested in the tall tale version of the story, but the family's connection to the company is not clear aside from it being based in their hometown. The younger Chafee's own son, Zechariah Chafee Jr., was a professor at Harvard Law School from 1916-1956 and drafted the Federal Interpleader Act of 1936. He also landed on Senator Joseph McCarthy's list of the seven people "most dangerous to the United States."
"Arapahoe Harve" Roves the Range
From Sydney, Wormwood and Faucett set off back across the same path together to continue their rugged lives on the plains. Both men later became respected lawmen. Wormwood went to Miles City and became a city marshal before dying in 1882 from pneumonia. Faucett had a much longer career as a lawman in various locales across the West.
Faucett wrote, "We each received a Peabody Martini rifle with one hundred cartridges of  45 calibre and seventy grains of powder for the guns. The rifles were expressed from Providence R.I. A present from Mr. Zach Chafee, Jr. and were suitably engraved. My rifle bore the following inscription: H.S. Faucett for services, 1877. From Z. Chafee. Jr. Providence. R.I. The engraving on Mr. Wormwood's rifle was similar. This rifle I still have and hold it dearly as an old faithful friend that has been with me on man a long journey laid beside me a the camp-fire and I trust that we will continue so until the red current of life ceases to course my veins, and death ends the hunter, and my varied and eventful career."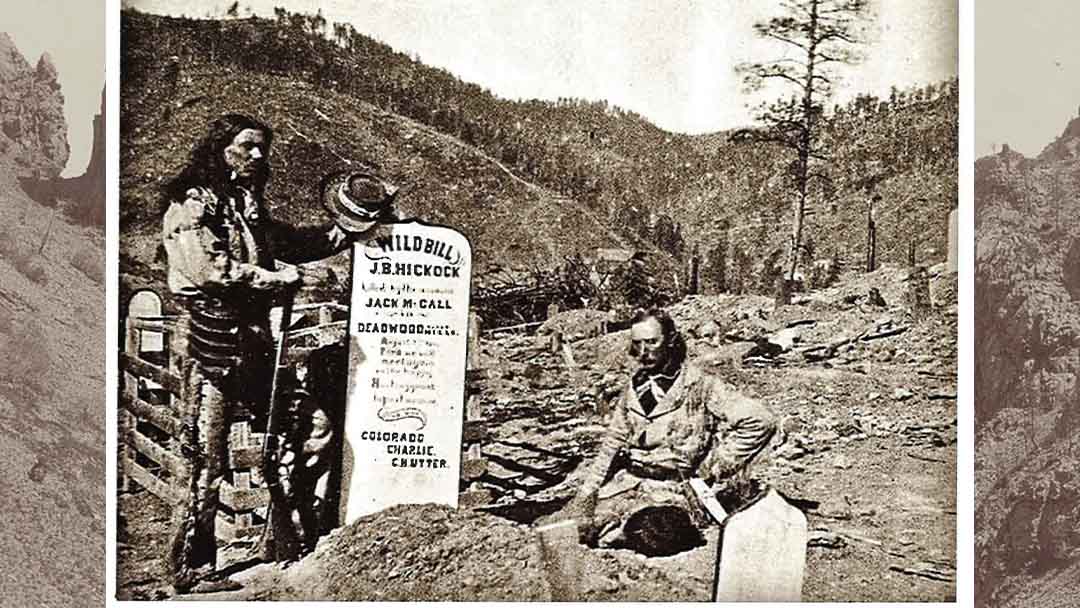 The men in this photo have long been identified as Colorado Charlie Utter and either his brother Steve Utter or Arapaho Joe. A similar photo in Greg Lampe's documentation for the Providence Machine Co. Peabody-Martini rifle states, "However, it has recently been identified correctly as: "Ranger" Hank Wormwood and Harvey Faucett, "Arapahoe Harve.""
Faucett had been born in the East in Butler County, Ohio, but by the 1870s he had travelled frequently across the West as opportunities presented themselves. His list of jobs and careers is long and varied. He ran supply trains based out of St. Louis for the U.S. government during the Civil War. In 1863, he was part of an expedition to the Gulf of Mexico that shipwrecked when the steamer Nassau struck a sandbar at Brazos Bay, Texas. He worked as a scout and courier from Brownsville to various posts. In 1864, he returned to St. Louis before traveling to Fort Leavenworth, Kansas, where he joined a party headed to the Montana gold fields. In 1870, he traveled to Elwood, Indiana, and worked as a druggist briefly before returning to the West, working as a surveyor in Nebraska.
The Many Jobs of Arapahoe Harve
By 1873, Faucett was in real estate and shipping grain before heading again to Texas. He returned to Seward, Nebraska in 1874 and worked as a merchant before joining Custer's expedition into the Black Hills. Faucett stayed behind after the soldiers left to prospect the streams and reportedly found a great deal of placer gold on the Indian land.
The following year, federal troops kicked Faucett and other trespassers off the Indian land but he returned with the next geological survey. In 1876, Faucett worked for the government as a courier, scout, and guide during the Great Sioux War. The Blackfoot reportedly captured Faucett during this time and was present with General Ranald McKenzie's troops at the Battle of Crazy Woman Creek that fall. He is said to have fought off a wolf pack attacking the mortally wounded Cheyenne warrior Riskohonge and was given his scalp jacket and blanket which he later posed with in photographs. He reportedly learned of the massive Lakota and Cheyenne encampment and rode off to warn General George Crook but didn't arrive in time to prevent the massacre at the Battle of Little Bighorn. He continued to work for Crook as a courier, guide, and scout.
Harvey S. Faucett had a varied law enforcement career, serving as city marshal in Leadvill, Colo., city marshal of Robinson, Colo., a deputy sheriff in Robinson, Colo. While in Leadville, Faucett arrested Doc Holliday for a non-fatal shooting and helped get him out of town.
Faucett Becomes a Lawman
After his adventure with Chafee, Faucett partnered in Faucett & Holden Freight to move freight between Bismarck and Fort Pierre later in 1877.  In 1878, Faucett became an Indian trader at the Red Cloud Agency and worked for the Indian Department until the spring of 1879. In 1880, he headed to Leadville, Colorado, to prospect for silver. There he joined the 3rd Colorado Volunteers as a lieutenant and later became the captain of F Company that were involved in the miners' strike in Leadville. He became a special policeman and later a detective in Leadville under gunfighter Mart Duggan, the town's marshal. That same year, he became a full-time policeman and by the next year, he was city marshal of the nearby town of Robinson with William G. Milner as his deputy.
In 1882, Faucett was elected as constable of the 1st Ward and married Mary Young of Leadville. In 1884, he was appointed city marshal in Leadville and became known as a tough lawman who cleaned up the town and was presented a gold badge on July 11. The frontier town had grown to some 40,000 residents. Among them was Doc Holliday who worked as a card dealer in the saloons after arriving in 1883. On Aug. 19, 1884, Holliday sent a friend to tell Faucett that a bartender from the Monarch Saloon, Billy Allen, was coming for $5 Holliday owed him or there would be a shootout. Allen arrived to retrieve his debt before the law and Holliday shot him in the arm. Holliday was arrested and charged with attempted murder but was acquitted. Faucett helped get Holliday sent off to Denver to avoid future bloodshed.
Faucett later worked a brief stint selling fruits and vegetables before returning to law enforcement. He became a deputy sheriff in Lake County Colorado in 1887 and then had a stint as marshal for Robinson. He served as a U.S. Deputy Marshal and an officer in Seattle, Wash. He was involved in a shootout that wounded "Kid" Donnelly. In 1895, he moved to Elwood, Ind., for a time but then moved back west. He lived in Kansas City, Kansas, for his remaining years and as an older man worked as a special officer in the Kansas City Market. While there, he received a surprise visit from his old friend Chaffee. He died after a fall and possibly a bout of pneumonia. He was rumored to have five scars from Native American arrows, tomahawks, and knives. His death was reported in newspapers across the country, from Los Angeles to New York City. Some of the obituaries included versions of the story from 1877 with varying degrees of accuracy. The Los Angeles Times, for example, reported that Newton had been killed in a battle with Native Americans and that "Araphoe Harve" had fought them off with his rifle after taking an arrow to the shoulder.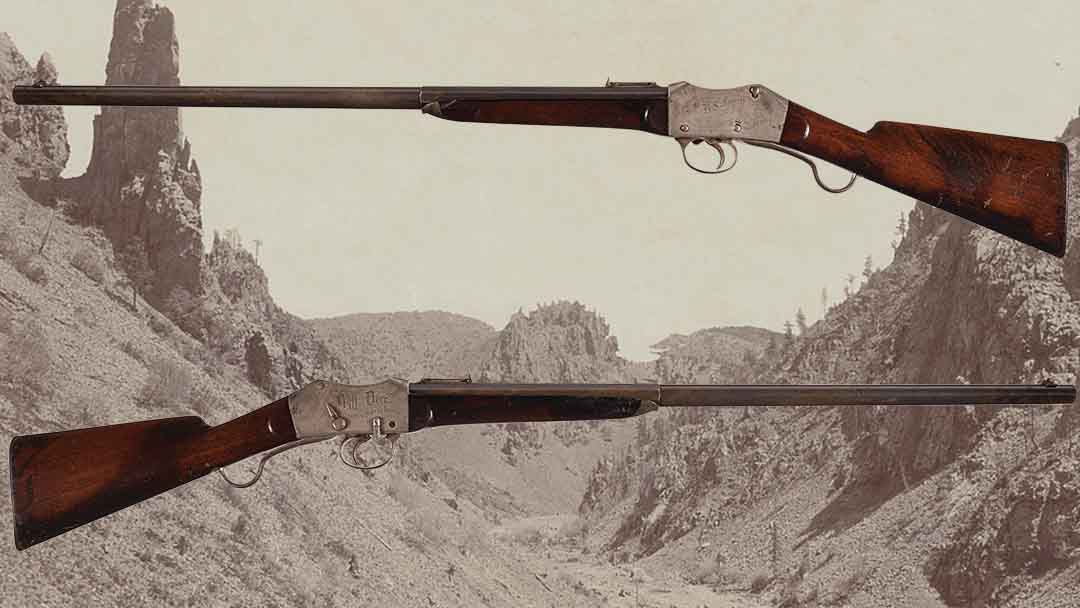 Harvey S. "Arapahoe Harve" Faucett and "Ranger" Hank Woodworm helped "college kid" Zechariah Chafee return the body of Professor Henry Newton east. The men each received a Providence Machine Co. Peabody-Martini rifle from Chafee."
Provenance of the "Kill Deer" Rifle
After his death, Faucett's beloved rifle and his golden presentation badge remained with his family for generations before being purchased by Michael Simens who then sold them to Greg Lampe. Thanks to the preservation of these historic artifacts, we remember the fascinating life of Harvey Faucett, a man who deserves to be a true legend of the American West. His life story, and the story of the events that led to the presentation of this rifle, read like something out of a western dime novel, but they really happened. Faucett truly played his part in the settlement of the West and in civilizing dangerous frontier towns that sprang up around the gold and silver mines in the late 19th century.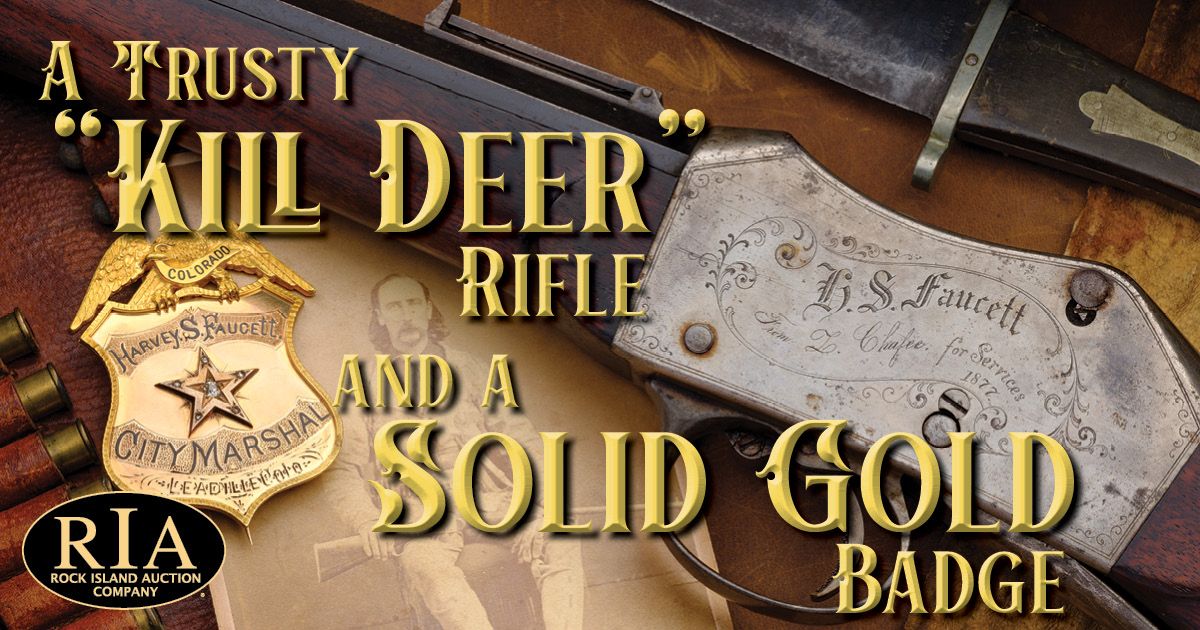 Rock Island Auction Company