Soldier and outdoorsman Townsend Whelen famously once said, "Only accurate rifles are interesting."
If that's the case, Whelen would be over the moon at the more than 30 bench rest (or benchrest since the Internet can't decide) rifles on offer in Rock Island Auction Company's Oct. 4-7 Sporting and Collector Auction. Designed for long-range accuracy in target shooting competitions, the majority are bolt action though there are a few muzzleloaders, as well as a handful of the highly regarded Winchester Model 1885 rifles.
Often wearing colors straight out of an ice cream shop, bench rest rifles can have broad, flat forends, very light triggers, and their owners are likely carrying a bunch of hand-loading gear, wind flags, and multiple sandbags or rests with them.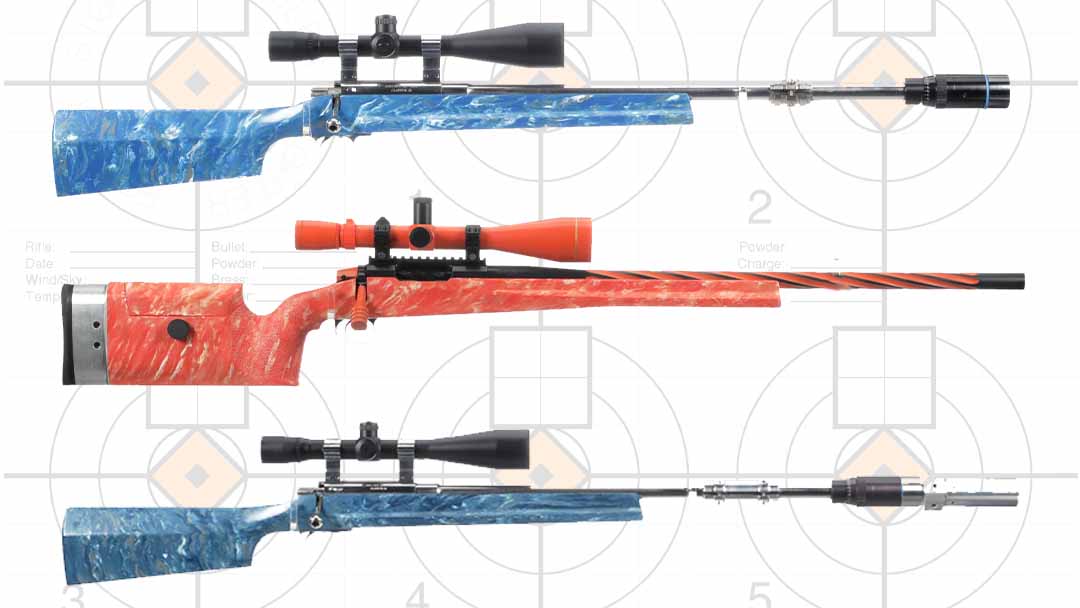 Top, Lot 786 is a Hall Manufacturing/Mark Penrod bench rest rifle chambered in 22 LR with a March 50×52 scope. The middle rifle is Lot 1067 is a Lone Peak Arms Fusion bench rest rifle with a Leupold VX-3i 6.5-20x50mm scope. It is chambered in 221 Fireball.
On the bottom is Lot 787, a Hall Manufacturing/Mark Penrold bench rest rifle with a March 40-52 scope that fire 22 LR cartridges.
The selection of bench rest rifles on offer provides the opportunity for someone wanting to get started in this sport to pick up its most important tool.
Bench Rest Shooting Competition
Whelen actually wrote "The Ultimate in Rifle Precision: Handbook of the National Bench Rest Shooters Association." Bench rest rifles and shooting originated from varmint guns used for hunting small to medium-sized mammals or birds for pest control. That is why some competitions have classes that include "light varmint" and "heavy varmint" classes based on the weight of the gun.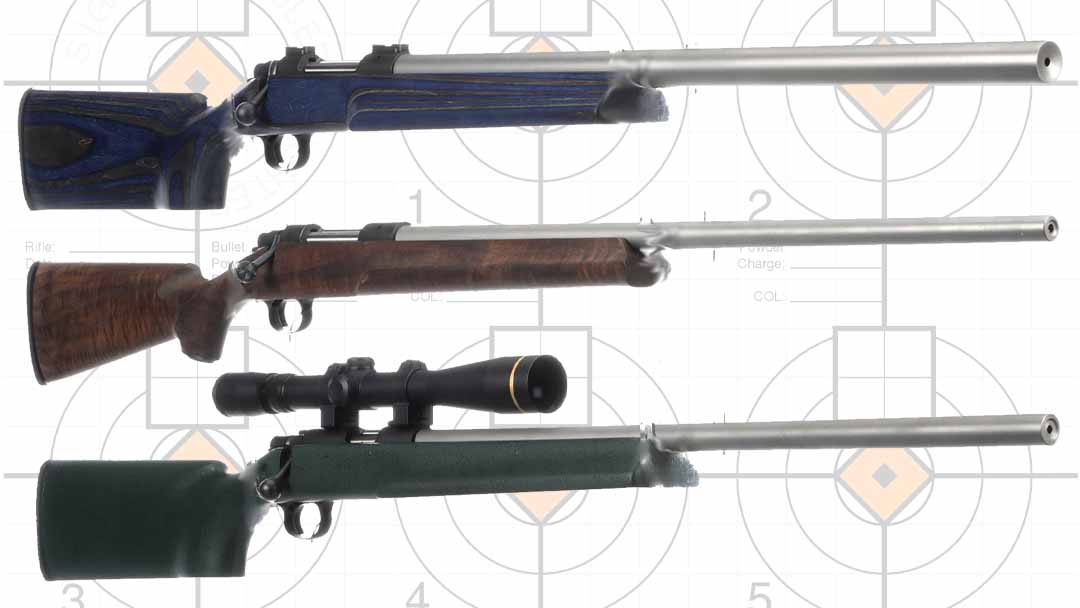 This is a trio of Cooper Arms bench rest rifles. Lot 780 (top) is a Cooper Arms Model 22 bench rest rifle chambered for 22 BR, while the middle rifle (Lot 789) is a Cooper Arms Model 22 that is chambered for 243 Ackley Improved, while the bottom rifle (Lot 3088) is a Cooper Arms Model 57-M chambered in 22 LR with a Leupold VX-3 6.5-20×40 scope.
There is truth in advertising in this sport because bench rest shooting is exactly that: competitors fire from a sitting position with their rifles resting on supports atop a large, sturdy bench. The forend of the gun is supported by a rest or a sandbag with the buttstock also supported in a similar manner. Competition distances can be 100 yards, 200 yards, 300 yards, 600 yards, and even 1,000 yards.
At 1,000 yards, shooters are contending with wind, temperature, and even the earth's rotation as they try to put all their shots through one hole.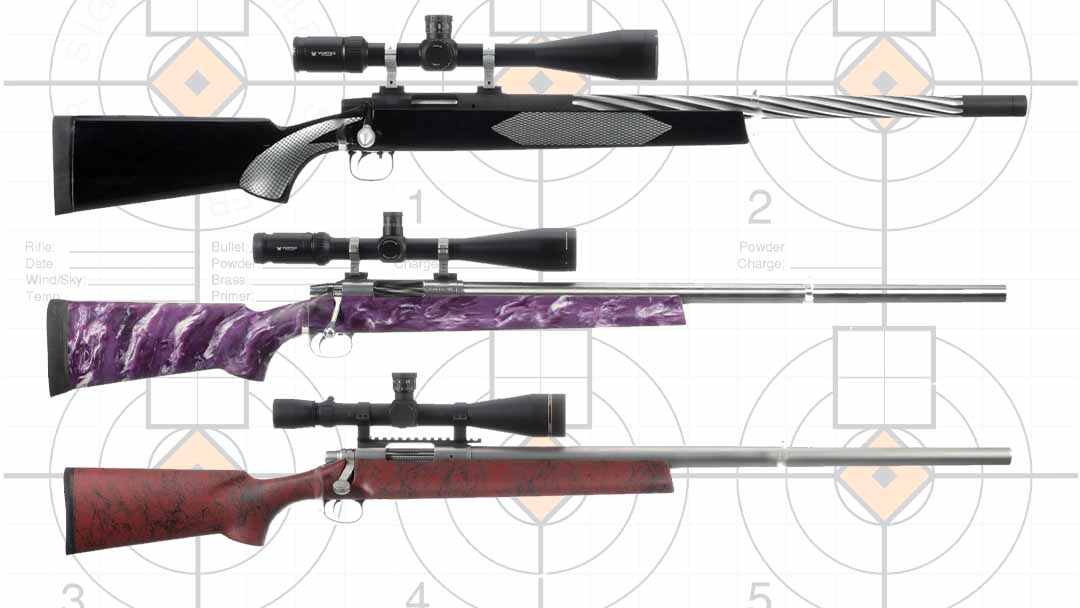 Lot 782 at top is a Bat Machine Co. heavy bench rest rifle featuring a Vortex Golden Eagle 15-60×52 scope taking 22 BR rounds. The middle longarm is Lot 783, a Nesika Bay Precision Model K bench rest rifle topped by a Viper 6-24×50 scope firing 6mm Ackly Improved .273 ND cartridges. On the bottom is Lot 785, a Remington Custom Shop Model 40Xmounted with a Leupold VX-3i LRP 8.5-25x50mm front focal scope.
Bench rest has two types of competition. The first is group shooting where either five or 10 shots are taken in a designated period of time and the centers of the two shots farthest apart are measured in millimeters. Scoring shooting uses a traditional bullseye target to determine a score with one shot on each of five or 10 targets, depending on the class.
Accurate Shooters Wanted
Custom-made bench rest rifles may have broad forends for stability and smooth action on the recoil that won't twist the bags the gun rests on and the rifle can return to the original firing position. While the trigger pull on many guns is measured in pounds, with bench rest rifles it is measured in ounces. Muscle tension while pulling the trigger can throw off a shot even slightly, so a light trigger offers less room for error when talking about tight groupings.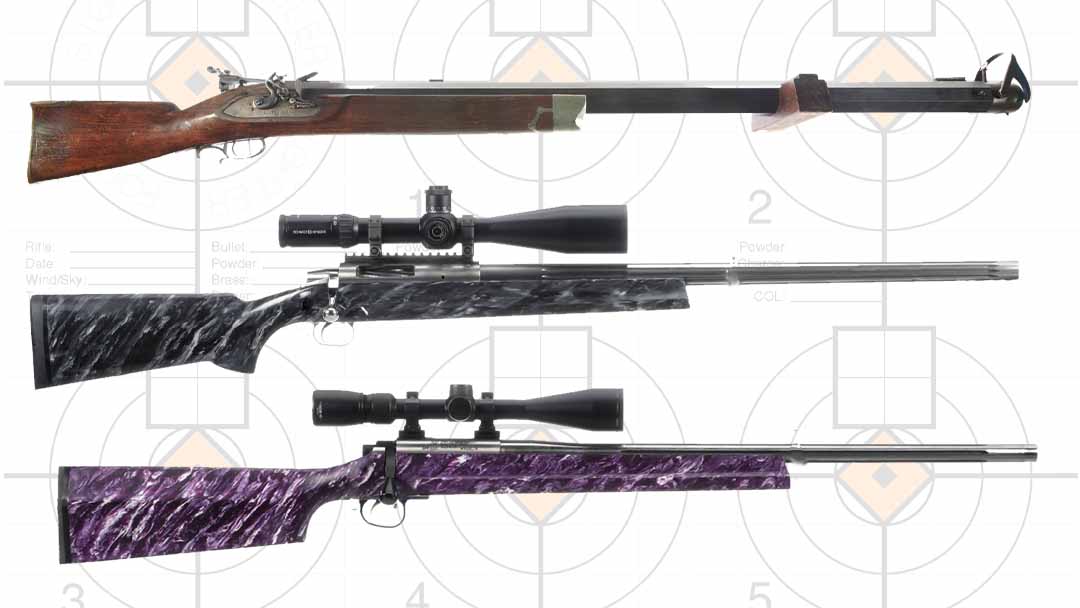 The rifle on top is Lot 2336, a Massive Heavy Barrel Flintlock bench rifle has a 46 3/4-inch long barrel and is chambered for 54 gauge cartridges. The middle Lot is Lot 3085, a Bat Machine Co. rifle with a Schmidt & Bender PM II 12-50×56 scope attached. It is chambered for 6.5-06 Ackley Improved. The bottom rifle is Lot 3087 a Stiller Precision Firearms Model 2500 X with a Vortex Razer HD 3-15x42mm scope. It fires 22 LR cartridges.
While equipment is key, consistency and form are important, too. The rifle should set in the rests so the recoil is as close to the same on every shot. Shooters have a very light touch on their guns but want to hold the gun the same way each time with the same recoil impulse on every shot. They practice breathing control and grip and keep doing their preparation for each and every shot.
Shooting styles are also different from competitor to competitor. Some may fire quickly as they take advantage of a lull in the wind, while others take their time to wait for wind gusts to pass each time. Shooters want to avoid the wind because a 5 mph breeze can make a significant difference in horizontal spread.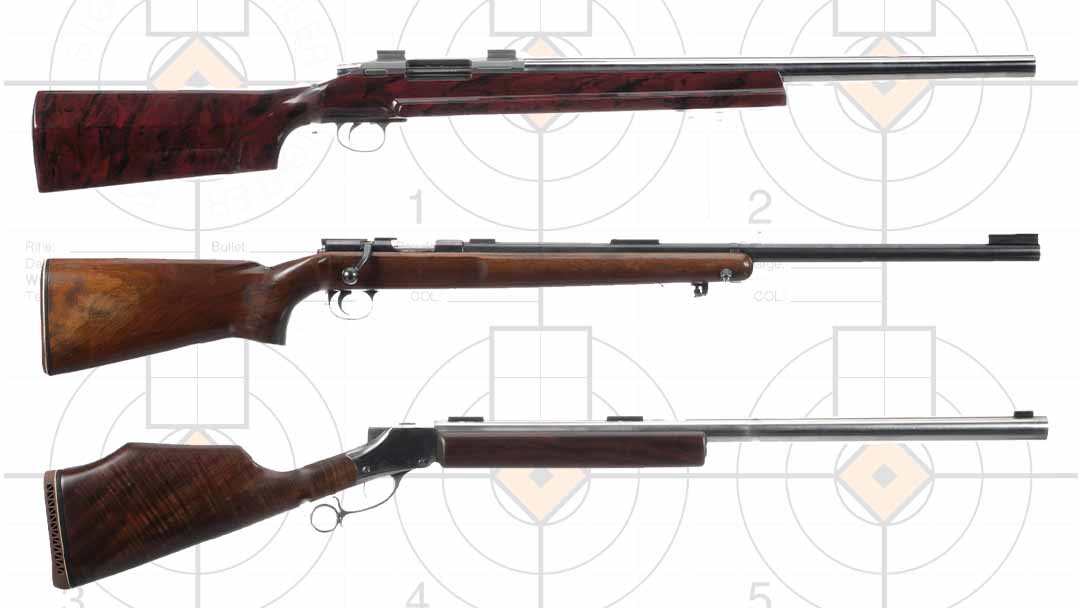 These three rifles offer more traditional finishes, unlike the more colorful bench rest guns. The Serrifile Falling Block rifle is Lot 3092 that has a traditional look to it, chambered in 30 gauge. Another traditional looking rifle in Lot 3090, a Remington/Eric Johnson Model 37 that shoots 22 LR cartridges. For the left-handed shooter, Lot 3089's Nesika Bay Precision Model E left-handed bench rest rifle is available, chambered in 30 BR.
Bench rest shooting forums describe competitors as tinkerers who always work toward the greatest accuracy since scores can be decided by the tiniest of margins. They tinker with ammunition loads and how the rifle sets as they try to cut down on vertical rise and horizontal spread.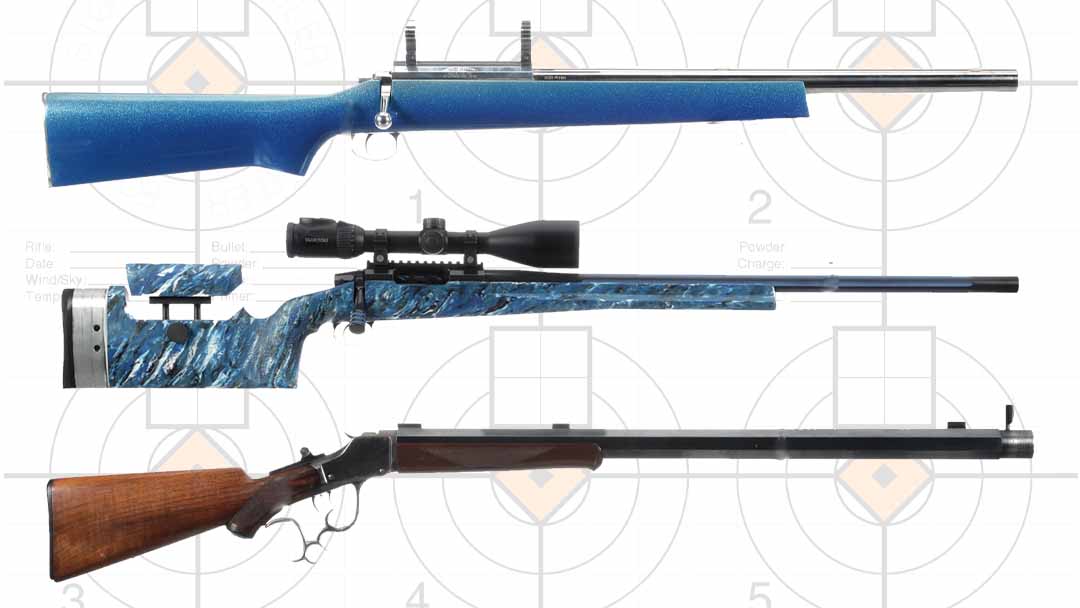 The blue rifle at top is Lot 3094, a Kelby's Panda bench rest rifle chambered for 6mm PPC awaiting a scope with mounts. The middle blue rifle, Lot 3095, is a Lone Peak Arms Fuzion bench rest rifle with a Swarovski Z8i 2.3-18x56mm scope that fires 17 Fireball cartridges. The traditional looking rifle at bottom is lot 4046, a K.R. Bresien/Winchester Model 1885 High Wall, that fires 41 gauge cartridges.
Most Accurate Ammo
Whelen, who wrote several books and authored numerous shooting articles, was a proponent of the .30-06 cartridge for its stopping power and .22LR for its accuracy. Bench rest shooters have taken to .22 caliber variants for the same reason and its lighter recoil. Bench rest rifles in the Oct. 4-7 Sporting and Collector Auction come chambered in such calibers as 22BR (Bench Rest), 243 Ackley improved, 221 Fireball, and 17 Fireball.
Bench rest competitors have also taken to 6mm ammunition because of its low recoil, as shooters consider it more accurate ammunition, if not the most accurate ammo. Rifles on offer have calibers like 6mm XC, and 6mm Ackly Improved. Bench rest rifles used for 1,000 yard competitions often use higher calibers close to Whelen's .30-06.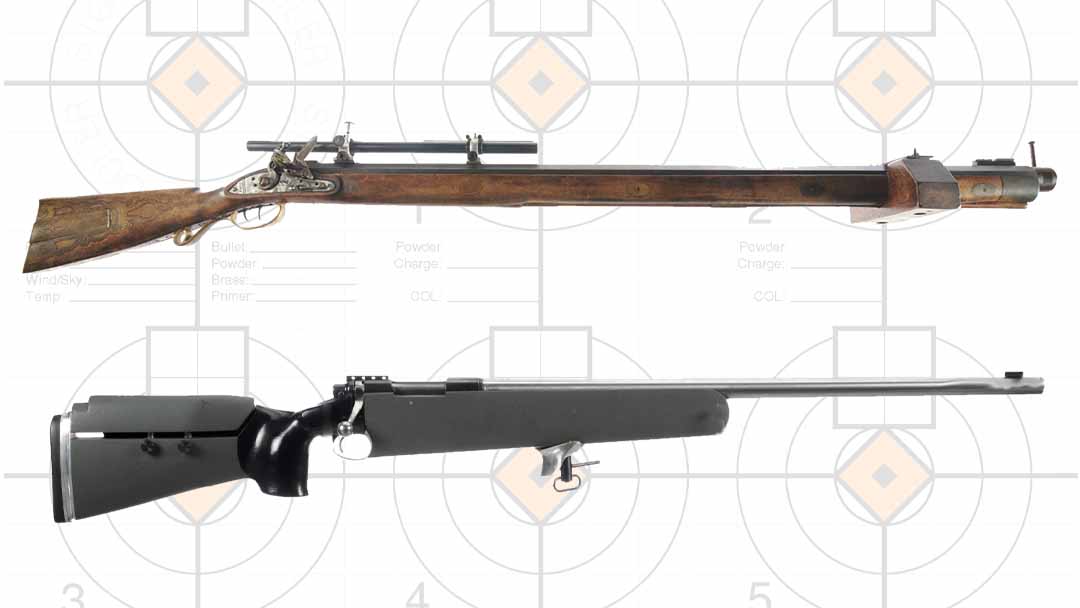 The Lester L. Cox Dual Ignition Flintlock/Percussion, Lot 4306, has a lengthy 42-inch barrel and has an Unertl scope tube converted to a peep sight. Below it is Lot 4804, a Remington Model 40X bench rest rifle. It fires 7.62mm NATO cartridges.
Hand loading is also something bench rest shooters often pick up as they try to find the powder load for the most accurate ammo for their guns at different distances. It is not uncommon for shooters to hand load ammunition at matches so they have the best cartridge and powder load for the competition's conditions.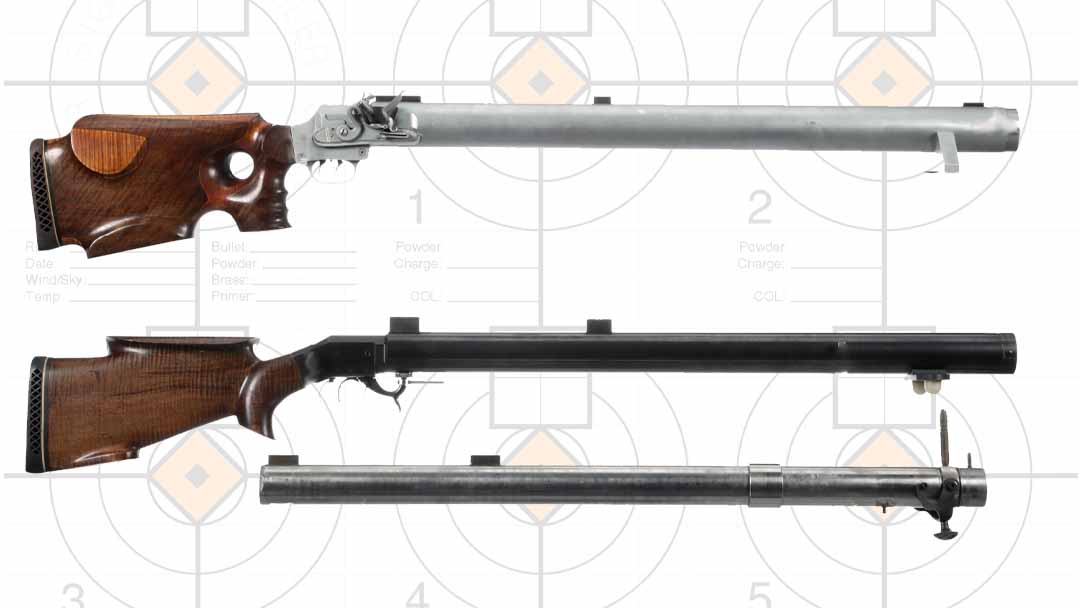 Lot 2334 offers two Modern American Heavy Barrel Muzzleloading bench rest rifles. At top is a 50 gauge G.F. de Vaudreuil Flintlock, and underneath is a 45 gauge K.R. Bresien Underhammer rifle with an extra barrel.
Spatter and Splash
Why is it that some bench rest rifles look Eddie Van Halen's guitar, Frankenstrat, with their colorful coats or offbeat schemes?
Competitors want the right stock with just the right amount of rigidity for stability and accuracy. They often turn to synthetic stocks rather than wood stocks. While offering traditional colors like desert tan or black, custom stock makers may feature primary or vibrant colors in varying patterns, whether it is camouflage, zebra stripes, marbling, or something else. The paint finish also provides a non-slip surface while protecting the stock.
Lot 778 is a Kelby's Inc. F-Class Panda bench rest rifle chambered in 6mm Dasher with a NightForce scope,top, while the black and white rifle is Lot 3086, a Mark Penrod/Bat Machine Co. bench rest rifle with a Schmidt & Bender scope.
The various colors and looks make bench rest rifles fun to look at, but shooting them is serious business. Lot 778's Kelby's Inc. F-Class Panda has more to offer than just the bright red finish of its stock. The rifle, chambered for 6mm Dasher, features a 28-inch heavy round barrel with a NightForce Competition 15-55x52mm scope on top. The Mark Penrod/Bat Machine Co. Heavy Bench Rest rifle in Lot 3086 may be monochromatic but it brings the goods with a 28-inch heavy round barrel and with a Schmidt & Bender Scope PM II 5-25×56 scope. Of the bench rest rifles on offer, the shortest barrel is 22 inches with most falling in the 24- to 30-inch range.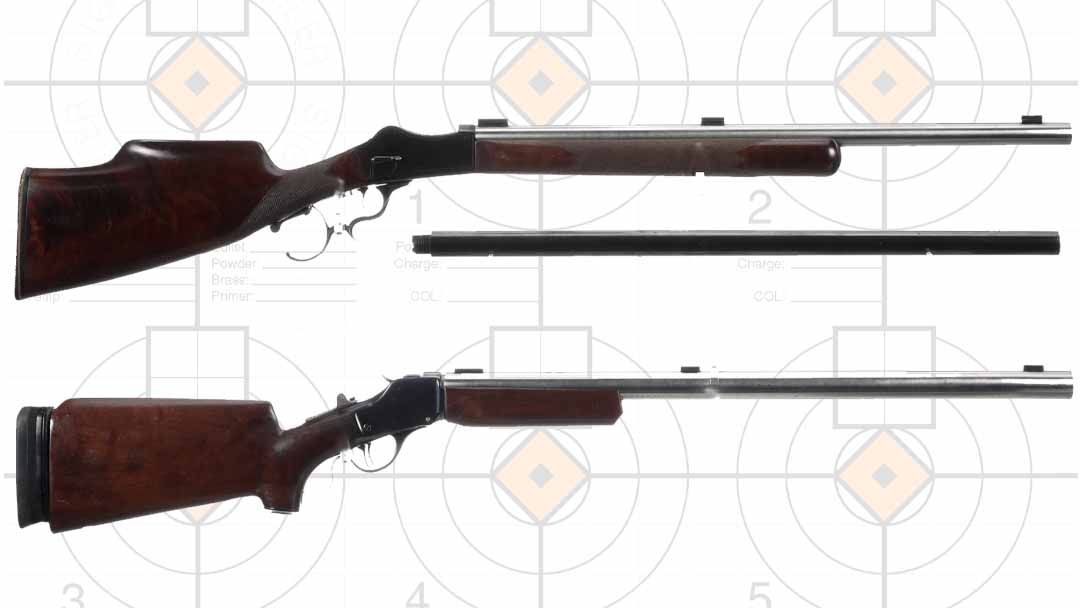 Lot 2331 includes a 30 gauge German Proofed Martini Pattern Rifle with an additional .22 caliber barrel and a Winchester Model 1885 High Wall rifle chambered in .32-40.
Accurate Shooters
Gun enthusiasts that want to get into the bench rest shooters fraternity have the opportunity to equip themselves well in the Oct. 4-7 Sporting and Collector Auction. With 29 lots featuring bench rest (or benchrest) guns, there are plenty of opportunities with a range of calibers and colors, price points, guns with scopes, different looks, or different stocks. Those who want an interesting gun like Townsend Whelen says shouldn't pass up on the accuracy these bench rest rifles have to offer.
Sources:
Bench Rest Shooting Fundamentals, by Lou Patrick, shoot-on.com
International Benchrest Shooters
One-Hole Accuracy — The Sport of Benchrest Rifle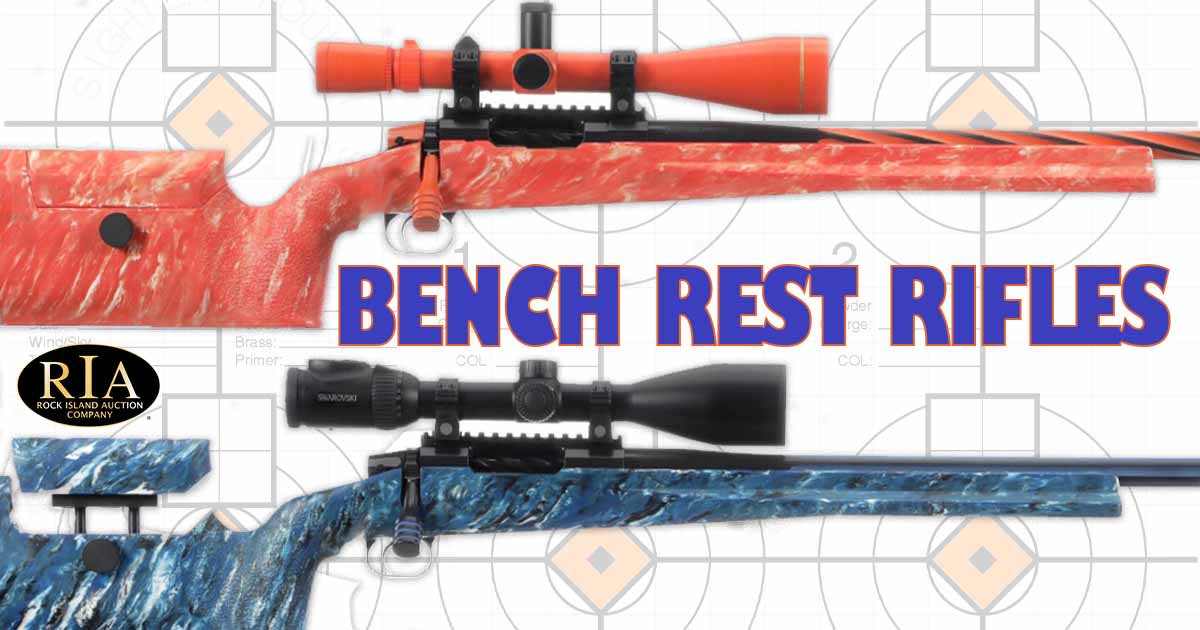 Rock Island Auction Company