12/06/2021 – Try as I might, I cannot seem to stand still in time, as I always end up getting swept along by the things changing around me. One day I am waging a losing battle of spoon feeding strained peas to a baby progeny.The next day I am trying, quite unsuccessfully, to decode a conversation with my fourteen year old granddaughter.
Yes, conflict, frustration and failure do form a common thread in my life. Thank you for noticing. However, more to my point, each person noted above lives their own reality, has their own perspective and is motivated by their own set of preferences. Which makes for quite a challenge to anyone in the business of making firearms for the masses. When someone selects a firearm, it only has to please that individual. When a firearm company markets products, they have to appeal to as large a segment of potential customers as possible.
When a manufacturer gets it wrong, it's Bud & Abbot's Susquehanna Handgun Company all over again. Never heard of them? Exactly. When they get it right, it looks a lot like a Browning Buck Mark.
The original Buck Mark product (above, bottom) was introduced in 1985, following Browning's Challenger rimfire pistol (above, top) which was in production from 1962 – 1985. The Buck Mark Plus Rosewood UDX (above, center) was a 2006 release.
There are thirty seven Buck Mark models currently in production. New model Buck marks are added and retired routinely; maintaining the most popular standards, while bringing in new models that reflect features, refinements and nuance of the day. In addition, there are Limited Availability models that are typically introduced through short production runs at the beginning of each year.
The Limited Availability Buck Mark Plus Vision Black/Gold Suppressor Ready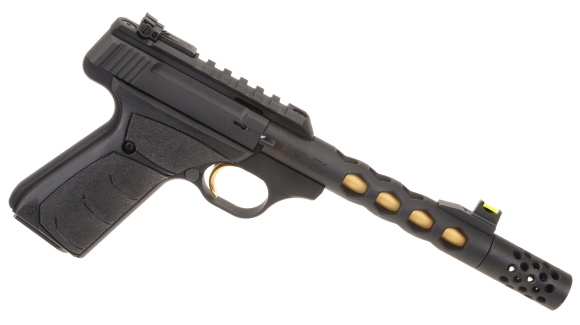 Yes, we did almost have to reformat the Real Guns site to accommodate that model name. The Plus Vision Black/Gold Suppressor Ready is one of the seventeen Limited Availability 2020 models.
Buck Mark Plus Vision

Manufacturer

Browning

Item #

051573490

Country of Origin
U.S.A.
Type
Single Action
Operation
Blow-Back Autoloader
Caliber
22 Long Rifle
Mag Capacity
10
Barrel

Aluminum Sleeved Steel

Barrel Length
5 7/8"

Muzzle device

Brake – (1/2″-28 Threads)

Rifling
1:16″
Weight
27 Oz
Overall Length
9 9/10"
Grips
UFX Rubber Overmolded

Frame
7075 Aluminum Alloy

Receiver

7075 Aluminum Alloy

Rear Sight
Adjustable Pro Target
Front Sight
TRUGLO® fiber-optic
Sight Radius

8 1/4″

Optic Sight Mount

Picatinny Rail

Trigger Pull
4 Lbs. 12 Oz.
Safety
Thumb & Mag Disconnect
MSRP
$749.99

Nominal Weights & Measures
As is the case with all Browning Buck Mark models, the Plus Vision is made in U.S.A.. Its frame and receiver are precision machined from aircraft grade aluminum alloy and black hard anodized for a durable finish.
Controls are where we have all come to expect them, within reach of our opposable thumbs. While man, generally, has the longest thumb or finger length proportion, my thumbs are freakishly short and I still had no problem reaching the slide release (above mid grip), thumb safety (above aft grip) and…. with a little stretch, the magazine release. yes, that little checkered button located aft trigger guard. The rear of the slide is dog eared to make slide opening easy.
The 1/2″ diameter steel barrel resides in a tensioning, lightweight aluminum sleeve. As a result, the pistol is lighter, runs cooler and with no sacrifice to accuracy. The subject model's barrel is has a hand reamed chamber and recessed target crown. The barrel's finish is gold Cerakote. For those who might have a different sense of aesthetics, there are red, blue and black versions of the Buck Mark Plus Vision with varying barrel sleeve appearances.

The combination of fiber optic front sight and Pro-Target rear sight works. The bright green front element and white outlined rear aperture both measure 0.135″, which provides good daylight for centering front to rear. The rear sight has a finer adjustment than standard Buck Mark models, with 16 windage clicks per revolution. The rear sight is integrated into the Picatinny rail.
The Browning Buck Mark Plus Vision is quite slender. The barrel sleeve diameter is 0.9″, the thickest part of the frame measures approximately 0.85″ wide and the grip is 1.3″ at its widest point. So a balance of compact size hardware and but a grip size that makes for a steady hold.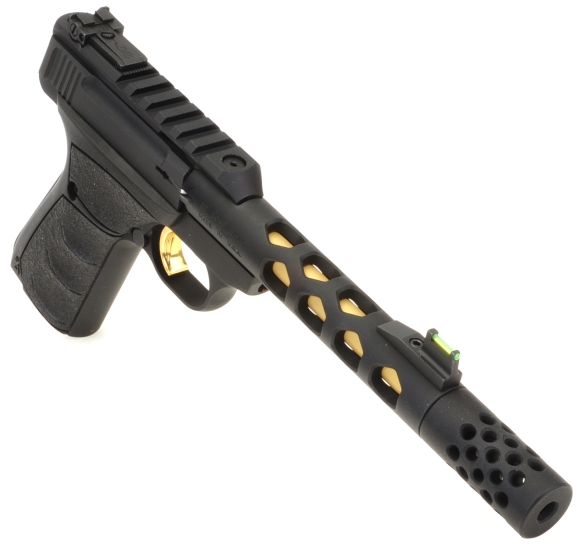 No, the brake is not for show. If you've ever sight tracked a structure marauding squirrel as it makes its getaway toward a tree line, you know the value of a good rimfire brake on follow up shots… when attempting to send Rocky straight to bushy tail hell. Yes, of course I am kidding. I love little tree rats and often think of adopting one. At least, when grown up, it would probably call and/or visit its mother and father every once in a while.
Why it's called "Suppressor Ready"
Silencers on 22 LR Rimfire pistols make a good deal of sense.Using target ammo, or any other subsonic ammo, leaves only the sound of firing pin strike and slide reciprocation to announce a shooter's intentions. Hunting small game for the table is greatly simplified, if a first shot doe not scare game into the next county. A silencer is also a positive contribution to a long day at the range.
Is there a down side to suppression? Maybe. In this case my old AAC Aviator 2, at just under 6.5″ long, the AAC extends the Browning's overall length to approximately 16″. While light, the pistol/silencer length will not qualify as a pocket pistol, but the length isn't much of a handicap. I carry the silencer in a pocket and install it where I set up, hunting or at the range. There are also significantly shorter silencers that can take the overall length down a couple of inches.
If I were talented, I could probably get free ammo…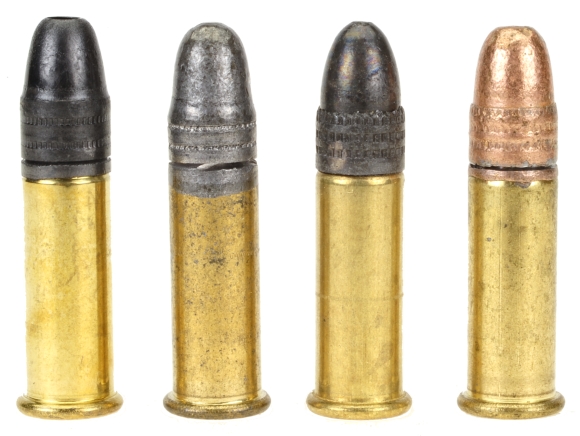 Ammunition

Bullet




Grains

Rated




MV FPS

Recorded


MV FPS
Braked

Recorded
MV FPS
Suppressed


25 Yard


5 Shot Group"
Braked


Eley Subsonic HP

40

1040

935

923

1.2

Winchester Match RN

40

1150


1036

1082

1.0

Remington Thunderbolt RN

40

1255


1087

1064

1.4

Winchester Wildcat HP

40

1255

1103

1083

1.3
Not being statistically… enlightened, each line represents 11 rounds of ammunition; 3 shot average for braked and suppressed velocity and one 5 shot group. In context with the other ammo type lines, that tells me what I need to know about the pistol's performance. It is accurate, it is consistent and it is not ammo type sensitive.
If I were designing a firearm and testing and analyzing prototype performance to design criteria, I could easily see a great deal of data collection and control of environment. However, this is not a proof of concept exercise, it is consumer assessment of a product based on its real world applications. Plinking, small game hunting, varmint control, and even most types of competition require no extensive statistical analysis.
Generally, people that shoot vast amounts of ammunition in search of an anomaly fall into one of three categories: works for an ammunition manufacturer, a software engineer who recently developed an interest in firearms, a person with an answer in search of a question. The data appearing on the table is straight forward and not in the least bit provocative.
The groups were shot from a rest with a handgun scope in place.Just my way of isolating my fuzzy vision from the Browning's mechanical potential. Use of an open, compact reflex sight shot nearly the same.
Overall impressions?
Browning remains a brand that always is something a little special; good aesthetics, quality fit and finish refined performance.
My initial concern was that the weight reduction at the barrel, 27 oz versus 35 oz for a similar barrel length, non-Plus Vision Buck Mark, would be less steady on target. This proved not to be the case. Could be the longish sight radius is an offset.
The wide trigger is a nice touch, which mitigated a slightly heavy trigger pull. The Picatinny rail was beneficial to me, as it allowed me to change sight systems quickly. Reflex and scopes maintained zero when removed and reinstalled.
The Browning consumed whatever ammunition it was fed, including mixed ammo type magazines. No problems with extraction, feeding or cycling within the ammo noted on the table, which reflect a relatively wide power range.
The Browning Plus Vision is exactly what it appears to be, a very nice rimfire pistol.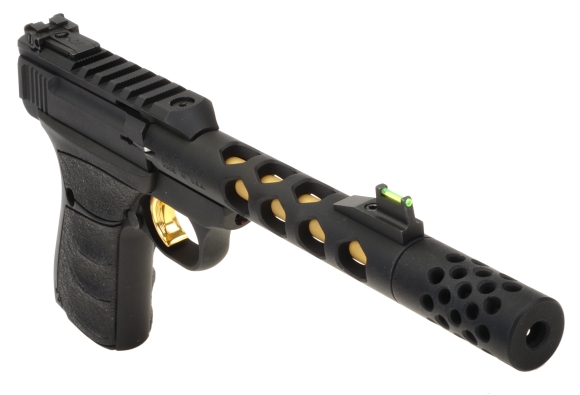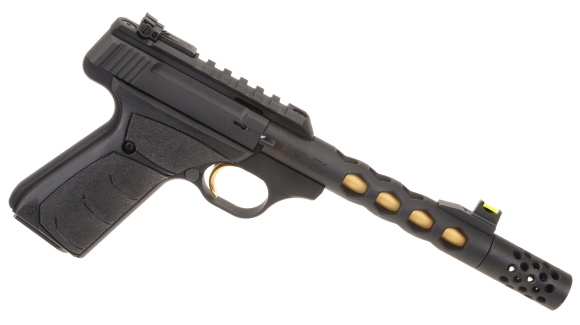 Real Guns – A Firearm and related publication