Yesterday, the morning was spent digging up and pulling out a pear tree by its roots with the tractor's backhoe. Deceptively large root system for a less than massive tree. Working outside feels really good, even if the result is only being muscle sore or taking a nap.
Love this time of year in Maine. In the course of two weeks, the woods grew so dense that visibility dropped to a handful of yards at the tree line. Everything around me is one of two colors, tree bark grey or bright leaf emerald green. Rain brought skies so overcast that all of the dusk till dawn security lights came on at mid afternoon.
Fortunately, I had gotten out to the range early this morning and was able to collect data for the Browning. A few series of targets and some chronograph readings and then the sky opened up and remained that way for the rest of the day.
Personal history with the SA-22
After writing lead ins for the Browning SA-22, numerous times over the years, I considered leaving that information out. However, some readers may not know the association with John Moses Browning… no, the rifle, not me. Subsequently, I am going to write it again.
The Browning SA-22 has always held my interest. Beyond being the most successful of the John Browning rimfire designs, it has crossed my path several times, each time with a different outcome. Sometime around 1959 or 1960, when I was fourteen years old, I walked a couple of miles from work to the Bloomfield Sporting Goods Store and put $5 down on a $65 layaway purchase of a Grade I Browning SA-22. Grade I having straight grained dark walnut stocks, black blued receiver and barrel, a little touch of engraving scroll on the receiver sides.
The purchase price was $65, I paid in $45, before accepting I could not spare the money. I lost the rifle and my money and conceded I could no more afford that fancy little .22 than I could afford an Auto 5. However, the little Browning did not elude me forever.
When my youngest son turned ten, his older brothers were eleven and twelve, he wanted a rifle of his own. Michael was the little guy who was frustrated by not always having the same freedom as his older brothers. So my wife and I, on a very tight family budget, gave him a Browning Semi Auto 22 as our contribution toward sibling parity. We never did tell him the history behind the rifle's selection. Perhaps we should have… Perhaps not.
John Browning's history with the SA-22
Browning was granted patents 1,065,341 and 1,065,342 on June 24, 1913, patent number 1,083,384 on January  6, 1914. The first is for the take down assembly as utilized on the semi-auto 22 rimfire Browning, the second is a safety device and the third patent is for the rifle, although it specifically states the design could be applied to a rimfire or other type of cartridge. It is my understanding that the first production placed the loading point at the top of the buttstock and through to the receiver.
Some may wonder how the rifle patent came after the sub-assembly design patents. While the award is later, the filing for the rifle preceded the others by five months. The patent for the rifle clearly places and describes the magazine tube being filled top side at the base of the small of the stock. In one of the two iconic photos of Browning, he is cradling the early semiautomatic 22 and the loading port is on the right side of the buttstock as the rifle is generally seen.
Browning's semi-automatic .22 caliber rifle was first manufactured by Belgium's Fabrique Nationale in 1914 as the F.N. .22 Caliber Automatic Rifle. Remington licensed U.S. rights to the design, which led to their Model 24, 1922 – 1935 and the Model 241 Speedmaster, 1935 – 1949. The Browning Arms Company began offering the Browning .22 Automatic, manufactured by F.N. and imported into the U.S. 1956 – 1974. Importation continued on with manufacturing moving to Miroku in 1976. The History of Browning Firearms – Miller and John M. Browning American Gunmaker – Browning & Gentry differ slightly in dates.
There have been numerous configurations and production has been interrupted intermittently by war, politics and market demand. Still, a rifle with so few changes, and in production over 100 years after its introduction, has got to be something special. I've always found it interesting that an inventor, so accomplished in martial weapons, would be motivated to finesse such a refined rimfire rifle design as he neared the end of his career.
The Browning SA-22 Challenge..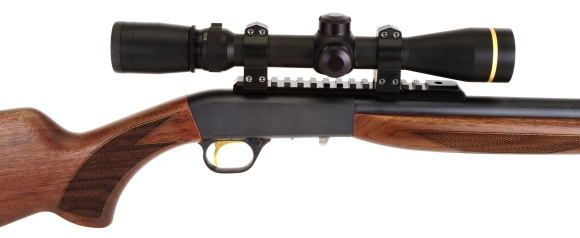 Regardless which Browning SA-22 model, they are all built on a very compact, solid sided receiver. Breech block manual actuation, empty casing ejection and chamber status checks are accomplished from the bottom. There's the Browning genius; tiny receiver to minimize bulk while offering structural rigidity and adult size buttstock, length of pull and wide, semi beavertail forearm.
Browning Semi-Auto 22 Challenge

Company

Browning

Manufactured

Miroku – Japan

Item #

021024102

Type of Action

Semi-auto – Blow Back


Caliber

22 LR

Magazine Capacity

10

Magazine Type

Tubular

Barrel Length

16 1/4″


Barrel Material

Alloy Steel

Barrel Finish

Matte Black


Rifling Twist Rate

1:16″

Receiver Material

Forged Alloy Steel

Receiver Finish

Matte Black

Embellishments

None

Stock Material

Grade 1 Black Walnut

Length of Pull

13 3/4″

Drop at Comb

3/4″

Drop at heel

2 5/8″

Front Sight

None

Rear Sight

None

Scope Mounts

Picatinny Rail


Weight of Firearm

6 Lbs 10 Oz.

Overall Length

33 22/25″

Safety

Cross Bolt

MSRP

$959.99
The Browning SA-22 Challenge differs from the traditional Browning SA-22 in only a few, but meaningful ways.
The SA-22 traditionally has a dropped comb to facilitate the use of the standard model's metallic sights. The Browning SA-22 Challenge has a raised comb to bring line of sight closer to the center of a Picatinny rail mounted optical sight.
Traditionally the Browning is a takedown design, as indicated by the knurled ring at the intersection of the barrel and receiver. Do not see that knob pictured above? That's because the Challenge is not a takedown model and has no ring.
The Challenge's 16.25″ bull barrel is fixed, 2.75″ shorter than the standard model, and threaded 1/2″-28 to accommodate muzzle devices.
The Browning Challenge's alloy steel barrel, receiver and buttplate have a matte black oxide finish. The walnut stock has a flat satin finish. They work very nicely together and, personal tastes, it looks much better than the dipped in plastic '70s look of the takedown models.
One area that would make a noticeable aesthetic improvement would be improvements to buttstock to receiver fit. Browning did a terrific job with wood finish and coloring, the checkering is very clean and provides all the traction needed even in wet weather.
The forearm fits close to the barrel and receiver and there is no rattling. For some reason, the buttstock is 0.025″ wider all around the rear perimeter of the receiver and it detracts from the overall look of the rifle. Yes, I am picky. Thank you for noticing.
Buttstock feed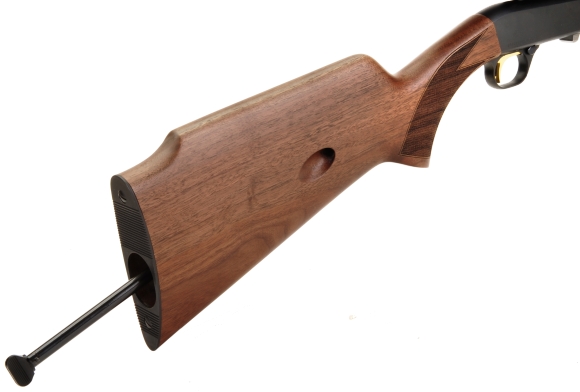 The Browning is loaded through the port on the right side of the buttstock with ten rounds held in the brass tube that is fed from the buttstock; pull the magazine tube back, drop ten rounds in the stock's port, push the tube in and rotate to latch. The original design was fed through a port at the top, small of the stock.
With scope and silencer in place, the subject gun is still compact. However, the high comb supports the face and both the pistol grip and forearm are adult hand filling. A very steady rifle to shoot from standing, kneeling, sitting and prone positions.

For suppressed operation, the supplied brake is unscrewed and replaced by the not supplied silencer. Performance differences, velocity and accuracy, were insignificant at the range. Supersonic ammo is much quieter wit the silencer in place and subsonic ammo sound is less than the sound of the breech block cycling.
Getting screwed over makes me grumpy….
Spending a good deal of time outdoors, means impromptu rimfire target shooting. I can try my hand at bouncing a pine cone along the ground, shooting nubs off winter tree fall or dispatch rodents that insist on benefiting from my work in the vegetable garden. I am afraid the days of $10/500 loss leader ammo are long gone, replaced with $50/500 rounds for ammo on sale and $100/500 for quality match ammo and then there is anything made by Lapua for pretentious shooters. Still, 22 LR rimfire ammo is the least expensive ammo.
I know, everything has gotten more expensive, but I think we are being taken to the cleaners by ammo manufacturers. The price for 22 LR ammo on sale was at $10/500 just before Obama became President in 2009. Today, ammo on sale is $50/500, a 500% increase. During the same span of years, inflation was 38%, which should have resulted in price of $13.80/500 at today's prices. I think we may be paying for too many exotic trips, boats and planes for ammo company executives. But, sometimes, you just need to let things go…
OK, setting aside the issue of exorbitantly priced ammo… produced by money grubbing, European vacationing, short sighted, golf playing, ammo making executives, rimfire shooting is challenging, relaxing and easy… three of my favorite semi diametrically opposed words.
There, now I feel all better…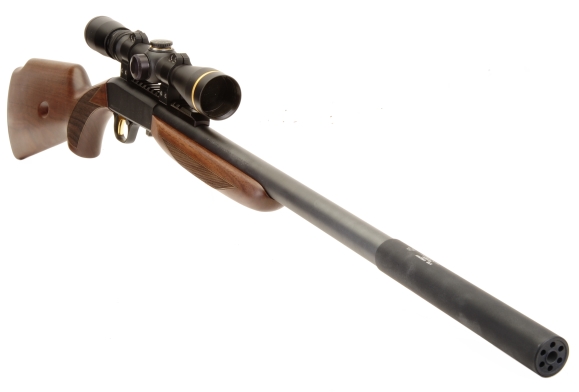 The Browning SA-22 Challenge was configured with a scope and silencer. The scope took most of my eyesight out of the accuracy equation and the silencer made my ears happy. As noted earlier, velocity and accuracy differences between silencer on or off was statistically insignificant. Subsequently, the silencer was in place when the following data was collected.
Ammunition

Bullet




Grains

Rated
24″ BBL


MV FPS

Actual
16 1/4″ BBL


MV FPS

50 Yard


5 Shot
Group"
Remington Match

40

1150

1053

0.4


Remington Thunderbolt RN

40

1255

1218

0.5

Eley Subsonic HP

40

1040

1014

0.8

Winchester Match RN

40

1150

1196

0.7

Winchester Wildcat HP

40

1255

1246

0.7
Nothing surprising in terms of velocity other than this, and anything else I have shot over a chronograph, never follows those videos where someone reduces a barrel's length one inch at a time and shows a a uniform, or near uniform, degradation in velocity. What does it all mean? Who knows? Mechanical, chemical… too many influencing elements to attribute and explanation. More important, who cares beyond having a relative indicator for subsonic, sonic, supersonic, and "Holy mackerel, did you see that one!" levels of performance.
There were no failures to feed or eject or fire with the exception of one round of Remington Match that did not fire, was then rotated in the chamber where it fired normally. I attribute the failure to ammo, not the rifle, as both rim strikes were normal depth and uniform definition.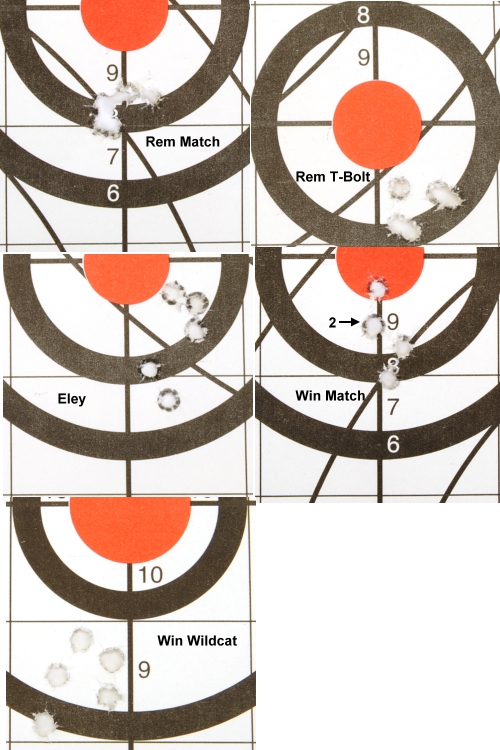 The targets above were shot with the rifle rested on a couple of bags up front and my shoulder holding position at the back. With one exception, I see the normal patterns of a rifle looking for favorite ammo. A little dispersion, a little vertical stringing, a little shift in point of impact and none of the groups are bad. Some are exceptional in both standard and high velocity loads.
I have to take ownership for the Eley group. I put a lot of ammo through the Browning and the silencer put a lot of powder residue back into the receiver and action. The trigger let off increased with lots of grit. I lifted the rifle off the bags, emptied it and blew the action out with compressed air. Then I put it back on the rest and took the remaining two shots with an obvious shift in point of aim. Yes, I should have re-shot the group, but the rifle was put up and the bench was put away before I pulled the targets. Yes, I'll say it. I was too damn lazy. Getting old and it was getting late.
Overall.. No, not overalls

The Browning SA-22 Challenge is a nice rimfire. I like the no sheen oil finish looking stocks. Machine checkering has made major strides and the SA-22 is a good example of the process. Metal work is clean, as is its black finish. Accuracy is excellent and the gun has a lot more potential in the area than I extracted. The rail is handy. For a personal firearm, I might be tempted to mount an open micro red dot sight.
The magazine capacity is more than adequate for my purposes. It has been 60 years, at least, since I loaded up a 22 rimfire with tons of shorts so I could keep shooting longer without reloading.The threaded barrel is a nice touch, whether for use with a brake or a silencer. Barrel length, based on chronograph readings, is sufficient as a 22 LR rifle. The trigger has a centerfire rifle feel; little take up, no noticeable creep, and a light let off, unless someone did not clean it when it should have been cleaned… like shooting lots of ammo with a silencer in place.
I am not sure which version I like more, the Challenge or the takedown SA-22. I think a takedown SA-22 with the Challenge wood and metal finish would be my choice, or maybe both. I think this model variant bodes well for JMB.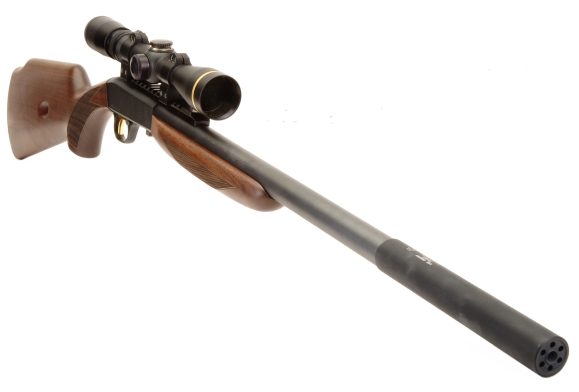 Real Guns – A Firearm and related publication