My wife and I took a day off to watch the tourist survey New England foliage and to take some pictures… of the foliage. Beautiful day, but too soon into fall for really brilliant colors.
We have lived in a number of states that put color into seasons, but mostly what I remember are the green leaves, immediately turning to fallen brown leaves, that needed raking. New England is different.
It might be the combination of all the different types of hardwood that produce so many colors, the winding mountain blacktop roads bordered with stacked boulder walls. Probably more sharing these Autumn days with my wife. Simple pleasures. Life is good.
On the other hand, I have given up on Newman's Own Organics French Roast/Dark Roast K Cups. If I wanted to pay a buck a cup for coffee, current local supermarket price, I would go to Starbucks. No, no I wouldn't… even if coffee was free. What they have done to coffee is tantamount to customizing a 4 door '57 Chevy and trying to pass it off as '50's cool. Some things are unforgivable. Where was I? Oh, yeah…
So I am researching Wally's Great Value 100% Arabica French Roast Dark Ground Coffee @ 23 cents/ea. So far, when hot, I've found it to be rich, full-bodied, long on the palate, and structured. However, even slightly cooled, it taste like melted chocolate and garden manure. Yes, there was the time I was turning over flower beds and ate a sandwich without removing my work gloves. It tasted a lot like Wally's Great Value 100% Arabica….
T-Bolt Target with Muzzle Brake

There are a very few premium bolt action rimfire rifles being produced these days, which is a shame. A rifle with so much utility deserves the respect of a finely finished walnut stock and blued steel parts and refined accuracy. A quality rimfire can do many things better than a larger centerfire.
A rimfire rifle is a terrific tool to use when instructing new shooters in the areas of safety and marksmanship; virtually no recoil, low report and mechanical accuracy that can challenge a new shooter to rise to a rifle's potential. A rimfire rifle can dispatch varmints and harvest small game. Under normal ammunition supply circumstances, a rimfire is the rifle of choice for recreational target shooting where there is a population density consideration or where low cost/high volume shooting is the objective.
The Browning T-Bolt is a unique rimfire in that it is a straight pull bolt action rifle. No lifting motion, the bolt handle is pulled straight back to eject and empty, then pushed straight forward to close and lock the breech. The cycling motion is very similar to a Blaser, K31 Swiss or Mannlicher M95. It is fast cycling and the bolt handle never gets tangled in a scope's eyepiece.
Browning T-Bolt Target With Muzzle Brake


Manufactured
Miroku Japan
Model

025251202

Type
Straight Pull
Caliber
22 Long Rifle

Magazine Capacity
10
Barrel Length
16.5″ 1/2″x28 Threaded
Rifling
1:16″
Weight
6 Lbs 2 Oz

Overall Length
34.75″
Stock
Black Walnut
Metal Finish
Matte Blue

Length of Pull
13.50″
Drop at comb
0.625″
Drop at heel
0.625″
Rear Sight
Clean
Front Sight
Clean
Scope
Drilled & Taped
Rings
Not Included
Trigger
 3 Lever Adjustable
Trigger Pull
4 lbs. 2 oz.
Safety
2 Position Tang
MSRP
$699.99

Also available in: 22 Mag and 17 HMR
The Browning T-Bolt was initially manufactured by F.N. between 1965 and 1974. There was a basic T-1 version, $59.75, and a T-2 version with a 24″ barrel and checkered walnut stock $79.75. A small number were produced in a left hand version, all were magazine fed 5 shot repeaters.
In regard to the quality of those firearms, each has a collector's value at least 10 times greater than its original price. The T-Bolt was reintroduced by Browning in 2006, the heavy barrel Target/Varmint version in 2007.
The Browning T-Bolt, at the time of this writing, is available in  Sporter and Target/Varmint weights, walnut and laminated hardwood stocked. All are available in 22 LR, 22 WMR and 17 HMR. The walnut stocked 22 LR T-Bolt Sporter is also available in a left hand version.
Distinctive Features
The T-Bolt Target has a short, but full floating bull profile barrel, a hand filling pistol grip and a wide, flat target forearm. The stock leaves the factory with sling swivel studs for those shooters who intend to carry the T-Bolt afield and/or know how to use a shooting sling. The magazine is flush to the stock bottom. The brake can be removed to fit other muzzle devices.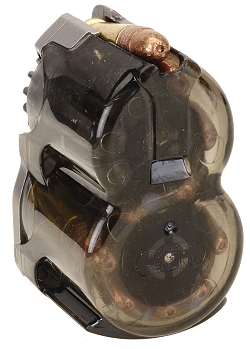 I shot the rifle with a silencer and without. The silencer did a good with subsonic target ammo, not so much with sonic cracking supersonic rounds. The factory brake was very effective in minimizing discharging muzzle movement and keeping the rifle on target.
When the T-Bolt was reintroduced, it included a 10 round Double Helix™ rotary box magazine in place of the original model's 5 shot magazine. One of the easiest magazines to load and most reliable, The Double Helix™ is torsion spring driven and interlocking gear timed. The magazine has a smooth bottom surface that fits flush with the T-Bolt's stock.
Some folks would say "Big deal, it's a magazine", but the truth of the matter is, squeezing 10 rounds of 22 LR ammo into a flush fitting magazine, then into a standard profile stock is a big deal, especially if it feeds reliably and it is easy to unload without having to sacrifice a thumb in the process. Actually, it's pretty entertaining to load even without the rifle… but perhaps that's just me.
The star of the show
Yes, muscle memory and mind set did require a magazine full down range before I stopped trying to lift the little bolt knob to cycle the action. Once there, the mechanism and motion were comfortable and fast. No locking lugs at the front or back of the bolt body, just a stout perpendicular cross bolt and a solid receiver lock up.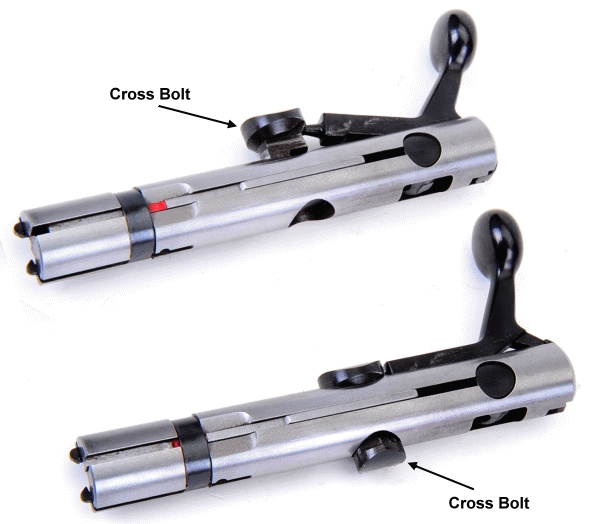 If you are familiar with the long slide and camming bolt sleeve and rotating locking lugs of the K31 Swiss straight pull, you'll appreciate the strength and simplicity of the T-Bolt's design. If you are not, take my word for it; simplistic, but full service design.
Pulling the hinged bolt handle back, pulls the cross bolt from the corresponding openings in the T-Bolt's receiver and allows the bolt to travel rearward for extraction, ejection and feeding.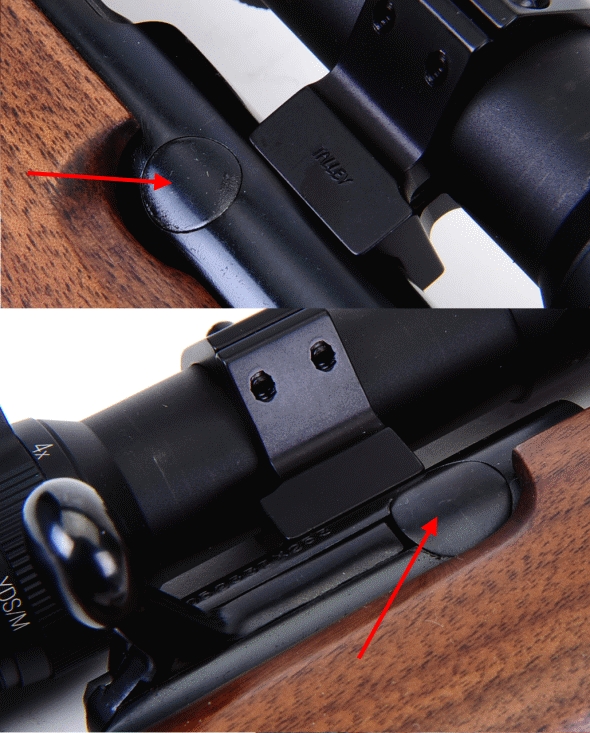 Pushing the bolt handle forward strips a cartridge from the rifle's magazine, homes the bolt and moves the transverse cross bolt into the locked breech position as seen above. The receiver is machines from steel bar stock and secured with two action fasteners.
Reaping the benefits of the T-Bolt straight pull?
Since I was so impressed with the rifle and its components, it seemed appropriate to see if it would shoot straight. The rifle was shot at both 50 and 100 yards. They were memorable yards as brush and saplings grew over the range before winter has had a chance to set in. Consequently, I had to machete… a great movie by the way, and axe my way from the bench to the indicated distances.
The range clearing task culminated with engaging a porcupine in stick to quill combat in an effort to get him to part with his home in a hollow tree trunk, as it was too close to line of fire. Señor Puercoespín, mi hogar no es tu hogar.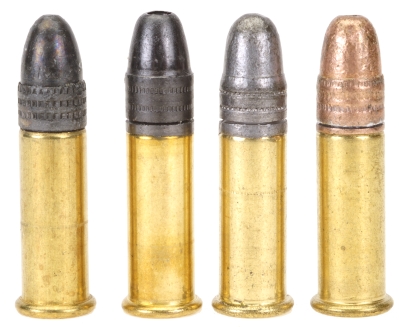 Four types of 22 LR ammo were selected, if for no other reason than I use them a lot and they cover virtually all of my applications. Chronograph 10′ from rifle's muzzle.

Ammunition

Bullet




Grains

Rated




MV FPS

Actual




MV FPS

50 Yard




3 Shot Group"

100 Yard




3 Shot Group"

Remington Thunderbolt RN

40

1255

1293

0.3

1.1

Eley Subsonic HP

40

1040

1056

0.5

–

Winchester Match RN

40

1150

1192

0.2

0.8

Winchester Wildcat HP

40

1255

1209

0.7

–
Targets designed for engineering precision
50 yards rested. Ammunition as noted on targets.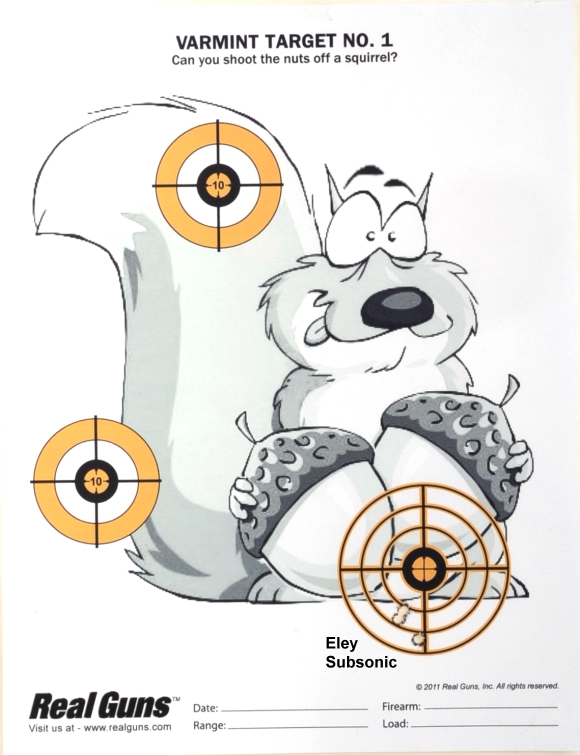 50 yards rested. Ammunition as noted on targets.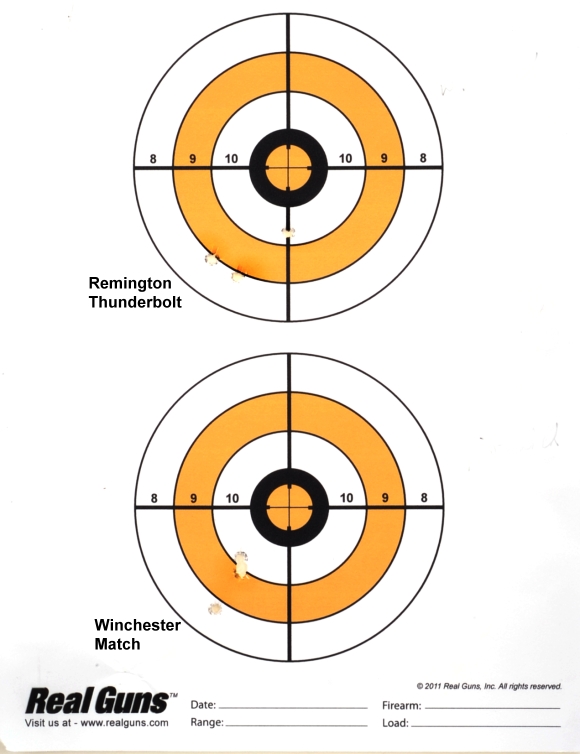 100 yards rested fron the most accurate at 50 yards. Yes, they are downloadable targets from the Real Guns site.
But what is the Browning T-Bolt Target like?
I like the T-Bolt because it is hand filling and steady, even though it weighs just a shade over 6 lbs. I like the 16.5″ barrel. The bull profile dampens vibration and, I believe, contributed to the rifle's accuracy and balance.
Walnut stocks, for me, is a mark of quality. The overall quality is good and the subject gun arrived with perfect aesthetics. The 10 round capacity is more than enough for me. No, I do not want a mag extending down to hold 30 or 50 rounds. It would be useless for any of my applications…. we'll call them real world, and extended magazines are too easy to hang up on almost anything.
The matte finish is ideal, in my opinion, as reflector mirror like finished are useless in the field and just about everywhere else.
The straight pull action is quite smooth and movement is abbreviated. During check out, there were no snags, missed feeds, failures to fire, or failure to extract. For me, it is worth every penny of its price.