Buffalo Bill Cody entangled true life and tall tales to create his image as the Wild West showman, and the "first scalp for Custer" episode is a perfect example of that.
Briefly, Buffalo Bill killed a Cheyenne warrior in late July 1876 after the Little Bighorn massacre and reportedly removed the scalp and held it aloft proclaiming, "the first scalp for Custer!" In at least one retelling of the story, he is carrying an Evans Repeating Rifle.
An Evans Rifle Transition Model with a factory presentation plaque inscribed to William F. Cody on May 12, 1877, a rare L.D. Nimschke presentation engraved Evans transition model, and a Winchester Deluxe Model 1873 rifle with the engraved inscription "WM F. Cody/1ST Prize" is available in Rock Island Auction Company's first Premier Auction in its new Bedford, Texas facility, Dec. 8-10. Also on offer is a rare L.D. Nimschke presentation engraved Evans transition lever action rifle.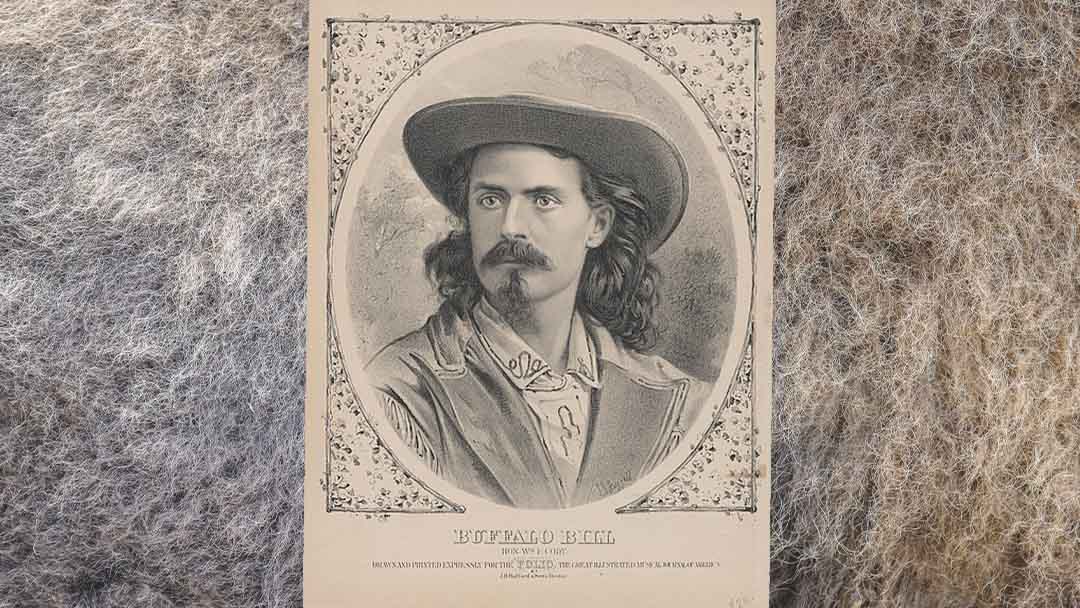 Legendary Wild West showman Buffalo Bill Cody.
The Evans Rifle
Designed by dentist Warren R. Evans, the Evans Repeating Rifle had the largest magazine capacity of any rifle made in the United States during the 19th century. Manufactured in Mechanics Falls, Maine from 1875 to about 1880, the Evans Old Model could carry 34 rounds of proprietary .44 caliber ammunition in a helical magazine in the stock that was an extension of the receiver. The New Model was made for longer cartridges and had a capacity of 26 rounds. By comparison, the Winchester Model 1873 – "the gun that won the West" – had a magazine capacity of 15 rounds.
The key difference between the New Model and the Old Model was that the new model used slightly longer cartridges though both were still .44 caliber. The Transition Model had a walnut lower buttstock and a redesigned butt plate that improved the gun's balance.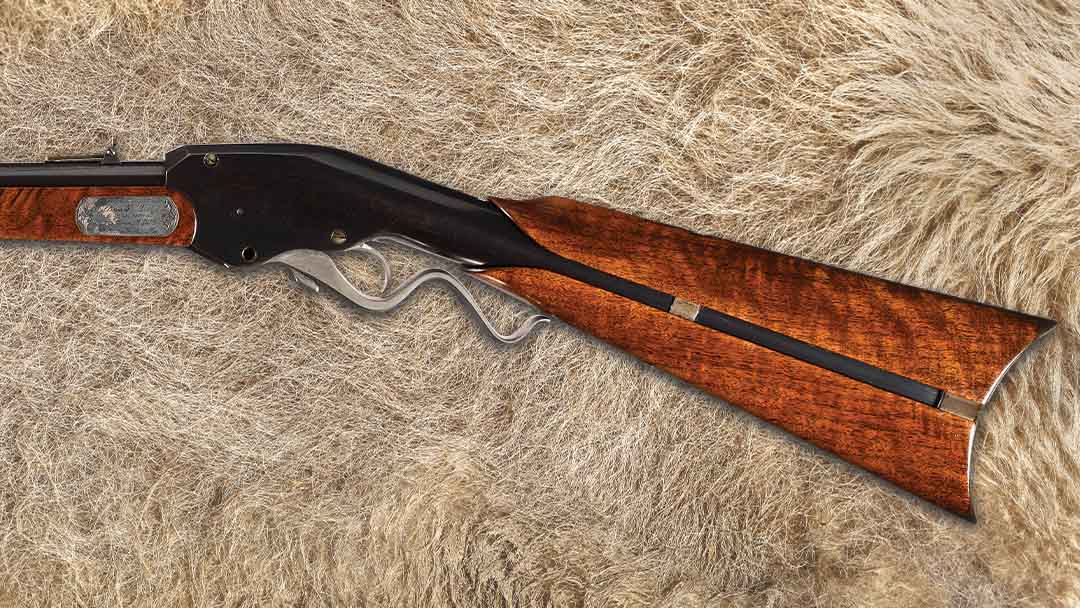 The 34-round magazine for the Evans Repeating is located in the stock and uses a helicual system to feed proprietary .44 caliber cartridges to the receiver. This rifle was presented to Buffalo Bill Cody.
When loading cartridges into the spiral channel of the magazine through the butt plate, the lever had to be activated, then closed and reopened, rotating the magazine by a quarter, then repeating the process until all 34 cartridges are loaded. If during loading, the lever is operated and returned without a cartridge, that would leave an empty gap between loaded rounds.
The rifle has a pressed steel receiver and magazine with an underhammer action. It was intended for military use but failed at trial so went into commercial production. It weighs in at more than 9 lbs. with most of the weight in the butt stock where the spiral magazine is located. Author Philip B. Sharpe described the gun as jam-proof from tests he did.
More than 12,000 rifles and carbines, including 1,050 of the Transition Model were manufactured by the time the Evans Repeating Rifle Company went bankrupt in 1879.  The company's assets were liquidated in 1881.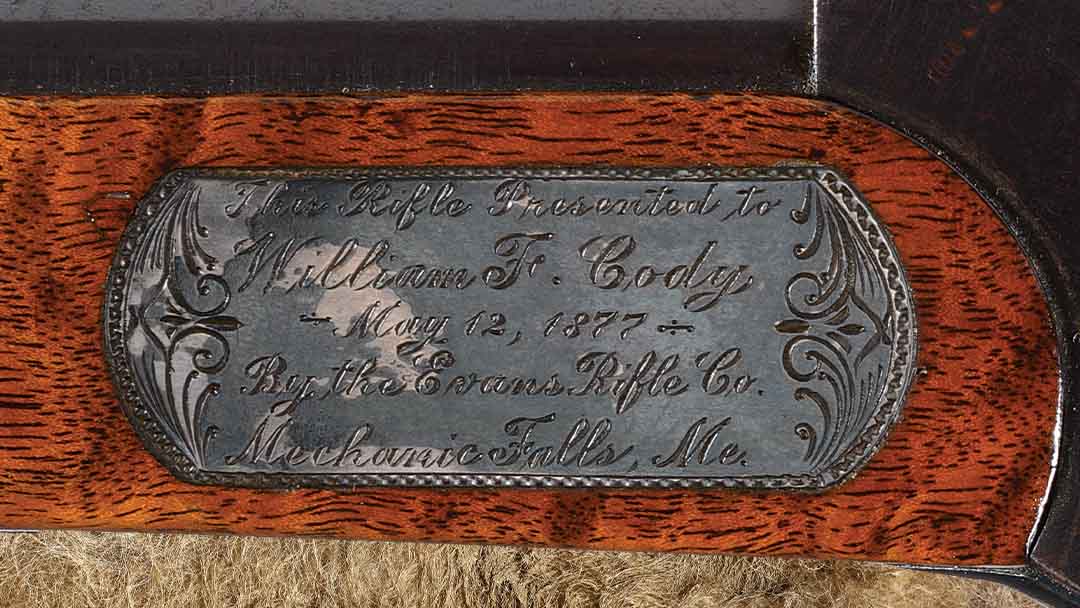 The plaque on the left side of the Evans Rifle presented to Buffalo Bill Cody reads, "This Rifle Presented to/William F. Cody/May 12, 1877/By the Evans Rifle Co./Mechanic Falls, Me."
The Death of Yellow Hair
The Cheyenne warrior killed by Buffalo Bill at the Battle of Warbonnet Creek in July 1876 has variously been called Yellow Hair or Yellow Hand. He has often been described as a chief, but was actually a warrior who was the son of a chief. When this episode was shared, it was with varying degrees of embellishment.
Starting with what Buffalo Bill wrote to his wife, Lulu on July 18, 1876:
"We have had a fight. I killed Yellow Hand a Cheyenne Chief in a single-handed fight. You will no doubt hear of it through the papers. I am going as soon as I reach Fort Laramie the place we are heading for now send the war bonnet, shield, bridal, whip, arms and his scalp to Kerngood (who had a clothing store in Rochester)to put up in his window. I will write Kerngood to bring it up to the house so you can show it to the neighbors. … I have only one scalp I can call my own that fellow I fought single handed in sight of our command and the cheers that went up when he fell was deafening."
In his 1879 autobiography, he told of a running fight — perhaps with that Evans Repeating Rifle — that lasted several minutes and left three Cheyenne dead before coming up against Yellow Hair/Hand who was riding back and forth challenging him.
"One of the Indians, who was handsomely decorated with all the ornaments usually worn by a war chief when engaged in a fight, sang out to me, in his own tongue:
"I know you, Pa-he-haska; if you want to fight, come ahead and fight me," Buffalo Bill wrote.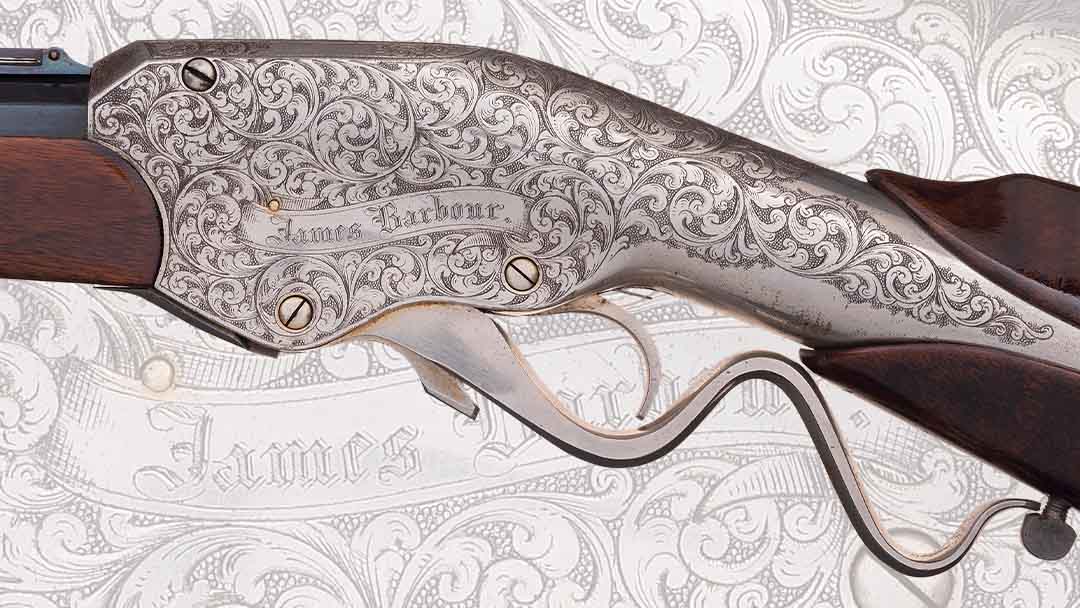 A closeup of a rare Evans Rifle engraved by Master Engraver L.D. Nimschke that was likely a deluxe presentation piece and has a banner with the name "James Barbour" in Old English engraved on the left side of the receiver. The nickel-finished receiver features flawlessly executed Germanic scroll engraving on a punch-dot background. The hammer, lever, and buttplate are also nickel-finished.
According to the autobiography, they galloped toward each other and stopped. Buffalo Bill took a shot and killed the warrior's horse. Buffalo Bill's horse stumbled from a prairie dog hole and he fell to the ground. Both men recovered from their fall and arose about 20 paces apart and fired simultaneously. The warrior's shot missed but Buffalo Bill's aim was true and shot Yellow Hair/Hand in the chest.
"He reeled and fell, but before he had fairly touched the ground I was upon him, knife in hand, and had driven the keen-edged weapon to its hilt in his heart. Jerking his war-bonnet off, I scientifically scalped him in about five seconds," Buffalo Bill wrote.
Soldiers and Native Americans came charging toward Buffalo Bill. He continued in his autobiography, "As the soldiers came up I swung the Indian chieftain's topknot and bonnet in the air, and shouted: "The first scalp for Custer.""
Another account, offered in "Buffalo Bill, Last of the Great Scouts," by Helen Cody Wetmore, Buffalo Bill's sister, and Zane Grey, describes the run-in similarly to the autobiography, with Yellow Hair/Hand challenging Buffalo Bill to a duel.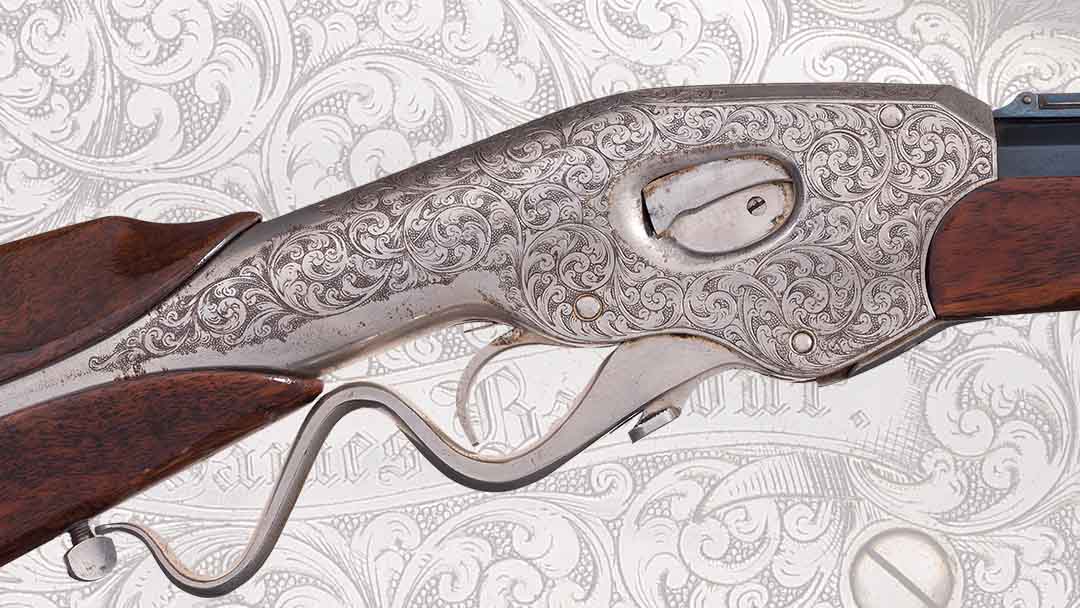 A closeup of the right side of this nickel-finished Evans Rifle engraved by Master Engraver L.D. Nimschke shows the amazing Germanic scroll engraving on a punch-dot background.
The Truth of Yellow Hair's Death
Author Don Russell reviewed a number of contemporary accounts that knock down the more lurid moments of the incident. Among the first things he corrects was the warrior's name. It wasn't Yellow Hand. He was called Yellow Hair because he carried the scalp of a white woman.
Yellow Hair didn't challenge Buffalo Bill, but rather met almost by accident and fired almost immediately, according to Russell. The Cheyenne took a bullet to his leg that killed his horse, and the incident continued about as Buffalo Bill's autobiography states though he didn't stab Yellow Hair in the chest. He did scalp the Cheyenne as soldiers rode after the other combatants, but no one heard what Buffalo Bill claimed to have shouted, according to accounts from other witnesses that included cavalrymen and a correspondent from the Ellis County Star. Despite these reports, this tall tale took hold within days of the encounter.
There were even claims, though mostly dismissed, that Buffalo Bill hadn't killed Yellow Hair, but that he was killed by other troopers, Russell wrote. Most of those claims were from people who weren't near the skirmish. What weapon he used against Yellow Hair remains unknown. Again, the tale is full of inaccuracies and myth-making.
Buffalo Bill was dressed in one of his stage outfits, a black velvet vaquero suit with silver buttons and lace so that, according to Russell, Buffalo Bill could claim that he was dressed in an authentic scout outfit. Was he carrying an Evans Rifle when the confrontation occurred?  It is from Buffalo Bill's autobiography and stage show that Yellow Hair became Yellow Hand and was elevated to chief. He began to tell the tale of "the first scalp for Custer!" when he returned to the stage in October 1876 after leaving the Army.
As the small stage show expanded to Buffalo Bill's Wild West show and Native Americans were hired as performers, Buffalo Bill interacted with them and over time grew less comfortable about the scalping act. He also removed the scalp and war bonnet from display at stage side.
A closeup of the Evans Repeating Rifle presented to Buffalo Bill Cody shows the ejection gate, the blued receiver and the fine walnut of the forearm and stock.
Evans Rifle of Buffalo Bill
Author Dwight Demeritt Jr. makes the best case for the Evans Repeating Rifle being presented to Buffalo Bill. Writing on page 138 in "Maine Made Guns and Their Makers," Demeritt states, "The [Evans Company] followed the lead of other arms companies and presented specially made rifles to well-known personalities of the day. One such presentation made by the Evans Company was to William F. Cody (Buffalo Bill) on May 12, 1877. A rifle, allegedly the rifle that was presented to Cody, still exists and is what the author has described as the transitional model gun. It has the old model action with the two-piece buttstock." Demeritt attributes the information to the "Lewiston Journal," a Maine newspaper.
Buffalo Bill wasn't unknown to Maine and its cities at the time the gun was presented to him, according to the date on the presentation plate. Newspapers of the time showed a number of appearances at various Maine theatres and at least one shooting match that Buffalo Bill won in the late 1870s, perhaps with the Evans Repeater.
Winchester 1873 Rifle of Buffalo Bill
Frank Butler, an Army scout, Annie Oakley's husband, and good friend of Buffalo Bill's who spent a short time in the Wild West show, wrote a letter to the Glasgow, Scotland newspaper in 1891 to defend him. He wrote that he never saw Buffalo Bill brag about his shooting ability in 12 years of friendship, but that "Yet during that time I have seen him accomplish feats with the repeating rifle that have seldom, if ever, been equalled, and certainly never surpassed."
As a frontiersman and Indian fighter, Buffalo Bill was a fine shot, so a Deluxe Model Winchester 1873 in .38 caliber inscribed to "WM. F. Cody/1st Prize" suggests he won it in a shooting contest of some sort. The gun shipped from the warehouse in February 1893 with an octagon barrel, plain trigger, checkered pistol grip stock and casehardened buttplate. Despite no time or place of the shooting match known, the previous owner wrote that the gun was examined by three curators at the Buffalo Bill Historical Center Firearms Museum and the consensus was that the inscription is credible and authentic to the period.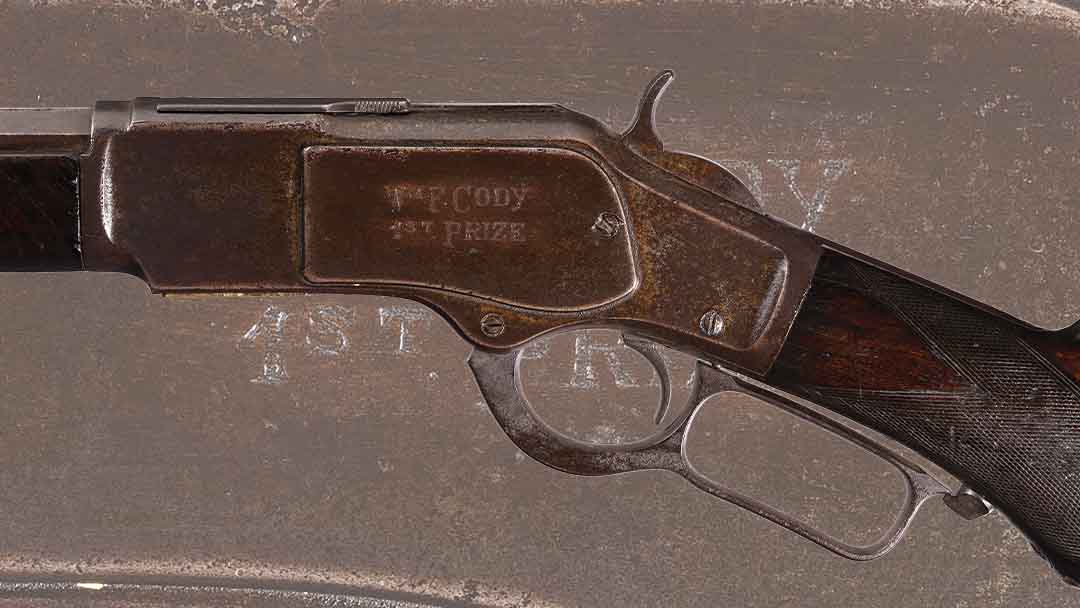 A closeup of a Deluxe Model Winchester 1873 that is inscribed "WM. F. Cody/1st Prize" that has been called credible and authentic to the period by Winchester experts who have examined the rifle.
Evans Rifles for Sale
Buffalo Bill Cody received guns from a number of gun companies as his fame grew and he often gifted them to friends and associates. A gun attributed to Buffalo Bill is an amazing piece of Wild West history on top of the already interesting history of a gun like the Evans Repeating Rifle with its 34-round capacity from the 1870s as is a Winchester that documents Buffalo Bill's shooting prowess. Another Evans Repeating Rifle with rare engraving by legendary master L.D. Nimschke is also available in the Dec. 8-10 Premier Auction, offering immense opportunities to obtain 19th century guns with amazing history, artistry, and technical innovation.
Sources:
"The Lives and Legends of Buffalo Bill," by Don Russell
"Buffalo Bill, Last of the Great Scouts," by Helen Cody Wetmore and Zane Grey
"Buffalo Bill's Life Story," by W.F. Cody
"What the True Story of Buffalo Bill Reveals About the Myth of the Wild West, Adapted from MEDIOCRE: The Dangerous Legacy of White Male America," by Ijeoma Oluo, Time Magazine
"The Rifle in America," by Philip B. Sharpe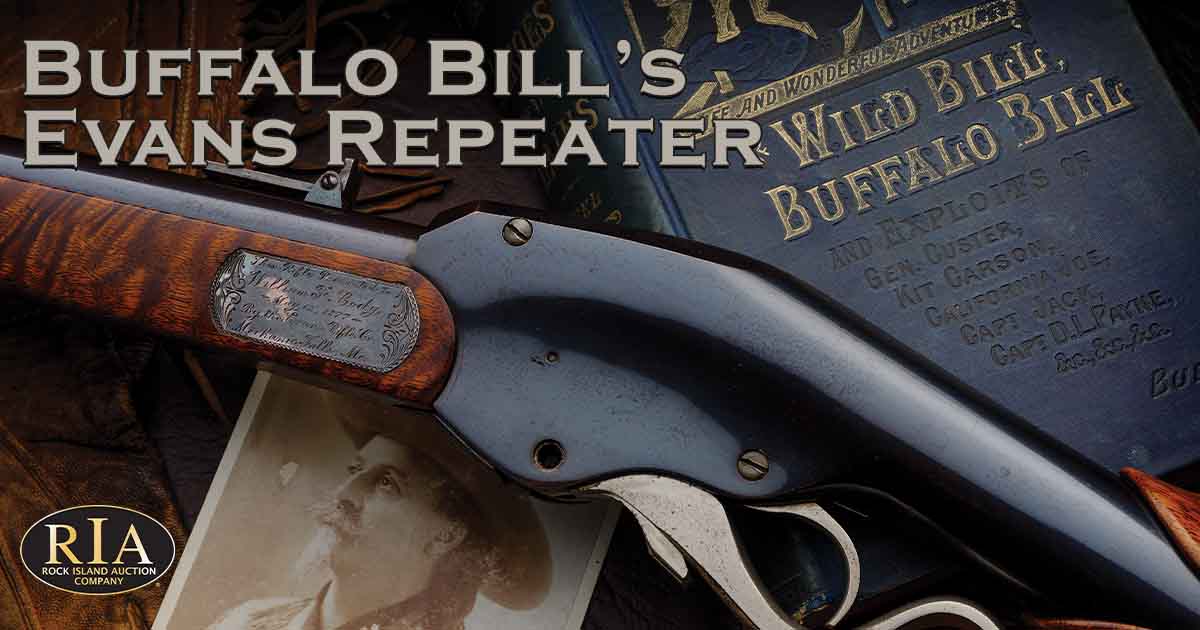 Rock Island Auction Company