Buffalo Bill Cody needs no introduction to those even vaguely familiar with the American West. The Union scout, Pony Express rider, Civil War soldier, Medal of Honor recipient, Indian fighter, and buffalo hunter was already a living legend by the time he founded his Wild West show in 1883, and factory-documented Buffalo Bill presentation firearms are some of the scarcest treasures in gun collecting.
The Winchester Model 1895 lever action carbine offered in Rock Island Auction Company's December 9-11 Premier Firearms Auction is factory documented as presented by Buffalo Bill Cody to Fred Kavanaugh, Cody's friend and business partner.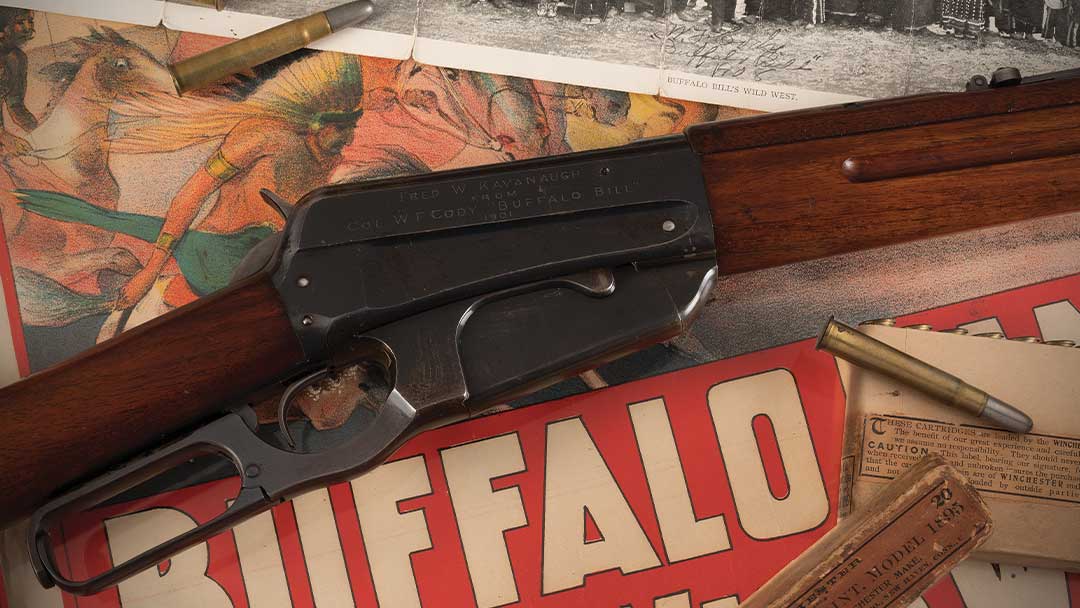 A Winchester 1895 carbine presented by Buffalo Bill, one of the defining figures of the American West.
The historical significance of this exceptional Winchester 1895 carbine cannot be overstated. Most firearms presented by Buffalo Bill have found their way into museums and are not available on the private market. Add to those rarities its high condition, factory-documented provenance, and its direct connection to Buffalo Bill's home-away-from-home, the Irma Hotel in Cody, Wyoming, and you have a true cornerstone in not only Wild West memorabilia but historic arms collecting as a whole.
The Buffalo Bill Wild West Show
In 1883, William Cody founded "Buffalo Bill's Wild West", a circus-like extravaganza that toured widely for three decades in the United States and Europe. Cody's legendary show was a highly popular form of late 19th-century entertainment that featured Native Americans, cowboys, scouts, and marksmen and markswomen performing elaborate productions.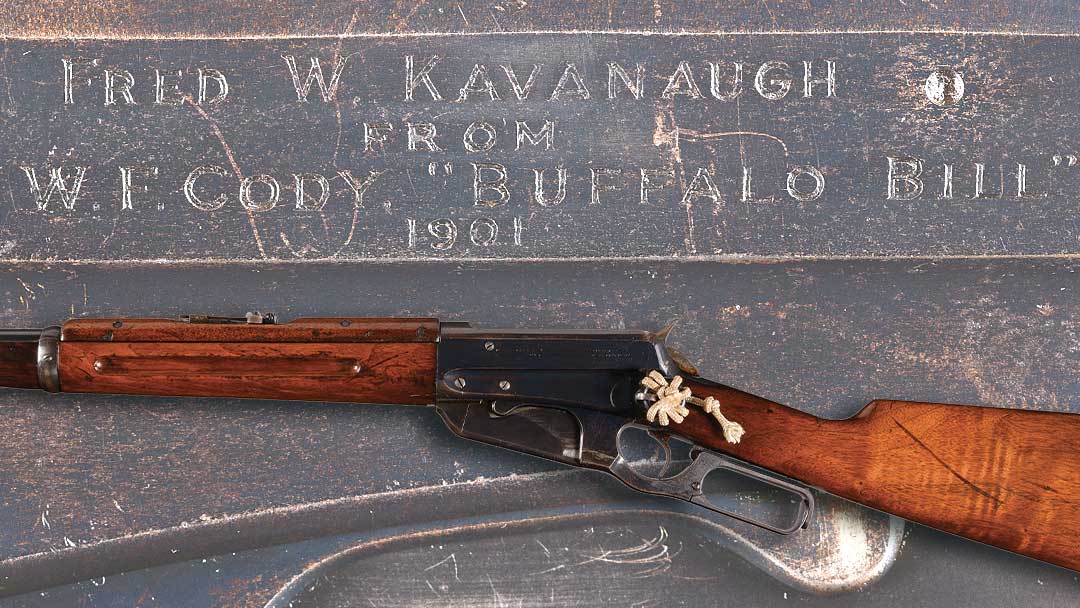 A presentation piece from Buffalo Bill Cody during the height of his popularity in 1901.
Throughout its existence, the Buffalo Bill Wild West show featured performances by figures forever synonymous with the American frontier like Buck Taylor "King of the Cowboys," Annie Oakley, Frank Butler, Sitting Bull, Johnny Baker "The Cowboy Kid," Rough Rider Billy McGinty, Pawnee Bill, Dr. William Frank Carver, Montana Frank, and Calamity Jane. In the winter of 1886, the show was retooled for an impressive four-act indoor performance at Madison Square Garden.
Buffalo Bill's Wild West toured Europe eight times between 1887 and 1906, elevating Cody to an international celebrity. Speaking about Buffalo Bill's worldwide fame, Mark Twain commented, "It is often said on the other side of the water that none of the exhibitions which we send to England are purely and distinctly American. If you will take the Wild West show over there you can remove that reproach."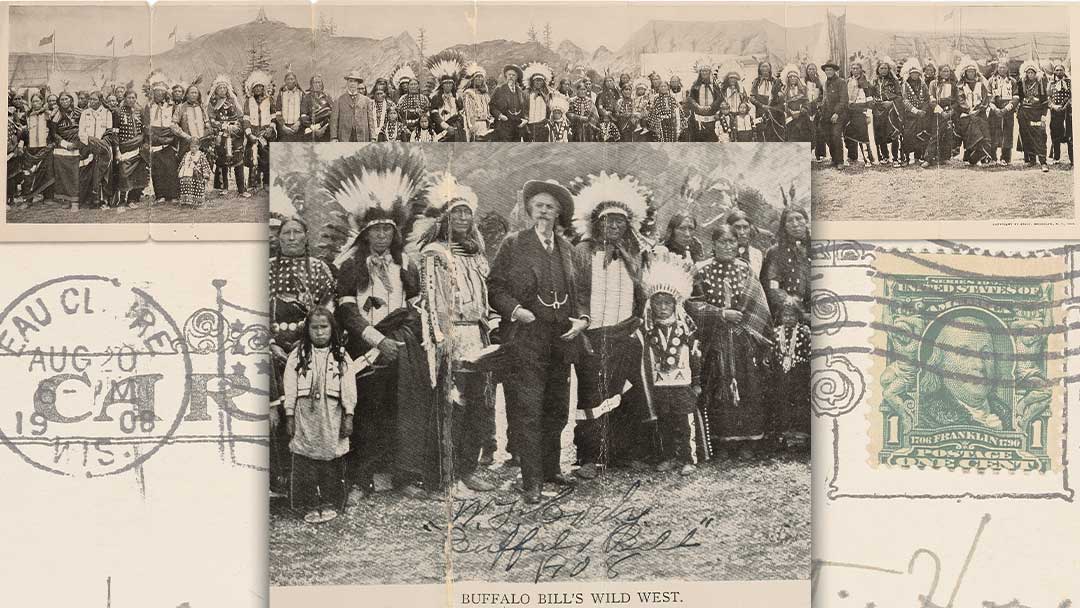 Documented Buffalo Bill Cody signed panoramic group portrait postcard addressed to his friend Hattie Horr in 1908. The photo was taken toward the end of Buffalo Bill's Wild West run during a trip to Eau Claire, Wisconsin. A great gift for gun lovers, Wild West fans, and American history collectors.
Buffalo Bill and the Winchester 1895
In 1875, Buffalo Bill Cody wrote to Winchester to praise the Model 1873 rifle, declaring, "I have been using and have thoroughly tested your latest improved rifle. Allow me to say that I have tried and used nearly every kind of gun made in the United States, and for general hunting, or Indian fighting, I pronounce your improved Winchester the boss."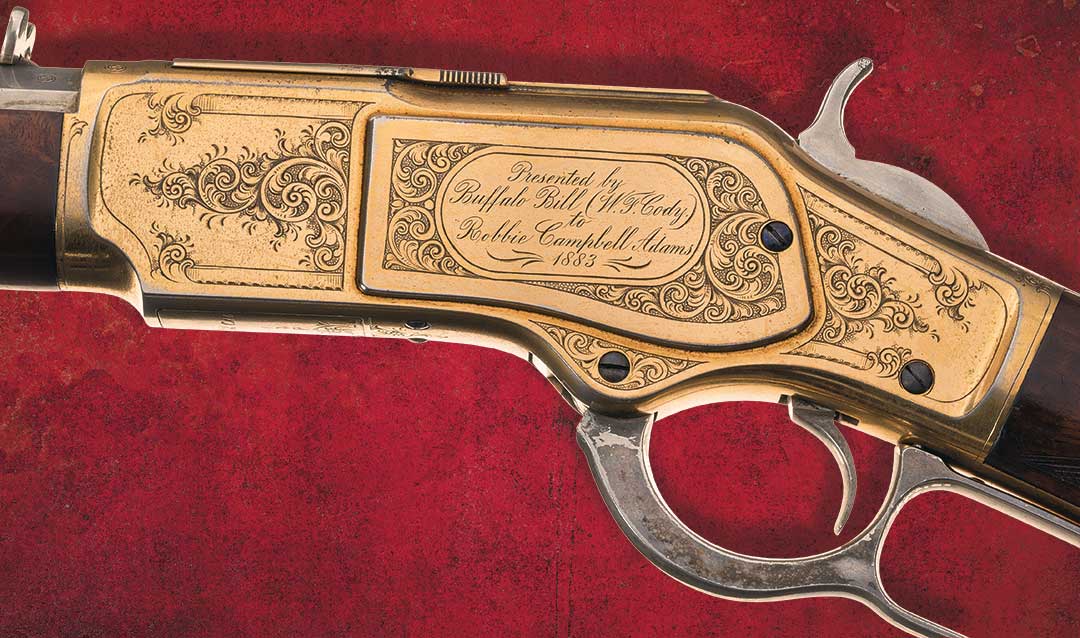 A factory engraved Deluxe Winchester Model 1873 short rifle presented by Buffalo Bill Cody to 12-year-old Robbie Campbell Adams sold for an impressive $345,000 in September of 2016.
Winchester reprinted Cody's letter in their 1875 catalog, and Cody became associated with the brand for decades to follow. Buffalo Bill owned numerous Winchesters throughout his life and gifted his friends with the latest Winchester lever action models. Speaking to Buffalo Bill's generosity, former Senior Curator of the Buffalo Bill Historical Center Dr. Paul Fees stated that Buffalo Bill was "known to have made several gifts after 1895, all Winchesters. After 1895 he is known to have purchased and presented several Model 1895 Winchesters in .30 government or .405 caliber to adult friends."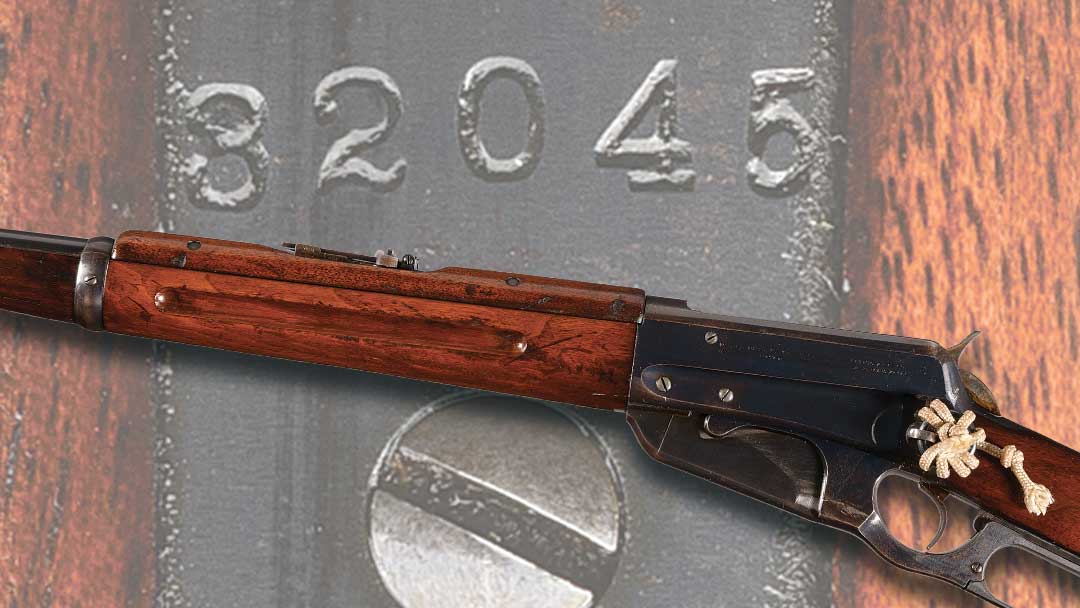 This Buffalo Bill presentation Winchester 1895 carbine is equipped with a pinned blade front sight and military style folding leaf rear sight with a tangent base.
For the Winchester 1895 carbine Buffalo Bill presented to Frederick W. Kavanaugh, the factory letter lists the date of serialization as July 20, 1901, and confirms the carbine configuration and the inscription on the right side of the receiver. The carbine was received in warehouse on July 29, 1901, and shipped the next day and was returned for repair on September 7, 1901. The inscription on the receiver reads, "FRED W. KAVANAUGH/FROM/COL. W.F. CODY 'BUFFALO BILL'/1901."
Fred Kavanaugh: Buffalo Bill's Partner
Frederick W. Kavanaugh of Waterford, Saratoga County, New York, was a personal friend of Buffalo Bill. The two men met through Kavanaugh's real estate ventures and became co-owners of the Irma Hotel in Cody, Wyoming in 1902.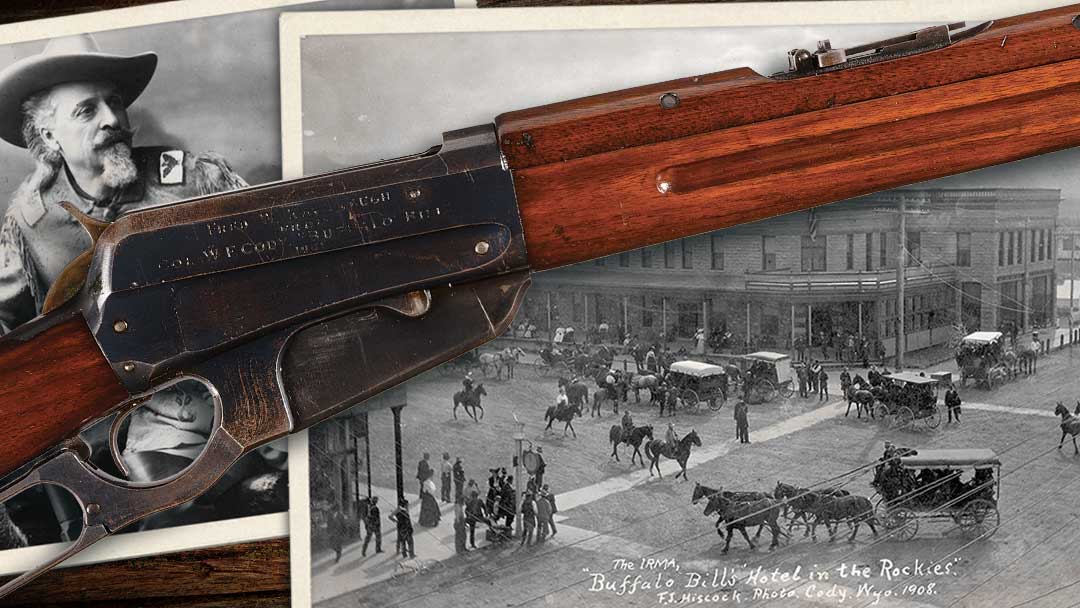 The Irma Hotel in Cody, Wyoming was often Buffalo Bill's temporary residence when not on tour. The hotel was named after Buffalo Bill's daughter.
Fred Kavanaugh was the son of Luke Kavanaugh, an Irish immigrant who invented a revolutionary new knitting burr and founded a prosperous company in Waterford, New York. In addition to his real estate endeavors and his position as secretary and treasurer in his father's knitting business, Fred served as supervisor of the Town of Waterford in 1903, Sheriff of Saratoga County from 1904 to 1906, and was elected to New York State Senate from 1921 to 1924.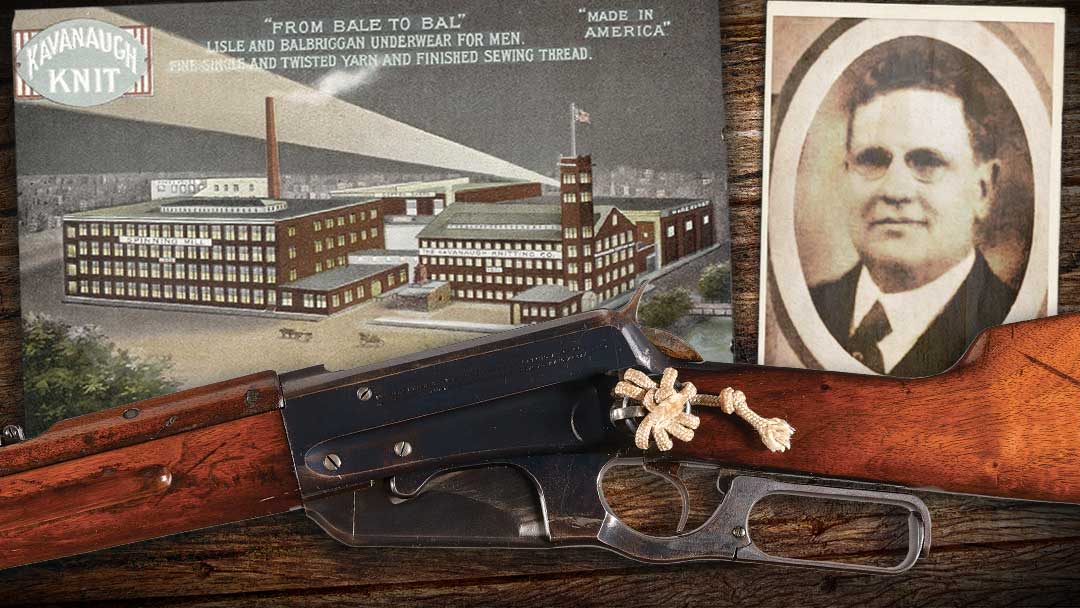 Helping build his father's business, the Kavanaugh Knitting Co. of Waterford, New York, earned Fredrick the money needed to fund his real estate endeavors, including his joint hotel venture with Buffalo Bill in Cody, Wyoming.
Winchester Model 1895
The Winchester 1895 was the last lever action design from legendary gun inventor John Moses Browning and arguably his most ambitious to date. Though Browning's experience included developing previous Winchester rifles like the Model 1886, the Model 1892, and the iconic Model 1894, engineering a lever action that was sturdy enough to accommodate the new high-pressure smokeless powder cartridges and capable of firing the pointed Spitzer bullets that had rapidly gained traction in the European market required some outside the box thinking.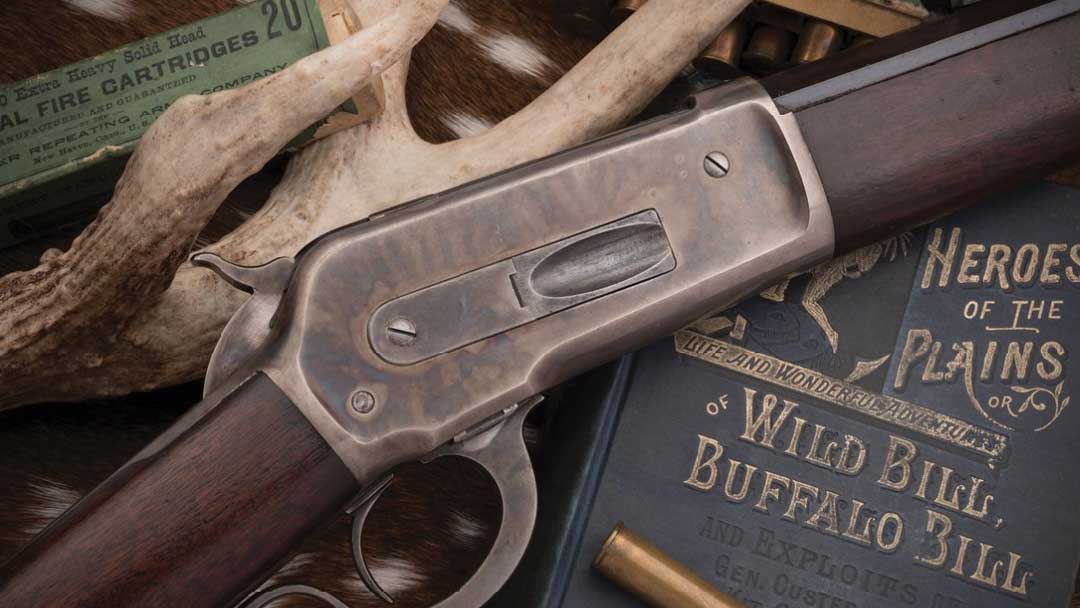 A documented Winchester Model 1886 rifle chambered in the rare .50 Express. The 1886 was John Browning's first Winchester lever action design and another favorite long arm of Buffalo Bill.
A tube magazine, while ideal for bluntnosed bullets, was out of the question for Spitzer-style rounds, so Browning instead opted for a fixed single-column box magazine for the Winchester 1895, the first-ever lever action to take this approach and Winchester's first box magazine design. The robust new weapon also employed a stronger locking design and higher-grade steel than its predecessors.
A Winchester 1895 Deluxe Model manufactured in 1899 and chambered in 30 Army.
The Winchester 1895 was initially chambered primarily for the smokeless powder .30-40 Krag (or .30 Army). Rifles were also available in two black powder chamberings, including .38-72 WCF and .40-72 WCF. Later iterations of the Winchester 1895 were chambered for the British .303, the .35 WCF, the .405 Winchester, and .30-03, which was succeeded in 1908 by .30-06. The magazine capacity for the Winchester 1895 was four to six rounds depending on the cartridge.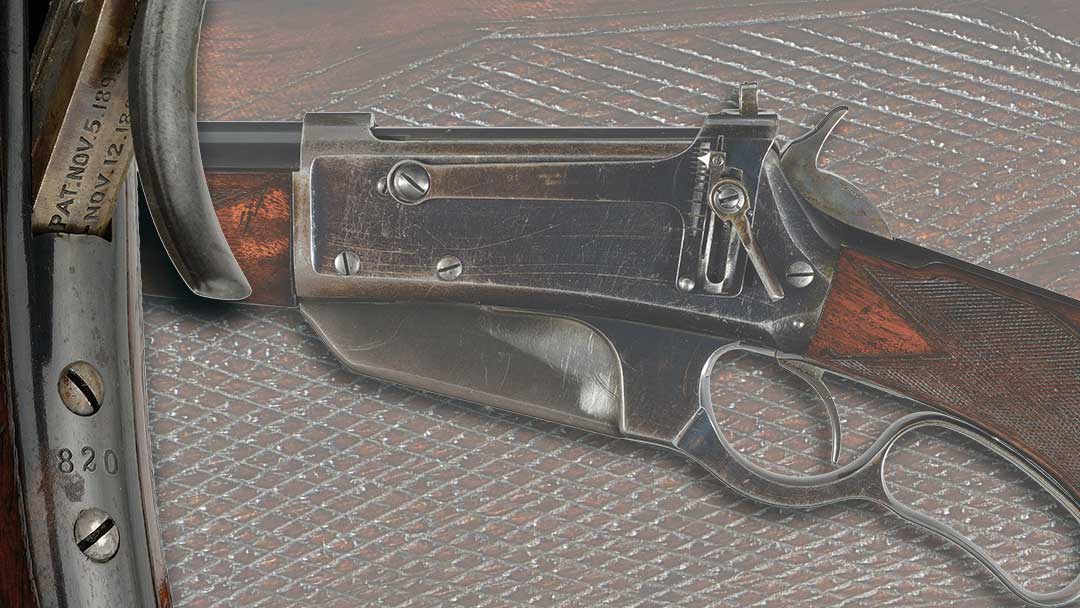 Documented first production Winchester Deluxe Model 1895 rifle in .38-72 WCF, serial number 820, one of the first 5,000 Winchester 1895 rifles manufactured with a flat sided receiver. The included research letter from the Cody Firearms Museum states that serial no. 820 was the first Model 1895 manufactured with a round barrel in .38-72 caliber and a checkered pistol grip stock, and the first of only seven Model 1895 flatside deluxe rifles chambered in .38-72 WCF. Available in December 2022.
The Winchester 1895 was offered in barrel lengths that ranged from 22 inches to 36 inches and included numerous options for engraving and embellishment available at the customer's request, though deluxe examples of the Model 1895 were markedly rare compared to other Winchester rifles. The Winchester 1895 was viewed foremost as a rugged hunting gun. Firearms author George Madis notes that optional features like checkered stocks and higher-grade finishes "will be found less often on the Model 95 than on other models "
The Winchester 1895 in Action
Though Buffalo Bill was among the first to champion the Winchester 1895, Theodore Roosevelt would go on to epitomize the model. Roosevelt toted a Winchester 1895 in .30 Army while leading the Rough Riders in Cuba during the Spanish-American War, then carried a Model 1895 chambered in .405 Winchester (Roosevelt's "Big Medicine") during his legendary African safari and many subsequent hunts throughout North America and his later Amazon expedition in 1915.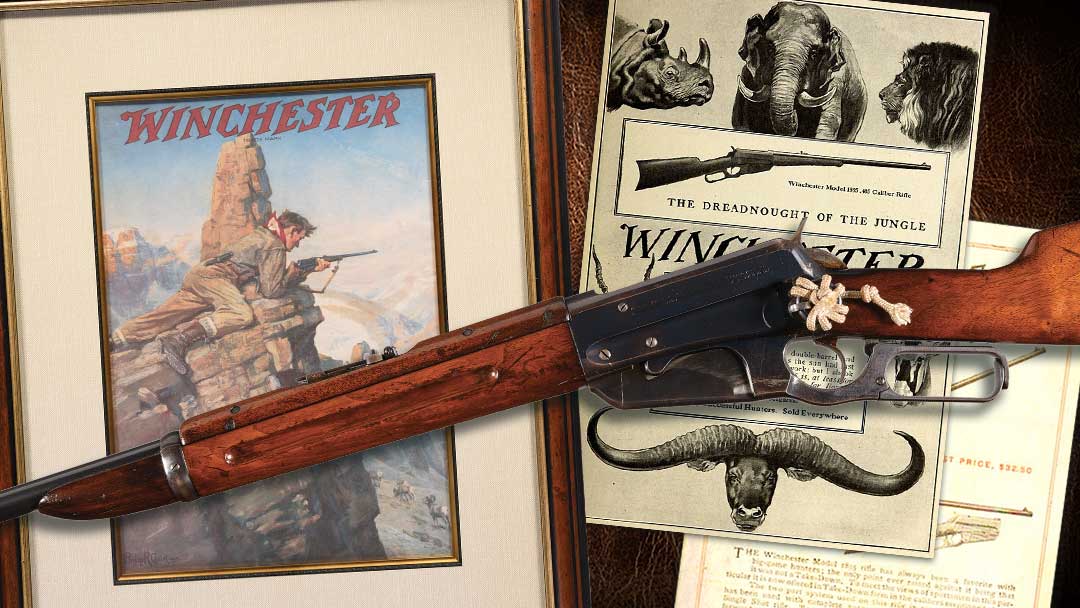 (Left) A vintage piece of artwork by Philip Russell Goodwin depicting a hunter with his Winchester 1895. (Right) Buffalo Bill's presentation Winchester 1895, chambered in .30-40 Krag (or .30 Army), the same caliber Teddy Roosevelt carried in Cuba.
Browning's innovative Winchester 1895 was well-received by hunters who favored a reliable lever action. The gun also found use with the Texas Rangers, Arizona Rangers, and the infamous guerilla fighters of Pancho Villa. During its original run from 1896 until 1931, nearly 426,000 Winchester 1895 rifles, carbines, and muskets were produced. 294,000 of those were commissioned for the Russian military and chambered in the then-Russian standard 7.62x54R cartridge.
A scarce example of a deluxe Winchester Model 1895 lever action rifle chambered in .35 WCF. This cartridge was the last developed for the Winchester 1895 before production ended.
Despite the success of the Winchester 1895, the gun was hampered by high production costs from the start. After WW1, a surplus of bolt-action rifles flooded the sporting market, providing hunters and shooters a cheaper means to fire popular cartridges like the .30-06. By the time of the Great Depression, the writing was on the wall for the costly Model 1895 and the gun was discontinued. Recently, the Model 1895 has been re-introduced by Winchester, though vintage examples of this classic lever action remain exceptionally popular with collectors and shooters around the world.
A Winchester 1895 with a Legacy to Share
Buffalo Bill Cody introduced millions of Americans and Europeans to the Wild West and immortalized the frontier myth for generations of writers and filmmakers to follow. As an experienced scout and hunter, Cody was no stranger to firearms innovation, and it's only fitting that Winchester's most rugged big game rifle of the late 19th century was embraced by the legendary showman. Buffalo Bill valued the best of the best when it came to sporting arms, and an inscribed Winchester 1895 carbine from the Wild West icon made for an impressive gift indeed.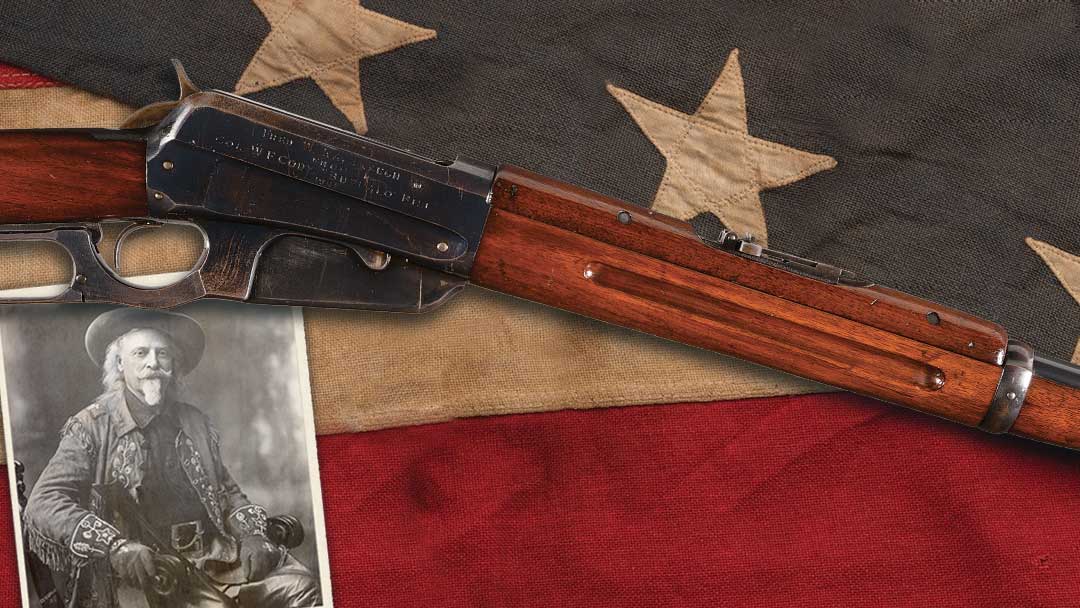 A Buffalo Bill presentation gun, an impeccably documented American treasure from the most famous Wild West showman of all time.
Rock Island Auction Company's December Premier Auction includes numerous totemic guns linked to American giants like Teddy Roosevelt, Jesse James, and a presentation carbine from Abraham Lincoln himself. Subscribe to the weekly Rock Island Auction newsletter to receive new gun blogs and gun videos on some of the most historic firearms publicly available and the legends who carried them.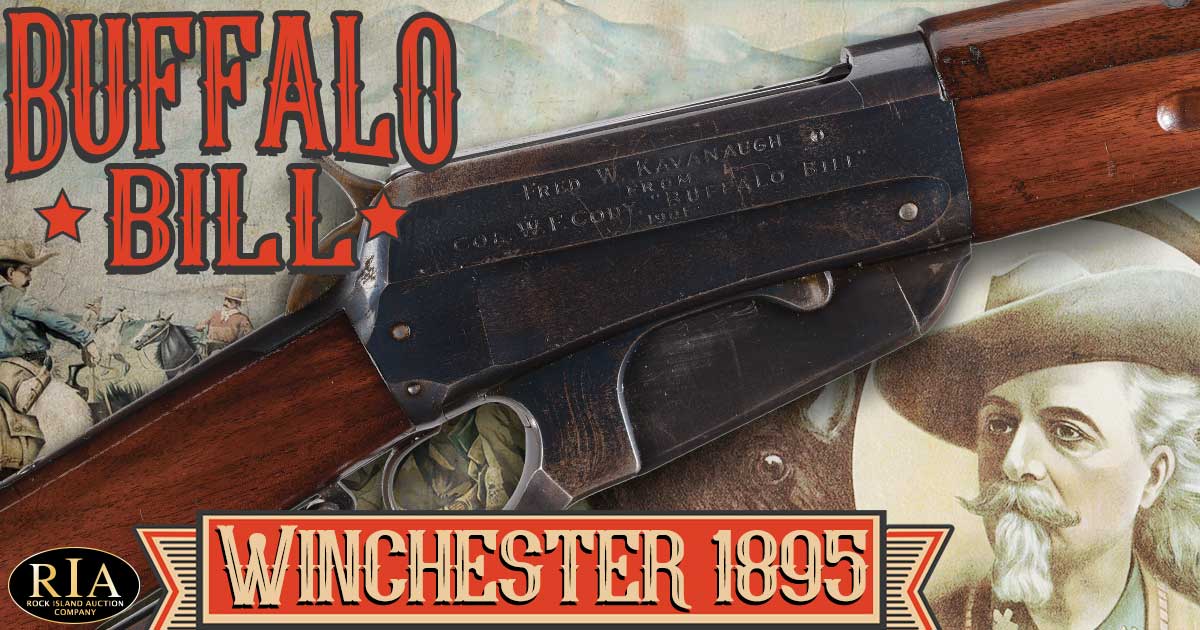 Rock Island Auction Company