"Please hang in a prominent place."
That's the request on the back of a Winchester cartridge display board — or a bullet board, and with the prices of these items on the march upward, it is likely one would want to comply.
A bullet board or cartridge board was a late 19th century advertising display of the numerous cartridges that a particular company made or could be used in its guns, offering a tactile piece of art that may also include a painted outdoor scene. While prices can vary because of condition or desirability, Winchester bullet boards are regularly selling for more than $40,000 at Rock Island Auction Company. Some bullet boards are achieving prices approaching $100,000.
Rock Island Auction's Aug. 25-27 Premier Auctionlineup includes a Winchester "Double W" bullet board and an Eley Brothers bullet board.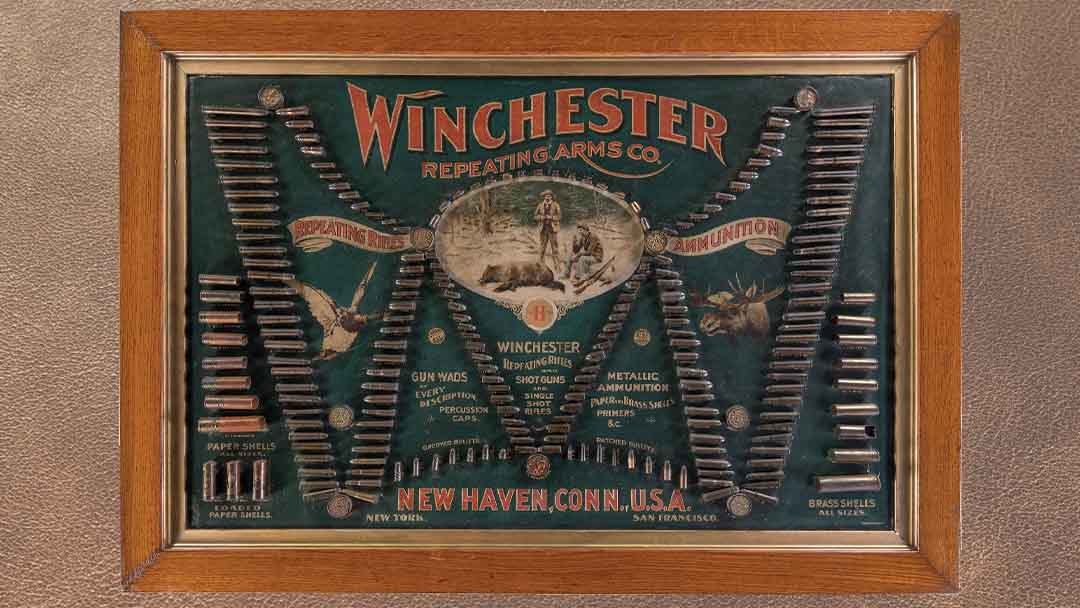 Winchester "Double W" cartridge displays — or bullet boards — have proved to be highly valuable at recent Premier Auctions at Rock Island Auction Company. This "Double W" is available in the August Premier Auction.
Winchester Cartridges and the Bullet Board
As guns advanced after the American Civil War, companies like Winchester started making ammunition themselves to optimize their weapons' performance. That is how the .44-70 WCF came into being. However, people were still hand-loading their own, so these same companies had to promote their ammunition.
Winchester did this in a number of ways, sending "missionaries" to shooting competitions, club shoots, and county fairs, as well as to gun stores and distributors. Many of these "missionaries" were expert marksmen able to demonstrate and sometimes win shooting competitions, showing the consistency and quality of the ammunition over cartridges loaded at home. Winchester employed Adolph and Elizabeth Topperwein at the turn of the 20th century as marksmen to demonstrate the company's firearms and ammunition and get brand recognition.
Companies advertised in newspapers and magazines and also provided items to give away. These were things like calendars, posters, and other display items, like Winchester's bullet board.
A closeup of the Winchester "Double W" bullet board shows the painting of two hunters after the hunt by A.B. Frost. The display board also features a mallard duck in flight and a moose. This bullet board will be available on the first day of the August Premier Auction.
Bullet Board Background
In the late 1870s, Oliver Winchester wrote about his company's name, "It has become a household word, and a household necessity on our western plains and mountains."
Since the company had name recognition and a reputation for dependability, it went toward more artistic advertising. By 1875, Winchester was manufacturing 1 million cartridges per day, including 25 types of rimfire cartridges, 24 centerfire cartridges, and four shot shells. Wanting to promote its ammunition, Winchester created the bullet board. The first board appeared in 1874 as Winchester produced one centerfire cartridge for its Model 1873 and the rest were rimfire. The bullet board showed game scenes along with the cartridges.
The company produced six different patterns of commercial bullet boards from 1874 to 1897's "Double W" boards. Over the years they displayed the evolution of metallic cartridges from rimfire to centerfire and black powder to smokeless powder.
The "Double W" boards, like the one in the August Premier, features a central sporting print by A.B. Frost surrounded by more than 200 cartridges, shells, and bullets. Frost's work shows two hunters after a hunt, a dead bear at their feet. One hunter stands over the bear while the second sits on a nearby log smoking a pipe, with their Winchester rifles propped against the log.
Winchester also produced a limited run of lithographs of its "Double W" bullet boards in the early 20th century that can be found at a relatively lower price point than an actual display board, despite being scarcer in production numbers.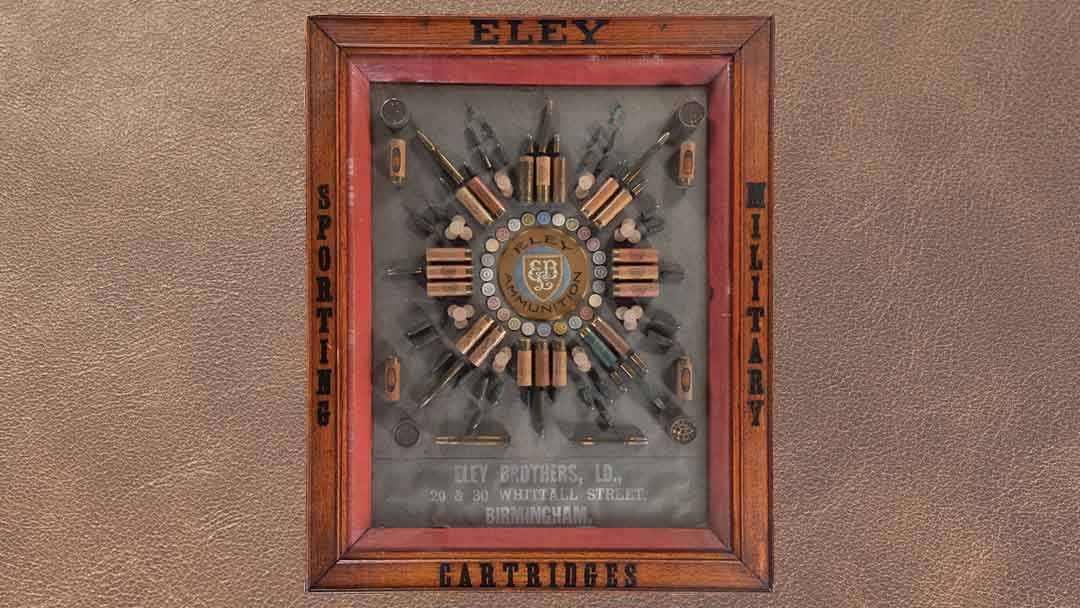 Cartridges run from tiny .22 shorts up to the .475 No. 2 Nitro on this Eley Brothers bullet board that is available in RIAC's August Premier Auction and would be a terrific addition to a collection of fine British arms.
A Bullet Board and Western Art
Bullet boards are finding their way into western art auctions alongside paintings that achieve prices in six- and seven-figures. Interest in western art, once derisively described as "cowboy art," is growing in popularity.
Artists like Philip R. Goodwin, N.C. Wyeth, and Carl Rungius that painted late in the 19th century and into the early 20th century were often commissioned by companies for outdoor scenes that would appear in advertising posters and calendars.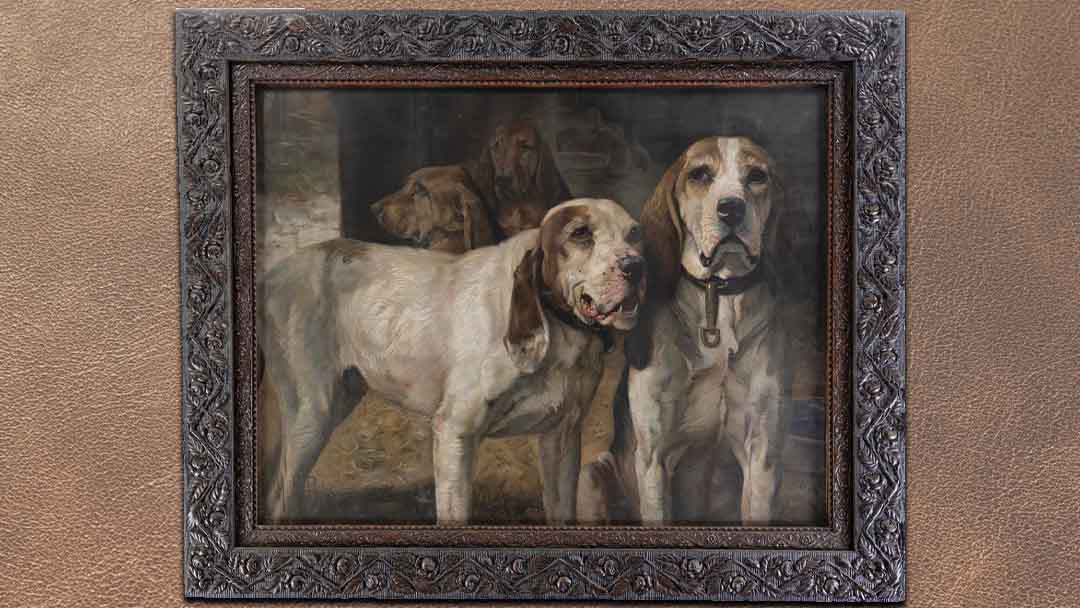 A print of H.R. Poore's "Bear Dogs" painting that has served as a classic Winchester advertisement. The artist-signed print is available in Rock Island Auction Company's August Premier Auction.
Advertising lithographs by companies like Winchester, Union Metallic Cartridge Company, Dupont Powder, and Harrington & Richardson from the George Gamble Collection, recently performed well at Rock Island Auction. The realistic paintings often pit man against nature in rigorous yet majestic settings or take on an air of sentimentalism.
In RIAC's December 2022 Premier Auction, a framed Winchester calendar from 1912 with art by Wyeth that shows two men on a rocky embankment taking aim at a bear more than doubled its high estimate, while a framed 1896 Union Metallic Cartridge Company calendar with Fernand Lungren's "Navajo War Chief In Arizona Desert" nearly tripled its high estimate.
On offer in the upcoming August Premier Auction will be a print of the well-known "Bear Dogs" painting that was used in a number of Winchester advertisements and a tin lithograph advertisement of Four Roses whiskey featuring a painting by Arthur W. Woelfle that shows waterfowl, a fox, and a coat hanging on the wall where a side-by-side shotgun is propped up and a Winchester Model 1894 rifle is also hanging, and a bottle of whiskey and a glass sits alongside a deer head, shotgun shells, and playing cards.
This lithograph advertisement for Four Roses whiskey features a painting by Arthur W. Woefle is a still life showing the results of a hunt along with a shotgun and Winchester Model 1894 as well as a bottle of whiskey and a glass alongside it.
Bullet Board Bonanza
In December 2022 a Winchester "Double W" bullet board hammered at RIAC for $70,500. The Winchester "Double W" boards appear to be the gold standard. In the May Premier Auction, one crossed the podium for $64,625. Prices occasionally top $80,000, catching one consigner off guard but pleased with the sale price, saying, "Never in our wildest dreams did we think that the cartridge boards had such value."
Bullet boards have fared well when they've come to the podium in recent sales at Rock Island Auction Company, and not just Winchester displays. Union Metallic Cartridge Company bullet boards have exceeded $44,000, going as high as $51,750 on two occasions. A United States Cartridge Company board gaveled for $43,125 in December 2021.
Other bullet boards that might be from less well known companies like Kynoch or Eley Brothers, or not as large as the Winchester boards but are also desirable at a lower price point, coming in at less than $10,000.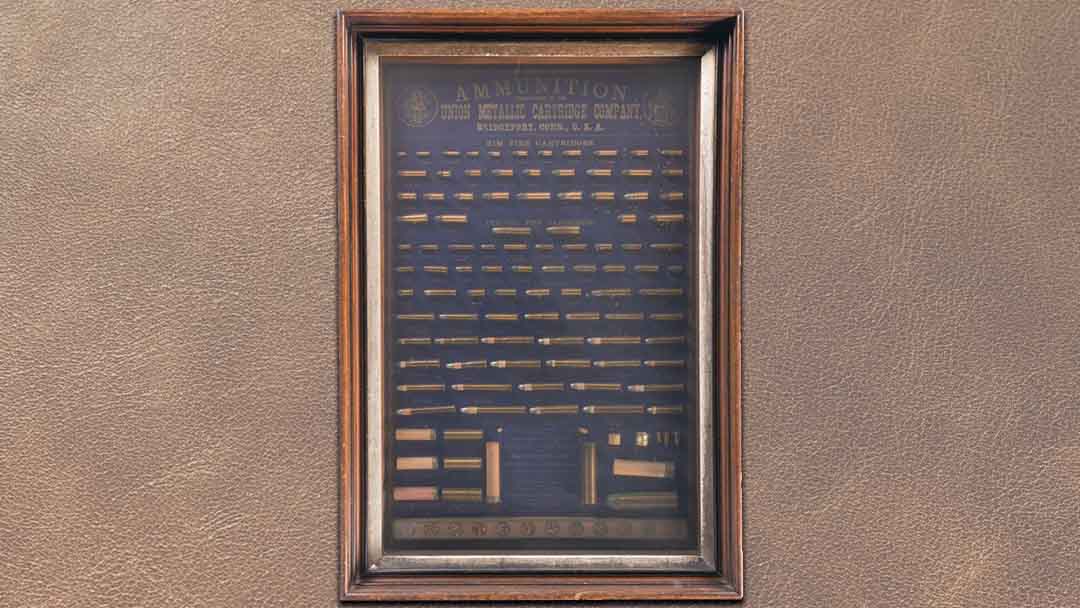 This Union Metallic Cartridge Company bullet board achieved $51,750 at Rock Island Auction's September 2020 Premier Auction.
In the August Premier Auction, the Winchester "Double W" board has its original frame and displays a vibrant dark green background with images of a mallard duck in flight and a bull moose along with the vignette of the hunters mentioned earlier. It displays various cartridges and shotgun shells as well as primers. On the back is the wording "PRESENTED WITH COMPLIMENTS/Winchester Repeating Arms Co./PLEASE HANG IN A PROMINENT PLACE." The back of the bullet board also displays the number 1590.
Bullet Board for Sale
A collector's space needs adornment, and a bullet board showing the progression of ammunition cartridges is something that can be proudly displayed on the wall of a gun room, study, or office. Winchester bullet boards, like this "Double W" board, draw the most attention and higher prices, but bullet boards with more modest estimates, like this Eley Brothers board, provide different price point opportunities. Both are available in the Aug. 25-27 Premier Auction and could soon be on your wall.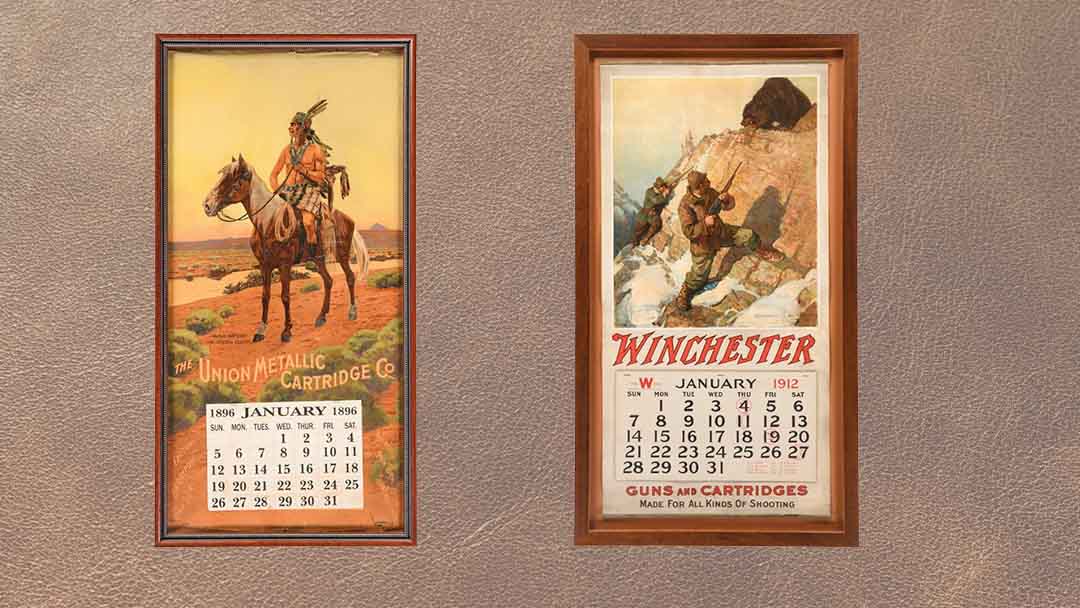 The 1896 Union Metallic Cartridge Company calendar on the left featuring Fernand Lungren's "Navajo War Chief in Arizona Desert" nearly tripled its high estimate, hammering for $12,925, while the 1912 Winchester calendar with artwork by NC. Wyeth doubled its high estimate, also achieving $12,925. Both were sold in RIAC's December 2022 Premier Auction.
Sources:
Winchester Promotional Arts: Graphic, Three-Dimensional and Live Advertising Mediums, by Richard Rattenbury
Winchester: The Gun That Won the West, by Harold Williamson
Early Brand Development in the U.S. Firearms Industry, by Terrence H. Witkowski
Early firearms ads feature artistry exhibit illustrates how manufacturers helped the public enjoy quality artwork, by Karen Klinka, The Oklahoman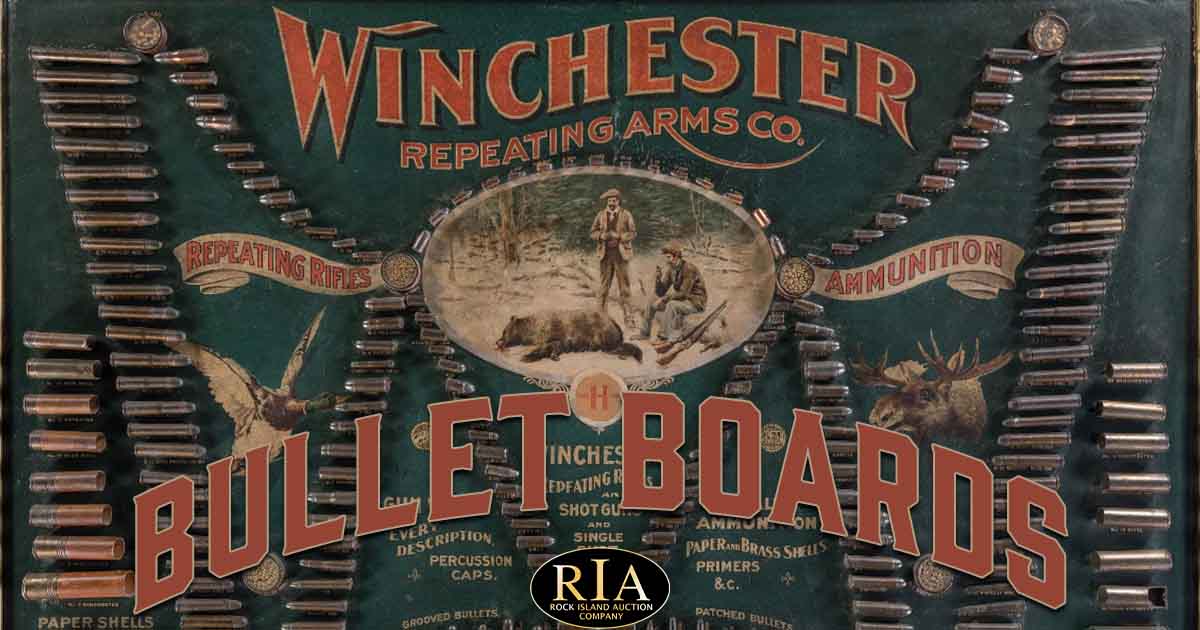 Rock Island Auction Company