Carlos Gove was good at what he did — making guns and shooting.
Gove was born in New Hampshire in 1817 but found himself in Denver, Colo., by the 1860s where he set up business as a gunsmith. Within a few years he developed a feud with a rival gunmaker, Morgan Rood, which grew so hot the men sniped at each other through the local papers of the time, questioning the other's gun making and shooting prowess.
Gove retired in 1884, by now relatively wealthy and became active in local politics, serving on Denver's police, fire, and sewer boards. He was the first president of the Denver Rifle Club.
A Half Stock Percussion American Plains rifle made by Gove will be available in Rock Island Auction Company's June 22-24 Sporting and Collector Auction.
The Plains Rifle
In the early 19th century, the frontier was west of the Appalachian Mountains. Rifles were long-barreled, and weight wasn't a concern in the woodlands of the eastern United States. As settlers pushed west, the rifle changed. It was less about fancy furniture on the gun and more about its functionality.
"The man on the prairie wanted more of the purchase price put into range and power and less of it into thin patch boxes and curly wood which couldn't survive a fall from a pitching mustang," wrote Charles E. Hanson in "The Plains Rifle," published in 1960.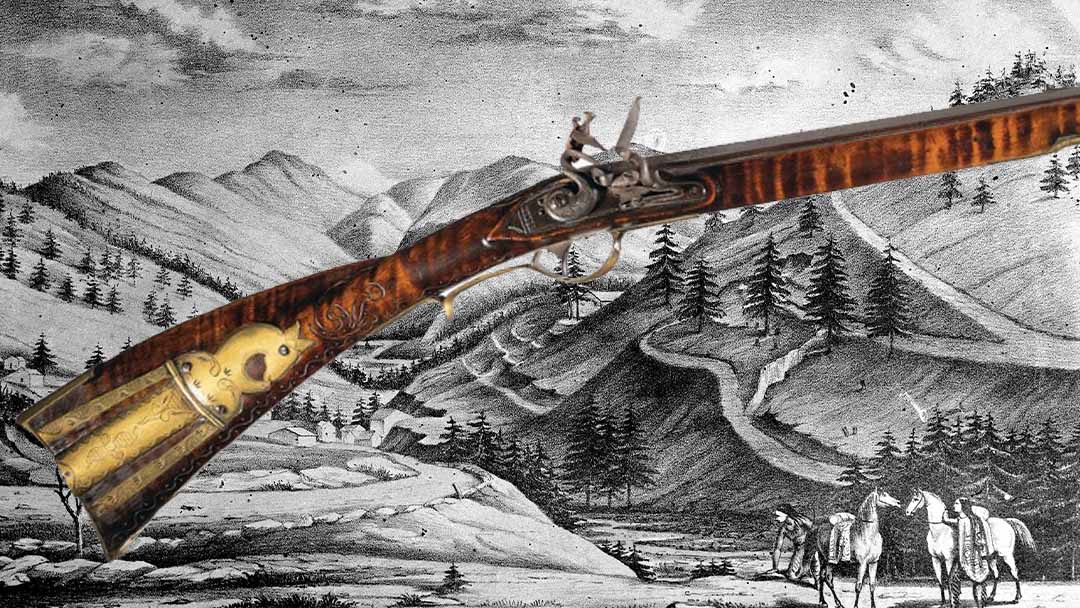 This George Feder signed incised carved flintlock American longrifle that sold in Rock Island Auction Company's May Premier Auction has a 46 1/2 inch barrel longer than American Plains rifles.
Settlers wanted a gun with the power to stop a grizzly bear or buffalo, not just a deer or rabbit, bringing about the popularity of the "plains" or "Hawken" rifle that bore the name of famous gunmaker brothers Jacob and Samuel Hawken, who set up shop in St. Louis from 1825-1840.
Samuel Hawken passed on the business to his son William who worked out of the Denver area for a time.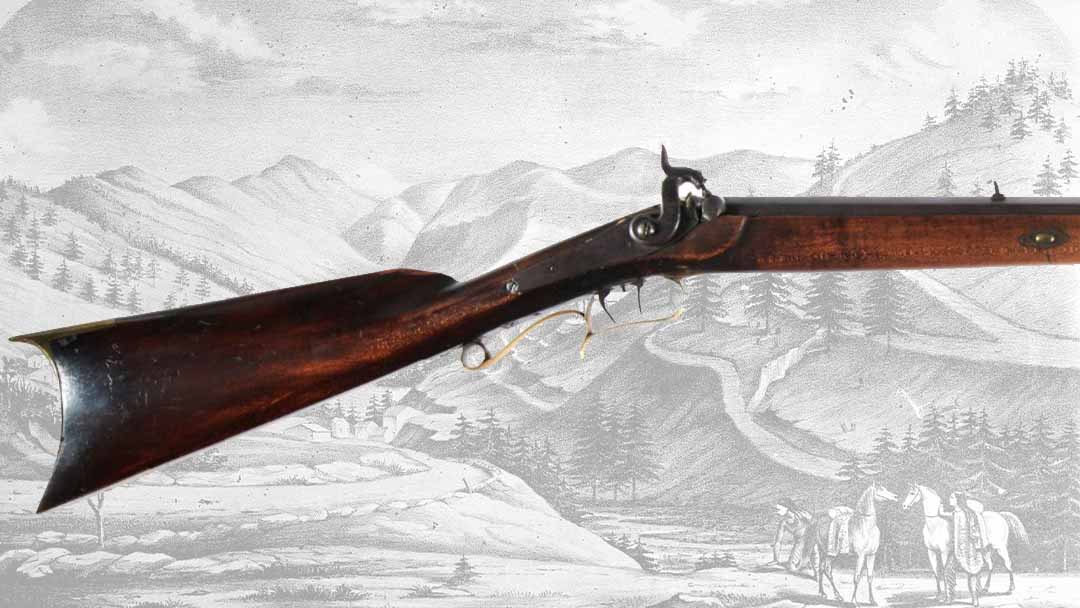 This Half stock percussion rifle with signed S. Hawken St. Louis marked barrel is trending twoard a shorter barrel than the long rifle but is 37 inches long.
Carlos Gove's Early Years
Gove left home at 16 and went to Cambridge, Mass., where he worked in a brickyard for a couple of years before becoming an apprentice to a Boston gunsmith. In 1837, he enlisted and became an Indian fighter.
Gove was assigned to the First U.S. Dragoons and saw action in the Seminole campaigns in Florida before transferring to the Second Dragoons on the western frontier, and finally mustered out in 1840 at Fort Leavenworth, Kans.
He took on the job of blacksmith through the Office of Indian Affairs, serving the Chippewa, Ottowa, and Pottowtomie Indians at Council Bluffs. Gove found the work wanting. The Pottowatomie asked that he serve as a private gunsmith for the tribe.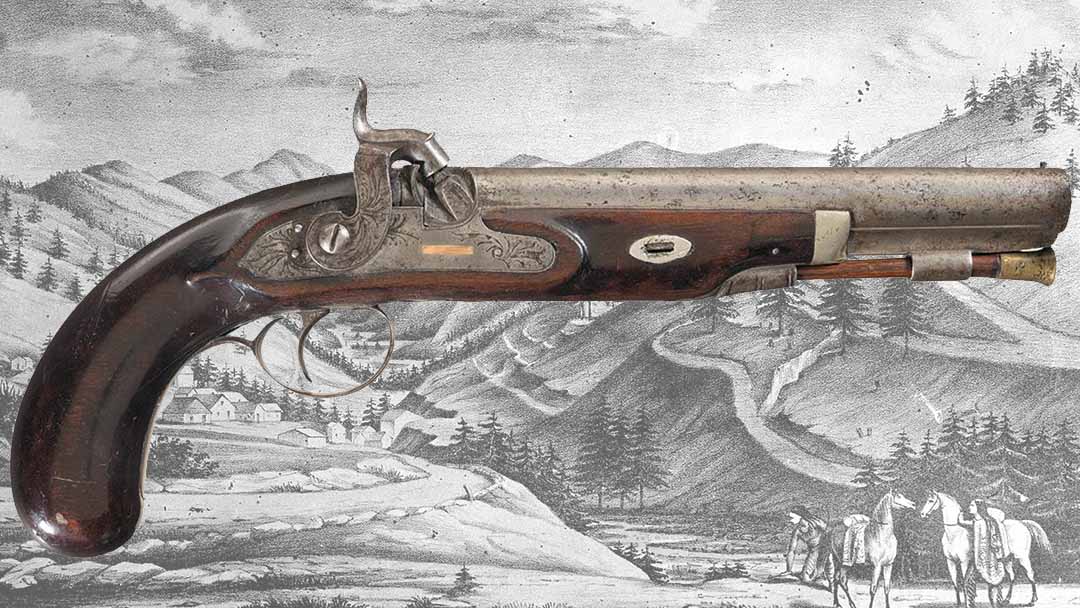 This large engraved Plains style single shot percussion pistol is attributed to Carlos Gove when he was working as a gunsmith in St. Joseph, Mo. It was sold by Rock Island Auction in December 2014.
Gove soon became restless, moving to St. Joseph, Mo., where he opened a gunshop in 1852. Two years later he returned to Council Bluffs, Iowa. When the Colorado gold rush hit in 1859, Gove saw an opportunity. He bought 20 tons of supplies and six wagons in 1860 and went west where he sold his goods before returning to his family at Council Bluffs.
He did the same thing the following year but found the grocery business too competitive. Instead, he returned for his wife and children and moved them to Denver. His first shop was on Blake Street between E and F streets in 1862.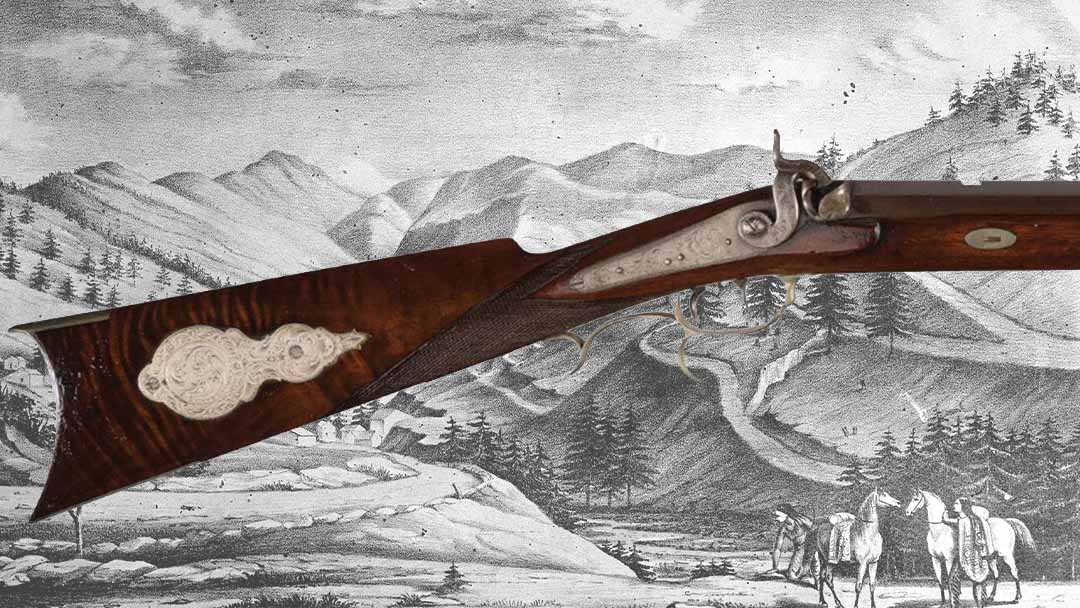 This engraved A. Wurfflein half-stock percussion rifle with gold inlaid breech bands is a good example of a plains rifle with a 30 7/8 inch barrel.
Morgan Rood
Morgan Rood, Gove's Denver rival, also hailed from the east, born in Rochester, N.Y. in 1816. He worked for several area gunsmiths before moving to Michigan in 1841. After moving around Michigan a few times and divorcing two wives, he set out for the California goldfields in 1858. He landed in Denver where he set up shop in 1862, about the same time as Gove.
Gove and Rood were the largest gunsmiths in Denver during the Civil War.
Shooting Feud
Gove didn't use tobacco or alcohol but he was addicted to trash talking.
Both men were fine shots with Gove perhaps better at short range while Rood excelled at long range. An early shooting match left hard feelings and by 1866 the feud was no longer simmering. It became a war of words in the pages of the "Denver Gazette" and the "Rocky Mountain News."
Rood wrote in the "News" that he challenged Gove to a match and accused the gunsmith of cheating.
"I am near-sighted, and will acknowledge his eyes and skill in open sight shooting superior to mine, also his nerve, experience, or judgment in a wind, and he is clear ahead of me in skullduggery and foul play," Rood wrote.
Gove accused Rood of paying a man to throw a shooting match, selling gunpowder to Native Americans, having two wives, and being "not fit to work in a first class shop or to handle a good gun."
In the newspaper, Rood denied all of the accusations, saying it was a subordinate who made the powder sale while he was out of the shop, that he was properly divorced from his former wives, and "As for my workmanship I can do as fine a job on the outside, and a better job on the inside of a gun than this blowhard."
Despite their bitter exchange, there was never a direct shooting match between Rood and Gove. The two competed in local fairs and expositions. Rood won first prize at the Colorado Agricultural Society Fair in 1866.
By 1874, Rood lost interest in gunsmithing and was physically affected by a stroke that made it impossible to shoot or hold smithing tools. He died in 1881.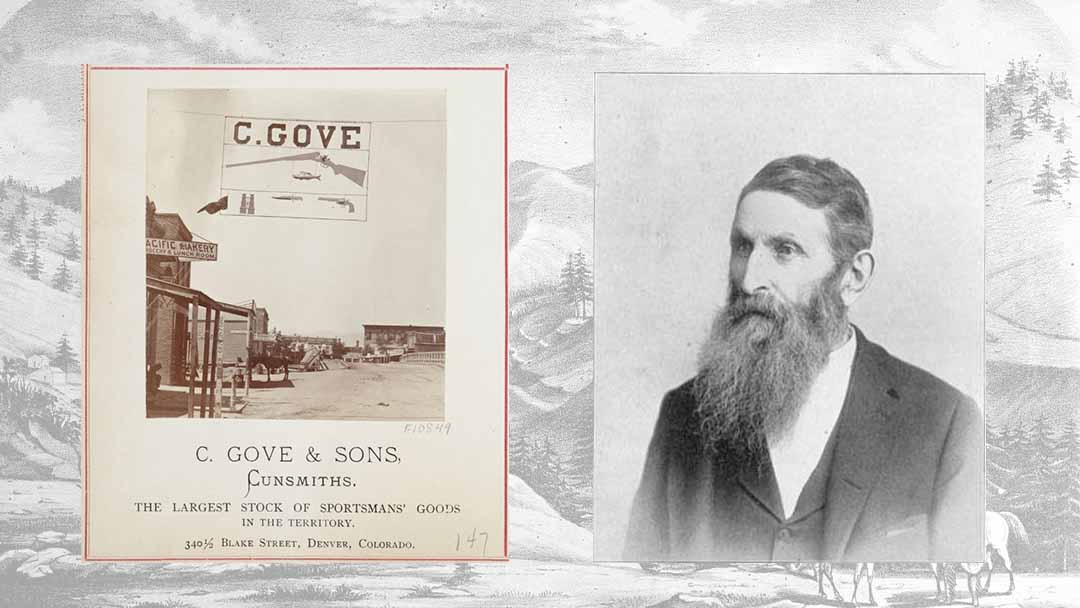 An advertisement for Carlos Gove's gunshop and a photo of the man himself.
Carlos Gove's Business
Considered a skillful gun maker who produced super-accurate rifles, Gove partnered in 1872 with another respected gunsmith, John Lower, as well as a son-in-law to make their "Denver Armory" one of the largest firearms makers in the West. The partnership lasted until Lower departed in 1875. Gove made two types of guns, muzzleloaders made entirely by him, and alterations to later cartridge rifles.
Gove's percussion guns were hunting rifles, target rifles, and shotguns. He made few pistols since the guns needed on the Denver frontier were mostly for hunting and protection. Buffalo Bill Cody was a customer of Gove's.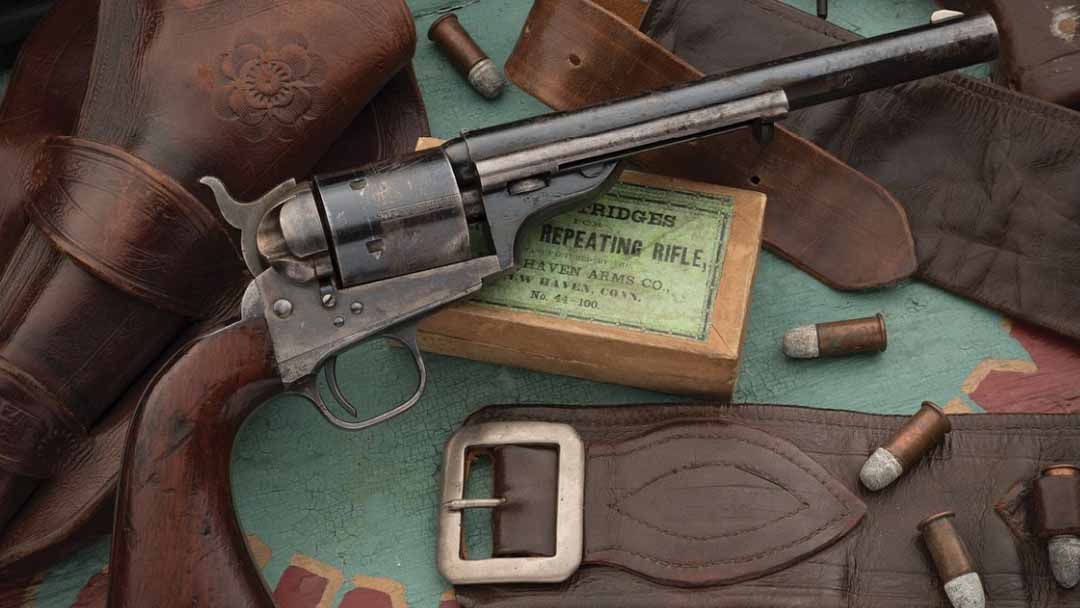 This Colt 1871-1872 Open Top revolver, a precursor to the Single Action Amry shipped to Carlos Gove's Denver gunshop in 1874, two years before Colorado statehood. It realized a price of $47,000 in the May 2021 Premier Auction.
Rock Island Auction recently sold a Colt 1871-72 Open Top revolver, the precursor to the Single Action Army, shipped to Gove's shop in 1874, two years before Colorado statehood.
Characteristics of Gove's guns included heavy buttstocks with an oval cheek piece on the left, heavy iron "Kentucky" style butt plate, a key fastened fore end with pewter tip, and a hickory ramrod retained by an iron rib and thimbles.
In 1865, Gove's shop advertised Henry and Spencer rifles, Hawken rifles as well as Colt, Remington and Smith & Wesson for sale and "guns made to order."
His alterations to other commercially-available guns were adding his style of stock and cleaning rod, mostly to Remington and Sharps models.
Gove's business also included selling guns made by others including Hawken and Sharps. In the 1870s, Gove's armory was the largest dealer of Sharps rifles west of the Mississippi River. Before he retired, Gove sold more than 1,000 Sharps, mostly plains hunting and military rifles.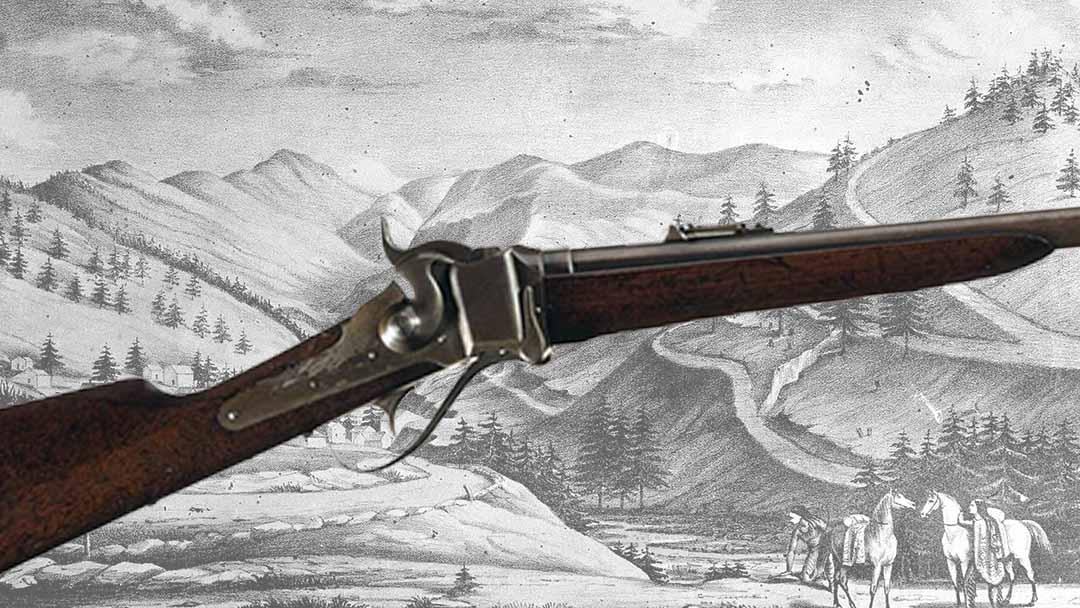 Carlos Gove was a prolific seller of Sharps rifles, selling more than 1,000 during his career, like this Model 1874 Hunters rifle that Rock Island Auction sold in December 2016.
"It is doubtful if any man in the West sold more firearms than Mr. Gove and many of those that he sold were of his own make," wrote Ned H. Roberts, the author of "The Muzzle-Loading Cap Lock Rifle. "His sole amusement was hunting and rifle-shooting and rest shooting with the heavy muzzleloading rifle."
At its peak, Gove's gun shop employed seven full-time gunsmiths as well as 25 to 30 other employees. He sold the business in 1884 and went into municipal politics. Gove died in 1900.
Among the gunsmiths Gove employed were: J. M. Hamilton, C. R. Sieber, George Schoyen, Olaf Schoyen, Patrick Hand, Almon Dibble, and Anslow Buhlmier. Schoyen taught A. W. Peterson, who opened his gun shop in 1886. Peterson sold his store to Leighton Baker in 1953. Baker moved the A.W. Peterson store to Mount Dora, Fla., where it still  operates.
Peterson made about 600 to 700 rifle barrels in his career. Around the time of World War I, he spent time in Utah with the Brownings to assist in the development of their 1917 machine gun.  Peterson is credited as the inventor of the bottom ejection principal in pump action guns. Remington asked permission to use it in their guns which Peterson gave without requesting anything in return. Like Gove, Peterson was also a competitive shooter.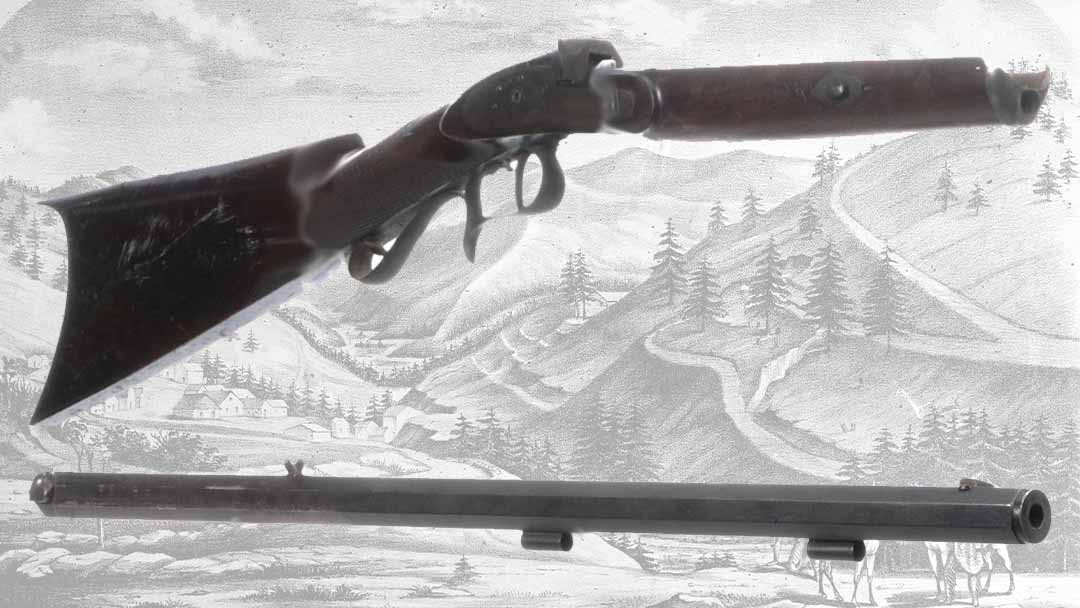 This percussion American Plains rifle made by legendary gunsmith Carlos Gove is on offer in Rock Island Auction Company's June 23-25 Sporting and Collector Auction.
This half stock American Plains rifle is in parts and requires a number of minor and major replacement parts that should attract someone interested in working on and restoring an historic firearm, just like Gove would've wanted.
Made by legendary gunsmith Carlos Gove in his prime from 1862-1884, this American Plains rifle is an opportunity to latch onto a piece of 19th century Americana from the early days of Denver and Colorado and Rocky Mountain fur trade, made by a man who was an Indian fighter, frontiersman, and embodiment of the American entrepreneurial spirit and make it your own. The Carlos Gove made Half Stock Percussion American Plains rifle is available in the June 22-24 Sporting and Collector Auction.
To learn more about the men who made the guns that made the west and the men and women who carried them, subscribe to the RIAC newsletter and YouTube channel.
Sources
"The Feuding Gunsmiths of Denver," by Frank M. Sellers
"The Muzzleloading Cap Lock Rifle," by Ned H. Roberts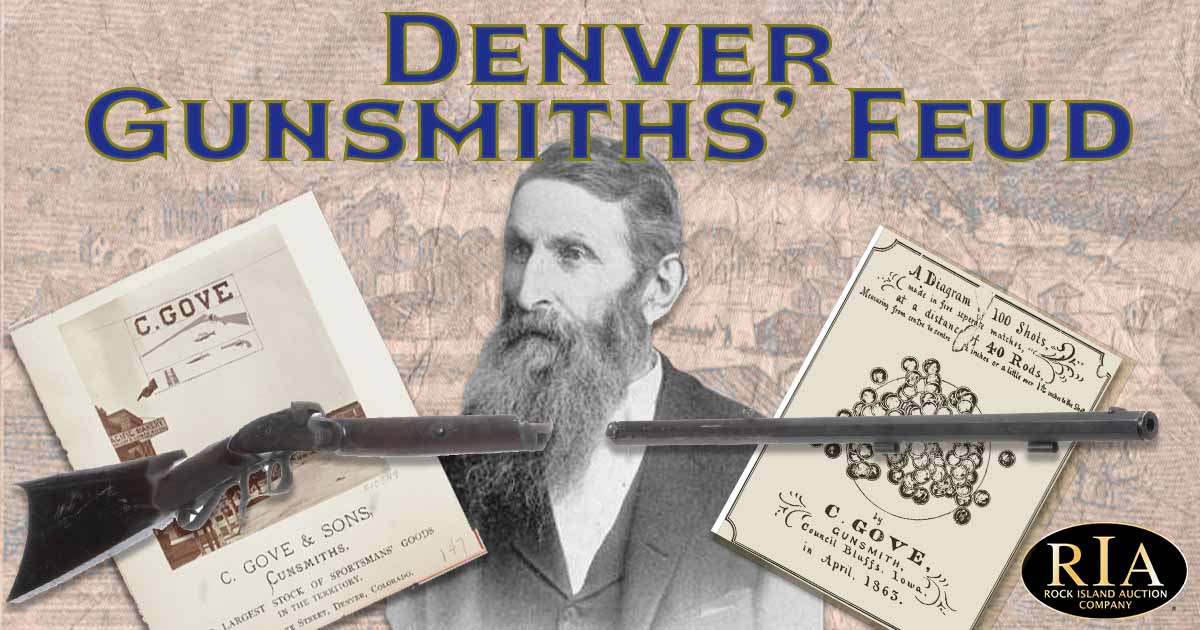 Rock Island Auction Company