Selling your guns can be a hard decision. Maybe you're looking to upgrade your gun collection. Perhaps you're looking to retire or hoping for some extra cash. Perhaps you've inherited a valuable gun or gun collection and don't have an interest in the genre or enough storage space on hand. There are countless reasons why people decide to cash their guns, and the option is especially appealing given the current uptrend in vintage gun prices and the unprecedented popularity of the classic firearms market as a whole.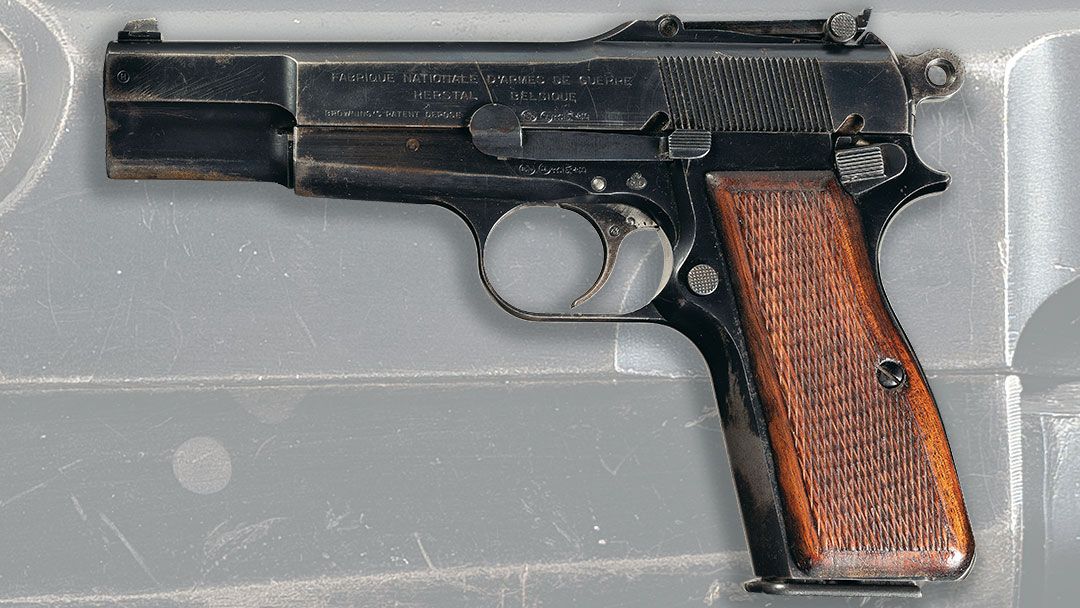 A Serial Number 10 Belgian Military Trials FN High-Power Pistol blew away its high estimate in August 2022 and sold for $44,063 with Rock Island Auction Company.
Why should I Cash my Guns?
Nearly all gun genres are in hot demand right now, with gun prices going up across the board. Fine arms collecting has seen ever-increasing interest at auctions and local gun shows, and online gun collecting communities and popular YouTube channels have introduced a whole new generation of shooters and arms enthusiasts to the pursuit. That means thousands of new customers every year who are willing to pay to enter the market, and recent prices at Rock Island Auction Company reflect this enthusiasm.
Saying this is the perfect time to cash your guns is an understatement. While some modern gun values have increased, even more dramatic upswings are evident in the antique and vintage guns genres at Rock Island Auction Company. From Civil War guns, Wild West six-shooters, and military arms from the two world wars, classic guns are enjoying their highest prices to date, and knowing when to sell is just as important as choosing where to sell when it comes to getting the most cash for your guns.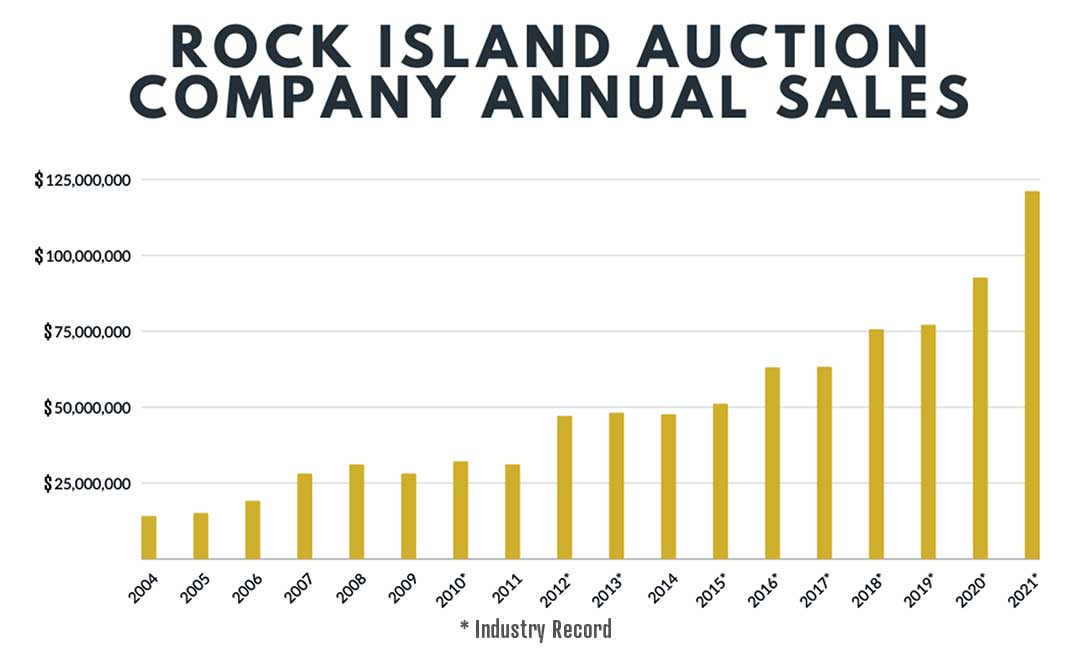 "Is now a good time to cash my guns?" With Rock Island Auction Company continuing to realize record gun prices, the answer is most definitely yes.
Where should I Cash my Guns?
When looking to cash your guns, there are numerous options to consider. While pawn shops might offer fast cash compared to an auction, they have a clear conflict of interest with the seller in that they're in business to buy your gun at the lowest possible price. Gun stores follow a similar model and usually only offer a fraction of the true gun value to a seller. There are numerous ways to sell a gun online today, but the average prices realized vary significantly from site to site, and this is often related to the size and quality of their buying audience. At Rock Island Auction Company, you're partnering with a business that wants the highest possible price for your gun.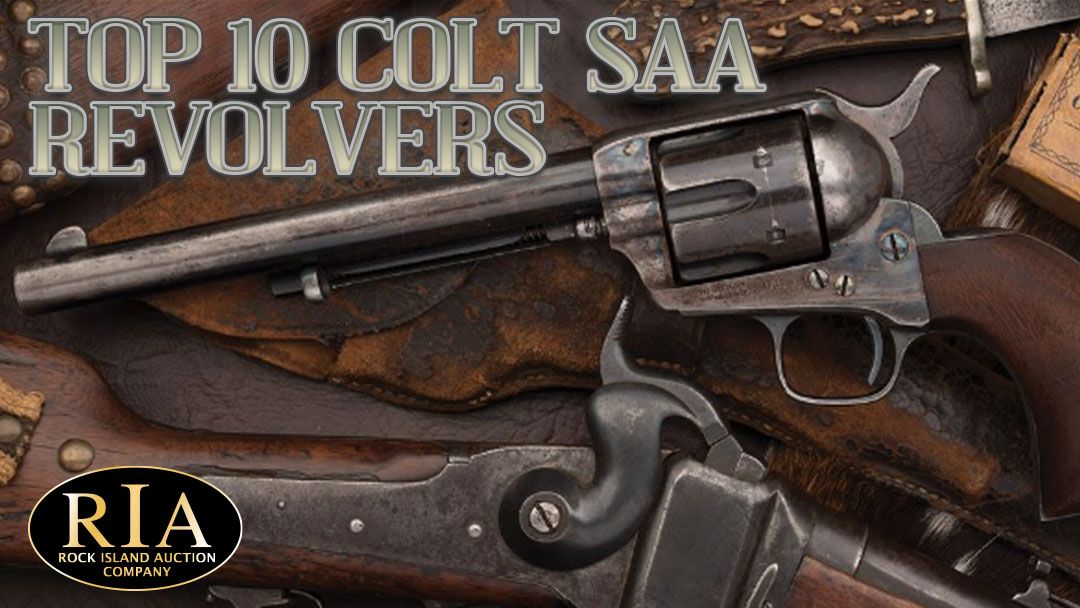 Rock Island Auction consistently brings in the most money for gun consigners, particularly for classics like the Colt Single Action Army.
When it comes to getting the most cash for your firearms, Rock Island Auction Company has a proven record of success. The guns are cataloged before each auction, beautifully photographed, and marketed widely across online and traditional channels, reaching tens of thousands of potential bidders around the world. This gives gun sellers the widest reach in the industry and translates to record gun sales year after year. The truth is in the numbers.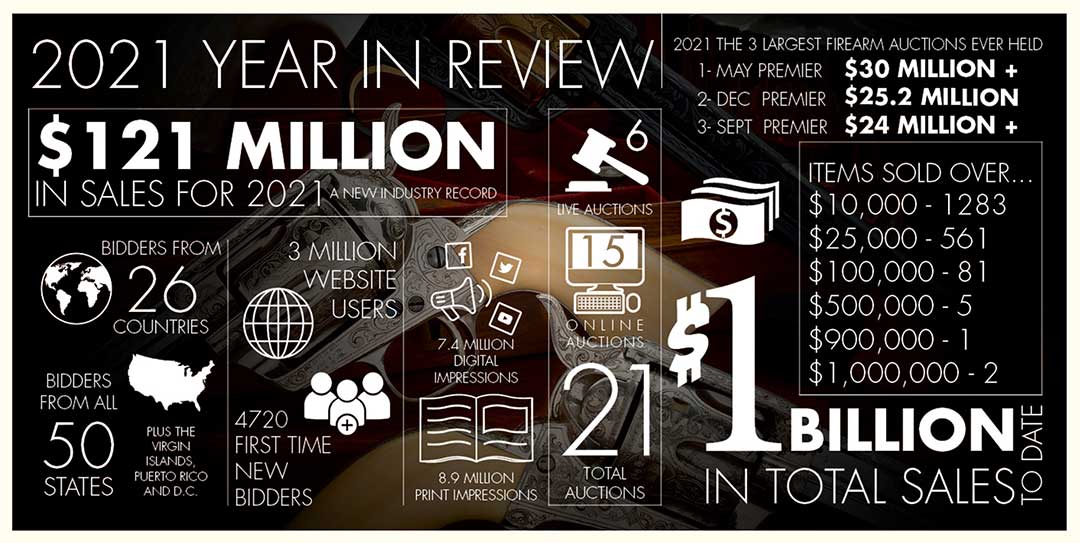 "What's the best way to cash my guns?" Rock Island Auction Company strives to sell your guns for the highest price possible. As the #1 firearms auction house since 2003, RIAC has a global clientele willing to pay top dollar for the right gun.
Is Now the Time to Cash my Guns?
The first step to cashing your guns with Rock Island Auction Company is reaching out for a free evaluation. Ballpark gun values can sometimes be determined over the phone, while other times a visual inspection is required.
Recent sales data can also be found in our free gun catalogs, which provide a comprehensive guide to prices and trends in recent vintage firearms. When considering gun value by year at Rock Island Auction Company, we've analyzed sales data from our past auctions to provide gun cosigners a snapshot of the current market and a demonstration of how gun prices have been rising across multiple genres. To maintain consistency and accuracy, the graphs presented below have excluded multi-gun lots, rare prototypes, engraved and presentation pieces, and other extremely scarce and atypical examples. The buyer's premium is included in the sales price (15% during the periods analyzed), as this accurately reflects what a collector paid to own each firearm.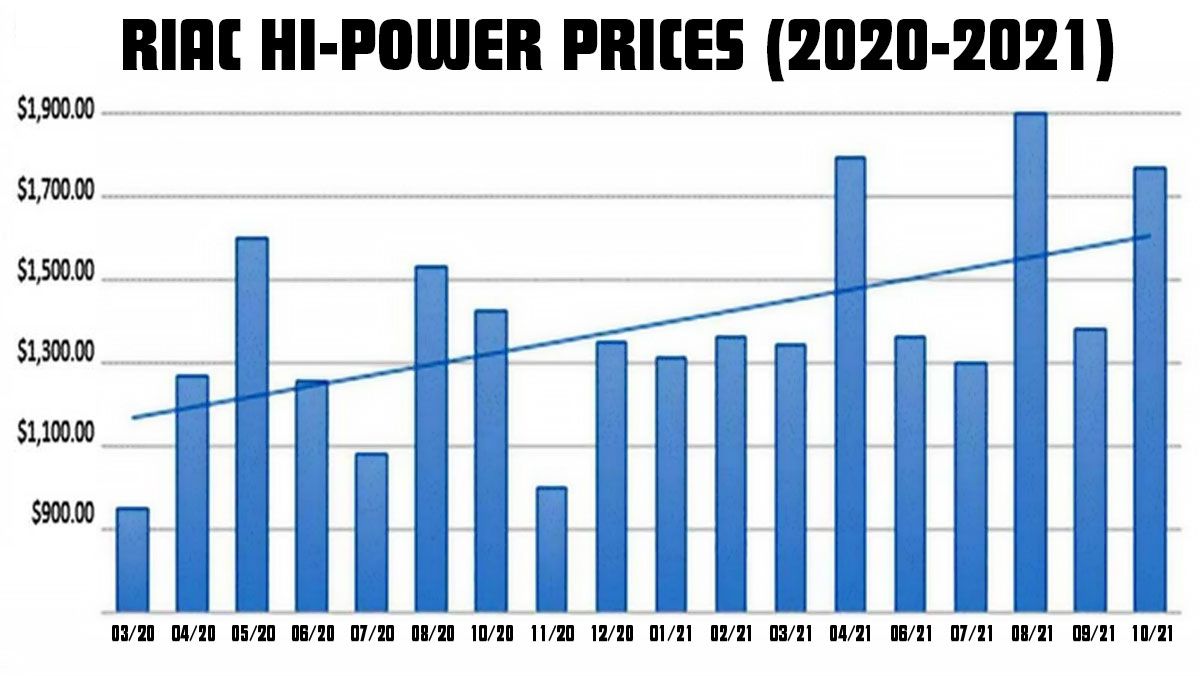 The average vintage Hi Power pistol value continued to trend upward in 2020 and 2021 at Rock Island Auction Company.
M1911 Prices and Values by Year
In recent years, classic military pistols like the Luger and the Mauser C96 have seen tremendous gains in value, and the M1911 is no exception. The M1911 pistol is a collecting genre onto itself, a gun that instantly evokes a century of American military history, and its steady rise in value should come as no surprise. As already stated, each dataset included in this article has intentionally omitted rare variations, and in the case of the M1911 pistol that means excluding manufacturers like Singer and North American arms.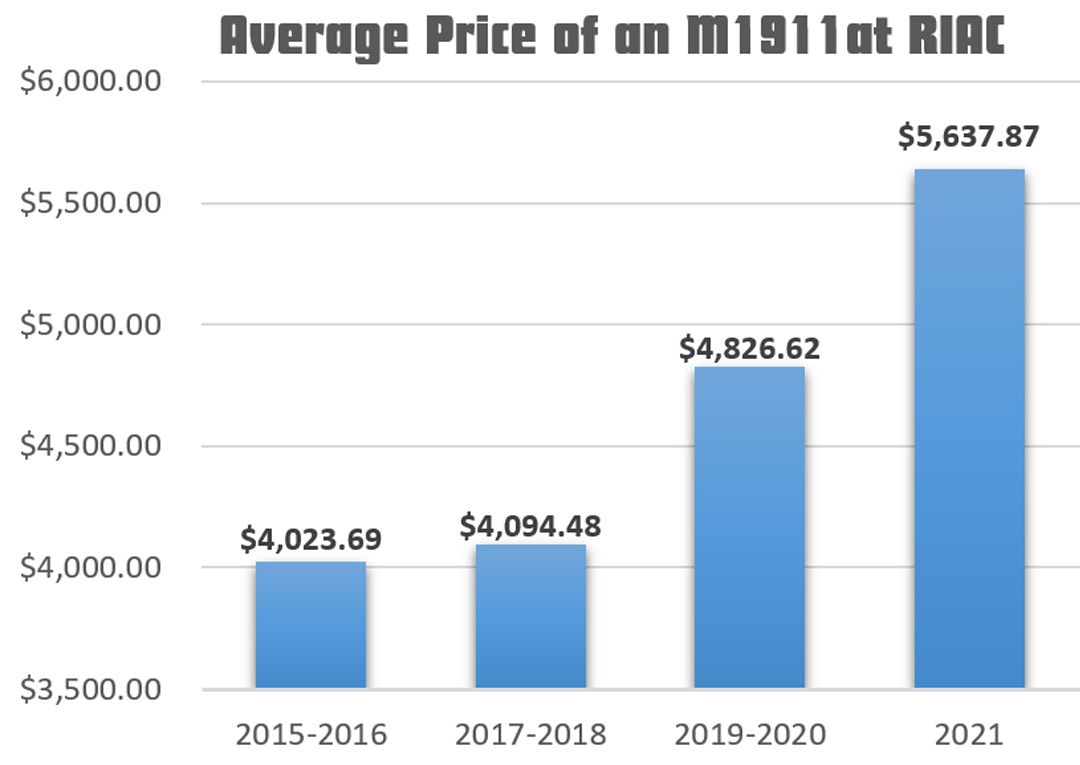 The Average M1911 value by year at Rock Island Auction Company since 2015.
From 2015 to 2018, the average M1911 pistol price at Rock Island Auction Company hovered just over $4,000 before experiencing a dramatic upswing in 2019 and 2020. The momentum continued into 2021, a record year for RIAC and any consignors looking to cash their guns, and the demand for John Browning's iconic pistol shows no sign of slowing in 2022.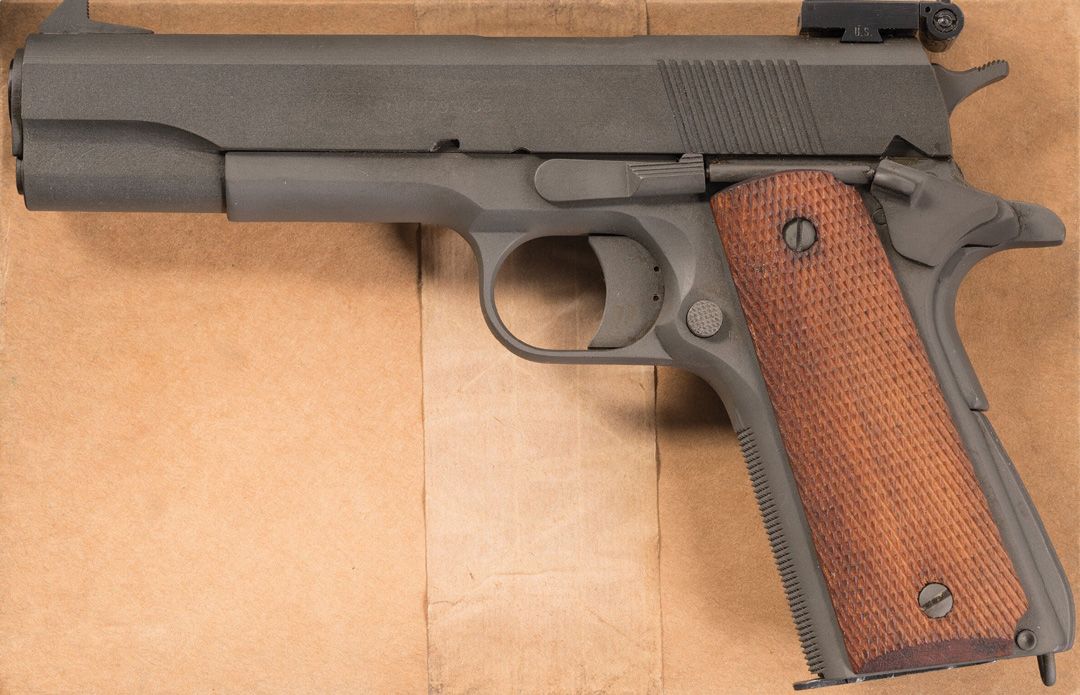 A U.S. Remington-Rand Model 1911A1 National Match pistol sold for $6,463 in May, 2022 at Rock Island Company.
M1 Garand Prices and Values by Year
It's hard to argue that any genre of gun collecting has experienced faster growth than vintage military arms. The BAR, the SVT40, and the Winchester Model 1897 combat shotgun are just a few examples of military guns that have seen their values sharply rise in recent years. Even the lesser revered Mosin Nagant has seen an impressive price increase of late. As the definitive WW2 American rifle, the M1 Garand often tops the gun collecting wish list. Going back through 11 years of M1 Garand prices at Rock Island Auction Company presents a clear look at the growth in value the WW2 infantry rifle has enjoyed.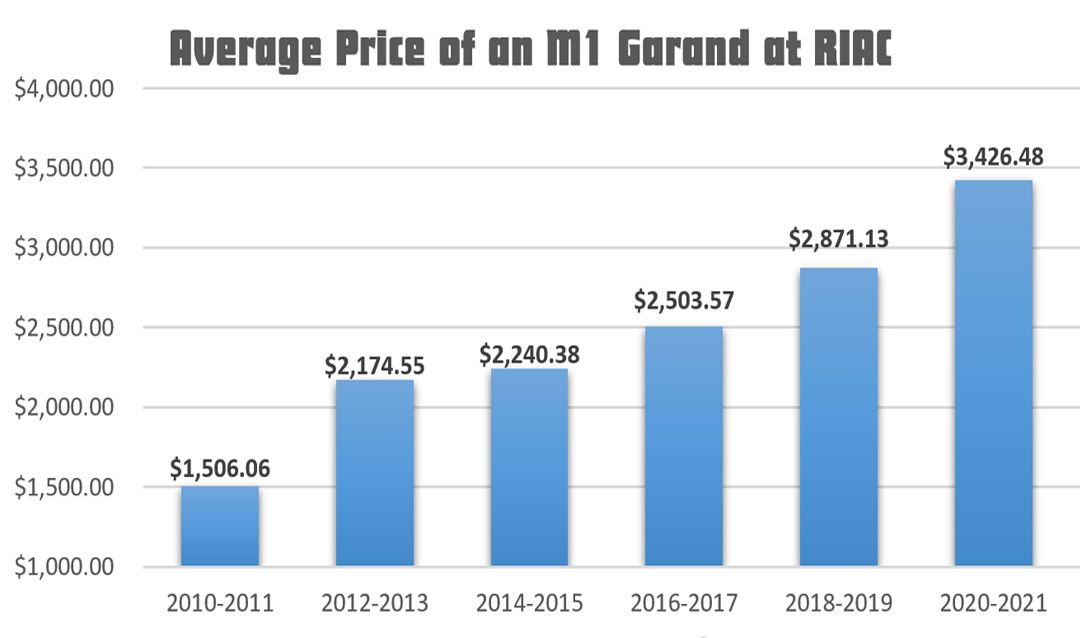 The average M1 Garand value by year at Rock Island Auction Company since 2010.
Like the values observed in many popular gun genres, M1 Garand prices continue to trend upward at Rock Island Auction Company. The M1 Garand broke the $2,000 price barrier in 2012, then marched steadily higher in 2014 and 2015 before skyrocketing over the next six years. From 2010 to 2021, the M1 Garand more than doubled its value, and demand for this classic WW2 rifle shows no sign of slowing. Even though the rarest M1 Garands were excluded from the data, similar trends are observed throughout the genre.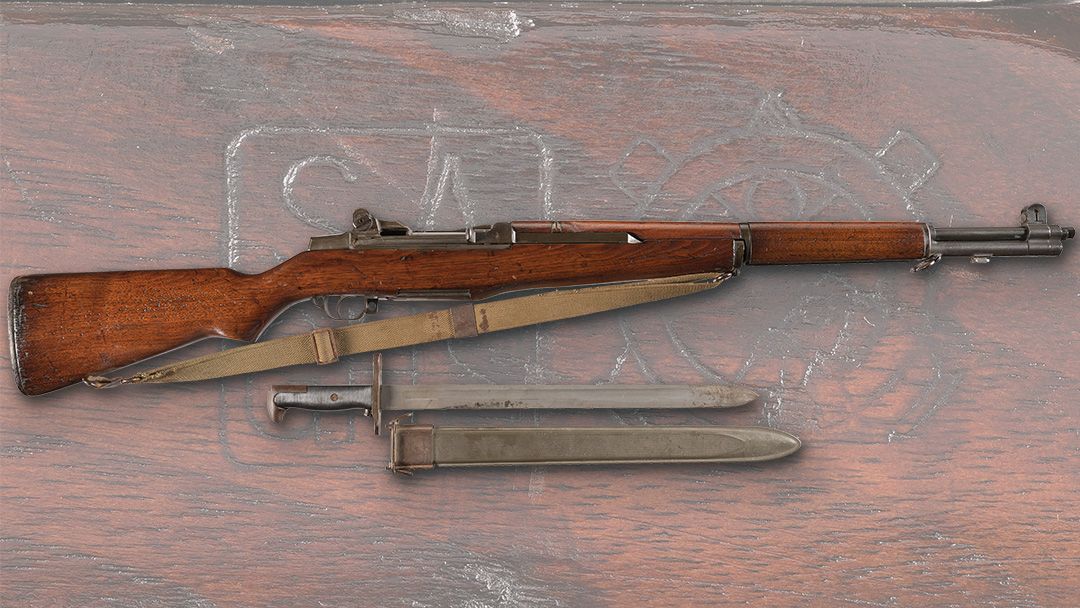 World War II U.S. Springfield M1 Garand rifle sold for $3,819 with Rock Island Auction in May.
Colt M16A1 Prices and Values by Year
Who doesn't love a machine gun? Rock Island Auction Company's customers can't get enough of classic heavy hitters like the M60, the MP40, or the ultra-rare FG42. One of the most recognizable machine guns in history is the Colt M16, the successor to the Armalite AR-15.
The remarkable prices the M16 achieves at Rock Island Auction Company perhaps are influenced by how frequently the storied rifle has been depicted in film, television, and video games over the last few decades and their greater availability Rock Island Auction. Popular Guntubers like Garand Thumb and Hickok45 also contribute to the desire to own this rapid-fire Cold War classic.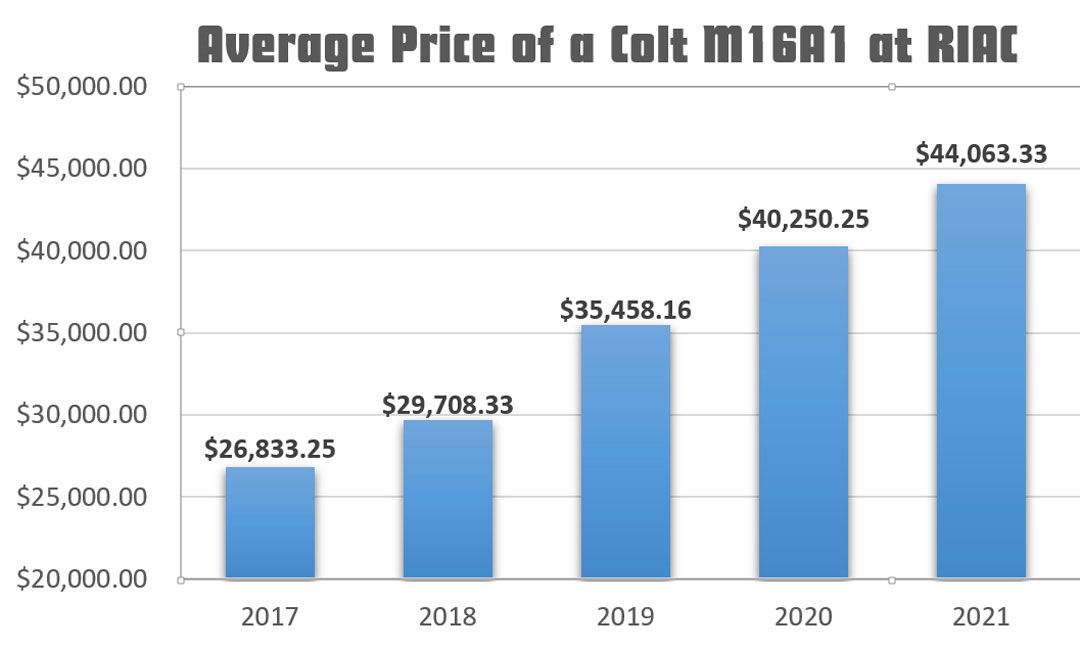 The average Colt M16A1 value by year at Rock Island Auction Company since 2017.
The M16A1 rifle experienced a similar growth trend to the previous two examples, steadily climbing in value in 2018 at Rock Island Auction Company before gaining mightily in 2019, 2020, and 2021. Rising 64% in four years would be an impressive statistic for any gun, especially when the average price increase is a whopping $17,230.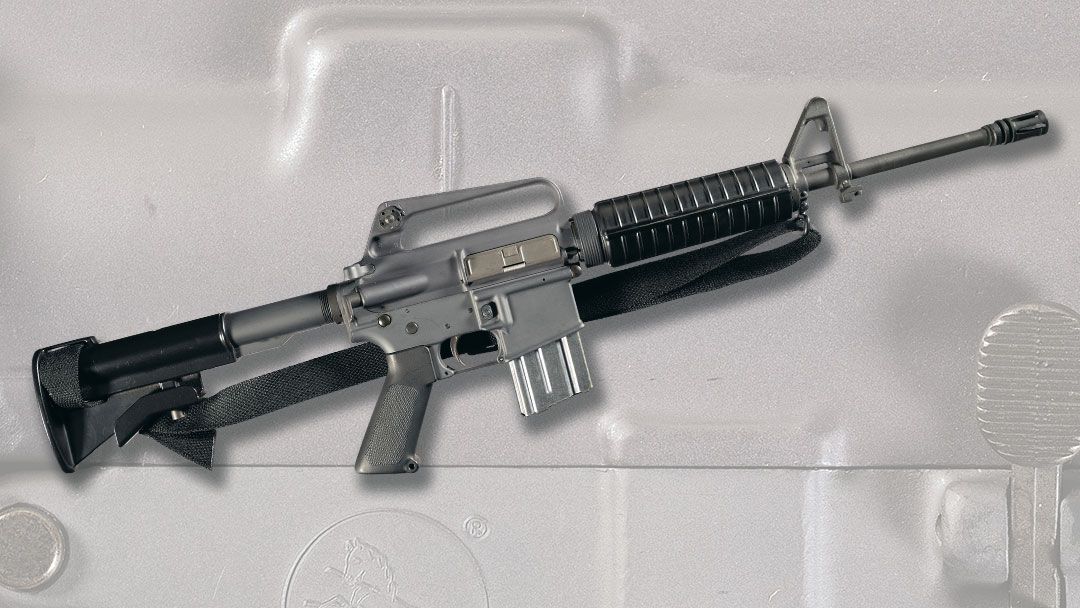 A Colt M16A1 Rifle, Class III/NFA fully transferable machine gun so for $55,813 in RIAC's August Premier Auction, demonstrating the continued strength of U.S. military arms and the machine gun genre.
Whitney Wolverine Prices and Values by Year (nickel-plated with original box)
Another perennial hit with gun collectors, the Whitney Wolverine is an Atomic Age pistol with one of the most unique looking gun aesthetics of its era. Robert Hillberg's Wolverine is an example that demonstrates a gun doesn't need to be an antique, a military arm, or a rare Colt or Winchester to turn heads in the gun collecting community.
While all Whitney Wolverines manufactured between 1955 and 1962 are popular, the most desirable are the limited number to receive a nickel-plated finish. The graph below compares the average value by year that nickel-plated Whitney Wolverines achieved at Rock Island Auction Company. All examples included their original box and were in fine condition or higher.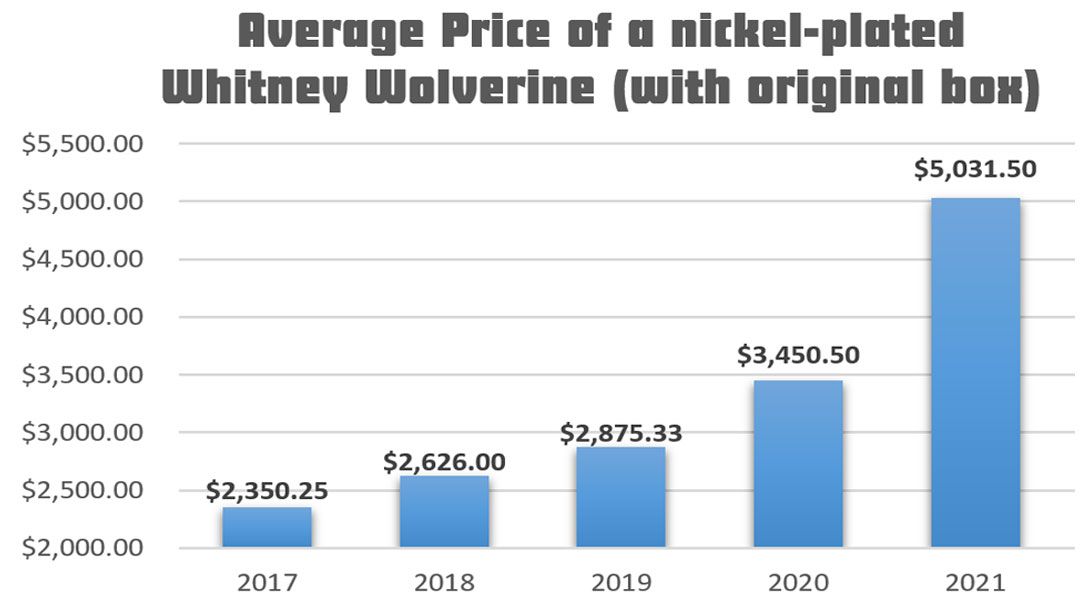 The average nickel-plated Whitney Wolverine price (with original box) at Rock Island Auction Company since 2017.
The average price for a nickel-plated Whitney Wolverine at RIAC not only follows a similar trend to the other graphs presented so far, it provides an even more dramatic example of the booming firearms market. From 2017 to 2019 the Whitney Wolverine saw a 22% increase in value, then shot past the $3,000 barrier in 2020 before rocketing to an astronomical $5,031.50 in 2021. A worthy showing for gun inventor Robert Hillberg out-of-this-world design.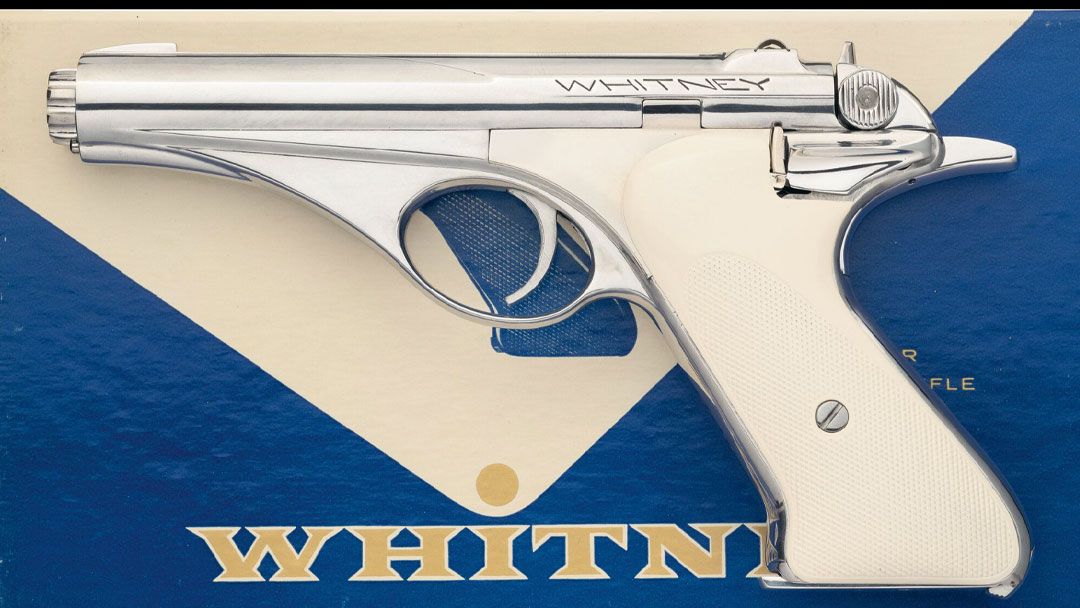 In August of 2022, a Whitney Arms Company Wolverine sold for $7,050.
Colt Python Prices and Values by Year
The Colt Python's popularity isn't surprising to most collectors. Pythons and other snake guns are handmade Colt revolvers that have been out of production for years and carry a reputation for quality, accuracy, and precision craftsmanship. Any gun that earns the title "The Rolls-Royce of Colt revolvers," is going to be a perennial hit with shooters and arms collectors, and the Colt Python prices and values realized at Rock Island Auction Company continue to bear this out.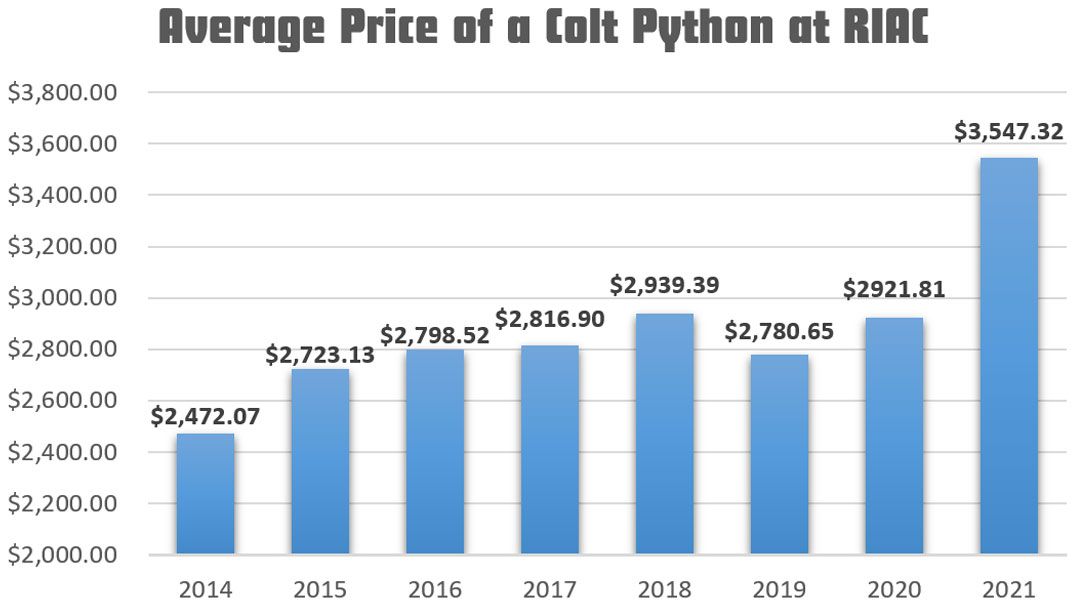 The average Colt Python price at Rock Island Auction Company since 2014.
After a notable rise in 2015, the average Colt Python price at Rock Island Auction Company inched upward over the next three years before achieving a tremendous $2,939.39 in 2018. Though the Python saw a slight decline in 2019, this popular big iron revolver rallied back in 2020 and shattered all expectations in 2021 with an astounding $3,547.32. High-value Pythons such as the Colt Python Elite and early-year production models reflect a similar price trend, as does Colt's entire roster of deadly serpents, including the Diamondback, Cobra, Anaconda, King Cobra, Viper, and the extremely collectible Colt Boa.
With an estimated 200 manufactured, the California Combat Python is one of the rarest snake gun models. This example achieved a mindblowing $70,500 with Rock Island Auction Company in May, 2022.
How Can I Cash my Guns?
Once you consign with Rock Island Auction Company, your guns are shipped to our state-of-the-art facility, inventoried, photographed, marketed, and sold in one of our industry-leading firearms auctions. Getting cash for your guns has never been easier, and there's never been a better time to act.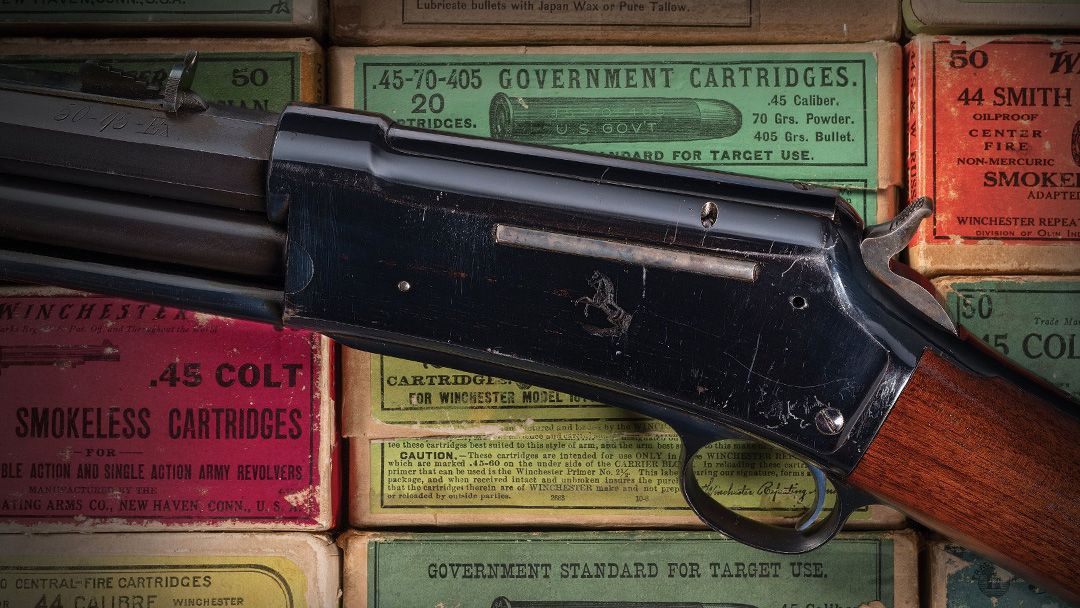 An early production Colt large frame "Express Model" Lightning slide action rifle nearly tripled its high estimate with Rock Island Auction Company to bring in an outstanding $94,000.
Whether a single gun or a large gun collection, RIAC has an impressive record of success, an expanding list of gun collecting clientele, and a world-class production team that will ensure you receive the highest possible value for your gun.
Call Rock Island Auction Company at 1-800-238-8022.
Email Rock Island Auction Company at guns@rockislandauction.com.
Fill out a firearms consignment request by clicking here.
Contact us with your questions today. We can't wait to hear from you!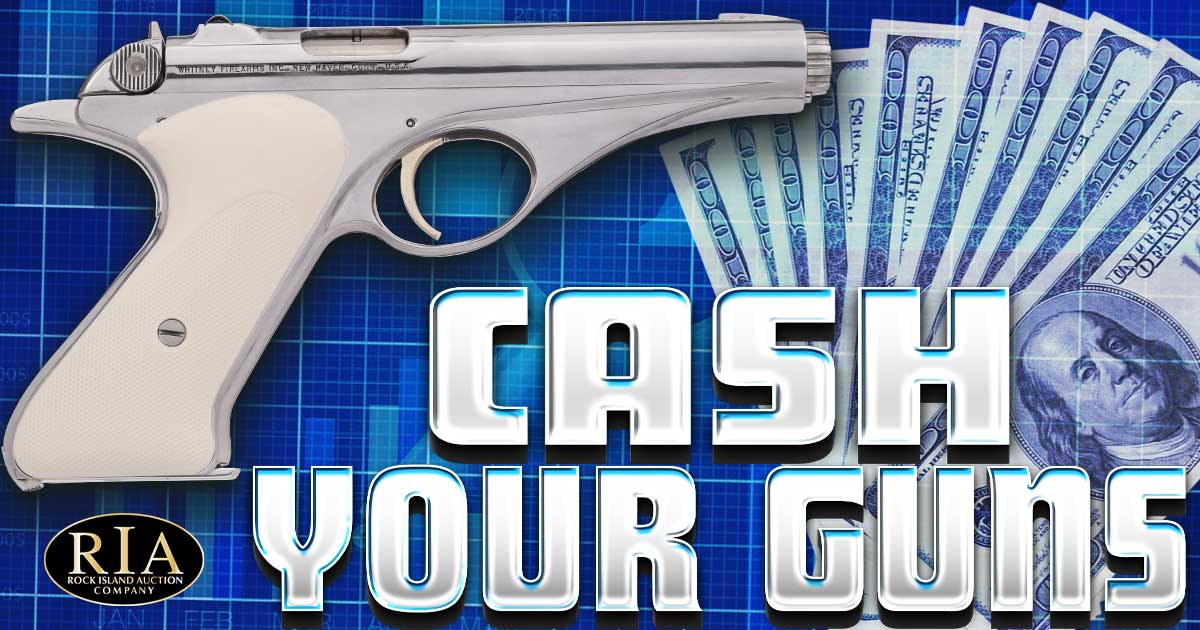 Rock Island Auction Company