Colt revolvers are always popular, whether they are antiques or modern guns, and in Rock Island Auction Company's Sporting & Collector Auction they can be found at a price to suit any collector. Of the 743 lots of revolvers in the June 21-23 auction, more than 400 are made by Colt.
Some Colt revolvers have a name attached to them, while others hint at an historic moment of time, while many are just plain cool. Take a look at a few Colt revolvers available in the June 21-23 Sporting & Collector Auction.
Monte Hale's Single Action Army Colt Revolver
Monte Hale was among the last of the living singing cowboys that thrived on the silver screen in the 1940s and early 1950s. A Colt Single Action Army made in 1897 that Hale gave to a friend is among the cool revolvers in the June S&C Auction.
With his natural down-home style of singing, he was recommended to Republic Pictures by a theater owner who headed up the World War 2 "Stars Over Texas" Bond Drive. Borrowing money, he made his way to California where he was offered a seven-year contract. His likeness was used in a series of 54 Monte Hall comic books for Fawcett Publishing that serialized his films. They were translated into 27 languages.
Hale made nearly three dozen films for Republic Pictures including 19 playing a singing cowboy character named "Monte Hale," with titles like "Prince of the Plains," "Son of God's Country," "Man from Rainbow Valley," and "California Firebrand."
Singing Cowboy Monte Hale presented this gun to a friend. The backstrap is inscribed "To Larry Wilson/From His Friend/Monte Hale". Left grip has a cowboy hat and "MH" monogram. Along with his silver screen career in the 1940s and 1950s, he teamed with another singing cowboy, Gene Autry, and along with their wives, founded the Autry Museum of the American West.
As the B-movie singing cowboy films faded he made television appearances in shows like "Gunsmoke" and "Adventures of Wild Bill Hickok." He impressed as Rock Hudson's lawyer, Bale Clinch, in James Dean's last movie "Giant." His final film was 1966's "The Chase," that had a star-studded cast that included Marlon Brando, Robert Redford, and Jane Fonda (or the 1973's Marty Robbins flick "Guns of a Stranger" due to conflicting sources).
Away from the silver screen he was good friends with fellow singing cowboy Gene Autry. Autry had always wanted to start a museum devoted to the people and cultures of the American West. The two former singing cowboys and their wives were dining in Palm Springs and Hale asked his friend when he was going to make it happen. The two couples founded the Autry Museum of the American West in 1988. Their wives, Jackie Autry and Joanna Hale were driving forces of the museum, while Hale served on the board of directors from the start until his death in 2009 at the age of 89.
Colt Revolver with Tiffany Grip
Speaking of the Autry Museum of the American West, it has a Colt revolver with Tiffany style grips in its collection. The jewelry maker Tiffany & Co. started making cast-metal grips for Colt revolvers, like the Colt Model 1871-72 Open Top with Tiffany-style grips that is available in Rock Island Auction Company's June Sporting & Collector Auction.
Tiffany made three grip designs: Civil War battlefield scenes, the American and Mexican eagles, and the "Missionary and Child" that was fairly rare. Many Tiffany-gripped guns were marketed through Schuyler, Hartley & Graham which employed L.D. Nimschke as its engraver so he, or someone from his workshop did the engraving.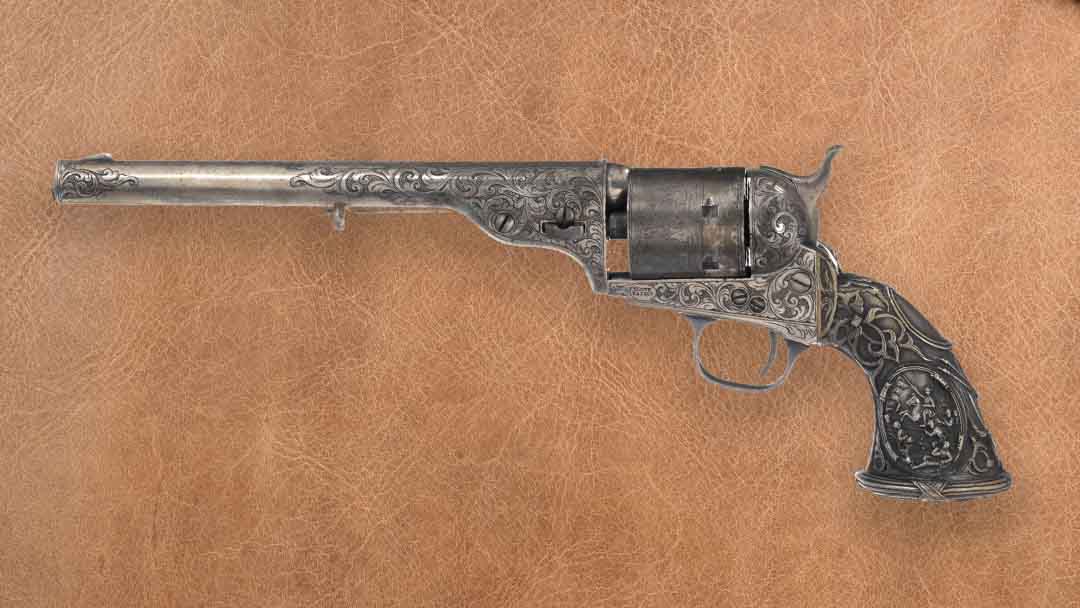 This Model 1871-72 is already rare because it was quickly obsolete because of the Colt Single Action Army. Let alone examples as extensively engraved as this. Add to that the silver-plated bronze-cast grips with a shield and stand of flags on the back and relief Civil War battle scenes, and you have an amazing opportunity for a collector.
Lightning Strikes Colt Revolvers
Colt's first double action revolver was the Model 1877 that is better known by its nicknames. The Colt Lightning — not to be confused with its long gun counterpart – is the most popular, chambered in .38 Colt. The Lightning isn't an official Colt revolver designation but was handed it by Colt distributor Benjamin Kittredge. Kittredge also gave names to the Model 1877 chambered in .41 Long Colt – Thunderer, and .32 Colt – Rainmaker. Kittredge also handed the Single Action Army its nickname of the "Peacemaker," and the Model 1878 double action revolver the "Omnipotent."
Colt developed the double action revolver because of the popularity of the double action in Europe. The Model 1877 was found to have a delicate mechanism because of the more intricate double action over the simpler single action. Despite its flaws it proved to be a popular gun with 167,000 revolvers made between 1877 and 1909. A shorter barrel and lack of ejector rod earned this gun the Sheriff – or Shopkeeper — designation like the Colt Single Action Army.
The Lightning was reportedly carried by a number of Wild West characters that fell on the opposite sides of the law, including Doc Holiday, Billy the Kid, and John Wesley Hardin. A Colt Lightning owned by a police officer in Colt's hometown of Hartford, Conn., recently sold for $176,250.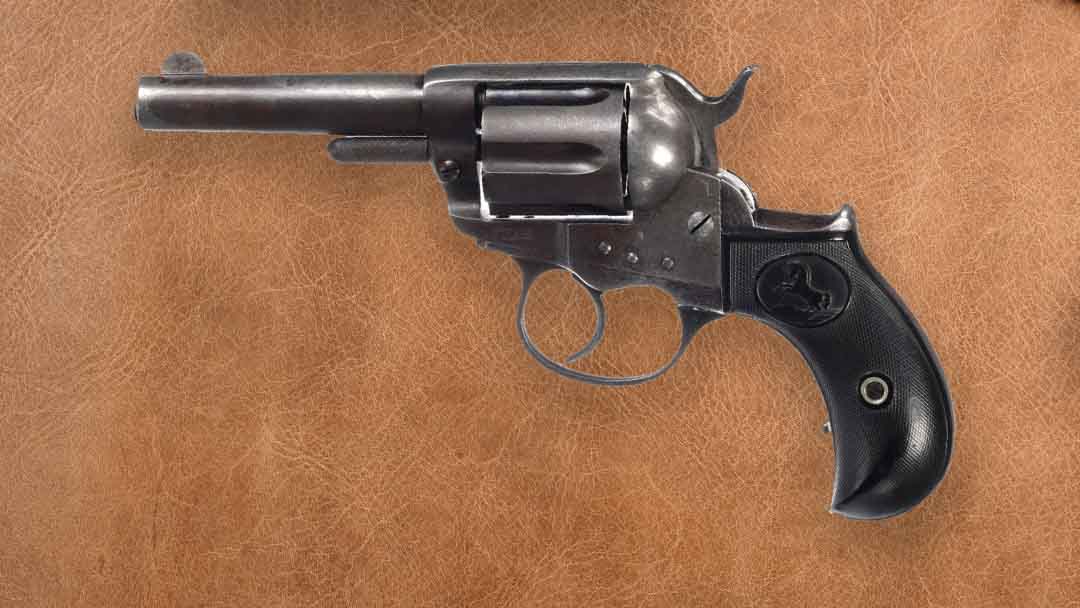 This Colt Lightning was manufactured in 1889 with a 3 1/2 inch barrel and blued finish. It was shipped to Denver, Colo., the same year.
Among Colt Revolvers Hartford-English Dragoon is Rare
About 700 of these hefty Colt Hartford-English Dragoon revolvers were made in the early 1850s with about 20 percent engraved in Colt's London factory. The guns were made for the English market.
For the U.S. Army in the mid-19th century, dragoon referred to cavalry troops. The Dragoon was engineered with a shorter cylinder to avoid over-sized powder loads which caused cylinders of the Colt Walkers — which preceded the Dragoons – to occasionally explode. Colt also added a latch to the Dragoon's rammer to keep it in place while firing. These massive revolvers weigh in at more than four pounds and are chambered in .44 caliber.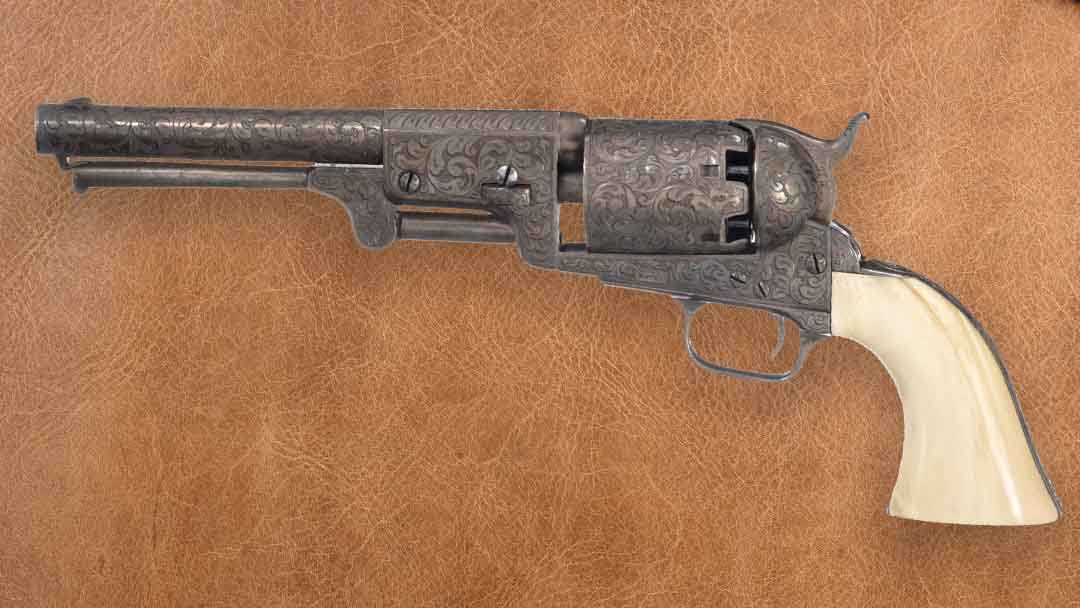 This silver-plated Colt Hartford-English Dragoon is covered in scroll engraving and is among the Colt Dragoons available in Rock Island Auction's June Sporting & Collector Auction.
Colt Revolvers in the Navy
Colt manufactured nearly 250,000 of the Colt Model 1851 Navy revolvers between 1850 and 1873, more than the Model 1860 Army that was a mainstay of Union forces in the Civil War. The term Navy refers more to the gun's .36 caliber rather than the service that used it. The .44 caliber guns were referred to as Army revolvers.
Samuel Colt was a fan of the Model 1851 Navy and was photographed holding one. Texas Ranger Ben McCullouch who followed Davy Crockett to Texas and served under John Coffee "Jack" Hays was known to carry the 1851 Navy, as was Wild Bill Hickok.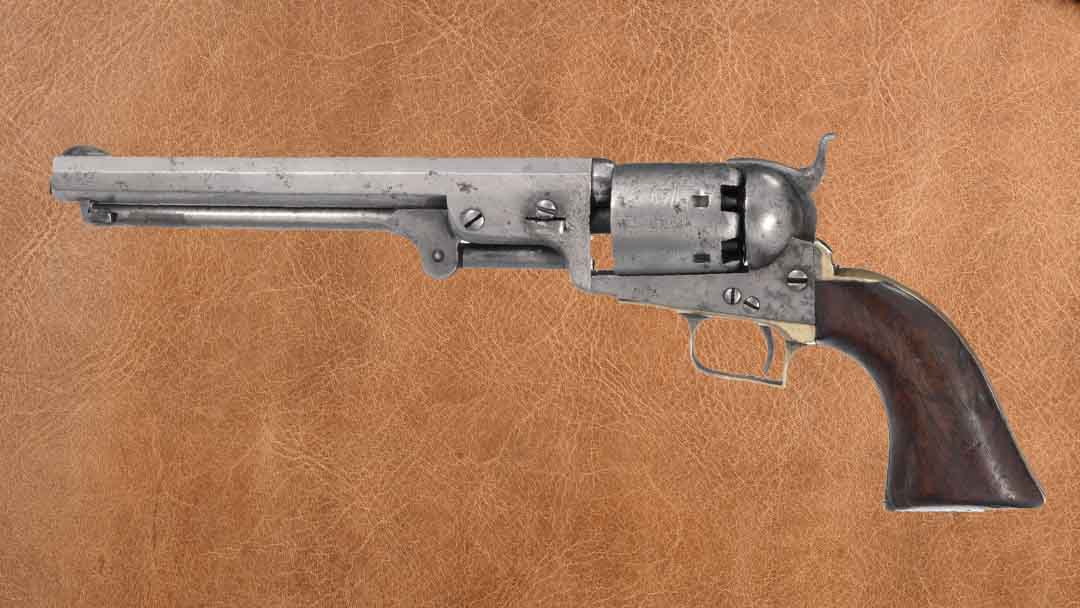 This Colt Model 1851 Navy was made in 1850, the first year of production, and has a square back trigger guard and a three-digit serial number. It is available in Rock Island Auction Company's June Sporting & Collector Auction.
Colt Revolvers in Rare Calibers
The first generation of Single Action Army revolvers were chambered in more than 30 different calibers, though most were made in just five calibers: .45 Colt, .44-40 Winchester Center Fire (WCF), .38-40 (38 (WCF), .32-20 Winchester (WCF), and .41 Colt. Nearly half were chambered in .45 Colt.
More than 357,000 Single Action Army revolvers were made between 1873 and 1940, which are considered first generation. Among the rarer calibers are .45 ACP, .455 Eley, .44 Smith & Wesson, and even a plinking caliber, .22 rimfire.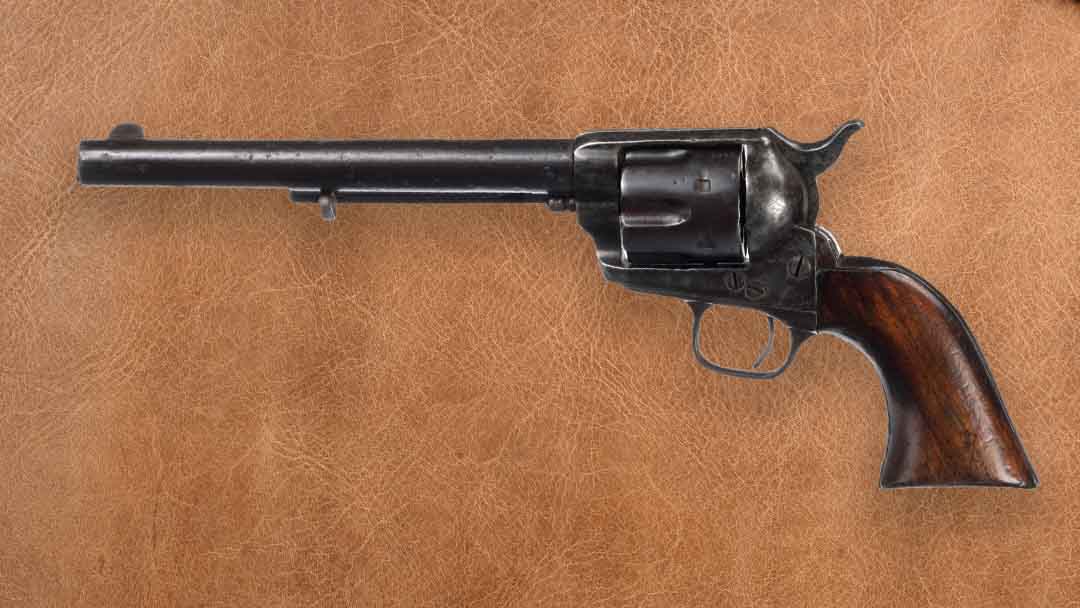 (pic) This Colt Single Action Army shipped to Schuyler, Hartley & Graham in New York City is chambered in .44 Rimfire, just 1,863 manufactured in this caliber. Despite its rarity, this is one of two .44 Rimfire SAA available in the June Sporting and Collector Auction.
Colt Revolvers as Snake Guns
Colt has a series of revolvers given snake names — Anaconda, Diamondback, Cobra, Boa, King Cobra, and Viper, but the king of the company's snake guns is the Python. The Python, first manufactured in 1955 was chambered in .357 Magnum.
Author and historian R.L. Wilson has a well-cited quote, calling the double action Python the "Rolls-Royce of Colt revolvers" and well-known British author and firearms expert Ian V. Hogg called it the "best revolver in the world." It was offered in barrel lengths of 2 1/2 inches, 3 inches, 4 inches, 6 inches, and 8 inches during its first run from 1955 to 2005.
This Colt Python with a 2 1/2 inch barrel was manufactured in 1981. It is available in RIAC's June Sporting & Collector Auction.
Colt Revolvers in the Marines
The Moro insurrection in the Philippines showed that .38 caliber pistols didn't offer the stopping power the U.S. Military needed. The double action Model 1909 chambered in .45 Colt was born. Colt delivered about 20,000 to the Army before the legendary Model 1911 was adopted.
The U.S. Marine Corps ordered 1,400 that differed slightly from those sent to the Army with checkered grips and rounded butts.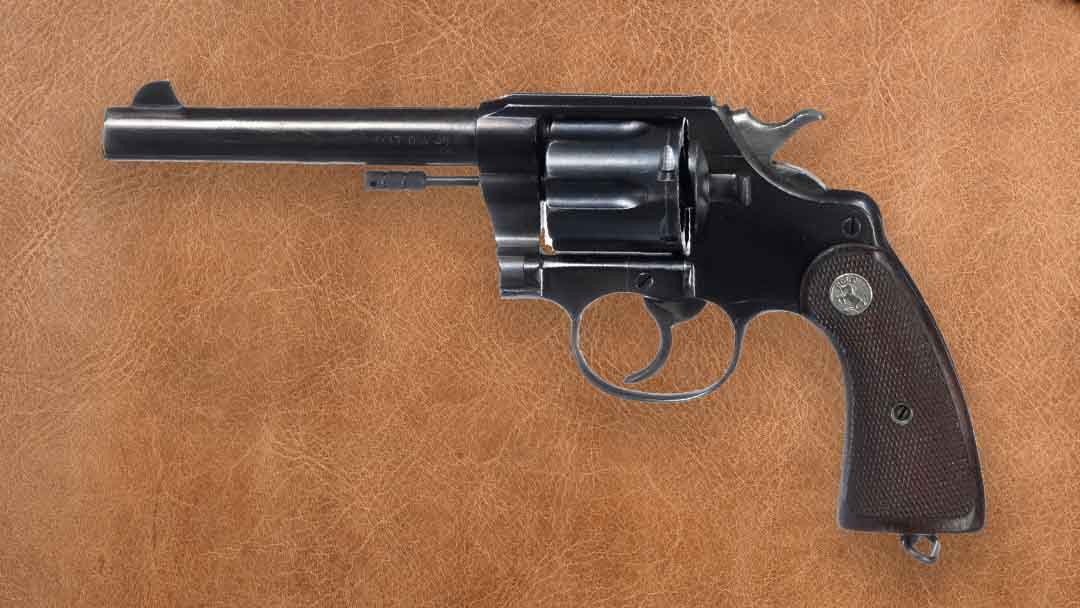 This Colt Model 1909 double action revolver is stamped "U.S./M.C./No/503" on the butt. It is available in Rock Island Auction's June Sporting & Collector Auction.
Colt Revolvers and the Civil War
Colt manufactured 200,000 of its Model 1860 Army from 1860 to 1873, with more than 127,000 purchased by the U.S. government. This gun, Colt's last percussion revolver, was lighter than the revolver that preceded it thanks to its smaller frame and "Silver Spring Steel." The Model 1860 weighed in a pound and a half less than the 4 pounds of the Dragoon.
The War Department purchased 107,000 of the .44 caliber 1860 Army revolvers for use in the Civil War. They were to be issued to all mounted troops as well as officers and artillerymen. The gun made Samuel Colt a wealthy man, with his personal income in 1860 and 1861 at more than $1 million. When he died in 1862, his estate was estimated at $15 million, a huge sum for the time.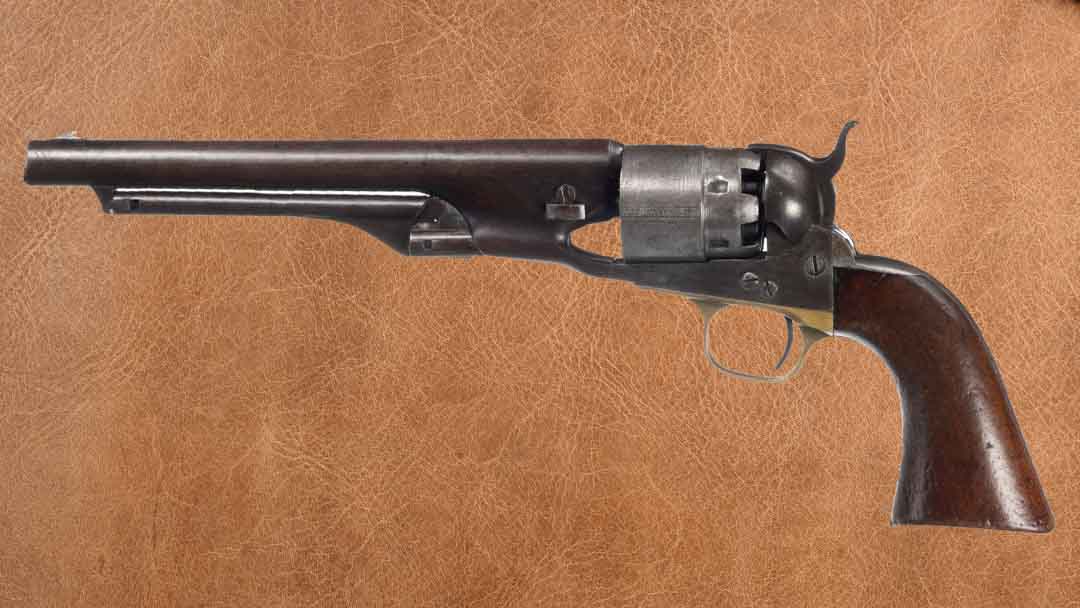 This Civil War U.S. inspected Colt Model 1860 Army was manufactured in 1862 and has an inspection mark on the left grip. It is available in Rock Island Auction's June Sporting & Collector Auction.
Colt Revolvers with Cops and Thugs
Colt's New Line Police revolvers with its spur trigger were manufactured from 1882 to 1886 and earned its nickname of "Cop & Thug" because the grips featured a police officer disarming a ruffian. The revolver was chambered in either .38, .32, or .41 calibers. Only about 4,000 of these single action pocket revolvers were made.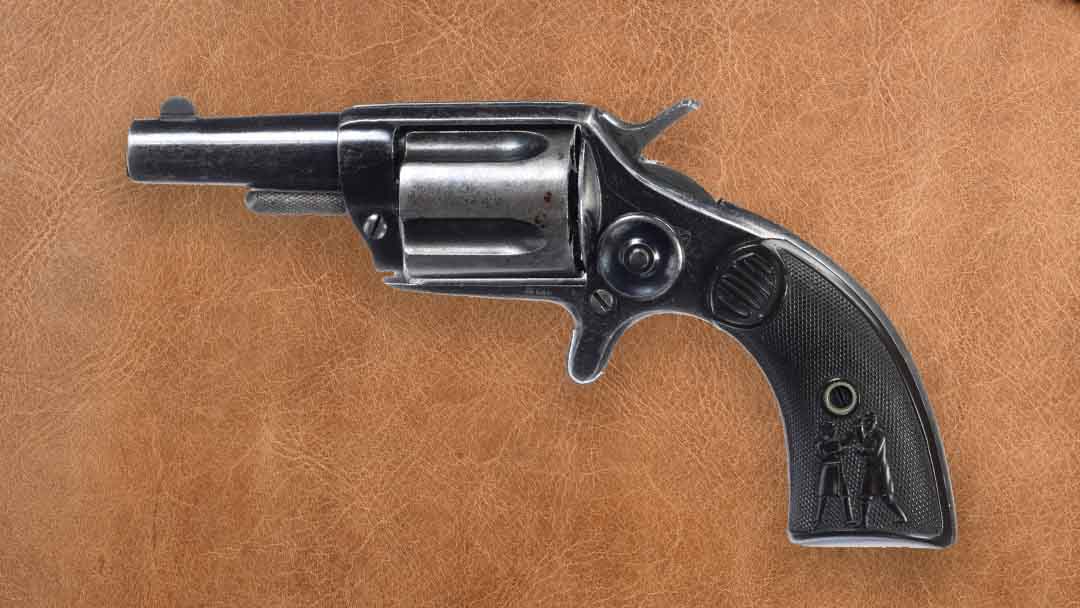 This Colt New Line Police "Cop and Thug" revolver has a short 2 1/4 inch barrel and is chambered for .38 Center Fire. It is available in Rock Island Auction Company's June Sporting & Collector Auction.
Not Colt Revolvers
Rock Island Auction Company loves to sell Colt revolvers, but there are plenty of other fine though lesser known revolvers on offer from manufacturers like Tranter, Starr, and Merwin, Hulbert & Company. Lets check out a couple for some wheelgun diversity.
Since Colt didn't sell to the Confederate states after the start of the Civil War, the Confederacy had to find other sources for weapons. The trouble was the Confederacy didn't have the industrial base to draw upon for weapons manufacture. That didn't stop some gun makers.
Samuel Griswold made about 3,700 revolvers in his Georgia factory between 1862 and 1864 with a distinctive brass frame and dragoon type barrel. Chambered in .36 caliber, this revolver is underpowered compared to the Union's .44 caliber Colt Model 1860 Army.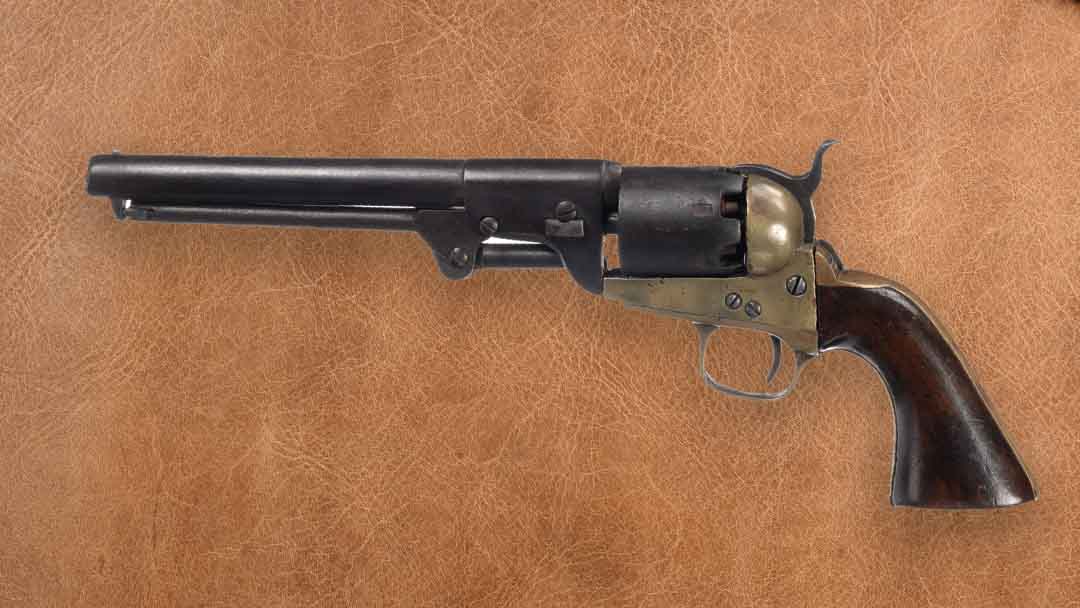 (pic) This Confederate Griswold & Gunnison percussion revolver has a "B" stamped on its brass components and the name "W.A. Jones" stamped on the butt. It is available in RIAC's June Sporting & Collector Auction.
The U.S. Revenue-Marine was founded by Congress in 1790 to serve as a customs enforcement service as recommended by Alexander Hamilton and renamed the U.S. Revenue Cutter Service in 1894 before being disbanded in 1915 with the formation of the U.S. Coast Guard.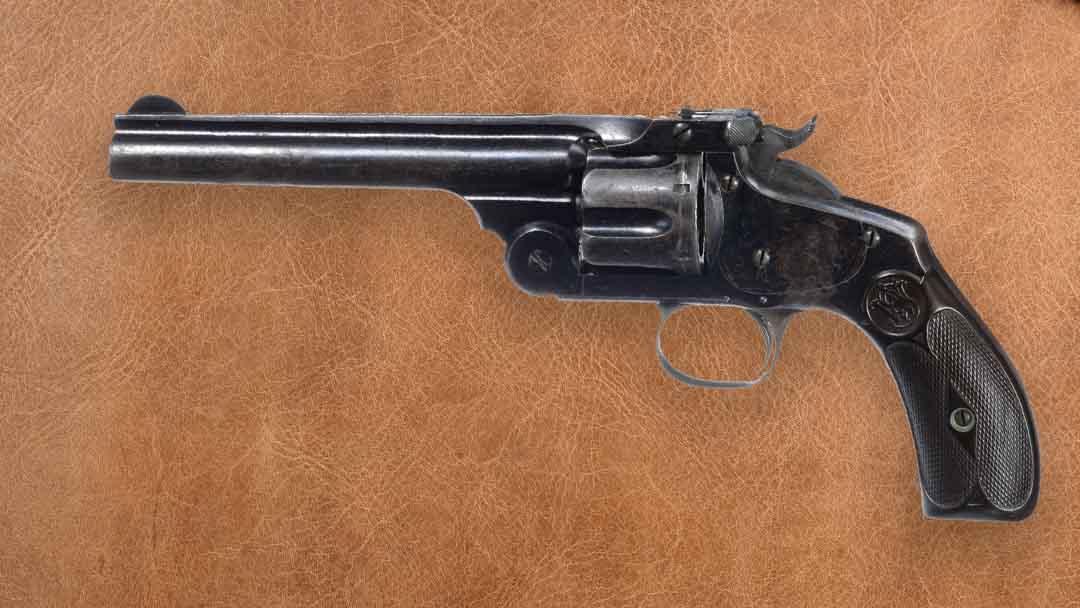 This Smith & Wesson New Model No. 3 single action revolver falls in the listed range of U.S. Revenue Cutter Service shipped guns according to Supica and Nahas' "Standard Catalog of Smith & Wesson 3rd Edition." It is available in RIAC's June Sporting & Collector Auction via the Supica Collection.
So Many Colt Revolvers
Rock Island Auction Company's June 21-23 Sporting & Collector Auction features 743 lots of revolvers. Among those are 403 lots of Colt revolvers, providing a tremendous opportunity for collectors to add any one of these Colt wheelguns at a reasonable price point. Take a look online, check out these remarkable firearms in person at the June 20 Preview Day, and submit bids electronically, by phone, or bid in person in our auction hall. These fine Colt revolvers are waiting for you.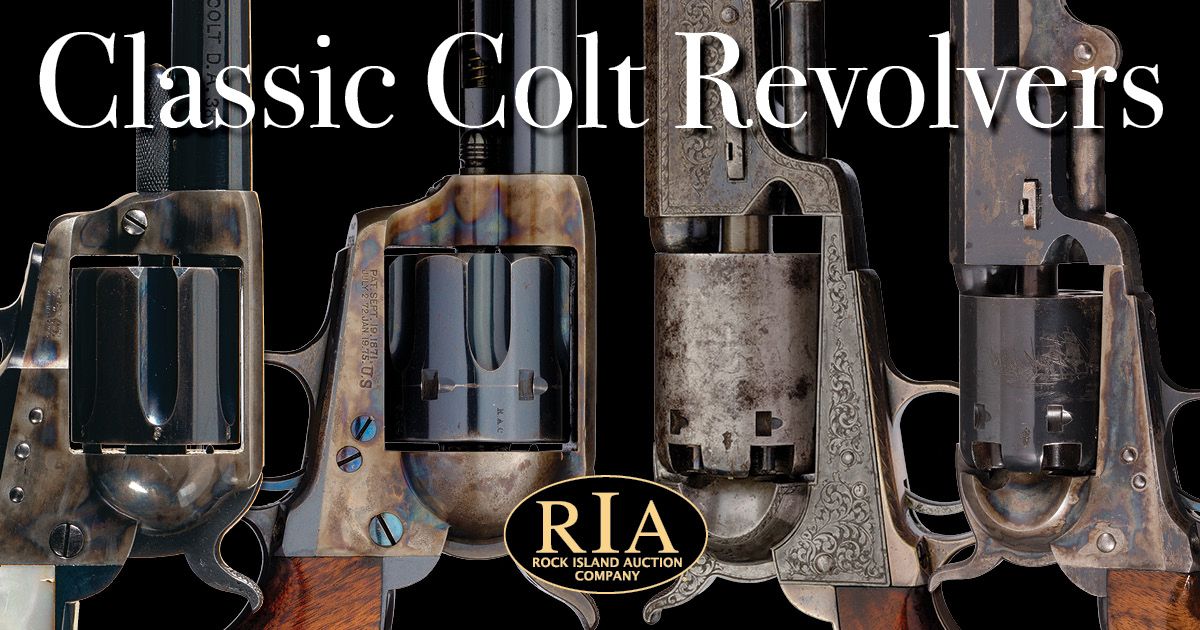 Rock Island Auction Company