When it comes to fierce battles, rich history, and a wealth of innovative weapons, it's hard to match the Civil War era. There's little wonder that today's collectors are drawn to relics from the conflict, and some of the finest, scarcest, and most historic Civil War guns for sale can be found at Rock Island Auction Company.
One of the most important war trophies of any American War: the Beaumont-Adams revolver presented to Confederate States of America President Jefferson Davis by Robert Adams of London and personally surrendered to Union Cavalryman John Hines of the 4th Michigan Cavalry at the capture of Jefferson Davis on May 10, 1865.
Civil War guns owned by famous figures from the era are some of the most sought-after items in the collecting pursuit, like the historic Jefferson Davis revolverpictured above and the pair of Moore's Patent gilt derringer pistols inscribed to General Abner Doubleday featured below. Apocryphally declared the inventor of baseball, Union General Abner Doubleday played a significant role in the Union victory at the Battle of Gettysburg, a turning point in the Civil War.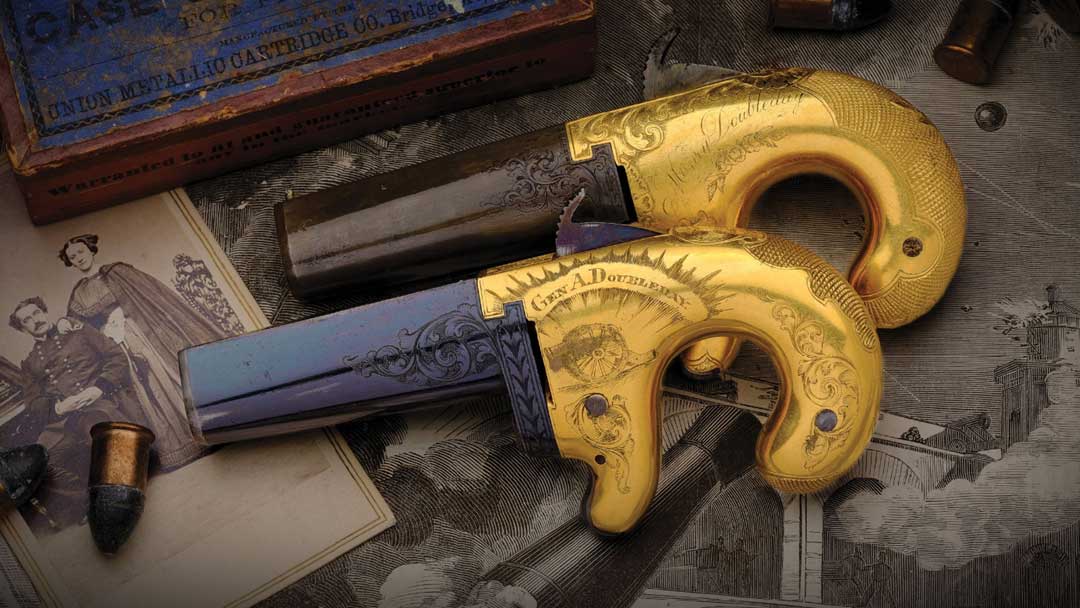 A pair of Moore's Patent gilt derringer pistols inscribed to General Abner Doubleday. Manufactured from 1861 to 1863.
Whether defined by their superlative condition, immense rarity, or links to the legendary figures who fought in the conflict, Rock Island Auction Company's May 2023 Premier Firearms Auction offers an unmatched selection of Civil War guns for sale that would complete even the most advanced collections. From rifles, carbines, and revolvers to swords, canes, and cannons, every genre is well-represented, and you can click on the images throughout this article to learn more about each item.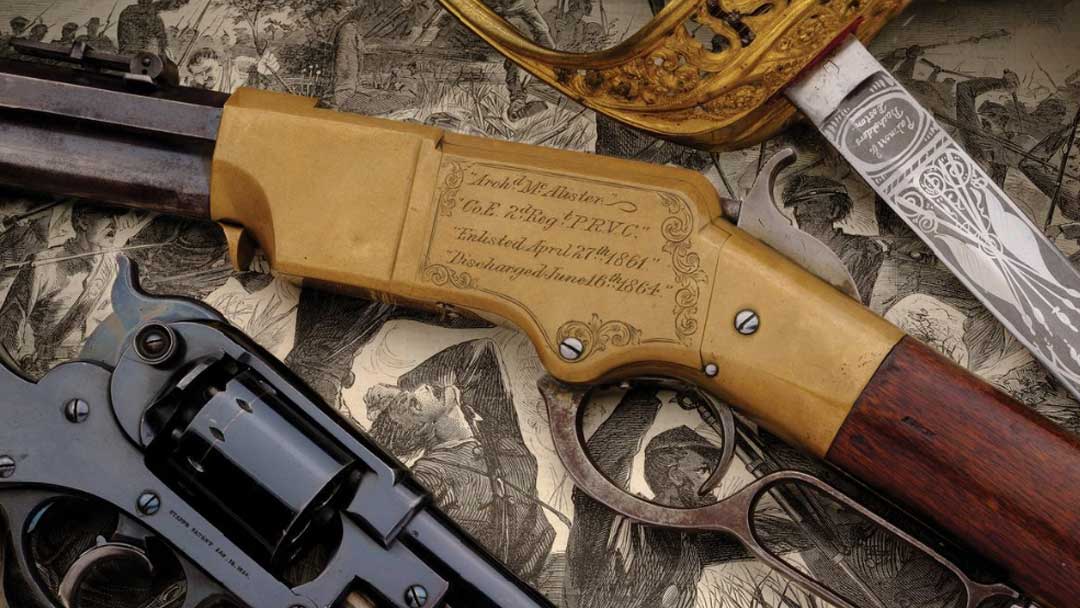 Civil War guns for sale and more this May at Rock Island Auction Company.
The Revolver Surrendered by a Captured Jefferson Davis
The story of the Jefferson Davis revolver, one of the most important Confederate artifacts in private hands, started with John and Edwin Hines. Both brothers served in Company E of the 4th Michigan Cavalry, the regiment famous for capturing the Confederate President. This surrendered Beaumont-Adams revolver comes with complete, detailed, and documented provenance tracing the moment it came into the possession of John Hines at the capture of Jefferson Davis until its consignment in this auction through official military records, published accounts, newspaper articles, family letters, and full chain-of-ownership.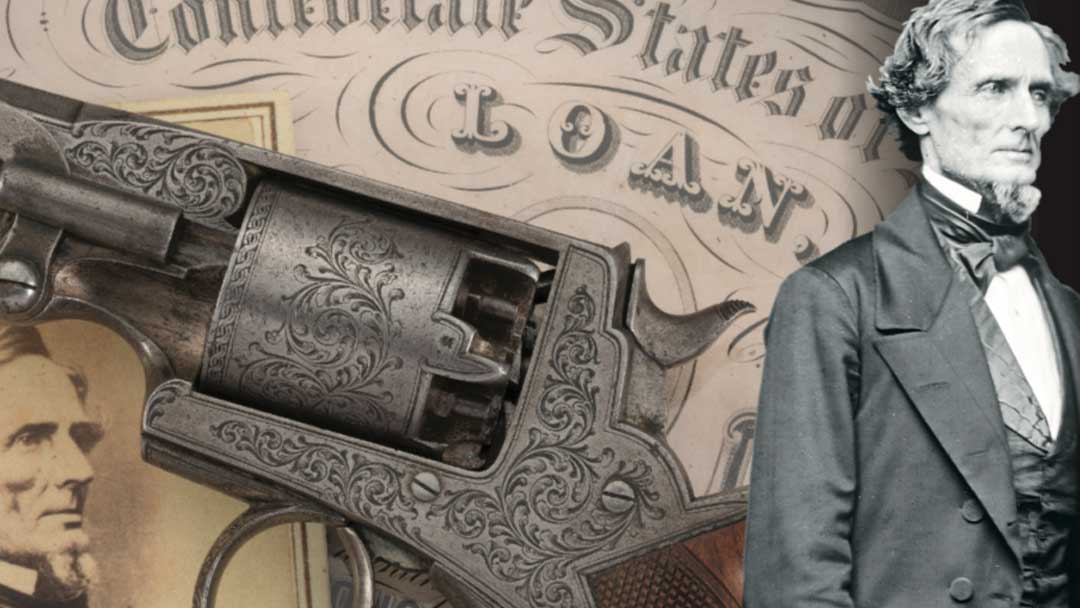 The Davis Revolver, #40568, is four serial numbers away from an almost identically embellished Beaumont-Adams revolver (blued rather than silver plated) presented to Stonewall Jackson from Robert Adams, #40572.
The Jefferson Davis revolver represents the highest pinnacle of historic American arms collecting, in the same elite tier as the war pistols of Hamilton, the "Bull Moose" Colt of Theodore Roosevelt, and the President U. S. Grant Remington Revolvers, all previously sold by Rock Island Auction Company.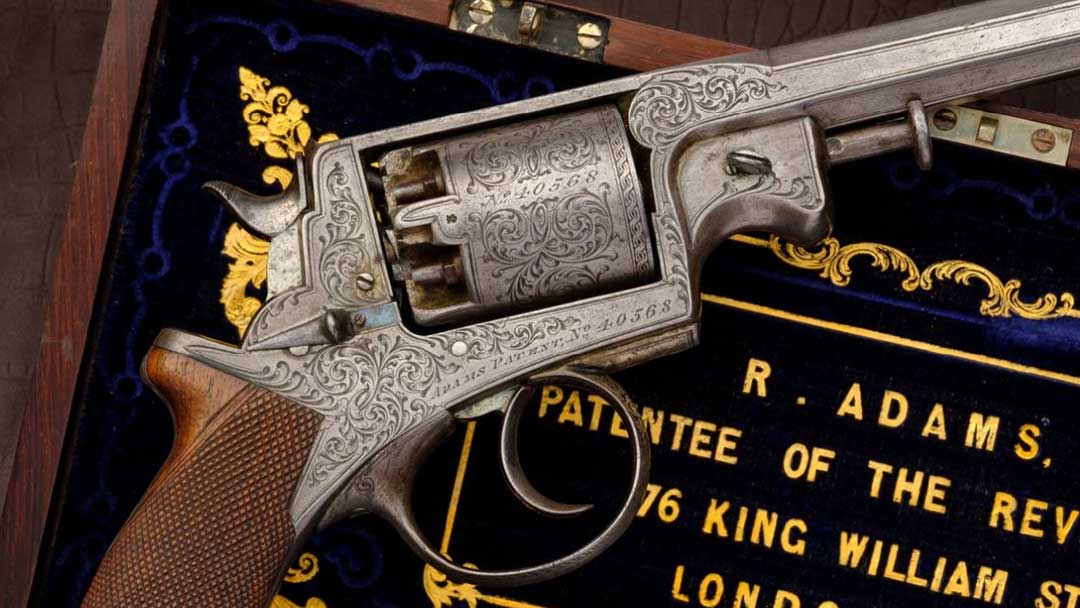 Jefferson Davis likely chose this .45 caliber Beaumont-Adams revolver as his sidearm of last resort over his .36 caliber Colt due to the superior speed and stopping power of the Adams.
Civil War Guns for Sale: Union Revolvers
Another immensely historic part of the Civil War, the Captain Williams presentation cased, factory engraved, silver plated, and gold trimmed Colt Model 1861 Navy revolvers rank among the most well-known of all known Civil War Colts. Captain George Augustus Williams of the 1st U.S. Infantry saw action in some of the most noteworthy battles of the Civil War's Western Theater, including serving with the heavy artillery during the capture of New Madrid, Missouri, the Battle of Island Number Ten, and the Siege of Corinth, Mississippi. A newly promoted Williams was in command of the 47th Illinois Volunteers during Grant's Vicksburg Campaign, where Williams was wounded and disabled during the Yazoo Pass Expedition. He received a promotion to lieutenant colonel on July 4, 1863, for his service during the Siege of Vicksburg.
The Colt Model 1851 Navy was one of Samuel Colt's most popular revolvers in the 19th century. Nearly all Colt Model 1851 Navy revolvers show signs of use, and this is especially true for the U.S. Army contract revolvers that were widely fielded during the American Civil War. The very near-mint Model 1851 revolver for sale this May was manufactured in 1857 under contract for the U.S. Army but remains in as-issued condition, about as near to mint as possible for a military contract revolver from more than a century and a half ago.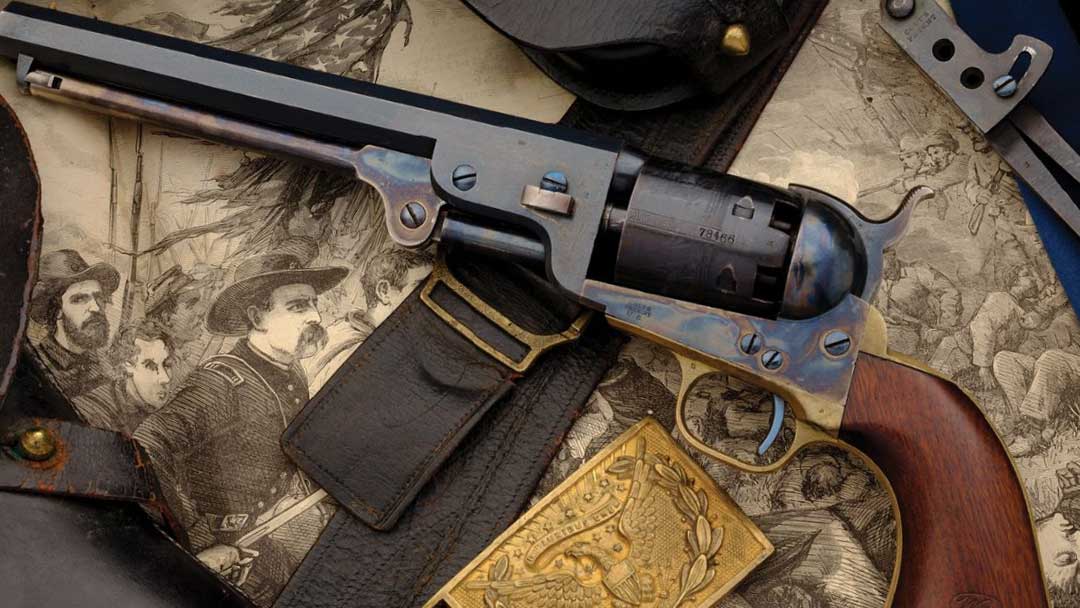 This outstanding U.S. Army Colt Model 1851 Navy revolver is rated in excellent plus condition.
More than 200,000 Colt Model 1860 Army revolvers were manufactured between 1860 and 1871, with the United States government purchasing nearly half of all models produced. Early production, fluted cylinder Colt Model 1860 Army revolvers are among the most sought-after Civil War guns for sale, with the stunning example below among the rare few surviving Model 1860 Army revolvers in such striking condition.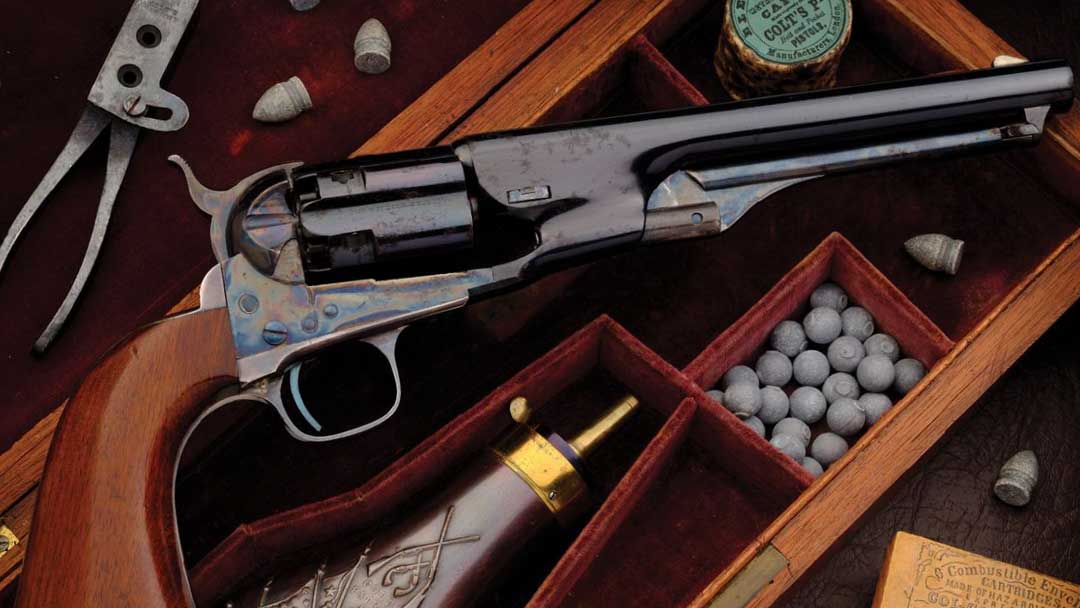 A three-digit serial number cased Colt Model 1860 Fluted Army revolver, the finest of its kind. From the Greg Lampe Collection.
From 1863 to 1865, the Starr Arms Co. of New York City produced 46,000 revolvers for the U.S. Ordnance Department. 25,000 Starr Arms Co. Model 1863 Army single action revolvers were manufactured as part of the contract along with 21,000 Starr Arms Co. Model 1858 Army double action revolvers. Both models saw hard use throughout the Civil War, and high-condition survivors like the example below are few and far between.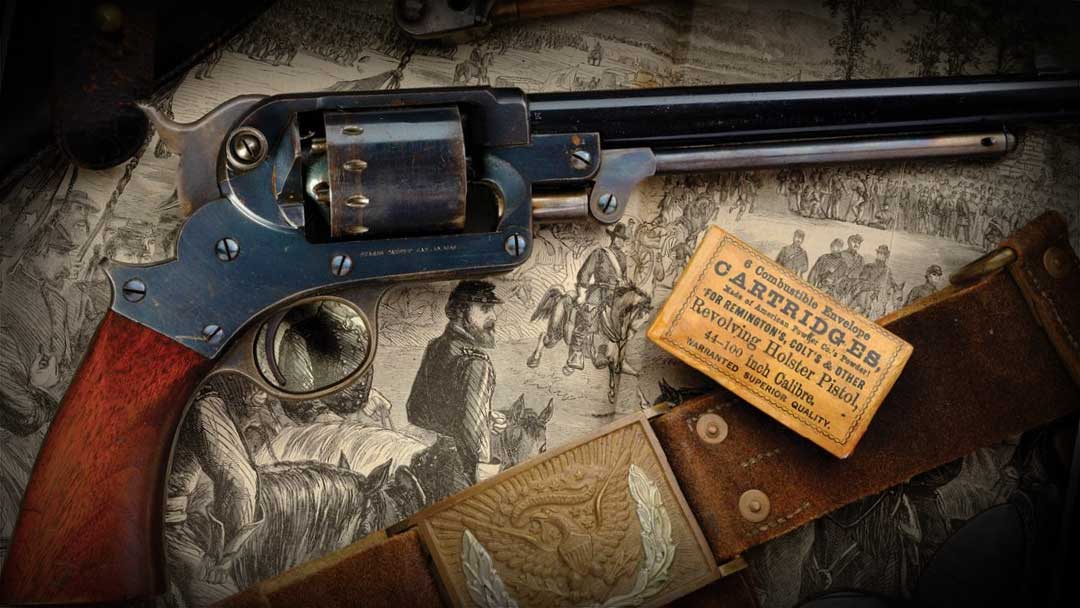 This outstanding U.S. Starr Model 1863 single action percussion revolver rig with its holster belt, bullet mold, and cartridge pack is in exceptional condition and will be nearly impossible to improve upon.
Rogers & Spencer Co. of Willow Dale, New York, was awarded a contract by the Ordnance Department for 5,000 .44 caliber revolvers in November of 1864. Only 1,500 revolvers had been delivered before the conclusion of hostilities in April of 1865, with the remaining 3,500 eventually sold into surplus. The early production, three-digit serial number Rogers & Spencer Army Model single action revolver offered by Rock Island Auction Company this May appears to be unfired and shows only storage wear.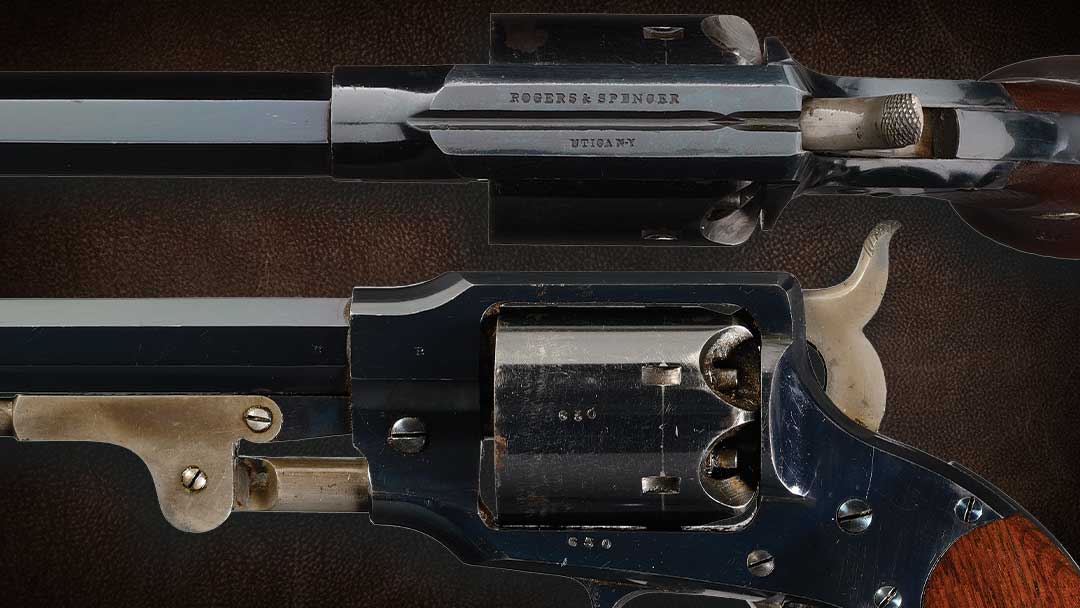 A remarkable example of a Civil War Rogers & Spencer Army Model revolver displays crisp Ordnance inspection marks and all of its original oil finish. "ROGERS & SPENCER/UTICA N-Y" is stamped on either side of the top trap sighting groove.
Civil War Guns for Sale: Confederate Revolvers
Confederate revolvers were born from the need to compete with the might of an industrialized North and to supply a rebel army strangled by the Union blockade. Due to their history and extreme rarity, Confederate-produced revolvers are some of the most coveted Civil War guns for sale today. One of those manufacturers was founded by Lt. Col. James H. Burton, Edward N. Spiller, and David J. Burr in 1861, with their revolver patterned on the Whitney Arms Company Navy. Fewer than 1,500 Spiller & Burr revolvers were manufactured before production was halted in November of 1864 due to Sherman's March to the Sea, and the spectacular example in RIAC's May Premier is one of only four known round frame Spiller & Burr revolvers.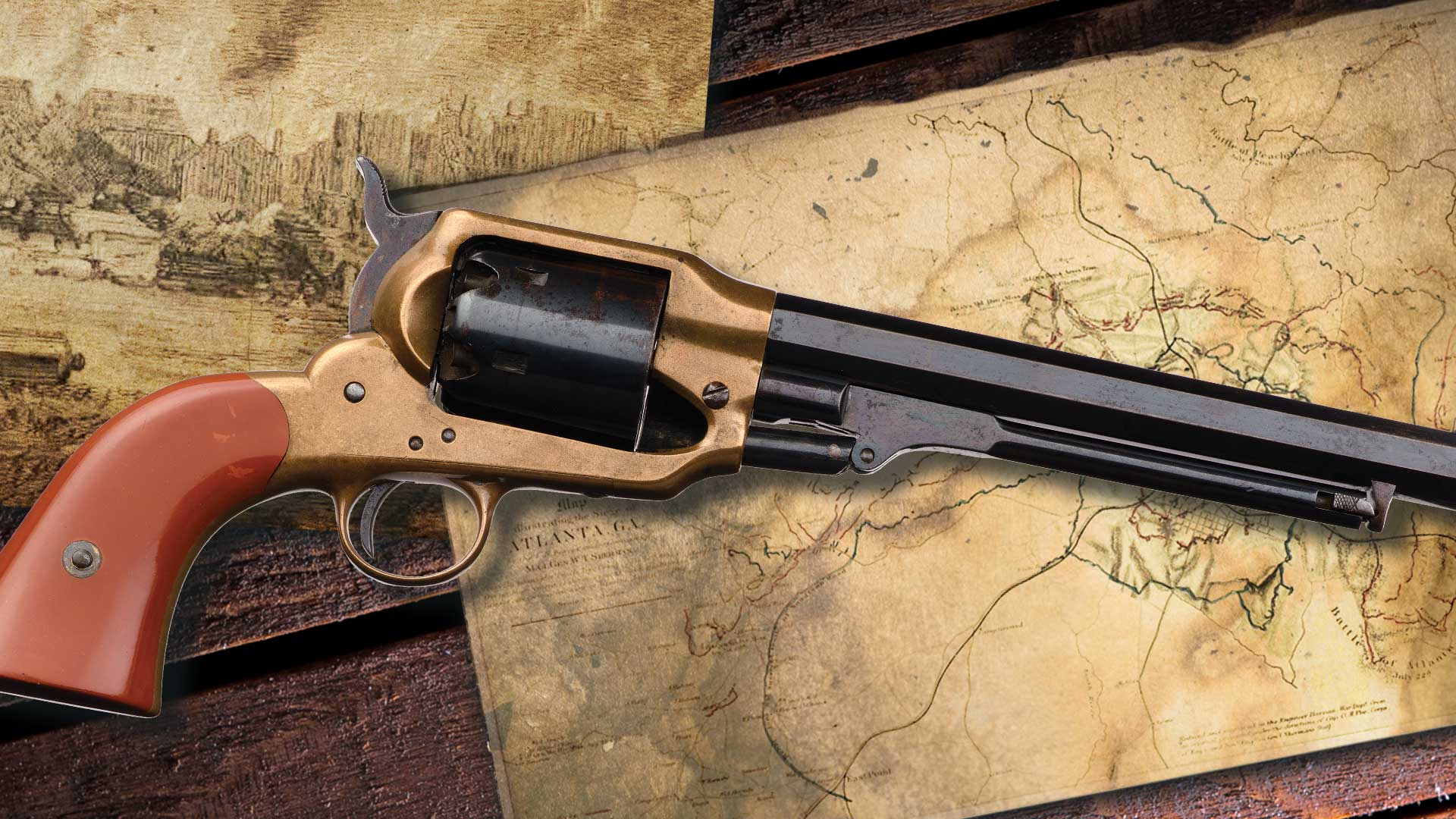 One of only four known examples of a round frame Confederate Spiller & Burr percussion revolver, and one of the most coveted Civil War guns for sale this May.
Manufactured in Greensboro, Georgia by Thomas Leech and Charles Rigdon, the Leech & Rigdon revolver design was a close copy of the Colt Navy Model, though with a distinct round barrel with an octagonal top barrel housing similar to the Colt Dragoon. Only 1,500 Leech & Rigdon revolvers were produced between 1863 and 1864 on contract with the Confederate government, and May's auction includes one of the most exceptional examples in the collecting pursuit.
Among the finest known Civil War Confederate Leech & Rigdon percussion revolvers.
One of the most unique Civil War guns for sale this May, "LeMat's Grape Shot Revolver" provided a soldier with versatility and comparatively high capacity. Designed by Dr. Jean Alexandre LeMat of New Orleans, these fascinating combination guns were primarily produced in Liege, Belgium, and Paris, France, and smuggled into the South during the Civil War. The LeMat revolver was carried by numerous Confederate generals and officers such as P.G.T. Beauregard, Braxton Bragg, and J.E.B. Stuart.
A LeMat revolver, a nine-shot .42 caliber wheel gun with an 18 gauge shotgun barrel mounted beneath the barrel.
In the months leading up to the Civil War, Colt's Manufacturing Company sold guns to all parties until accusations of Southern sympathies forced the company to end the practice in late April of 1861. Colt revolvers continued to find their way past the Union blockade throughout the conflict. In an article titled "C.L. Dragoons" in "The Gun Report" Volume 36, Number 8 from January 1991, author Walter L. Anderson concluded that arms dealer Cooper & Pond of New York ran a number of revolvers through the Union blockade. These efforts were likely funded by wealthy Alabama planter John Jay Crocheron in order to equip a company of Confederate light dragoons led by a Captain Robert W. Smith. The company was named in Crocheron's honor, becoming the "C.L. DRAGOONS."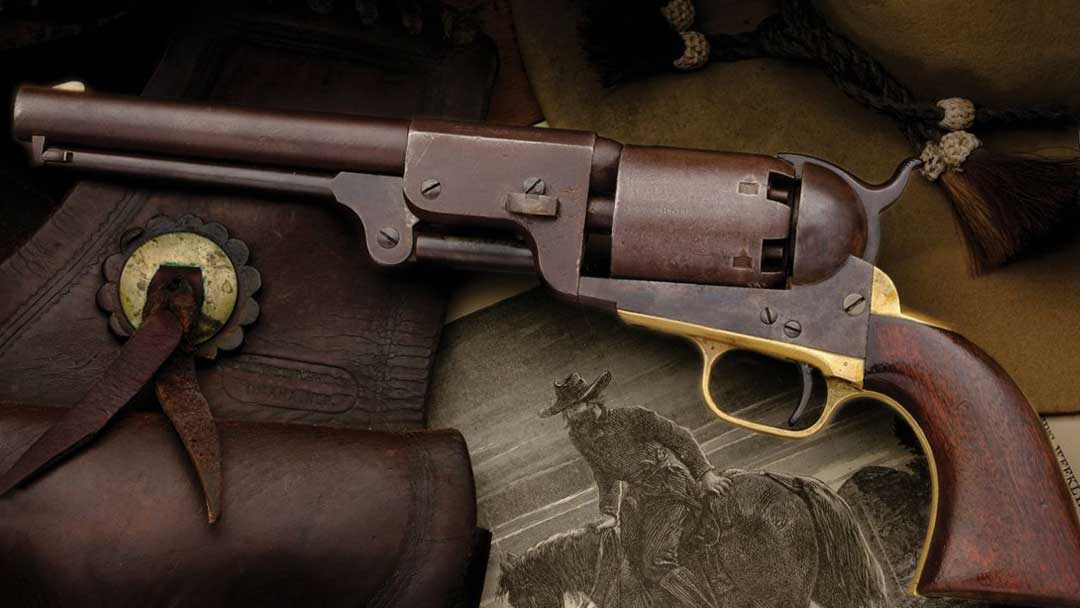 One of less than 20 "C.L. DRAGOONS" inscribed 3rd Model Dragoon revolvers known today.
Civil War Guns for Sale: Remarkable Rifles
The New Haven Arms Co. Henry repeating rifle is legendary among collectors for its American Civil War ingenuity and its status as the blueprint for the Winchester Model 1866 and its iconic lever gun lineage to follow. Aside from 900 rifles purchased by the Ordnance Department in 1863 and 1864 to arm the 1st D.C. Cavalry Regiment, nearly all Henry rifles used in the Civil War were privately purchased by individual soldiers or volunteer units who wanted to have the most advanced firearm available and take advantage of the sustained firepower of a 15-shot magazine rifle. Henry rifles manufactured during the Civil War with any original finish are a remarkable rarity.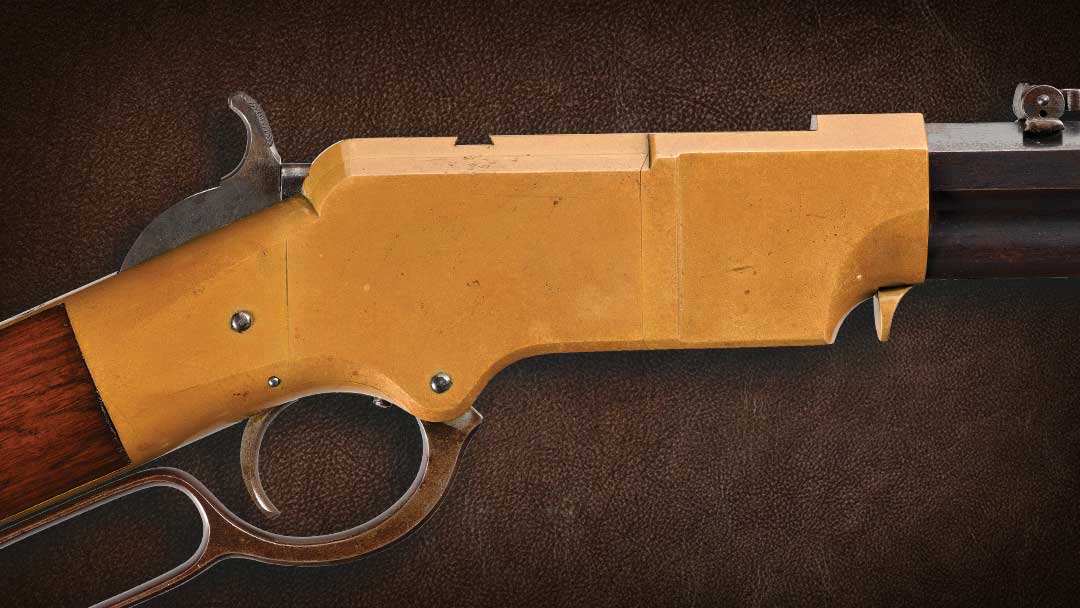 An extraordinary example of a Henry lever action rifle that was manufactured by the New Haven Arms Co. of New Haven, Connecticut, in 1863.
Next on the list of museum-worthy Civil War guns for sale this May is a scarce example of a documented U.S. second contract Henry rifle that was issued to the 3rd Veteran Volunteer Infantry and inscribed to Archibald McAlister of Co. E of the Pennsylvania Regiment Volunteer Corps and the 3rd Regiment of Veteran Volunteers. Given the dates on the rifle, Archibald McAlister appears to have enlisted for the 1-year minimum period and would have received a $100 enlistment bounty.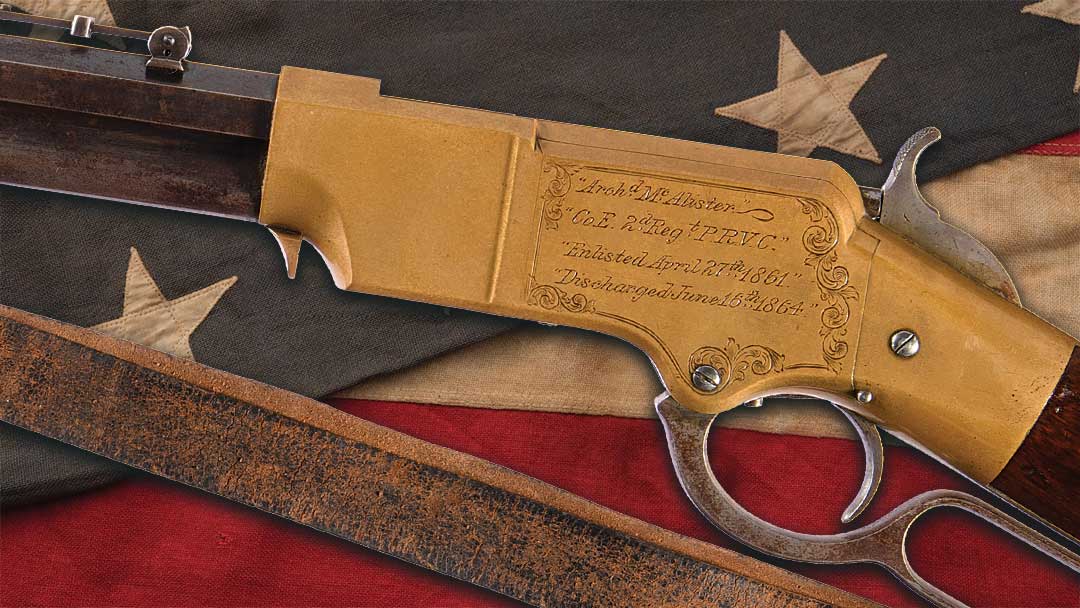 U.S. martially inspected second contract New Haven Arms Company Henry rifles are among the rarest and most desirable Civil War guns for sale.
Sharps rifles and carbines were fielded by elite marksmen on both sides of the Civil War. Some special New Model 1859 rifles were ordered for and used by the First and Second U.S. Sharpshooters, a green-jacketed regiment of volunteers popularly known as Berdan's Sharpshooters. The Sharps rifle proved well suited for the role of testing an enemy's strength, slowing advances, picking off officers, and harassing a retreating foe, and the iconic rifle helped Berdan's Sharpshooters leave a lasting legacy on small unit tactics and modern warfare.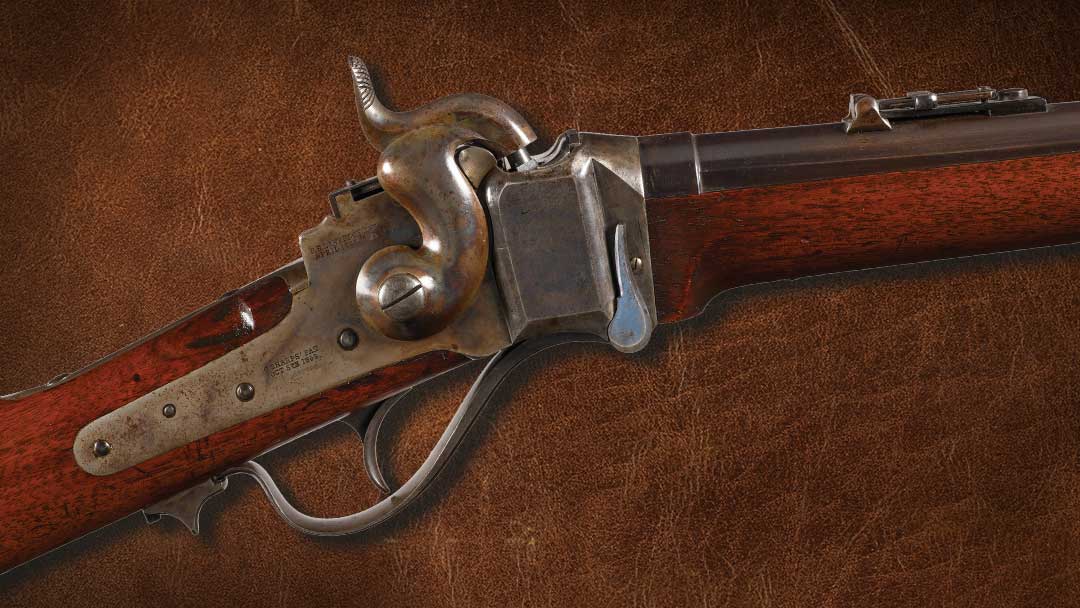 For collectors looking for the finest Civil War guns for sale, it doesn't get much better than this exceptional condition Sharps New Model 1859 with a saber bayonet.
The dependable Springfield Model 1861 rifle-musket was produced by Springfield Armory and about two dozen other contracted firms using interchangeable parts on a wide scale. As the primary shoulder arm used by the Union infantry during the Civil War, the Springfield Model 1861 rifle-musket saw heavy use in every major battle, and finding such a pristine condition example is a treasure for any military arms collector.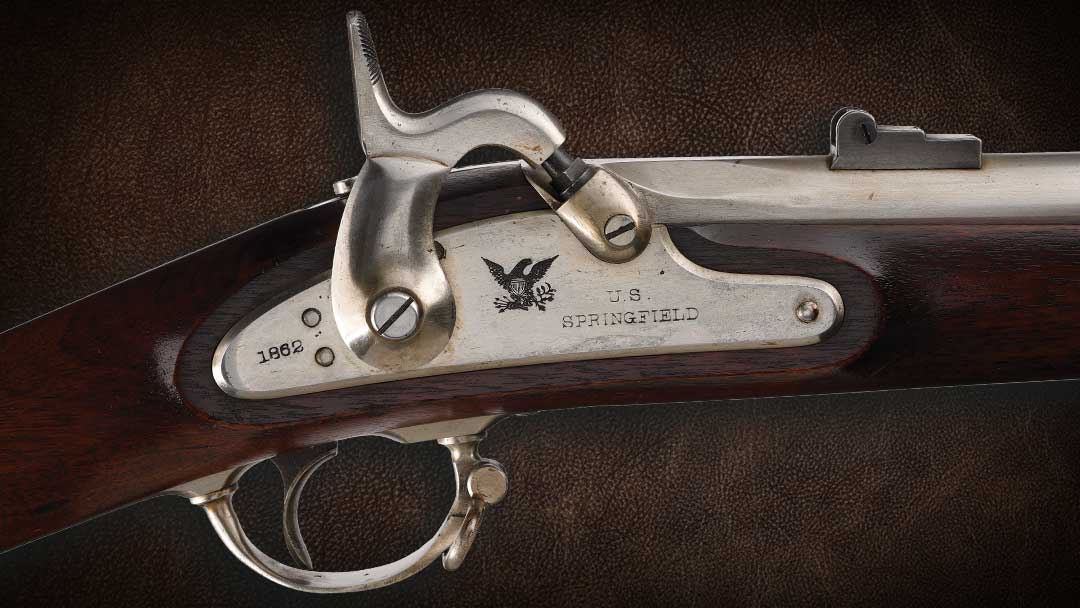 One of the numerous time capsule quality condition Civil War guns for sale this May at Rock Island Auction Company, this Model 1861 rifle-musket with bayonet appears to have remained in storage for the length of the war.
On the other side of the Mason-Dixon line, the English-manufactured Whitworth rifle became a favorite of Confederate snipers. Though more accurate than the standard Enfield infantry rifle, the Whitworth commanded nearly four times the price and was only issued to the most proficient southern marksmen, or "Whitworth Sharpshooters."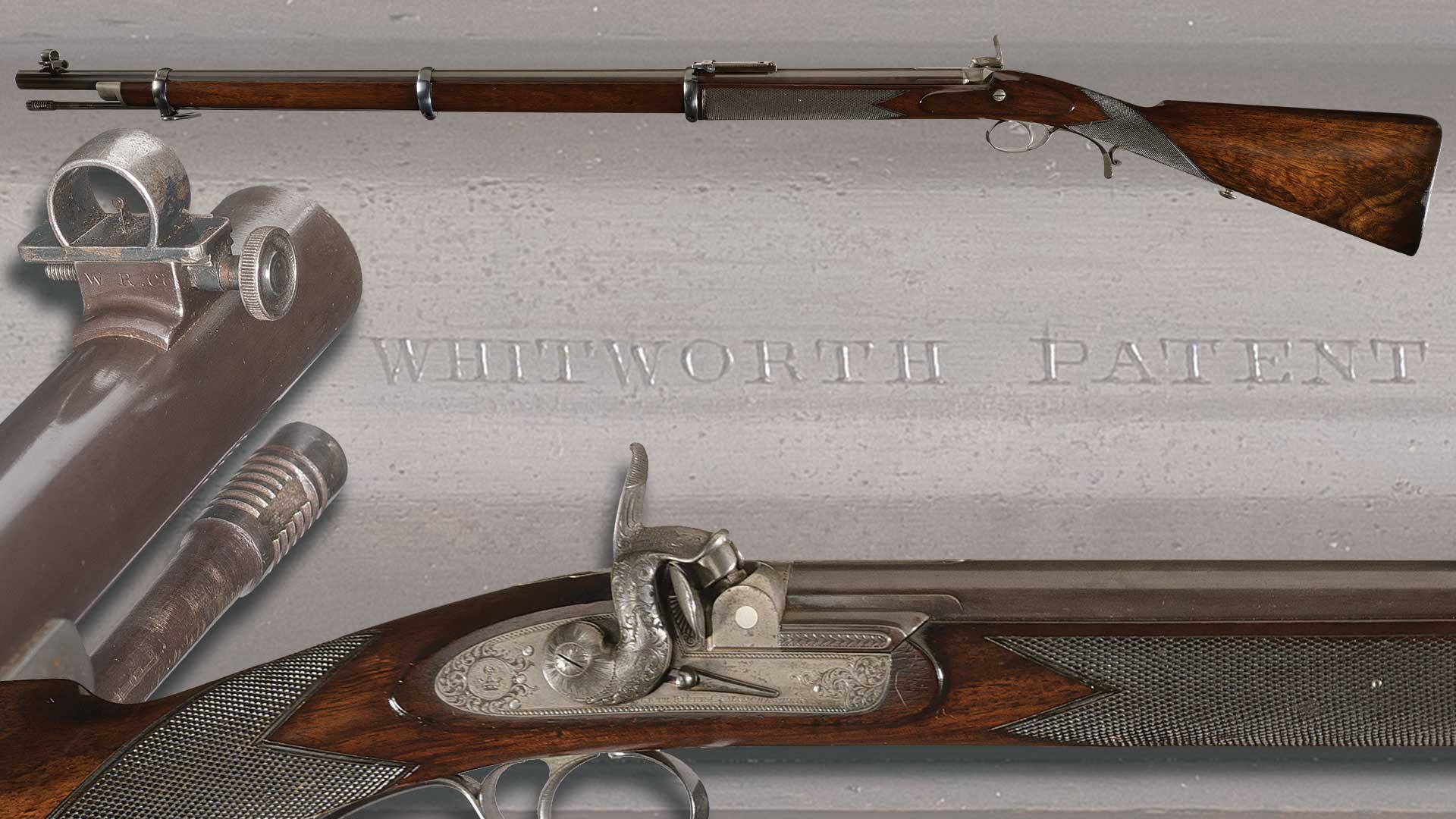 A rare engraved Whitworth percussion military match/sharpshooter rifle. "WHITWORTH PATENT" is marked on top, referring to Joseph Whitworth's famous patented hexagonal rifling, and the rifle is fitted with an adjustable hooded blade front sight and target ladder rear sight.
The Model 1841 "Mississippi" rifle belongs in any complete U.S. martial firearms collection, and one of the finest examples of its kind is available this May. The Model 1841 earned its reputation during the Mexican War with the 1st Mississippi Rifles commanded by Colonel Jefferson Davis, where it earned its famous nickname. Initially issued to light infantry and the 3rd Regiment of Mounted Rifles, the Model 1841 saw wide use with both the Union and Confederate armies during the Civil War.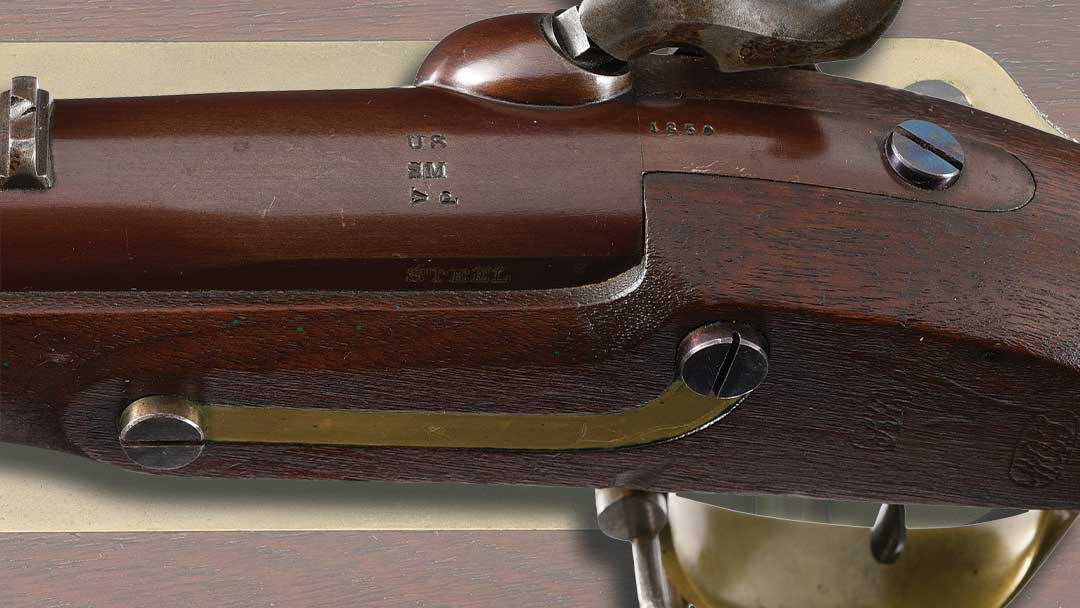 This is an exceptional, nearly as-issued, original example of a U.S. contract Model 1841 rifle in .54 caliber round ball configuration with its 7-groove rifling.
Civil War Guns for Sale: Exquisite Carbines
As the first military-issued repeating metallic-cartridge long gun design, the Spencer rifle and carbine offered an unprecedented level of firepower during the Civil War. After inventor Christopher Spencer gave President Lincoln a personal demonstration of his seven-shot lever action repeater, Lincoln pressured his Ordnance Department to adopt the new weapon. RIAC's May 2023 Premier features a War Department pattern Spencer carbine examined by noted inspector William A. Thornton, whose June 9th, 1864 letter identifies the exact gun pictured below by serial number and proceeds to offer a thorough report on the weapon.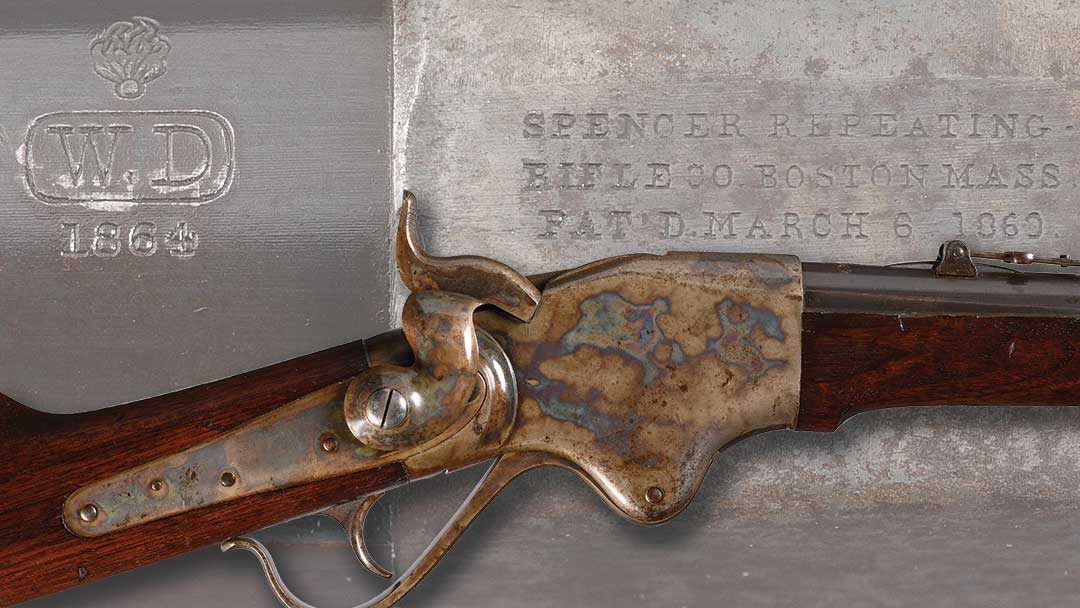 This rare Spencer Model 1860 carbine is identified as a War Department pattern gun and the top of the breech end of the barrel is bearing a flaming bomb stamp above "W.D" (War Department) surrounded by an oval and "1864" in three lines.
One of the many innovative breech loading carbines utilized by the Union cavalry was developed by future General Ambrose Everett Burnside during the 1850s. The Burnside carbine became the third most purchased breech loading carbine during the Civil War after only the Sharps and the Spencer. The "Fifth Model" Burnside carbine represents the most refined variant of General Burnside's reliable carbine design, with a "guide screw" in the breech block that helped accelerate the loading process.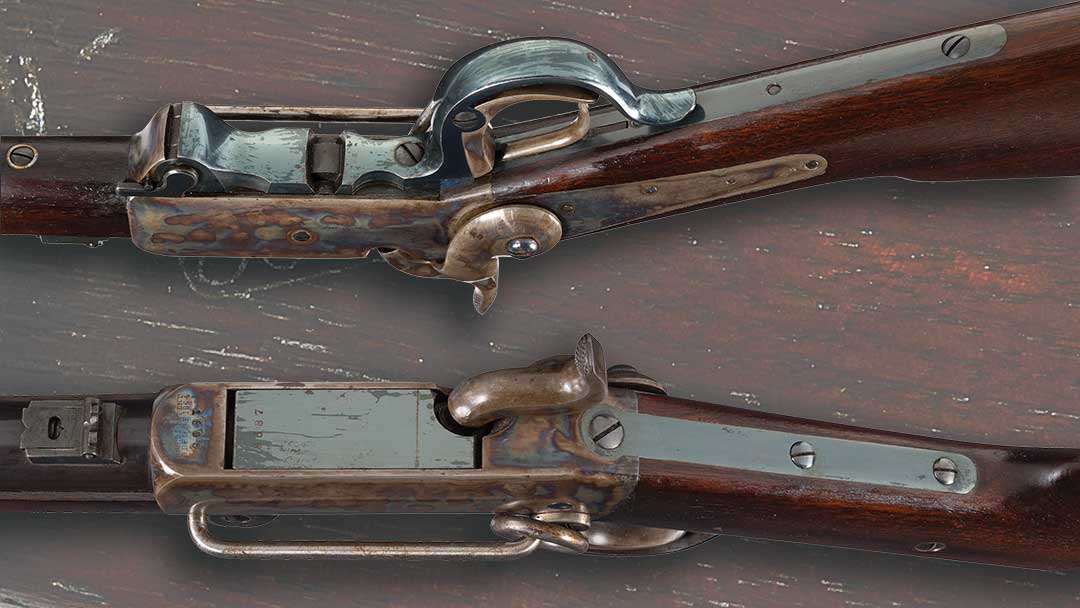 A spectacular Civil War U.S. Burnside Fifth Model breech loading saddle ring carbine, one of the can't-miss Civil War guns for sale this May.
Dr. Edward Maynard, a dentist and inventor from New York, conceived one of the war's best breech loading carbines. Manufactured by the Massachusetts Arms Company, Maynard's single-shot, metallic-cartridge, breech loading carbine saw two variations, with several thousand First Model Maynard carbines purchased by southern states in the lead-up to the Civil War. Approximately 20,202 Second Model Maynard carbines were manufactured from 1863 to 1865 to arm Federal cavalry units, including the 6th, 9th, and 11th Indiana Cavalry as well as the 10th and 11th East Tennessee Union Cavalry.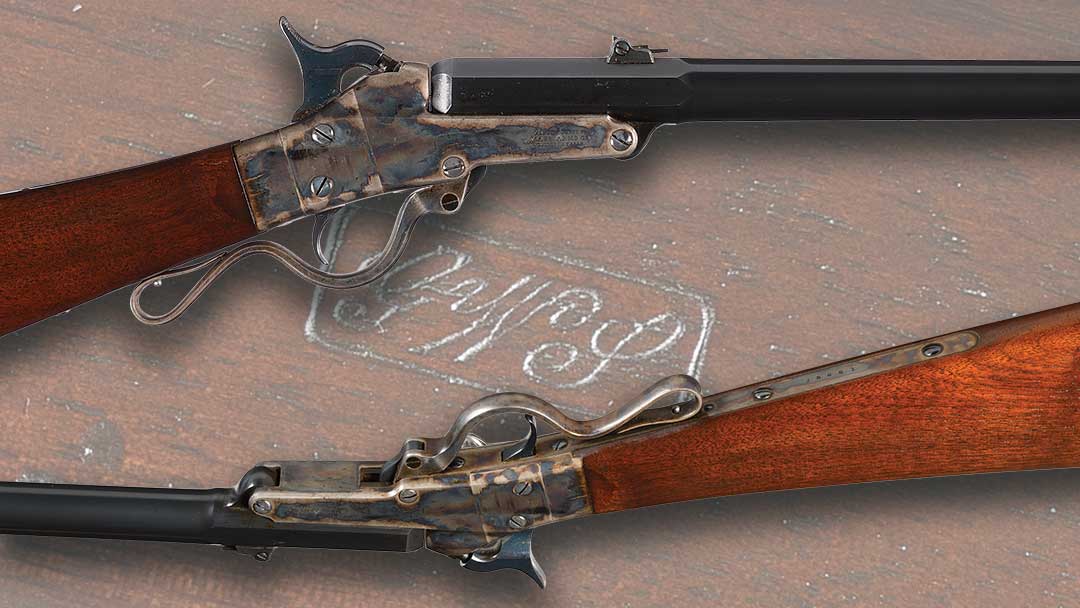 A spectacular Civil War U.S. Massachusetts Arms Co. Second Model Maynard saddle ring carbine. Two boxed script "GWS" and "JM" inspection cartouches are crisply stamped on the left stock wrist.
Before he developed his famous revolvers, Ebenezer Starr patented a .54 caliber carbine with a falling block design activated by the trigger guard in 1858. As the War Between the States commenced, the federal government ordered 20,000 Starr carbines and earmarked the weapons for cavalry units in the West. In the end, the Starr became the fifth most manufactured Civil War carbine, though high-condition offerings like the Starr carbine example below are immensely difficult to find.
Another high-pedigree Civil War gun for sale, this is one of the few Starr carbines known to survive in such immaculate condition.
Civil War guns are an antique collector's dream for the same reason the conflict was a nightmare for the Ordnance Department: a dizzying array of different gun models and ammunition were being produced to equip the vast armies being fielded. Cavalry carbines from 19 different manufacturers were adopted by the Union side alone. Elusive models like the Gwyn & Campbell Type I and Type II carbines, the Joslyn Model 1864 carbine, and the James Warner carbine are among the rarest Civil War guns for sale this May.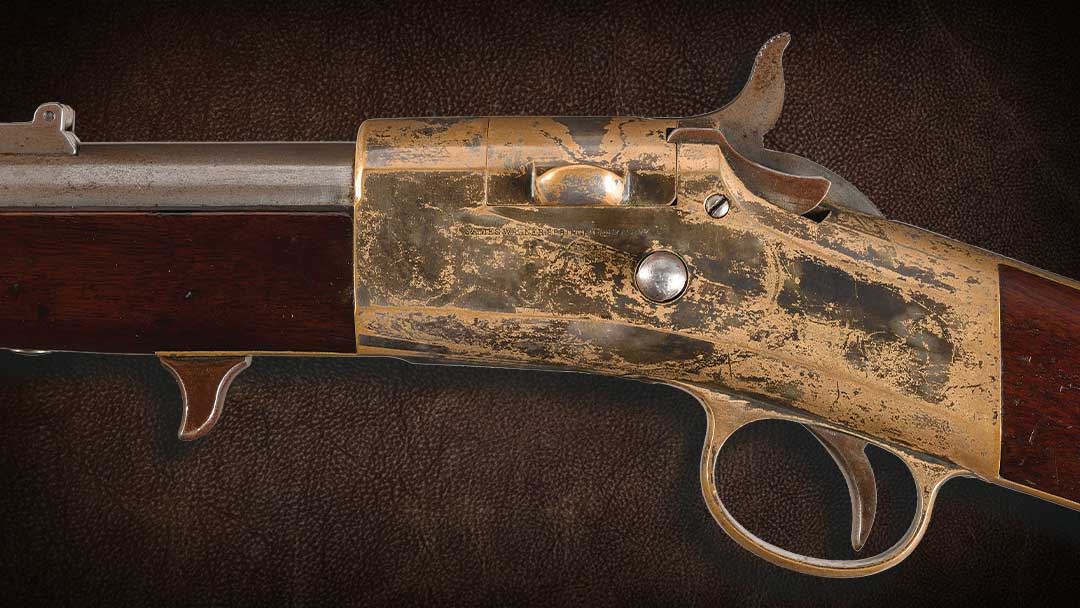 A unique silver-plated example of a very scarce James Warner carbine.
Civil War Swords for Sale
Like the surviving firearms from the conflict, most Civil War swords have a story to tell and a legacy to share. Needless to say, Civil War swords are arms collecting cornerstones, especially marquee condition swords owned by one of the most decorated American generals in history. General Nelson A. Miles fought in the Civil War, earned a Medal of Honor, and put Jefferson Davis in chains. May's auction offers several swords, firearms, and additional artifacts owned by the legendary general, including a presentation-grade gilt Ames Model 1860 staff & field officer's sword and two officer's dress swords.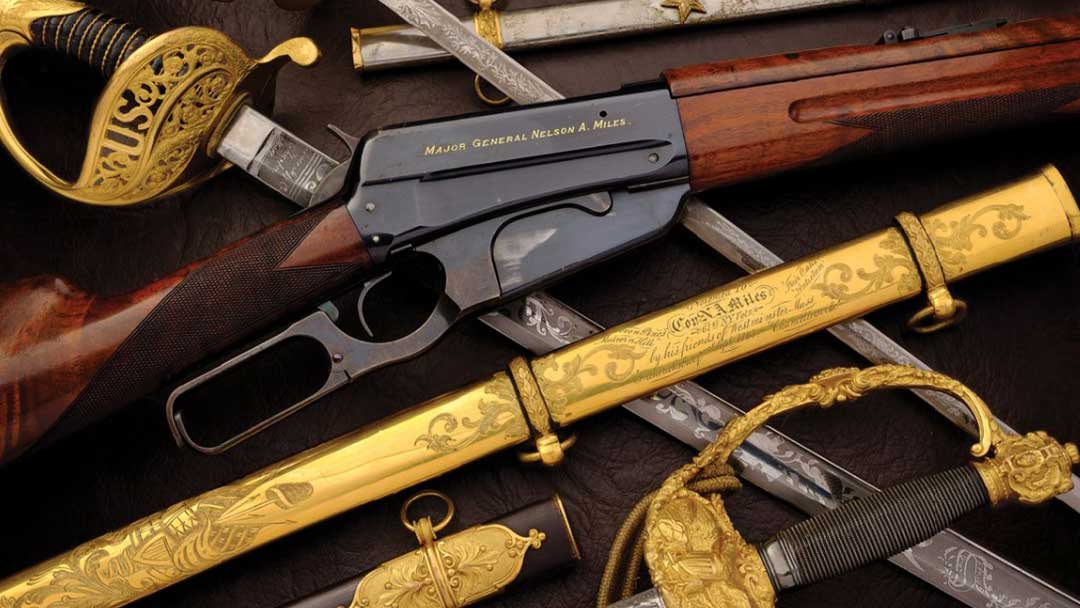 Col. Nelson Miles Presentation Model 1860 officer sword (bottom), Col. Nelson Miles Winchester Model 1895 rifle (middle) and Col. Nelson Miles' two officer's dress swords (top) are all available this May at RIAC.
Another breathtaking example of condition, rarity, and well-documented Civil War history is found in this Civil War Clauberg officer's gilt presentation staff & field officer's sword. The scabbard is inscribed "Presented to Capt. A. Ellis,/by Co. C/5th Iowa Infty/Mar. 1st 1864" and lists his battle honors as "New Madrid./Iuka./Corinth 3rd & 4th Oct. 1862./Jackson./Champion Hill./Vicksburg./Mission Ridge." Captain Albert Gallatin Ellis (1835-1918) enlisted as a private in the 5th Iowa Infantry on July 16, 1861. The 5th Iowa saw serious combat in the Western Theater of the war, fighting in Missouri, Mississippi, and Tennessee.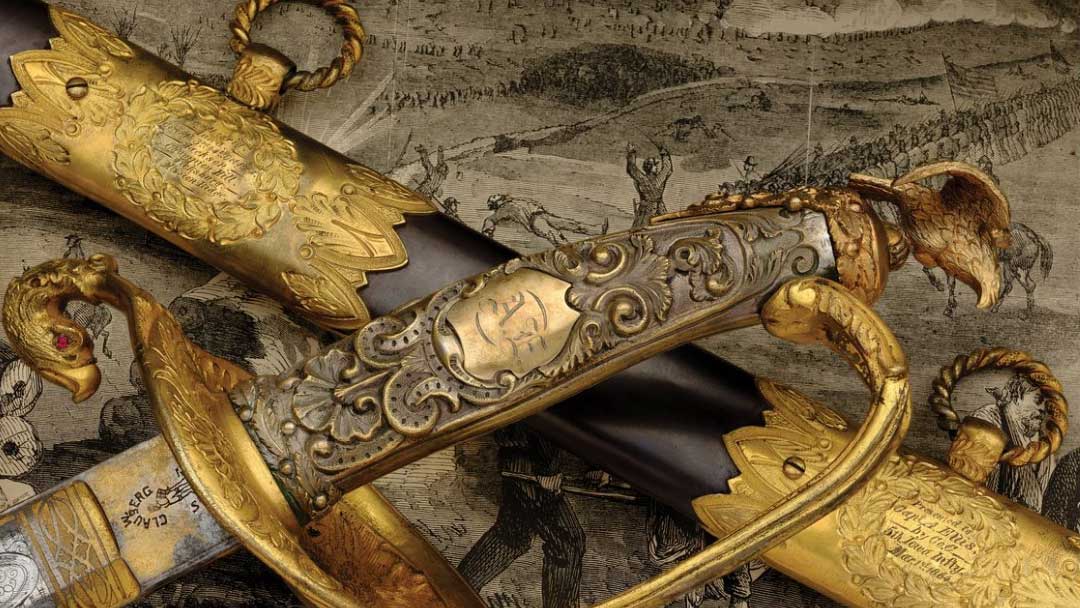 A historic Civil War sword for sale, a Clauberg officer's gilt presentation staff & field officer's sword and scabbard inscribed to Captain Archibald Ellis of Company C of the 5th Iowa Infantry with additional personal artifacts and extensive research documentation.
Another stunning presentation sword, the example below follows a similar pattern to other Model 1850 foot officer swords but with the addition of wonderfully etched floral scrolls covering nearly its entire length. An inscription on the hilt reads "Presented to/Capt. Thomas Herbert/11 Unattached Co. Hy. Artillery Mass. Vols./by the Members of his Company/Fort Independence Oct. 1863/-'Honor the Brave'-". Thomas Herbert served with Company I of the 8th Massachusetts Volunteer Infantry before mustering into the Company G (11th Unattached Company) of the 3rd Massachusetts Volunteer Heavy Artillery which was raised on October 20, 1863 to protect the numerous forts around Washington D.C.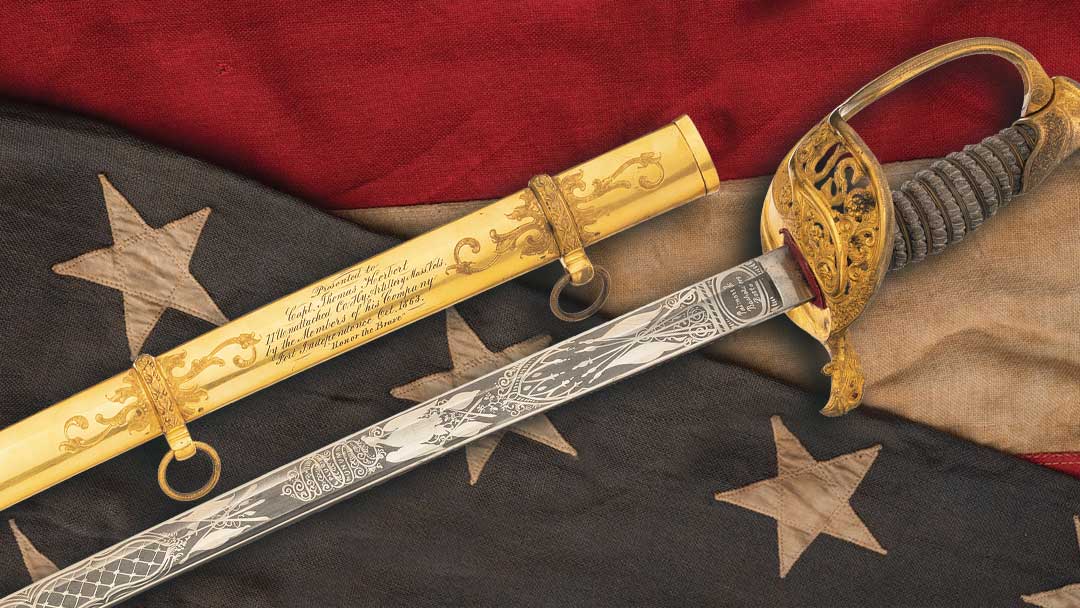 A very attractive Civil War officer's sword with an Ames scabbard inscribed to Captain Thomas Herbert, who served with Company I of the 8th Massachusetts Volunteer Infantry.
Civil War Cannons for Sale
When it comes to the biggest Civil War guns for sale, one genre stands above the rest in terms of sheer scale and firepower. Enter the mighty cannon, the true difference-maker in the conflict's bloodiest battles. The Model 1861 3-inch ordnance rifles were among the best and most widely used field artillery pieces of the Civil War, offering tremendous distance, accuracy, and maneuverability. With most of the roughly 350 surviving 3-inch ordnance rifles displayed in museums, historic sites, and battlefields, finding an example offered to the public is a rare opportunity indeed.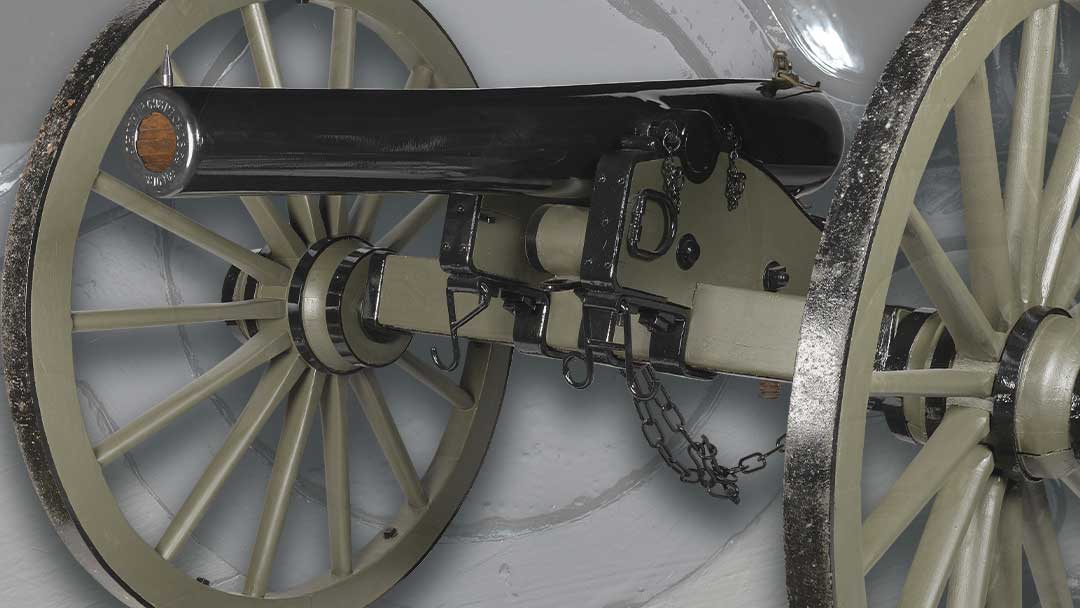 An 1864 dated Civil War Phoenix Iron Co. Model 1861 3-inch ordnance rifle with carriage, marked "J.H.V.F. No 693 PICo. 1864/816 lbs" on the muzzle.
Designed by Navy Lieutenant John A. Dahlgren shortly after the Mexican-American War, the bronze-casted 12-pounder boat Howitzer was developed with the capability of being mounted and fired from a frigate, quickly remounted on a naval launch carriage, and then remounted to a field carriage to serve as light artillery for Marine landing parties. Having only a single mounting lug expedited this process and period reports claim that an experienced Dahlgren boat Howitzer crew could get off 10 shots in a minute.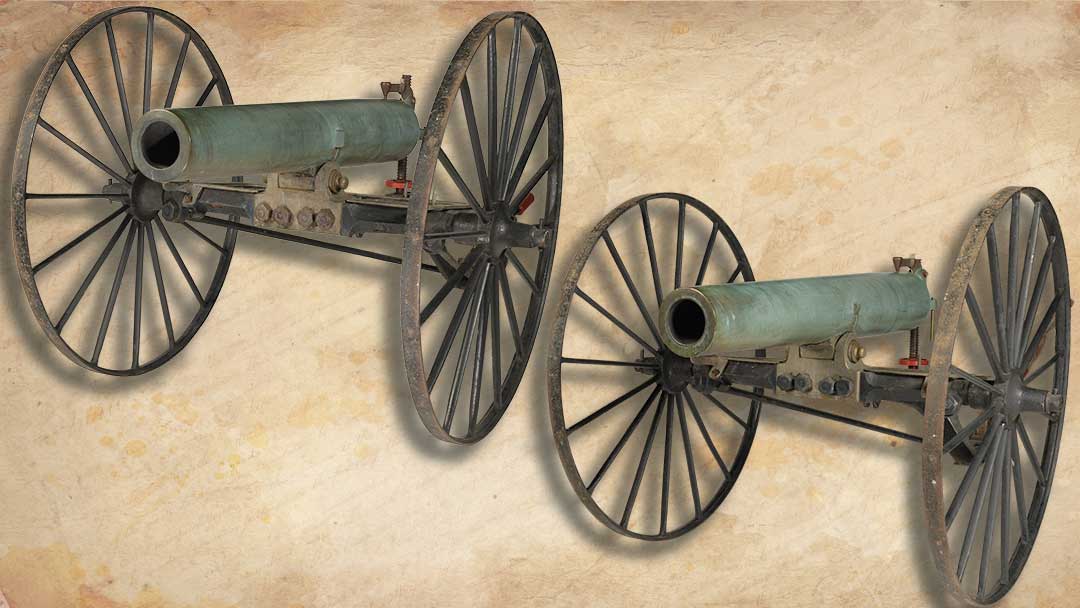 Two of the biggest Civil War guns for sale this May, a pair of incredibly rare Dahlgren 12-pounder bronze boat Howitzers with iron field carriages.
The Finest Civil War Guns for Sale
The Civil War spurred a renaissance in arms innovation, so it's little wonder that gun collectors and history enthusiasts are drawn to relics from the period. Rock Island Auction Company's 2023 May Premier Firearms Auction offers a wide selection of Civil War guns for sale that cater to every collecting aspiration, as well as featuring firearms and militaria connected to some of the most famous American heroes who forged their legends in the conflict.
The Civil War guns for sale highlighted in the article are just a sampling of the rare rifles, revolvers, carbines, and cannon models used during this fascinating era of arms development. Browse RIAC's May Premier catalog to discover more fascinating firearms, swords, and militaria from the conflict, and subscribe to the weekly Rock Island Auction newsletter to receive new gun blogs and gun videos on unique weapons from the era like the Gatling gun, the Bowie knife, the Pettengill's hammerless revolver, the Butterfield Army Model disc primed revolver, and more.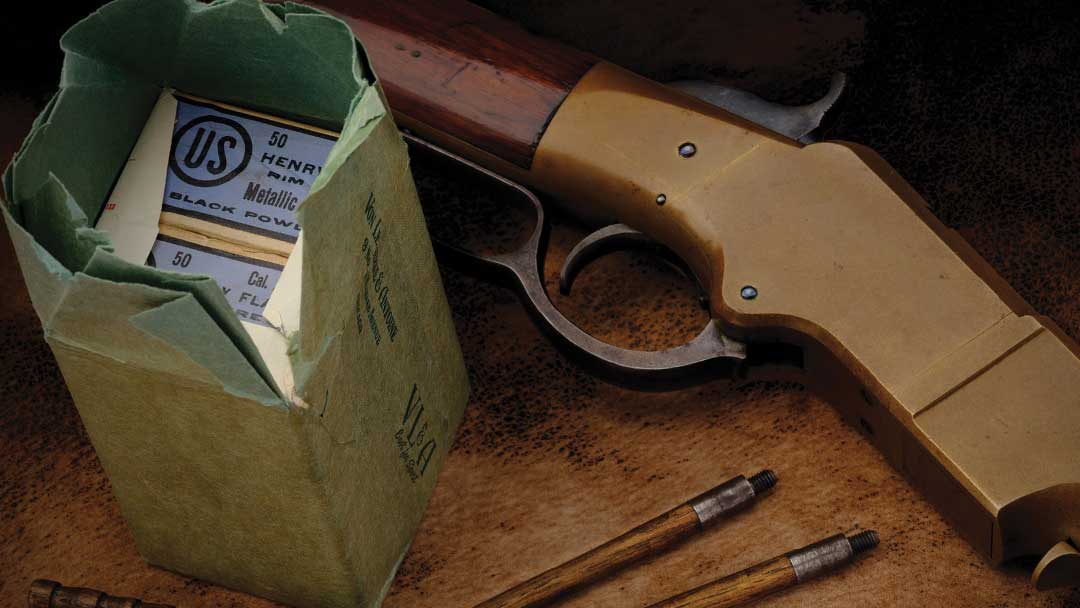 Two boxes of US Cartridge Co. .44 Henry Flat cartridges marked 'Von Lengerke & Antonie' (left) and a Henry repeating rifle (right).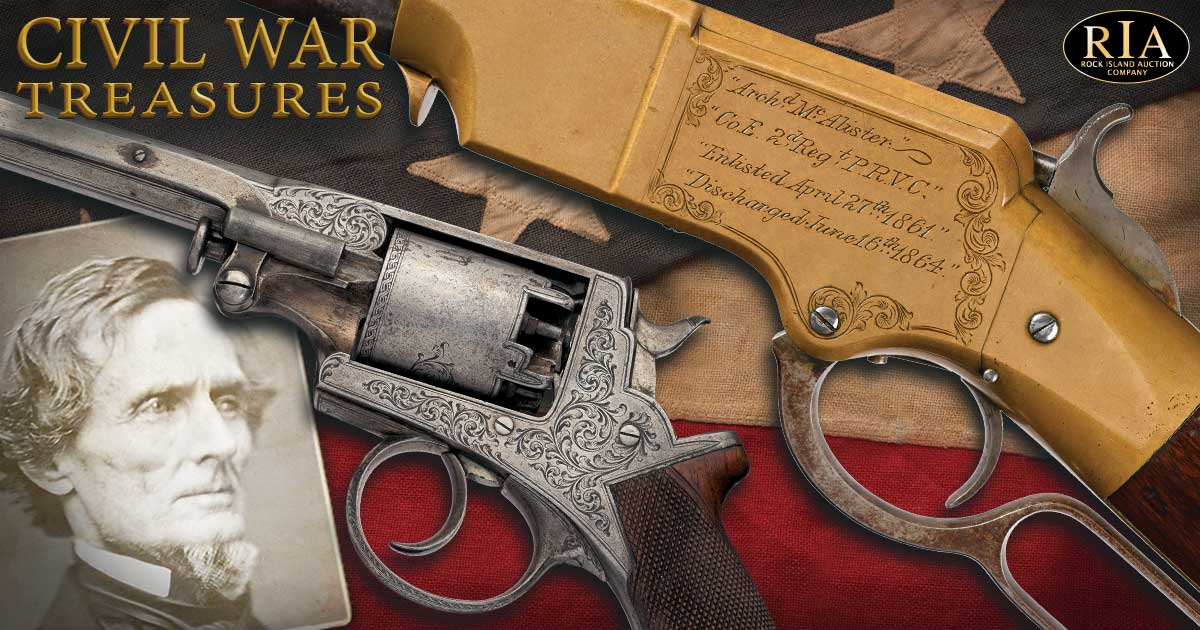 Rock Island Auction Company