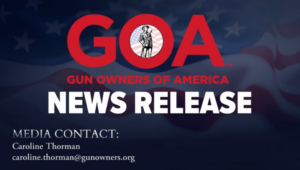 April 8, 2022
FOR IMMEDIATE RELEASE
Harrisburg, PA – On Monday, April 4th, Gun Owners of America (GOA), in conjunction with four other gun rights organizations, sent a letter to the Pennsylvania Speaker of the House demanding a formal investigation into Attorney General Josh Shapiro and his Office for the manufacture and transfer of an un-serialized weapon for a New York resident in violation of both state and federal laws.
The coalition letter was signed by leaders of Gun Owners of America, the Second Amendment Foundation, the American Firearms Association, the National Association for Gun Rights, and the Pennsylvania Firearms Association. To date, there has not been a response from Pennsylvania House Speaker, Bryan Cutler.
The letter details concerns, first reported by Ammoland News, that NBC reporter Vaughn Hillyard allegedly purchased two Polymer80 firearms kits and then asked Pennsylvania Attorney General Josh Shapiro's office to build the pistols for them. The completed pistols were apparently returned to NBC and used in the story. The coalition members also demand in the letter that an investigation commence immediately and be conducted with the full investigative authority and powers of the Pennsylvania House of Representatives.
"It isn't right that the Attorney General is trying to strip constitutional rights from citizens while at the same time allowing his agents to break the law," Andrew Austin, GOA's PA legal counsel said. "We live in a nation with 'liberty and justice for all.' It's unfortunate that Mr. Shapiro seems to have forgotten both."
"While Attorney General Shapiro is attempting to shove more gun control laws down our throats by banning homemade firearms, he apparently believes that his own Office is exempt from current gun laws. It's a simple case of 'rules for thee but not for me'," said Dr. Val Finnell, Pennsylvania Director for Gun Owners of America.
GOA members, along with GOA coalition partners, will continue to pressure Speaker Bryan Cutler to open a formal investigation immediately.
Erich Pratt, Dr. Val Finnell, Andrew Austin, Esq, or another GOA spokesperson is available for interviews. Gun Owners of America is a nonprofit grassroots lobbying organization dedicated to protecting the right to keep and bear arms without compromise. GOA represents over two million members and activists. For more information, visit GOA's Press Center.
-GOA-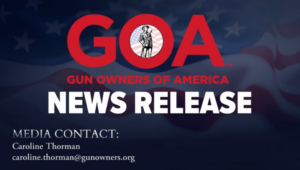 GOA