It is not every day that you get to see what some of the best arms of the 19th century looked like when they left the factory. That is what we have today: arguably the finest Colt Model 1877 Lightning revolver in existence. It remains near mint and features incredible factory engraving as well as an inscription linking the revolver to an important social event in the Colt factory's hometown of Hartford, Connecticut, and a popular local lawman.
The Colt Model 1877 revolvers have many similarities in basic style to the famous Colt Single Action Army revolver but are double action and are readily identifiable thanks to their distinctive bird's head grips. It came in three calibers: .32 Long Colt, .38 Long Colt, and .41 Colt. Most of these Colt double action revolvers seen today are .38 Long Colt or .41 Colt. The former was nicknamed the "Lightning" by B. Kittredge & Co. while the latter was nicknamed the "Thunderer." The .32 variant, nicknamed the "Rainmaker," was made in small numbers. Around 166,849 Colt Model 1877 revolvers were manufactured in 1877-1909. While those were nicknames for Colt's double action revolvers, the company also produced the Colt Lightning rifle from 1884 to 1904.
Although more delicate than the Colt Single Action Army, the Model 1877 was popular with police departments thanks to its more compact size and rapid fire capability. Lightnings and Thunderers were also used by several famous western lawmen and outlaws, including John Wesley Hardin, Doc Holliday, Bat Masterson, and Billy the Kid. The Colt Lightning we are examining today belonged to Hartford Police Officer Lyman Smith.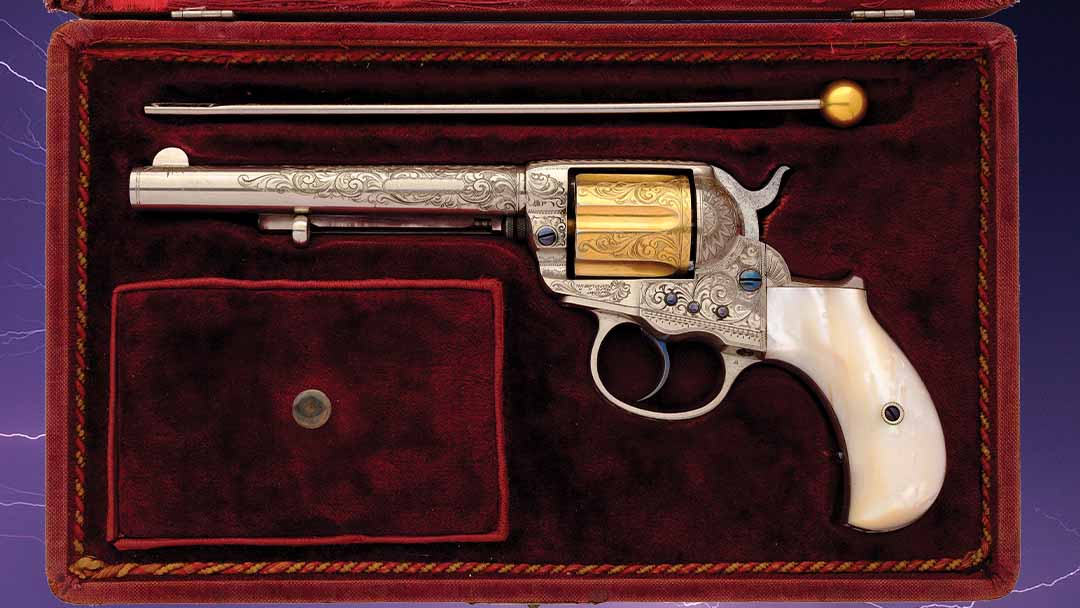 This beautiful Colt Lightning comes with a velvet-lined case and will be available in Rock Island Auction Company's May 19-21 Premier Auction. The Colt Lightning was engraved by Colt master engraver Cuno A. Helfricht and most of the gun is embellished, featuring stunning Germanic scroll engraving with punched backgrounds, a "Nimschke" star on the ejector housing, fan and shell designs, gadrooning along the top strap, and wavy line designs including interlacing patterns. The gun is primarily in nickel but has a gold-plated cylinder and niter blue small parts. It is fitted with pearl grips.
Colt Lightning Revolver engraved by Cuno Helfricht
This incredible factory engraved  and gold and nickel plated Colt Model 1877 "Lightning" revolver has a 5 ½ inch barrel and was manufactured in 1886. It is truly a sight to behold: a true work of firearms art in spectacular condition. With an $85,000 to $130,000 estimate, it is certain to be one of the most expensive Colt Model 1877s ever sold at auction, possibly the highest. It is finished primarily in nickel and has a gold plated cylinder and niter blue small parts. The finish remains incredibly bright, including the gold plating on the cylinder. Gold finish on antique firearms tends to fade even when the rest of the revolver remains in high condition, but this revolver overall remains in incredibly high condition, nearly as it left the factory with only minimal age and handling related wear.
It was factory engraved by legendary Master Engraver Cuno A. Helfricht (1851-1927). Helfricht was born in Coburg Gotha, Germany, but immigrated when he was 9 years old. He worked for Colt in the Stocking Department c. 1869, but his father, Charles Helfricht, sent him back to Germany to study at the prestigious Berlin Medal & Die Cutting Institute. He returned to Hartford and worked as an independent engraver from 1871 to 1875 before returning to Colt as their primary engraver and remained in that role until 1921. In addition to his work for Colt, he was also a factory inspector and was active in charities and fraternal organizations. Helfricht died in 1927 and is buried in the Cedar Hill Cemetery in Hartford only three miles from the factory where he made his mark engraving some of the finest firearms ever crafted, including this stunning Colt Lightning.
Helfricht's engraving on Lyman Smith's extraordinary Colt Model 1877 "Lightning" covers the vast majority of the metal surfaces. Most of the engraving consists of traditional Germanic scroll engraving with punched backgrounds, but the quality is far from standard and demonstrates the work of a true artist. Among the other designs is a "Nimschke" star on the ejector housing, a design often associated with famous German-American Master Engraver Louis D. Nimschke of New York City but also used by many other engravers. There are also fan and shell designs, gadrooning along the top strap, wavy line designs including interlacing patterns, and additional border designs. In addition to the two-tone finish and master engraving, it comes clad with mother-of-pearl grips. The back strap is inscribed "Lyman Smith," and "Foot Guard Fair/DEC. 1888" is inscribed on the front strap. As the Colt Lightning was displayed and then awarded as a prize, these inscriptions are cut through the nickel plating, but they were still likely executed at the nearby Colt factory, possibly by Helfricht himself. The revolver comes in an interesting presentation case with a rich, blood-red velvet interior. The case style was only briefly used by Colt around the late 1880s.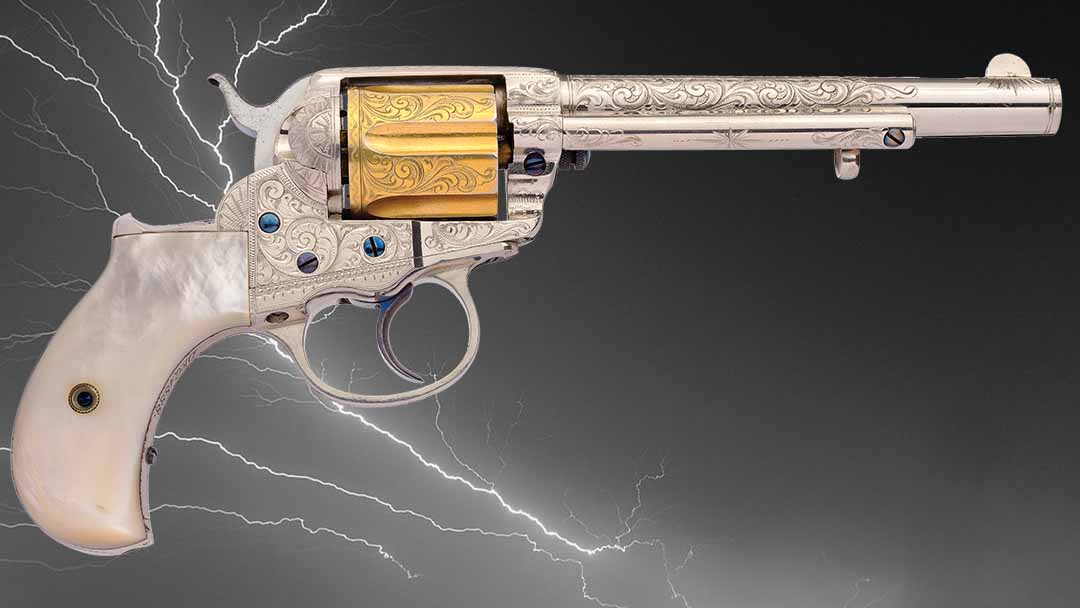 This Colt Lightning revolver was engraved by Colt master engraver Cuno A. Helfricht and was offered as a prize at the 1888 Foot Guard Fair to raise money for a new armory for the Hartford's Governor's Foot Guard. Hartford Police Officer Lyman Smith won the Colt Lightning.
Colt Lightning Prize at the Foot Guard Fair
No factory shipping records exist for this revolver, likely because this Colt Model 1877 "Lightning" revolver was donated by the factory directly to the local fair rather than being shipped. Given its incredible artistry and condition, this Lightning naturally caught the eye of Colt collectors. It is pictured on page 456 of "The Colt Engraving Book Volume 1" by R.L. Wilson where it is incorrectly attributed to as related to the Governor's Foot Guards in the Canadian Forces Primary Reserve. The Foot Guard Fair in Hartford ran from December 3 to December 8, 1888, and was organized to raise funds for furnishing the newly constructed armory of the First Company Governor's Foot Guards. The First Company Governor's Foot Guard was first organized in 1771 in Hartford and is the oldest military organization in continuous existence in the United States. Samuel Colt was also involved in the broader Governor's Guards.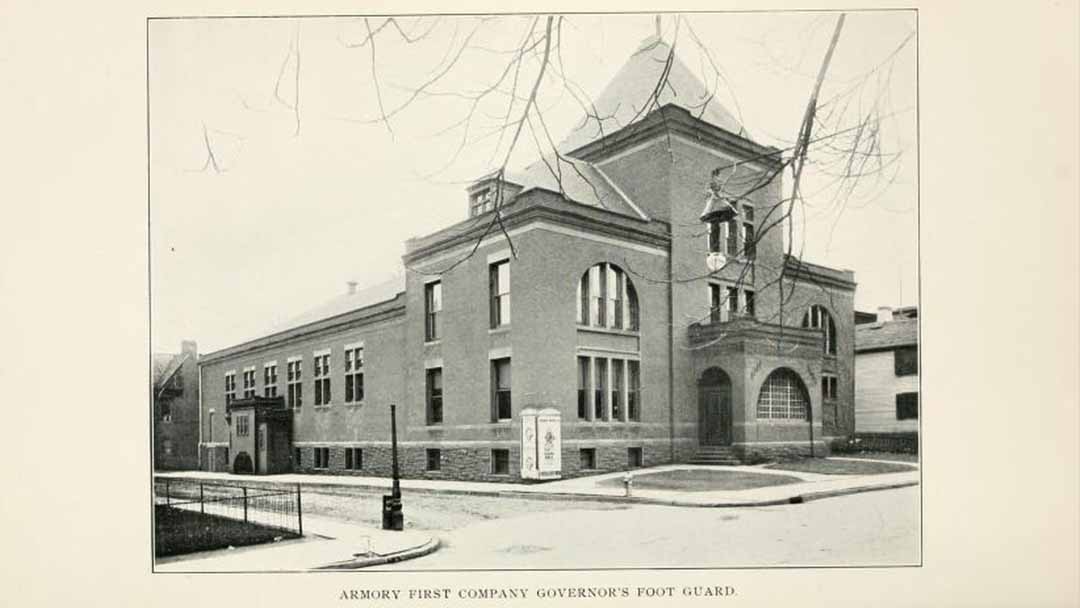 The Hartford armory of the Governor's Foot Guard. A beautifully engraved Colt Lightning revolver was offered as a prize at the 1888 Foot Guard Fair won by Hartford Police Officer Lyman Smith.
At the fair, over $3,000 in prizes were to be given away through raffles and contests. The hall was advertised to be ready to rent for public events on November 2, and the Foot Guard Armory's large hall became a very popular social event center in Hartford in the late 19th century, hosting boxing matches, art exhibitions, banquets, balls, orchestras, fraternal organization fairs, and more. On November 27, 1888, Lyman Smith is listed as one of the recipients of "Military and Fireman's Prizes" in the Hartford Courant. The Courant recorded the votes for various prizes and showed Smith in the lead for the special prize "police revolver."
The exact details on the contest are not explained, but it appears to be that the attendees got to vote on who should win the prize, essentially a popularity contest. Other prizes had fewer total votes suggesting that you may have had to purchase special tickets to vote for various prizes or that you got to vote for one prize per entrance ticket. On the 10th, the Courant reported that "The elegant police revolver received 1,380 votes and went to Officer Lyman Smith, who has the good fortune to belong to the Phalanx. He had 750 votes to 448 for George Heise." The Putnam Phalanx was a ceremonial honor guard formed in Hartford and a social club. The local newspapers also reported on Smith's police work in 1888, including the arrest of multiple thieves.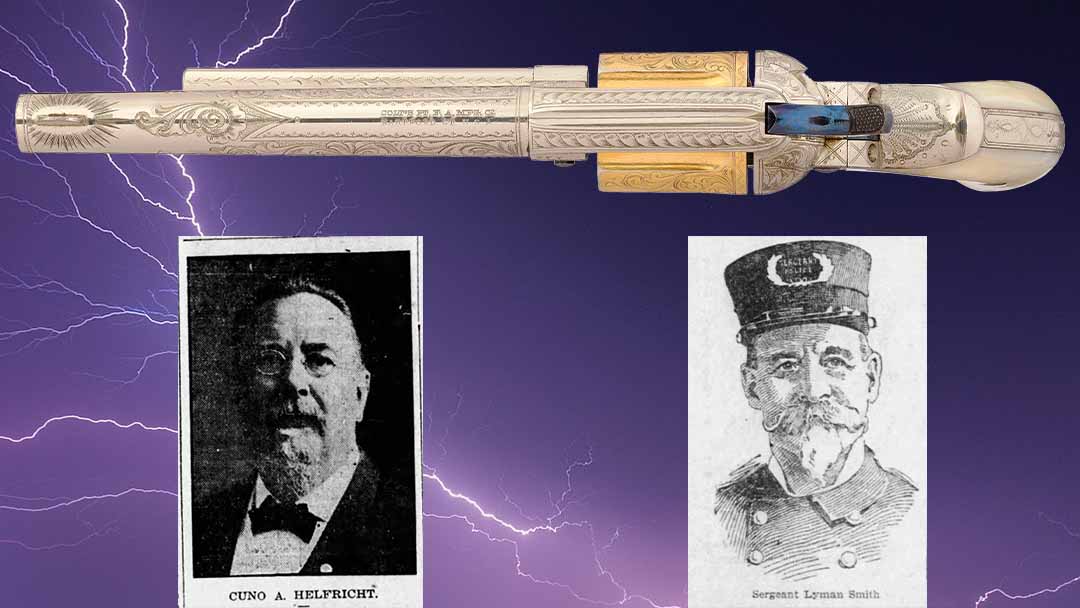 A view of the top of the Colt Lightning shows the gold and nickel plating as well as the terrific engraving that embellishes the gun. Below left is Cuno A. Helfricht, Colt's master engraver for more than 40 years who did the gun's engraving. Bottom right is Lyman Smith, the Hartford Police officer who won the Colt Lightning revolver as a prize at the 1888 Foot Guard fundraiser.
Lyman Smith and the Colt Lightning Revolver
Lyman Smith Jr. (1830-1900) was born in Hartford but grew up in New York City where his father was a police officer. His mother died in 1840, and his father was tragically killed on duty during a riot in 1844 leaving the teenage boy and his sisters as orphans. He returned to Hartford and served as a volunteer firefighter in Neptune Engine Co. No. 2 in the 1850s and 1860s and became the company's first assistant engineer and then foreman and captain. He was also the chairman of Neptune Engine Co. No. 2's 8th annual ball at City Hall in 1860 and was elected as messenger for the city in 1861.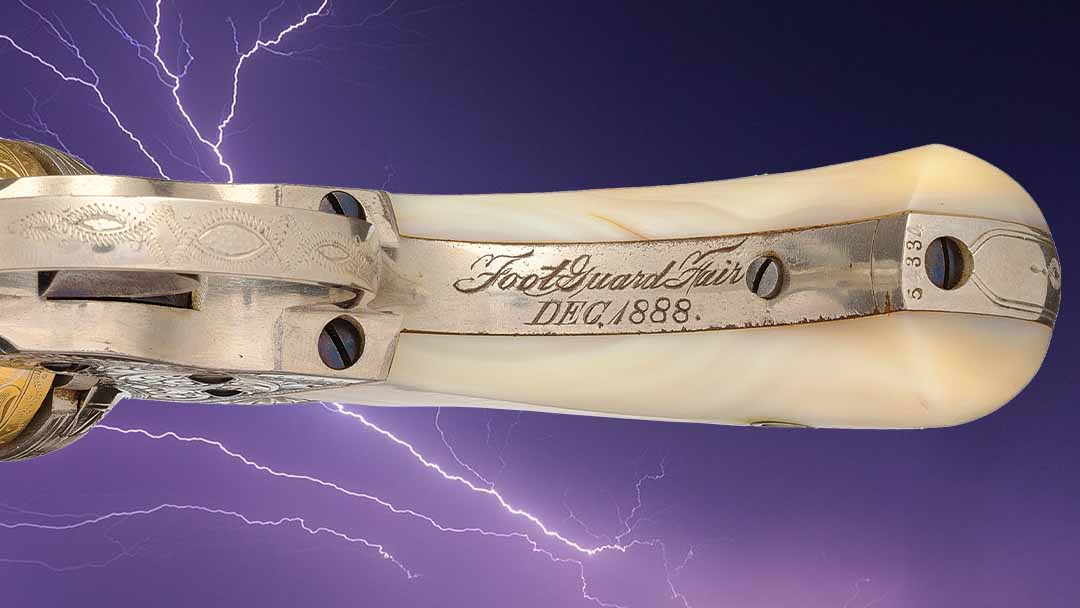 The front strap of this Colt Lightning revolver is engraved for a prize at the Foot Guard Fair in Hartford, Conn. in 1888.
Much of the country did not have formal police departments until the mid-19th century although smaller and less formal organizations like a night's watch was common and Hartford had a watch starting in the 19th century. Boston was the first to have a formal municipal police force in 1838. Hartford formed its police department in the 1860, and Smith became an officer on September 22, 1862 and reportedly wore badge no. 1. He also served in the provost marshal's office arresting deserters during the Civil War and became a full-time police officer. In 1865, the local papers reported he pursued a burglar that had escaped police custody. The crook turned and attacked Smith and stabbed him in the hand with a pitchfork, but Smith fought on and helped arrest the man. Other articles discuss him tracking down suspects and making noteworthy arrests, several through clever police work.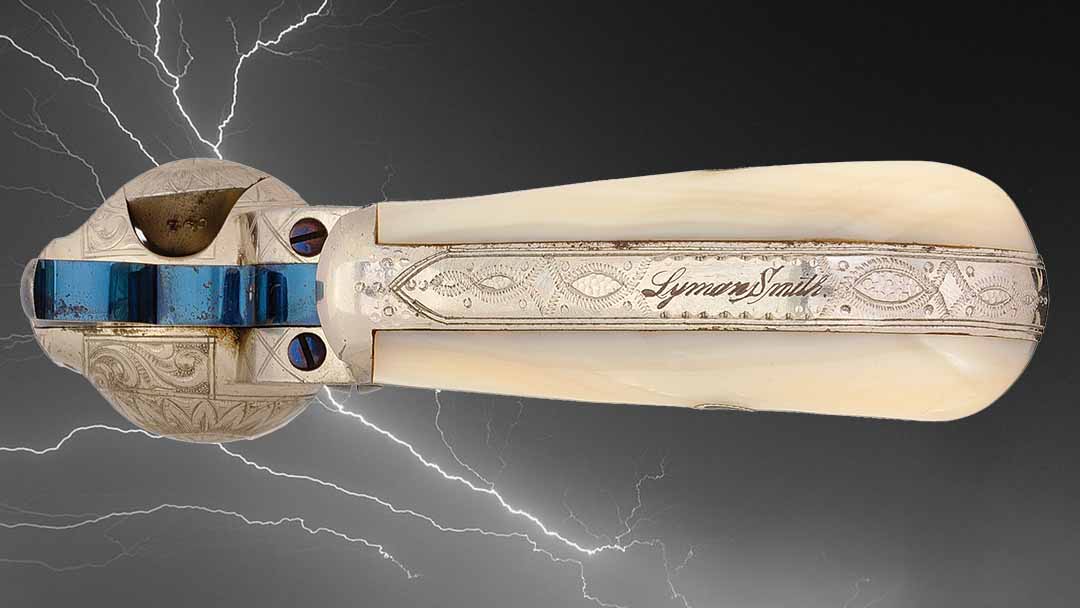 The backstrap of this Cuno Helfricht-engraved Colt Lightning bears the name of Hartford Police Officer Lyman Smith who was issueed badge no. 1. Smith won the Colt Lightning at the 1888 Foot Guard Fair. This view shows some of the niter blue parts.
By the 1880s, Smith was a police detective/"special officer" working as a plain clothes detective and was also listed as the sole truant officer for Hartford, and he was promoted to sergeant in 1894. He remained with the department until retiring due to ill-health in March 1900 and died that December from cirrhosis of the liver. He was very popular with his fellow officers as well as with the residents of Hartford.
Not surprisingly, the Hartford Police used Colt firearms during the period, including serial number 1 Colt Model 1893 Gatling Gun. If Officer Smith carried a gun, it most likely a Colt, possibly even a plainer Colt Model 1877 "Lightning" or "Thunderer," but it is evident from the outstanding condition of this revolver that he kept this one carefully tucked away and that it has been extremely well cared for ever since. This factory engraved Colt Lightning revolver, from the Greg Lampe Collection, is arguably the finest in existence, and it is available in Rock Island Auction Company's May 19-21 Premier Auction.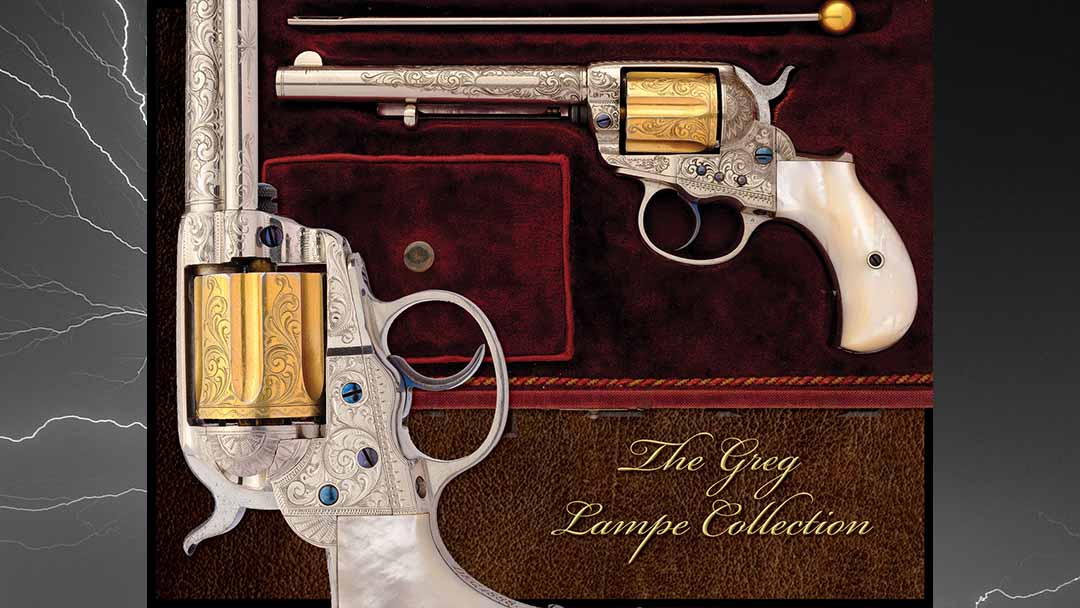 This magnificently engraved and finished Colt 1877 Lightning revolver is part of the Greg Lampe Collection that will begin being offered in Rock Island Auction Company's May 19-21 Premier Auction.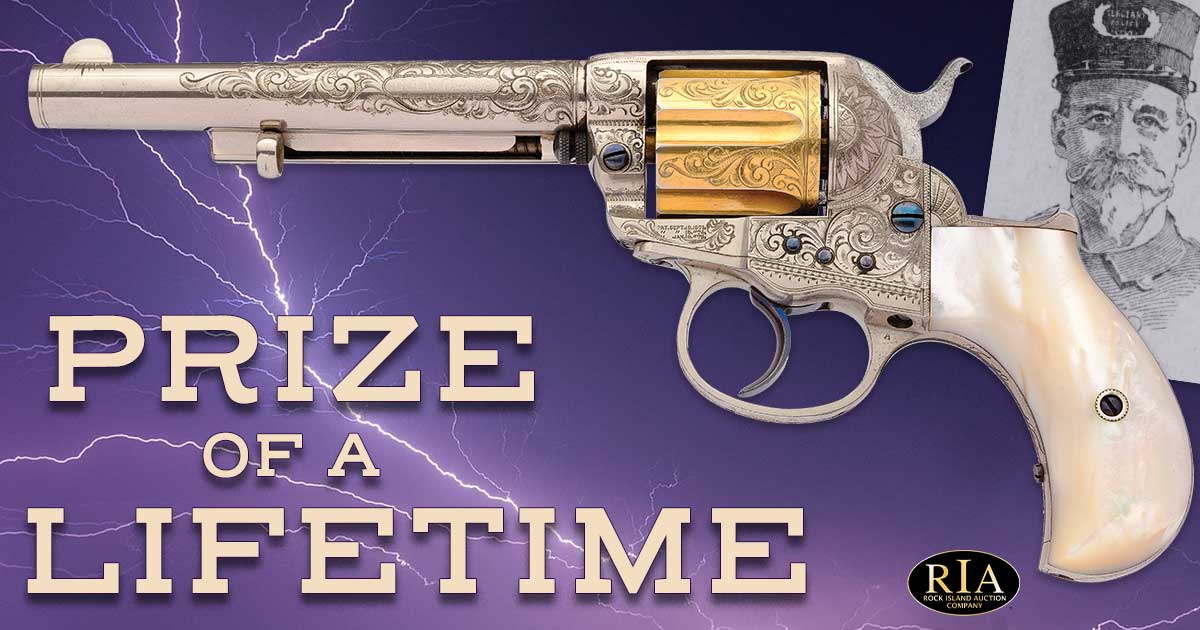 Rock Island Auction Company