Seven years ago, we asked why is the Colt Python so popular? The answers vary depending on the gun enthusiast, but many collectors agree that Pythons and other snake guns are gorgeous, fun to shoot, finely crafted, and have received a boost from popular media in recent years.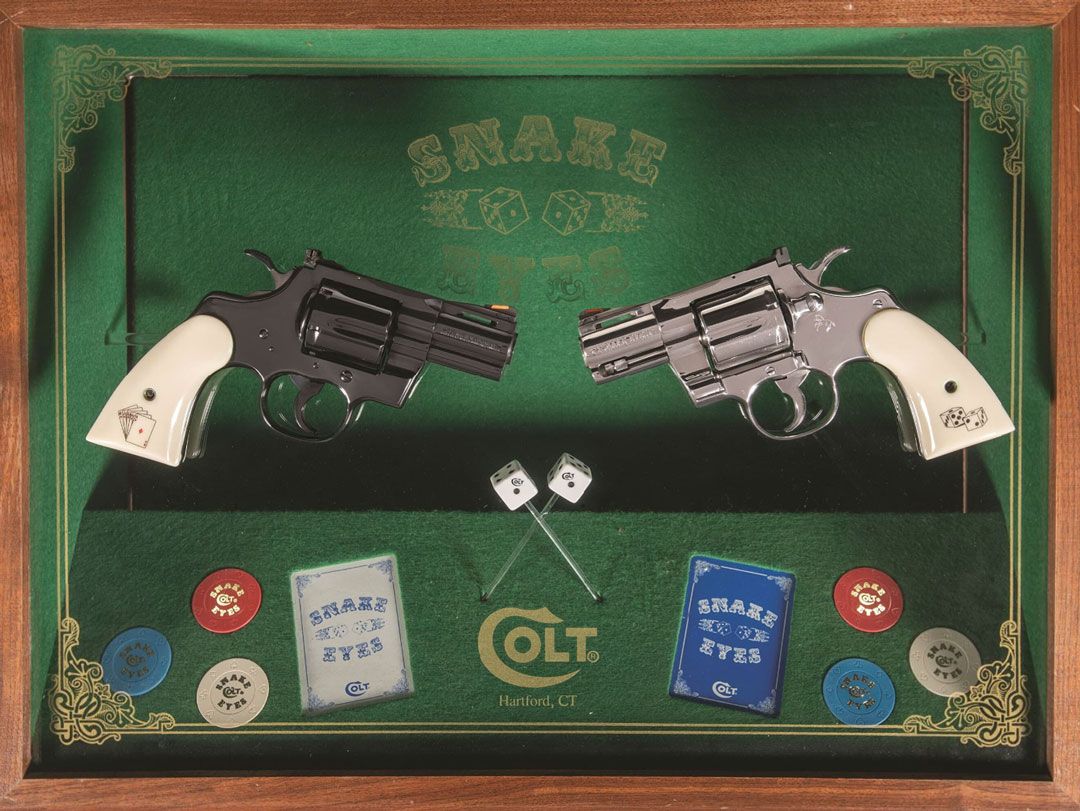 A cased match set of Colt Python "Snake Eyes" sold for $21,850 in Rock Island Auction Company's May 2021 Premier Auction.
Colt introduced the Python in 1955 as a premium revolver designed to compete with the finest double actions around. The Python's balance, weight, precision craftsmanship, and great trigger pull gave the gun an accuracy and reliability that almost every shooter longs for, a big iron with an attitude.
With a nickname like "The Rolls-Royce of Colt revolvers," there's a reason the Colt Python continues to trend upward in the world of gun collecting. Pythons are some of the best looking guns out there, with a unique gun aesthetic thanks to their vented rib and distinct full-length underlug. Vintage Colts hold their value and tend to increase over time, and Python prices realized at Rock Island Auction Company shatter expectations year after year.
Colt Python Value by Year
Why are Colt Pythons so expensive? Gun prices are going up for most genres, but saying that the Colt Python is experiencing a rapid upswing is a gross understatement. The Python's Hollywood coverage has certainly helped, from the 1970s 'Starsky & Hutch' to Rick Grimes' sidearm of choice on 'The Walking Dead.' More importantly, Colt Python prices reflect the value of a popular vintage gun that had been out of production for years and the simple fact that it's an old-school handmade Colt revolver.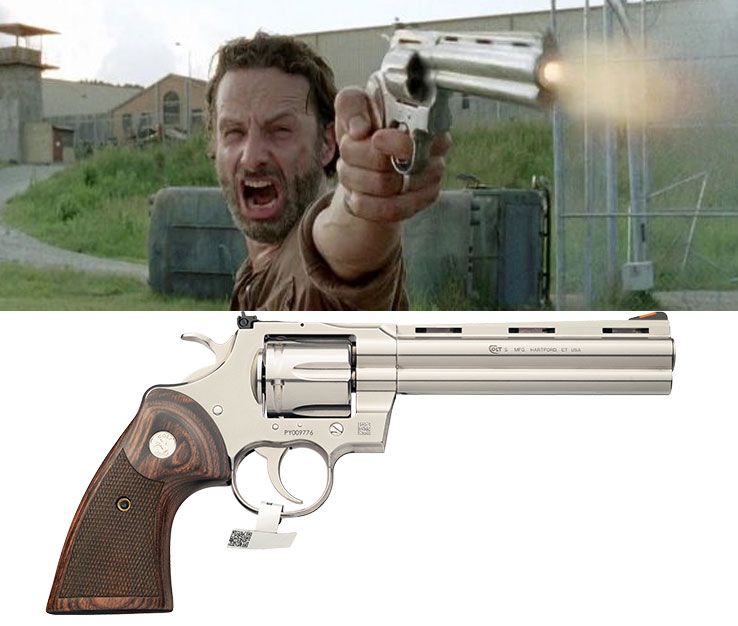 A new generation of arms enthusiasts has been introduced to the Python through popular media like The Walking Dead, True Detective, and video games like Call of Duty: Black Ops.
When considering the Colt Python value by year at Rock Island Auction Company, we've assembled the last eight years of Colt Python sales prices to help collectors and gun consigners better gauge the current market and compare it against Colt Python Blue Book value. Our first dataset represents what a gun collector would consider a typical Colt Python. The data was gathered from every gun auction category Rock Island Auction Company offers: Premier, Sporting & Collector, and Arms & Accessory Day events.
All Pythons included in the dataset have a grade of "very good" to "excellent," and all barrel lengths have been included. The buyer's premium is included in the sales price (15% during the periods analyzed), as this accurately reflects what a gun collector paid to own their Python.
To avoid skewing the data, all super collectible Pythons have been excluded, including Combat Pythons, Elite models, first and second year production Pythons, collector's editions, and engraved Pythons. Multi-gun lots were also excluded. Avoiding these examples with especially high collectability, and thus prices, should help give a more accurate values on Pythons more likely to be found and owned by collectors.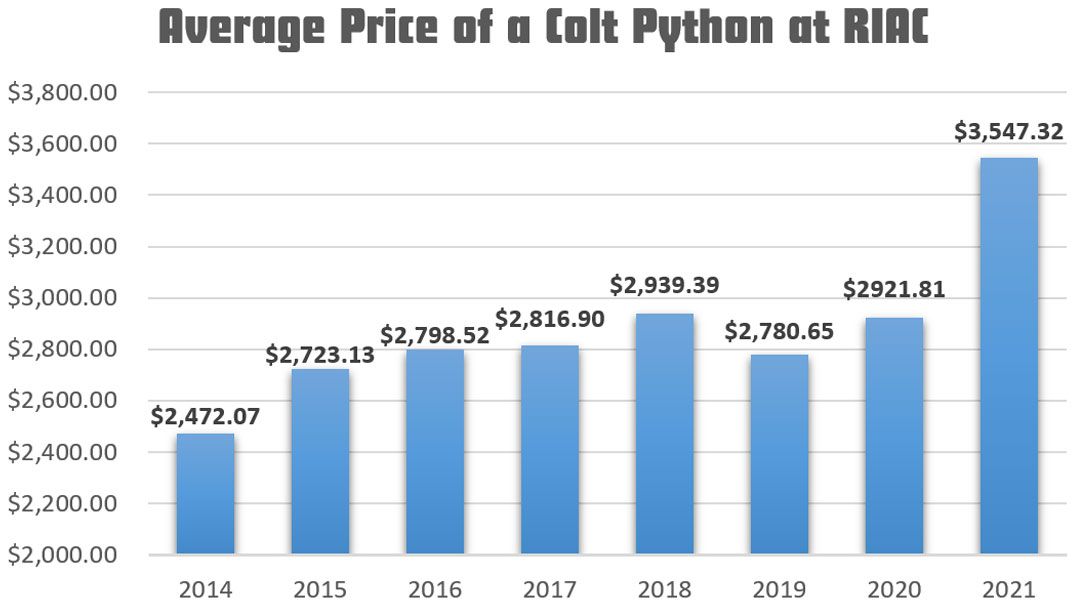 The average Colt Python price at Rock Island Auction Company since 2014.
The average Colt Python price at Rock Island Auction Company climbed more than $250 in 2015. For the next three years Pythons trended upward, then suffered a slight decline in 2019 before continuing their forward momentum and shattering the $3,000 barrier in 2021. Some might call this a market correction.
Even though they were removed from the primary dataset and the graph above, similar trends are also observed when looking at high value Pythons such as Elite models, first year production examples, and even the rare Colt Boa (an improved Colt Trooper Mk V with a Python barrel).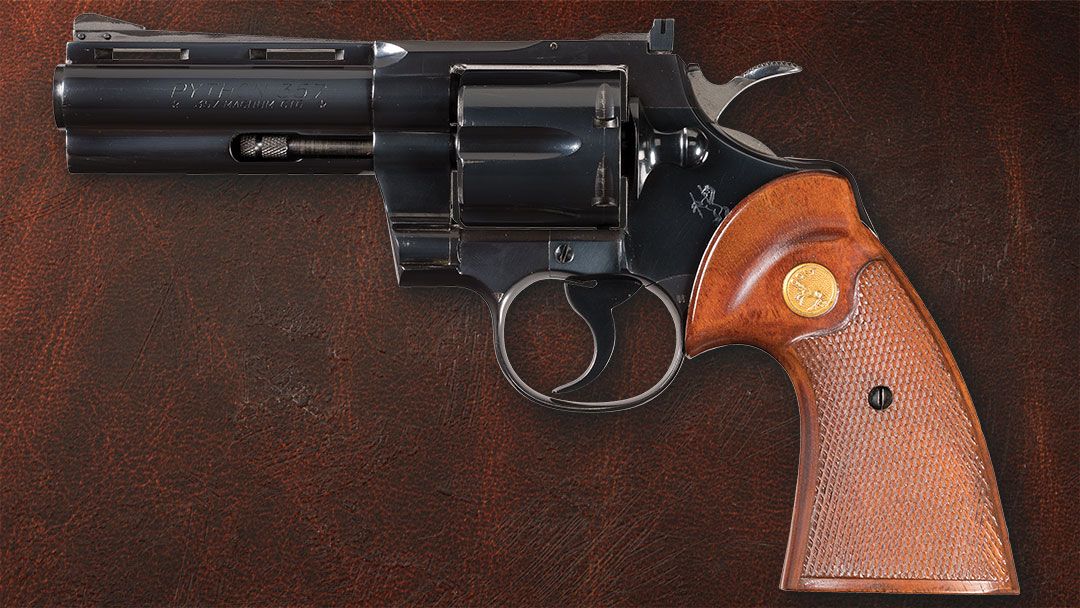 Colt Python prices at Rock Island Auction Company continue to soar, like this Python that realized $3,819 in May's Premier Auction.
Colt Python Elite
The Colt Python Elite was only offered from 1997 to 1999, then reintroduced from 2002 to 2006. According to Colt advertisements, the Python Elite revolvers were "hand-honed in the Colt Custom Shop to provide the ultimate in smooth action and performance." All other factors aside, Colt Python Elite rarity has certainly translated to a higher dollar value at Rock Island Auction. This is especially important as most Python collectors tend to value earlier production models, as opposed to the very late production dates of the Python Elite.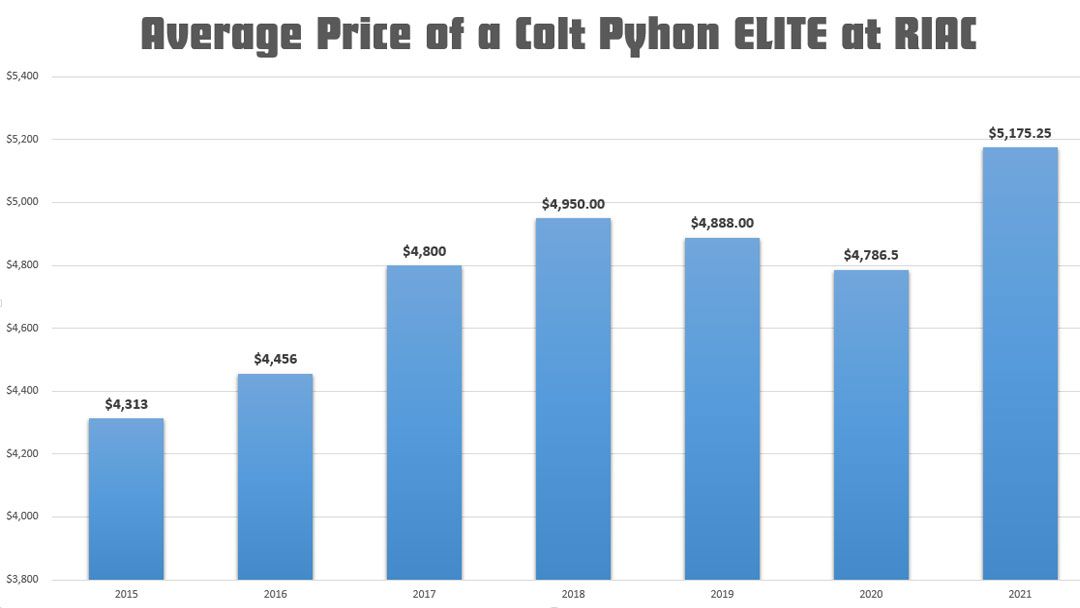 The average price of a Colt Python Elite at Rock Island Auction Company since 2015.
The Colt Python Elite experienced a similar trend to the previous dataset, making significant gains in 2016 and 2017, then hovering around an average of $4,856.13 over the next four years before launching past the $5,000 mark in 2021. Collectors perceive the Python supply as growing leaner, and the Elite is a comparatively rare Python model that's still available at an attainable price point for a determined revolver aficionado.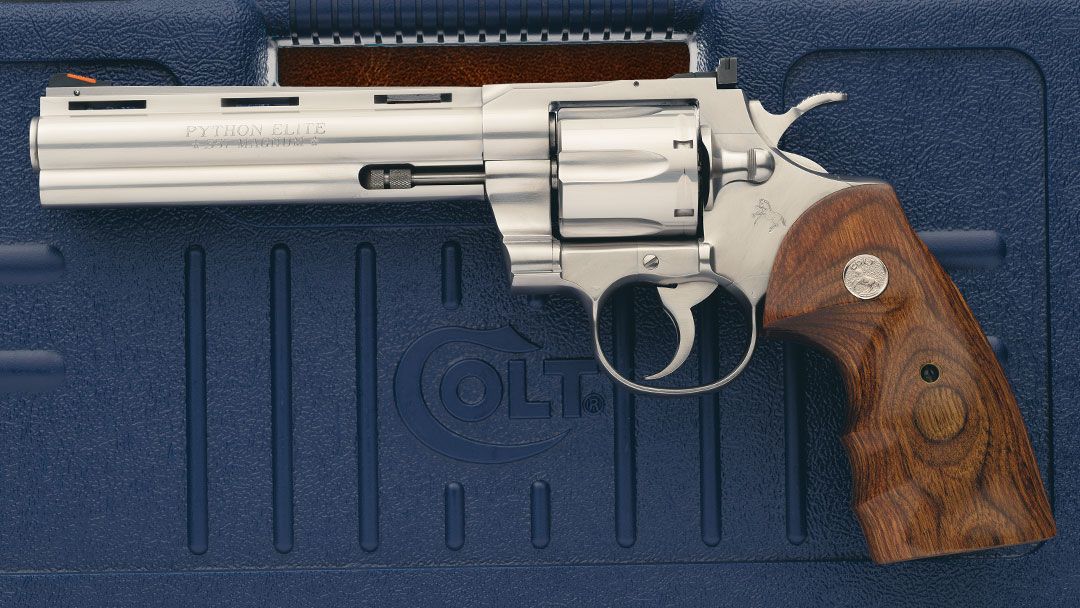 A mechanically excellent Colt Python Elite revolver with a 6 inch barrel and its original case sold for $6,325 in Rock Island Auction Company's September 2021 Premier Firearms Auction.
Colt Python Second Year Production Model
The list of top 10 Pythons revolvers sold by Rock Island Auction Company demonstrates the immense variety of finishes, history, and embellishments present within this popular revolver genre. Over the years, older Python models were phased out for various improvements. These changes have made the first run of Pythons even more valuable with collectors, particularly early production Colt Pythons.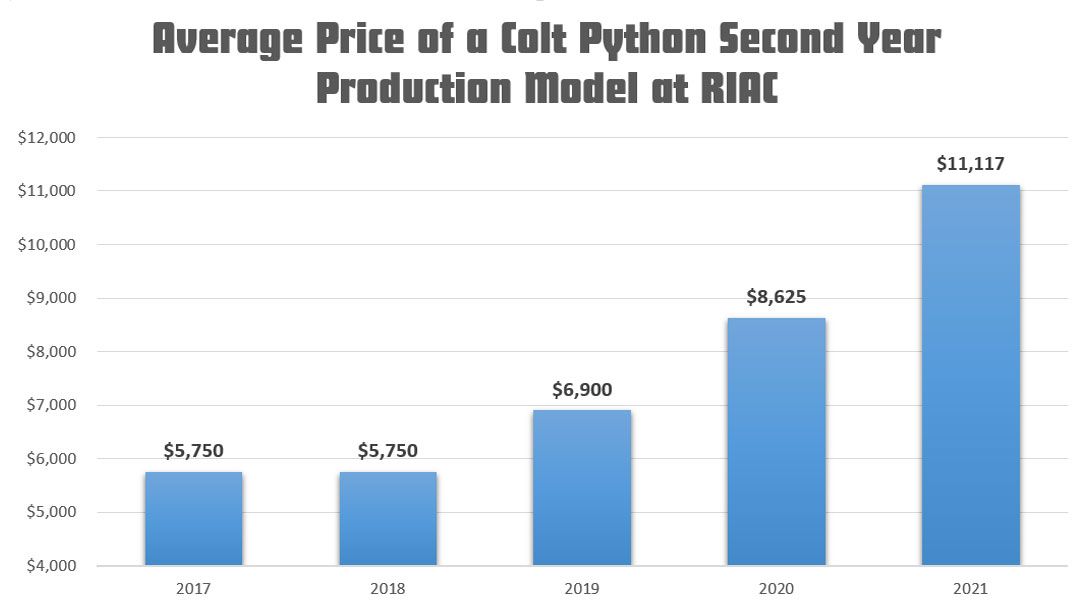 The average second year production Colt Python price at Rock Island Auction Company since 2017.
Second year production Colt Python values have experienced a dramatic upswing at Rock Island Auction Company, nearly doubling their average prices since 2018. Whether or not early production Pythons can continue their blistering performance long-term, it's clear that demand for scarce snake guns is hotter than ever in the current market.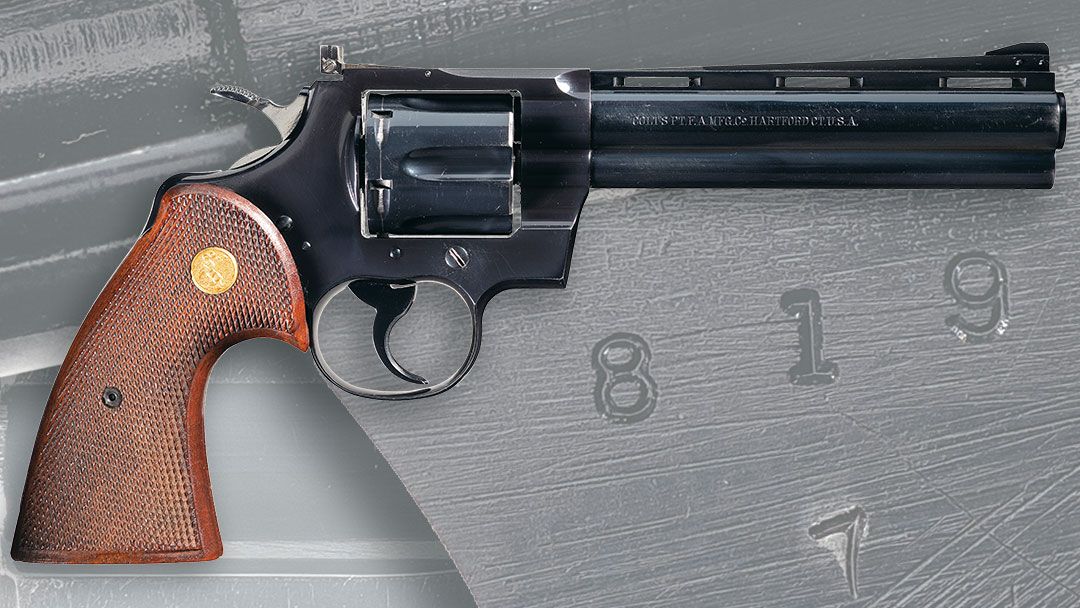 Produced in 1956, this superb second year production Colt Python attained $10,575 at Rock Island Auction in December 2021.
Colt Python First Year Production Model
Which Colt Pythons are the most valuable? Considering that only 299 Pythons were manufactured in 1955, their first year of production, one would expect these extraordinarily scarce revolvers to outperform their second year production siblings. The price difference turns out to be substantial.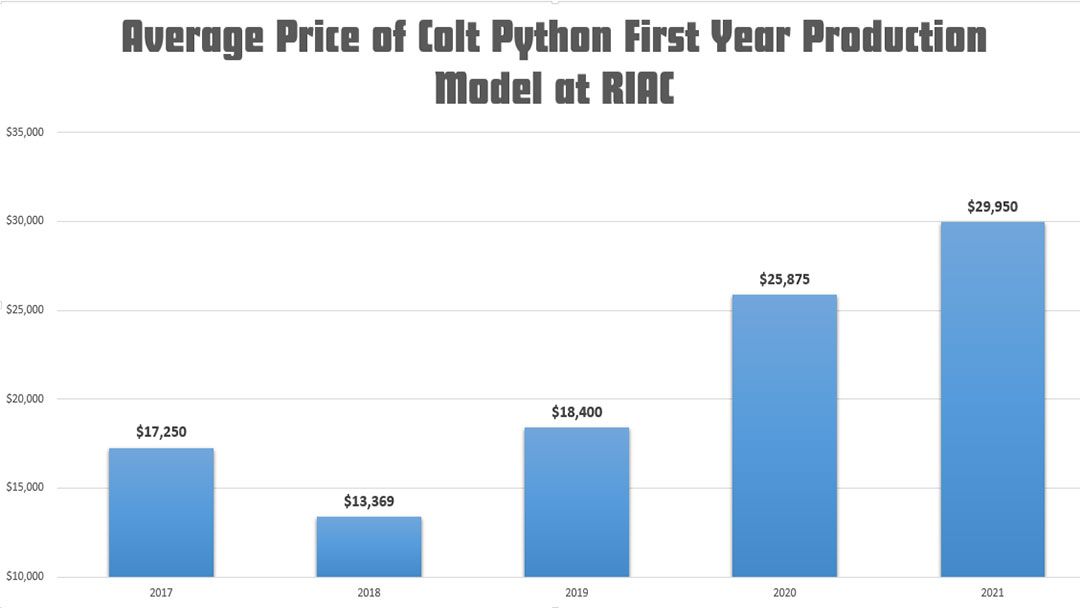 The average first year production Colt Python price at Rock Island Auction Company since 2017.
Averaging $25,875 in 2020, then climbing to an astounding $29,950 in 2021, first year production Colt Pythons have seen an outstanding investment-worthy performance at Rock Island Auction Company. For comparison, the Python originally retailed for a not-inexpensive $125 ($1,300 in 2021 dollars), demonstrating the remarkable success a limited production firearm can experience in today's collecting market.
Documented first year 1955 production, Colt Python serial number 69 achieved $34,500 in Rock Island Auction Company's December 2021 Premier Firearms Auction.
The Colt Boa
The snake gun feeding frenzy the Python is experiencing has also impacted Colt's entire roster of deadly serpents. The Diamondback, Cobra, Anaconda, King Cobra, and Viper have all seen a rise in value, but the mighty Boa has truly bared its teeth in recent years. Only 1,200 Colt Boa revolvers were made: 600 with 4 inch barrels, and 600 in 6 inch. That limited production run has not gone unnoticed by gun collectors.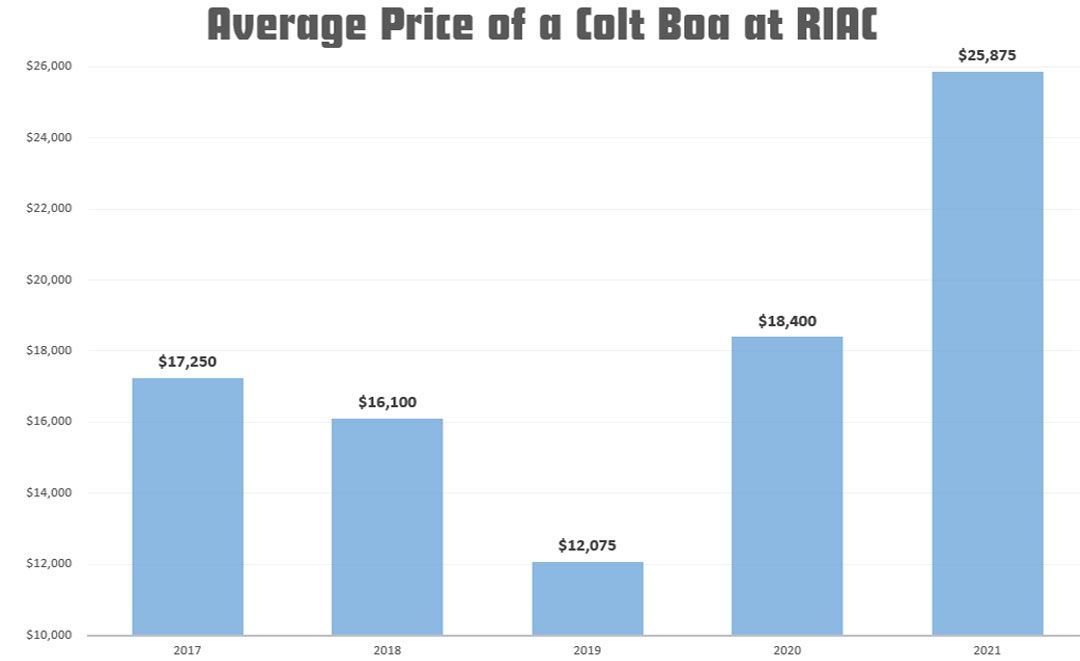 The average price of Colt Boa revolvers at Rock Island Auction Company since 2017.
Following the same trend in price as their Python siblings, the Colt Boa surged in value in 2020 and rocketed to new heights in 2021. The Boa was manufactured by Colt under contract for Lew Horton Distributors in 1985 as a special edition revolver, and despite their relatively youthful age Colt Boa revolvers in great condition are bought and sold as vintage collector guns.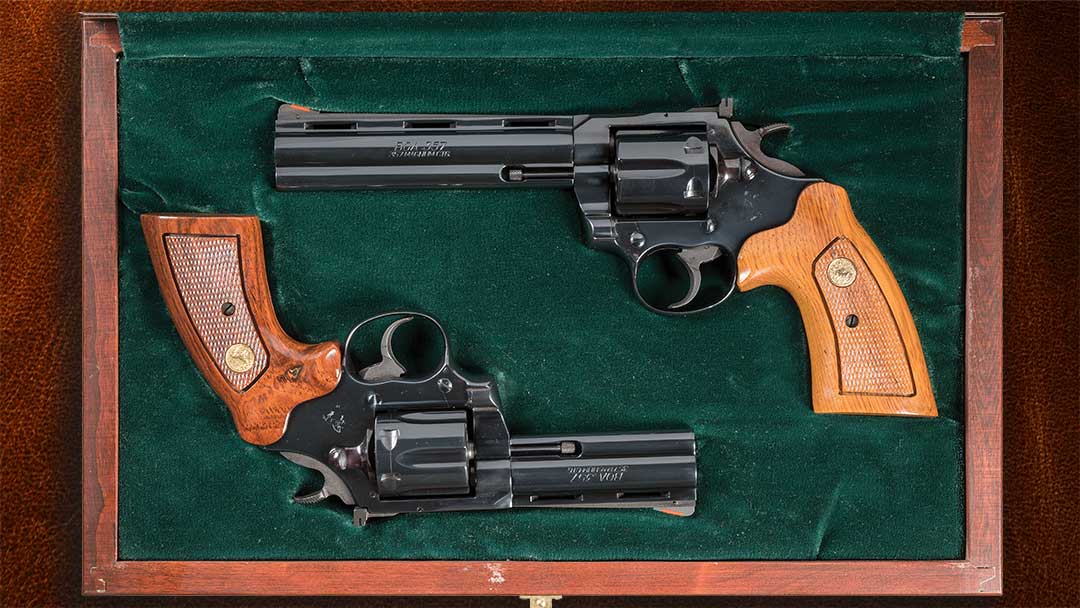 One of only 100 sets of consecutively numbered Boa revolvers, this boxed pair brought in a price of $44,063 in Rock Island Auction's May 2022 Premier.
Since most of Colt's snake gun family are no longer made, these deadly ophidians have joined the Colt collectibles club and become objects of investment speculation. Most vintage Colts are viewed as a great store of value in the firearms community, and the current snake gun marketplace continues to uptrend.
Colt Python Old vs New
The announcement of the new production Colt Python in 2020 was a surprise for many firearms fans, as the famous snake gun had been out of production since 2005. The enthusiasm was so high that eager buyers joined a Colt Python waiting list or even paid a premium to get the desirable revolver early.
For gun collectors worried if the Colt Python 2020 model would impact vintage Python values, the data provided throughout this article demonstrates quite the opposite, and this isn't an anomalous example. For instance, when the Hi Power pistol returned in 2021, prices for the original models did not suffer in the least.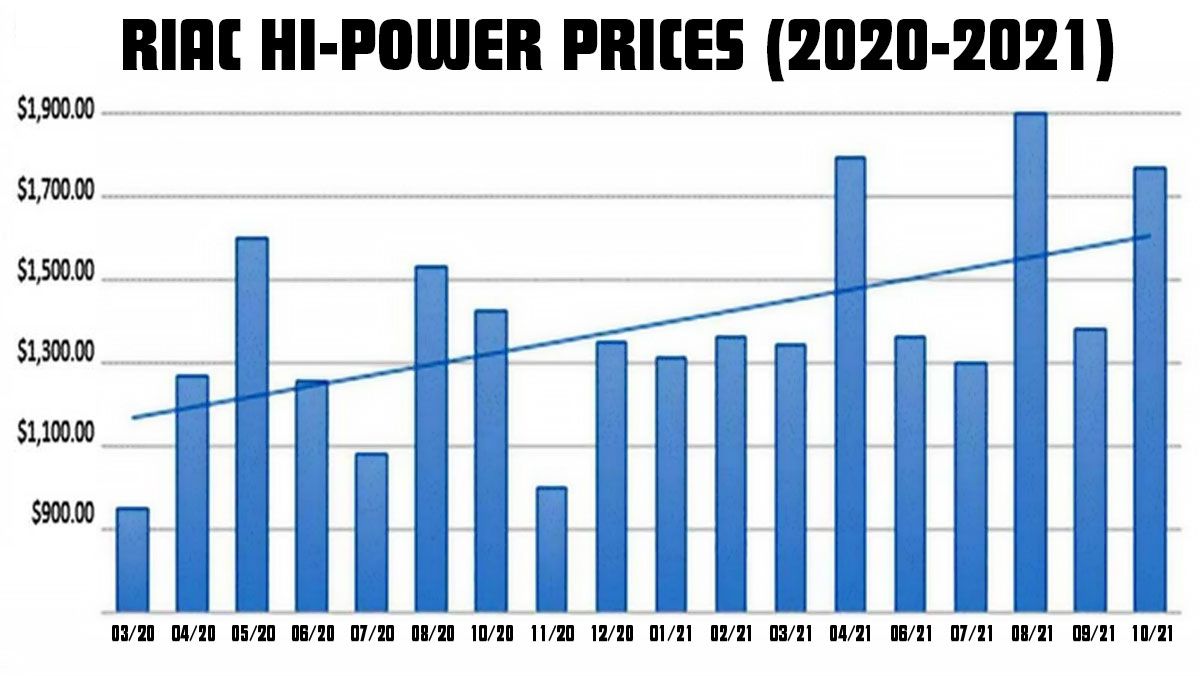 The average vintage Hi Power pistol value continued to trend upward in 2020 and 2021 at Rock Island Auction Company despite the release of the SA-35.
This isn't a surprise when you look at other genres of collecting. New Ferraris don't decrease the value of classic Ferraris, and the same holds true with Rolex watches. In the case of the Colt Python, the two models are completely distinct, with different geometry, internals, and handling. A vintage item, whether a car, a firearm, or a classic timepiece will always hold value with collectors, a model from an era that will never return.
Subtle differences between the Colt 2020 Pythons and their classic cousins are evident to both shooters and collectors alike. Some new Colt Python problems have been widely discussed online, including heavy single action triggers and a cylinder issue covered by Youtubers like Hickok45, but Colt has taken steps to address the concerns. In either case, our data indicates that the new Python hasn't impacted the demand for the original.
Future Colt Python Prices
Colt Python 2021 prices broke new boundaries, and that trend is still going strong nearly halfway into 2022. Today's hungry buyers are devouring snake guns, and the appeal of Colt's classic .357 revolver spans multiple generations of shooters and gun collectors who grew up desiring a Python of their own. The Python's price is reflective of not just rarity but manufacturing quality, the perfect combination of history, mechanics, and beauty in the function.
With an estimated 200 manufactured, the California Combat Python is one of the rarest snake gun models. This example achieved a mindblowing $70,500 with Rock Island Auction Company in May, 2022.
With a surge of new gun buyers and Rock Island Auction's growing client list and a record number of bidders each year, the demand for firearms has never been higher. Gun prices have risen in number genres, including many collector-grade arms, and gun sellers are more willing to consign their firearms to take advantage of the booming market. In the end, determining the true gun value of a Python is a matter of asking what the marketplace is willing to pay, and the current market is running hot.
Buying and Selling a Colt Python
Estimating just how high the average Colt Python 2022 price will climb is hard to predict, but the numbers look promising. Whether you're looking to sell your gun or own one of Colt's finest production revolvers, the data demonstrates that Colt Pythons bring in a worthy price at Rock Island Auction and present sellers with a firearm that has investment potential.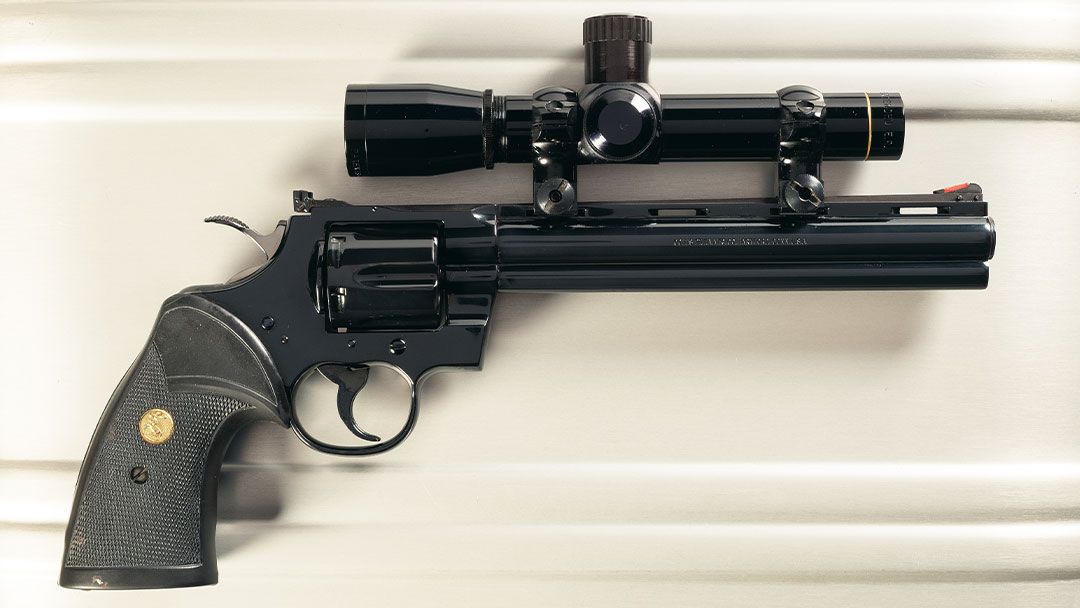 A scarce Colt Python Hunter DA revolver with scope and case. Available this August.
It's an exciting time for the world of fine arms collecting, so subscribe to the weekly Rock Island Auction newsletter to receive new gun blogs on the latest prices and trends. Using the extensive data from our past auction catalogs, we look at the values of popular guns like the 1911 pistol, the M1 Garand rifle, and more. When it comes to estimating gun value and predicting forthcoming sales trends, Rock Island Auction's free online catalogs are one of the best tools in the industry.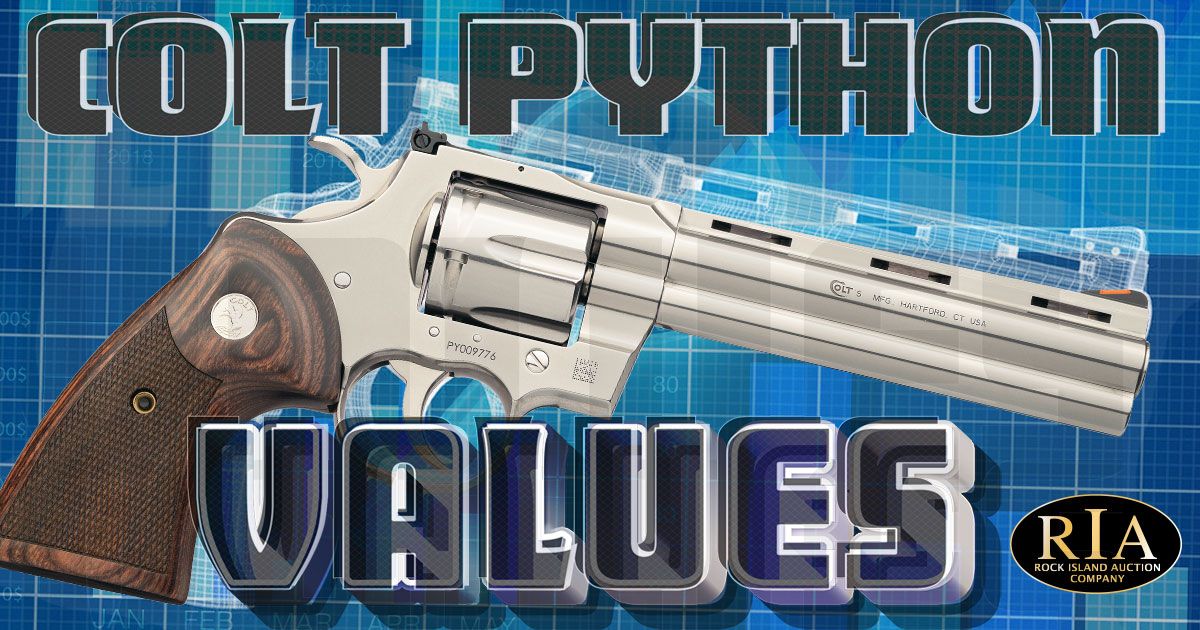 Rock Island Auction Company