So many amazing revolvers have passed through Rock Island Auction Company, like Ulysses S. Grant's Remington New Model Army pair, a spectacular Lot 5 Ainsworth-inspected Colt Cavalry Model, and the Parsons Armies just to name a few.
Amazing revolvers can be cool revolvers, too, but what makes a cool revolver? They may not be pristine, beautifully engraved or be attached to a historic figure of Grant's or Theodore Roosevelt's stature, but what they have is a fantastic story or fascinating technological advancement that give them that edge. There is that little something extra. Something cool.
All of the cool revolvers featured here are available in Rock Island Auction Company's inaugural event at its new Bedford, Texas facility, the Dec. 8-10 Premier Auction.
Cool Revolvers: Griswold and Gunnison Percussion Revolver
Straight out of the Confederate arsenal, about 3,700 of these Griswold and Gunnison revolvers were made, making them the largest handgun maker of the rebellion. Manufactured in Griswoldville, Georgia they were a southern example of the Colt Model 1851 Navy.
This wheel gun doesn't have any markings identifying the maker but it does have mysterious markings like a "13" stamped on the loading lever, "M" stamped on the right surface of the front, and "X" on the left side of the front and back straps. That's a cool revolver, but there's more.
There is documentation that John A. Morris, a farmer from Rock Ford, Mississippi, carried this in the Civil War. Morris was a member of Company E, 7th Mississippi Cavalry that served in North Mississippi, Kentucky, and West Tennessee during the war. Morris had the gun when he surrendered at Holly Springs, Mississippi on May 4th 1865.
A scarce, Confederate-documented,  southern knockoff of a Colt revolver with appearances in several books is pretty cool.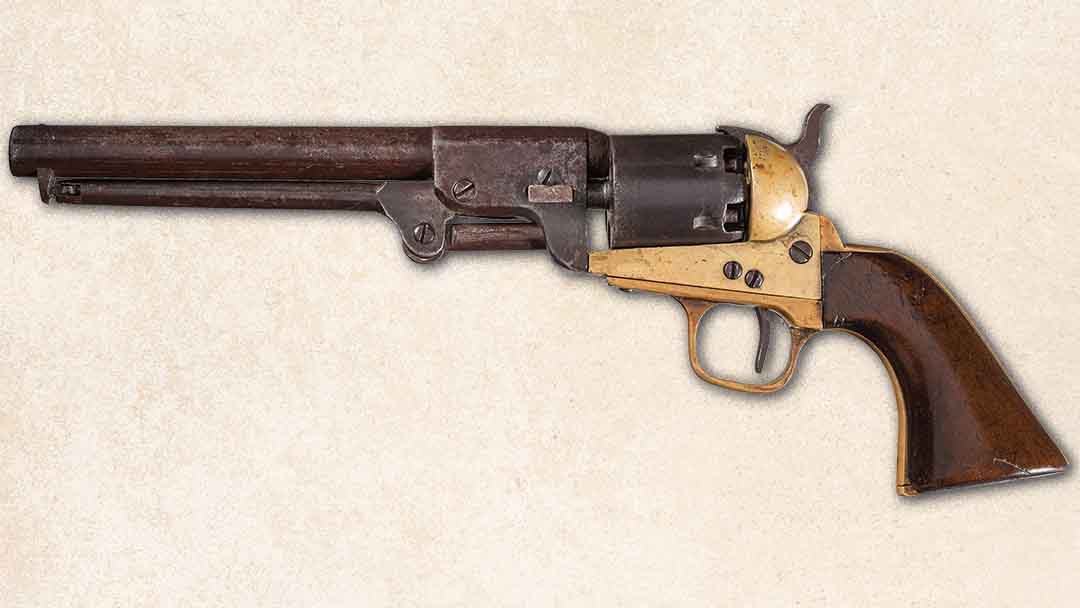 This Griswold and Gunnison revolver was featured in "Civil War Relics from Georgia" by David and Celeste Topper, noting the gun was manufactured in May 1863, and is also noted in "Confederate Presentation & Inscribed Swords and Revolvers" as well as other publications.
Cool Revolvers: Colt Model 1889 Carried in the Spanish-American War
Rock Island Auction has moved plenty of awesome Colts, be they Walkers, Patersons, Colt Single Action Armies, Model 1860 Armies and M1911s, but who knew how cool a Colt Model 1889 double action revolver could be?
The Model 1889 was the U.S. military's first double action with a swing-out cylinder, offered in both .41 Long Colt and .38 Long Colt calibers. This particular gun is chambered for .38 Long Colt.
This six-shooter is nickel-plated and with a gold-washed cylinder, and covered with beautifully executed factory engraving, almost certainly by Cuno Helfricht. It was owned by Major Taylor E. Brown of the Illinois National Guard who newspapers reported as the first U.S. soldier on shore in the invasion of Puerto Rico during the Spanish-American War.
Look at the grips! Look at the engraving! The nickel and splash of gold! The nitre blue trigger! It resonates with the history of the Spanish-American War! This two-tone, high condition Colt double action is an unquestionably cool revolver.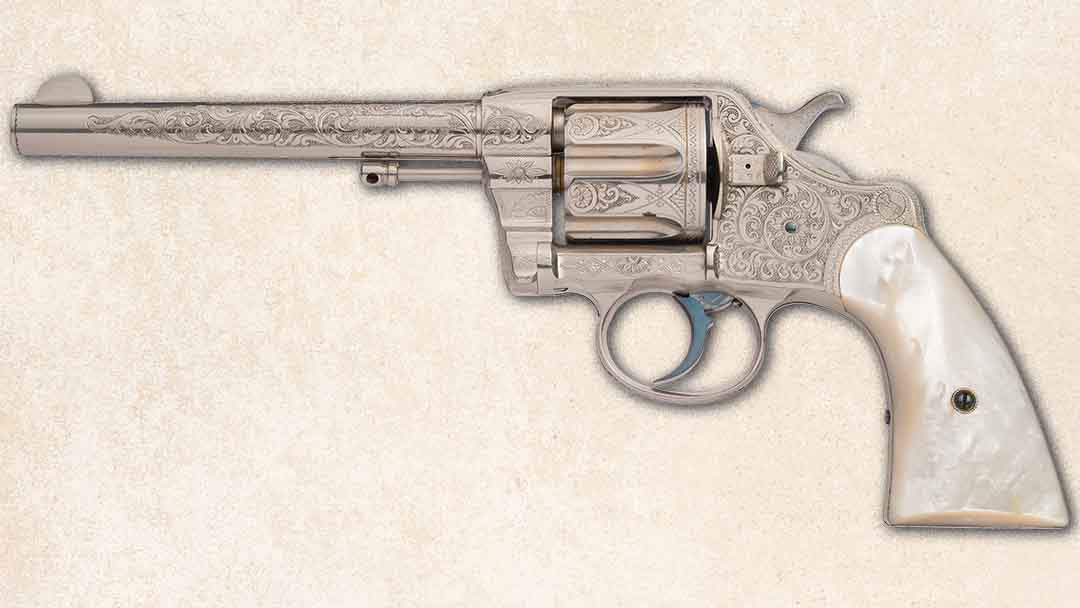 Manufactured in 1891 and owned by Major Taylor E. Brown who led a company of engineers ashore in Puerto Rico. Newspapers of the time reported he was the first American soldier ashore when the United States invaded Puerto Rico during the Spanish-American War.
Cool Revolvers: Colt Model 1851 Navy from the First California Geological Survey
Earlier this year, RIAC sold a near mint Colt Model 1851 Navy, an awesome gun. However, this cool Colt Navy was owned by Yale Professor William Henry Brewer when he served as the principal assistant and field operative of the first California Geological Survey. His experiences led to the works "Botany of California" in 1876 and "Up and Down California 1860-1864" in 1930. As well as his role as first assistant, Brewer was also "the first to botanize to any considerable extent in the high Sierras." His notes and observations were written in a series of letters home that included his travel experiences and observations of habitats and vegetation.
When he returned to Yale in 1864, Brewer was chair of the agriculture department. He also went on expeditions into the Colorado Rocky Mountains (1869), Greenland (1894), Alaska (1899), and the Philippines (1905).
The gun was manufactured in the midst of the Civil War and master engraved by L.D. Nimschke with Germanic scrollwork on a punch-dot background on the muzzle and barrel lug, sides of the loading lever, frame, hammer, trigger guard and back strap. The revolver was silver plated with gold wash on the hammer, cylinder, loading lever, and wedge.
How many different ways is this revolver collectible? Civil War manufactured Colt. Check. L.D. Nimschke engraving. Check. Precious metal finishes. Check. Documented as owned by a Yale University professor who trekked into the Sierra Nevada Mountains as the Civil War raged. Check. Cool revolver for sure. Plus, it gets bonus points for a purple velvet lined case and its Slim Jim holster.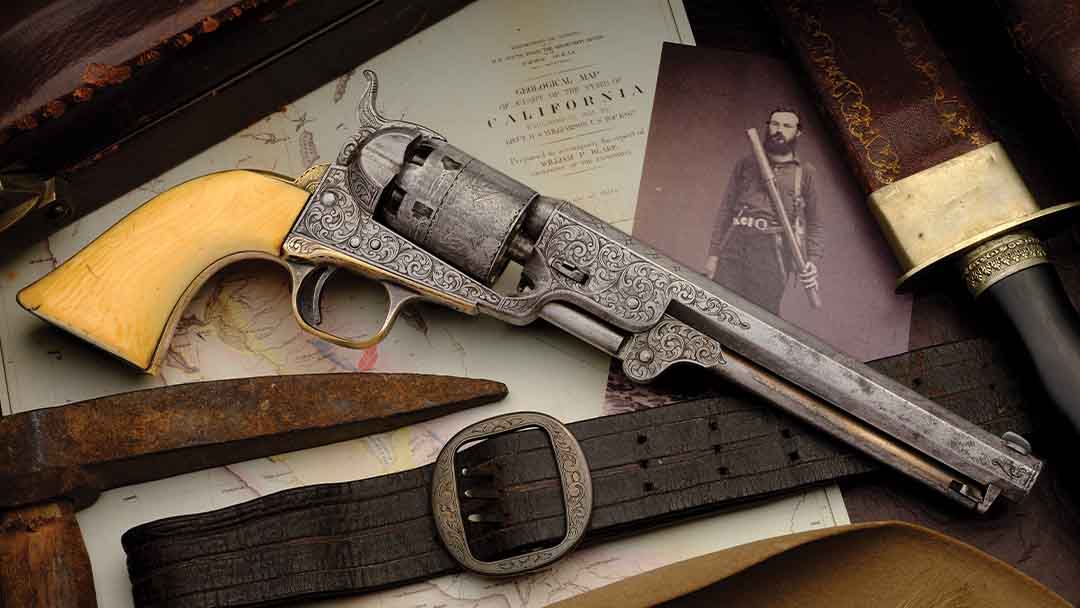 Professor William Henry Brewer's Colt 1851 Navy was engraved by L.D. Nimschke. It is silver plated with a gold wash and its grips feature a carved golden eagle perched on a cactus with a rattlesnake in its claws and beak based on the Mexican coat of arms. It comes with a purple velvet lined case made in the early 20th century and a hand-tooled California "Slim Jim" holster.
Cool Revolvers: Unserialized Factory Exhibition Engraved Colt New Line
Colt New Line revolvers are pocket wheel guns introduced at the same time as the legendary Single Action Army that found appeal among urban dwellers not wanting to carry a full-size piece. This revolver, without a serial number and its masterful factory engraving was likely made specifically for advertising and display as an example of Colt's high quality craftsmanship. Chambered in .41 caliber, this spur trigger revolver also comes with a desirable "pipe" style case.
This gun has plenty of attitude with its engraving, gold-plating, nitre blue screws, and casehardening. It was simply made to show off, and it excels at its task.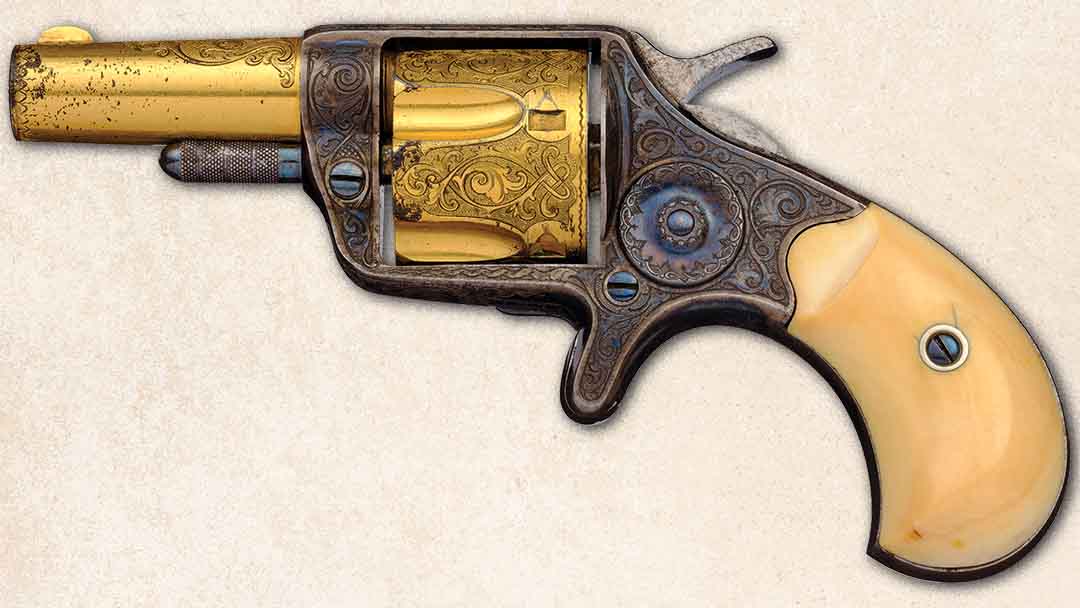 Likely manufactured for exhibition and advertising, this New Line revolver shows off the fantastic engraving from the Colt factory, featuring masterfully executed vine and scroll engraving on a punchdot background like many of the "wheel display" of revolvers from the 1876 Centennial Exhibition. The barrel and cylinder are gold plated, the frame is casehardened and the small parts are nitre blue.
Cool Revolvers: Spiller & Burr
Confederate revolvers are scarce because of the limited manufacturing capability of the southern states during the Civil War. Only 700 Spiller & Burr percussion revolvers were produced in Atlanta from 1862 to 1864. The results of an ambitious Confederate contract of 15,000 revolvers never materialized as manufacturing ended as Gen. William T. Sherman approached on his "March to Sea." The gun is patterned after the Whitney Navy Model with its brass frame stamped with a "C.S." marking.
A rare Confederate made and marked, brass-framed revolver is rare and striking in appearance, making it a cool revolver.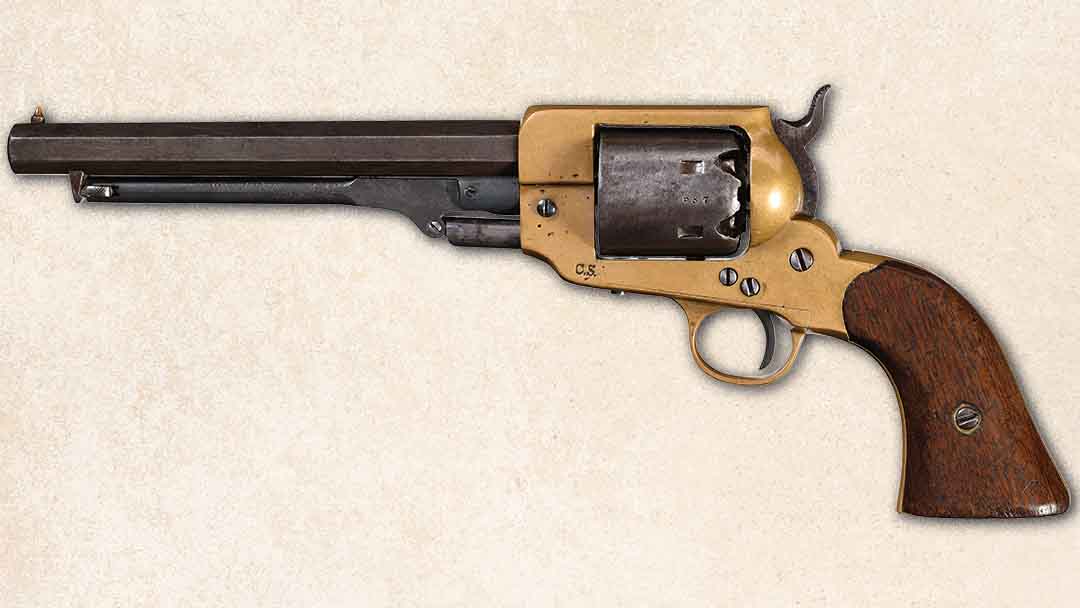 This Spiller & Burr brass-framed revolver has matching serial numbers on the trigger guard, barrel, cylinder, frame under the trigger guard, and an included examination letter that states the gun's condition is "overall condition is above average for a brass framed Confederate firearm."
Cool Revolvers: Savage & North
Manufactured between 1856 and 1859, this six-shot revolver is known for its "figure 8"shaped trigger guard that is actually integral to firing it. The lower part of the "figure 8" is the cocking lever that also rotates the cylinder, while the trigger is at the top.
The second variation of the First Model has a brass frame, while the Fourth Model is distinguishable by its iron frame. About 250 of the First Model revolvers were made, and about 50 of the Fourth Model were produced. The Middletown, Conn. Company reorganized in 1859 as the Savage Revolving Firearms Co., and made about 24,000 revolvers for Union military use during the Civil War.
A Union Civil War revolver that is easily recognizable and has a fascinating "figure 8" mechanical design that started with a notable brass frame marks this as a cool revolver.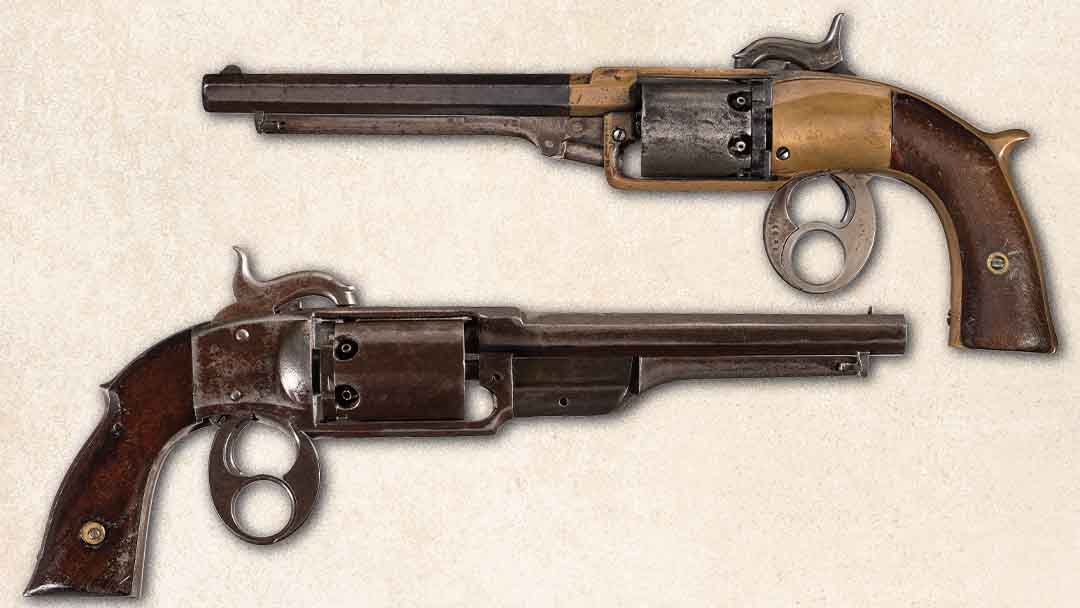 Shown at top is the Second Variation of the Savage & North First Model "Figure 8" percussion revolver, recognizable by its brass frame, while the revolver below is a Fourth Model, made with an iron frame.
Cool Revolvers: Tiffany & Co. Embellished Smith & Wesson First Model Schofield
Being bedazzled by Tiffany & Co. makes you the belle of the ball. This Tiffany & Co. marked, etched and gold-plated Smith & Wesson First Model Schofield was made in 1876-77 then embellished by the famous jeweler in the 1890s. Smith & Wesson had the largest number of firearms decorated by Tiffany at the close of the 19th century.
Smith & Wesson guns adorned by Tiffany were never duplicate models and were executed on a mostly individual basis. These guns were commissioned by D.B. Wesson who was a believer in Tiffany & Co.'s artisanship. Many of these are documented in R. L. Wilson's book "Steel Canvas: The Art of American Arms."
Tiffany & Co. guns also are included in the Metropolitan Museum of Art's collection, so you can get a Smith & Wesson regarded as a work of art. That's a pretty cool revolver.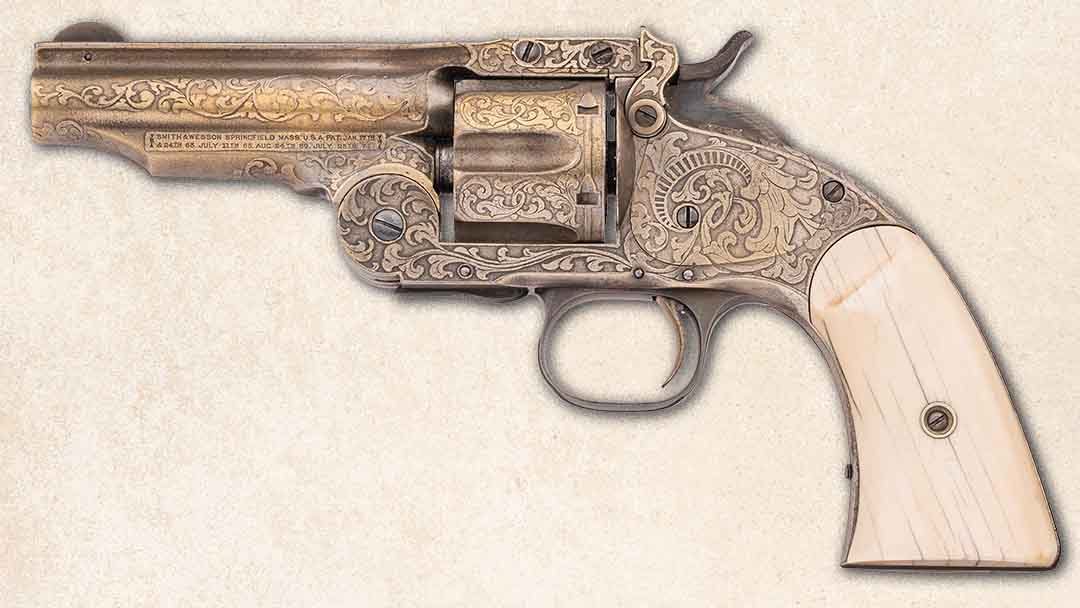 This Smith & Wesson First Model Schofield is nearly covered with floral scroll acid etched in the art nouveau style popular at the time along with Maltese crosses. The hammer and trigger guard are casehardened while the trigger and other remaining surfaces are gold-plated.
Cool Revolvers: Colt Bisley Single Action Armies Owned by Oklahoma Lawmen
Bisley revolvers, designed for shooting in the British Bisley pistol matches, have a distinct grip shape as well as lower and wider hammer spurs. This pair belonged to members of the Collins family of Oklahoma, a long line of U.S. Deputy Marshals. George Collins, who died in 1982, said in an interview that his father, Charlie Collins who was a deputy U.S. Marshal, gave him the nickel plated, pearl-gripped revolver chambered in .38 WCF when he became a deputy sheriff in 1939. The factory engraved gun served as a sidearm for three generations of Collins.
Ben Collins, an uncle of George Collins, owned the blued, Special Target Bisley chambered in .45 Colt with a shortened barrel. He was fatally shot in a revenge killing by James B. Miller during an August 1906 ambush. Miller, also known as Killer Miller and Killing Jim Miller, also killed legendary lawman Pat Garrett two years later.
The documented Colt Bisleys from a family of U.S. Deputy Marshals in Oklahoma, including one who was killed by the same man who killed Pat Garrett, and a rare .45 caliber chambering for a Bisley makes these guns extremely rare, highly collectible and definitely cool revolvers.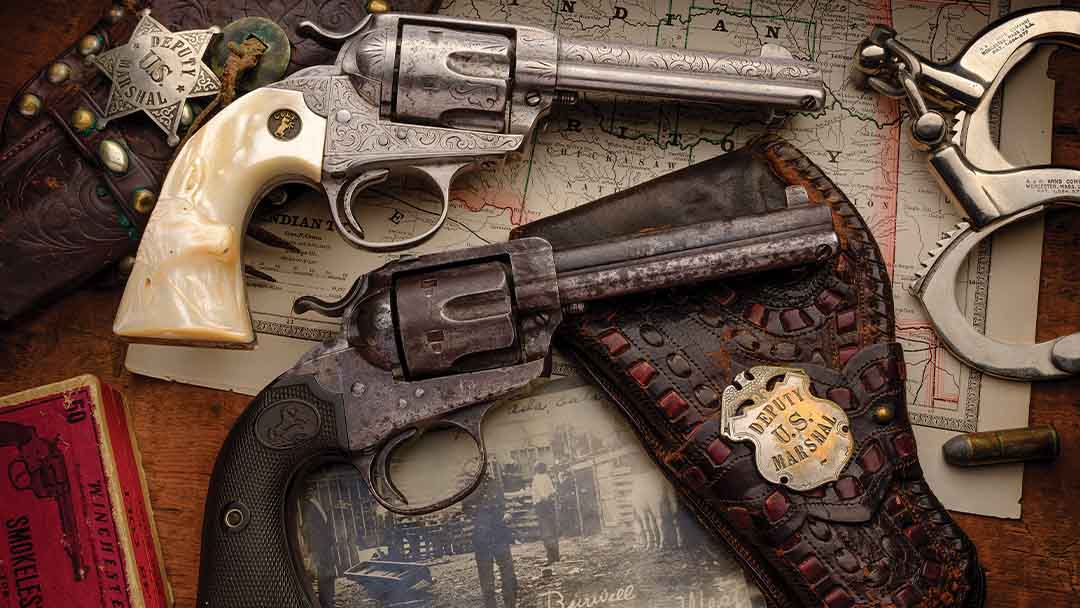 These Colt Single Action Army revolvers are both Bisley models. The top revolver, chambered in .38-40, with a 4 3/4-inch barrel is nickel-plated and has factory engraving and pearl grips. The Bisley below is one of only 97 chambered for .45 caliber and shipped in .45 caliber with a 7 1/2-inch barrel that was shortened and had a blued finish. It is accompanied by a dark leather single loop holster.
Cool Revolvers: A Police Chief's .357 Registered Magnum
Winnetka, Illinois Police Chief W.M. Peterson registered his Smith & Wesson Registered Magnum double action revolver after it was shipped in April 1937 with a six-inch barrel.
Peterson was the first full-time police chief of Winnetka, a suburb of Chicago. He served in the position for more than 30 years, a period that spanned both world wars (1913-1945). Before Peterson, the police organization was a part-time marshal and four officers. Included with the revolver is correspondence between Peterson and notable law enforcement members. A letter from FBI Director J. Edgar Hoover congratulated Peterson on being elected vice president of the Association of Chiefs of Police. Other letters are related to investigations of Third Reich and communist sympathizers.
This Registered Magnum shows the wear of a well-cared-for police sidearm with its bluing, and is accompanied by its registration card and letters from significant law enforcement figures of the day to make it a cool revolver.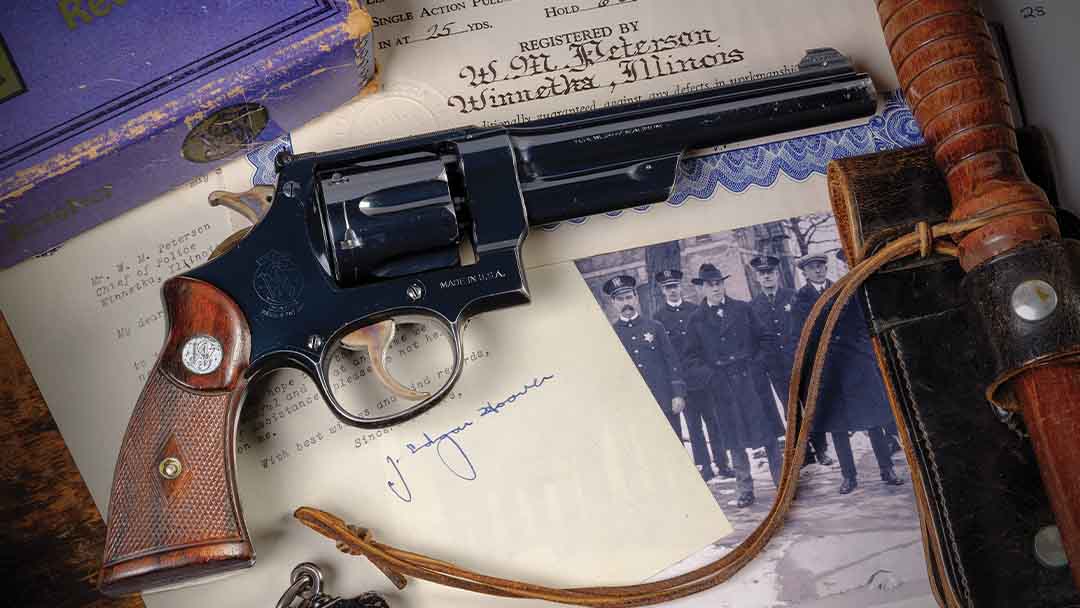 The Registered Magnum of Winnetka Police Chief W.M. Peterson was manufactured with a six-inch barrel one of only 839 made with that configuration. It has a blued finish square notch rear sight and checkered walnut Magna grips and is accompanied by the original registration certificate.
Cool Revolvers: Civil War-Era Butterfield Army Model
Philadelphia gunmaker Jesse Butterfield's revolver relied on a patented priming system that fed priming discs from a spring-loaded tube to fire .41 caliber ammunition. He was commissioned to make revolvers for the "Ira Harris Guards" of the 5th New York Cavalry for the Civil War, but didn't actually have a contract with the U.S. Ordnance Department.
Butterfield made between 590 to 640 of the revolvers but was unable to sell them, even offering them for $1 at the close of the Civil War. This revolver is serial number 267.
Jesse Butterfield was an innovative gunmaker but a terrible businessman. He simply couldn't sell his namesake firearm – an innovation that never took hold — during a war, and that makes it a cool revolver.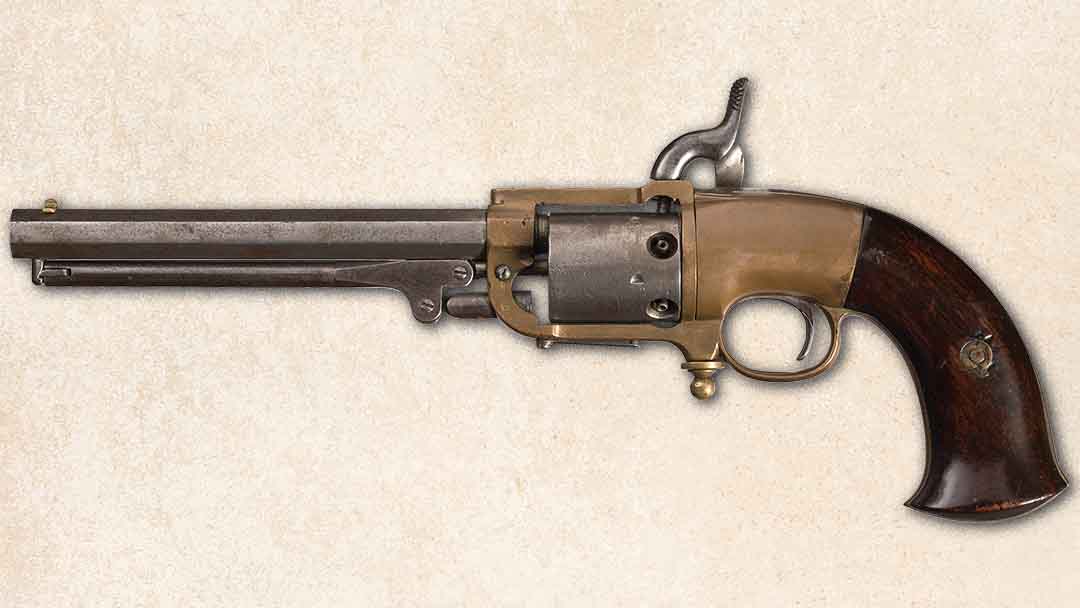 This brass-framed Butterfield Army Model is chambered in .41 caliber. The gun came at a time when self-priming guns were popular for being able to fire more rapidly, waterproof, and having surer ignition.
Cool Revolvers: NRA Executive's Smith & Wesson K-32 Masterpiece (Pre-Model 16)
Frank L. Wyman was a well-known pistol shooting competitor who served as Secretary of the National Rifle Association for many years and also director of the program division until he retired in 1966. This Smith & Wesson was given to him at his retirement.
This K-32 Masterpiece has an 8 3/8-inch barrel that was fitted at the factory likely at the request of Wyman. The revolver originally shipped with a 6-inch barrel. Only 3,630 K-32 Masterpiece revolvers were manufactured over 26 years starting in 1947.
The provenance of Wyman, as secretary of the National Rifle Association and a significant figure in pistol shooting circles of his time, along with its extended factory barrel and jaw-dropping condition, makes this a surprisingly cool revolver.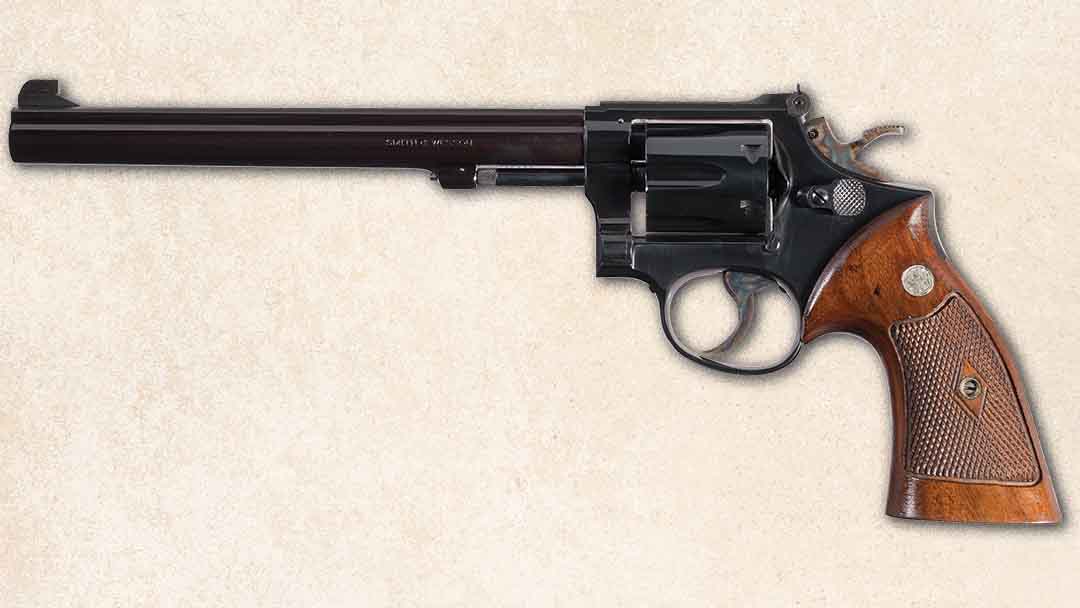 This revolver is the rarest of the standard K-Masterpiece series, has a factory-fitted 8 3/8-inch barrel, and comes with a presentation case with royal purple lining that was attributed as a retirement gift for NRA Secretary Frank L. Wyman.
Cool Revolvers for Sale
Revolvers don't all have to be extremely rare, have an epic history, or high condition to be cool. They just have to have that special something like a fascinating story or a technological innovation, whether it succeeds or fails, to set it apart and make it cool. All of the above-mentioned revolvers have that undeniable cool factor and they are available in Rock Island Auction Company's Dec. 8-10 Premier Auction.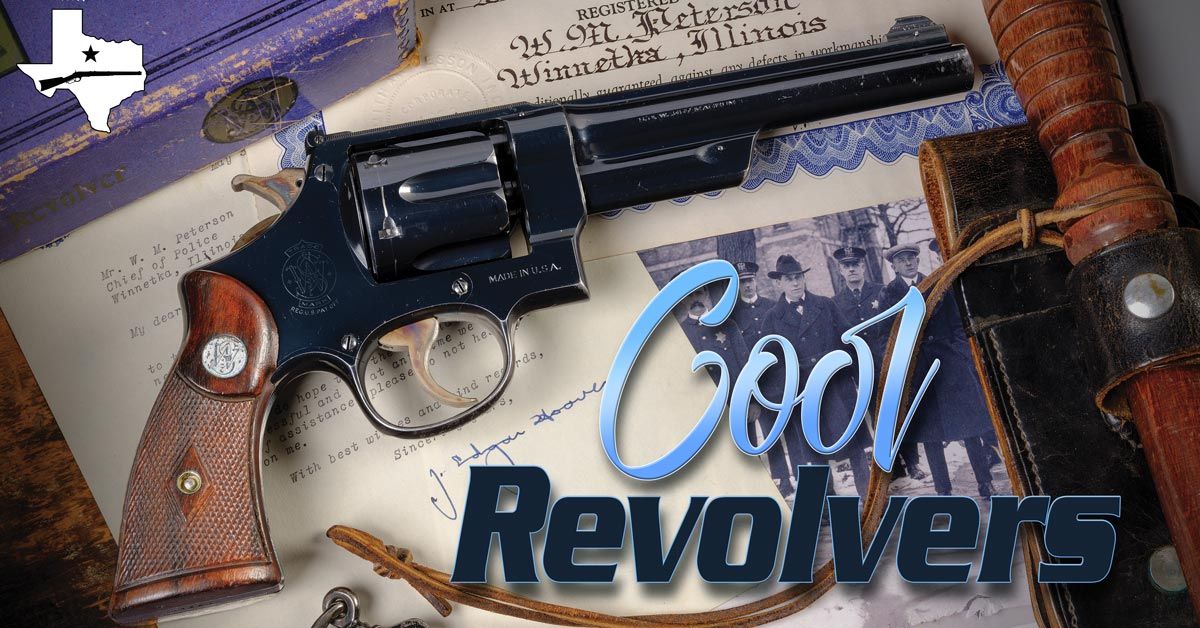 Rock Island Auction Company