Rock Island Auction Company's gun auctions are always a jackpot for gun lovers of every stripe, featuring an unmatched bounty of rare and historic firearms. With so many genres and eras to choose from, it can be tough for an arms collector to narrow down their favorites, so today we're looking at 10 of the coolest guns from RIAC's February 14-17 Sporting & Collectors Auction.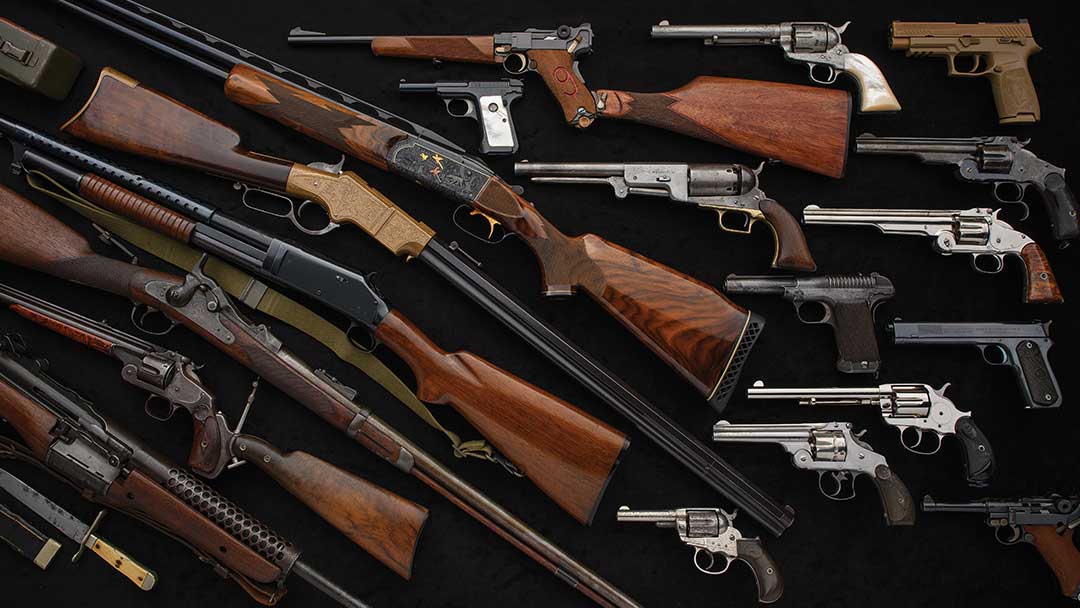 All genres are available at Rock Island Auction Company, from vintage to modern, from centerpiece models to used guns ready to be fielded for the next generation.
The 10 examples below represent an eclectic mix of wish list favorites and rarely-seen guns that would fill out any serious firearms collection. In short, an assortment of some of the coolest guns you'll find anywhere, and just 10 more reasons to participate in RIAC's February event.
The Colt Walker
As cool guns go, it doesn't get much better than the king of the black powder revolvers. A hefty upgrade from its Paterson predecessor, the Colt Walker was the most powerful black powder revolver in history, firing a .44 caliber ball with a 60 grain maximum powder load. This impressive power was one of the features requested by Captain Samuel Hamilton Walker when he commissioned Colt to design a weapon that would aid the Texas Rangers on the battlefield, and Samuel Colt delivered a powerhouse of a gun.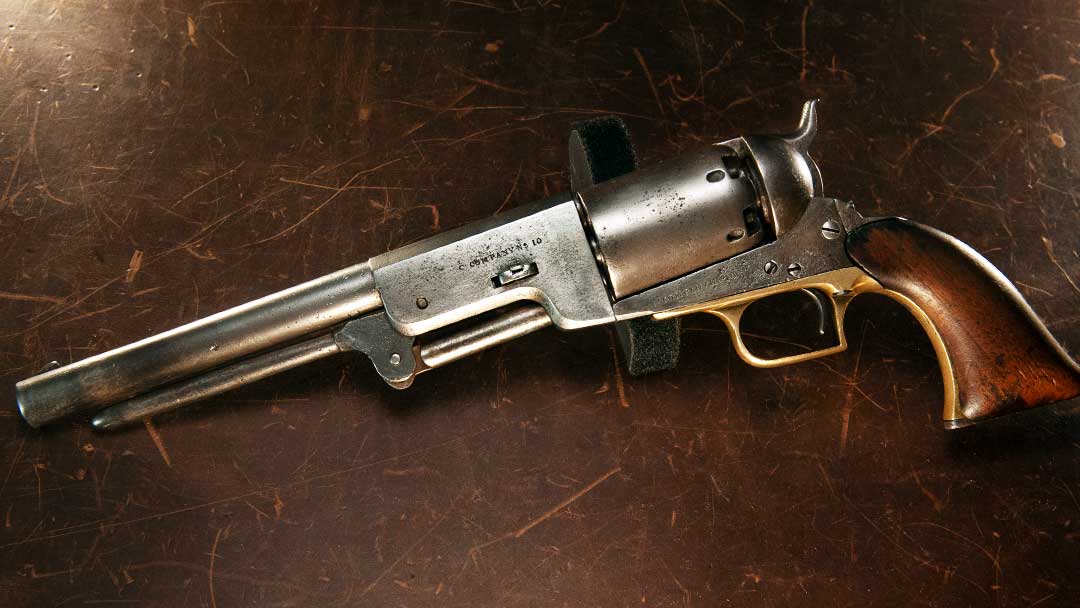 A rare and historic C Company U.S. Colt Model 1847 Walker percussion revolver, the true big iron of its day.
The Colt Walker pictured above was included in the famous Parade of Walkers by the Texas Gun Collectors Association in 2003. Only 1,000 of the historical U.S. martial contract Colt Walker revolvers were manufactured in 1847. Included information from collectors lists this revolver as the oldest Colt Walker with matching serial numbers, including a statement from writer John C. Galle calling it "the oldest intact (all matching serial number) six-shooter in the world." To date RIAC has not sold an older intact example and is unaware of any currently in the marketplace.
The RPBport Arms M10 Machine Gun
Shifting gears, we have what can only be described as a machine gun lover's masterpiece. What do you get when you take the frame of a factory original RPB open bolt semi-automatic pistol, upgraded it to fully automatic, and fit it out with a Lage receiver? The RPB/Port Arms M10, one of the coolest guns in a surprising assortment of Class III arms offered this February.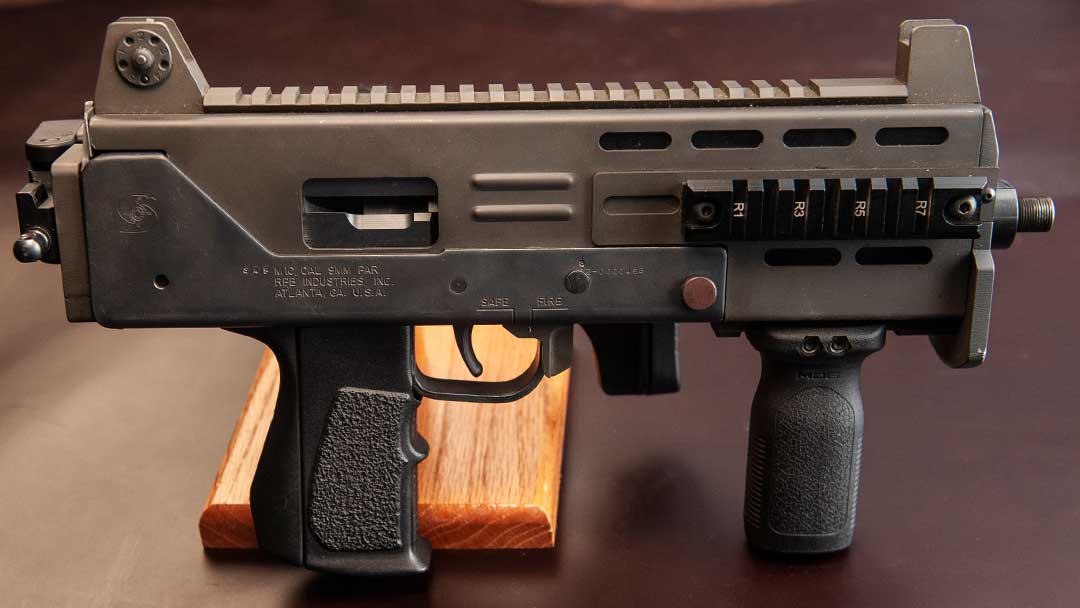 If cool guns are your thing, the RPB Industries/Port Arms M10 submachine gun might check the right boxes.
While RPB was not the original maker of the MAC M10, they took over when Military Armament Corporation shut down. In essence, the frame of this gun is an "original" MAC. Sometime later, Port Arms did the mod work with the full auto conversion, creating an opportunity for a determined collector to own a piece of the MAC 10's 9mm shooting legacy at a more attainable price point.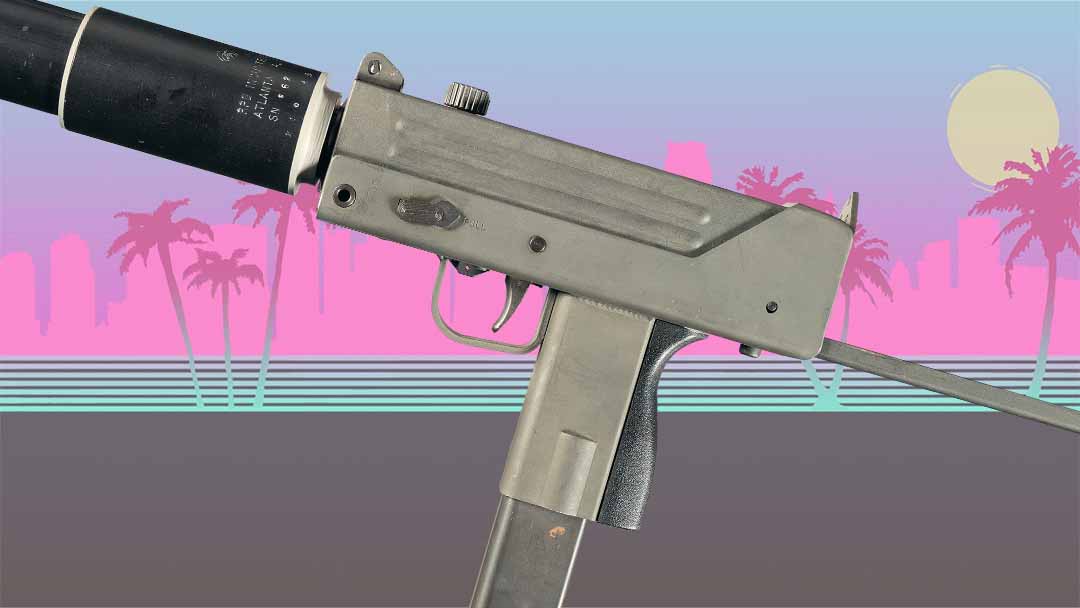 Mitchell WerBell's company invented the Street Sweeper and the MAC 10, two of the coolest guns from 80s action films.
The Whitney Wolverine
If the MAC 10 design represents the gung-ho style of 80s action cinema, the Whitney Wolverine's sleek aesthetic encompasses the Atomic Age three decades earlier. The Whitney Wolverine was conceived as an advanced semi-automatic pistol with an aluminum frame and a futuristic profile.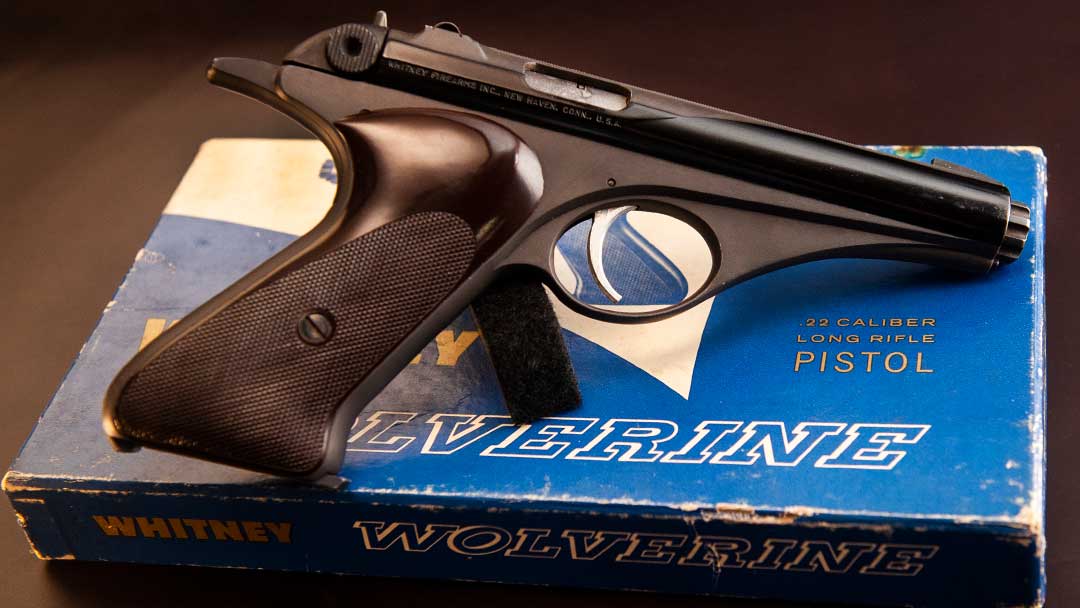 There are cool guns, and then there's the singular Space Age aesthetic of the Whitney Wolverine.
Dubbed "The Lighting Model" and advertised as the "world's fastest pointing handgun," there's no doubt that the Whitney Wolverine is a gorgeous piece of engineering with a standout look. With only about 13,000 of these space-age pistols produced, the Whitney Wolverine has become a popular and desirable collector arm today and a top candidate on any list of coolest guns for firearms fans looking for a fun plinking pistol.
The Smith & Wesson .357 Registered Magnum
Going back further still, we find one of the coolest guns from the 1930s, when powerful revolvers ruled the market. The vaunted Smith & Wesson Registered Magnum was the first production gun to fire the .357 Magnum cartridge and was offered as a high-end, customizable revolver with a focus on quality.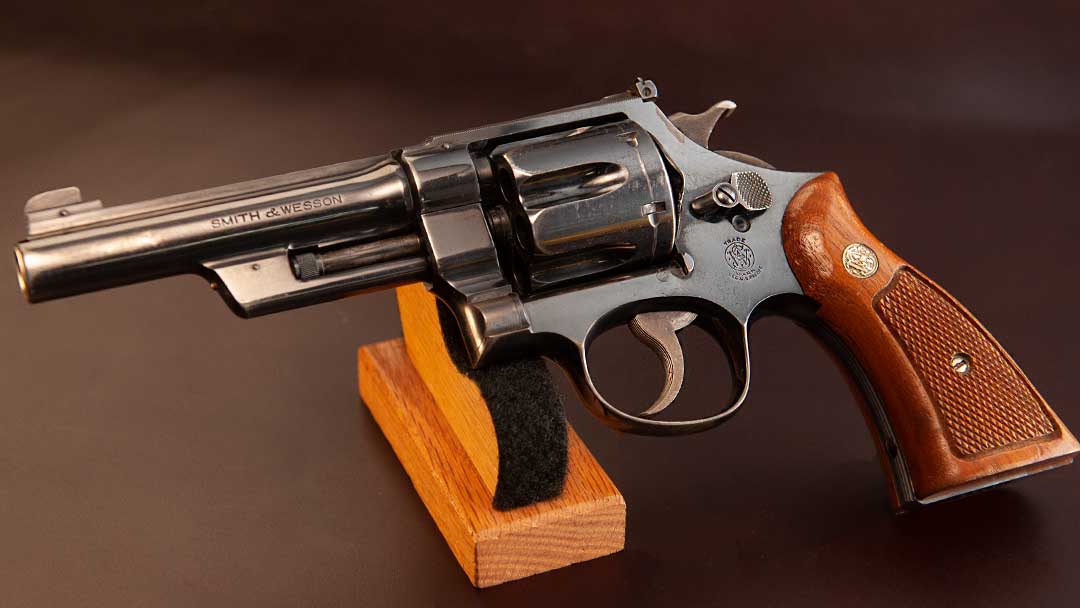 A Registered Magnum revolver, one of only 5,224 sold by Smith & Wesson between 1935 and 1939.
The Registered Magnum pictured above was shipped on October 28, 1936 to the Shapleigh Hardware Company of St. Louis, Missouri and is marked with registration number "1539" inside the crane.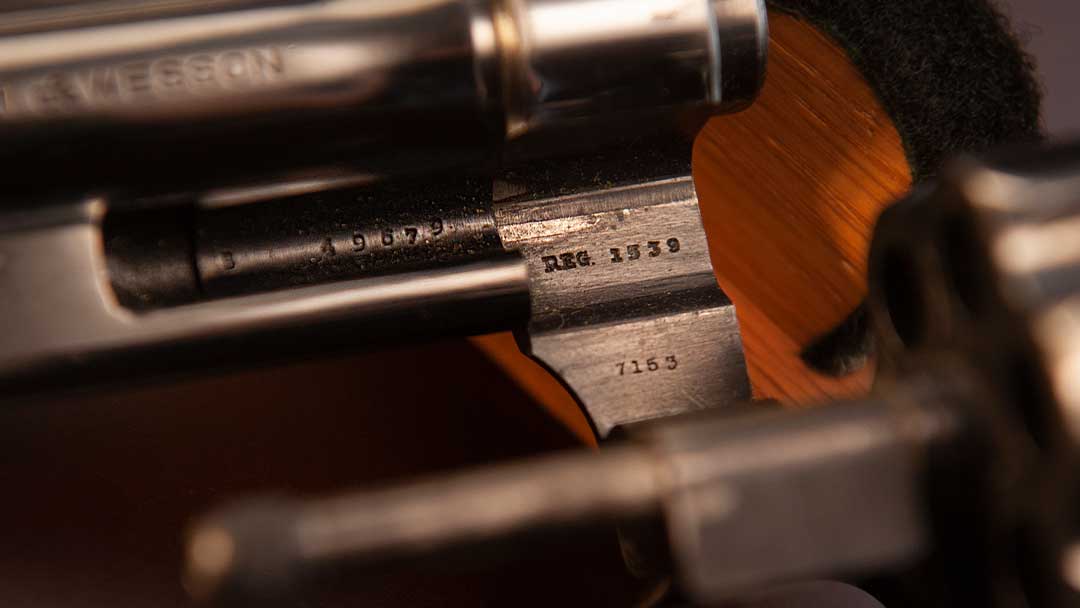 A Smith & Wesson .357 Registered Magnum revolver. Registration number 1539.
Each Registered Magnum came with a registration card that the buyer could mail back to Smith & Wesson to obtain a registration certificate, a guarantee of quality from S&W. Only 5,224 of these premium revolvers were offered. The model's rarity combined with its remarkable quality puts the Registered Magnum on the bucket list for every revolver collector and earns the classic American sixshooter a nomination for one of the coolest guns of its period.
The Ithaca Auto & Burglar
A one-handed shotgun might seem like overkill, but there's no denying that the Ithaca Auto & Burglar is an intimidating sight. In the early 20th century, personal protection was a high concern for truck drivers and couriers who spent long hours on the road. The Ithaca Auto & Burglar was more potent than a standard handgun but easier to maneuver than a full-length shotgun in a bedroom or a car and could be strapped to a steering column, nightstand, or desk. In short, a brutally effective self-defense weapon that could appeal to both travelers and homeowners alike.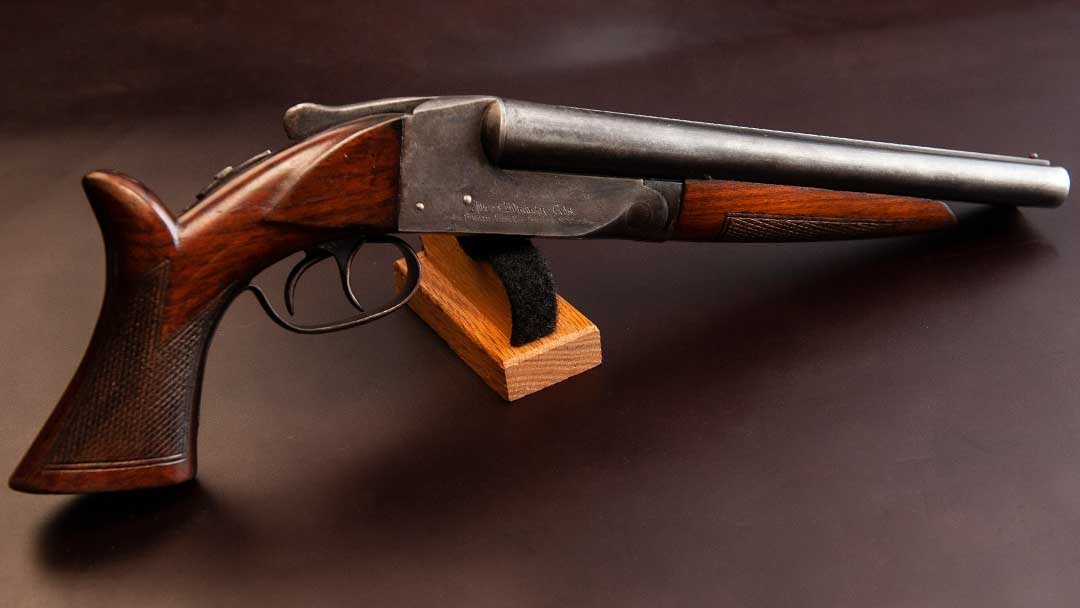 The short-barrel double gun qualifies as an AOW due to its classification a smoothbore pistol.
One of the coolest guns for both its history and fearsome appearance, the Ithaca Auto & Burglar example featured here is an early Model A with a spurred grip, produced for only three years before the Auto & Burglar Model B was introduced.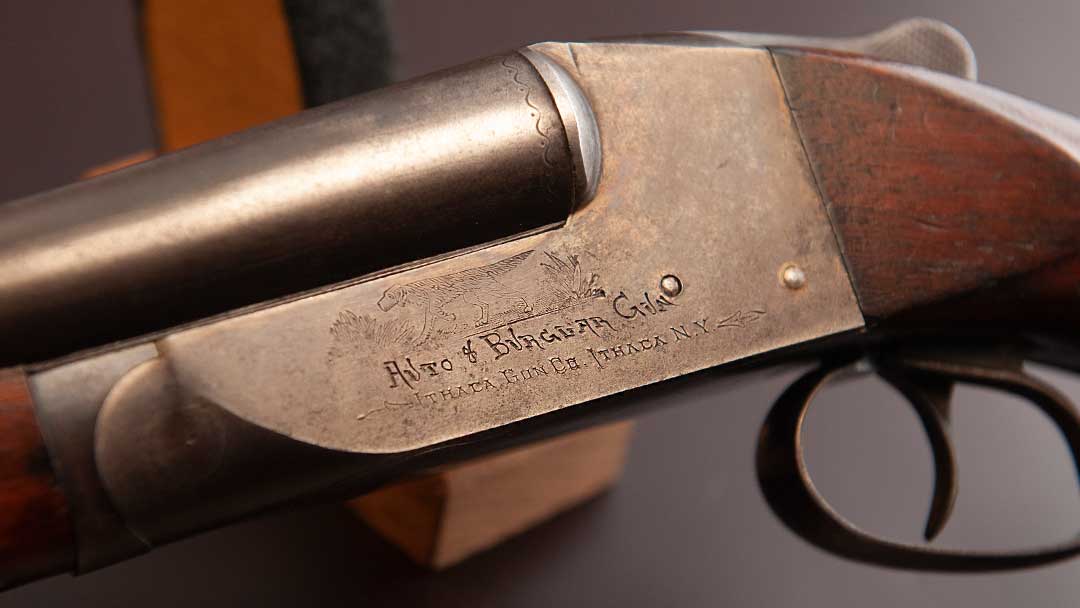 The Ithaca Auto & Burglar Model A, one of the coolest guns intended for home defense.
While mainly chambered for 20 gauge shells, these four-pound close-combat firearms could also be ordered in .410 bore, 28 gauge, and 16 gauge. After a run of more than 13 years, the Ithica Auto & Burglar Model was discontinued with the passage of the National Firearms Act in 1934 and the expensive new tax stamp requirement.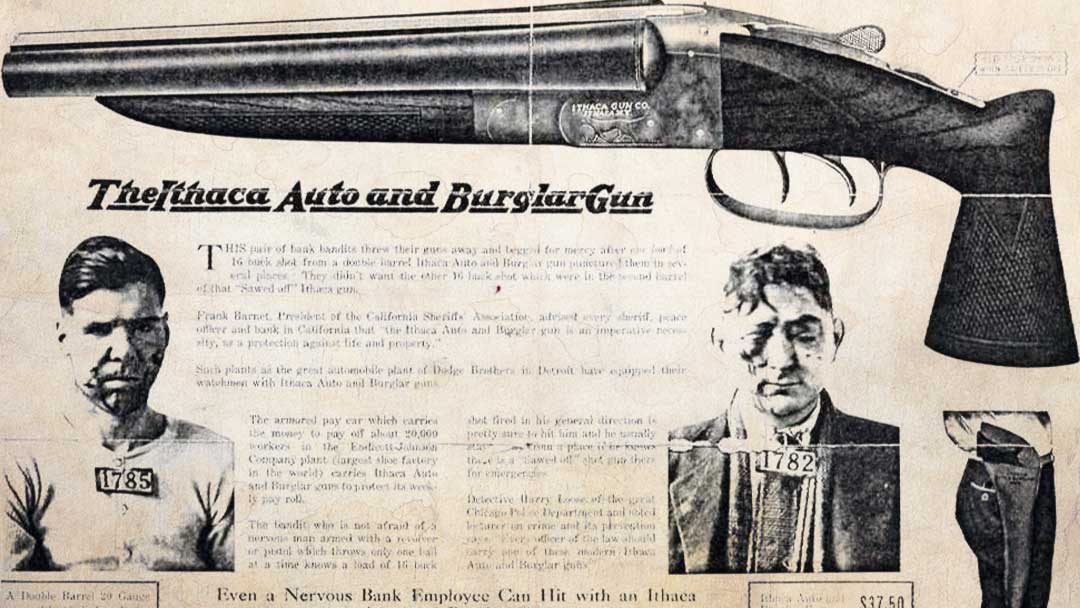 A pair of stick-up men look worst for wear after crossing paths with an Ithaca Auto & Burglar pistol. Like the advertisement says, "Even a Nervous Bank Employee Can Hit with an Ithaca Auto and Burglar Gun."
The LeMat Revolver
Revolver? Shotgun? Why not two-in-one? Some of the coolest guns came out of the Civil War era, and this unique Confederate revolver was no exception. The LeMat revolver stored nine black powder pistol rounds with an additional smoothbore "grapeshot" barrel below. This unconventional design offered the LeMat two distinct firing modes that could be alternated by toggling a movable firing pin on the hammer.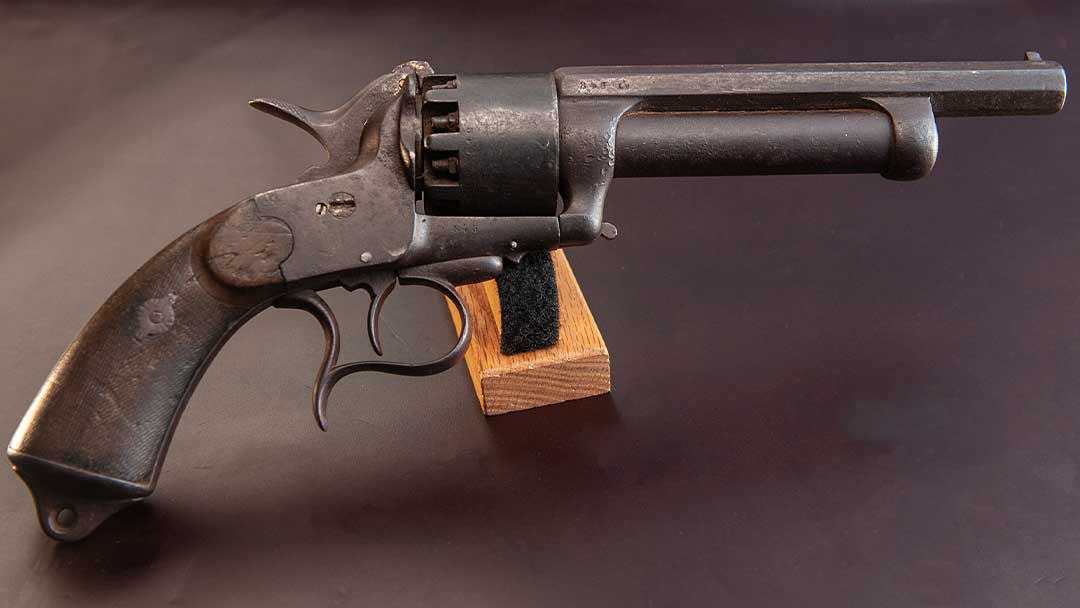 The LeMat revolver, one of the coolest guns in Civil War collecting.
The LeMat has been recently featured in HBO's 'Westworld' and the popular video game 'Red Dead Online'. Despite its heavy weight and slow reload time, the LeMat was favored by Southern officers in the Civil War, including General Braxton Bragg, General P. G. T. Beauregard, and General J.E.B. Stuart, the latter who carried a LeMat revolver when he was mortally wounded at the Battle of Yellow Tavern in 1864. Surviving LeMats are comparatively scarce due to their limited production run and heavy use during combat, making examples like the revolver above a highly sought-after collector's piece.
The Winchester Model 1897 Trench Shotgun
As cool guns of WW1 go, the Trench gun's larger-than-life reputation is unmatched. Recently featured in 'Captain America', 'Wonder Woman,' and the '1923' Yellowstone series, the Winchester Model 1897 shotgun's shorter barrel made the weapon more maneuverable in the confined spaces of trench warfare. The Model 1897's lack of trigger disconnector allowed this combat shotgun to be slam-fired as well, enabling a trained soldier to empty their trench gun in seconds, and its bayonet lug and heat shield gave the weapon a fearsome and unmistakable look.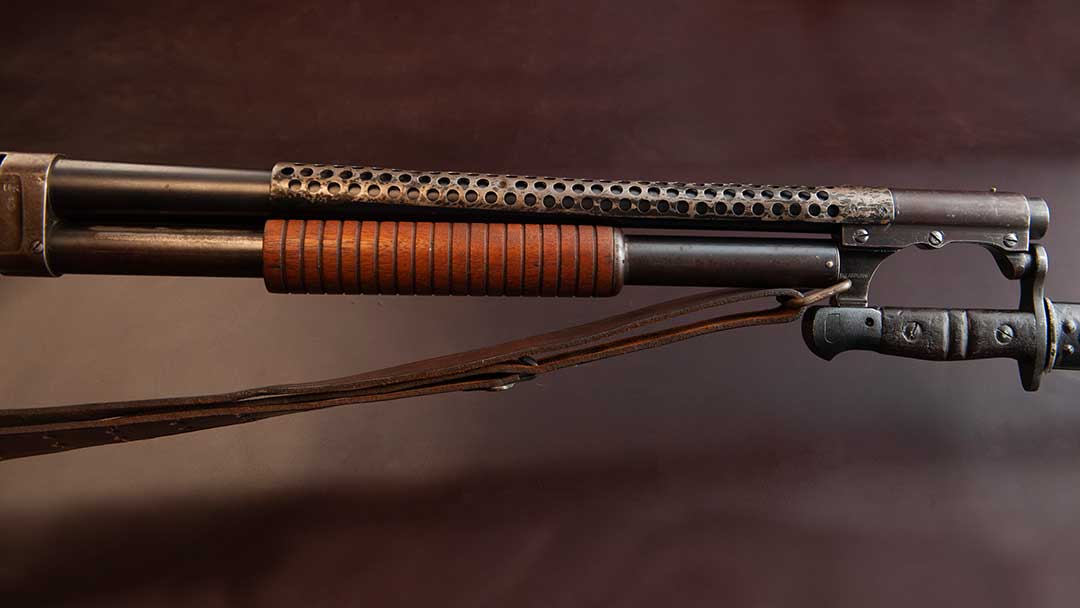 A World War I era U.S. marked Winchester Model 1897 trench shotgun. Nicknamed the "Trench Sweeper", this WW1 shotgun was feared by the Germans, who issued a diplomatic protest to America claiming that the weapon caused "unnecessary suffering."
The example above is a 1918 manufactured, U.S. marked Winchester Model 1897 trench shotgun that includes a brown leather sling, a bayonet, and a leather scabbard. Not only one of the coolest guns in the military arms genre, these devastating trench sweepers have become a hot commodity across the entire gun collecting field today.
The Beretta 92FS Billenium Pistol
Many of the coolest guns featured above are found in scarce numbers, and the Beretta 92FS Billenium pistol is no exception. "We wanted a commemorative for the new millennium that wasn't just collectible, but shootable," the company stated when the limited run of 2,000 pistols was announced. With its all-steel frame, stunning nickel finish, and carbon fiber grip, the Beretta 92FS Billenium has a distinctly gorgeous aesthetic with an equally stylish case.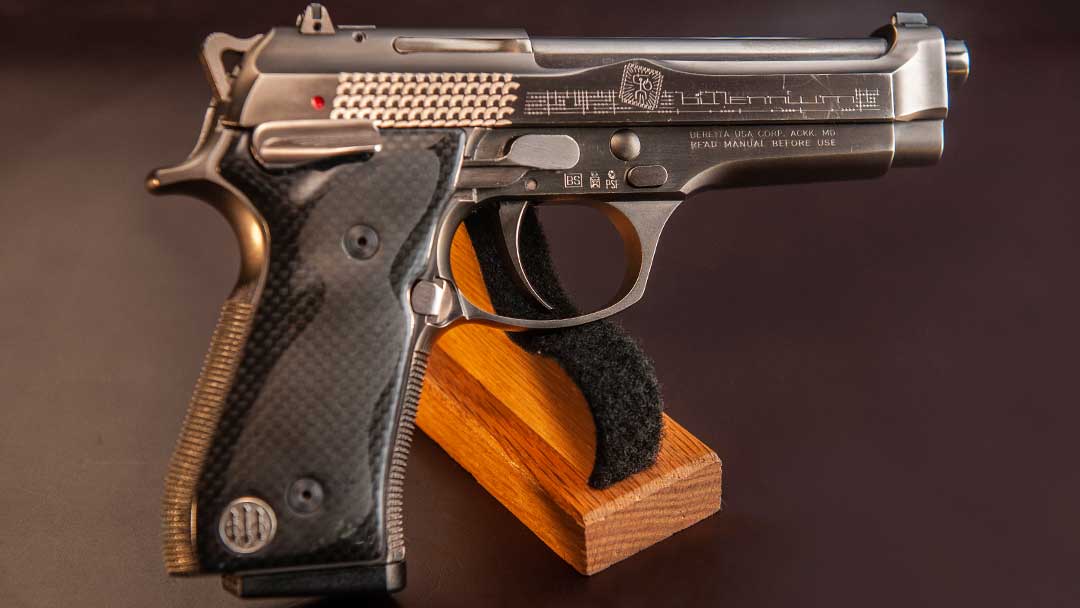 One of the coolest guns for aesthetics alone. In addition to its case, the Billenium example offered by Rock Island Auction Company includes three extra magazines and extra sights.
In addition to its handsome appearance, the Beretta 92FS Billenium includes a combination of features that sets it apart from its predecessors as well, including a frame-mounted safety, a single action trigger, a wider slide, a skeletonized hammer, and a checkered front and back strap. Out of the many iterations of the Beretta 92, the Billenium is a clear standout, an exclusive pistol designed to perfect the model both cosmetically and functionally while still appealing to fans of one of the most ubiquitous movie guns of the 1980s.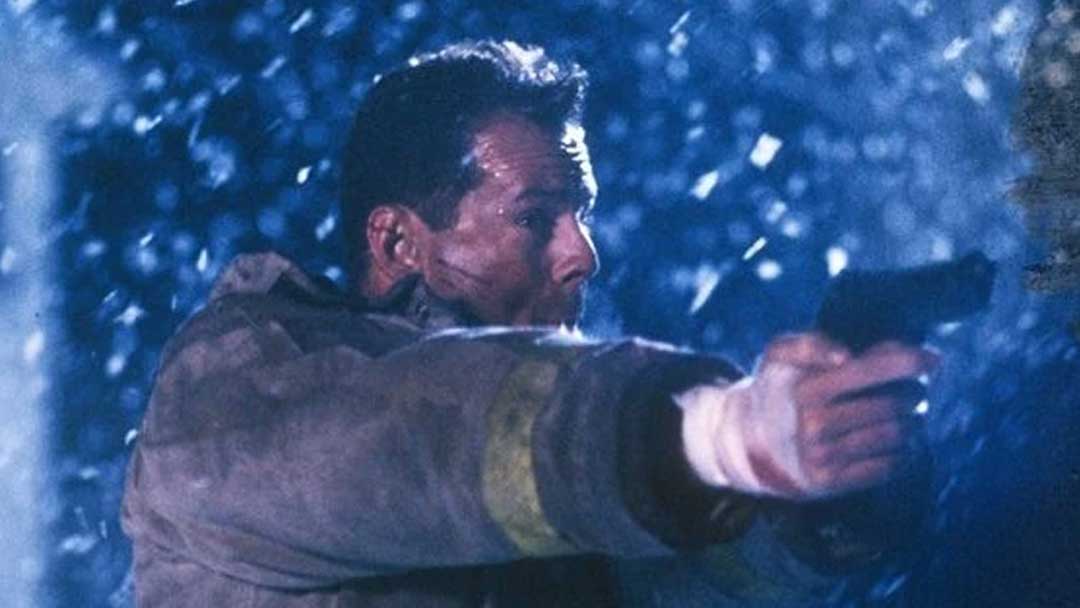 John McClane saves Christmas with his Beretta 92FS in 'Die Hard 2.'
The German Luger
Georg Luger's creation is often called the most famous pistol in history. Captured Luger pistols were considered valuable war trophies for the Allies in both World Wars. Today, popular media exposure, including countless WW2 films and video games, have kept the desirability high for this iconic pistol, one of the coolest guns in modern warfare.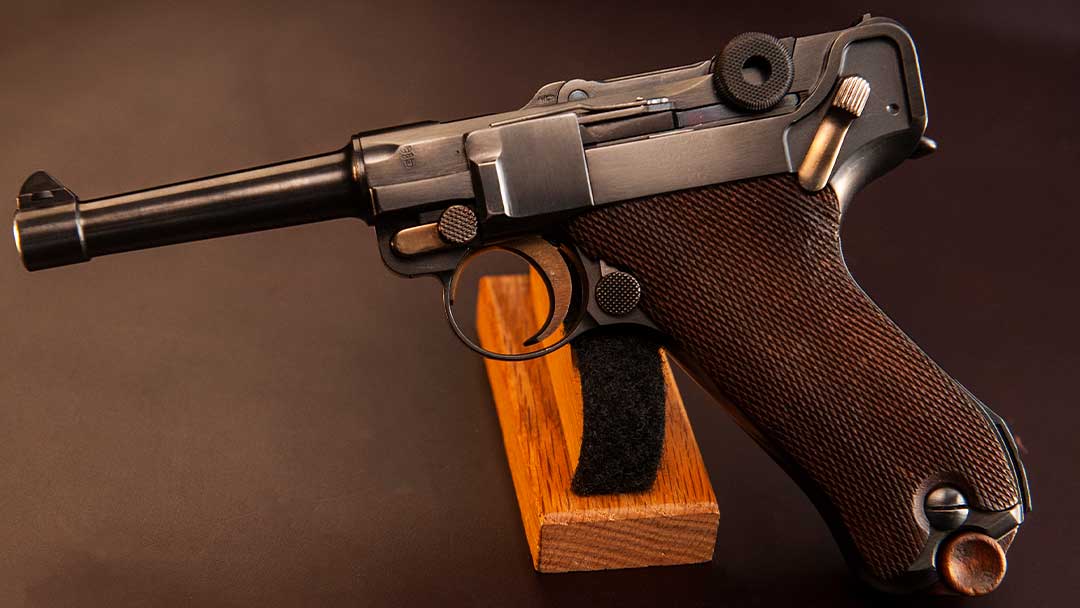 This Mauser Luger Model 1934 Police pistol displays near perfect bluing and features a DWM marked toggle. Includes a 1941 dated A. Fischer police pattern black leather holster.
The Luger was manufactured in numerous variants, including the Mauser Luger Model 1934 Police pistol pictured above. These Mauser Luger Model 1934 Police pistols have a mix of both leftover parts from the DWM factory and new production Mauser parts that were assembled to fulfill some early 1930s small contracts for commercial sales and early German Police and Army contracts.
On page 350 of the book 'The Mauser Parabellum' by Hallock/Van De Kant, the authors identify a small block of 90 Lugers as the first block of pistols issued to the early Nazi Police in the serial number range of 33v-1332v, which they termed 1934 Oberndorf Models. The pistol featured above is serial number 1332v, marking it the last in this historic issue.
The Sharps Rifle
One of the coolest guns of the Civil War, as well as one of the most historic, the Sharps rifle was the longarm of choice for the Union's elite marksmen. Known as 'Berdan's Sharpshooters,' this green jacketed regiment of volunteers left a lasting legacy on small unit tactics and modern warfare. The Sharps rifle proved well suited for the role of testing an enemy's strength, slowing advances, picking off officers, and harassing a retreating foe.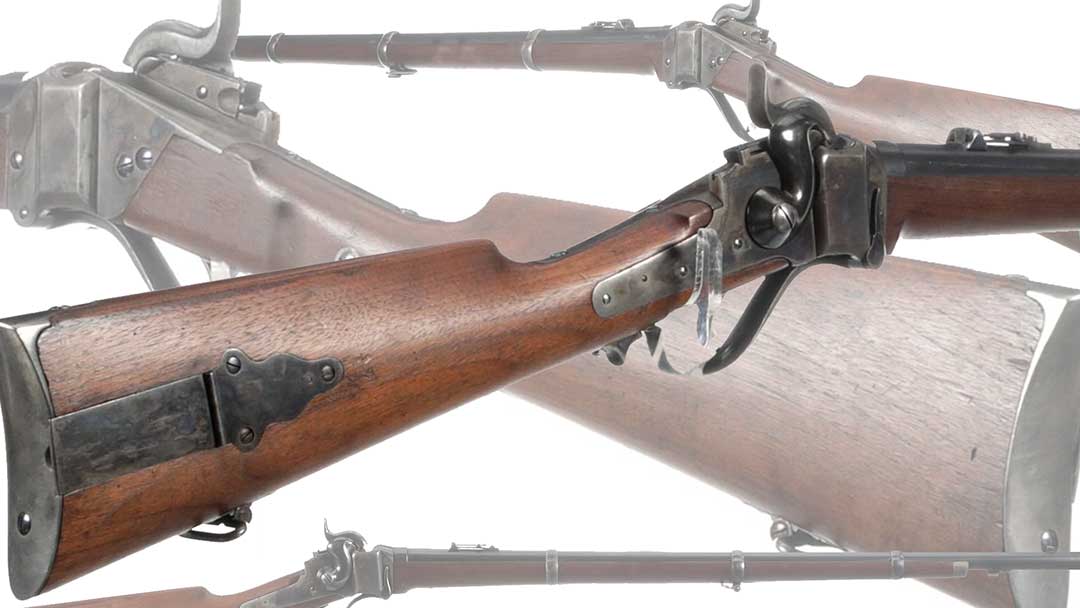 Civil War-era Sharps New Model 1863 military percussion rifle.
The arms used by these legendary units of Civil War marksmen have long been desirable to collectors, with examples like the New Model 1863 featured above being one of the rarest and most desirable. After the Civil War, the various Sharps rifle and carbine models went westward and continued to serve the Union in the Indian Wars, as well as being shouldered by countless cowboys, hunters, outlaws, and gangs who roamed the frontier. Today, the Sharps lives on in popular Westerns like 'True Grit' and 'Quigley Down Under.'
Find the Coolest Guns at Rock Island Auction Company
RIAC's Sporting & Collector Firearms Auctions are known for offering an abundance of historic firearms, vintage militaria, and a jackpot of top-tier wish list weapons, so even if these 10 selections for coolest guns aren't your style, February's auction includes thousands of firearms for every level of gun collecting.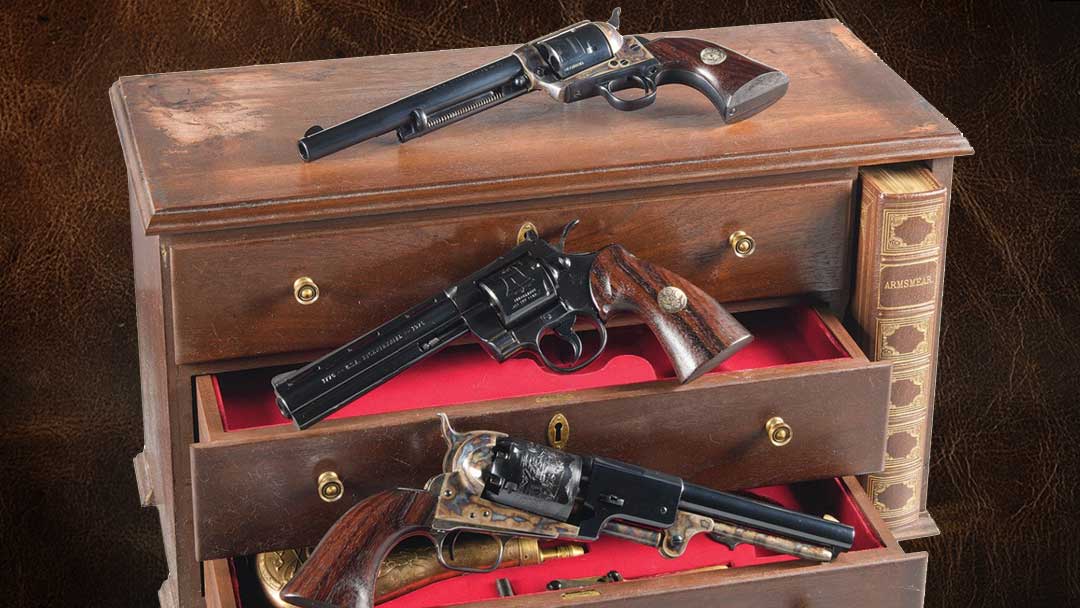 A cased Colt United States Bicentennial three revolver set containing three of the coolest guns in the collecting pursuit: The Single Action Army, the Python, and the Dragoon.
At Rock Island Auction Company Preview Days, you never know what you'll find populating the countless rifle racks and glistening display cases spanning RIAC's vast Preview Hall. Imagine thousands of affordable antiques, Wild West revolvers, classic sporting and hunting arms, and military rifles from every era that can all be examined firsthand. It's the best gun show you've never been to, an experience designed for the gun lover, and it's absolutely free to attend when RIAC's Preview Hall opens for exhibition on Monday, Feb 13th at 9 a.m.
Two of the coolest guns for any milsurp collector, a consecutively serialized pair of documented U.S. Army issued SIG Sauer M17 pistols with FOIA Letters and boxes.
Subscribe to the Rock Island Auction newsletter for weekly gun blogs and gun videos on some of the finest, unique, and coolest guns around. From the Volcanic pistol, the Gyrojet, the cane gun, the gun knife, and the bizarre punt gun megafowler, we take a deeper look at every corner of the gun-collecting pursuit.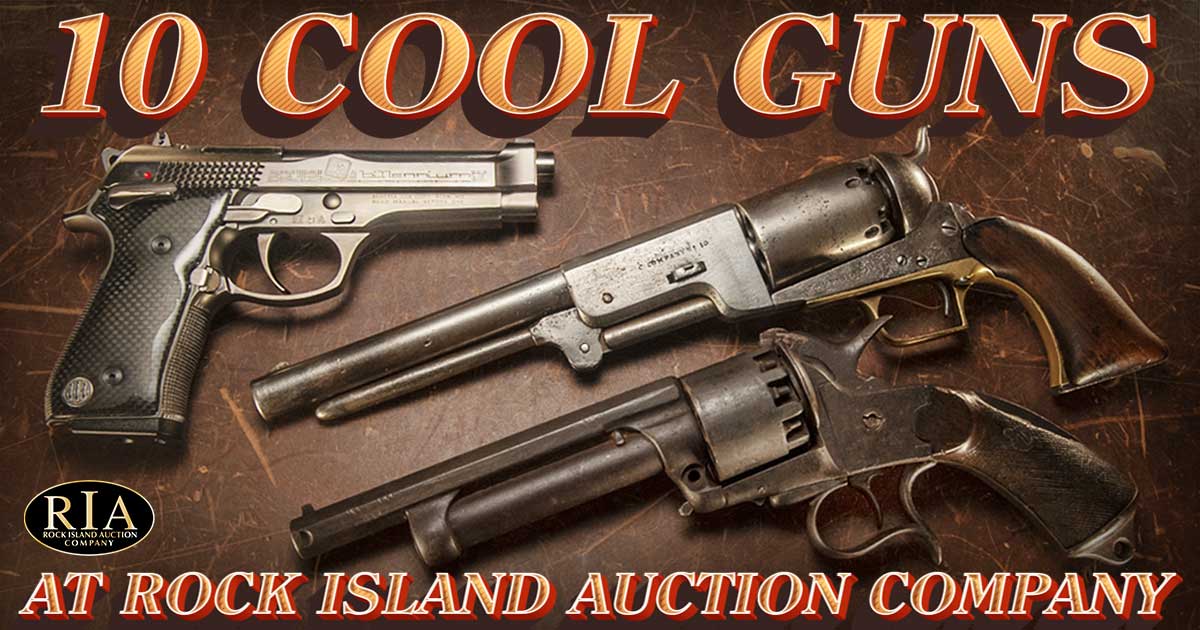 Rock Island Auction Company