Daniel Edgar Sickles might've been the worst best American of the 19th century.
He was a Gettysburg general, cad, whoremonger, congressman, accused thief, killer, Civil War hero, fraudster, and battlefield conservationist. To call  him a controversial figure of history is an understatement.
A Union general in the Civil War, he often found himself at odds with his commanders and made tactical errors that cost Federal forces dearly at Gettysburg. After the Civil War he became a true champion of preserving the Gettysburg battlefield and pushing for national park status. A gilt presentation Tiffany & Co. Knight Pommel Dress Officer's Sword with silver grip and gilt scabbard inscribed to Sickles, an inscribed cane, and a cased and factory engraved Colt Model 1855 "Root" Percussion Pocket revolver with monogrammed grips inscribed to Sickles will be offered separately in Rock Island Auction Company's Dec. 9-11 Premier Auction.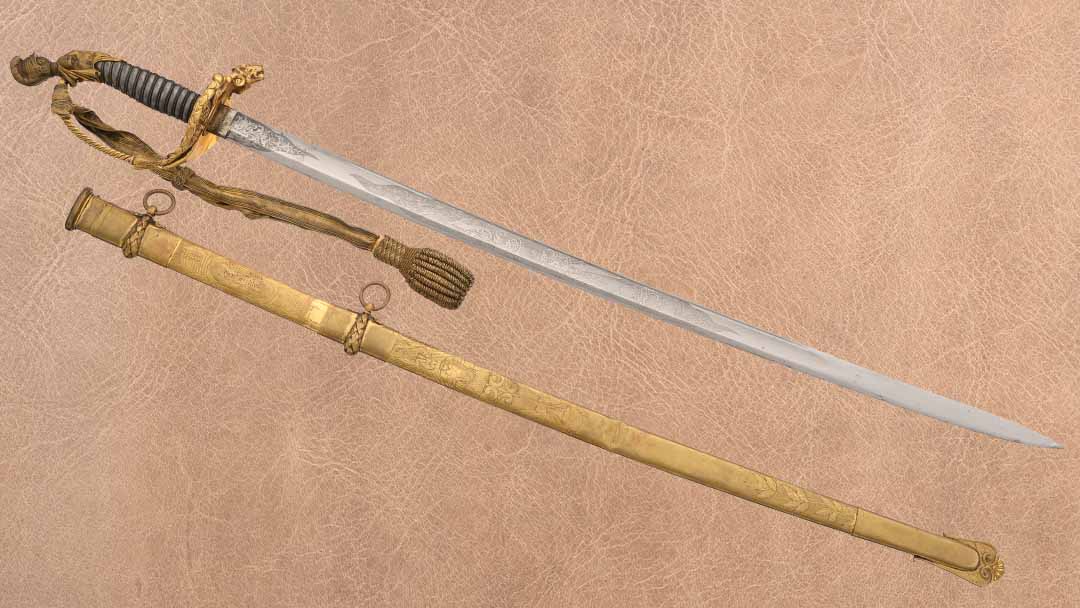 A Tiffany & Co. Knight Pommel Dress Officer's Sword with silver grip and gilt scabbard inscribed to Daniel Sickles along with a cased and factory engraved Colt Model 1855 "Root" percussion revolver presented by Colt Manufacturing will be on offer in Rock Island Auction Company's Dec. 9-11 Premier Auction.
The sword is inscribed with the year 1861, as Sickles was getting his brigade up and running. The ivory handled cane was presented to Sickles after he lost his leg at the Battle of Gettysburg, and reads "Presented to/Maj Gen. Daniel E. Sickels/by P.D. Kildruff,/Jan. 8th 1864." The revolver is known to be manufactured in 1867 and presented by Colt Manufacturing. Unfortunately, except for the dates on the sword and cane, no other information is available regarding where and how they were presented.
Daniel Sickles' Early Bad Behavior
Sickles was born in 1819 — or 1825, depending on the source. Trained to be a lawyer, he hung out his shingle as an attorney in the early 1840s and was soon known for his questionable business tactics and ethics, accused of stealing, obtaining money under false pretenses, stealing from the post office, and taking money meant for a political pamphlet. Part of the Tammany Hall political machine in New York City, he was linked to ballot tampering, bringing in voters from other districts, brawling, and more theft. For his efforts he was named New York City Corporate Counsel.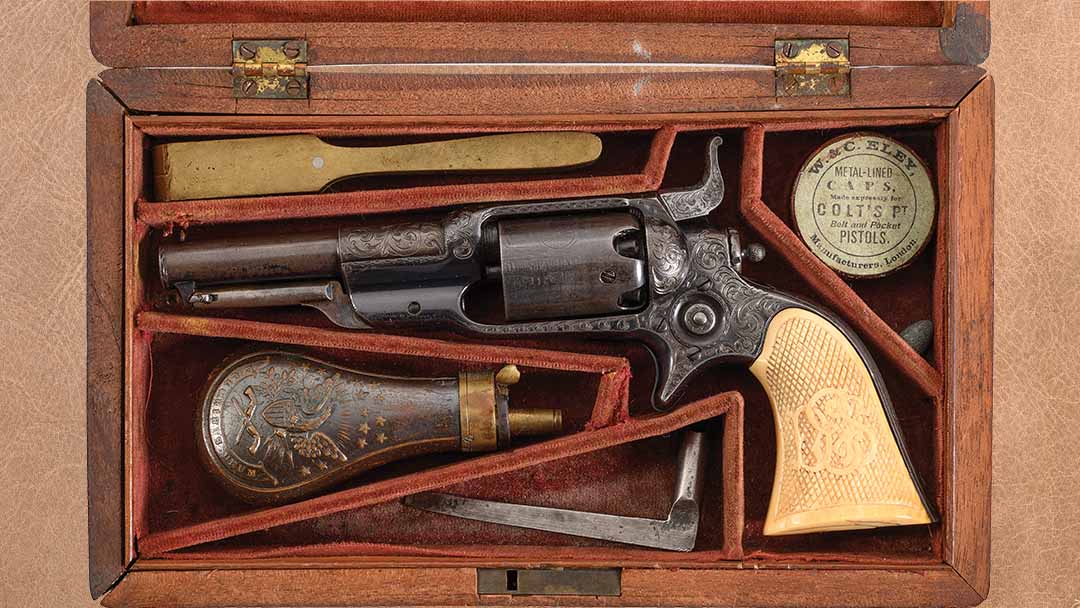 One-time congressman and Civil War general Daniel Sickles was presented with a Colt 1855 "Root" percussion revolver by Colt Manufacturing Company. The gun was made in 1867, nearly a decade after he was tried and acquitted of fatally shooting his wife's lover in Lafayette Square, across from the White House.
In 1852, he married Teresa Bagioli, who was a teenager at the time and he was 33. He was known to be carrying on with a well-known prostitute of the era named Fanny White. Sickles took a position under future president James Buchanan in the U.S. embassy in London, leaving his young pregnant wife at home. During that time he escorted Fanny White, and reportedly introduced her to Queen Victoria using the surname of a political rival. He also created a furor for failing to toast the Queen's health.
He returned to the United States in 1855 and was elected to the New York State Senate the following year. An advocate for Central Park, he obtained consensus on the location and convinced the governor to sign legislation creating a bi-partisan park commission. Sickles managed to be censured by the State Assembly for escorting White into the Assembly's chambers.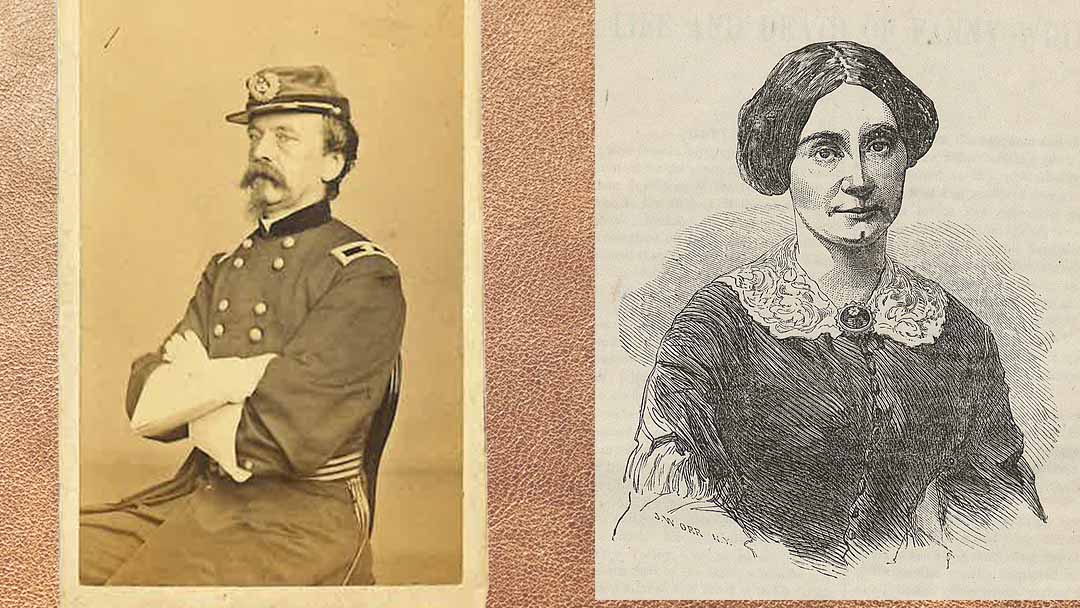 Daniel Sickles in uniform, left, and Fanny White, a well-known prostitute of pre-Civil War New York City., right. Sickles attained the highest rank of any politically appointed general in the Union Army.
He was elected to the U.S. Congress in 1856, moving Teresa and their daughter to a home on Lafayette Square near the White House in Washington, D.C. They moved among the party scene. When Sickles worked late, traveled, or cheated on Teresa, she was often escorted to parties by Philip Barton Key.
Daniel Sickles and Temporary Insanity
Philip Barton Key was the son of Francis Scott Key, author of the "Star Spangled Banner" and a widower. Supposedly in ill health and worried about his position as a U.S. Attorney, Key sought out his friend Sickles to plead his case. He was reappointed.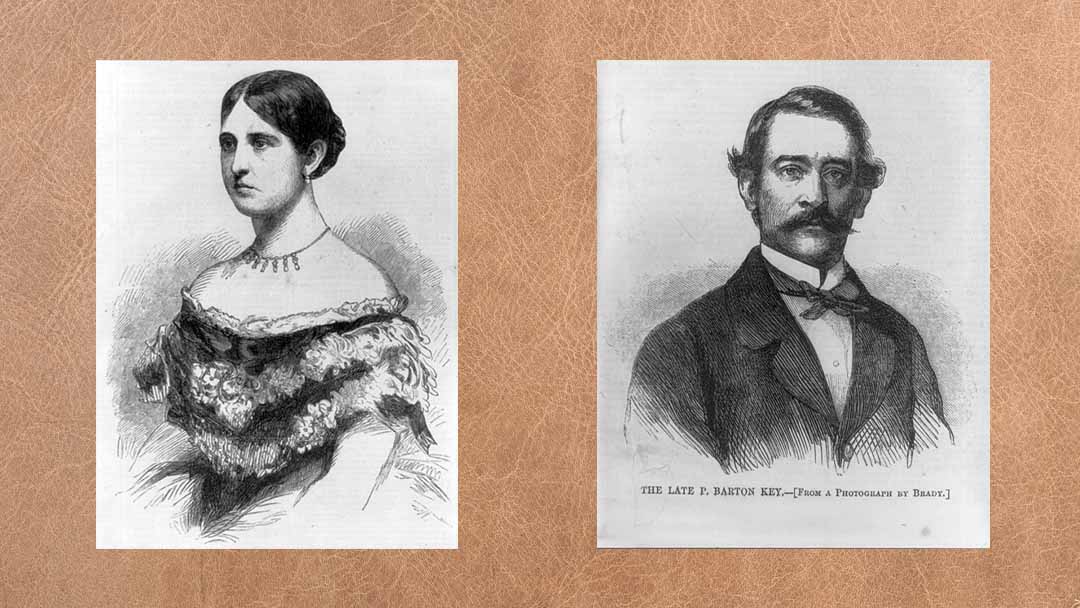 Teresa Sickles, left, and Philip Barton Key, son of Francis Scott Key, right.
Key and Teresa Sickles soon became lovers, often meeting at a rented house two blocks from the Sickles' home on Lafayette Square. In February 1859, Daniel Sickles received an anonymous letter outlining his wife's infidelity with Keys. Confronted, Teresa admitted to the affair.
On Feb. 27, Sickles was home alternately weeping and calling upon friends for advice when he spotted Key, who had approached the house several times that day, twirling a handkerchief, a signal to Teresa to join him for a dalliance. Sickles shouted "that villain has just passed my house! My God this is horrible!" He raced to collect a revolver and two derringers. He found Key near Pennsylvania Avenue across from the White House where he, in broad daylight, pulled a gun and shot Key at close range but merely grazed him. Sickles shot Key a second time below the groin knocking him to the ground. A third shot misfired. Sickles cocked the gun once more and aimed it at Key's chest, pulling the trigger and fatally shooting Key just below the heart. He also attempted to shoot Key in the head but the gun misfired again.
The murder trial received sensational coverage with sympathy leaning toward Sickles while Teresa's reputation was destroyed. Sickles' own philandering wasn't admissible at trial. His attorneys argued that he was briefly enflamed by the discovery of his wife's adultery and not responsible for his actions. He was found not guilty, the first successful defense of temporary insanity in the United States. Interviews with jurors after the trial showed that they believed he was protecting his wife as his property, rather than temporarily insane.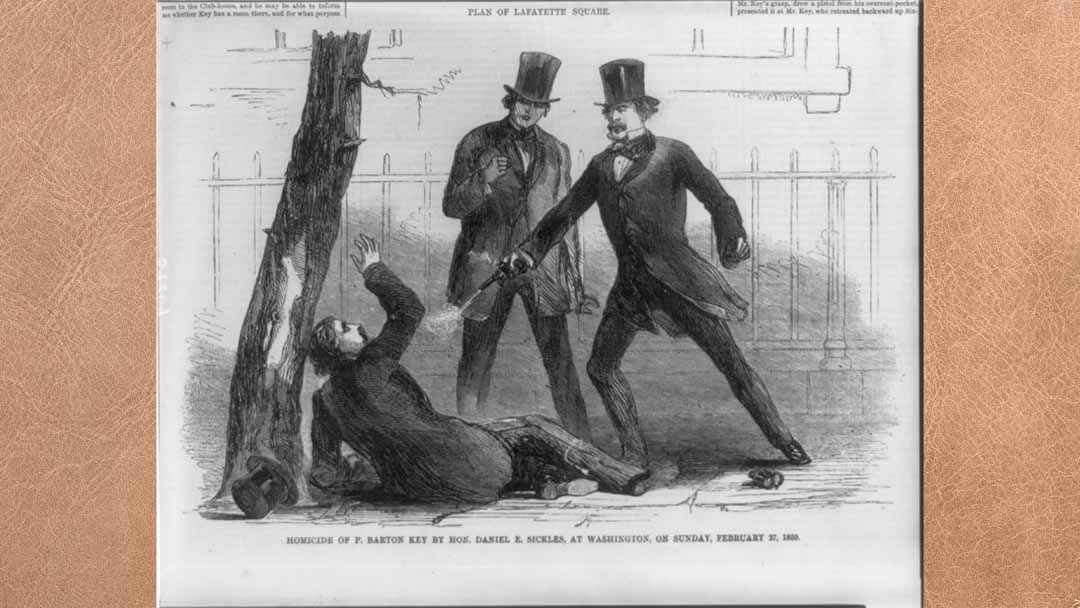 An illustration portraying Daniel Sickles shooting Philip Barton Key that appeared in the March 12, 1859 Harper's Weekly.
To the shock of many, the couple reconciled and found themselves pariahs among Washington D.C. society. Sickles declined to run for another term and was practicing law in New York at the start of the Civil War.
Daniel Sickles and the Civil War
As the Civil War began Sickles and a friend talked of recruiting men for a regiment that he would lead. Sickles proved to be a good recruiter and gathered about 3,000 men to brigade strength. He dubbed it the Excelsior Brigade after the New York state motto (Excelsior means "Ever Upward"). The unit mobilized to Washington, D.C., where Sickles, with no military experience, awaited a commission as general. He wormed his way into President Abraham Lincoln's good graces, assuring the commission.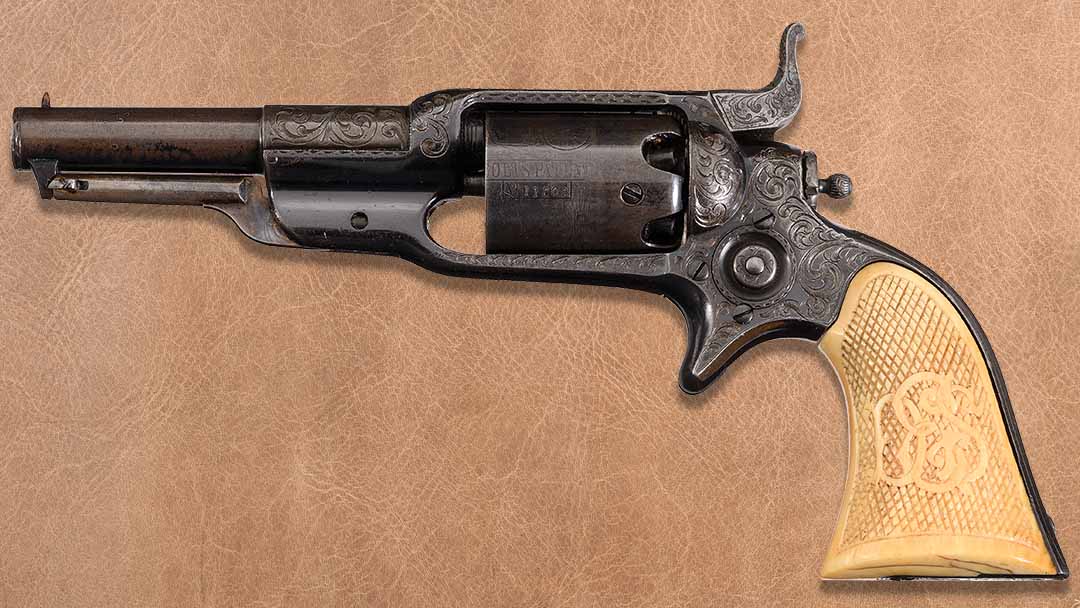 A Colt Model 1855 "Root" Percussion revolver with monogrammed grips. The cased gun is inscribed on the backstrap to Daniel Sickles from the Colt Manufacturing Company.
Sickles and the Excelsior Brigade fought at Fair Oaks (also known as the Battle of Seven Pines) on June 1, 1862 as part of the Peninsula Campaign. After-action reports praised the Excelsior Brigade. He saw more action during the Seven Days Battles later in June before he left for recruiting.
The Excelsior Brigade was assigned to Gen. Joseph Hooker's III Corps and as Hooker advanced in rank Sickles did as well, promoted to command Hooker's Second Division of III Corps after his return to the unit late in the year. At the Battle of Fredericksburg, Dec. 11-15, 1862, Sickles' unit saw little action in the Union defeat. In the aftermath, Gen. Ambrose Burnside was relieved of command of the Army of the Potomac in January 1863.
Hooker was promoted to lead the Army of the Potomac and following on his coattails, Sickles was given command of the III Corps, making him the highest ranking non-West Point graduate in the Union ranks. As the army over-wintered, Hooker named Gen. Daniel Butterfield, another non-West Pointer, as his chief of staff. This was quite a trio as Hooker was known as a heavy drinker and womanizer, Sickles killed the man who cuckolded him, and Butterfield was arrested for arson in his youth.
One officer said, "The Army of the Potomac sank to its lowest point. It was commanded by a trio, of each of whom the least said the better. During that winter when Hooker was in command, I can say from personal knowledge and experience that the headquarters of the Army of the Potomac was a place to which no self-respecting man liked to go, and no decent woman would go. It was a combination of bar room and brothel."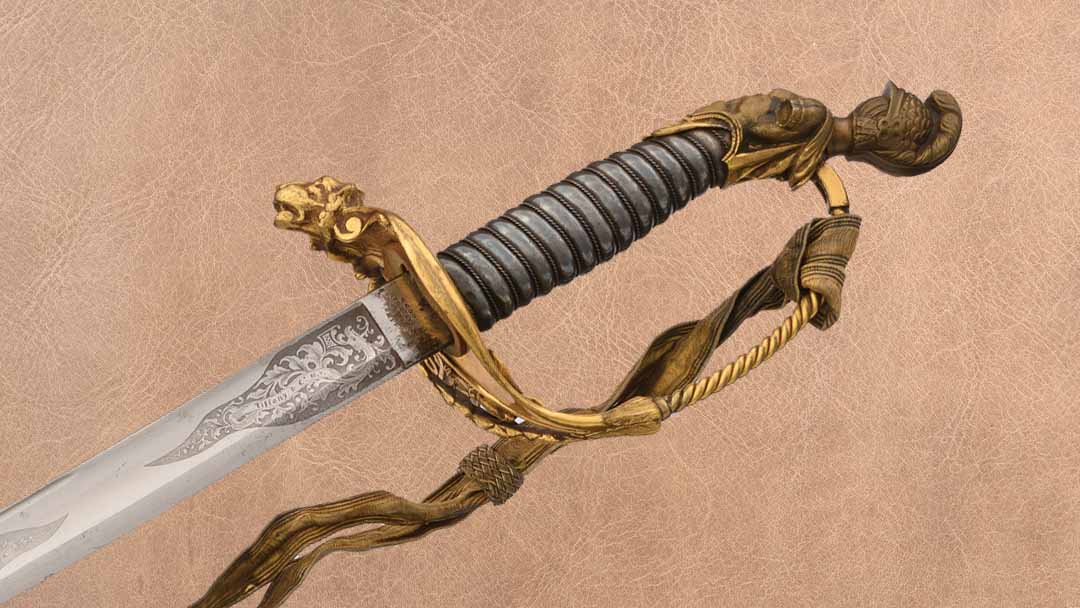 The Tiffany & Co. sword presented to Daniel Sickles has a distinctive knight pommel design, silver grip, twisted knuckle bow and classic martial trophies on both sides of the guard, and a lion head quillon. The sword is inscribed "EXCELSIOR/Presented to/Genl Sickles,By His Sincere Friend."
As the campaign resumed in April, Hooker planned to trap Lee near Fredericksburg, Va., with 130,000 men compared to the Army of Northern Virginia's 60,000 soldiers. The armies engaged near Chancellorsville. Sickles' III Corps suffered 4,100 of the 17,000 Federal casualties. Sickles misinterpreted Gen. Stonewall Jackson's flank march as a retreat so Hooker ordered III Corps withdrawal from high ground, allowing Confederate artillery to take it and pummel the Union troops.
After slugging it out with the Confederates, Hooker decided to end the fight, returning north. The victory emboldened Confederate Gen. Robert E. Lee to lead his troops into Pennsylvania. Hooker was quickly relieved of command and replaced by Gen. George Meade who was disliked by Sickles. That animosity would play a role in the Battle of Gettysburg.
Daniel Sickles and the Battle of Gettysburg
Meade ordered Sickles and III Corps to fall back into a defensive line in Maryland. Sickles was ordered to move his forces on July 1 up to Gettysburg as fighting intensified. Sickles froze with indecision and didn't reach Gettysburg until about 7 p.m. after the fighting ended for the day. His inability to reinforce the Union army likely made the first day defeat worse.
The next day, Sickles was ordered to anchor the left side of the line on Cemetery Ridge and Little Round Top but he was confused about where his troops should be located. He was concerned about nearby low ground where enemy artillery could dominate the position and wouldn't be able to see an enemy approach. Sickles and Meade didn't speak face to face as Sickles waivered on where to locate his troops.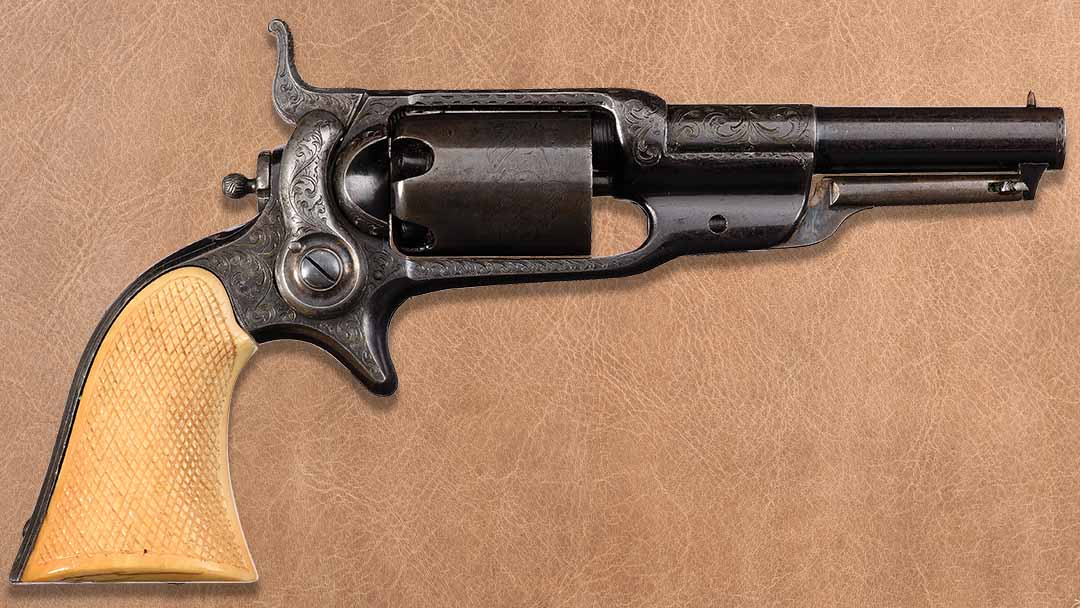 The Colt Model 1855 "Root" percussion revolver out of its presentation case. The pistol, with mongrammed grips, was given to Daniel Sickles by the Colt Manufacturing Company.
Some historians say Sickles outright disobeyed Meade's order of where to place his men. Sickles' III Corps was set too far in advance of Meade's Army to be well supported, with a half-mile of open ground between them. Sickles' men were expected to occupy a 1,600-yard long line but Sickles later claimed he had insufficient strength to cover it. The line his men actually covered was twice as long. Meade was unaware of Sickles troop location for several hours.
Meade upon learning of Sickles' location, went to the line and plans were to pull back, but Confederate artillery began firing. Meade kept Sickles' men in place and kept reinforcing III Corps despite the unit's indefensible location. Sickles' III corps was driven from the field by Confederate Gen. James Longstreet's assault with heavy losses in fierce fighting and Sickles himself saw his right leg mangled by a confederate artillery shell. After a tourniquet was applied at a local farmhouse, Sickles was transported by stretcher to a hospital. As he later passed his troops, he made sure to sit up, and assure them he was still alive by grinning and puffing a cigar, to help bolster their espirit de corps.
Longstreet's attack was an attempt to flank the Union line, but Sickles' position extended the Confederate line and the rebels failed to gain a position along that part of the line. It would become a strategic Union advantage in the battle's second day of fighting and one of Gettysburg's longest-lasting controversies among historians.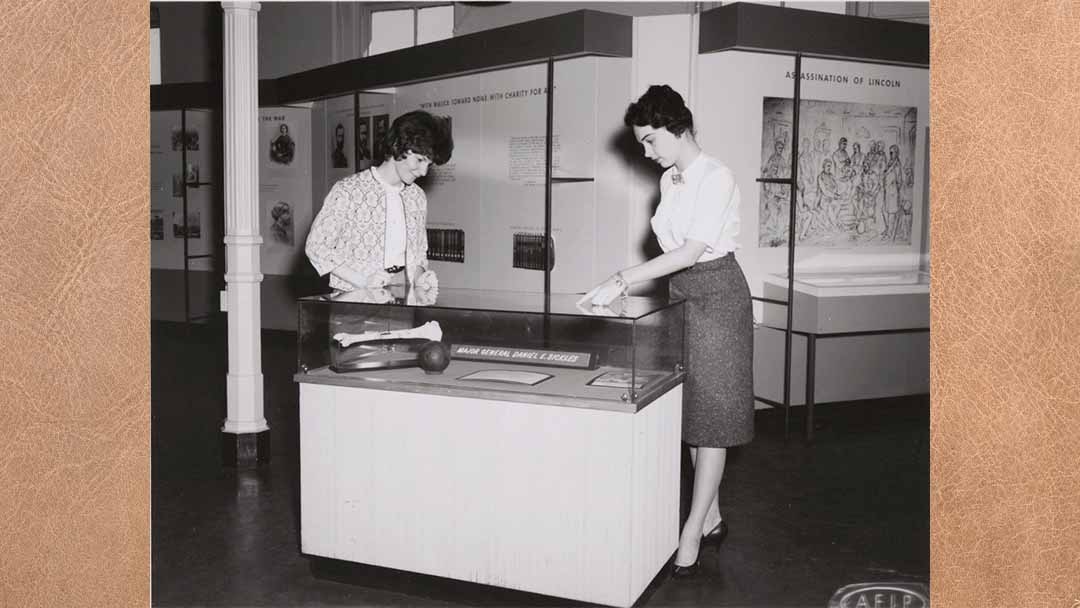 Daniel Sickles had his leg amputated after getting hit by Confederate artillery at Gettysburg. He donated the bone to the Army Medical Museum where it was on display.
Famously, Sickles donated his leg bone to the Army Medical Museum as he recuperated in Washington D.C. where he was visited by Lincoln. He would often portray himself as a one-legged hero of Gettysburg in later years. Sickles proved to be a quick healer and sought to return to the field only to be denied by Meade because he was no longer physically fit to serve.
Mark Twain met Sickles years later and said Sickles, "valued the leg he lost more than the one he's got."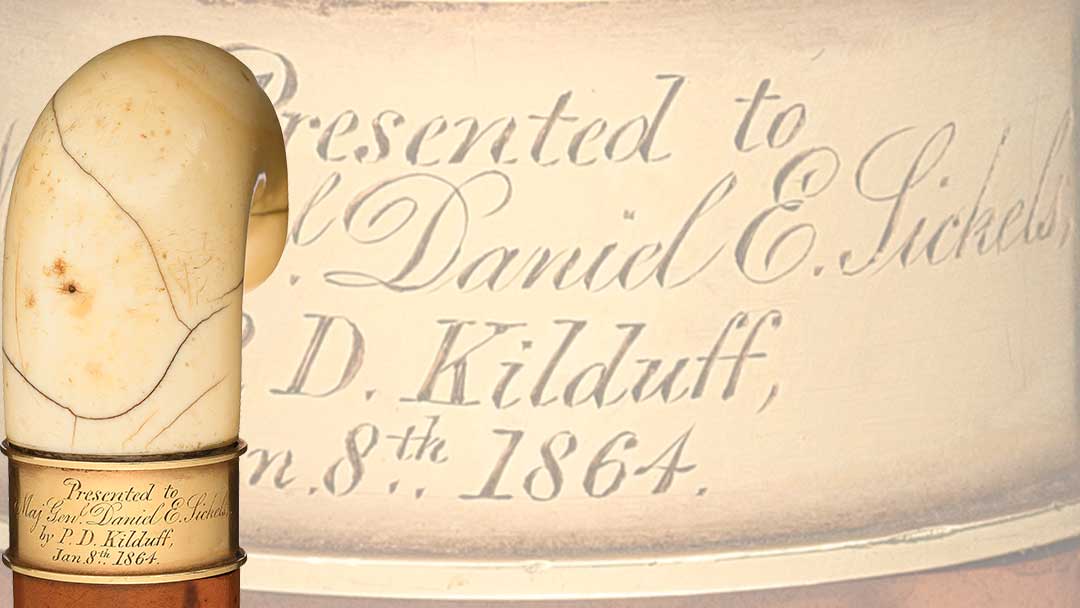 This ivory-headed cane, available in Rock Island Auction's Dec. 9-11 Premier Auction, was presented to Major General Daniel Sickles after he lost his leg at the Battle of Gettysburg in July 1863. It is inscribed with "Presented to/Maj Gen. Daniel E. Sickels/by P.D. Kildruff,/Jan. 8th 1864."
Daniel Sickles after Gettysburg
The following spring, Congress held hearings on the battle since Meade was unable to stop Lee's army from returning to Virginia. Sickles, called as a witness, attacked Meade in the hearing, lying at times while boosting his own role. Despite the criticism and political discomfort of the hearings, Meade remained in command of the Army of the Potomac.
Sickles' wife, Teresa, died unexpectedly in 1867. After the war, Sickles worked on Reconstruction duty, served as a diplomat to Columbia and military governor of South Carolina, and as Minister to Spain. While in Europe he had an affair with deposed Spanish Queen Isabella II in Paris and was called the "Yankee King of Spain" by the French press.
In 1871, Sickles married again, this time to a court attendant of Queen Isabella, twenty-something Caroline de Creagh. The couple lived in Paris for several years and had a son and a daughter.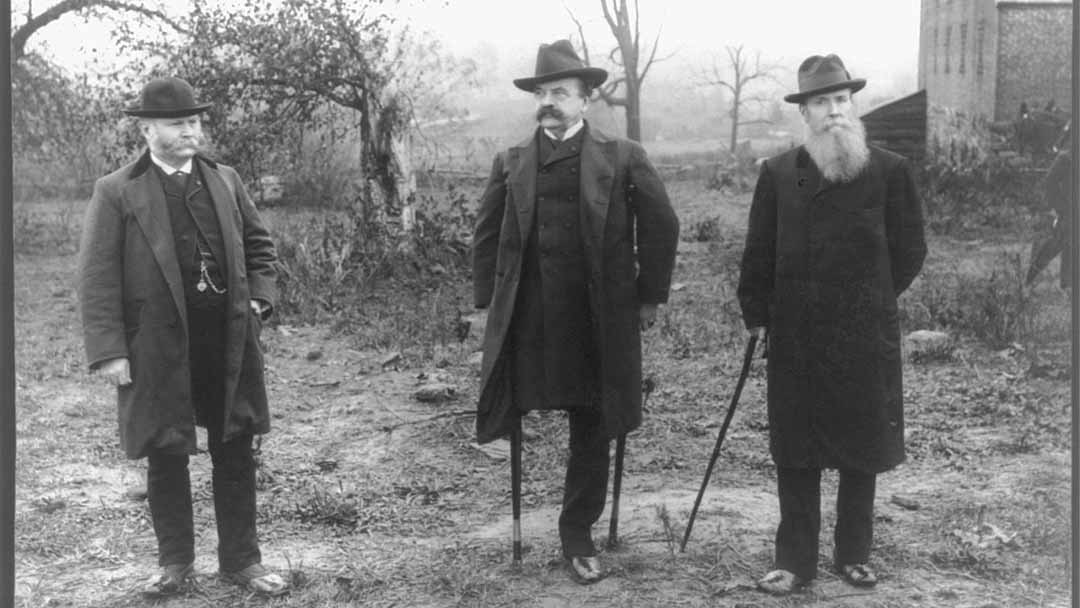 Daniel Sickles, center, visits the Gettysburg battlefield site with fellow former Union generals Charles K. Graham, left, and Eugene Asa Carr, right.
Daniel Sickles, Monuments Man
Returning to the United States in 1879, he became an advocate for preserving the Gettysburg battlefield. He was appointed to chair the New York Monuments Commission for the Battlefield of Gettysburg, and devoted the rest of his life to raise money for monuments to all of New York's regiments and make sure they were properly located.
In 1892, Sickles was re-elected to Congress where he introduced legislation in 1894 to create Gettysburg National Military Park. The legislation passed and was signed into law Feb. 11, 1895. The State of New York placed 88 monuments in the park. Thirty-five years after losing his leg at the battle, he was awarded the Medal of Honor on Oct. 30, 1897. The citation states, he "displayed most conspicuous gallantry on the field, vigorously contesting the advance of the enemy and continuing to encourage his troops after being himself severely wounded."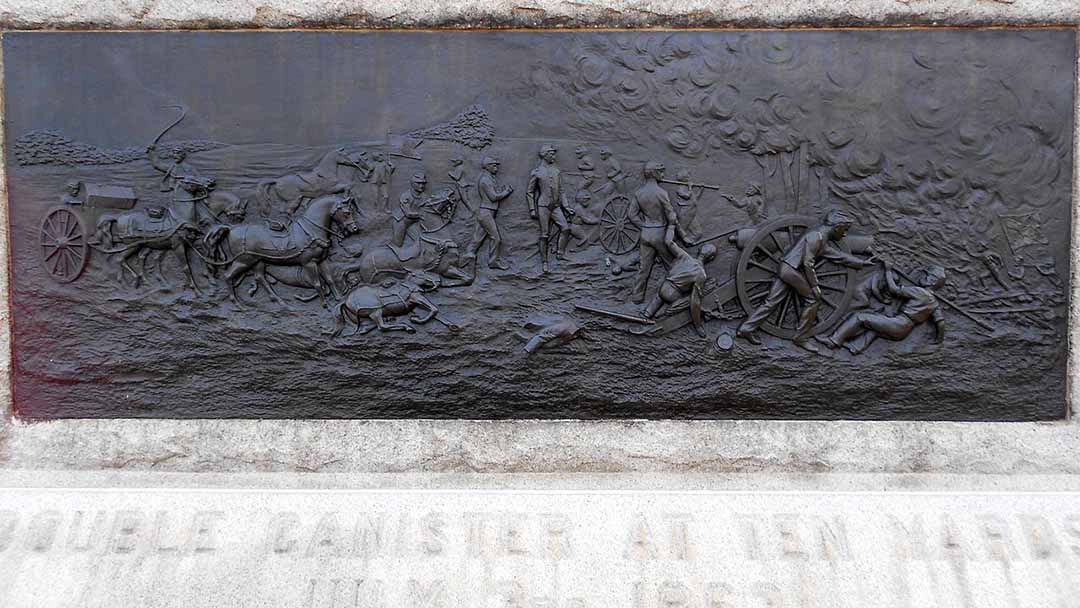 A closeup of the monument to Captain Andrew Cowan's 1st New York Artillery at Gettyburg National Military Park. Daniel Sickles, who achieved the rank of major general, led the New York Monuments Commission for the Battlefield of Gettysburg from 1879 to 1913.
At the age of 93, he, along with 50,000 other veterans, attended the 50th anniversary of the battle in 1913. Losing his eyesight and confined to a wheelchair, Sickles could no longer guide New York's monuments commission. In fact, months before the 50th anniversary, an audit of the commission's bank accounts showed nearly $30,000 was missing that led to his ouster from the commission.
Sickles died less than a year later at the age of 94. He is buried at Arlington National Cemetery. The New York Times eulogy of Sickles described him as a "soldier, politician, and diplomat…the last of that galaxy of corps commanders who made possible the achievement of Grant and brought our great civil strife to a triumphant close."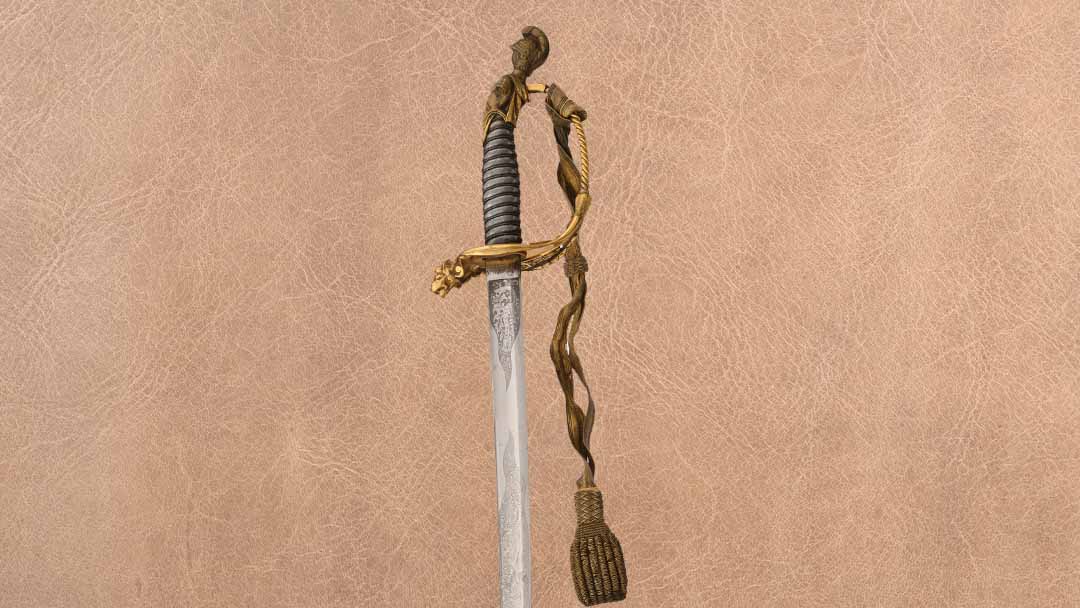 A gilt Tiffany & Co. Knight Pommel presentation sword given to Daniel Sickles, the highest ranking general in the Union Army during the Civil War who wasn't a West Point graduate.
Daniel Sickles' Sword, Cane, and Revolver
Despite his flawed character, Sickles offered his life and lost a limb fighting for the Union in the Civil War. Obtaining the rank of major general, Sickles was the highest ranking politically appointed general in the Union Army, leading his unit during the Peninsula Campaign and key battles during the height of the war at Chancellorsville and Gettyburg.
Following the war, he focused on the Gettysburg battlefield, working tirelessly to have it named a national site and placing monuments to the numerous New York units that fought there.
Daniel Sickles' life has many footnotes as Congressman, diplomat, killer, ladies' man, lawyer, and thief, but he should also be remembered as a Civil War general and Medal of Honor winner who might've made strategic missteps but fought to save a fractured nation and preserve one of its most important battlefields. A gilt presentation Tiffany & Co. Knight Pommel Dress Officer's Sword with silver grip and gilt scabbard inscribed to Sickles, and a cased and factory engraved Colt Model 1855 "Root" Percussion Pocket revolver inscribed to Sickles from Colt Manufacturing with monogrammed grips is a connection to a fascinating 19th-century personality and Civil War controversy. It is available in Rock Island Auction Company's Dec. 9-11 Premier Auction.
Sources:
Daniel E. Sickles, Essential Civil War Curriculum, by James A. Hessler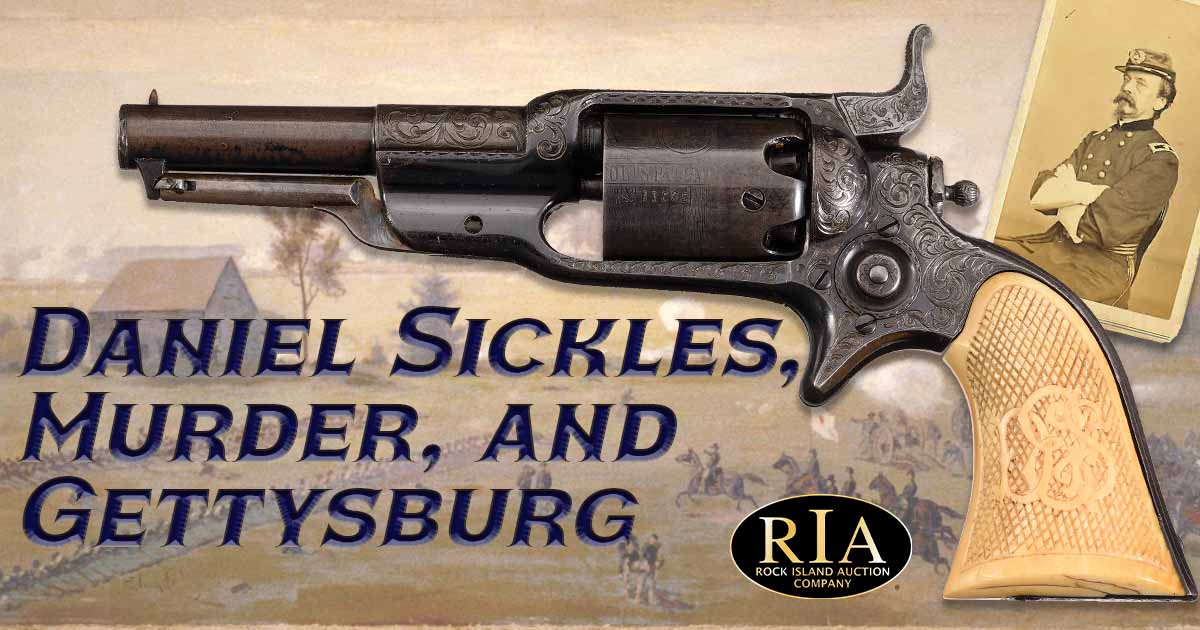 Rock Island Auction Company