When it comes to Old West gunfighters, James Butler "Wild Bill" Hickok is arguably the most famous name around. Hickok's life and death are forever etched into American mythology, and the scarce few guns attributed to Wild Bill rank among the most desirable firearms in the collecting pursuit.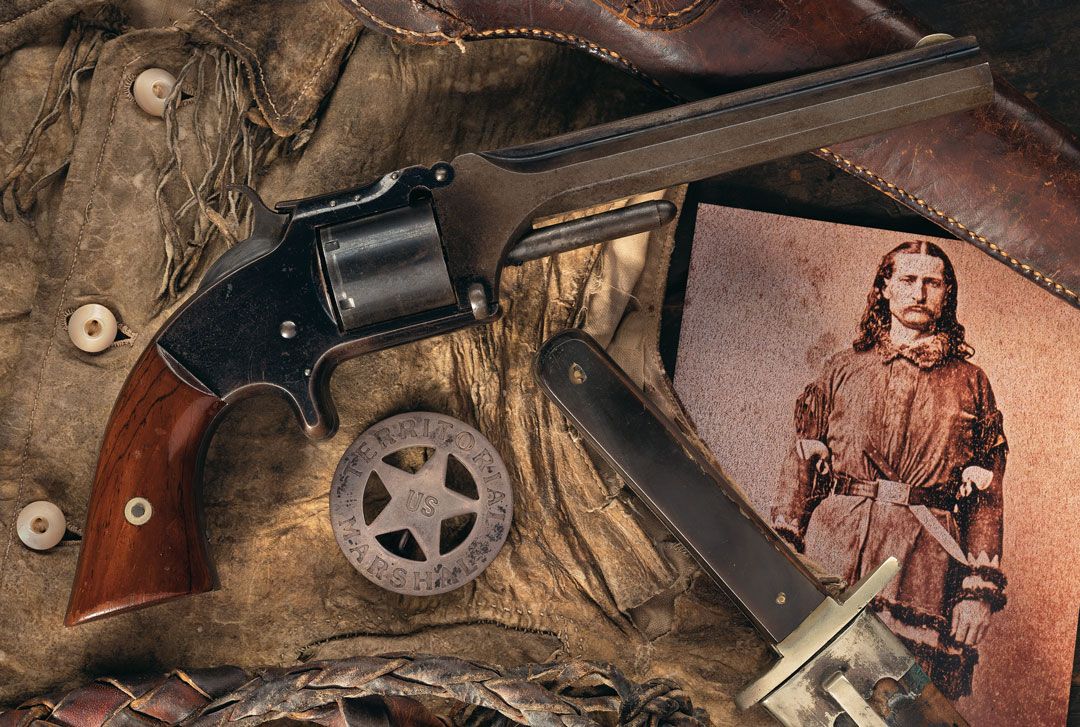 The Smith & Wesson Model No. 2 Wild Bill Hickok may have carried when he was killed in Deadwood.
Any good poker fan knows the general story behind Wild Bill's death and the final hand he was dealt in the moments preceding his cold-blooded murder. Two black aces and two black eights, "the Dead Man's Hand." The historic Smith & Wesson Model No. 2 owned and believed to be carried by Wild Bill Hickok during his final poker game in Deadwood is up for auction this August with Rock Island Auction Company.
The Legend of Wild Bill Hickok
James Butler Hickok was born on a farm in Homer, LaSalle County, Illinois in 1837. His family aided runaway slaves as part of the Underground Railroad, and Hickok continued to support abolition when he traveled to Kansas in 1855. There, he joined a vigilante "freesoiler" group called the Jayhawkers, serving as a bodyguard for future Senator and Union General James H. Lanes.
During the violence in Bleeding Kansas, Hickok first met Buffalo Bill Cody, another Wild West icon-to-be. Hickok served as a Pony Express rider, then a stable hand, where he engaged in his first shootout and gunned down three men. Next, he was swept up in the Civil War as a Union teamster, wagon master, and scout, where he earned the name "Wild Bill" after standing up to a lynch mob. As the war progressed, Hickok found employment as a Union spy, courier, and detective, the latter role which led Hickok to Springfield, Missouri, and the gunfight that propelled him into American folklore.
Gunfighter. Lawman. Outlaw
While much of Hickok's life, career, and disposition are shrouded in myth, Wild Bill's duel with David Tutt, a former Confederate soldier and Hickok's poker rival, was one of the most documented shootouts of the era. Facing off in the town square of Springfield, Missouri, each man drew and fired a single shot. Tutt fell dead, and Hickok became a living legend.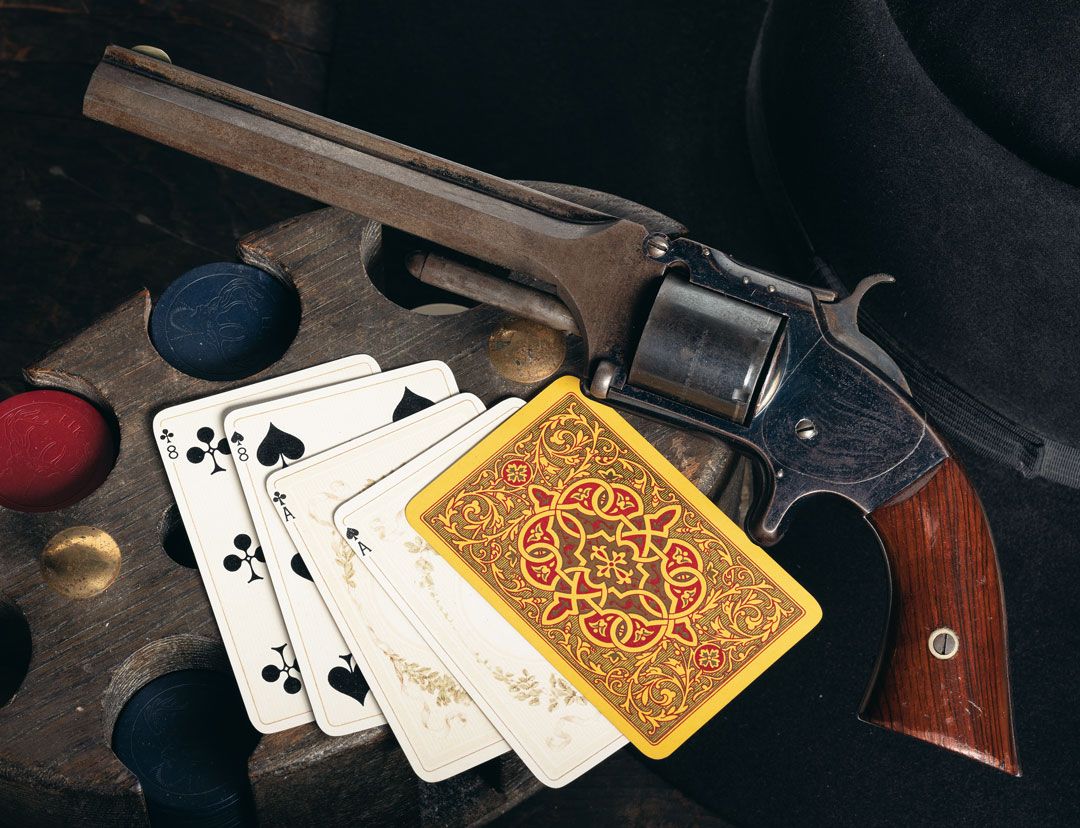 Wild Bill Hickok's Deadwood gun, a Smith & Wesson Model No. 2 revolver.
Hickok was tried and acquitted for the shooting, but news of the incident swept through the national press with ever-increasing embellishment. Writer George Ward Nichols most famously penned a story of the gunfight for Harper's New Monthly Magazine in February 1867 entitled 'Wild Bill.' The article's lofty claims were frequent and extensive, including Nichols' contention that, "Wild Bill with his own hands has killed hundreds of men. Of that I have not a doubt."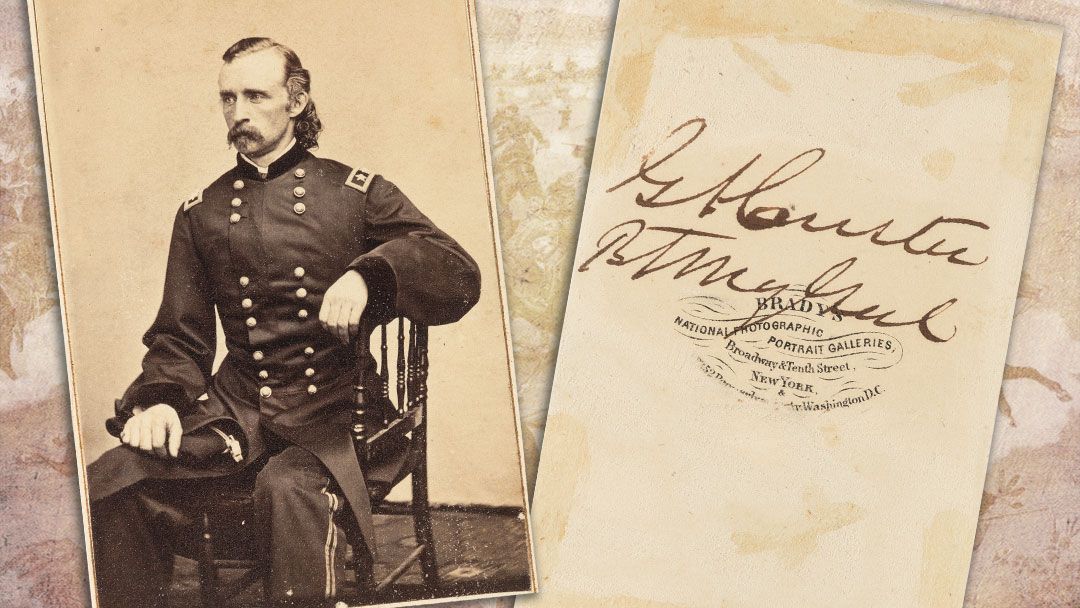 An autographed image of George Armstrong Custer who was a friend of Hickok. Custer met his fate at the Little Bighorn only weeks before Wild Bill's final poker game in Deadwood.
Wild Bill's adventures saw him serving as a scout for General Winfield Scott Hancock, General William Tecumseh Sherman, and the famous Lieutenant Colonel George Armstrong Custer, another larger-than-life frontier figure with a growing reputation. Hickok's law enforcement career later resumed in two lawless Kansas towns, Hays City and Abilene. Wild Bill answered violence with violence, and over the next two years Bill Mulvey, Sam Strawhun, and Corporal John Kile of the 7th Cavalry were cut down by Hickok's gun.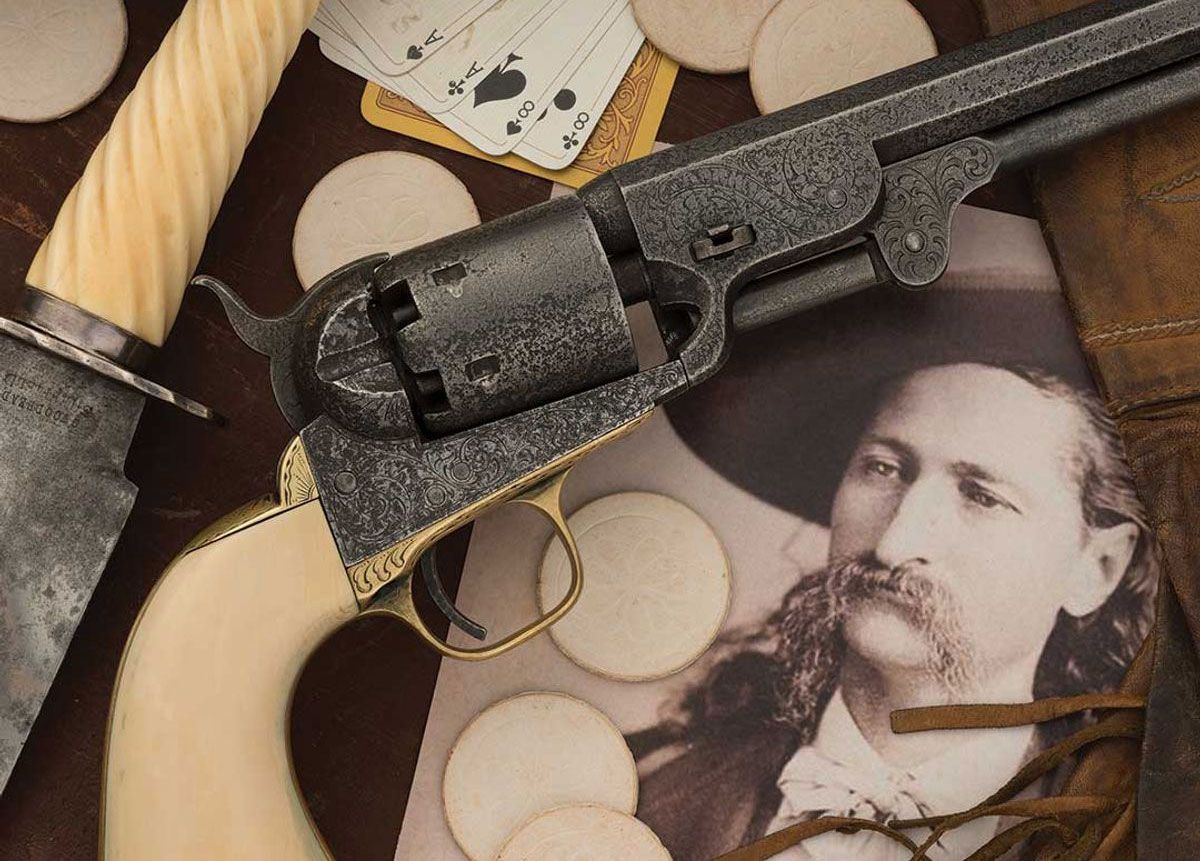 A factory engraved Colt Model 1851 Navy percussion revolver attributed to Wild Bill Hickok and formerly displayed with its mate at the Cody Firearms Museum sold for $616,875 in Rock Island Auction's May Premier.
In 1871, a shootout in Abilene ended in tragedy as Wild Bill Hickok accidently killed his friend and deputy marshal, Mike Williams, who got caught up in the crossfire. A grief-stricken Hickok lost his position as city marshal shortly after the incident and left Kansas and gunfighting behind.
"(Wild Bill's) whole bearing was like that of a hunted tiger—restless eyes, which nervously looked about him in all directions closely scrutinizing every stranger. When he played cards, which he did most of the time in the saloons, he sat in the corner of the room to prevent an enemy from stealing up behind him."                             – Samuel Henry, a resident of Abilene, Texas
Wild Bill Hickok in Deadwood
Buffalo Bill Cody invited Hickok into show business in 1873, touring with his soon-to-be-famous Wild West show. Wild Bill proved unsuited for the stage and left Cody's acting troupe after several months, instead opting to make a living on the frontier as a gambler. With his eyesight failing, Hickok relied on his ever-growing reputation to discourage his rivals. After marrying the wealthy Agnes Thatcher Lake in Cheyenne, Wyoming, the lure of gold drew Hickok to the Black Hills of Dakota Territory in 1876.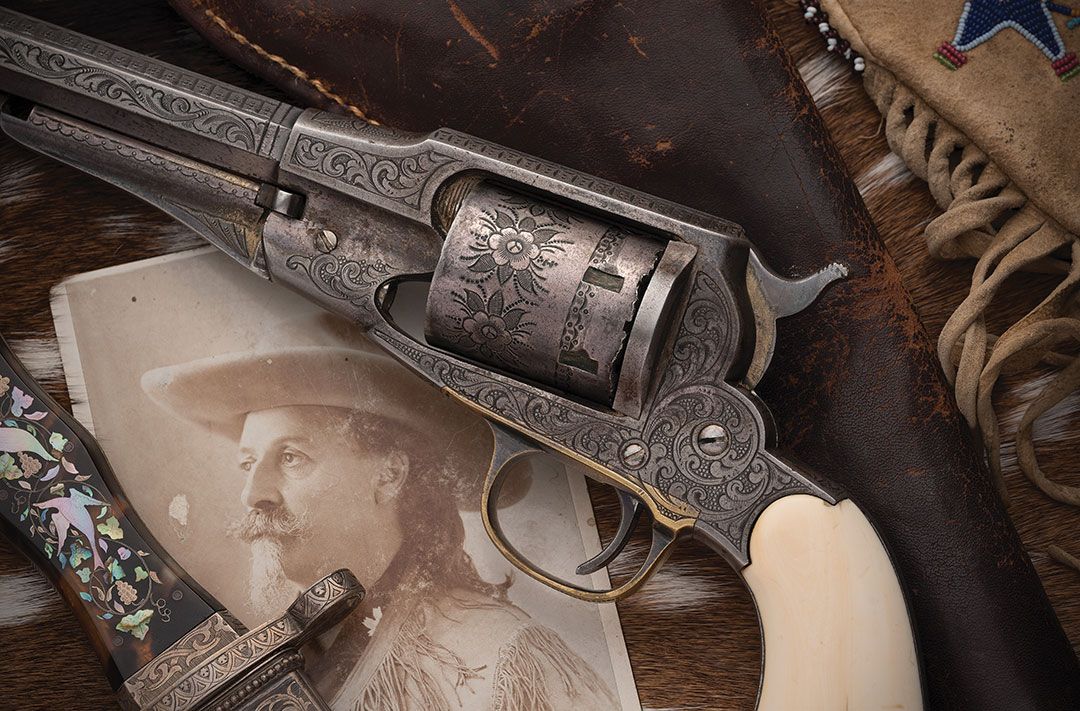 Historic Buffalo Bill presentation inscribed Remington "Improved New Model Navy" cartridge revolver with holster and documentation identified as owned by Pawnee Scouts Leader and Buffalo Bill Wild West showman Frank North.
A 39-year-old Hickok arrived in Deadwood, South Dakota in July of 1876, accompanied by Calamity Jane and "Colorado Charlie" Utter. The ramshackle Gold Rush town whose existence had contributed to the Sioux Uprising and Custer's Last Stand was teeming with drifters, gamblers, prospectors, and other seedy characters who made Deadwood one of the most dangerous places of the era. Hickok quickly took up poker in establishments like Nuttal & Mann's saloon and did his best to relieve some of the miners of their hard-earned gold.
Dead Man's Hand
On August 1st, a drifter and drunkard from one of the nearby mining camps known as "Crooked Nose" Jack McCall was having a bad day against Hickok at the poker table. Wild Bill encouraged McCall to cut his losses and bow out of the game, even offering him enough money for breakfast. McCall took the gesture as an insult.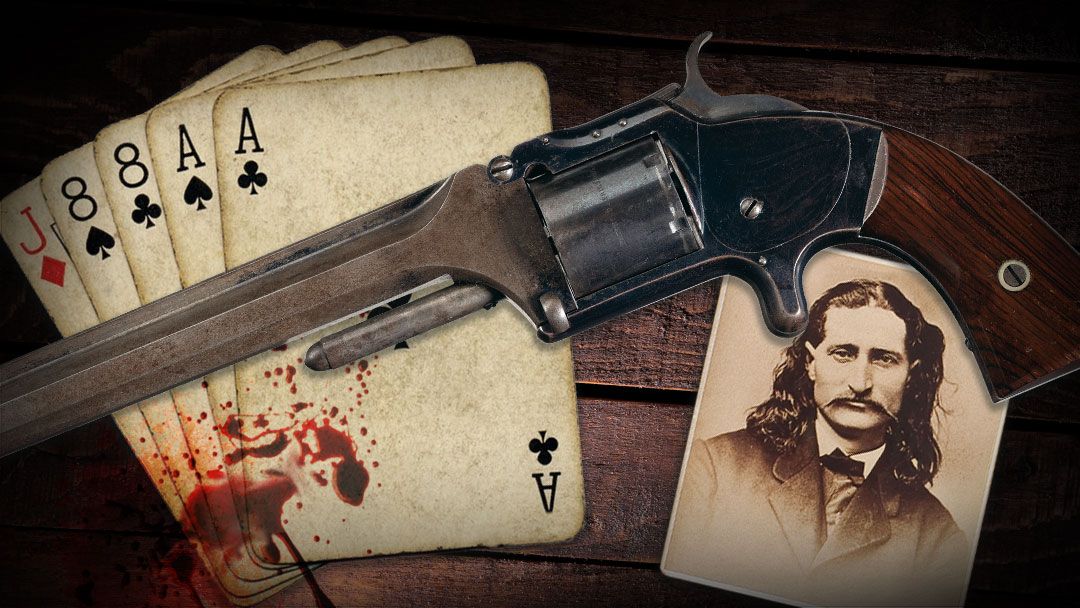 Wild Bill carried a Smith & Wesson Model No. 2 revolver in his final days. This No. 2 was a more comfortable revolver to carry and conceal compared to heavier revolvers like the Colt 1851 Navy, Colt SAA, or Smith & Wesson No. 3.
A world-weary Hickok always made it a point to choose a chair in the corner when gambling or drinking. Given his celebrity and the enemies he'd made over the years, keeping his back to the wall seemed a sensible precaution. But on August 2nd, Hickok found his usual seat occupied in Nuttall & Mann's Saloon. He reluctantly joined the game anyway, facing his back to the door.
McCall slipped around to the corner of the saloon, toward Hickok's poker table. From under his coat, McCall pulled a .45 Colt and bellowed, "Take that, damn you!", shooting Wild Bill Hickok in the back of the head and killing him instantly. Hickok's final poker hand was a pair of black aces and a pair of black eights, now famously christened the "Dead Man's Hand."
The Assassination of Wild Bill Hickok by the Coward Jack McCall
"When killed in Deadwood it is reliably reported that (Hickok) was wearing a large caliber Smith & Wesson revolver," wrote author Ed McGivern during his visit to Deadwood in 1932 to research Wild Bill's guns. Eyewitnesses to Hickok's murder stated that Jack McCall tried to unload the rest of his bullets into the crowd or into the air. Each one misfired, and McCall fled. Had his first shot dropped on one of his dud rounds, history might have taken a different turn, with McCall likely ending up on the wrong end of Wild Bill's Smith & Wesson No. 2.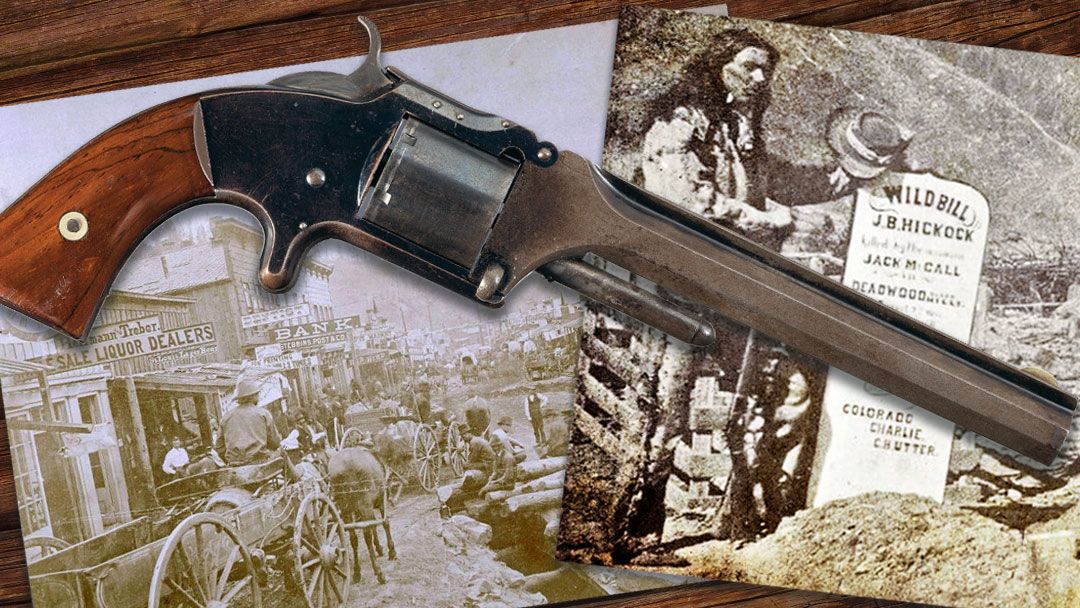 A Smith & Wesson Model No. 2 revolver carried by Wild Bill Hickok during his brief time in Deadwood.
McCall was quickly captured and put to a hasty miners' trial, where he defiantly claimed he'd shot Wild Bill in revenge for killing his brother in Abilene, Kansas. The improvised jury returned a not guilty verdict, but McCall would not escape justice for long. He fled to Wyoming, where he was later rearrested, retried, and hung in March 1877.
Wild Bill Hickok's Smith & Wesson No. 2.
Wild Bill Hickok was buried in Deadwood's Ingleside Cemetery. His personal effects were auctioned to pay for his burial costs and his outstanding debts, including his Smith & Wesson No. 2 revolver. The Smith & Wesson No. 2 model was a favorite of Hickok's at the time of his death, an easier to carry and conceal gun than the Colt 1851 Navy, and perhaps more ideal for a gambler.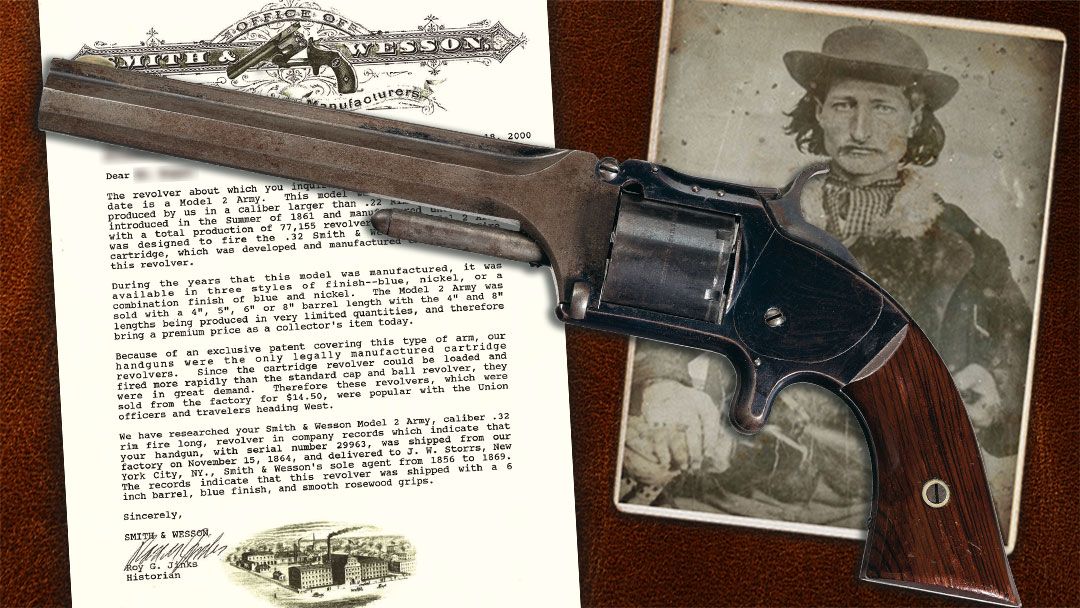 Ed McGivern's book "Fast and Fancy Revolver Shooting" states the Willoth family in Deadwood possessed one of Wild Bill's Smith & Wesson Model No.2 pistols, serial number 29963.
Many historians and publications state that Wild Bill Hickok died carrying a No. 2 Smith & Wesson revolver, including: "The Fireside Book of Guns" by Larry Koller, "The Peoples Almanac" article "Gunslingers-Good Guys and Bad Guys of the Wild West" by Irving Wallace and David Wallechinsky, "Guns of The New West" by David R. Chicoine, "They Called Him Wild Bill" by Joseph G. Rosa, and "Guns of the Old West" by Dean K. Boorman.
The historic Smith & Wesson Model No. 2 featured in Rock Island Auction Company's August 2022 Premier Auction is documented as owned by Wild Bill Hickok and listed by serial number in a sworn affidavit. Author and shooter Ed McGivern provides significant provenance for this Hickok gun in his book, "Fast and Fancy Revolver Shooting", stating that a Mrs. Hazel Willoth "has Wild Bill's gun sealed up in a case just as her husband left it when he died, and she won't allow it to be taken out. The gun was given to Mr. Willoth (A Deadwood stage driver, storekeeper, and Hazel's father-in-law) by Seth Bullock, Lawrence County's first sheriff." McGivern also writes, "The Willoth gun is quite generally established as being one of Wild Bill's guns, and all reports seem to support such a claim convincingly."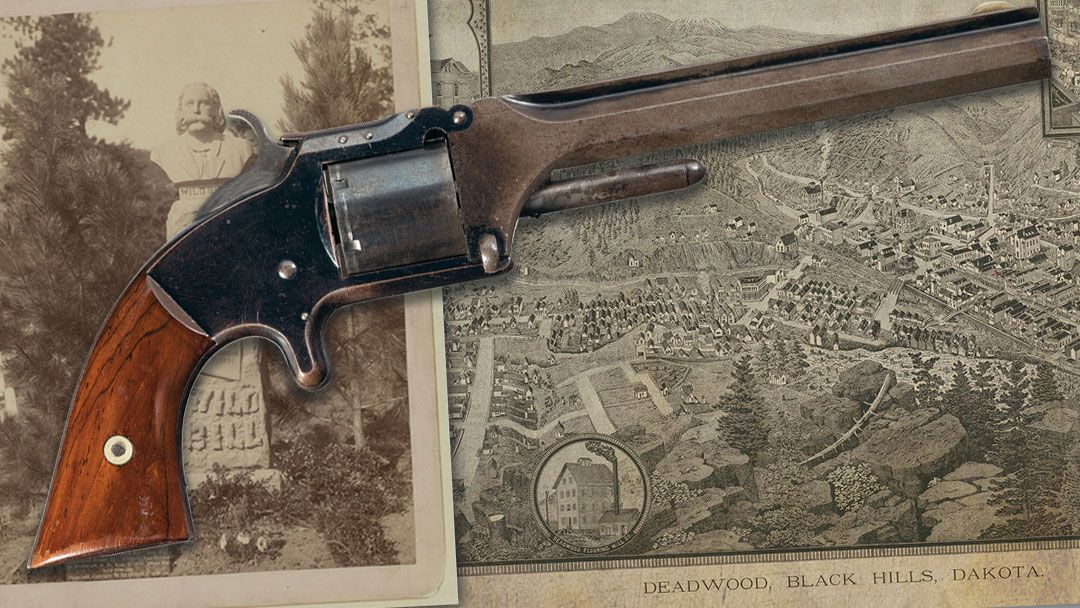 According to Ed McGivern's research and supporting affidavits, when Captain Emil Willoth asked Sheriff Seth Bullock about Wild Bill's outstanding store debt, Bullock offered up Hickok's Smith & Wesson No.2 revolver as payment. Willoth later bequested the pistol on to his son Emil Willoth Jr. and his wife, Hazel Willoth.
Wild Bill was already a living legend, and his murder would immortalize him as one of the West's greatest folk heroes. Guns carried by real-life Old West lawmen, outlaws, and gunfighters represent a rare opportunity to own a piece of American folklore, and Wild Bill Hickok's gun ranks as one of the greatest treasures of them all.
"Wild Bill J.B. Hickok. Killed by the assassin Jack McCall. Deadwood, Black Hills. August 2, 1876. Pard we will meet again in the Happy Hunting Grounds to part no more. Good Bye  – Colorado Charlie C.H. Utter."                                                       – The inscription on Wild Bill Hickok's original grave in Ingleside Cemetery.
Wild Bill Hickok's Legacy
In 1879, at the urging of Calamity Jane, who claimed to have had a romantic relationship with Hickok during his time in Deadwood, Wild Bill was reinterred at the Mount Moriah Cemetery, in Deadwood, Lawrence, South Dakota, where he remains today. While many of Wild Bill's exploits were embellished, sometimes by the man himself, he was a spectacular gunfighter in his prime. Though not necessarily the fastest draw, Hickok always stayed cool under pressure, remarking, "Whenever you get into a row, be sure and not shoot too quick. Take time. I've known many a feller to slip up for shootin' in a hurry."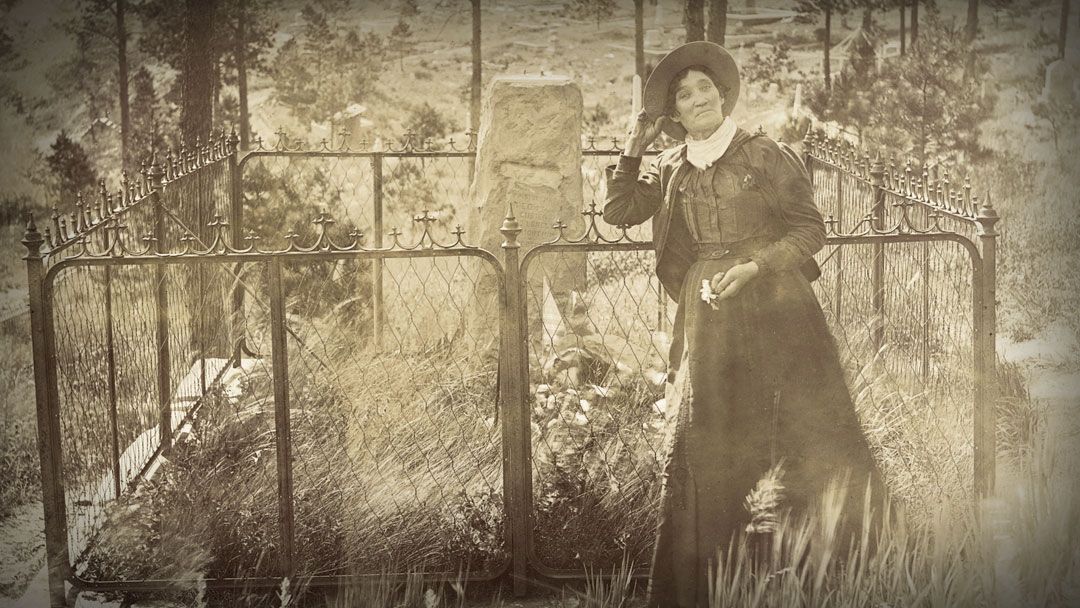 Calamity Jane at Wild Bill's grave in Mount Moriah Cemetery. The inscription reads: "J B Hickok, Died Aug 2, 1876 by pistol shot, Aged 39 years, Custer was lonely without him."
One of Wild Bill's obituaries in the August 25, 1876 edition of the Chicago Tribune touted his gunfighting prowess. "The secret of Bill's success was his ability to draw and discharge his pistols, with a rapidity that was truly wonderful, and a peculiarity of his was that the two were presented and discharged simultaneously, being `out and off' before the average man had time to think about it. He never seemed to take any aim, yet he never missed. Bill never did things by halves. When he drew his pistols it was always to shoot, and it was a theory of his that every man did the same."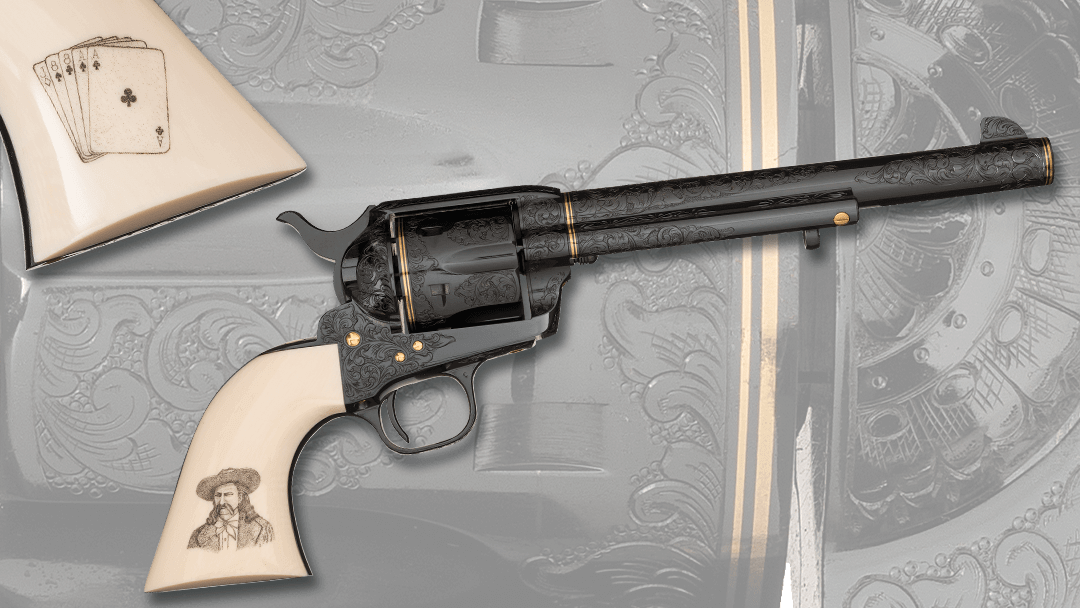 Steve Kamyk engraved Wild Bill Hickok themed Colt Third Generation SAA revolver with Scrimshaw Grip made for the Deadwood 4th Annual Old West Auction, featuring a gold inlay of Hickok on the frame and a pair of aces and eights on the grip.
From books and movies to annual celebrations like Deadwood's Wild Bill Days, Hickok's legend lives on. Most recently, HBO's "Deadwood" series introduced Wild Bill and his final days in Dakota Territory to a whole new generation. In 1979, Hickok was inducted into the World Series of Poker's Hall of Fame as a charter member due to his reputation as a talented card shark and the immortalization of his final "Dead Man's Hand."
Wild West Chronicles
As Wild Bill Hickok's extraordinary life demonstrates, the real Wild West could be just as fascinating as the dime novels and Hollywood fiction that popularized America's frontier history. Subscribe to the weekly Rock Island Auction newsletter to receive new gun blogs and gun videos on the real-life guns and legends of the American West. From Bat Masterson, Geronimo, Wild Bill's friend Captain Jack Crawford, and Marshal "Longhair" Jim Courtright, recently popularized by Billy Bob Thorton in the Yellowstone prequel '1883,' we cover some of the finest examples of genuine frontier guns and the legends who carried them.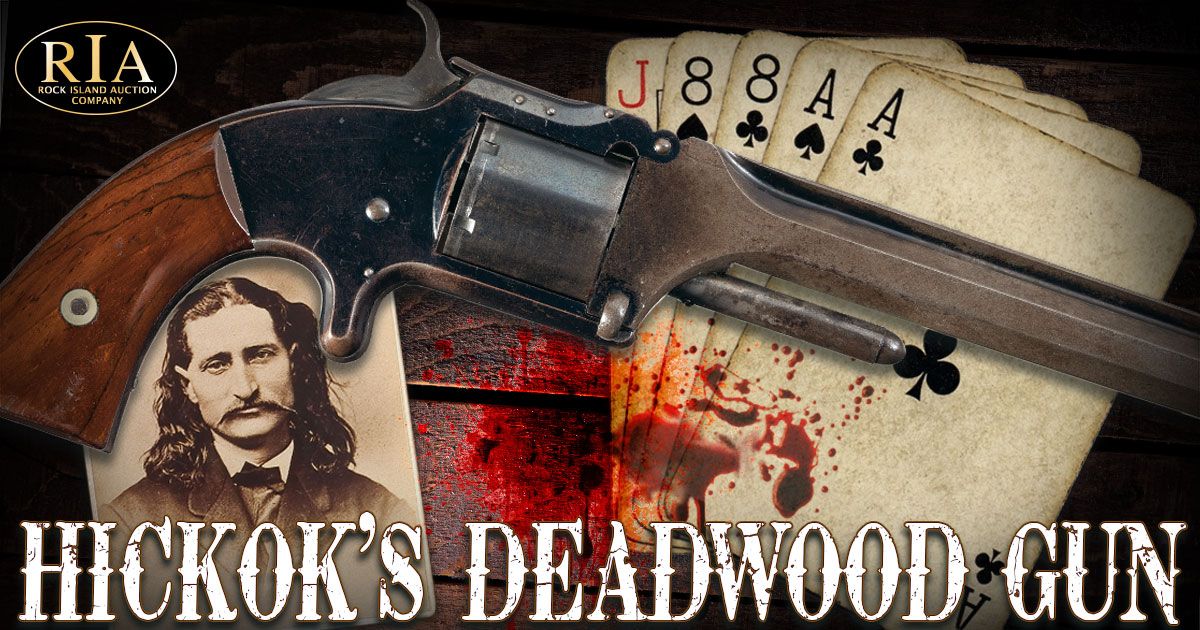 Rock Island Auction Company