Outdoor legend, handloader, and writer Elmer Keith knew what a good cartridge for game was, and that the .38 Special wasn't strong enough to stop a man. He helped develop the .357 Magnum, .44 Magnum, and .41 Magnum rounds. Elmer Keith spun yarns of the mountains, gunfights, and 600-yard shots in the yet untamed American West of the early and mid-20th century.
A mentor and ally to many, Elmer Keith was also a lifelong student and collector of guns. These Elmer Keith guns: a Colt Model 1851 Navy, a pre-29 Smith & Wesson, an inscribed and engraved Smith & Wesson Model 1917, a factory game scene engraved Victor Sarasqueta double rifle, and a Ruger Old Model Blackhawk single action revolver will cross the podium along with many other high conditioned, historic, and beautiful firearms Dec. 8-10 at Rock Island Auction Company's inaugural Premier Auction at its new Bedford, Texas location.
Elmer Keith Guns: Colt Navy
Keith wrote in his book "Sixguns" that he learned to shoot handguns with the Colt Navy (Model 1851). "When a boy, our best small game revolver was an old .36 Navy Colt 1851 model. It accounted for a great many grouse, sage hens and rabbits, both big Montana jacks and cottontails."
He expanded further on the Colt Navy. "Its grip was perfect for most men, and while smaller, it was much the same shape as the old Walker grip. In fact Colt pistols show little change in grip shape from the 1847 Walker on down to the Colt's S.A. Army, manufactured up to the second world war. No other grip will absorb the recoil of a heavily loaded revolver with less punishment to the hand, as it simply turns up in the hand in recoil, allowing the thumb to come up over the hammer for a quick repeat shot. This design was excellent for cavalrymen and both safe and fast when a recalcitrant horse had to be managed at the same time."
Keith, born in Missouri in 1899, moved with his family to Montana as a young boy. He knew Civil War veterans and gunfighters. Sometimes the two intersected, like Confederate Major R.E. Stratton who served in the 1st Texas Regiment during the Civil War. He carried a pair of Colt Navy revolvers serving under Robert E. Lee and as he rode the West, Keith wrote.
"I bought one of them from him and when I asked him what became of the mate to it, he wrote me that he lost it, along with his left arm in a gun fight in Cheyenne, Wyoming and that I might possibly find it in or around Cheyenne somewhere."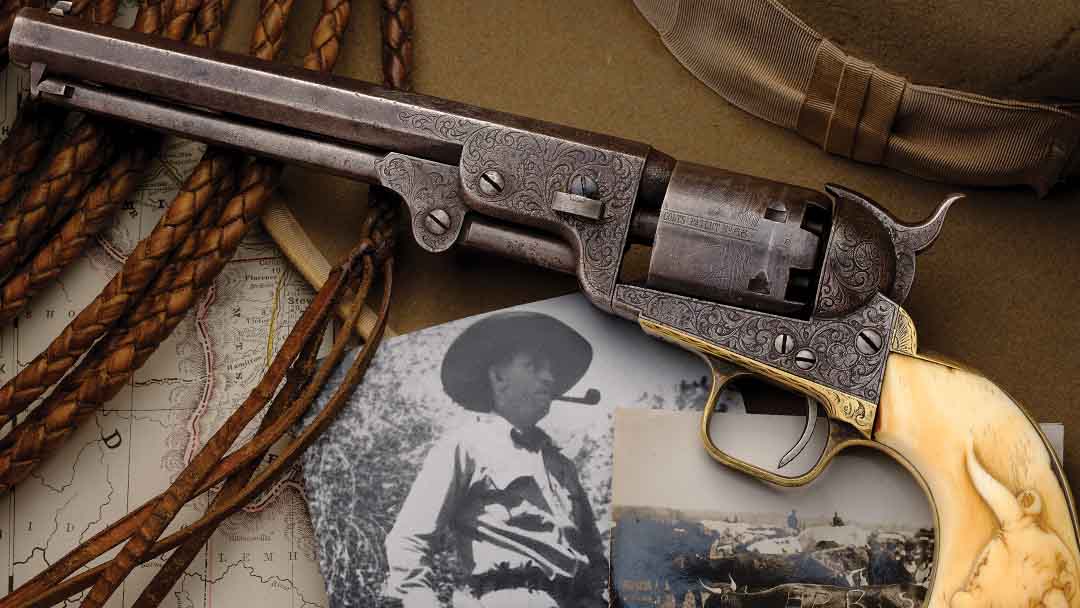 Elmer Keith's Colt Navy is well documented and features Keith's name lightly inscribed on the barrel and classic Germanic scroll factory engraving along with a bird's head on the left side of the barrel and floral blooms throughout. It has a raised relief carved steer head on the left side grip. The gun has been displayed at the Elmer Keith Museum in Boise, Idaho, and was part of the "Handloader Magazine" article "Elmer Keith Museum: Tribute to a Legend."
Elmer Keith Guns and Wisdom
Keith wasn't one to bother with automatic pistols. He was a wheelgun man through and through, writing in "Sixguns," "The sixgun was as important a part of a cow-poke's outfit as his rope. Throughout the West the sixgun was responsible for most of the law, what little there was, and one of the main deterrents to wholesale outlawry."
Keith was acquainted with firearms from a young age, with his father teaching him to shoot small game to help feed the family. "To become an expert sixgun shot, one must live with the gun. Only by constant use and practice can one acquire a thorough mastery of the shortgun. You must work and play with it, eat with it, sleep with it and shoot it every day – until it becomes a part of you and you handle it surely and easily as you would your fork and knife at the table. Muscles and nerves must be trained for the job in hand."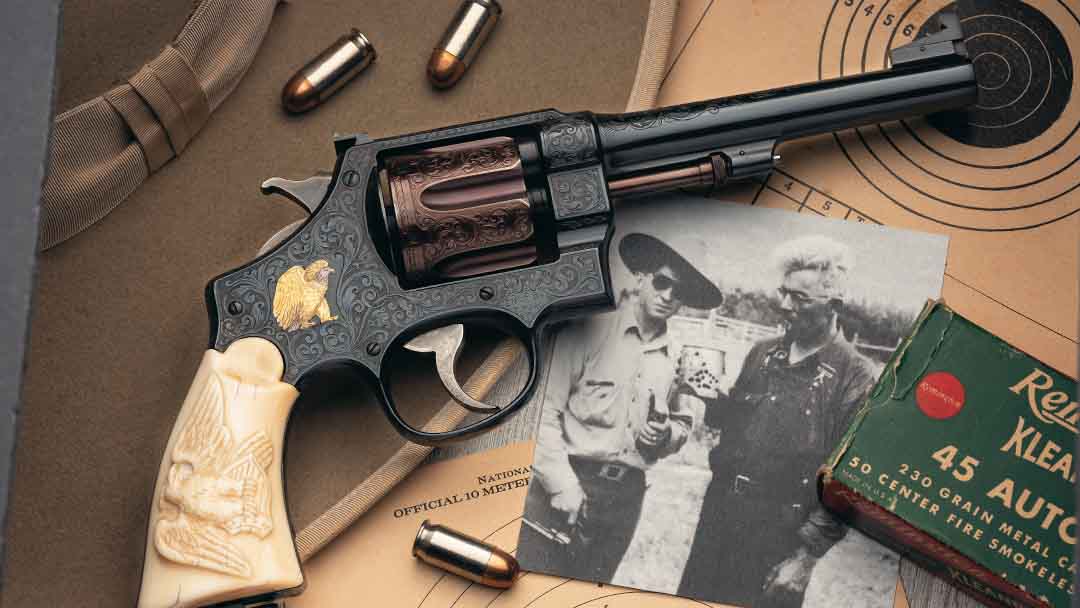 A Smith & Wesson Government Model 1917 engraved and inscribed to Elmer Keith is chambered in .45 ACP with a blued finish and 5 1/2-inch barrel. Engraving includes a walking, spread winged eagle in raised gold on the right side plate as well as flowing floral scrolling, arabesque and feather patterns adorn the gun. The backstrap is inscribed Elmer Keith.
He participated in match shooting at Camp Perry in the 1920s when he served in the National Guard. When an officer asked where he learned to shoot he replied that it certainly wasn't in the Army.
As a young man Keith bought a Colt Single Action Army and started hunting with it. In his writing he advised to practice until being accurate up to 50 yards out on a regular basis. "Shoot only when you know you can place your shot, is a rule for all hunters and especially so for pistol hunters. There is no satisfaction in wounding and losing game."
He often decried hunters that used underpowered ammunition that didn't take down their quarry. In a July 1964 column for "Guns & Ammo" magazine, he reported how a Colorado hunting guide required clients to use rifles rated for at least 3,125 foot/pounds or 250-gr bullets at not less than 2,800 foot/pounds. After the season the guide reported his hunters took 14 elk and there were no crippled elk or wounded elk that were lost.
"(The guide) said he had grown tired of trailing up elk wounded with .270s, .308s, and .30-06s, and this year placed a mandatory caliber limitation on all who booked. It paid off," Keith wrote. "He said all hunters did exceptionally well even with rifles having some recoil."
Keith considered his guns to be tools of his trade, whether it was hunting or self-protection, and that quality tools were important, he wrote. "You get about what you pay for in this world, be it guns, autos, whiskey or clothes. Start with the best gun you can afford."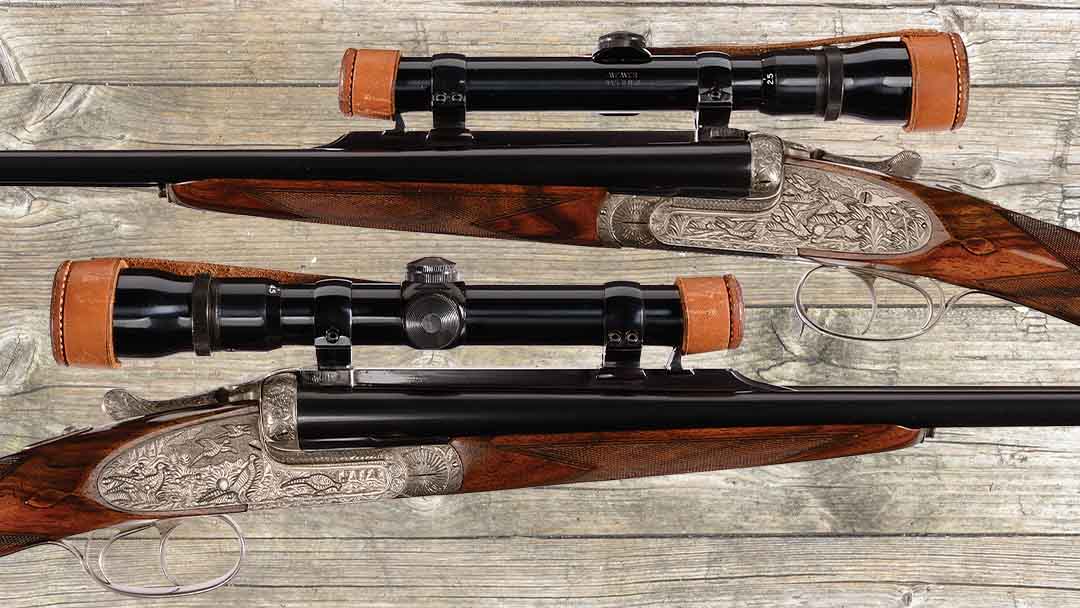 This game scene engraved Victor Sarasqueta sidelock double rifle with scope has a coin finish and scroll engraving surrounding four deeply engraved game bird scenes. A flock of Mallards in flight appears on the left, a covey of pheasant on the right, mallards in flight over water underneath, and a standing crane on the trigger guard. The gun was previously owned by Elmer Keith.
Elmer Keith Guns and the Ruger Old Model Blackhawk
Keith's book, "Sixguns" came out in 1955 just as manufacture of the Colt Single Action Army, out of production since the start of World War 2, was going to resume. Ruger, knew this and quickly worked to put one of their new single actions in Elmer's hands. If Elmer Keith could gush over a gun it was this one.
"For the shooter, be he plinker, peace officer, cow-poke or hunter, this new Ruger is a good, well-made arm. Colt collectors may prefer the original old Peacemaker but any shooter who wants to have first class target sights combined in a really modern arm with all improvements including the rebounding separate firing pin will find the new Ruger Blackhawk the finest single action revolver manufactured to date."
Yes, he wrote "the finest single action revolver manufactured to date." And yet there's more hyperbole about the Ruger, from Keith.
"(The Colt Single Action) will sell to collectors and to those who just want a genuine Colt Peacemaker, but for the shooter or gun crank, Bill Ruger has a far better single action than has ever came out of the Colt Factory," Keith wrote.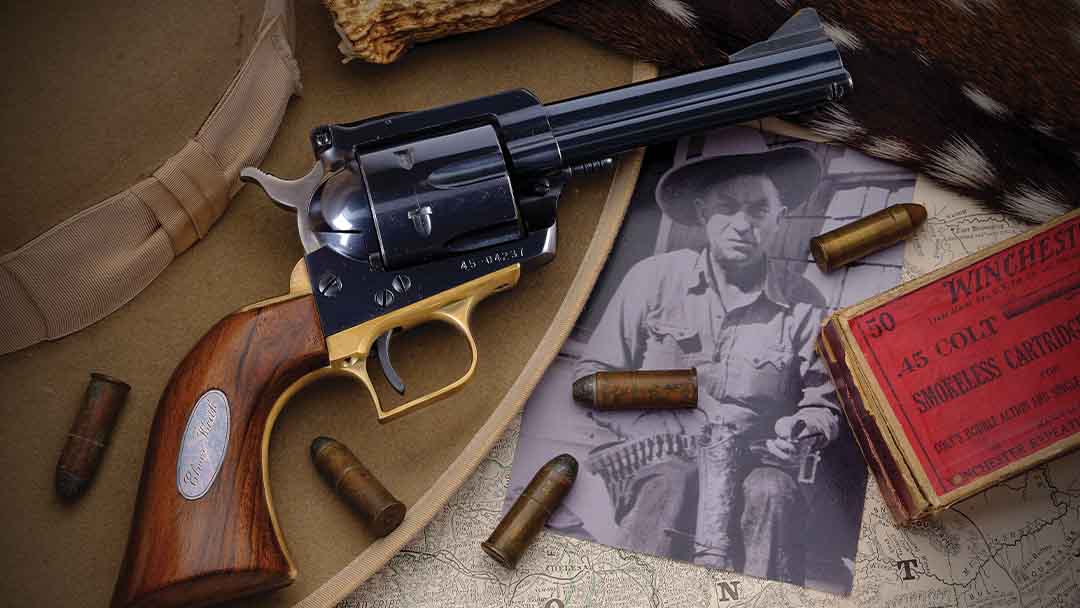 Keith mentions this Ruger Old Model Blackhawk with a 4 5/8-inch barrel in his book "Hell, I Was There," in discussing a hand-loaded cartridge he made. The revolver, from Keith's collection, is available in the upcoming Premier Auction and includes a letter stating it was bought from Keith's estate in March 2015 and a letter stating when Ruger shipped it. The gun itself has a fixed blade front sight and adjustable rear notch sights, a scarce brass grip frame, and custom tuned trigger. The grips are smooth with an inset silver elk head on the left panel and a silver inscription oval on the right inscribed "Elmer Keith" in fancy script.
Elmer Keith Guns: Presentation Pre-29 with holster
As a handloader and writer, Keith was a pivotal figure in the 1930s development of the .357 Magnum cartridge. As mentioned earlier, he didn't find the .38 Special round to be strong enough, especially for police use, so Keith and others went on lobbying for a more thumping round. Never done tinkering and experimenting, it would be almost two decades before he began development on the .44 Magnum.
The .44 Magnum was born in the 1950s, again with Keith and other handloaders leaning on ammo makers. Remington acquiesced as long as a gun manufacturer agreed to make a gun that could handle it. Smith & Wesson answered the call with their simply named ".44 Magnum," which several years latter would be redubbed the Model 29.
He wrote about trying the new Smith & Wesson in .44 Magnum. He would later carry a pair with 4-inch barrels. "Both gun and load proved to be all I had dreamed. The 6 ½-inch barrel gun was a masterpiece, both as to accuracy and careful fitting and sighting. In fact I consider it the finest product of the great Smith & Wesson factory."
One story that Keith told about the .44 Magnum was during a fishing trip off the coast of California when Keith's group encountered several sharks on their return trip. Keith, strapped with his .44 Magnum, found an advantageous position on the boat and started taking shots at them.
"Shooting was usually at 50 to 60 yards, but being up in the pilot house gave me a very good angle of fire," Keith wrote in his July 1963 "Guns & Ammo" column. "By aiming just below and in front of the big dorsal fin that protruded out of the water, I started getting hits from the outset… I had one close shot – at some 25 yards – at a big one and saw the strike in front of his dorsal fin. He simply curled himself in a half circle and lay there stiff and as the boat rolled around him I tried another shot at the back of his head but never did learn the result (except I know I hit him)."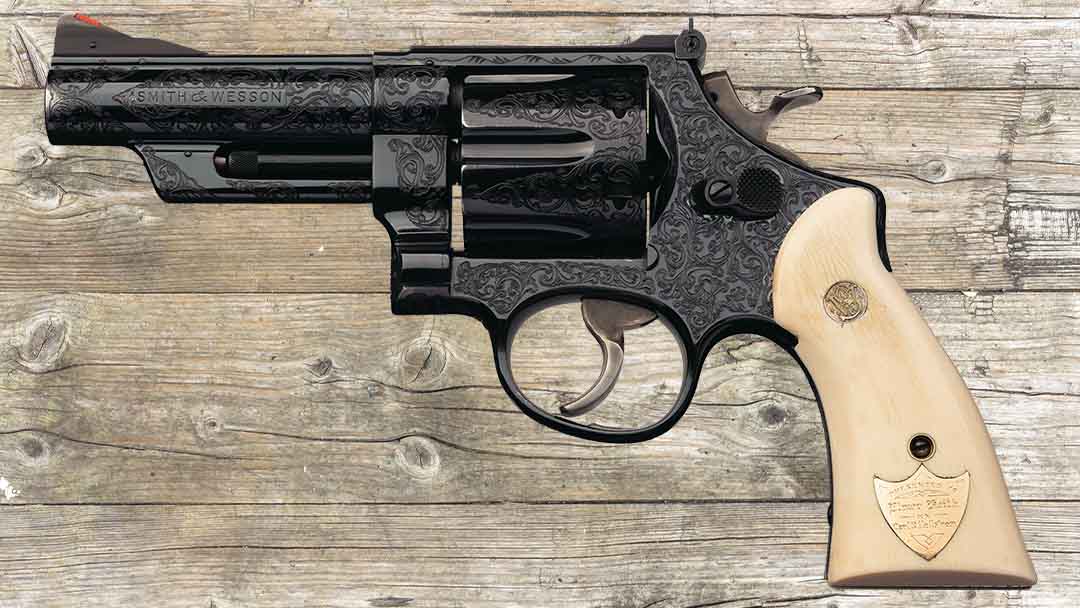 This Pre-Model 29 with a 4-inch barrel has a blued finish with engraving by George Dallas, red ramp front sight, white outline rear sight, target hammer, target trigger, blue finish, and Magna grips. The carved grips feature gold S&W monogram medallions, a gold inlaid presentation inscription shield engraved "PRESENTED TO/Elmer Keith/BY/Carl R. Hellstrom" on the left panel, and a relief carved American eagle on the right panel. The gun was presented to Keith by his friend and S&W President Carl Hellstrom who was encouraged by Keith to develop a revolver capable of loading the .44 Magnum.
Elmer Keith Guns and Gunfights
Keith was in Washington D.C., once for an NRA meeting and visited the Smithsonian Institution and its gun collection. As he perused the firearms collection he met three men who told him about practicing their quick draw technique and that two of them shot themselves in the leg. "Quick draw practice should be with empty guns until thoroughly mastered," Keith wrote, recounting the conversation.
He also offered some wisdom about gunfights, writing "The best way to keep from getting hurt in a gunfight is to keep from getting into a gunfight."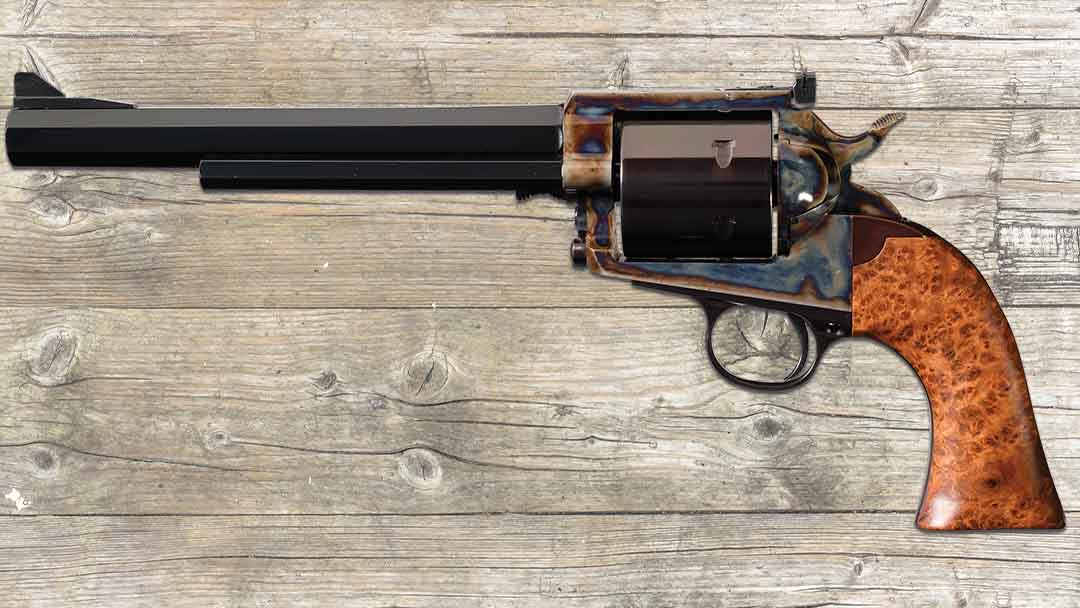 In December, RIAC will offer an homage to Keith's Old No. 5, one of 1,200 designed by gunsmith Bill Grover of Texas Longhorn Arms. The gun is designed to be loaded and unloaded from the right hand and the unfluted cylinder rotates counter clockwise. It has a fixed blade front and adjustable rear notch sights with a gorgeous Bisley pattern smooth burl grip.
Keith was a proponent of making sure to be well armed when confronted by desperados or hoodlums. "Criminals seldom travel singly and you may have more than one adversary. It is mandatory that you carry a holster gun powerful enough to floor an opponent, with one well placed hit," he wrote in "Sixguns."
He praised police departments that committed to harder-hitting ammo for its officers, calling .38 Special a "pip-squeak." In his December 1962 column for "Guns & Ammo," Keith singled out the El Cajon PD for permitting officers to use .44 Special.
"If all police departments in this country were to emulate El Cajon and train their officers thoroughly in combat firing, we would not lose a fraction of the good police officers we now do annually," he wrote.
Elmer Keith Guns at Rock Island Auction Company
The rugged outdoorsman left a legacy of hard-earned handgunning tales, wildcatting cartridges, and a seemingly infinite knowledge of guns and ammunition that is reflected in the firearms he collected. Elmer Keith's guns are a reminder of an untamed American West of not so long ago and offer a link to that time and the man who chronicled it.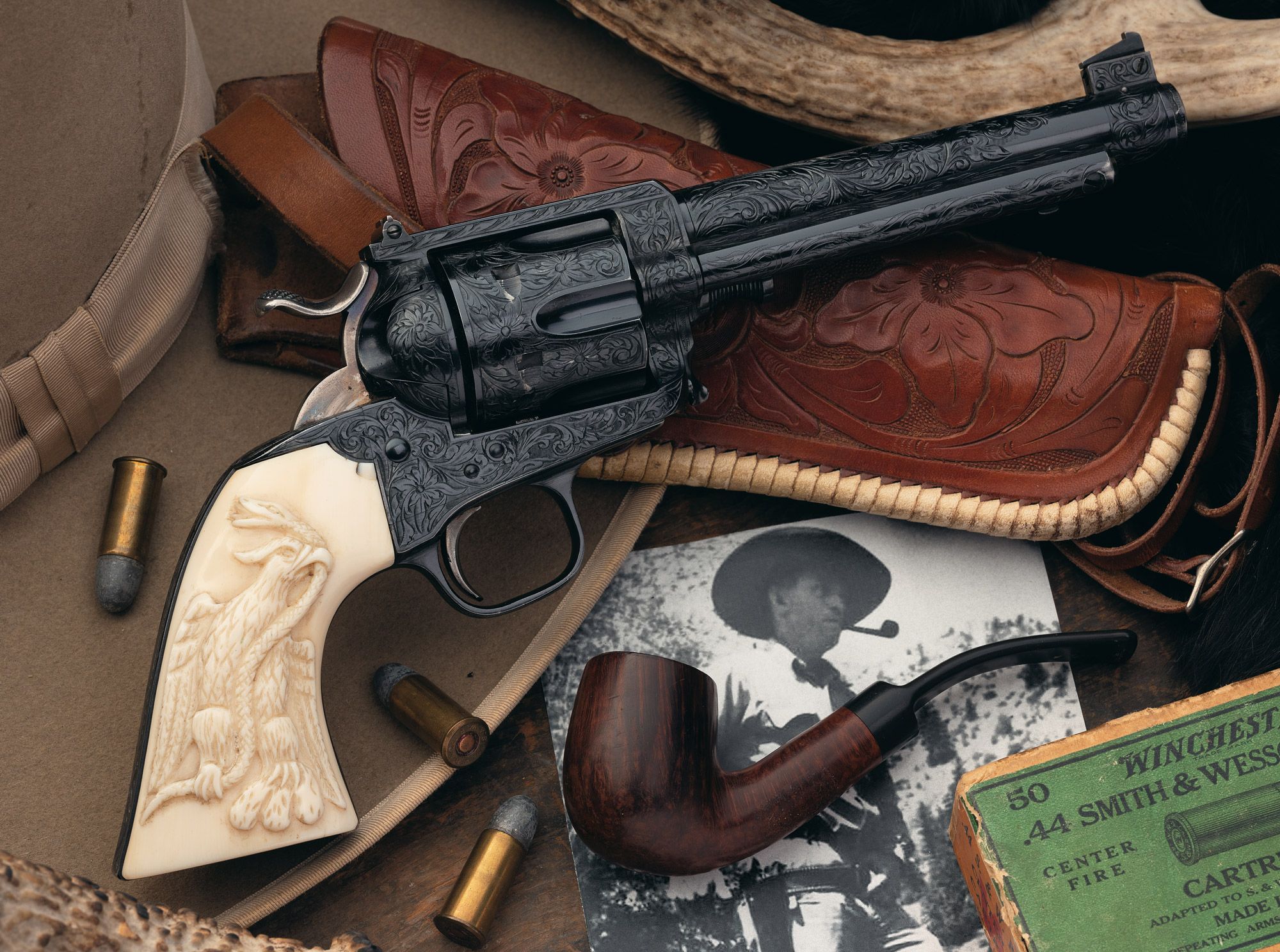 Rock Island Auction Company had the privilege to sell Elmer Keith's Custom Colt Single Action Army target revolver called the Old No. 5 in September 2021 for $253,000.
Sources:
"Sixguns," by Elmer Keith
"Hell, I Was There!" by Elmer Keith
"Gun Notes Volume 1," by Elmer Keith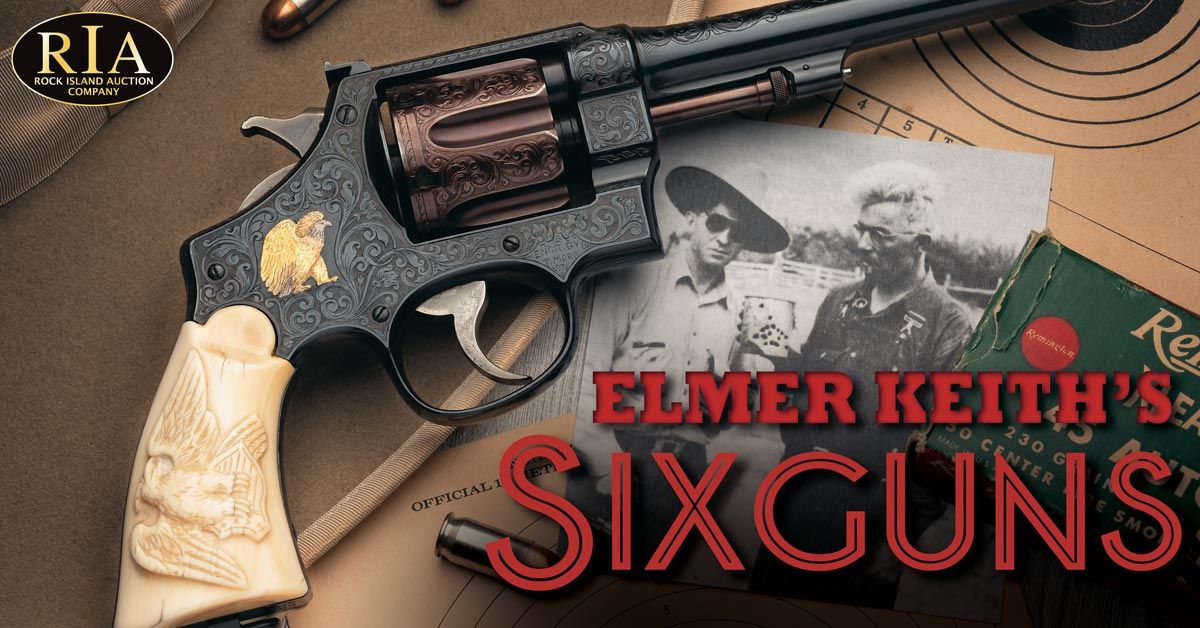 Rock Island Auction Company