When Jack Dean patrolled the lonesome roads of west Texas in the 1960s, he didn't know he'd cross paths with an infamous hitman with a famous son.
Dean joined the Texas Highway Patrol in 1960 after being laid off from an aircraft plant in Fort Worth. After 10 years, he was recruited to the Texas Rangers in 1970 where he rose to the rank of captain before he retired to become U.S. Marshal for the Western District of Texas in 1993. He is one of six Texas Rangers to serve as a U.S. Marshal.
When he joined the Rangers, there was no training.
"They gave you a pistol and a badge, and it was go to work," Dean said in an interview with the Texas Rangers Hall of Fame and Museum. "They just turned you loose and you leaned on your fellow Rangers."
A factory engraved Colt Single Action Army with carved steer handgrips that Dean carried while on duty is on offer in Rock Island Auction Company's May 13-15 Premier Auction. The gun, with factory engraving, was sold to "E. Cosgrove" of Silver City, New Mexico Territory after it was shipped to Simmons Hardware Company in St. Louis, Mo., on Nov. 24, 1906. The right grip features a carved raised steer head.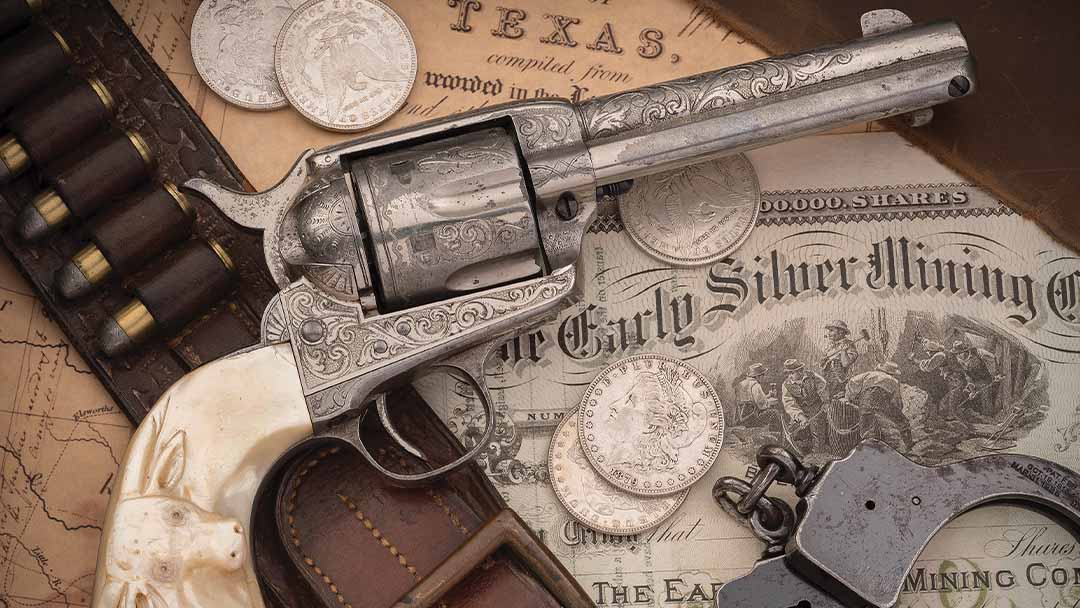 Lot 1183: Texas Ranger Jack Dean's nickel-plated Colt Single Action Army was his everyday carry during his career before becoming the sixth Ranger to serve as U.S. Marshal.
Texas Panhandle
With the highway patrol, Dean was first assigned to Pecos in the Texas panhandle, a lonely, desolate place.
"I went two or three hours without seeing a car. Just a few jack rabbits, deer, and rattlesnakes, that's about all," he said in the interview. He was transferred a few years later to Tyler where he met some Texas Rangers who would become friends and recruit him to join them.
As a Ranger, Dean found himself first assigned to the Rio Grande Valley on the heels of the 1966-67 farm strikes that caused friction between migrant workers and law enforcement in the region. There he worked under a comparatively progressive new captain whose task was to rebuild relations with local residents and migrants, and train a new generation of Rangers on how to enforce the law in the post-Civil Rights movement era.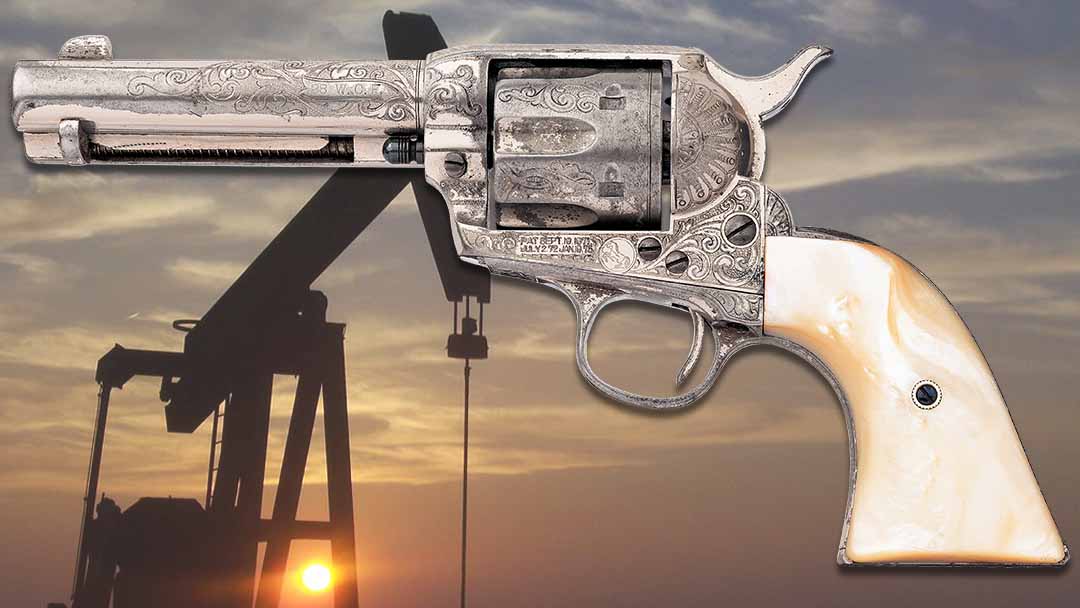 Lot 1183: The nickel-plated Colt Single Action Army carried by Texas Ranger Jack Dean.
Harrelson – Not That One, but Close
Soon he would cross paths with Charles Harrelson, actor Woody Harrelson's father and a hitman for hire. Dean described the senior Harrelson as someone with a "gambler's personality."
They first met in 1970 while Harrelson was in jail charged for a murder in McAllen, Texas, after a hung jury failed to convict him in a murder-for-hire case. The defense produced a nightclub singer as a surprise witness who offered questionable testimony claiming she was with Harrelson at the time of the murder. Dean spent four years gathering evidence, finding witnesses, and investigating Harrelson's attempted jail breaks before a re-trial in Brownsville.
Prior to the the 1974 retrial, the Texas Rangers got a perjury arrest warrant for the nightclub singer who hot-footed to the Caribbean. Harrelson was convicted and received a 15-year sentence but served five.
Assassination
Judge John Howland Wood Jr., appointed to the bench in 1970, earned the nickname "Maximum John" for handing down long sentences on drug cases. He was fatally shot outside his San Antonio condominium in May 1979, the first of three federal judges assassinated in the 20th century and the first in more than a century.
No leads developed at the start of the case so the FBI called the Texas Rangers, and Dean, for assistance. At one point, Dean received an anonymous phone call stating that Harrelson was in San Antonio when Wood was killed.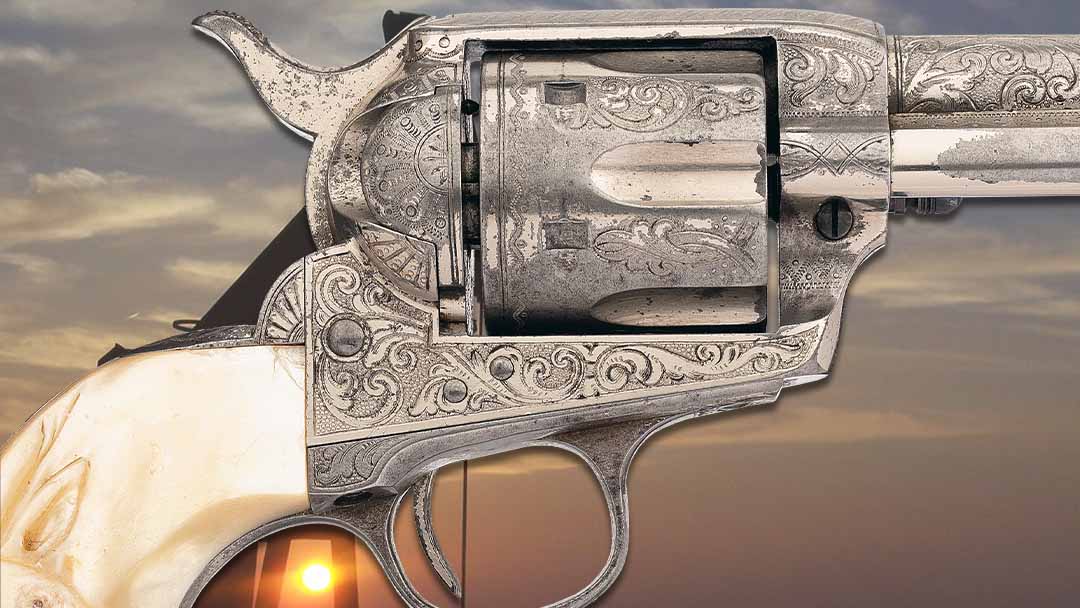 Lot 1183: A close-up look at the nickel-plated Colt Single Action Army carried by Texas Ranger Jack Dean.
Dean and investigators learned that a drug dealer, Jamiel Chagra, of El Paso, was to be in court in front of Wood the day of his death. They also had a recording of a meeting in jail between Chagra and his brother that implicated a murder for hire scheme involving Harrelson.
Dean shared everything he knew about Harrelson with the FBI and was sent on his way. Police arrested Harrelson on reports that he was randomly firing a gun at imaginary FBI agents while on a cocaine binge.
"He wasn't a bad guy to talk to, he'd just kill you, you know, but he wouldn't kill you unless somebody paid him to. He wasn't cold-blooded, you know, go stab, kill everybody…," Dean recalled of Harrelson. "(But) if you pay him a million dollars or $500k well he would take out anybody."
Harrelson claimed at trial that he didn't kill the judge but took credit for it to get a larger payment from Chagra. He was convicted and received two life terms. In 2003, Chagra recanted his testimony, saying it wasn't Harrelson who shot the judge.
The recanted testimony spurred Woody Harrelson, now a famous actor, to try to free his father. By that time, the senior Harrelson, who had tried to escape prison in Georgia, was now confined at a super max prison in Colorado so Dean had to travel to Denver for hearings.
Dean, who always found his nemesis charming and personable, helped arrange for Harrelson to meet his grandchildren and recalled receiving a nice note from the senior Harrelson thanking him for the opportunity. Harrelson died in 2007 in prison.
"I don't think we caught him for everything he ever did," Dean said. "I think he slipped one or two around on us somewhere."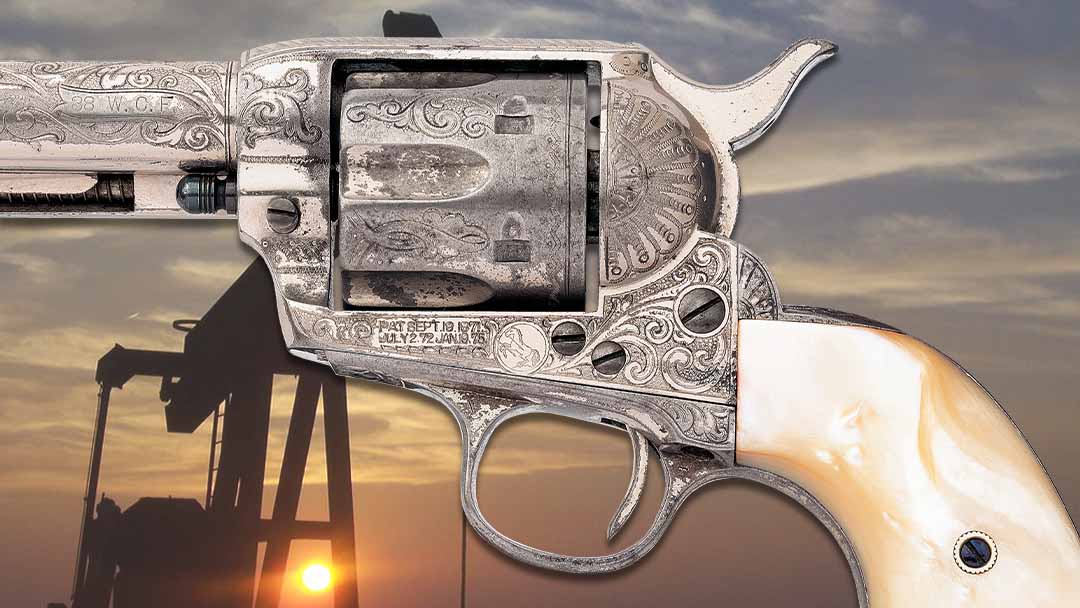 A close-up look at the Colt Single Action Army carried by Texas Ranger Jack Dean.
Henry Lee Lucas
Jack Dean wasn't part of the investigation of Henry Lee Lucas, a fabulist who confessed to 600 murders across the country, but knew of two cases in particular that he believed Lucas committed.
Lucas murdered his mother in 1960 and two others in 1983. While in prison in Texas his confessions of hundreds and hundreds of murders made him the most prolific serial killer in history. He was convicted of murdering 11 in Texas and condemned to death, but that notoriety came with an asterisk.
The Dallas Times-Herald investigated and showed that many of the murders Lucas confessed to were impossible for him to have committed. A follow-up investigation by the Texas Attorney General showed that he was an extraordinary liar who had nothing to lose by confessing. He recanted all of his confessions except for his mother's murder. His death sentence was commuted to life in prison in 1988.
The Texas Rangers were criticized for offering inducements like nice meals and television time that gleaned confessions from prisoners like Lucas who figured out how to game the system for his benefit. Investigators also shared case files with Lucas to help refresh his memory.
Dean said in the interview for the Texas Rangers Hall of Fame and Museum that he thought Lucas committed a couple of murders but couldn't get enough evidence to prove it.
Texas Ranger Duty Revolver
Jack Dean's duty weapon was a Colt Single Action Army shipped in 1906 to a hardware store in St. Louis, Mo., and was purchased by E. Cosgrove of Silver City, New Mexico Territory. It features factory engraving and pearl grips with a carved steer head motif, according to the factory letter. The engraving has classic factory scroll, floral, and wavy lines from master engraver Cuno A. Helfricht, the head of Colt's engraving shop from 1871 to 1921.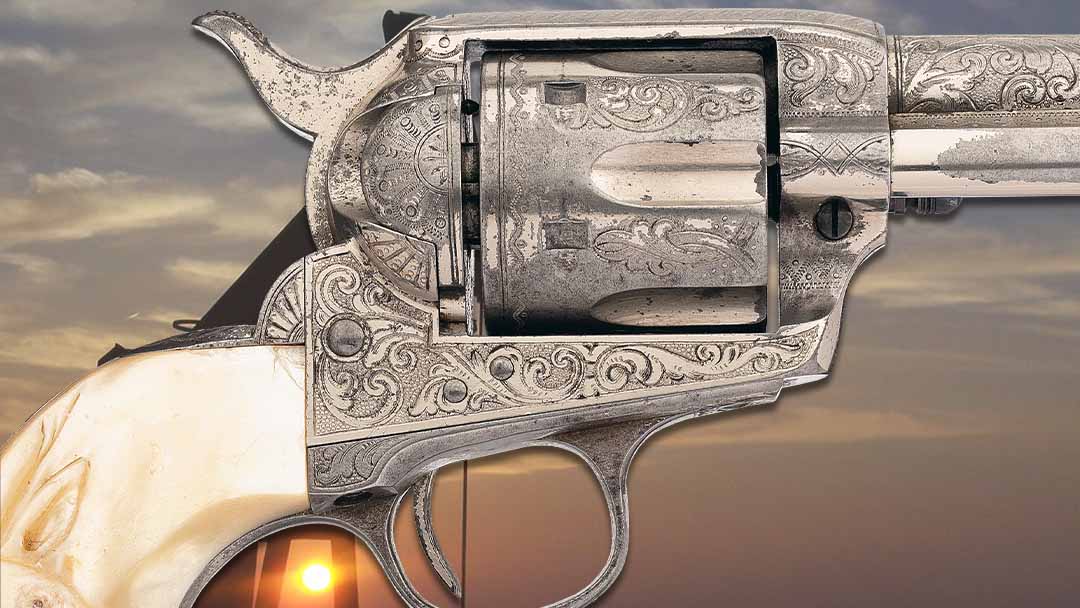 Lot 1183: The nickel-plated Colt Single Action Army carried by Texas Ranger Jack Dean is chambered in 38-40 WCF with factory engraving and carved steer grips.
Eugene Cosgrove was a pioneer in the New Mexico territory and operated the E. Cosgrove Hardware Store in Silver City. The gun also has the name "Buck," that appears as "Buch" on the backstrap. Buck Galbraith was a jailer, constable, deputy sheriff, and marshal in the town of Deming, near Silver City, in the late 19th and early 20th centuries before resigning in 1907. The gun with "Buck" engraved on the backstrap was given to Galbraith as a retirement gift, long before Dean acquired it.
The nickel-plated Colt SAA is a fine connection to the changing frontier of the late 19th and early 20th centuries in the New Mexico territory and, with its mild wear that comes with being at a lawman's side for many years, an attractive representation of Texas law enforcement history as the everyday carry of only the sixth man to serve as a Texas Ranger and U.S. Marshal.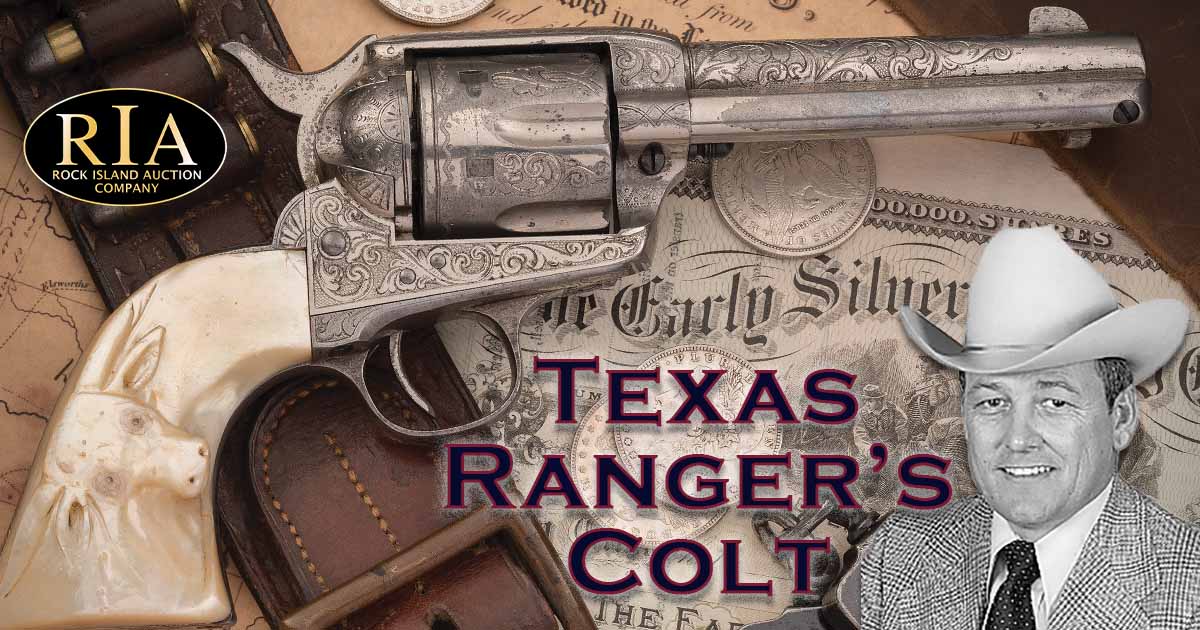 Rock Island Auction Company