If dad talks about plinking cans behind the barn, playing cowboys and Indians, or his deer hunting exploits, Rock Island Auction Company is here to help. Put aside the ties, "best dad" coffee mugs, or a bottle of whiskey (well, maybe keep the whiskey) and take a look at the gun gifts in our auction catalogs for Father's Day.
Rock Island Auction can offer a number of gun gifts, whether they are plinkers, vintage sporting arms, a nostalgic sidearm, or something for dad's gun room. These can be found at numerous price points in any of RIAC's auctions, from the frequent Arms & Accessories Auctions, to the Sporting & Collector, and Premier Auctions that are held three times a year. Here are some possible ideas for gun gifts.
Classic Father's Day Gun Gifts
Fathers dig the classics, whether it is Led Zeppelin, John Wayne films, or John LeCarré novels, and gun gifts are no different.
How many memories does dad have of crisp autumn mornings in a tree stand, whether it is that first deer or bagging a 12-point buck? A Winchester Pre-64 Model 70 is among the terrific gun gifts for the hunter on your list. Introduced between the world wars and manufactured by skilled workers that took the time to make sure the trigger pull was smooth, the action was just right, and the metal was well blued and polished.
Gun manufacturers like Winchester had to set aside sporting arms for the war effort in the 1940s. When production of sporting arms resumed in the late 1940s and into the 50s, and the skilled workers were getting to retirement age. More machines were being used to make guns that, while still fine guns, the change in the degree of workmanship showed.
A Winchester Pre-64 Model 70 calibered for small game or an African safari can be found in numerous price points at Rock Island Auction Company. An engraved and upgraded model recently sold in the May Premier Auction while others ready for the woods can be found in the Sporting & Collector and Arms & Accessories auctions.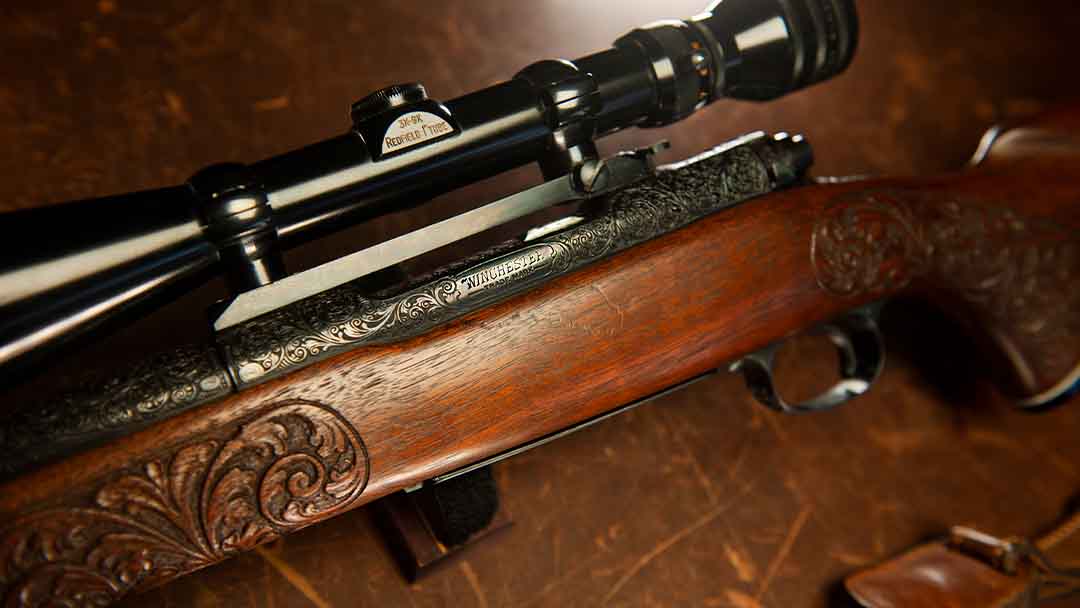 This game scene engraved Pre-64 Winchester Model 70 with a scope features a fighting pair of bull moose on the floor plate and a running stag carved on the right stock. It is chambered in 300 H&H Magnum. This Holland & Holland round would be respectable on the African plains.
Winchester made its name in the 19th century on its lever action rifles. The first Model under the Winchester name was the Model 1866, but it was the Model 1873 that won the west. It wasn't considered the best of Winchester's lever guns for hunting. That title might go to the Model 1895, the pinnacle of the series. Zane Grey knew how good a gun it was. He ended up with four of them and called the 1895 "the finest rifle ever built."
The most popular Winchester lever action rifle for hunting may well be the Model 1894, with over 7 million made. John Moses Browning improved the 1894 over the Model 1886 and 1892 by strengthening the single locking block with a transfer bar. President Theodore Roosevelt hunted with the 1894. This rifle is definitely for an old school hunter who appreciates the classics and won't be relying on a scope.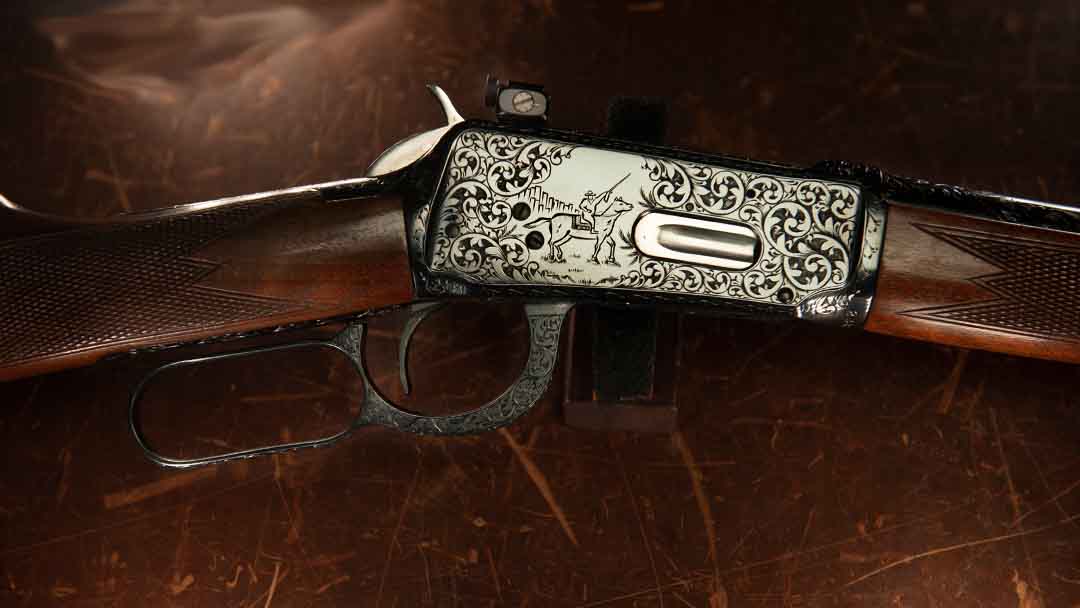 This engraved Winchester Model 1894 carbine features game scenes on both side of the receiver, with a running stag on the left side of the receiver and a hunter on horseback on the right side of the receiver. The gun also has scroll-type engraving on the receiver, the top of the barrel, and the lever. It also has a Williams peep sight.
Perhaps dad wants a sidearm when he hunts. If the Smith & Wesson .357 Magnum round was good enough for legendary handgunner Elmer Keith, it should be good for one of dad's gun gifts. Keith was instrumental in creating the round in the 1930s, looking for a more potent round than the .38 Special.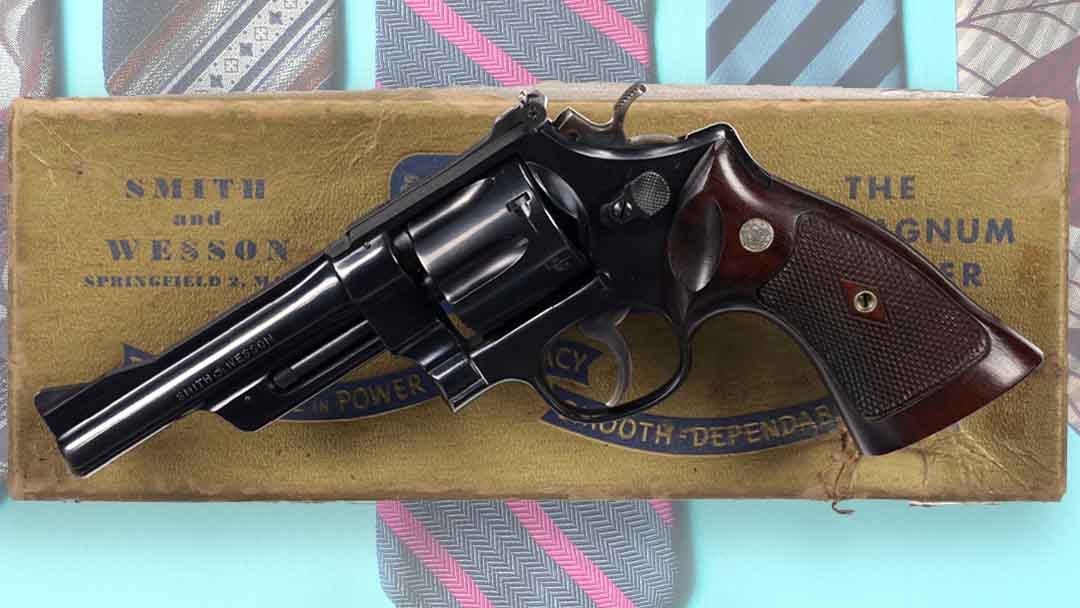 This Smith & Wesson .357 Magnum Pre-Model 27 double action revolver made in 1954/55 should offer enough stopping power in an emergency while out on the hunt.
Handguns as Vintage Gun Gifts
Colt's legendary 19th century wheelgun never goes out of style. The timeless Colt Single Action Army revolver is on its third generation, carried by John Wayne on the Silver Screen, Bat Masterson as a lawman and gunslinger, and countless desperados and lawmen across America's Wild West. As the old saying goes, "God created men. Samuel Colt made them equal."
Colt Single Action Army revolvers are readily on offer in RIAC's auctions, whether it is a third generation revolver, a lawman's sidearm, or a piece in such exquisite condition it sells for six figures. This first generation SAA was made with a long flute cylinder from the discontinued 1878 double action revolver. Manufactured in 1915, it is one of 274 Single Action Army revolvers assembled that year with the long flute cylinder.
There are so many classic guns from World War 2, whether they are German Lugers or Walthers, Japanese Nambu pistols, or the Russian SVT-40 or PPD-40that were bring back guns carried home by the Greatest Generation. Still, it is American guns and the GIs that carried them that we think of proudly when families sit to watch "Band of Brothers," "Saving Private Ryan," or "The Longest Day."
The U.S. Military searched for a reliable semi-automatic handgun at the start of the 20th century and went through several trials as John Moses Browning tinkered with the design until it became the Model 1911 chambered in .45 ACP. The gun would be a staple of America's arsenal for decades to come.
American soldiers carried the Colt Model 1911 in both world wars. In World War 2, other companies were contracted to manufacture the pistol for the Arsenal of Democracy, like the Singer Sewing Machine Company that made 500 test pistols, as well as Ithaca, Remington Rand, and Union Switch & Signal.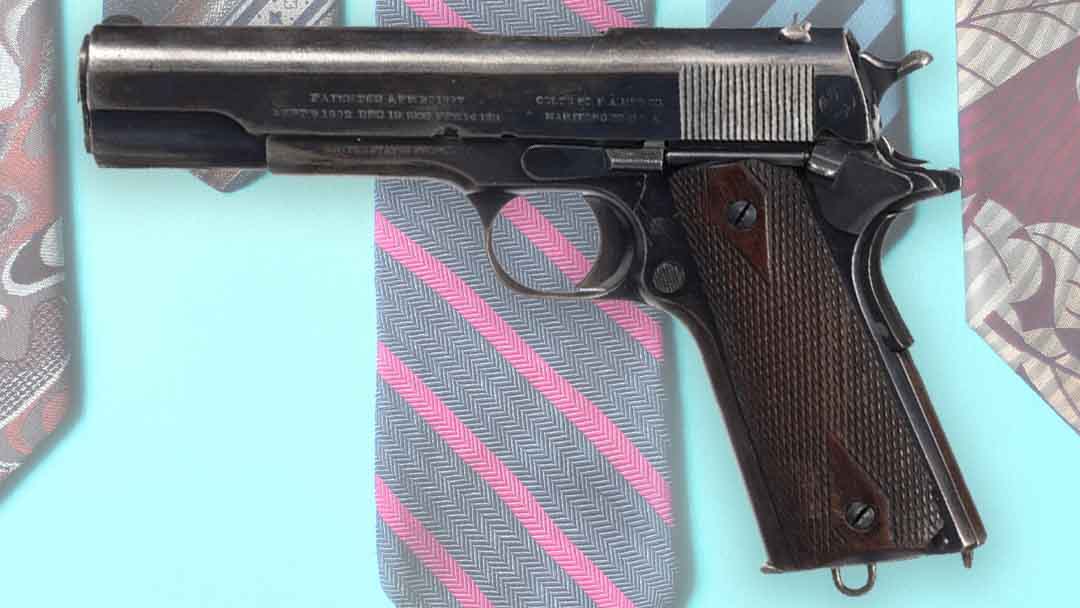 This Colt Model 1911 was manufactured in 1912, the first full year of production by the company. This pistol is available in Rock Island Auction Company's upcoming Sporting & Collector Auction.
Vintage Plinkers for Father's Day
If shooting cans off the back fence on a hot summer day or heading into the woods to hunt squirrels are fond childhood memories for dad, Rock Island Auction often has plenty of plinkers that provide that nostalgia, whether it is shooting from the shoulder or taking aim with a handgun.
In production since 1964, the Ruger 10/22 hits all the feels – and soup cans – when it comes to nostalgia. They can regularly be found at a comfortable price point in RIAC's Arms & Accessories Auction.
Taking aim at tin cans and targets can also be done with a handgun and why not a gun that's been around since the 1930s to feed into dad's nostalgia. The Smith & Wesson K22 Target Model, built on the company's medium K-frame was promoted as the outdoorsman's revolver since Colt's Woodsman served a similar purpose. The gun was designed to be cocked without altering the shooter's grip.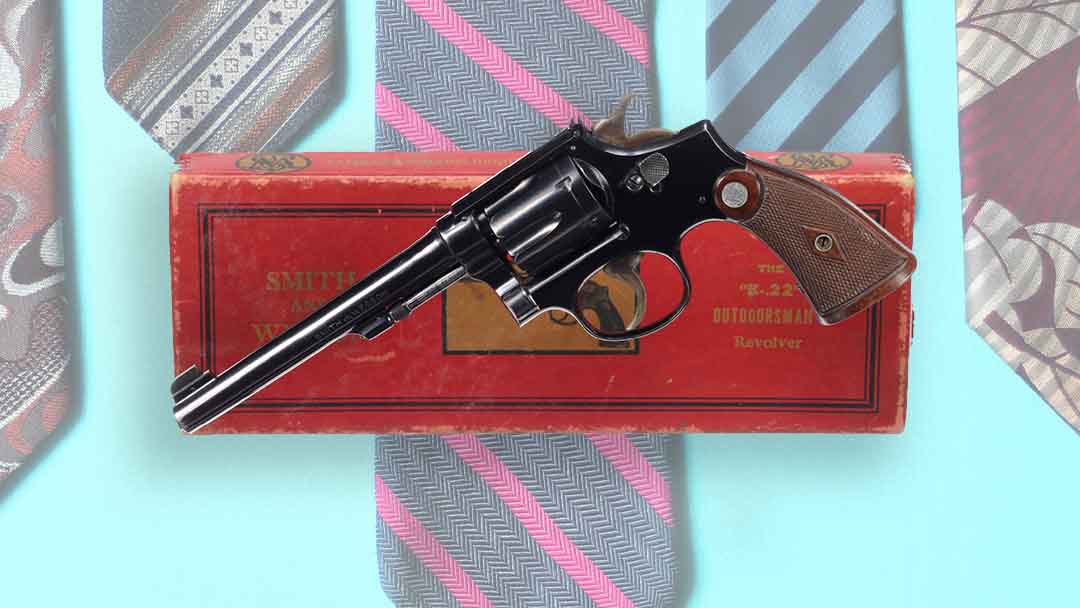 The Smith & Wesson K22 was made from early 1930 until the end of 1939, with 17,117 produced. This double action with a six-inch barrel is available in the upcoming June Sporting & Collector Auction.
Father's Day Shotgun Gifts
If dad has memories of hunting fowl or shooting skeet, a double barrel Winchester Model 21 might be one of the best gun gifts. Considered the top American side-by-sides made, the Model 21 was manufactured with super-strong chrome-molybdenum alloy, had nine patents to its name, and was chambered in 12, 16, 20, 28 gauges, as well as .410.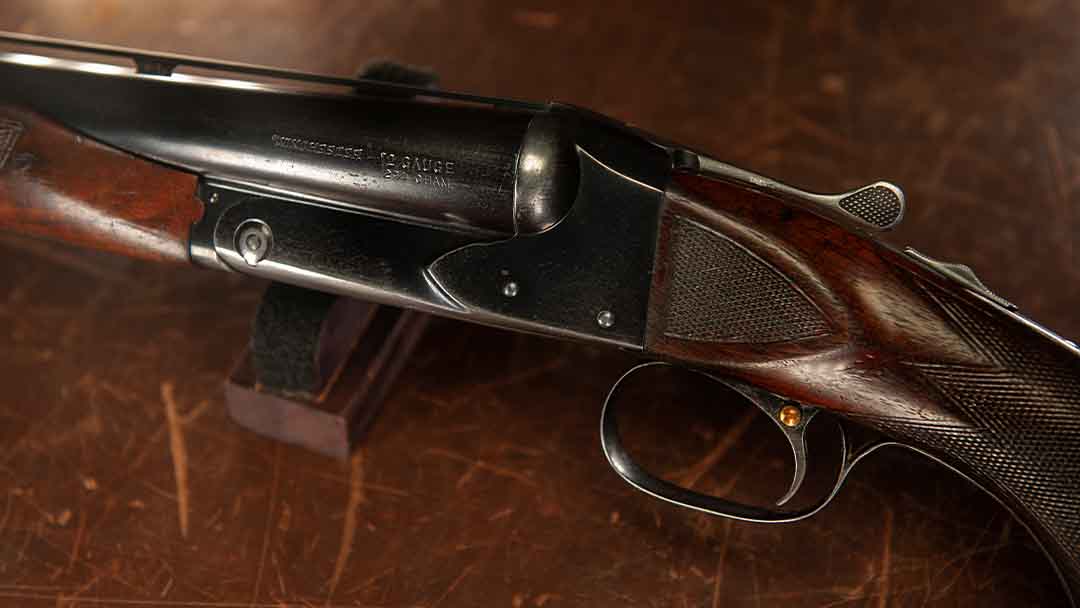 Early examples of the Model 21 had double triggers but that changed in 1931. This single-trigger Winchester Model 21 chambered for 12 gauge was made for American Olympic shooter John B. Grier. It is available in Rock Island Auction's upcoming Sporting & Collector Auction.
Along with the Browning Hi Power, the Browning Superposed shotgun was one of John Moses Browning's last designs, improving on the breech and reinforcing the hinge mechanism for tightness. Browning died in 1926, but the first Superposed was sold in 1931. The over/under gun was to be a less-expensive option to similar European over/under shotguns and now is an opportunity as a fancier sporting arm if giving gun gifts.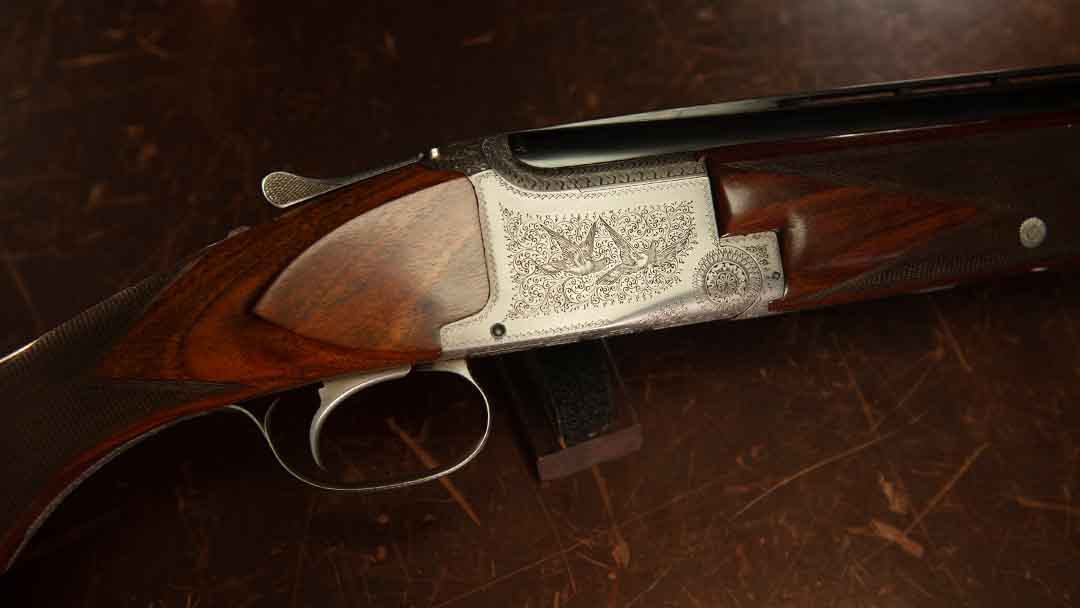 This 12 gauge Browning Diana Grade Superposed shotgun has pigeons taking flight engraved on each side of the receiver as well as oak leaf and scroll engraving with a nicely polished finish for an elegant mid-century gun gift.
Gun Gifts for the Gun Room
Perhaps after a hunt dad likes to unwind telling tales of the day's events in his gun room or man cave. Or has he dreamed of having a gun room to call his own? Vintage advertising posters from gun and ammo makers, vintage western art, or a cartridge board would look great on the wall and be terrific gun gifts.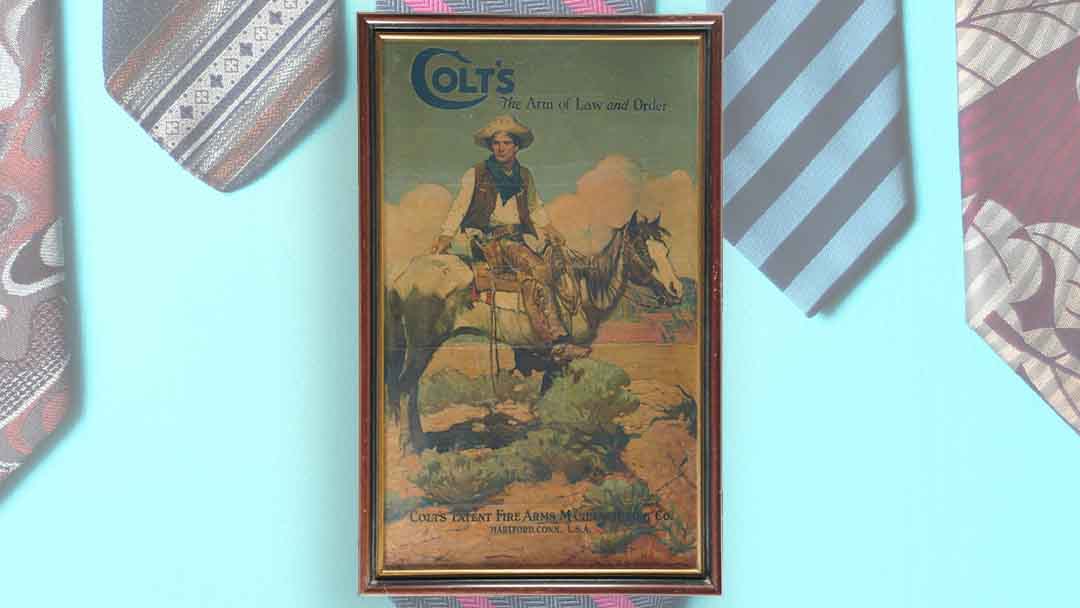 Advertising posters often portray hunting scenes or images from the Wild West. This framed Colt advertising poster is based on the 1926 oil painting "Tex and his Horse, Patches" by Frank Schoonover and is available in the upcoming June Sporting & Collector Auction.
Cartridge boards are fascinating pieces, often dating back to the 19th century and would certainly show a person's interest in the history of firearms and ammunition development.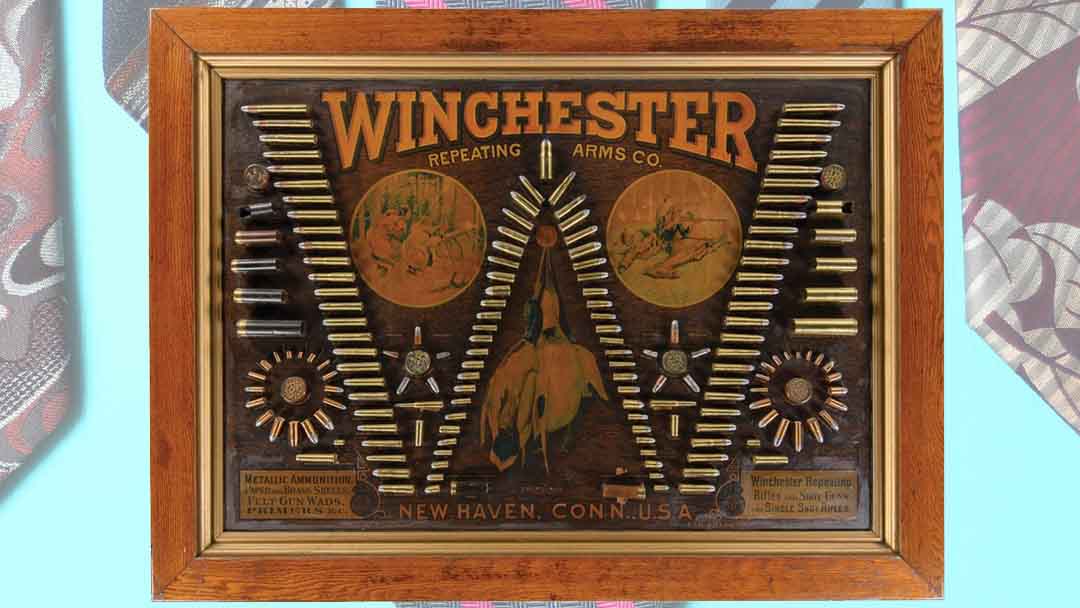 Cartridge boards like this Winchester Repeating Arms "W" cartridge were common sights in sporting goods shops around the turn of the 20th century. The more than 100 cartridges displayed on this board range from a tiny BB cap to the massive 4 gauge. This was recently offered in a Premier Auction at Rock Island Auction Company.
Gun Gifts for Father's Day and Beyond
From vintage sidearms, sporting arms that harken back to the mid-20th century, plinkers evoking youthful memories, and even nostalgic wall décor make great gun gifts that can be found at various price points in Rock Island Auction Company auctions.
Rock Island Auction Company