FORT WORTH, TX – Today, Firearms Policy Coalition (FPC) announced a victory in Andrews v. McCraw, its Second Amendment lawsuit that challenged a ban on handgun carry by young adults in the State of Texas. The judgment and injunction can be viewed at FPCLaw.org.
"The issue is whether prohibiting law-abiding 18-to-20-year-olds from carrying a handgun in public for self-defense is consistent with this Nation's historical tradition of firearm regulation," wrote Judge Mark Pittman in his Opinion. "Based on the Second Amendment's text, as informed by Founding-Era history and tradition, the Court concludes that the Second Amendment protects against this prohibition. Texas's statutory scheme must therefore be enjoined to the extent that law-abiding 18-to-20-year-olds are prohibited from applying for a license to carry a handgun."
"Texas cannot point to a single Founding Era law that prohibited 18-to-20-year-olds from carrying a functional firearm for self-defense, because not only did no such law exist, but those individuals are an important reason why we have a Bill of Rights in the first place," said FPC Senior Attorney for Constitutional Litigation, Cody J. Wisniewski. "The typical age of individuals that went to war with the British for our Independence was between 17 and 20 years old. And young people have just as much a right to keep and bear arms in public as adults over the age of 21. This decision is a significant victory for the rights of young adults in Texas and demonstrates for the rest of the nation that similar bans cannot withstand constitutional challenges grounded in history, as Bruen and Heller require. We look forward to restoring the right to keep and bear arms throughout the United States in the coming months and years."
In order to allow Texas time to appeal and seek a stay, the trial court stayed the injunction for 30 days. "Though Plaintiffs' interest in the vindication of their Constitutional rights suffers while the judgment is stayed, the stay is necessary to militate the possible negative effects of relying on the injunction while it is subject to appellate review and possible reversal," the Court said. As such, young adults in Texas under age 21 should not carry handguns in public under this decision until the injunction takes effect. FPC will continue to provide updates on this case at FPCLaw.org and on social media.
The judgment in Andrews is likely the first final judgment on the merits in favor of Second Amendment rights since the Supreme Court's decision in NYSRPA v. Bruen this June. The plaintiffs in this case were represented by David H. Thompson, Peter A. Patterson, and William V. Bergstrom of Cooper & Kirk, who are representing FPC and individual gun owners in multiple other legal cases, as well as Texas counsel R. Brent Cooper of Cooper & Scully, P.C.
Individuals who would like to Join the FPC Grassroots Army and support important pro-rights lawsuits and programs can sign up at JoinFPC.org. Individuals and organizations wanting to support charitable efforts in support of the restoration of Second Amendment and other natural rights can also make a tax-deductible donation to the FPC Action Foundation. For more on FPC's lawsuits and other pro-Second Amendment initiatives, visit FPCLegal.org and follow FPC on Instagram, Twitter, Facebook, YouTube.
In addition to Andrews, FPC is litigating to restore the right of young people to keep and bear arms in cases including Lara v. Evanchick (vs. Pennsylvania, in the 3rd Circuit), Reese v. ATF (vs. the federal government, in the 5th Circuit), Bassett v. Slatery (vs. Tennessee, in the 6th Circuit), Meyer v. Raoul (vs. Illinois, in the 7th Circuit), Worth v. Harrington (vs. Minnesota, in the 8th Circuit), Jones v. Bonta (vs. California, in the 9th Circuit), and Baughcum v. Jackson (vs. Georgia, in the 11th Circuit).
Firearms Policy Coalition (firearmspolicy.org), a 501(c)4 nonprofit organization, exists to create a world of maximal human liberty, defend constitutional rights, advance individual liberty, and restore freedom. FPC's efforts are focused on the Right to Keep and Bear Arms and adjacent issues including freedom of speech, due process, unlawful searches and seizures, separation of powers, asset forfeitures, privacy, encryption, and limited government. The FPC team are next-generation advocates working to achieve the Organization's strategic objectives through litigation, research, scholarly publications, amicus briefing, legislative and regulatory action, grassroots activism, education, outreach, and other programs.
FPC Law (FPCLaw.org) is the nation's first and largest public interest legal team focused on the Right to Keep and Bear Arms, and the leader in the Second Amendment litigation and research space.
# # #
MEDIA CONTACT:
Firearms Policy Coalition
P: (916) 378-5785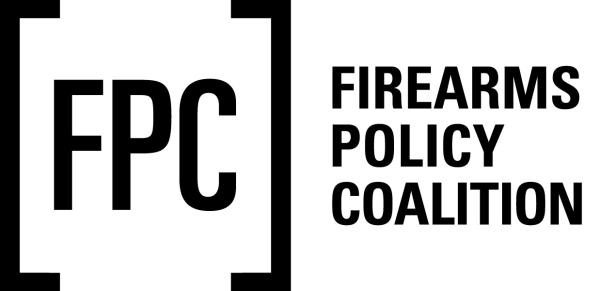 Real Guns