A Cyrus Alger & Co. Model 1835 12-lbs. howitzer is the legacy of the concept of flying battery artillery, and of military innovator Thomas J. Rodman, who inspected the piece and whose initials it bears.
Gen. Rodman, considered the father of the Rock Island Arsenal, was a scientific mind who innovated a method to cast cannons, making them stronger and less likely to burst, and how to produce gunpowder so it will burn progressively, increasing muzzle velocity.
The concept of flying battery artillery was first employed by the U.S. Army in the Mexican-American War where artillery pieces, like the Cyrus Alger & Co. 12-pounder, were light and mobile, pulled by horses so they could be moved about quickly.
The Cyrus Alger 12-pounder is one of three artillery pieces in Rock Island Auction Company's Aug. 26-28 Premier Auction, joined by a Revolutionary War Verbuggen style three-pound grasshopper cannon, and an American style bronze field gun.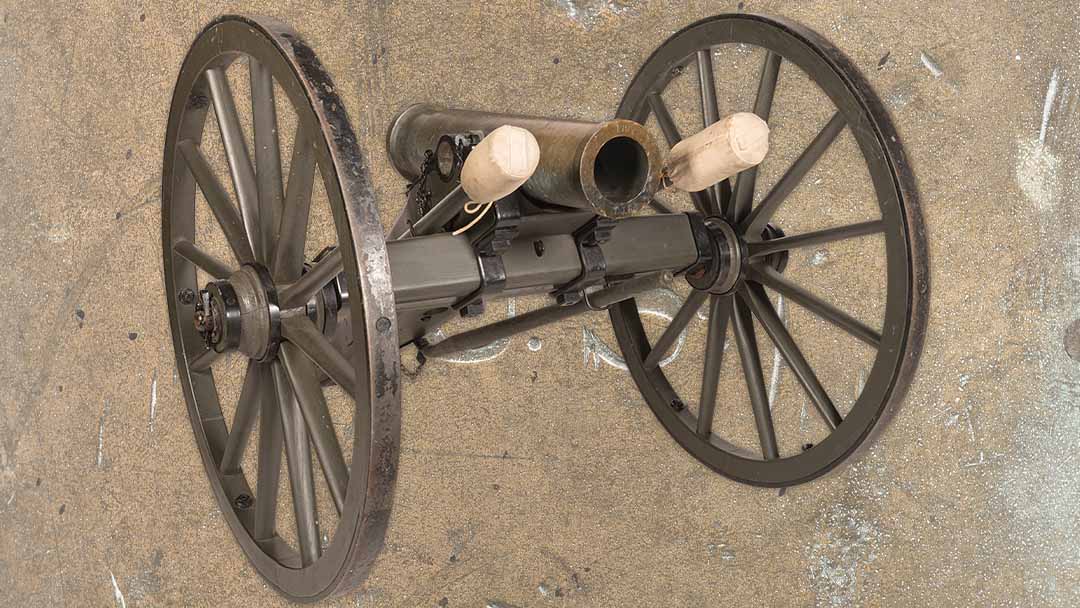 This is Lot 78, a Cyrus Alger & Co. manufactured Model 1835 12-pounder howitzer is recorded as inspected by Thomas J.Rodman on June 3rd, 1861, right at the beginning of the Civil War. Its size made it a good tool for flying battery artillery tactics. Rodman was an innovator and considered the father of the Rock Island Arsenal.
Flying Battery Artillery and Samuel Ringgold
The son of a U.S. Congressman, Samuel Ringgold graduated fifth in his class from the United States Military Academy in 1818. Among his assignments, he was assigned to an artillery company that served in the Seminole War in Florida in 1836. He fell ill during the excursion and went to Europe to recover and study at the Ecole Polytechnique in Paris and Sandhurst Royal Military College in London where he learned about light artillery.
Returning from Europe in 1838, Ringgold was ordered to organize a light artillery company. Ringgold and his unit were to put the flying battery artillery tactics to use in the Mexican-American War.
Mexican-American War
The Cyrus Alger & Co. howitzer is similar to but rarer than the lighter Model 1841. Both were used in the Mexican-American War, Indian Wars, and the Civil War. They were light and mobile artillery for Ringgold's flying battery artillery tactics. The guns were pulled by horses and would be moved to a new location after firing a shot, making it difficult for the enemy to zero in on any one location. Quick movement allowed the artillery to protect vulnerabilities that became apparent in battle and provide sudden, withering fire against the enemy.
During the Battle of Palo Alto, the American forces found themselves outnumbered by the Mexican troops by about 1,000. Gen. Zachary Taylor, seeing a frontal assault was ill-advised, implemented the flying artillery battery tactics, protecting the American supply train while also keeping a Mexican charge at bay. In an artillery duel the fast-moving American cannons took a toll on the Mexican troops, forcing them into retreat.
Ringgold was shot in the legs during the battle but continued on commanding his men until he was carried from the field. He died May 11, 1846, three days after the battle.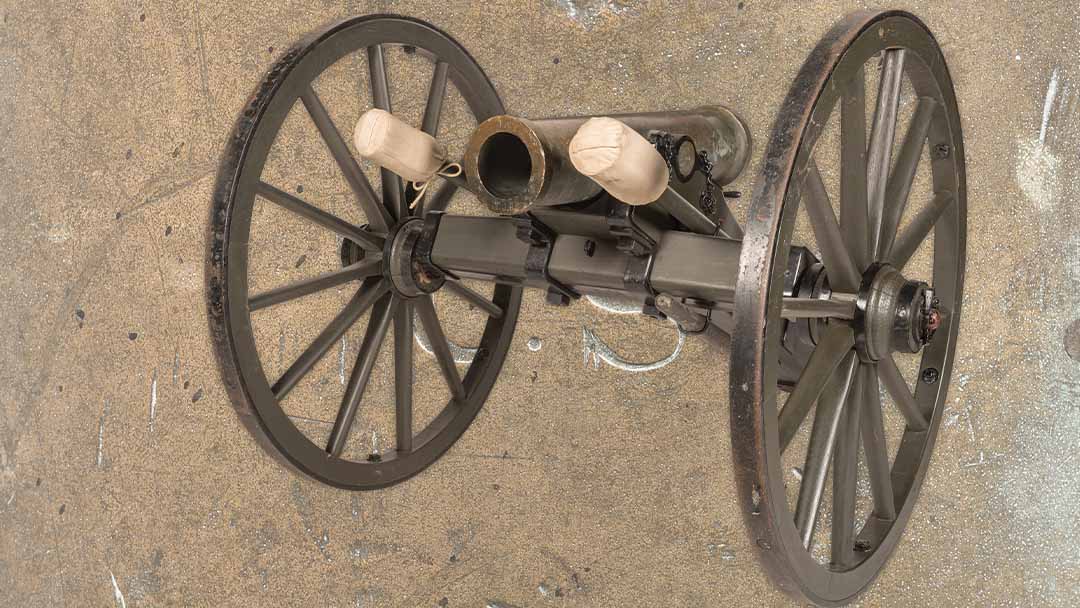 Howitzers like this Cyrus Alger & Co. 12-pounder in Lot 78 saw action in the Mexican-American War and American Civil War. Because of its size this cannon was used in flying battery artillery tactics.
Cyrus Alger 12-Pounder
The Cyrus Alger & Co. howitzer was designed to be suitable for flying artillery battery tactics as a light and mobile field piece. It is 37 1/2 inches from muzzle to rear tip and has a standard bore measuring 4 5/8 inches. It is marked on top between the trunnions "179/T.J.R." as Thomas Rodman's inspection registry number and initials.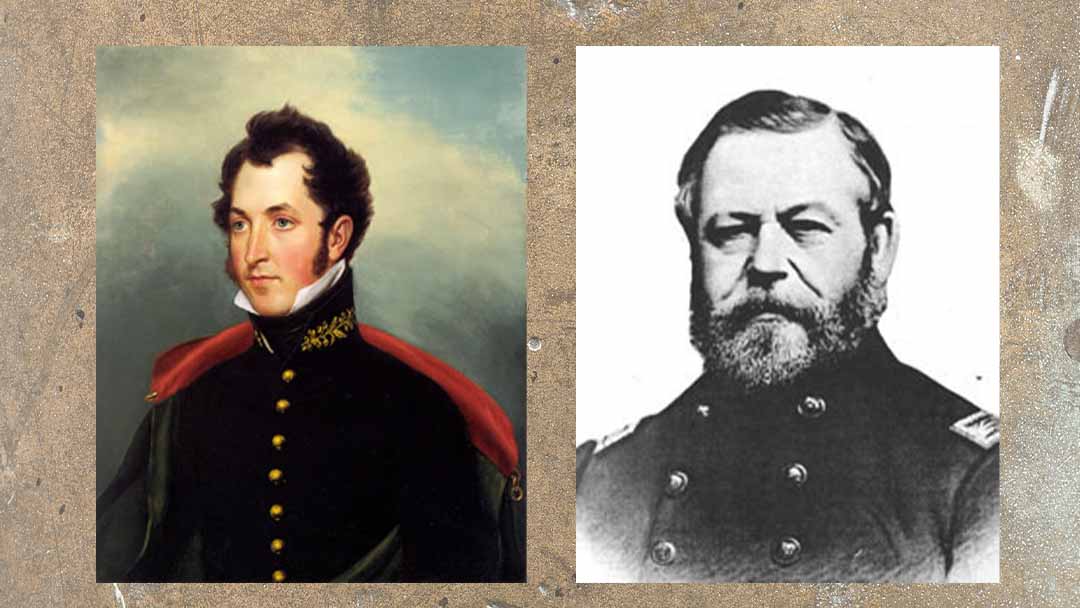 Thomas J. Rodman, right, inspected this Cyrus Alger & Co. 12-pound howitzer and Samuel Ringgold, left, advanced the flying battery artillery tactic this piece could be used for.
Thomas J. Rodman
Rodman had a number of posts as an ordnance officer between his graduation from the U.S. Military Academy in 1841 where he graduated seventh from a class of 52 and his assignment at Rock Island Arsenal in 1865. He saw limited action in the Mexican-American War and while assigned to Fort Pitt, he began his decade-long experiments with hollow casting larger cannons to make them stronger. He arrived at Rock Island Arsenal with a number of innovations under his belt.
During an 1843 excursion with several dignitaries, including President John Tyler, aboard the USS Princeton in 1843, a 12-inch cannon fired during a demonstration exploded, killing six, among them Secretary of State Abel P. Upshur and Secretary of the Navy Thomas Gilmer. This prompted Rodman to find a way to get rid of structural irregularities. When being cast, iron cannon barrels were cooled only on the outside then bored out with the belief that the boring would remove any flaws. Rodman found a way to cast around a hollow core and use running water to cool the inside of the barrel to get better structural integrity.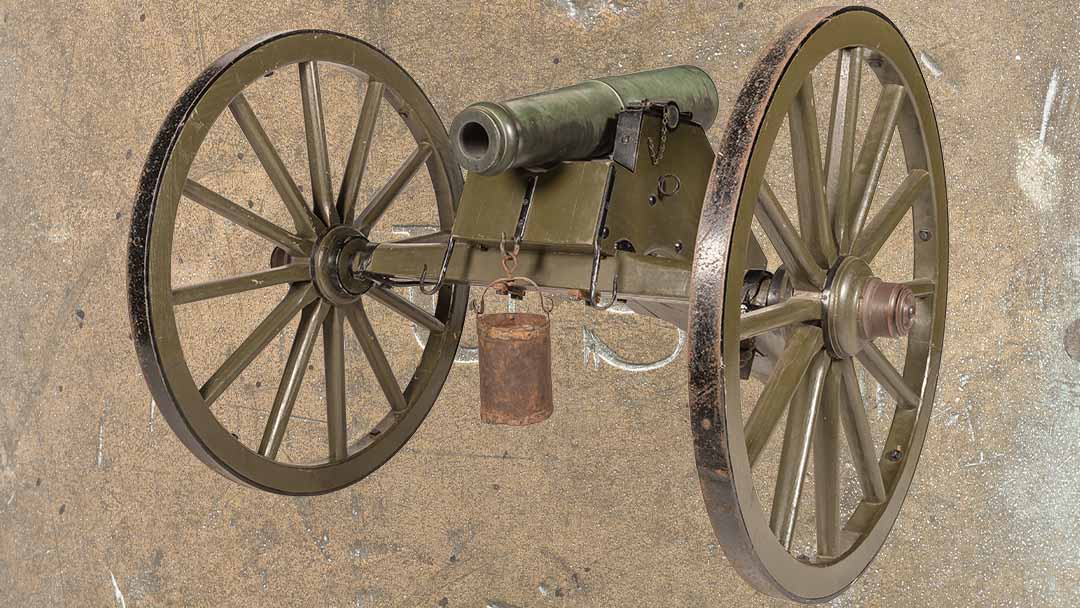 This American Style Bronze Field Gun, Lot 1129 is of a size that it could be used in flying battery artillery tactics.
Rodman's process got rid of the sand core and instead utilized an insulated iron pipe that circulated water to start cooling the interior while hot coals packed around the casting mold kept the exterior hot. Coals were slowly removed as the cooling progressed, making the metal compression uniformly. For a cannon with an 8-inch bore, the process took 65 hours and used 50,000 gallons of water.
He experimented for over 10 years, casting cannons of various sizes in pairs, with one cast using his process and the second cast by the old method. In one pair that was tested, the piece cast on Rodman's process fired 1,500 times, while the other burst on the 73rd round. The government approved Rodman's process in 1859.
Many of the Rodman guns, as the cannons made by his process were called, were made for coastal defense because of their weight. They ranged in size from 8-inch bores up to 20-inch bores. Between 1862 and 1867, 1,301 10-inch Rodman guns were made. Each weighed 15,509 lbs.  Dahlgren guns, cast with the Rodman process, were mounted on the U.S.S. Monitor and other Union ironclads of the American Civil War.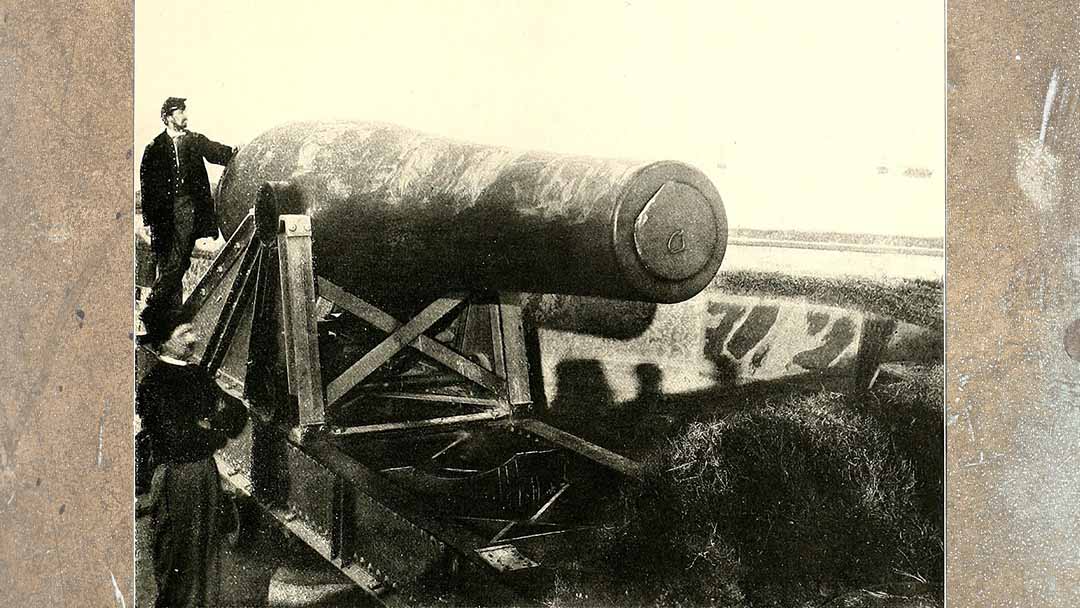 Because of their size, Rodman Guns were used for coastal defense.
Gunpowder Innovation
Rodman believed gunpowder had to suit the gun. Most charges ignited spontaneously to simply get the projectile moving, but Rodman surmised that if the powder burns longer it would continue to build pressure and create greater velocity without excessive strain on the gun. Large-grained, dense gunpowder worked best in large and moderately long guns.
By pressing powder into disks one to two inches thick that fit the guns bore and piercing the disk with small holes, Rodman thought at ignition there would be less surface area to burn. As the fire started into the holes, the burning surface area increases the pressure and muzzle velocity as the projectile travels up the barrel. Rodman's idea is the basis for progressive burning gunpowder.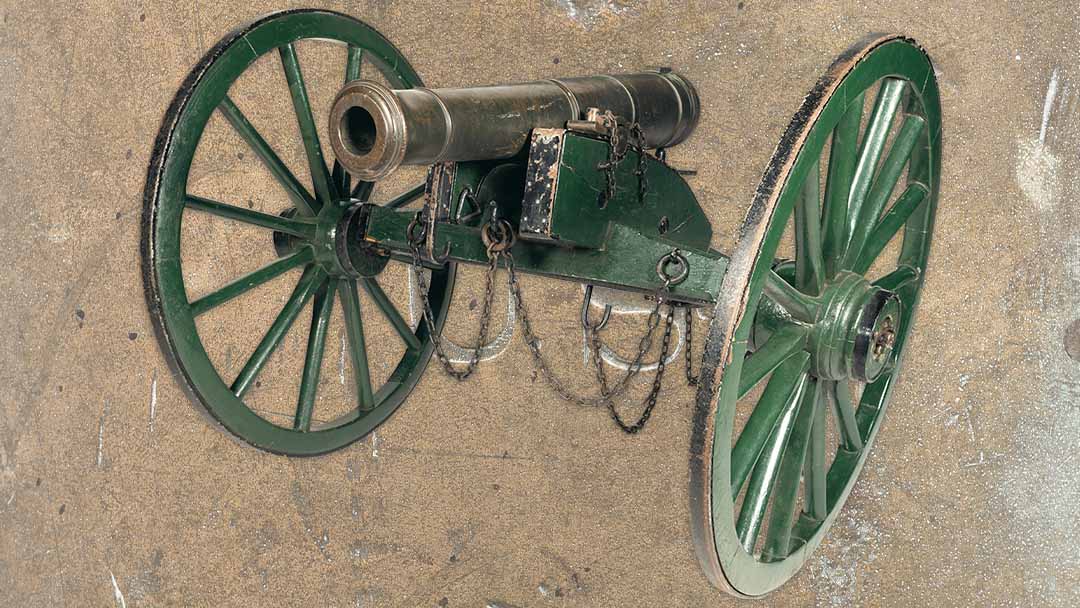 European armies were ahead of the United States in light artillery tactics. This reproduction Verbruggen Style 3-Pounder "Grasshopper" Cannon with Carriage, Lot 91, was pulled by a horse and could likely be used in flying battery artillery use.
Father of Rock Island Arsenal
In its nascent years, Rock Island Arsenal served as a Civil War prison camp for Confederate prisoners. It was thought it could accommodate 13,000 prisoners though never quartered that many.
Since 1862, the intention of the War Department was to make Rock Island Arsenal a facility with "larger capacity when completed than any other Arsenal within our borders," according to Gen. S.V. Benet, Chief of Ordnance from 1874 to 1891. The plan was to have the capacity to equip and arm an army of 750,000 soldiers.
In February 1866, Rodman submitted plans to the Chief of Ordnance that included 10 great shop buildings in two rows of five shop buildings. Buildings on the north side of the road that would eventually be named Rodman Avenue were designated as the armory, where weapons were stored, and those on the south as the arsenal, where manufacturing was done.
Rodman saw two buildings and the magnificent Quarters One built during his tenure. He died at Rock Island Arsenal in June, 1871. His funeral was in Quarters One, the second largest federal residence, behind only the White House. He is buried in the National Cemetery on the Rock Island Arsenal.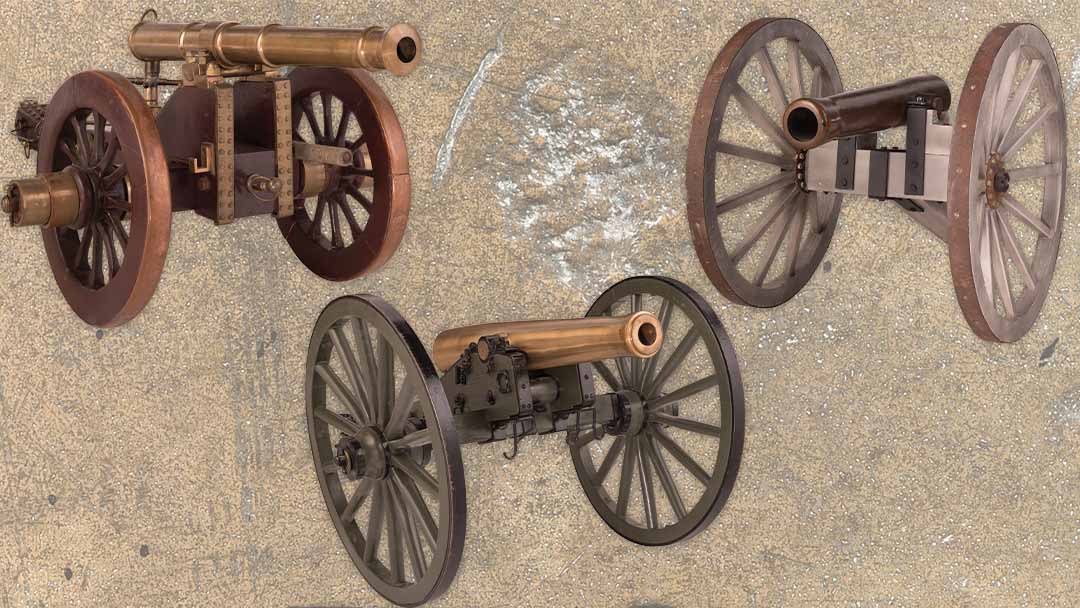 Lot 1148, Lot 1149, and Lot 1150, are smaller scale brass cannons available in the August Premier Auction.
Cannons for Sale
Along with three full-size cannons, three smaller scale cannons are also available at auction. The smaller scale cannons are all brass with two of them bearing an attractively aged patina. One of the scaled cannons appears functional.
A reproduction of a Revolutionary War Verbruggen-style "grasshopper" cannon, and an American-style bronze field gun in the style of the light artillery of the Mexican-American War and Civil War are also available at auction.
Jan Verbruggen introduced the Swiss method of horizontal boring to cannons when he was at the Hague foundry. He built cannons at the Royal Brass Foundry at Woolwich, England. The grasshopper cannon was designed for use by light infantry units, capable of being transported by a single horse, strapped to pack animals, or broken down and hauled by men.
Manufactured in Massachusetts, the Cyrus Alger & Co. 12-pound Howitzer is a very scarce weapon with an attractively aged patina and 1861 inspection marks by Gen. Thomas J. Rodman. This is a remarkable flying battery artillery piece for any collector of Civil War or 19th century weapons.
Sources:
"Rock Island Arsenal in Peace and in War," by B.F. Tillinghast
Artillery through the Ages A short Illustrated History of Cannon, Emphasizing Types Used in America, nps.gov
Rodman's Great Guns, by Donald B. Webster Jr., Ordnance
The Man behind the Rodman Gun, by David T. Zabecki, historynet.com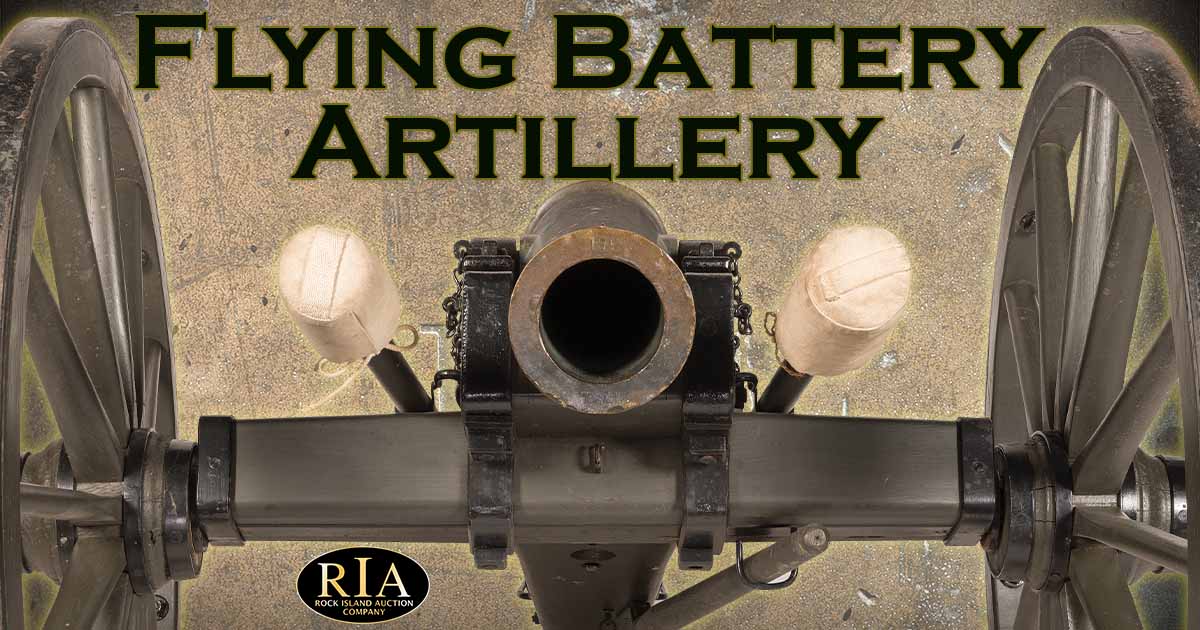 Rock Island Auction Company