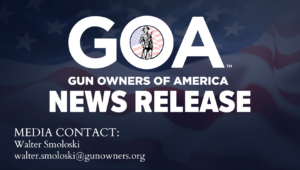 FOR IMMEDIATE RELEASE
December 16, 2022
Washington, D.C. – Gun Owners of America (GOA) is excited to announce their partnership with We the Female and Oklahoma State Representative Jay Steagall, owner of Cloverleaf Precision, to put on their "Arm the Teachers" event, which will take place in Yukon, Oklahoma on January 7th and 8th.
The training, which will be offered at no cost to school staff members interested in carrying on their own school campuses, will break new ground for GOA, as staff will actively participate as an instructor in this hands-on training.
Currently, for a school staff member to carry on a school campus in Oklahoma, one must have a Self-Defense Act License, complete additional training, and be designated by the school board to carry.
Kerry Slone, President of We The Female said:
"Consistently, we see elected representatives fail to adequately protect our schools. We can no longer sit back as politicians grandstand and pass more ineffective legislation that does nothing but create more victims. No one, especially the people trusted with the care of our children, should be denied the unalienable right to defend themselves as they choose, even if that choice is a firearm. Because of this, We The Female has decided to take action; we're providing self-defense education and firearm training for educators. If the people we have chosen to represent us can't protect our educators and children, then we must do it ourselves. We are arming the teachers with knowledge, confidence and self-defense."
Representative Steagall, owner of Cloverleaf Precision and author of Oklahoma's Constitutional Carry and Anti-Red Flag Law, added:
"The natural right of self-defense is one which government is charged to secure. Various members of the Oklahoma House of Representatives, including myself, will be introducing numerous pieces of legislation in the upcoming session to further secure that right. As an owner of a local gun store in Yukon, OK and certified firearms instructor, I'm excited and proud to team with GOA and We the Female in this 'outside-the-box thinking' training event designed specifically to assist Oklahoma teachers and school staff members attain certification and licensing to carry a firearm for self-defense. Enabling teachers and staff to better exercise this fundamental right becomes a force multiplier in defense of every life inside the facilities where they are most vulnerable."
Jordan Stein, GOA's Southeast Region Director, who will attend and assist in the training days, issued the following statement:
"Gun Owners of America has long advocated for arming teachers, and now we're proud to have a part in actually doing it with our partners, We The Female and Rep. Jay Steagall of Cloverleaf Precision. We seek to change the narrative on school safety by empowering and equipping teachers and school staff with the tools they need to protect themselves and their students in the classroom." More information about the event can be found here.
GOA spokesmen are available for interviews. Gun Owners of America is a nonprofit grassroots lobbying organization dedicated to protecting the right to keep and bear arms without compromise. GOA represents over two million members and activists. For more information, visit GOA's Press Center.
-GOA-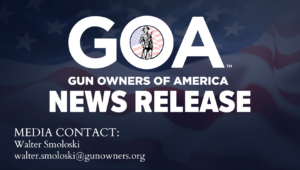 GOA