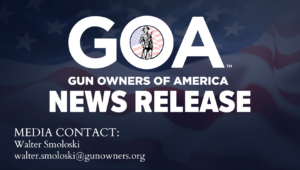 FOR IMMEDIATE RELEASE
Washington, D.C. – Today, Gun Owners of America (GOA) and Gun Owners Foundation (GOF) filed a reply brief with the U.S. Court of Appeals for the 8th Circuit in their challenge to the ATF's proposed Homemade Gun and Gun Registry Final Rule, which took effect on August 24th.  This rule remains of significant concern due to the vague, illegal, and unconstitutional mandates it will place on citizens, manufacturers, and parts dealers nationwide.
Among other provisions, the rule would arbitrarily require (1) background checks on gun parts such as 80% kits, (2) gun dealers to serialize and register privately made firearms in many situations, and (3) FFLs to permanently maintain all Firearm Transaction Records (Forms 4473), a change from ATF's temporary 20-year record retention policy in violation of the Firearms Owners' Protection Act (18 U.S.C. 926(a)(3)).
GOA and its millions of members continue to voice concerns that this is another attempt by this anti-gun administration to regulate what Congress never intended to regulate and eventually turn their partial gun registry into a complete registry of every firearm transferred.
Erich Pratt, GOA's Senior Vice President, issued the following statement: 
"From semi-automatic firearms and pistol braces, to incomplete receivers and solvent traps, this administration appears hellbent on attacking Americans' Second Amendment rights in every way possible. This rule in particular has jeopardized numerous firearm businesses and could criminalize countless law-abiding citizens. We at GOA are proud to stand up against this draconian regulation, and won't stop until it is defeated." 
Aidan Johnston, GOA's Director of Federal Affairs, added: 
"GOA has been at the forefront of this issue from the moment the ATF proposed this new rule. No gun owner wants their info to end up in a registry database maintained by the ATF, so we will continue our efforts both in the courts, and on Capitol Hill where we are working intimately with Rep. Cloud and Senator Cruz to abolish the ATF gun registry."  
GOA spokesmen are available for interviews.  Gun Owners of America is a nonprofit grassroots lobbying organization dedicated to protecting the right to keep and bear arms without compromise. GOA represents over two million members and activists. For more information, visit GOA's Press Center.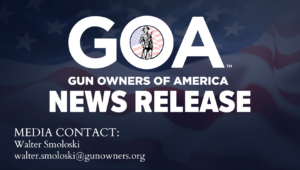 GOA