Wyoming Gov. Mark Gordon signed a bill into law on Monday that aims to protect the Second Amendment rights of Wyomingites from federal overreach.
SF0102, also called the Second Amendment Protection Act, prohibits state and local government entities in Wyoming from enforcing "any unconstitutional act, law, treaty, executive order, rule or regulation of the United States government that infringes on or impedes the free exercise of individual rights guaranteed under the Second Amendment to the Constitution of the United States."
SF0102 had strong support from not only three-quarters of the Legislature, but also law enforcement and gun-rights groups.
"This legislation makes it illegal for state or local officials in Wyoming to enforce or cooperate with unconstitutional federal gun control," Mark Jones of Gun Owners of America told The Center Square.
"It also had support from the police chiefs and the sheriff's associations in Wyoming," he added…
Jones added it could not have come at a better time.
"We're seeing more and more extreme unconstitutional actions from the Biden administration and Democrats in Congress through executive orders and through riders on budget bills more efforts to infringe on the Second Amendment rights of Americans and a lot of states are looking at these laws to protect their citizens," Jones said.
Read more at The Circle Square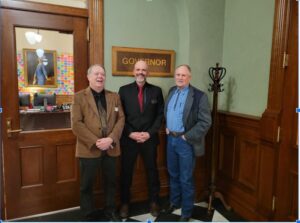 GOA