Some World War 2 war trophies or bring-back guns can be well-used and battle worn, but occasionally they turn up as an eye-catching engraved Walther PP pistol with a nickel finish. A beautiful gun with an owner whose history was downright ghastly.
The gun was brought back by a U.S. Army colonel at the end of World War 2, but how he came into possession of this German pistol is lost in time and the fog of war. The gun has full coverage Walther factory, semi-relief, presentation engraving with the initials "HF" engraved on the backstrap. Similar factory engraved Walther PP pistols were tied to high-ranking Germans during World War 2.
The initials on the German pistol are attributed to Gen. Hermann Fegelein, who for a time was a part of the highest circle of German leadership until his demise as the Soviets closed in and he tried to flee the Furher Bunker in the final days of World War 2. This gun, owned by a murderous sociopath who served on the Eastern Front and was Eva Braun's brother-in-law, will be on offer in Rock Island Auction's May 19-21 Premier Auction.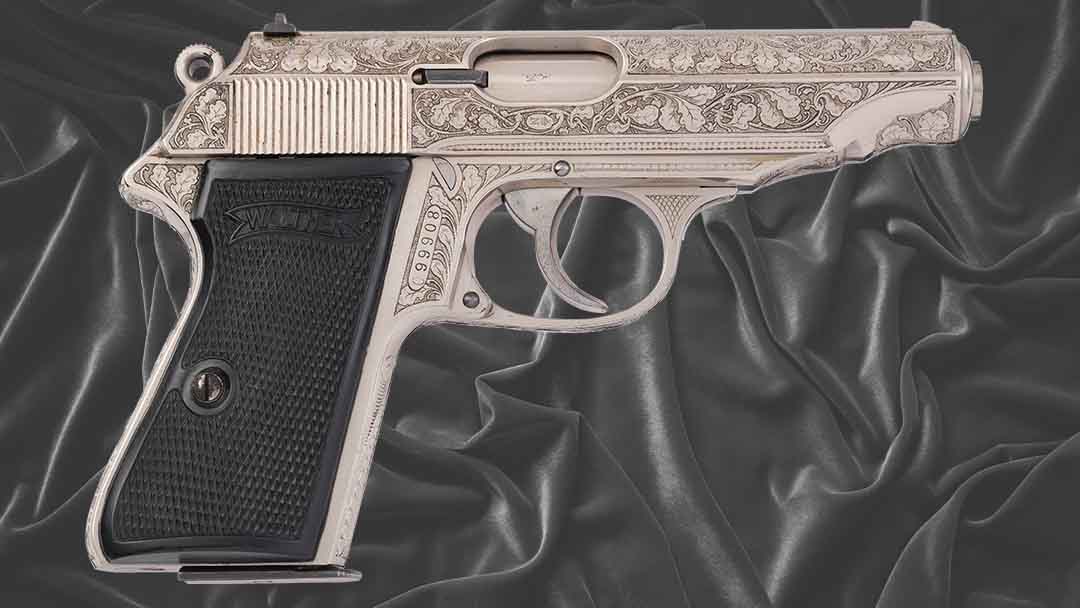 This Walther PP with a nickel finish features amazing engraving. The German pistol is covered with oak leaves and zigzags as well as checkering in the engraving.
A Simple Stable Boy
Born in Bavaria in 1906, Fegelein served as a stable boy for Christian Weber, a rich horse fancier and early member of Germany's far-right extremist party as it rose to power amid the economic turmoil of the 1930s. With Weber as a patron, Fegelein rose through the ranks of the party, catching the eye of Heinrich Himmler who pulled Fegelein into his orbit.
Himmler gave Fegelein command of a cavalry regiment and overseeing preparations for the 1936 Berlin Olympics equestrian competition.  By 1939, Fegelein commanded the SS Totenkopf Reiterstandarte (Deaths-Head Horse Regiment) and was part of the blitzkrieg that swept into Poland in September.
In Poland, Fegelein's regiment was tasked with dealing with the resistance movement, and from December 1939 to July 1941 the Deaths-Head Regiment participated in the mass executions of 1,700 people in the Kampinos Forest northwest of Warsaw. Prisoners were taken to the forest and shot where mass graves had already been dug. Wounded prisoners were likely buried alive. The largest mass execution was reported to be 358.
While in Poland he was accused by the German secret police of looting goods and sending them back to the SS cavalry school in Riem to be distributed to school members. A search of the school turned up a lorry, a Mercedes sedan, a two-seat Stoda, 50 lbs. of coffee, 14 packets of cocoa, a chest of tea, two chests of chocolate, clothes, and other goods. Fegelein claimed he was being persecuted by police. Himmler helped Fegelein avoid prosecution and he was sent east as part of Operation Barbarossa.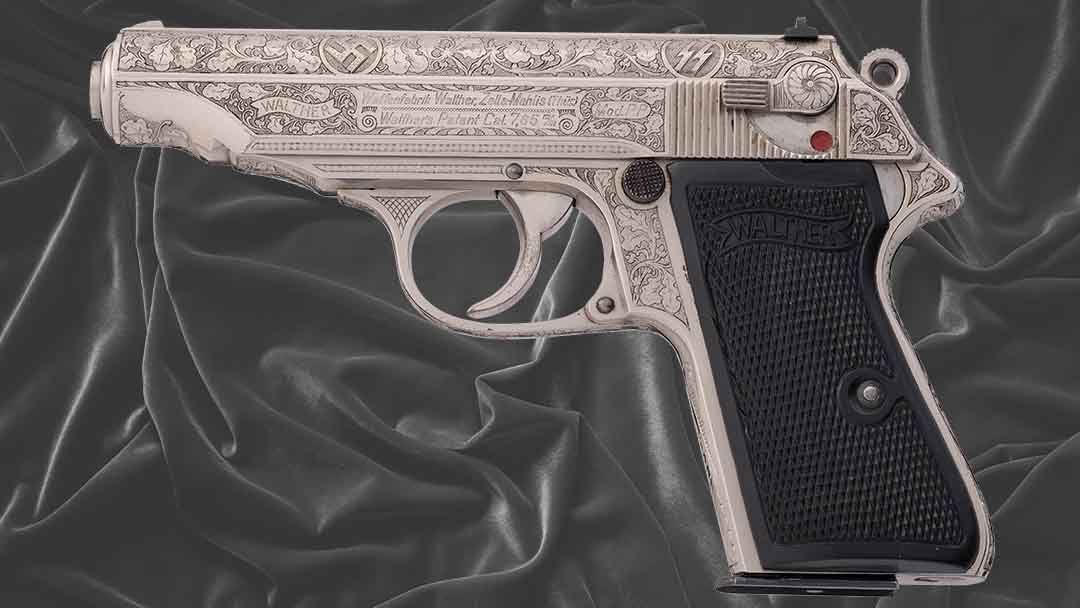 The floral engraving on the nickel finish of this Walther PP is complimented by engraved oak leaves, zig zags and checkering.
Onward and Upward
The surface of Fegelein's skills were only scratched in Poland. His aptitude for cruelty shown through as his regiment took up the assignment of rounding up and exterminating the Jews, partisans, and other civilians of Belarus starting in July 1941. Fegelein's unit, assigned to the Pripet Marshes, killed 13,788 in July and 3,500 men in August. Himmler didn't think the "pacification of the rear areas" — a euphemism for genocide – was moving fast enough. Religious minorities were ordered to be shot as partisans, women and children were deported, and villages burned to the ground.
Himmler promoted Fegelein to the German rank of brigadier general. In the marshes, the moral and psychological barrier of killing women and children came down. By the time Germany was turned back in August 1944, 380,000 had been deported from Belarus and 2.23 million killed during the occupation. A Soviet sniper wounded Fegelein in December 1941. After recovering he was assigned to the 8th SS Cavalry Division Florian Geyer that continued on with his assignment.
Fegelein's unit received an influx of 9,000 Romanians and was renamed the 8th SS Cavalry Division Florian Geyer and kept up the unit's previous task of eliminating any resistance in Belarus.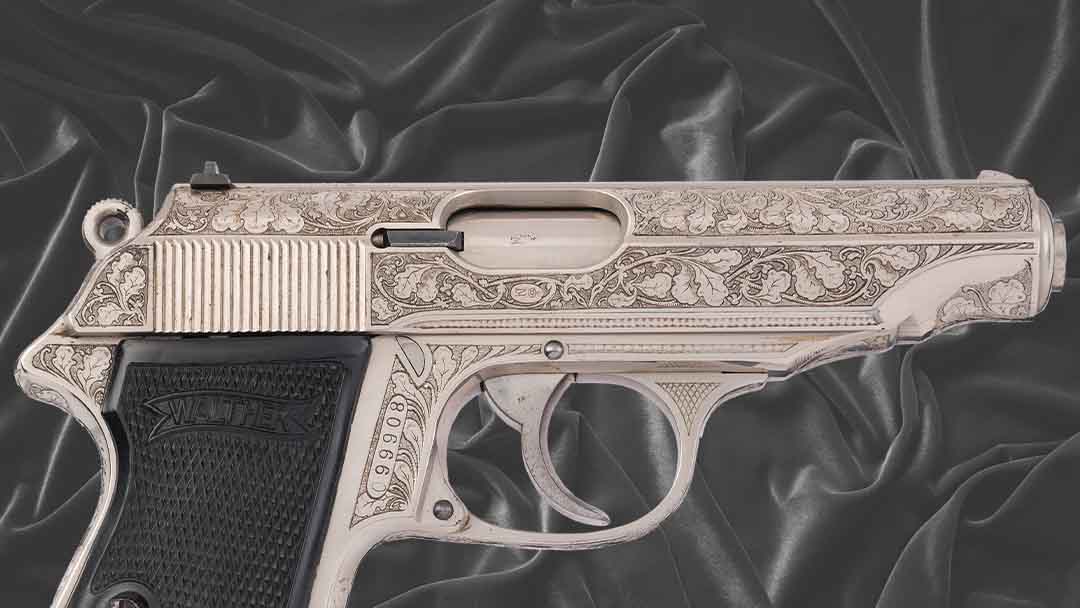 A closeup of the Walther PP shows the German pistol's nickel finish along with oak leaves, zig zags, and checkering.
Our Man in Berlin
Fegelein was wounded again in October 1943. This time Himmler sent him to Berlin to serve as SS liaison to the German leadership. Dashing Fegelein was popular among the ladies in the bunker and was befriended by Eva Braun. The secretaries described him as a ruthless man whose top priorities were his career and a good life. Albert Speer, German Mister of Armaments and War Production, described Fegelein as "one of the most disgusting people in Hitler's circle," seen as an opportunist and philanderer who ingratiated himself with Himmler, earning plum assignments and quick promotions.
Though there appeared to those around them an attraction between Eva Braun and Fegelein, it is believed nothing happened between them. Instead Eva Braun became a matchmaker between her younger sister, Gretl, and the dashing cavalry officer.
Fegelein and Gretl Braun were married on June 3, 1944, with Himmler officiating a pagan ceremony with Martin Bormann as a witness. The wedding party, with the Fuhrer in attendance for a time, lasted three days until the announcement of the D-Day invasion of June 6.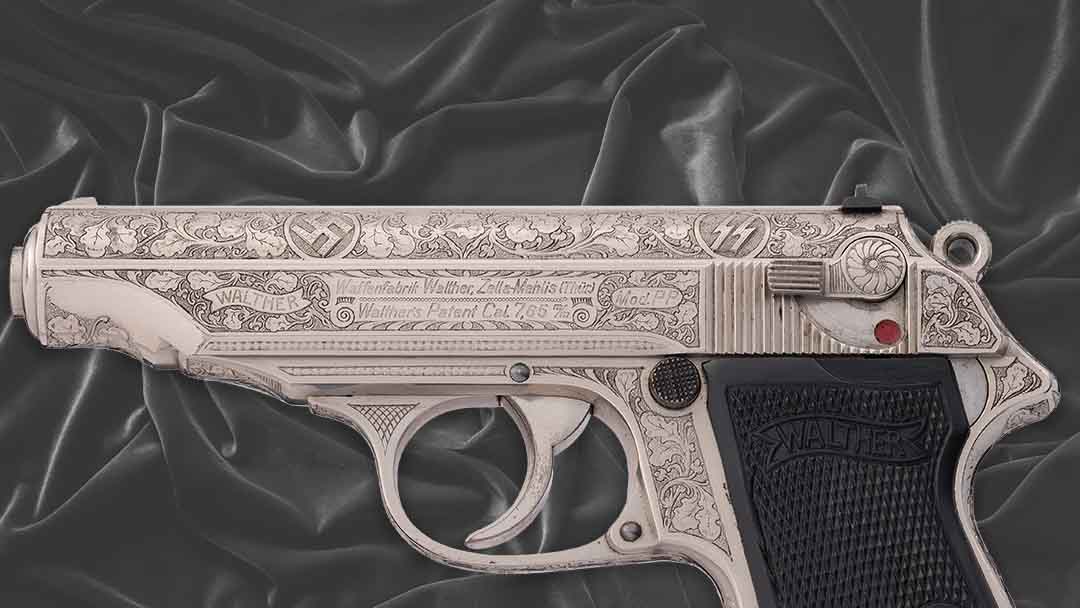 A closeup of the left side of this Walther PP with its nickel finish shows the markings of the German pistol, including a swastika and SS runes, that was brought back to the United States as a war trophy after World War 2.
The End in Berlin
The Florian Geyer Division, no longer with Fegelein at the helm, was transferred to Budapest where they were destroyed when the city fell to the Red Army in February 1945.
By April 21, 1945 Soviet tanks were on the outskirts of Berlin, and members of Hitler's inner circle were looking at how to save their skins. Himmler reached out to the western allies for peace negotiations but there was no interest unless it was unconditional surrender.
On April 27, Fegelein asked for a vehicle to deliver him to his apartment. The Fuhrer asked for his aide, only to discover that Fegelein had abandoned his post. The Fuhrer was furious and demanded the SS man be located. He was found at his apartment, drunk and with his mistress, planning to go to Sweden or Switzerland. Wearing civilian clothes, he had cash, jewelry, and documents confirming Himmler's outreach to the Allies. He was dragged back to the bunker and interrogated.
Gretl Fegelein was pregnant and expecting to give birth in early May. Hitler, from lobbying by Eva Braun, considered letting Fegelein off without punishment or assigning him to Gen. Wilhelm Mohnke as part of the defense of central Berlin. On April 28, the Fuhrer heard of the BBC account of the attempted peace negotiations and became more enraged. Fegelein was quickly court martialed and stripped of his medals and sentenced to death. On April 28, he was unceremoniously dragged out of the Fuhrer bunker and executed in the garden. Gretl Fegelein gave birth to a daughter on May 5.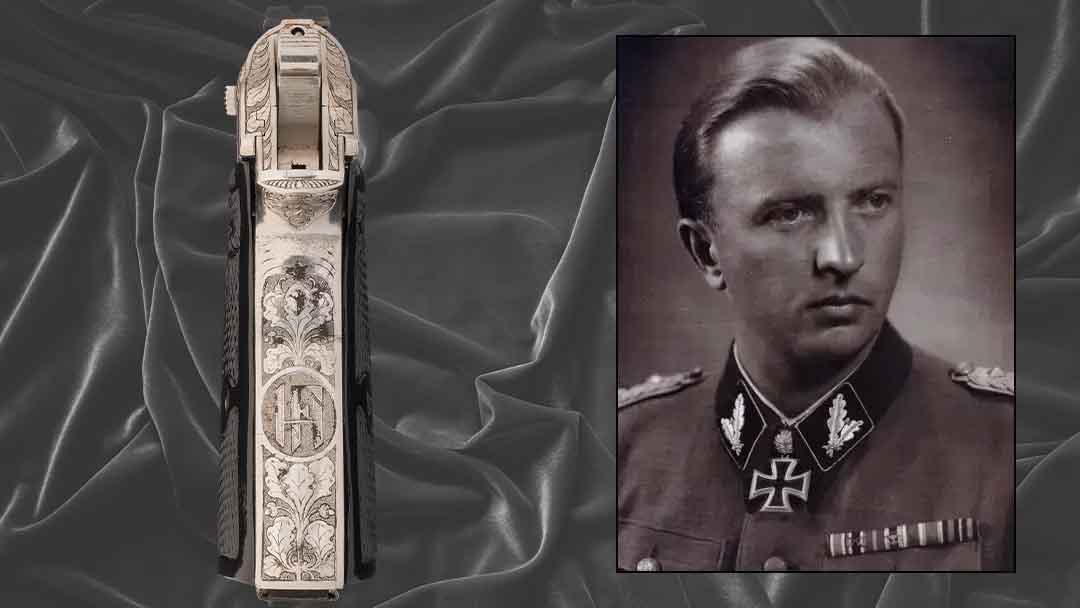 Hermann Fegelein, worked his way up the ranks of the Nationalist Socialist German Workers Party and committed attrocities on the Eastern Front before being assigned to Berlin in 1943. He married Gretl Braun, the sister of Adolf Hitler's girlfriend, Eva Braun, just days before D-Day in June 1944. He tried to flee the Fuhrer Bunker in the final days of the war but was caught and executed for desertion on April 28, 1944. The engraved backstrap of the Walther PP has Fegelein's initials.
Brilliant Walther PP Pistol
U.S. Army Col. Michael Dizdar acquired the German pistol. How he acquired it remains unknown but is likely a war trophy brought home after World War 2. Dizdar, who was 90 when he died in 1995, was likely stationed in Northern Ireland as part of the medical section for training ahead of D-Day and ended up on the European continent before the end of the war.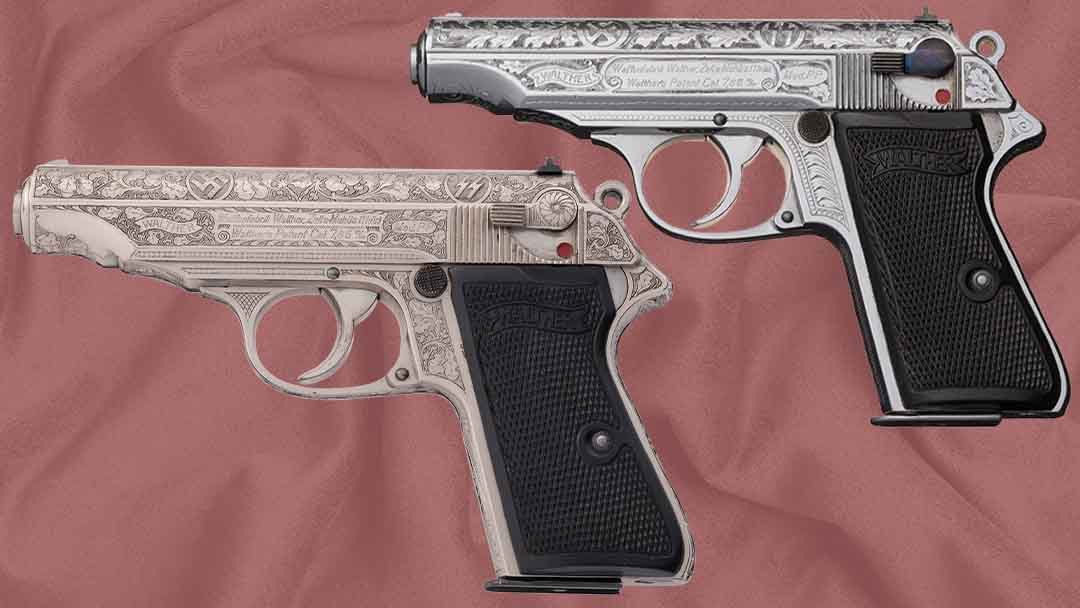 Two finely engraved German pistols. A Walther PP attributed to Heinrich Himmler, right, sold by Rock Island Auction Company for $287,500 in 2019. A Walther PP attributed to SS Gen. Hermann Fegelein, left, has similar engraving. It is on offer in RIAC's May Premier Auction.
It appears that dreadful human beings liked to reward themselves with beautiful guns. German pistols destined as presentation pieces for the high command can show phenomenal engraving and finish. A Walther PP attributed to Himmler sold by RIAC in 2019 for $287,500 shares similarly detailed oak leaf engraving, punch dot borders and breathtaking finish, and a gold-washed Walther PP presented by Himmler to Gen. Karl Wolff that was captured in the Italian campaign is equally as detailed with a beautiful finish. It was sold by RIAC in 2015 for $287,500. A gold-plated and finely engraved Luger presented to Ambassador Franz von Papen by Foreign Minister Joachim von Ribbentrop is also on offer in the May Premier Auction.
The nickel finish on the Walther PP pistol is eye-popping, allowing the factory presentation engraving to stand out with its finely done oak leafs, zig-zags, and punch dot borders, alas as well as its swastika and SS runes on the gun's left side. It also has checkerboard panels on the trigger guard and butt, and the backstrap is engraved with the monogram "HF." Belonging to one of the very highest-ranking men in the German army, this German pistol is a symbol of American victory for democracy and human decency over the horrors inflicted by the Third Reich and the abhorrent people that led it.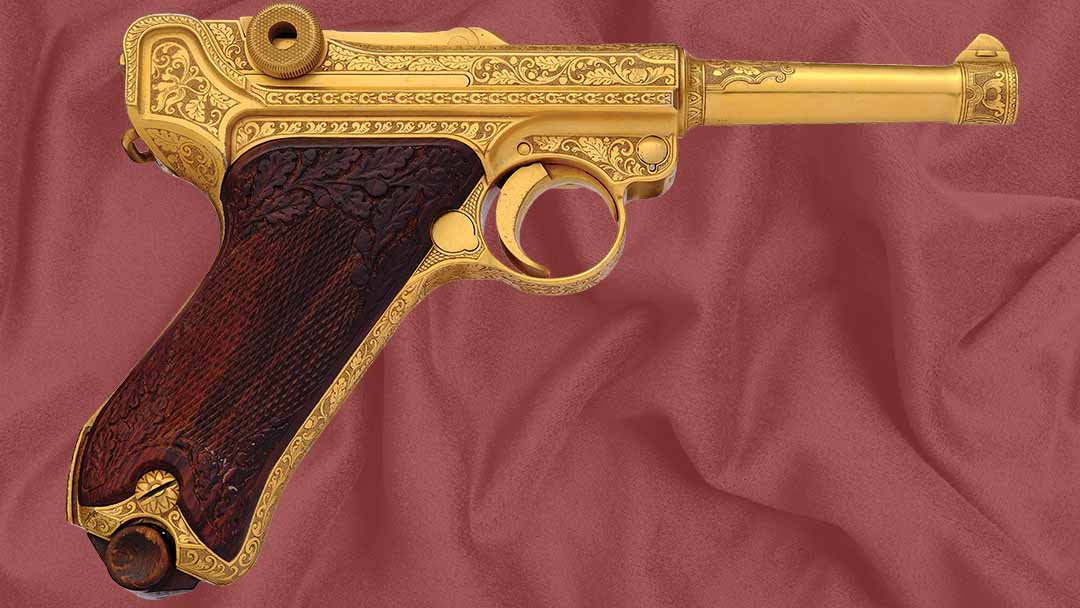 A gold plated and finely engraved Mauser P.08 Luger attributed to a pair of World War 2 era German diplomats will be available in Rock Island Auction Company's May 19-21 Premier Auction.
Sources:
The Execution of Hermann Fegelein – Eva Braun's Brother in Law, History of Sorts
The Fegelein Wedding – Nazi Fairytale or Nazi Nightmare?
Genocidal Counterinsurgency: The German Anti-Partisan War in Belarus, by Kyle Sajoyan, Small Wars Journal
Hermann Fegelein, Spartacus Educational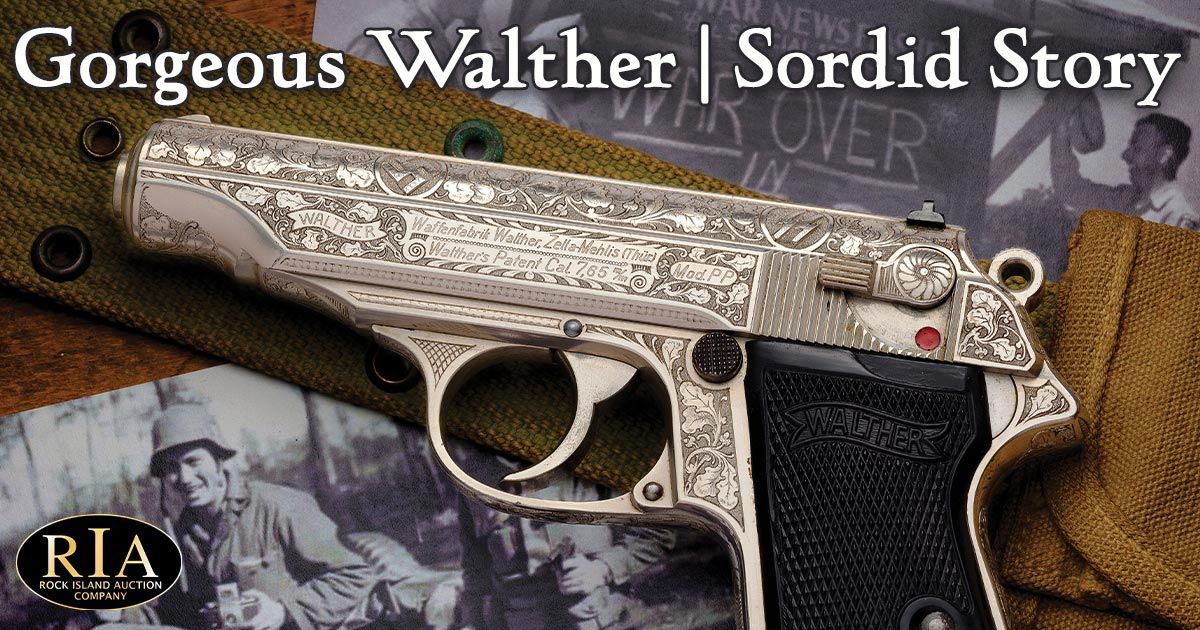 Rock Island Auction Company