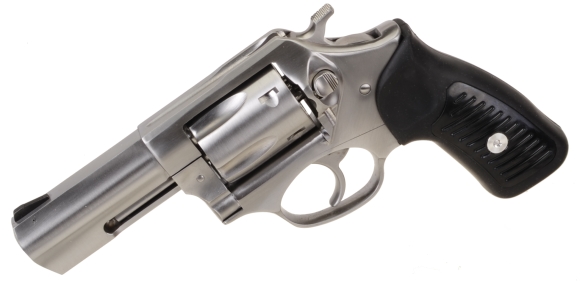 02/05/2022 – Why persist in carrying a revolver when there are so many auto loaders to choose from? Because, as a general rule, revolvers can be more powerful, are easier to shoot accurately and, with the right holster, are as easy to conceal. Those important factors in self defense.
Self defense can mean something other than defense against humans. The right wildlife in the wrong setting will attack in defense. My preference when outdoors is to carry a 357 Mag, rather than a 9mm Luger or 45 Automatic. In other circumstances my choice is to carry a 45 Colt with modern loads or a 454 Casull rather than a 10mm Automatic.
Revolvers lack the capacity of many auto loaders. I have actually never had to empty a six or five shooter. In fact, I have only emptied a 4 round bolt action magazine once in my life and that was an anomaly of circumstances.
Less capacity! I insist on it!..!!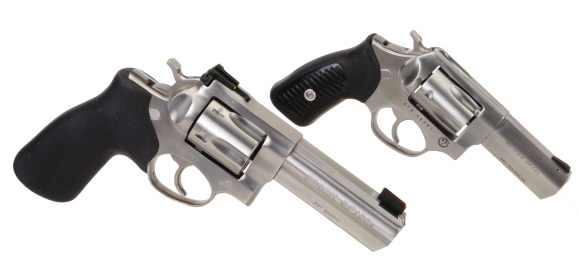 Why would anyone want a firearm that holds less ammunition? When a firearm needs to be concealed and the odds of a need for more rounds is improbable.
Ruger Medium and Small Frame Revolvers

Model


 GP100 1705

SP101 5719

Manufactured

Newport, NH

Newport, NH


Caliber

357 Magnum

 357 Magnum


Cylinder Material

Stainless

 Stainless

Cylinder Capacity


6

 5

Barrel Material


Stainless

 Stainless

Barrel Length

4.2

 3

Rifling

1:18.75″

 1:16

Cylinder Frame

Stainless

 Stainless

Grip Frame

Peg

 Peg

Grips

Hogue Monogrip

 Black Synthetic


Overall Length

9.50″

 8.0″

Weight – Empty

40 Oz

 27 Oz

Rear Sight


Adjustable

 Integral

Front Sight


Ramp

 Ramp

MSRP

$1029

$ 889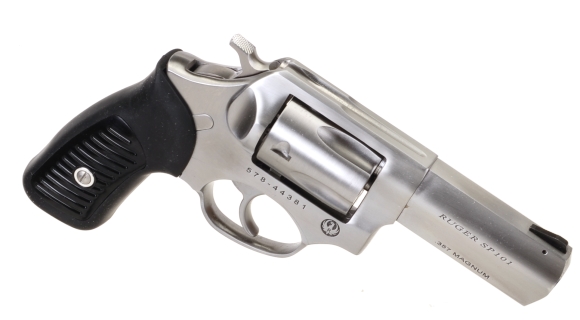 The SP101 is nearly half the weight of the GP100, one and one half inch shorter and has a tighter rate of twist to bump bullet rotational speed to increase bullet stability. The integral rear sight eliminates a snag point when drawn from a holster under concealing clothing. Model 5720 takes the no snag surfaces one step further by eliminating the hammer spur and shortens the barrel length to 2.25″ for an overall length of 7.20″.
Other dimensions that matter. The GP100's cylinder, the widest point, measures 1.550″. The SP101 cylinder measures 1.350″. The GP100, grip end to sight top, is 5.86″ high, the SP101 is just 4.60″.
The SP101 as a 357 Magnum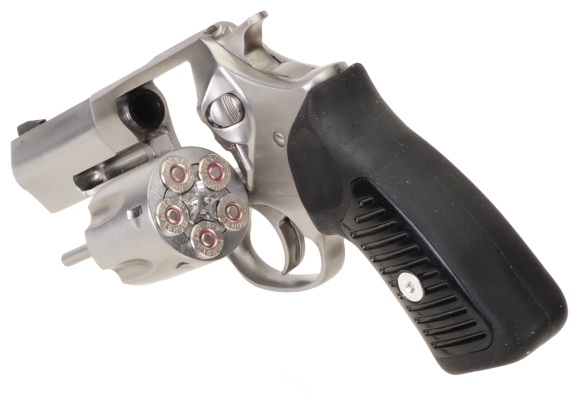 A collection of ammo types was chosen, because it is pretty typical for the 357 Mag and it has been used numerous times in reviews. Points of reference.
357 Magnum

Bullet
Type

Bullet
Weight
Grains
Rated
FPS
Recorded
FPS

Barnes TAC-XPD

HP

125
1200
1194
Hornady LeverEvolution

FTX

140

1440

1281

Barnes Vor-TX

HP

140
1265
1237
Speer Gold Dot

HP

158
1235
1082
Remington Wheel Gun

SWC

158

1235

1155
HSM Bear Load

LFP

180

1200

1036
Look at the SP101 and look at the numbers it produces. A very compact re3volver that, by ammo selection, could be carried concealed on a daily basis and used for self defense or carried as a trail gun with hard cast bullet. A little less velocity, but a whole lot more penetration.
Summary
Both the GP100 and SP101 are built like tanks. They handle max loads and they just keep on going. Accuracy is very good if the shooter is up to the task.

If this model SP101 does not suit your tastes, there are 15 to choose from; stainless steel, alloy steel, integral sights, adjustable sights, 2.25″ barrel, 3″ and 4.2″ barrel, plain or laser engraved. A very nice revolver.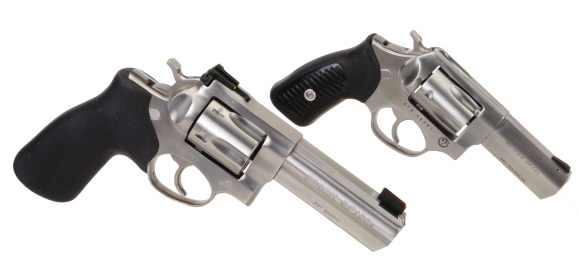 Real Guns – A Firearm and related publication