In our previous Premier Auction, Rock Island Auction had the privilege of introducing the excellent Greg Lampe Collection. When it came to high condition, deeply researched, rare, and correct fine arms very few collections could be considered its equal.
Having covered some of Mr. Lampe's fascinating biographical information in its initial offering, it won't be readdressed here (but please watch the video below if you missed the Lampe Collection's introductory video). Instead, we'll focus on the brightest points in a brilliant second chapter from the Lampe Collection, available during RIAC's August 25-27 Premier Firearms Auction.
The Parsons' Armies
Serving as flagship for the entire auction are the famous Parsons' Armies. This cased pair of Colt 1860 Army revolvers has been a fawned over commodity in the fine arms sphere for decades. Originally presented to Union Civil War Brigadier General and "Mover of Armies" Lewis B. Parsons, after his death they stayed in the family until presented to Parsons College, a school he founded with two of his brothers. From there they have been housed in only three elite collections: Bill Sisney, George S. Lewis, and Greg Lampe.
This jaw-dropping double cased set is beautiful, highly engraved, with wonderful colors, crisp markings, stunning deluxe grips, and an important history. The Parsons Armies are rightly one of the precious few collector arms in the world worthy of a nickname. For the full story on this illustrious set, please watch our video below.
Colt Paterson No. 2 Belt Model
Second on the list is another cased Colt with a who's who of collectors to list in its provenance. This Paterson No. 2 belt model was manufactured in 1837 and is STILL complete with its original mahogany case and suite of accoutrements.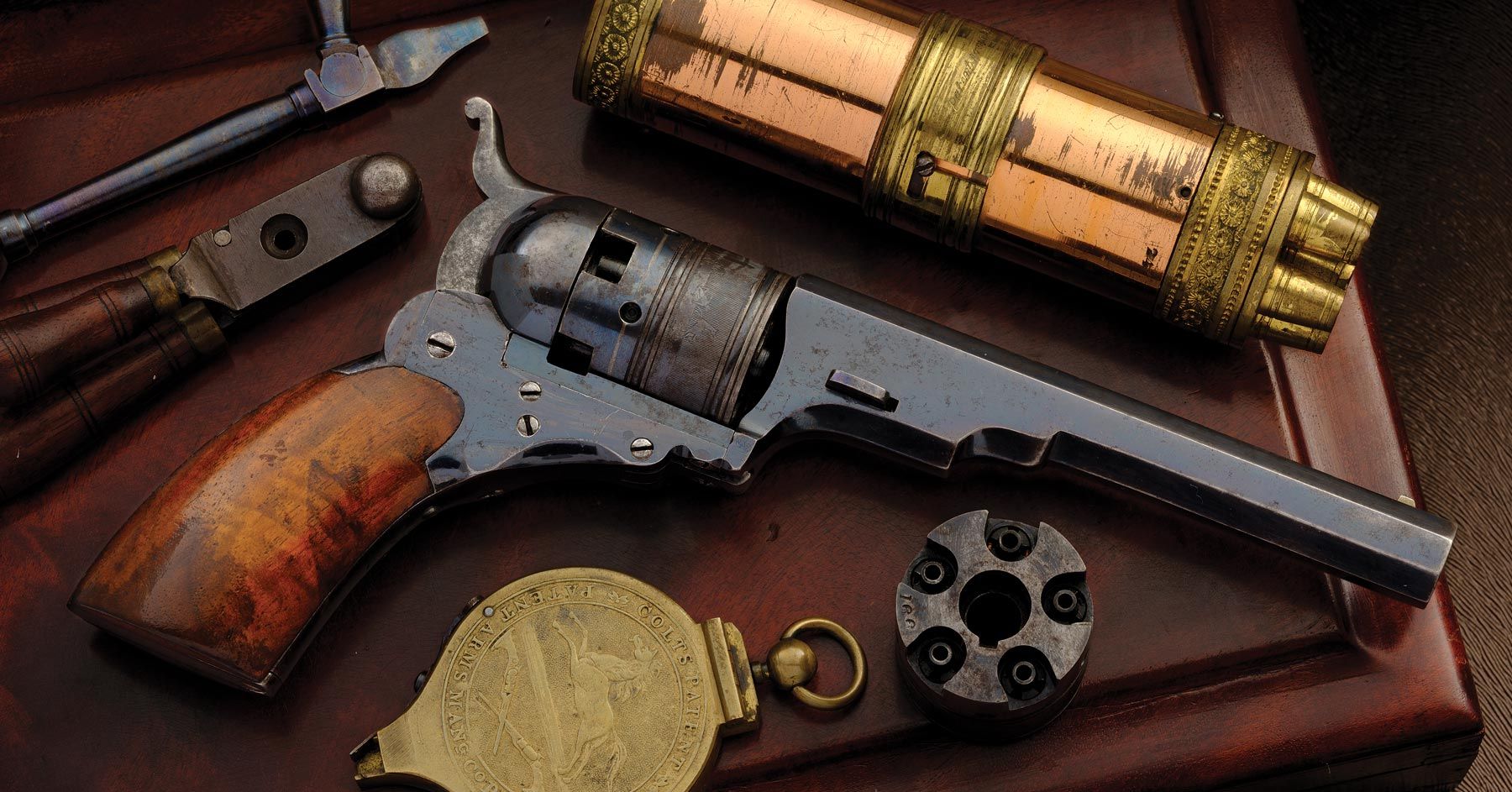 Three notable collections counted this Paterson among their ranks, and it's easy to see why. Pre-auction estimate: $180,000-$275,000.
It was discovered in Europe by author and expert Herb Glass Sr. during an 1962 visit. From Mr. Glass' distinguished collection, it found its way to the A.I. McCroskie Collection, a grouping known for accepting only the highest condition items. Finally in 2001, it came into the possession of Greg Lampe, where it has been housed ever since, making this little Paterson fresh to market and ready to make a splash after being tucked away for more than two decades.
A Golden Colt 1851 Navy
In the initial Lampe Collection offering there was a Colt so good, our headline was, "Outstanding Finest Known U.S. Army Colt Model 1851 Navy Percussion Revolver with Holster and Accessories." That's not a claim RIAC makes lightly. Now, in the August Premier comes another giant of a Colt 1851 Navy, and this one has been given the deluxe treatment.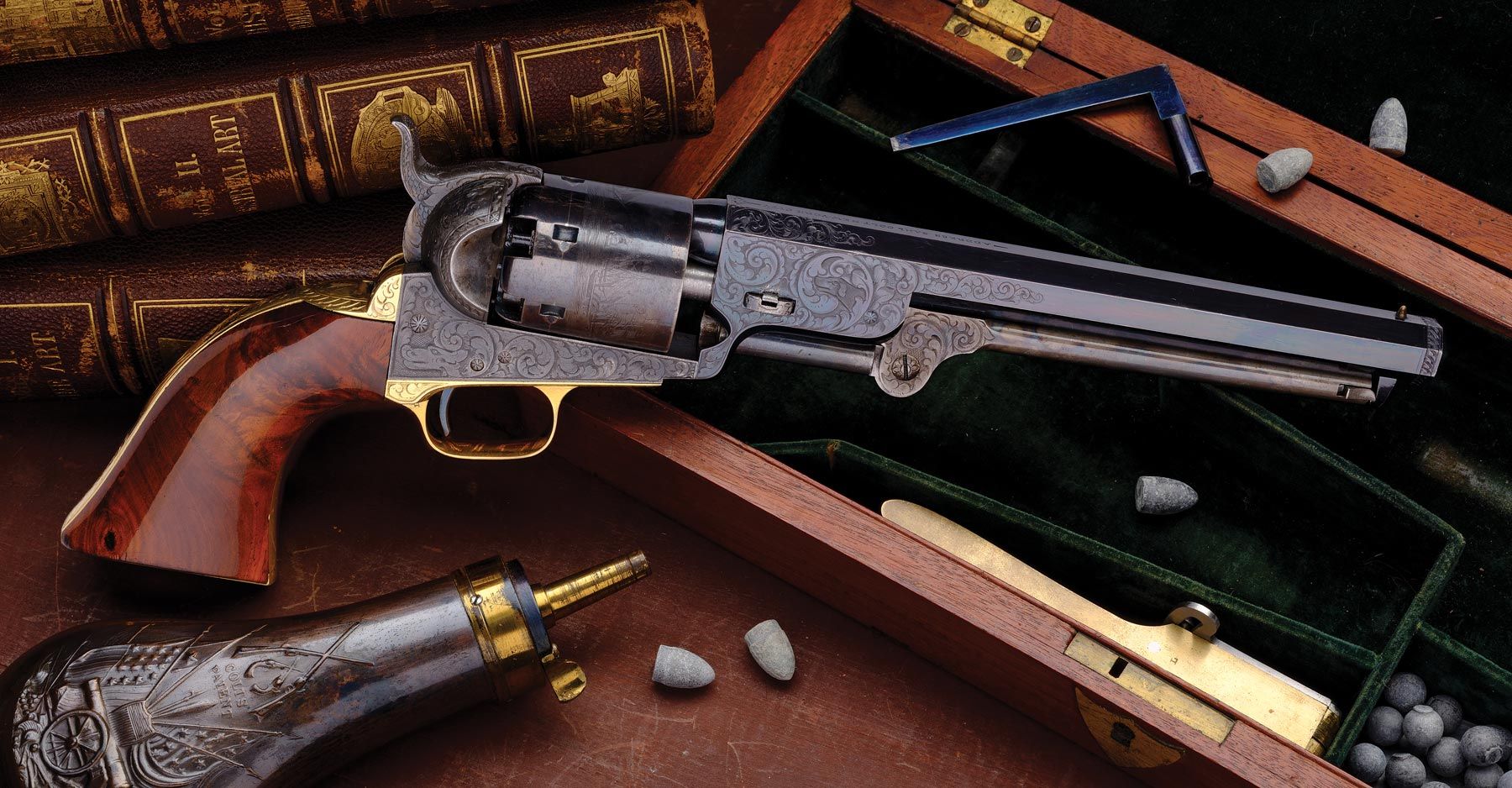 The only known Colt 1851 Navy with gold plated grip straps. Pre-auction estimate $130,000-$225,000.
May's example, which sold for $293,750 in the face of its pre-auction estimate of $95,000-$180,000, was, as its aforementioned headline states, a U.S. contract model. Its appeal was its near mint condition, no small miracle considering that almost every U.S. military contract arms would have seen use in the Civil War. This example, SN 78466, never got that memo.
The revolver available this August, SN 5606, is another superb condition Colt 1851 Navy, but the first-year production model was intended for the commercial market and was given deluxe treatment for the factory. In fact, one could argue it has more in common with Mr. Lampe's Colt 1849 Pocket that was offered a few short months ago, which also brought $293,750.
From stem to stern SN 5606 is a vision of how a deluxe Colt would have appeared in 1851. This is safely a 95% gun, covered with its deep, original, meticulously polished blue finish, an art in itself that may be lost forever. It is subtly accented by the casehardened loading lever running parallel to the brightly finished barrel, with touches of the case coloring also gracing the hammer. Said loading lever bears what one publication calls "extra engraving" on its joint, a fitting touch with its flat surface providing a natural extension of the copious "donut style" foliate engraving found on the breech end of the barrel.
That canvas extends onto the frame, trigger guard, hammer, recoiled shield, and backstrap, ensuring that almost every surface of the revolver has been touched by the tools of the engraver's trade. Moving further back on the revolver brings a viewer to its most lavish portions yet – the trigger guard, and grip frame are plated in lustrous, bright yellow gold.  It is the only known Colt 1851 Navy to possess such a luxurious feature. Said gripstrap provides the framework for two remarkable pieces of burl walnut. The highly figured wood, still bearing the smoke-like sworls of its natural tissue, is covered in a high gloss finish that helps its shine alongside the golden accents.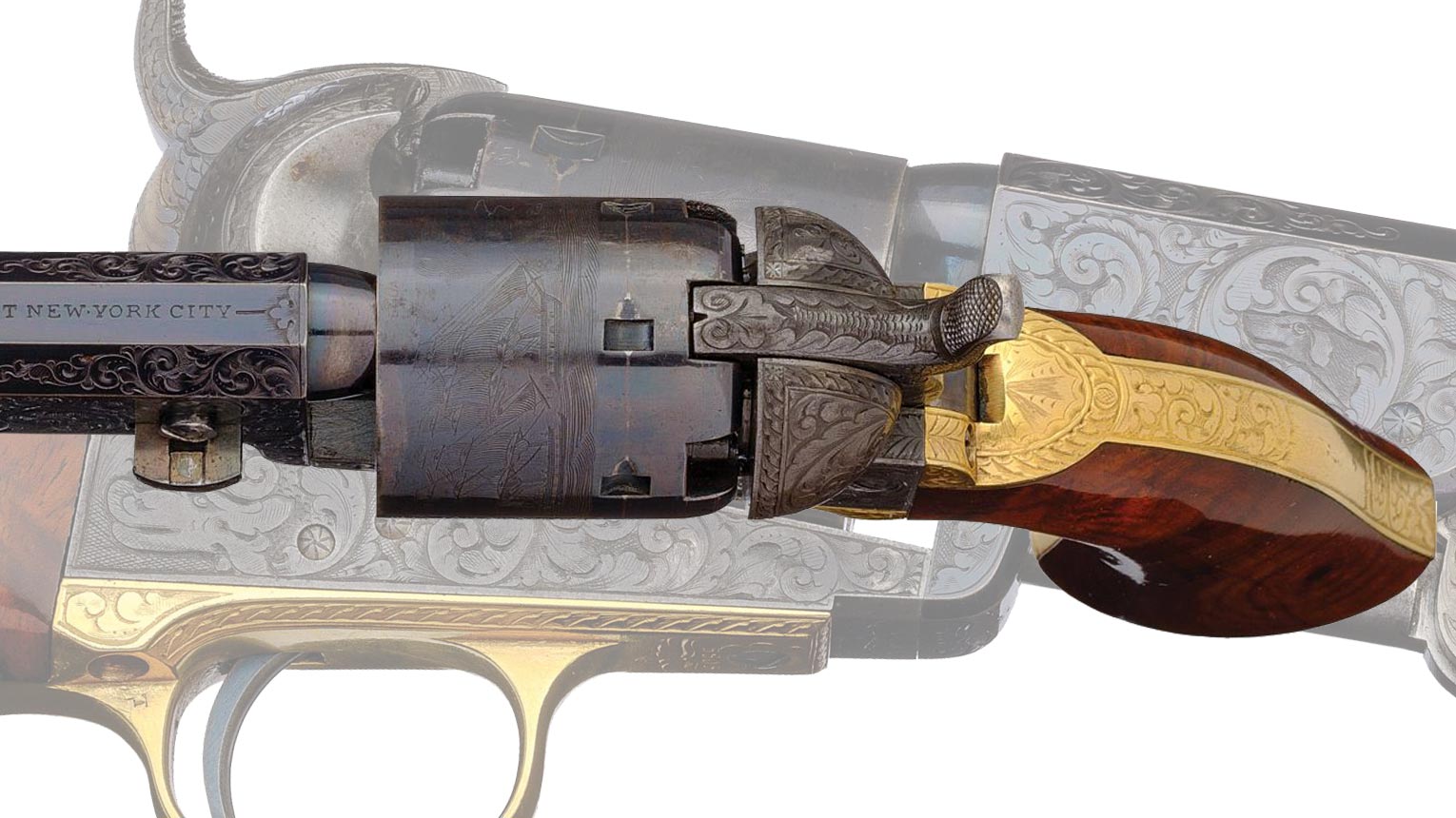 Given such a treatment, one could safely assume Samuel Colt's direct involvement in its commissioning, but for whom and for what purpose are likely lost to history. The space on its backstrap for an inscription remains unfilled.
With such superb condition and extraordinary embellishment, including the one-off golden finish, SN 5606 has not escaped the eye of collectors nor authors. It has appeared in no less than five significant written works on Colt revolvers, and been housed in several elite collections including that of William Locke, Paul McCombs, and Joseph Murray. Finding its way to the Greg Lampe Collection seems a natural fit, given his proclivity for fine arms with stellar condition.
This Colt 1851 Navy is one of the absolutely finest known, and it has the authors, the condition, the embellishment, and pedigree to back it up.
Gold Winchester 1866
Mr. Lampe was obviously fond of his Colts, but not to the exclusion of all others. This golden, factory engraved Winchester 1866 is a testament to that. It's the type of Winchester that graces museums and the world's elite fine arms collections.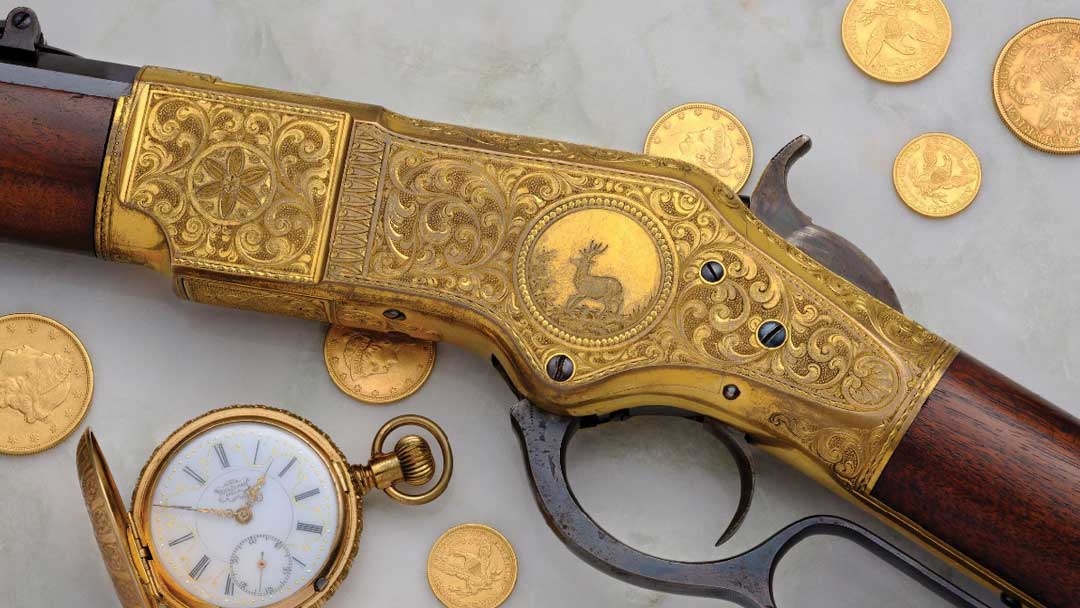 Few collections can claim rights to top grade Winchesters such as this Model 1866. Pre-auction estimate $95,000-$160,000.
This particular Winchester was made in 1874, with the type of exhibition-grade engraving likely executed by Conrad or John Ulrich. Many such golden and engraved guns saw subsequent exhibition at the world's fairs that were so popular in the late 19th century, but it may also have been ordered by someone who appreciated the very best of fine arms.
Its circular panel scenes, each of a buck, its bright nitre blue loading gate, and bright golden finish have provided an abundance of opportunities for Rock Island Auction photographers, who have clearly "made hay while the sun shines."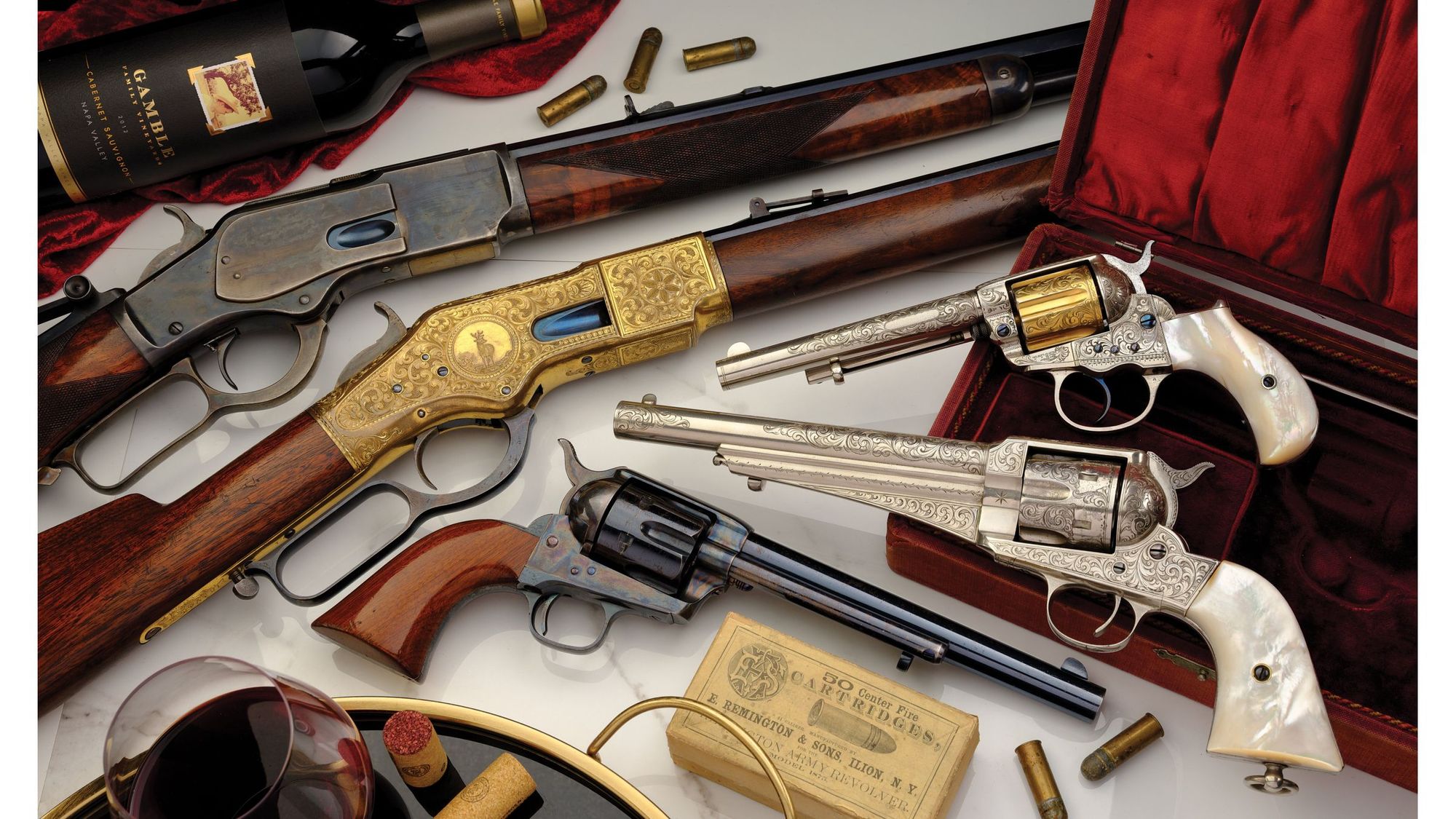 There was no shortage of items to feature last in this article, but many of the astonishing items have already seen coverage in other articles or videos. The 1849 Pocket presented by Samuel Colt to a steamboat captain received an article, the surprisingly modular Durs Egg flintlock pistol/shotgun pair was featured in a video, and the "Beecher's Bible" Sharps carbine sent to Bleeding Kansas has U.S. history buffs talking excitedly. One deserving item that has yet to be featured is the Tiffany & Co. presentation sword of Colonel Samuel P. Ferris.
Tiffany & Co. Sword
As with most items from the Lampe Collection, a staggering assemblage of research is included with the sword, so future collectors will never have to wonder about the identity of Ferris nor his contributions that earned him this haute blade.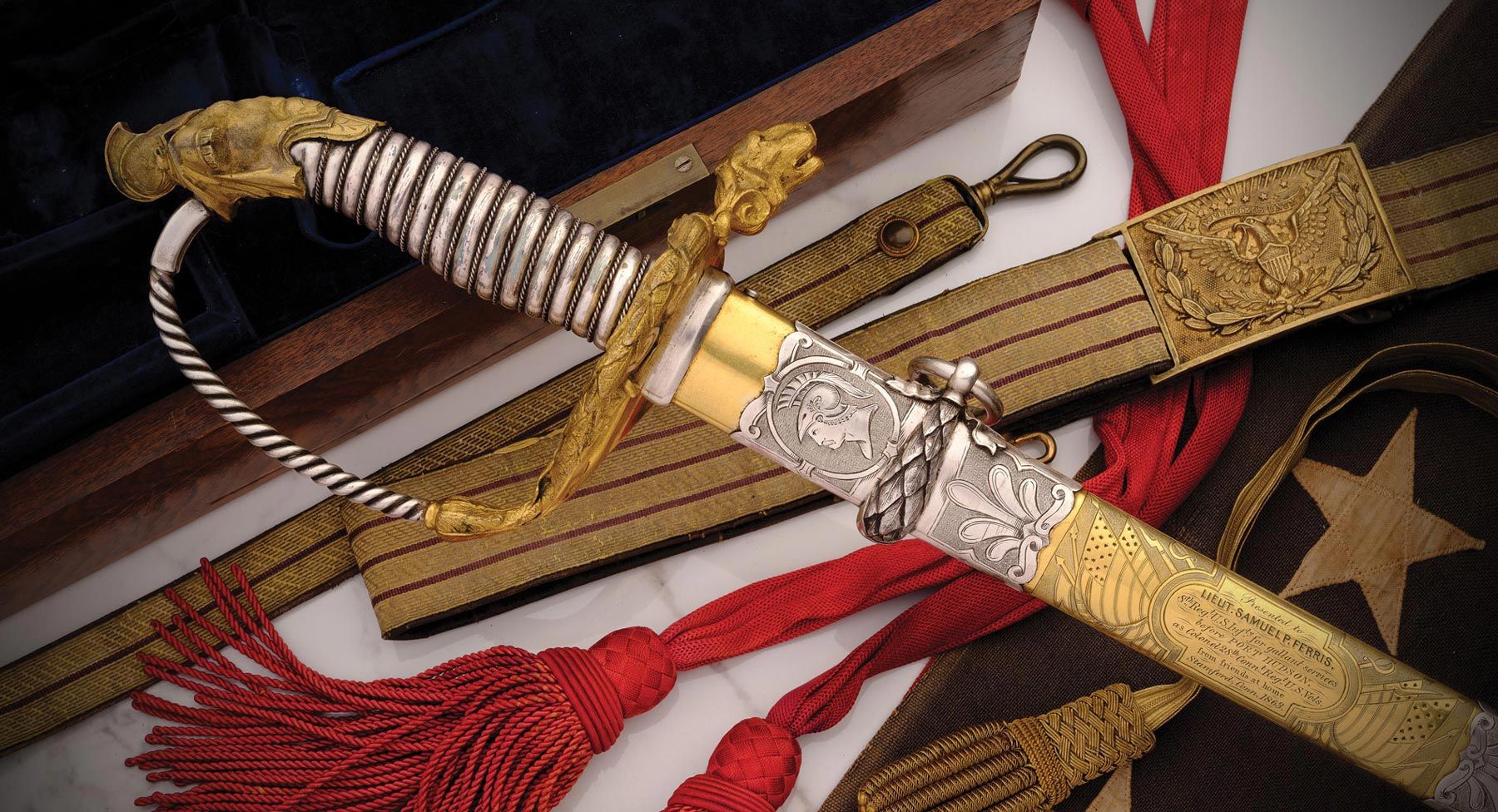 A Tiffany & Co. Civil War presentation sword absolutely awash in gold and silver. Pre-auction estimate $45,000-$75,000.
Samuel P. Ferris graduated West Point in 1861 and was immediately pressed into Civil War service for the Union, fighting in the Battle of Bull Run in command of Company C of the 8th U.S. Infantry. After taking leave to raise a volunteer regiment, he promptly led them as a newly commissioned colonel during the attack on Port Hudson, Louisiana in May 1863. His "gallant and meritorious service" earned him the brevet rank of captain. That August his volunteer regiment, the 28th Connecticut, mustered out of service, and it is likely they presented him with this sword at that time.
True to the name and reputation of Tiffany & Co., this high grade officer's sword is awash in gold and silver, comes with its dress and field scabbards, gold sword knot, and dress belt with hangers.
With gifts such as this sword, Lt. Samuel Ferris had clearly endeared himself to the fighting men in his command.
The 32-inch Collins & Co. blade is covered over half of its length with gold finish and deeply etched scenes of floral designs, masks, Roman armor, geometric patterns, and a large calligraphic "U.S." on its left side. Its hilt is equally stunning with its gold and silver sculpted depictions of a lion's head, U.S. heraldry, and a gilt pommel sculpted as a Roman helmet and armor. The perfectly matching dress scabbard bears the presentation inscription between more patriotic heraldry in a gilt panel that reads, "Presented to Lieut. Samuel P. Ferris, 8th Reg. U.S. Infty, for gallnt services before PORT HUDSON, as colonel 28th Connt Regt. U.S. Vols. From friends at home. Standford, Conn. 1863."
It is a brilliant art object in gold and silver crafted by one of America's most famous artisan firms, all the more striking and bright when placed inside the navy blue velvet lining of its fitted presentation case. Unfortunately, words can only do this sword and its craftsmanship so much justice. It is something that is best observed in person to appreciate.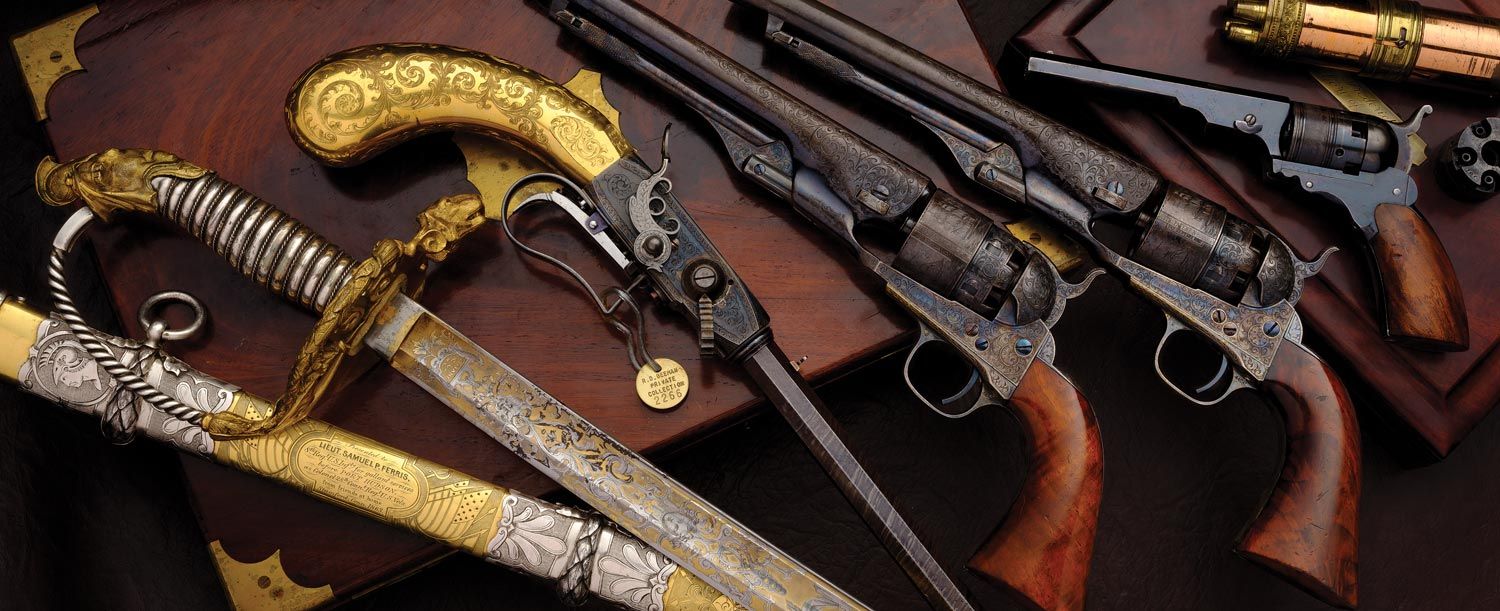 Click this image to view all items in the auction from the Greg lampe Collection.
The second offering of the Greg Lampe Collection will include 42 lots in the August 25-27 Premier Auction. From the collection defining Colts shown here to the pepperboxes he collected later in life, and numerous genres besides, it is a phenomenal opportunity to elevate one's own collection by obtaining pieces from an elite grouping known for its benchmark condition and exhaustive research.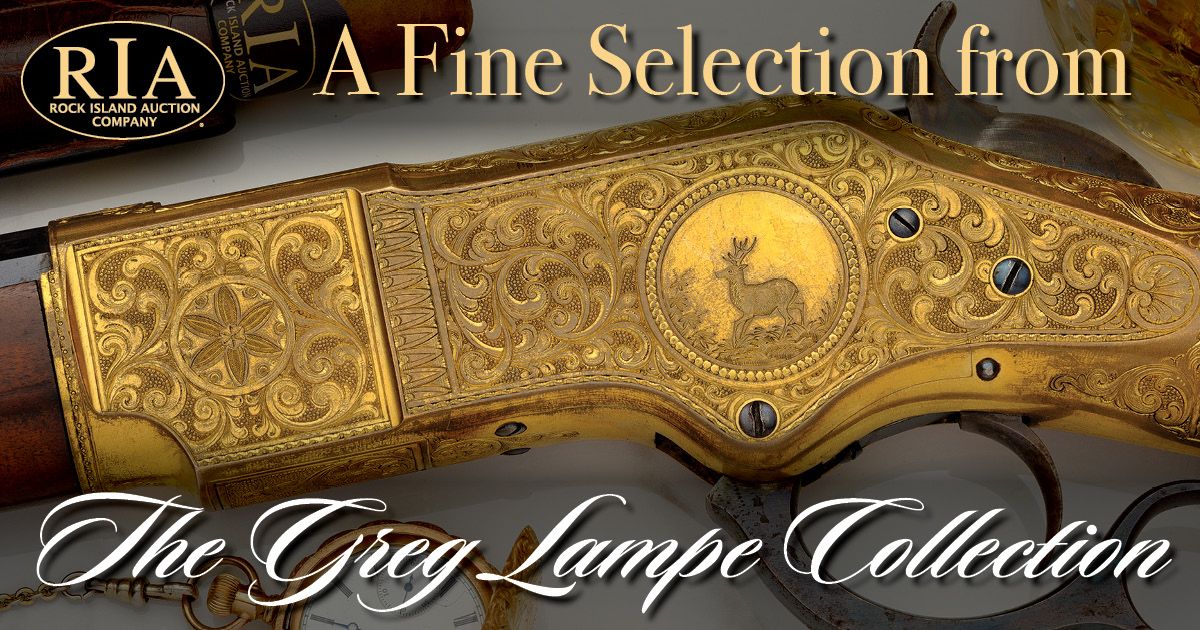 Rock Island Auction Company