Rock Island Auction Company's October 4 – 7 Sporting & Collector Auction extravaganza is overflowing with every type of firearm imaginable. Whether you're a seasoned gun collector or a first-time buyer hoping to get started in the hottest hobby around, the selection of gun collection must haves up for bid caters to every type of arms enthusiast. Below is just a small sample of what awaits this fall.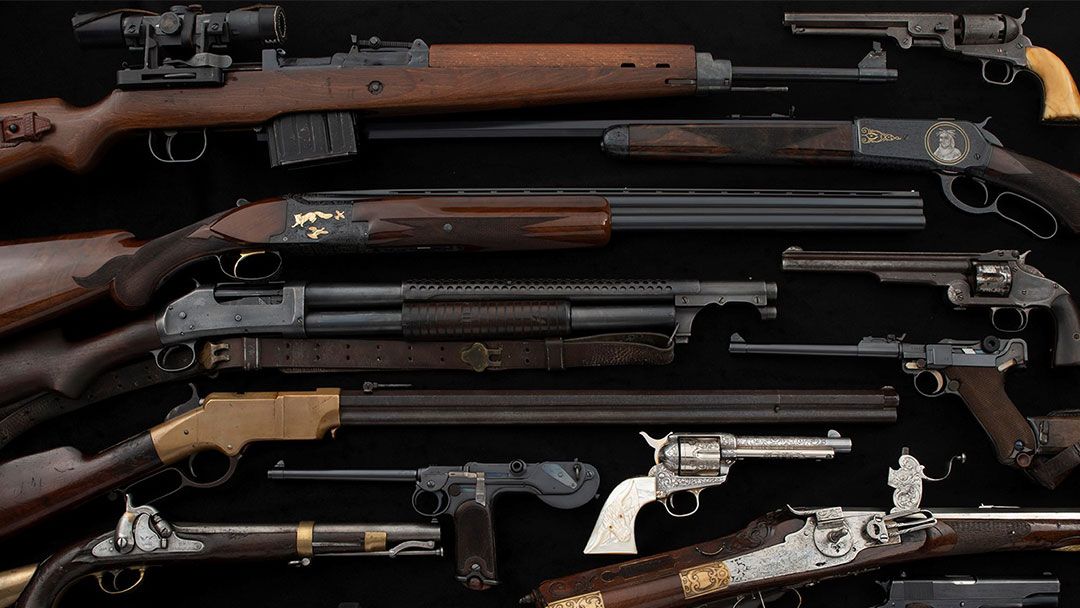 Rock Island Auction Company's October Sporting and Collector Auction features quality guns from every genre.
The M1911 Pistol
When you think of the most American guns, the M1911 probably ranks high on the list. And why shouldn't it? "Old Slabside" is the longest-serving sidearm in U.S. military history and the pistol that helped the United States become back to back World War champs. The 1911 genre is wildly popular, and every great gun collection should contain at least one original 1911.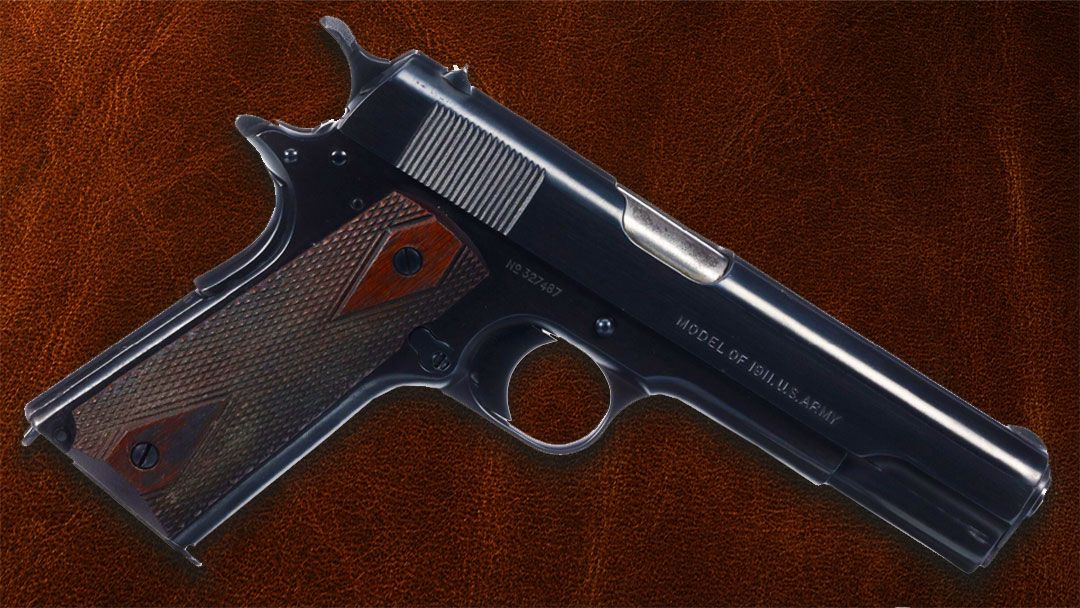 U.S. Navy Contract Colt Model 1911 pistol manufactured in 1918, a must have gun for any Colt or U.S. military collection.
After serving with distinction in WW1, the M1911 design pioneered by John Moses Browning underwent a series of small refinements intended to make the .45 ACP handgun even easier to shoot. These included a shortened trigger, extended hammer spurs, simplified checkered grips, an arched mainspring housing, a thicker front sight, and angled clearance cutouts. Designated the M1911A1, no major changes were made to the 1911's internals, testifying to the pistol's exemplary performance record. As the most widely carried American pistol of WW2, the M1911A1 is a gun collection must have for any US military aficionado.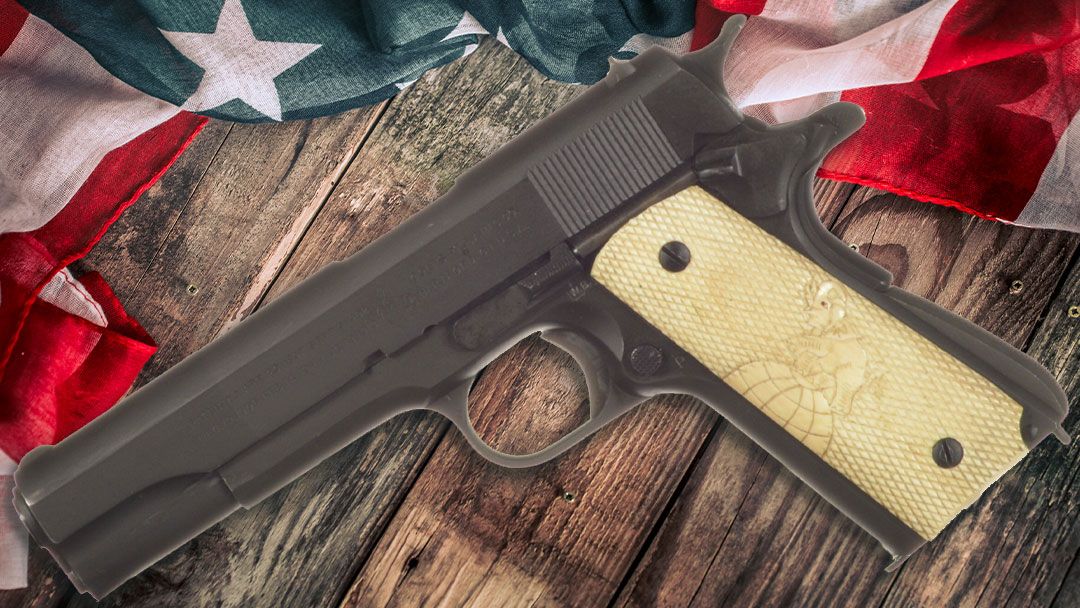 A 1943 manufactured WW2 U.S. Colt Model 1911A1 with carved grips.
The continued popularity of the 1911 pistol and its variants is reflected in the genre's impressive price growth in recent years. When it comes to design, reliability, customization, historic pedigree, and iconic silhouette, the 1911 pistol design has few rivals, and modern examples like the Nighthawk Custom Trooper 1911 continue to turn heads at Rock Island Auction Company.
Nighthawk Custom Trooper 1911. Includes a Nighthawk Custom soft case, extra magazine, and special PVD smoked nitride finish.
Old West Revolvers
Everyone loves Old West guns and October's bounty of gun collection must haves includes a wide assortment of authentic Wild West sixshooters. Leading the lineup is the Colt Single Action Army revolver, a wheelgun on everyone's wishlist. Hollywood's favorite Western handgun served as the choice sidearm for countless lawmen, desperados, homesteaders, and cowboys who braved the frontier, and fall's selection carries numerous examples of the storied revolver offered at attainable price points.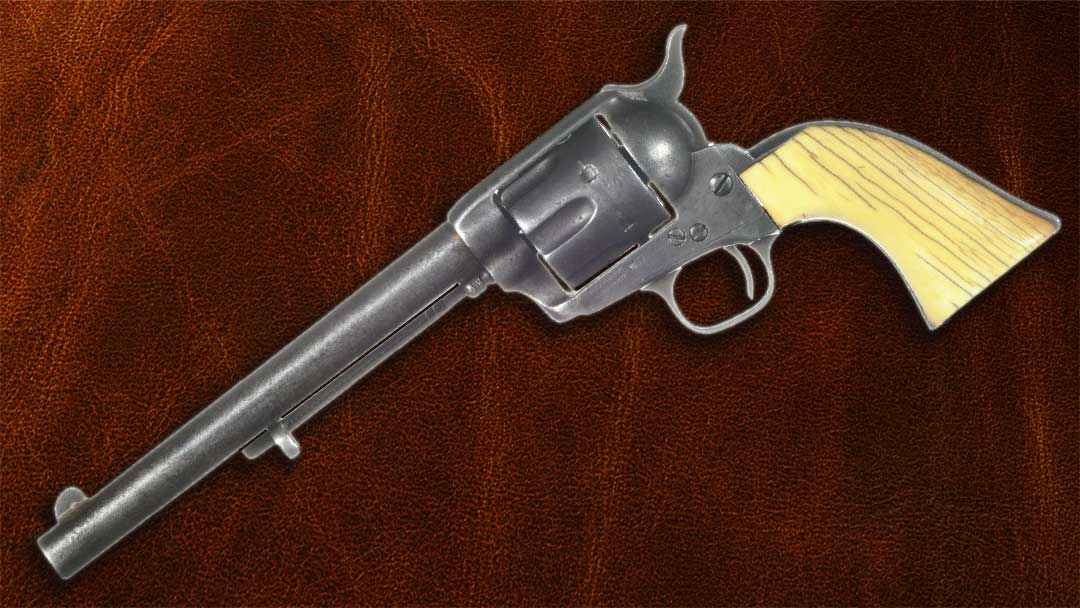 U.S. Ainsworth Inspected Colt Cavalry Model Single Action Army revolver. Manufactured 1874. Matching serial numbers on the frame, trigger guard, backstrap, barrel, and cylinder. According to page 159 of " Colt Cavalry and Artillery Revolvers a Continuing Study" by John Kopec this revolver is likely one of the 769 revolvers which were sold by Virginia.
Early percussion Colts like the Colt Dragoon are another gun collecting cornerstone. Known by Sam Colt as the "Old Model Holster Pistol," the Colt Dragoon is a familiar sight to fans of Westerns like 'True Grit' and 'The Cowboys'. The Dragoon was an improvement on the Colt Paterson and the Walker in several respects, with the Third Model being the final and most prevalent iteration of the American Dragoon revolver.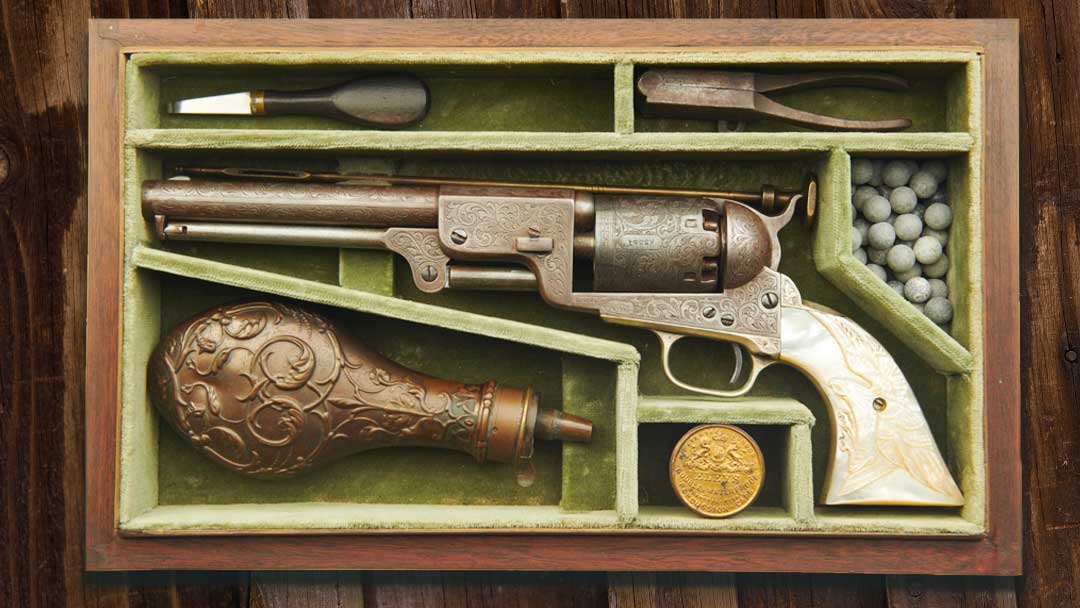 Cased and engraved Colt Third Model Dragoon revolver with 8 inch barrel and carved pearl grips.
Another prevalent big iron revolver from the Old West, the Smith & Wesson First Model Schofield single action revolver was designed by Col. George Schofield to improve the S&W No. 3 American for military use, offering greater ease of reloading compared to the Colt SAA. 3,000 S&W Schofields were ordered in 1875 with 5,000 more produced two years later in the Second Model. Many Schofield revolverswere issued to the 4th, 9th, and 10th Cavalry during the Indian Wars in the American Southwest. Others were delivered to state militias across the country. The Schofield's quick reloading capability and hefty .45 caliber cartridge made them a favorite to outlaws like the James Gang and law enforcement agencies like the San Francisco Police department during the time of the Sandlot Riots.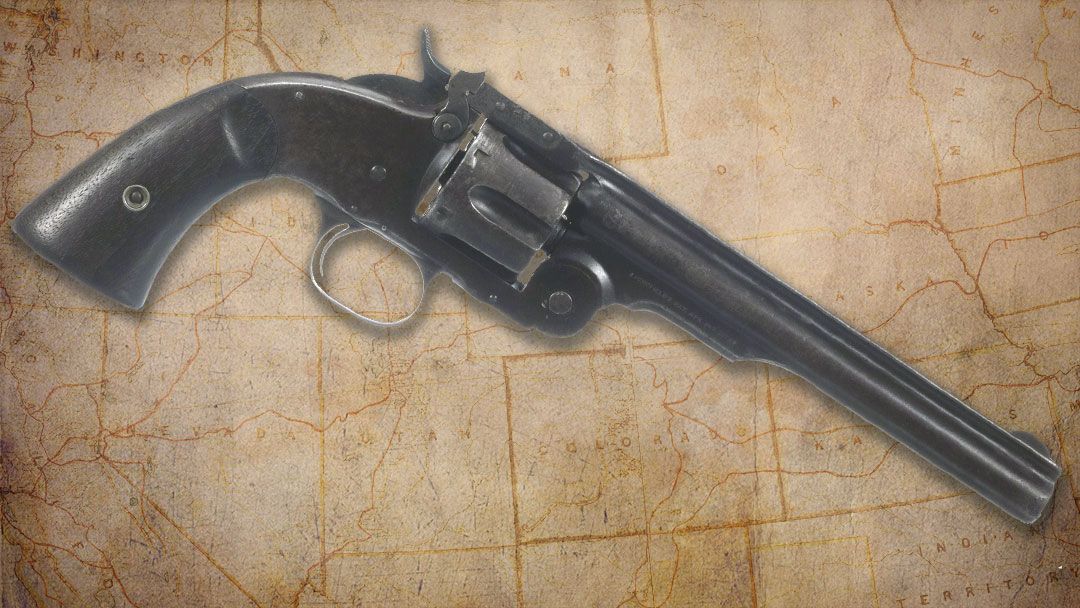 U.S. Smith & Wesson First Model Schofield single action revolver with a factory letter that lists this example with a 7 inch barrel, blue finish, and smooth walnut grips when shipped on July 12, 1875 and delivered to U.S. National Armory, Springfield, MA.
Winchester Lever Actions
Another genre of gun collection must haves would undoubtedly be Old West Winchester rifles. Vintage Winchester lever actions remain as popular as ever today with arms collectors, cowboy shooters, and fans of frontier history. The "Improved Henry," or what would become known as the Winchester Model 1866, is often hailed as "the first cowboy rifle" and is also the first rifle to bear the fabled Winchester name. Though a highly competitive genre, affordable antique Winchester lever guns within reach of the average budget can be found in Rock Island Auction Company's Sporting and Collector auctions.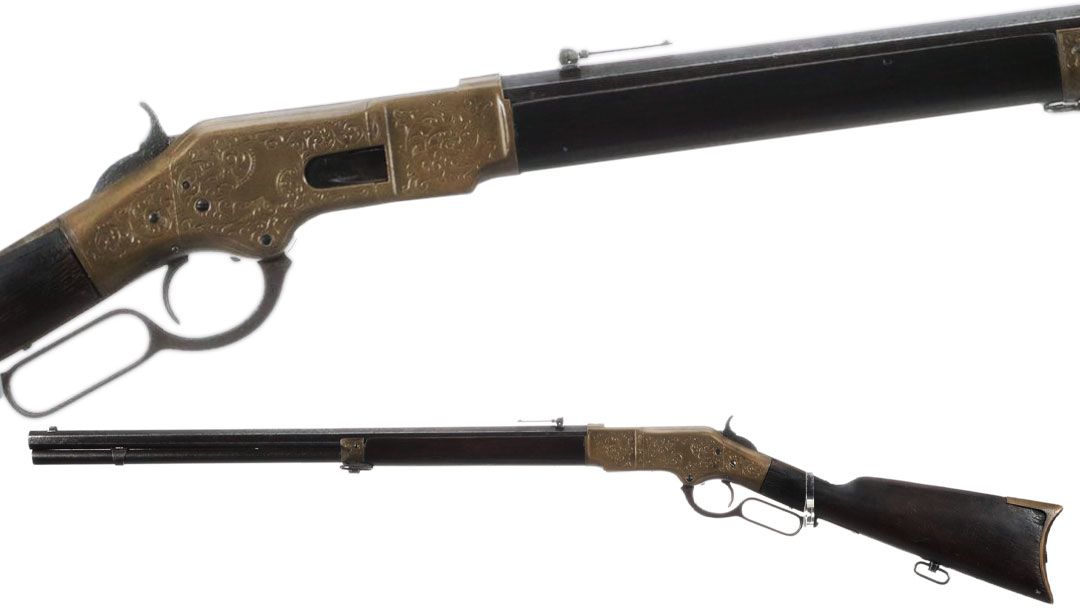 Desirable and rare New York engraved and silver plated Winchester Model 1866 lever action rifle. Only 210 Model 66s were factory engraved or inscribed and 300 were plated as discussed in 'The Winchester Book'.
As one of the archetypical Wild West guns, the Winchester 1873's tough frame, stronger chambering, and wide-scale availability helped this legendary Winchester become the rifle that won the West. Ned Crossman, a prolific firearms writer in the early 20th century, wrote that the sturdy Model 1873 "put the name Winchester on the map of the West, trotting along with the equally formidable Colt gun at the belt of the frontiersman." From James Stewart's Winchester '73 movie to Paramount's recent 1883 series, the rugged rifle remains one of the most well-known guns of Hollywood, and its real-life history is even more enduring.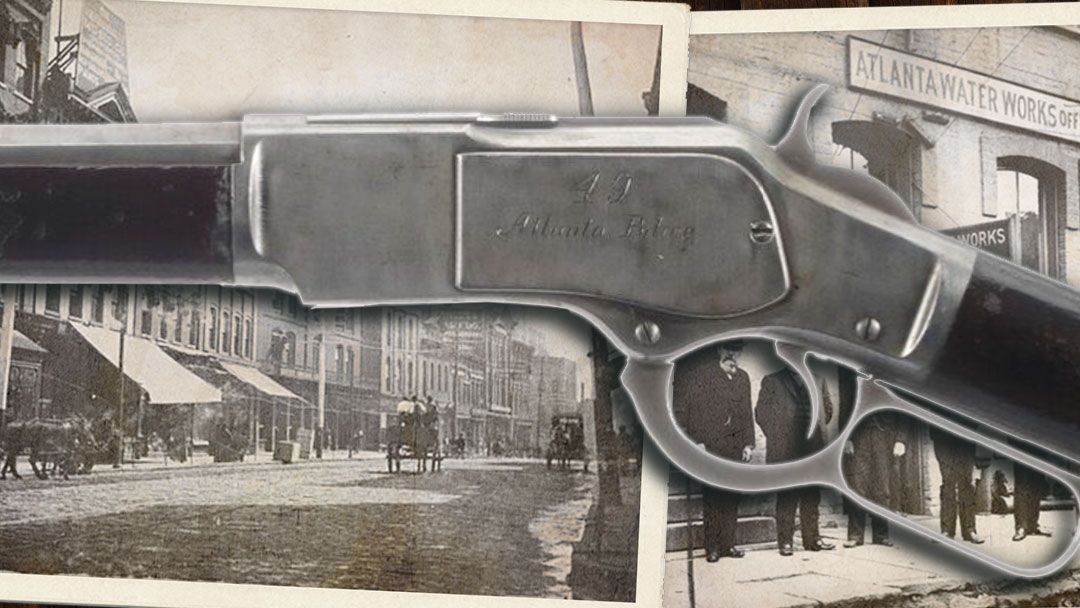 Special Order Atlanta Police Department factory inscribed Winchester Model 1873 lever action rifle.
The Winchester Model 1894 emerged too late to claim the title "Gun That Won the West," but it certainly kept Winchester's frontier legacy alive. The Winchester 94's balance and slim profile made it a favorite walking gun for hunters, ranchers, and law enforcement who appreciated the power and reliability of Winchester's .30-30 WCF smokeless cartridge. The classic lever gun's accuracy, simplicity, and rugged resilience added up to an ideal big-woods whitetail gun, and more than a century later the venerable rifle has become one of the most memorable pieces of Americana.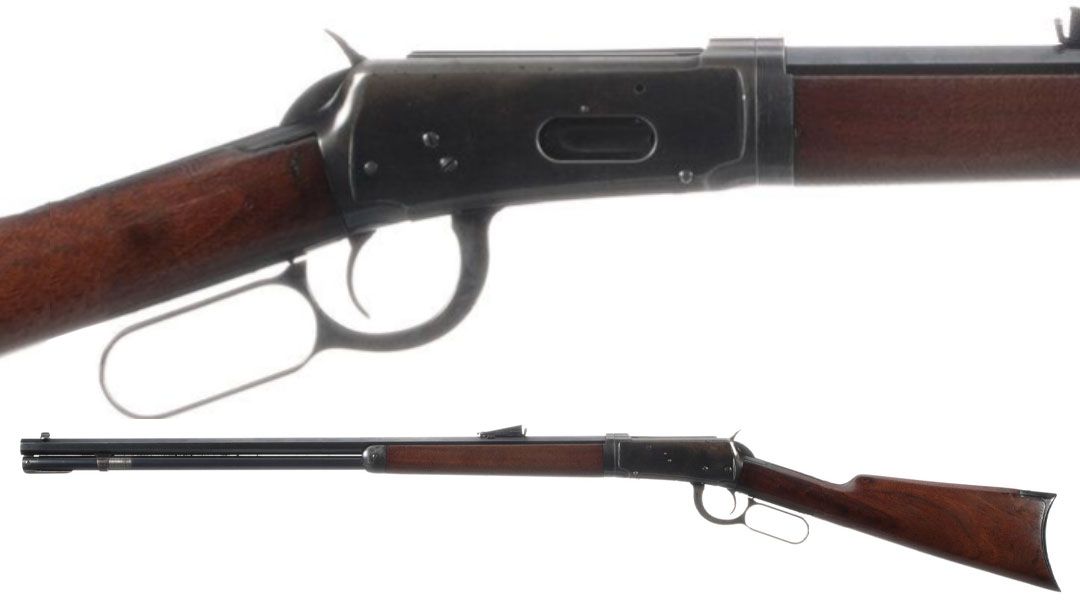 Manufactured in 1902, this was the first year that the Winchester Model 1894 was produced in the 32 Winchester Special caliber. The included factory letter states that on August 22, 1902, this rifle was a sample consignment (probably meaning Winchester used the rifle for promotional purposes or exhibition), that it was received in the warehouse on August 25, 1902, and shipped out on August 28, 1902.
WW2 Guns
General George Paton once hailed the M1 Garand as, "the greatest battle implement ever devised." Fielded by millions of American GIs from 1936 to 1959, the M1 Garand served as the standard United States infantry rifle, and it continued to see use as late as the Vietnam War. Nearly a century after gun inventor John Garand first started developing the storied rifle, the M1 Garand is more popular than ever with shooters, collectors, and WW2 arms enthusiasts, and the rifle is an absolute must have in any U.S. military collection.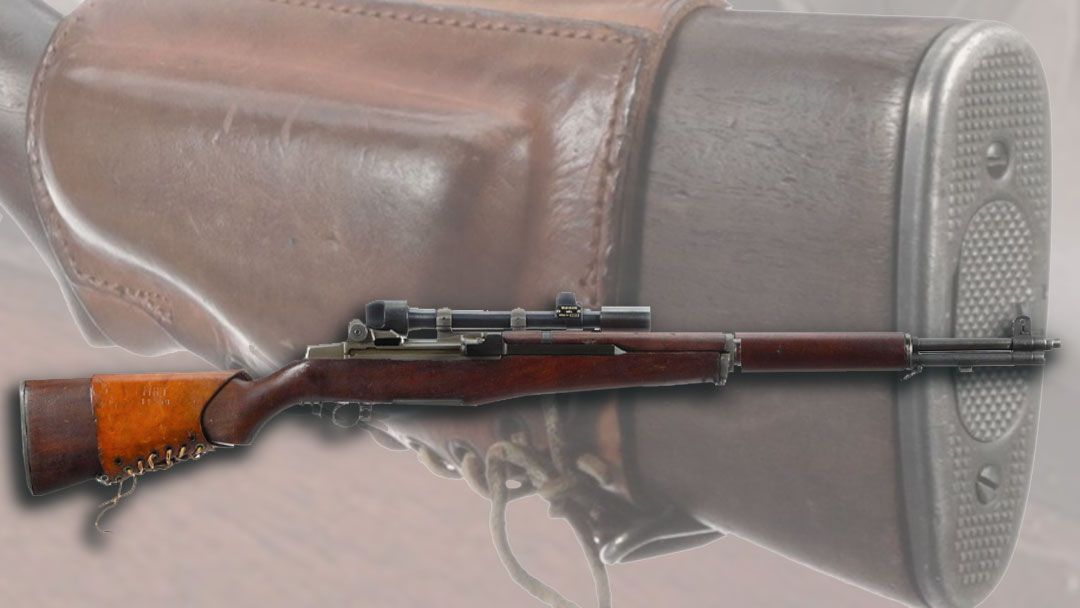 U.S. Springfield Armory M1 Garand semi-automatic M1C style sniper rifle with an M84 Scope. Manufactured in 1945.
An accurate, reliable German bolt action rifle, the K98 was the infantry standard for the Wehrmacht throughout WW2 and was carried by all branches of the German military. After WW2, captured Karabiner 98 rifles were fielded by Soviet allies during the Korean War and Vietnam War. It's no surprise that the precision and engineering of these fantastic bolt action rifles are still widely admired by military collectors today.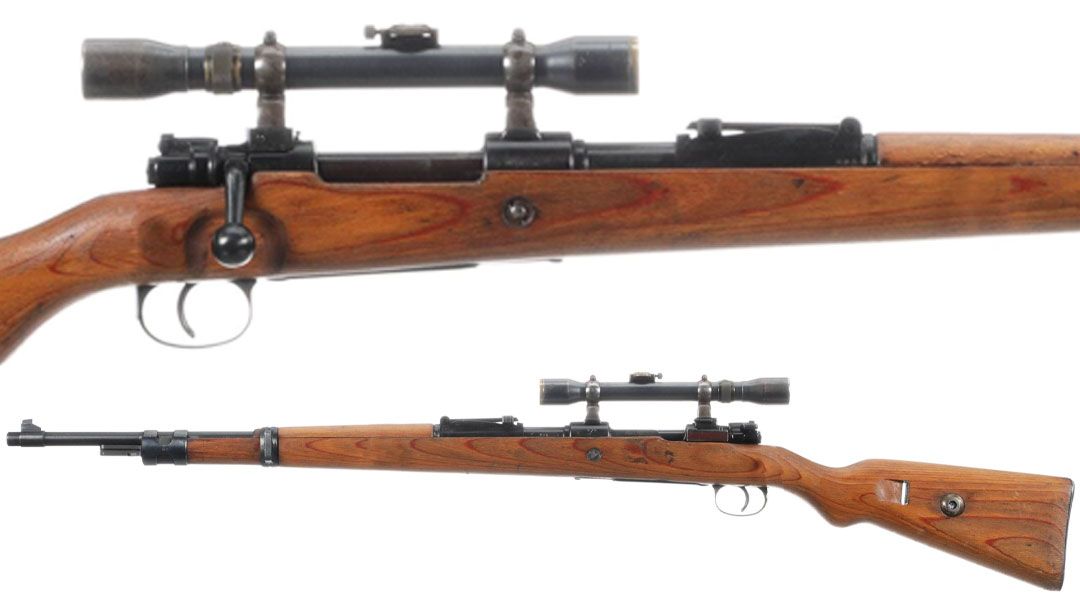 Berlin-Lubecker "237/1939" Code 98K bolt action sniper style rifle with Gerard Landlicht 23 4x scope.
The WW2 Model 1941 Johnson semi-automatic rifle was seriously considered by the U.S. Army and Marine Corps as an alternative to the M1 Garand in 1941. Although the Army never officially adopted the Johnson rifle, after the fall of the Dutch East Indies to Japan in 1942 some of the Dutch contract Johnson rifles were obtained by the Marine Corps and issued to the Marine Parachute and Raider Battalions for use in the early island hopping campaign in the South Pacific in 1943. With fewer than 21,500 manufactured, these scarce and intriguing rifles represent rare opportunities for WW2 gun collectors.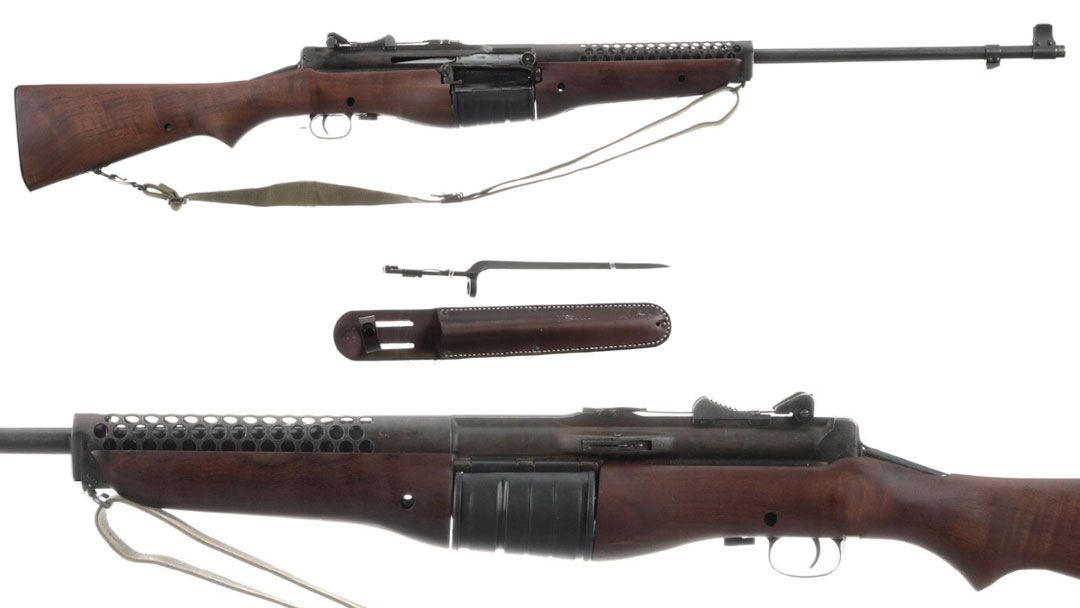 U.S. Johnson Model 1941 semi-automatic rifle with bayonet, scabbard, sling, and extra firing pin.
The Nambu line of Japanese semi-automatic pistols was created by their namesake KijirōNambu, a legendary gun inventor. Trying to compete with smaller, more compact pistols from Europe and America, the "Baby Nambu" was a scaled-down version of its two predecessors, the Grandpa and Papa Nambu pistols. Only 6,500 Baby Nambu were made, almost all of which were privately purchased by senior Japanese officers, making these rare sidearms a tempting item to add to any pistol collection.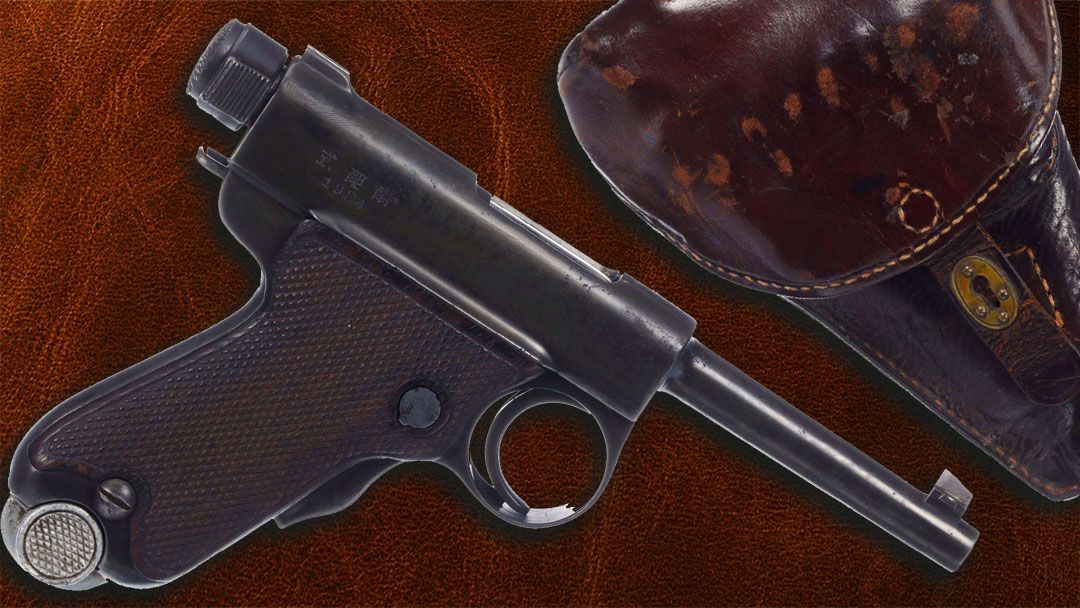 Japanese Tokyo Arsenal "Baby" Nambu semi-automatic pistol with holster, registration document, and accessories.
WW1 Guns
The distinctive Luger is often called the most famous pistol in modern warfare. Manufactured in numerous variants, George Luger's creation was one of the most widely carried sidearms of WW1 and beyond. Captured Luger pistols were considered valuable war trophies for the Allies, and it's no surprise the desire to own one of history's iconic pistols continues today in the gun collecting community.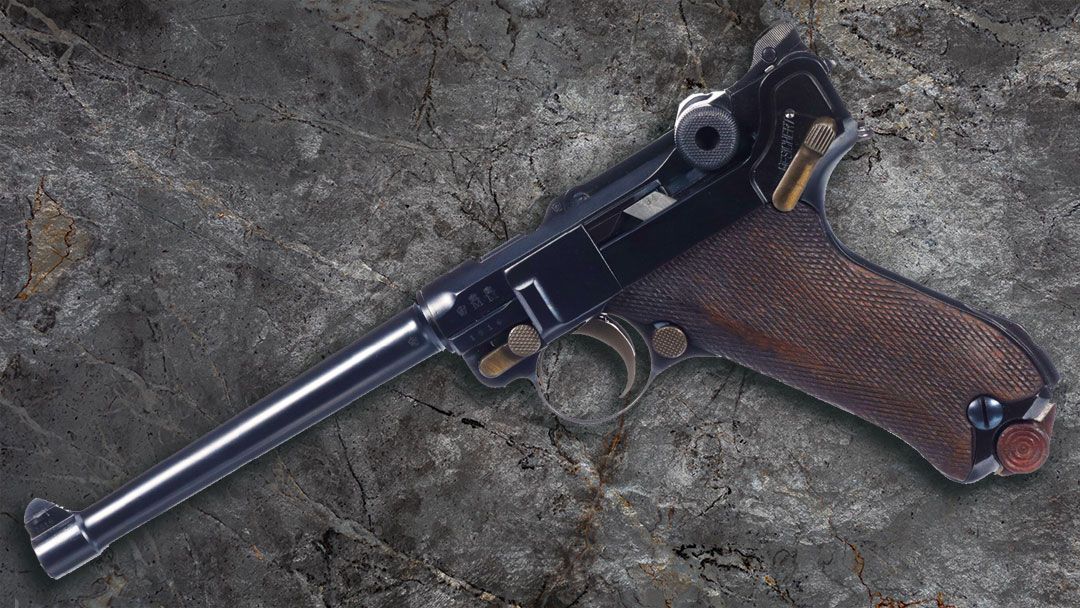 WW1 DWM Navy style Luger pistol dated "1916". Includes some extra wood magazine bases and an extra firing pin.
Trench guns have a larger-than-life reputation for their slam fire heroics in WW1, with the Winchester Model 1897 shotgun leading the charge for the United States. As America prepared to enter the Great War, General John Pershing recalled the effectiveness of the Winchester shotgun in the Philippines and envisioned how they could be wielded in the trenches of Western Europe. These incredible military shotguns lived up to their reputation on the battlefield and have become one of the gun collecting world's rising stars today.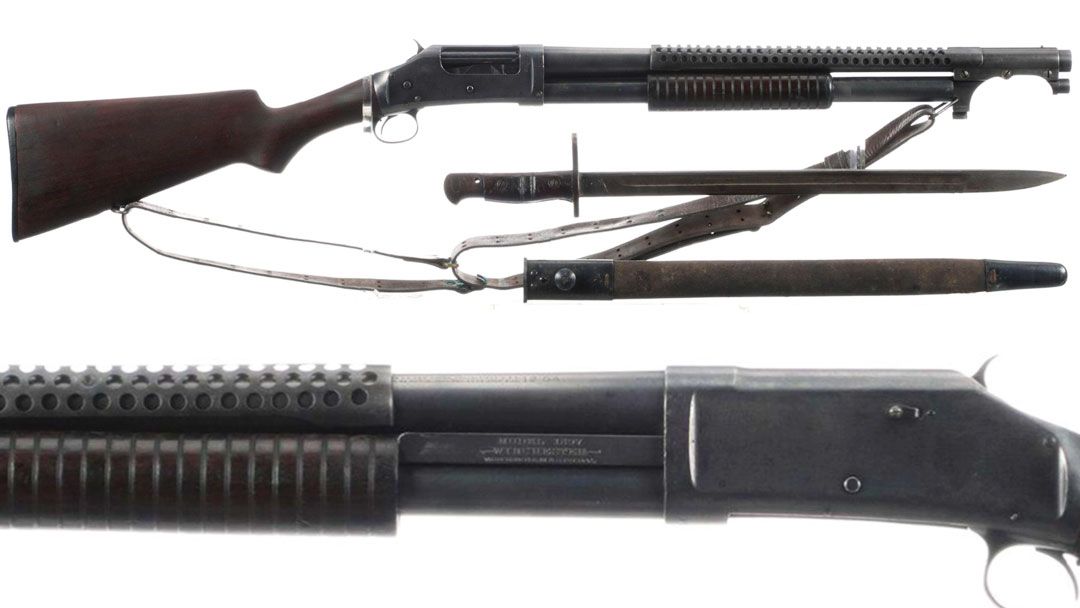 World War I U.S. Winchester Model 1897 slide action trench shotgun with bayonet, manufactured in 1918.
The Mauser C96 self-loading pistol is known by many names, slang, and designations. The Broomhandle. The Pistole 7.63. The C96's unique silhouette makes it a standout pistol with collectors and a favorite in Hollywood, featured onscreen in period dramas like Peaky Blinders and serving as the basis for Han Solo's DL-44 Heavy Blaster, perhaps the most eminent of all Star Wars guns. Though a highly sought-after collectible, quality examples of the Mauser C96 can still be found at attainable prices.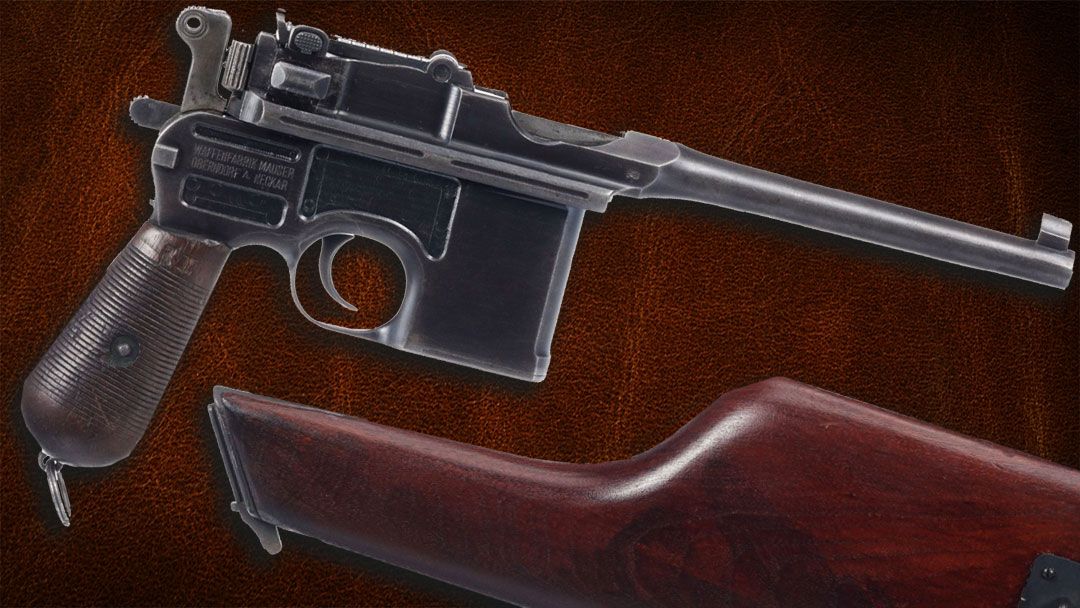 WW1 German Military Mauser C96 Broomhandle pistol with shoulder stock.
Civil War Guns
Perhaps the most famous Civil War repeating rifle, the New Haven Arms Co. Henry rifle is also one of the most recognizable collector guns today. These trailblazing lever actions were chambered for the .44 Henry rimfire cartridge, 15 of which were kept within a tube magazine located under the barrel, offering an unprecedented rate of fire for the era. Many other Henry rifles were acquired by individual soldiers during the Civil War, often veterans using a portion of their re-enlistment bonus to obtain the expensive firearm. With only roughly 13,000 Henry rifles manufactured, these historic guns are a hot commodity in the collecting world.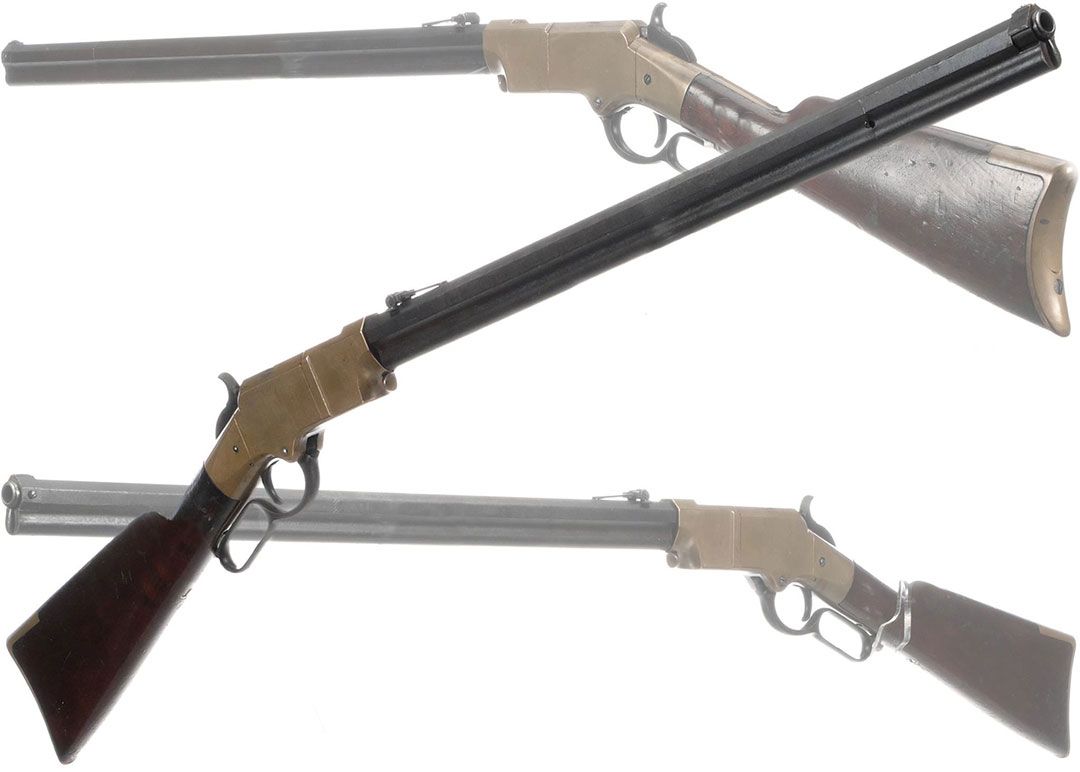 This Civil War era New Haven Arms Co. Henry was manufactured in 1863 and was one of the most advanced firearms of the Civil War.
The Colt Model 1851 Navy was one of the most prevalent sidearms of the Civil War and the most common revolver carried by the Confederate forces. Indeed, the 1851 Navy became the basis for numerous Confederate produced brass-frame revolver styles like the Griswold & Gunnison Revolver and the Leech & Rigdon revolvers. Building off of the successful Colt 1849 Pocket percussion, the Colt 1851 Navy was a personal favorite of Samuel Colt and a preferred sidearm for Western legends like Wild Bill Hickok and Buffalo Bill Cody, and the sturdy sixgun continued to see widespread use long after the Civil War.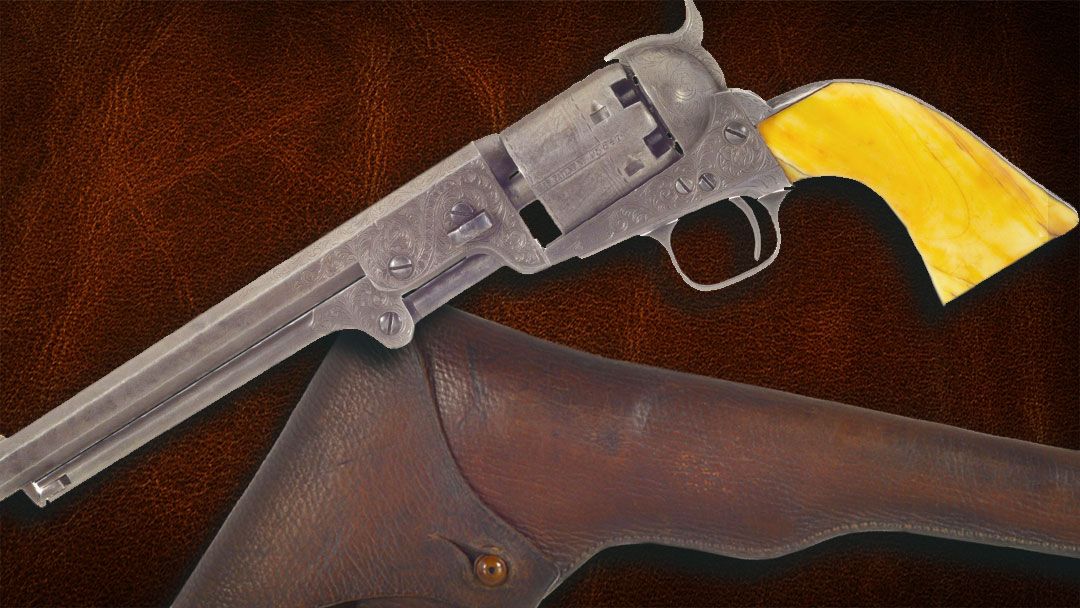 Engraved and inscribed Colt Model 1851 Navy percussion revolver with Confederate attributed holster.
Popularized recently by Quigley Down Under, the various Sharps rifle and carbine models manufactured from the Antebellum Era through the late-19th century were some of the most renowned firearms of the American frontier. Sharps were well-trusted for their accuracy and reliability during the Civil War, and the Union purchased approximately 80,000 Sharps carbines and almost 10,000 rifles. Specially ordered Sharps rifles were fielded by the 1st and 2nd U.S. Sharpshooter Regiments (the Berdan's Sharpshooters) to great effect. They were later produced for centerfire metallic cartridges and were manufactured in a dizzying array of configurations through the decades.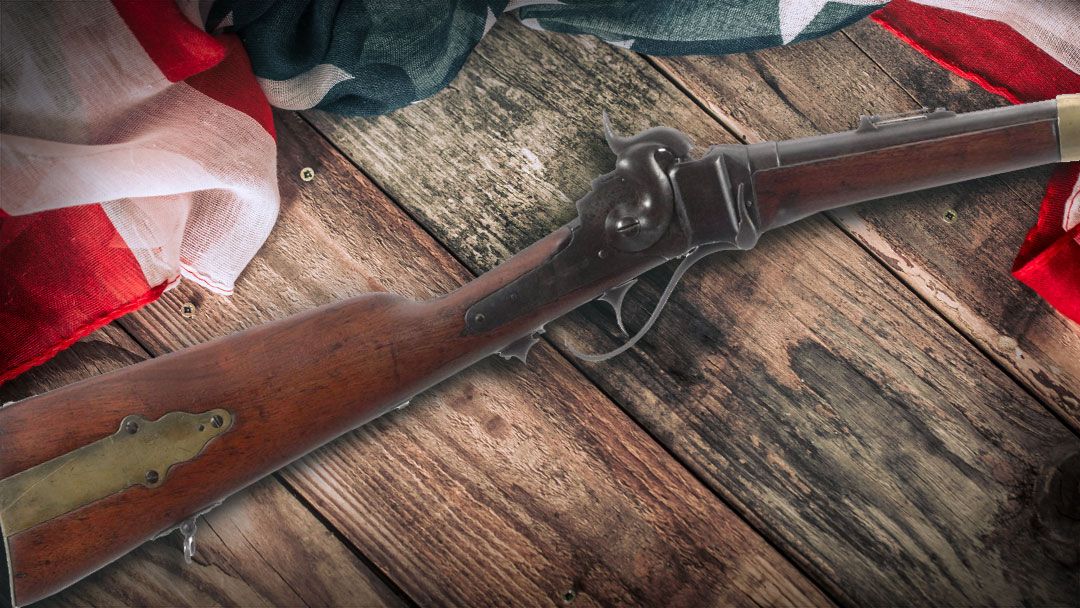 Early New Model 1859 manufactured c.1856-1860 Sharps Carbine with brass furniture. Many of the early Model 1859 and New Model 1859 Sharps carbines were bought by the State of Georgia.
Antique Muzzleloaders
When it comes to gun collection must haves, antique pistols make for some of the most impressive display pieces. Flintlock officer's pistols were often crafted as matching pairs that carried a higher level of prestige and embellishment compared to the more standard pistols of the lower ranks. These pistols typically exhibit quality engraving and ornamentation, and surviving examples tend to be well preserved. Antique pistols that include their original box and accessories are particularly valued in the collecting community, and a number of intriguing examples can be found amid October's extraordinary selection.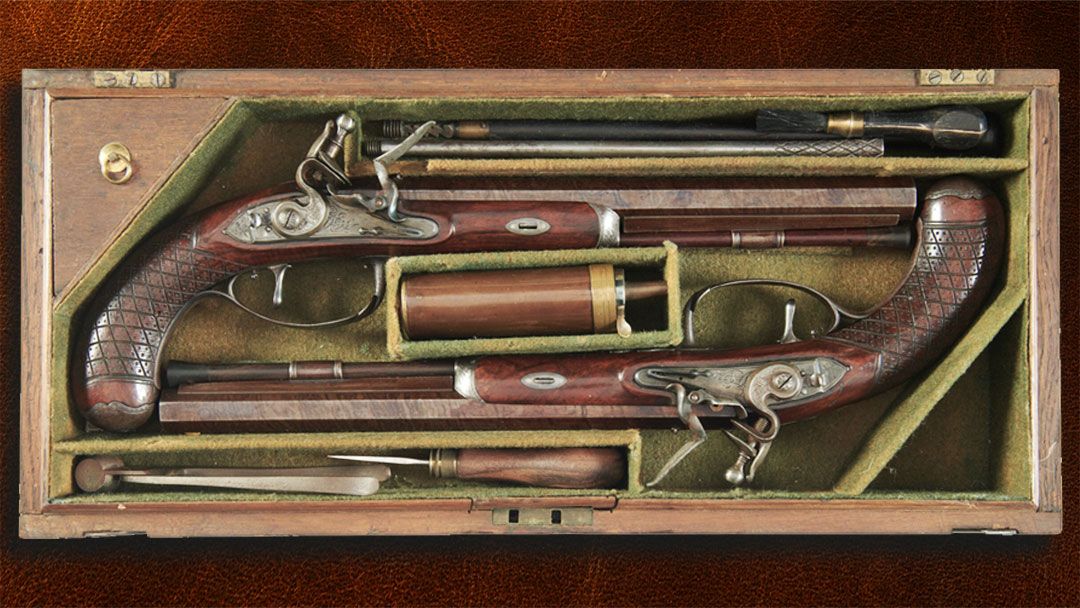 A cased pair of Durs Egg flintlock officers pistols. Includes hardwood case with Egg gunmaker label underneath the lid, powder flask with ball compartment, lead balls, bullet mold, brush, screwdriver, and a cleaning rod.
Carried both on land and sea, the unique-looking blunderbuss belongs in any antique arms collection. Drawing its name from the Dutch word 'donderbus', or thunder pipe, the blunderbuss is a smoothbore short-barreled long gun with a flared muzzle that was especially useful for defending ships from boarders and carriages from highwaymen. Much like a modern shotgun, the blunderbuss was designed to deliver a devastating blast of shot or buck and ball at close range. George Washington equipped them to his dragoons late in the Revolutionary War, and other militaries around the world issued the blunderbuss as cavalry weapons through the early 18th century.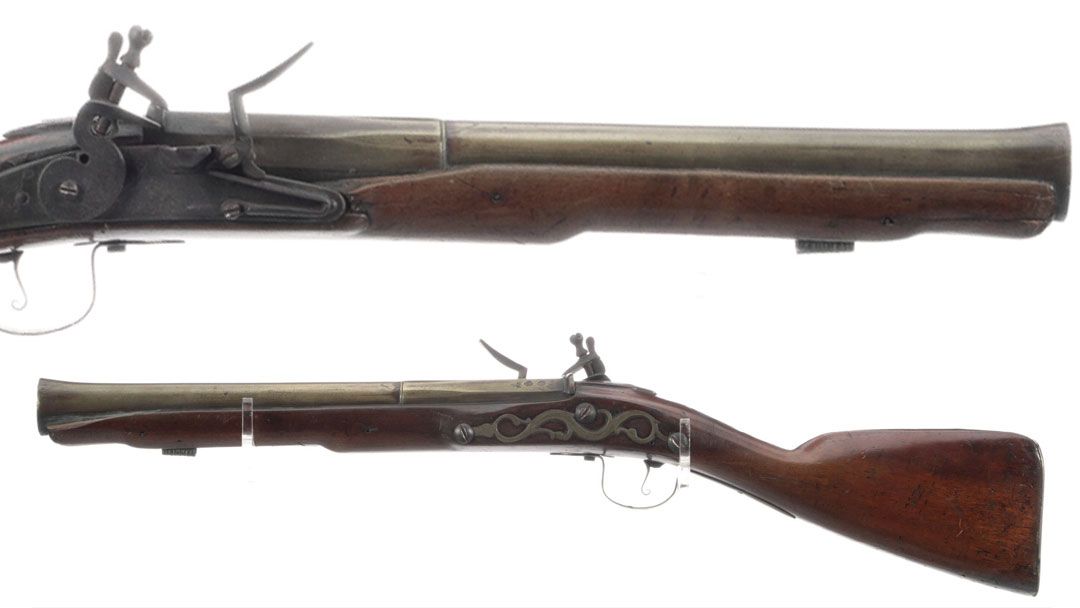 Early 18th century brass barrel flintlock Blunderbuss by John Hall of London.
October's auction includes numerous offerings from top collections, including the Joe Wanenmacher gun collection. A true gentleman collector, Joe Wanenmacher built the Tulsa Arms Show into the largest gun show in the world and acquired an impressive assemblage of antique firearms in the process. From classical European wheellocks, rare sporting rifles, and unique flintlocks, the Joe Wanenmacher gun collection includes scarcely seen firearms from every era.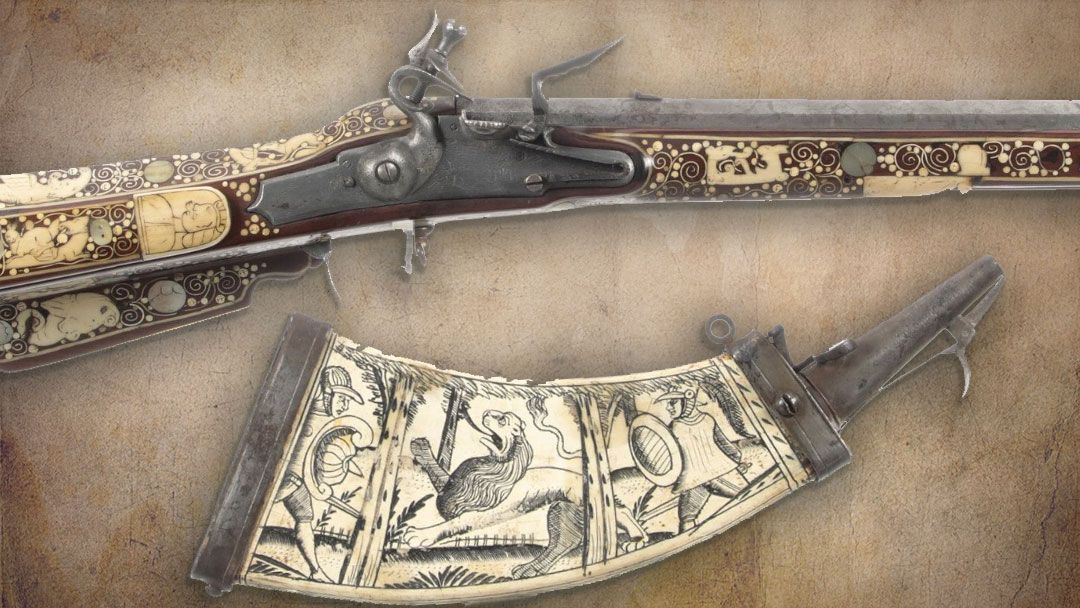 A scrimshaw decorated short flintlock rifle with an engraved powder flask.
Gun Collection Must Haves at Rock Island Auction Company
Aside from the joy of building a fantastic gun collection, firearms can be a rewarding investment, with gun prices seeing an impressive upswing across many genres as the hobby swells in popularity around the globe. From vintage to modern, from new-in-box pieces to guns marked with honest wear, Rock Island Auction Company's October 4 – 7 Sporting & Collector Firearms Auction includes a vast selection of gun collection must haves that truly span the centuries.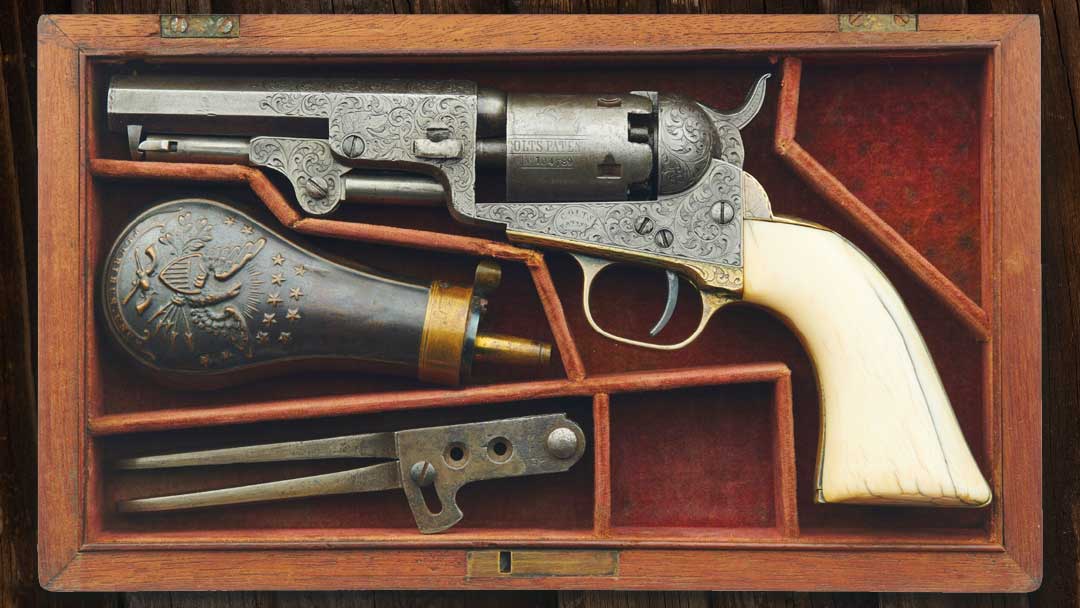 A cased factory engraved Colt Model 1849 Pocket percussion revolver, manufactured in 1855 and likely engraved by Gustave Young.
Whether you're looking to start or upgrade your collection or pick up some gun giftsfor the firearms aficionados in your life, Rock Island Auction's free digital gun catalogs always offer an exciting slate of arms, accessories, and rare miliaria. Subscribe to the weekly Rock Island Auction newsletter to receive new gun blogs and gun videos on all the firearms genres covered here and more.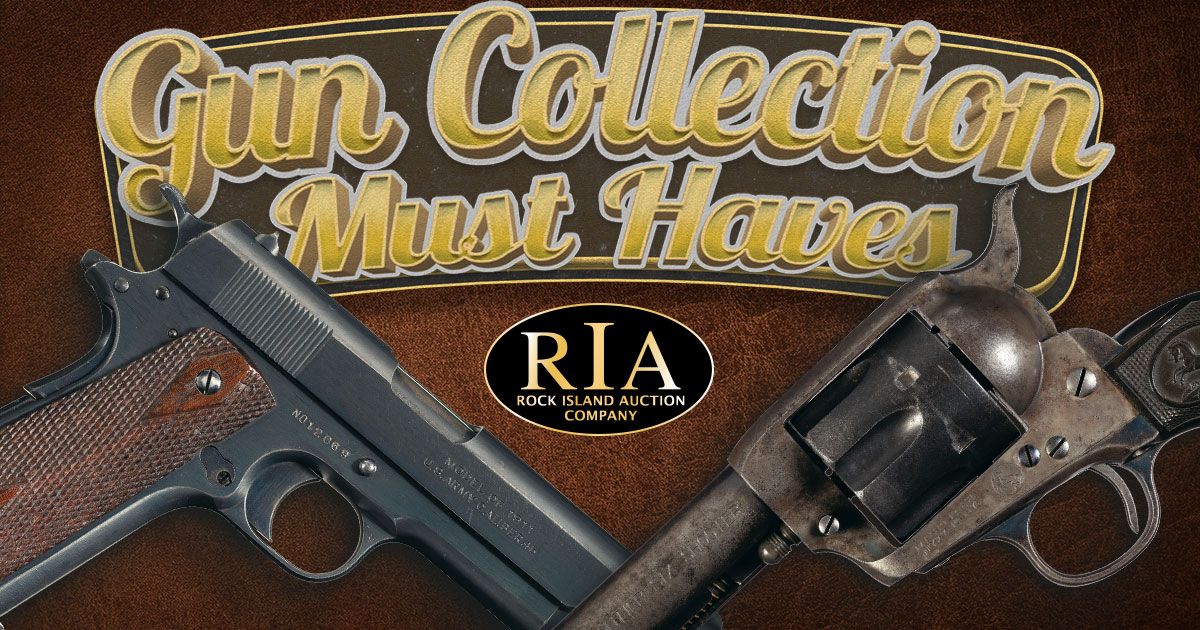 Rock Island Auction Company