Untraceable firearms, commonly known as ghost guns, will no longer be legal to sell under an executive order from President Joe Biden that takes effect Wednesday.
The weapons, which police say they are recovering with increasing frequency at crime scenes, were the subject of a Kane In Your Corner investigation in June.
Ghost guns were used in at least five school shootings this year alone, according to the Everytown Center for Gun Safety. Police say one was used in a shooting outside a high school in the Bronx in April, which left a 16-year-old girl dead.
Because ghost guns are manufactured without serial numbers, they are virtually untraceable by law enforcement. While they are already illegal to possess in New York, New Jersey and Connecticut, they can be legally purchased in 40 states, including Pennsylvania, often without a background check.
Under the Biden administration's new regulations, all gun kits nationwide will have to carry serial numbers, like any other firearm. Existing ghost guns will not be impacted…
Gun rights groups have argued the regulations are not likely to succeed.
"As far as a criminal is concerned, it is far easier for them to steal a firearm and to obliterate the serial number than it is for them to manufacture a functioning firearm at home," says Aidan Johnston of the Gun Owners of America.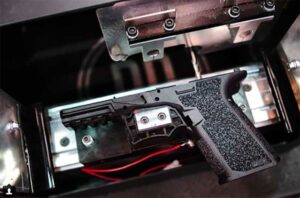 GOA