As both a prequel to Paramount's hit 'Yellowstone' series and a sequel to the franchise origin story, 1883, the anticipation for 1923 has been high to say the least. 1923 explores the next two generations of the Dutton family tree and the perils they face in the early 20th century, including war, lawlessness, economic depression, and the encroachment of the modern world on their traditional way of life.
Harrison Ford and Helen Mirren portray Jacob and Cara Dutton, the power couple of the 1923 series who defend their land with guns blazing.
With land disputes and cattle theft an ever-looming threat, being well-armed was essential to the ranchers who tamed the remote valleys of western Montana. The historic accuracy of the series varies, but most of the guns of 1923 are real firearm models that are highly collectible today. Click on the photos throughout this article to find similar gun examples from past and upcoming auctions at RIAC.
If you haven't watched the series yet, and are hoping to remain spoiler free, read no further. You've been warned!
The Dutton Family Tree: James Dutton to John Dutton
The question of who is John Dutton's grandfather has been on the mind of Yellowstone fans since the 1883 prequel series was first announced. The Yellowstone family tree starts with James Dutton (Tim McGraw) and Margaret Dutton (Faith Hill) as they travel west with their children, John I and Elsa. The Duttons build what becomes the Yellowstone ranch near their daughter Elsa's grave, and Margaret gives birth to Spencer several years later.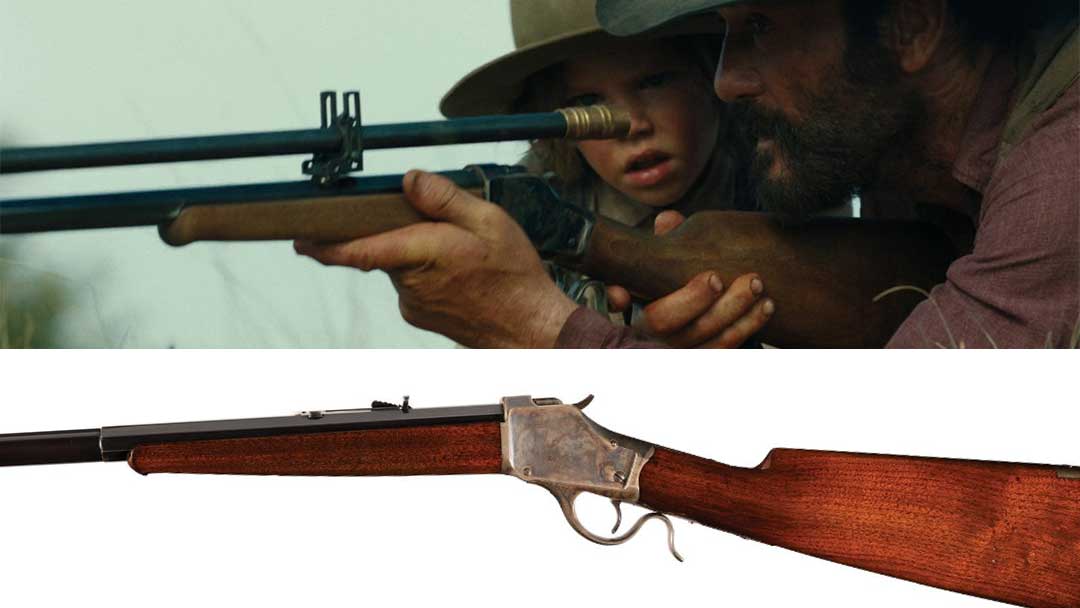 James Dutton teaches his son John I how to fire the Winchester 1885 High Wall rifle, one of the signature guns of the 1883 Yellowstone series.
Ten years later, James Dutton is gunned down by horse thieves. Margaret writes to James' brother, Jacob Dutton, begging for his assistance running the ranch. Tragically, Margaret passes away during a harsh winter before Jacob and his wife, Cara, arrive in Montana. Jacob and Cara take the two boys under their wing and raise them as their own. The 1923 series takes place almost 40 years later, with Jacob serving as the Dutton family patriarch and John I as the heir apparent.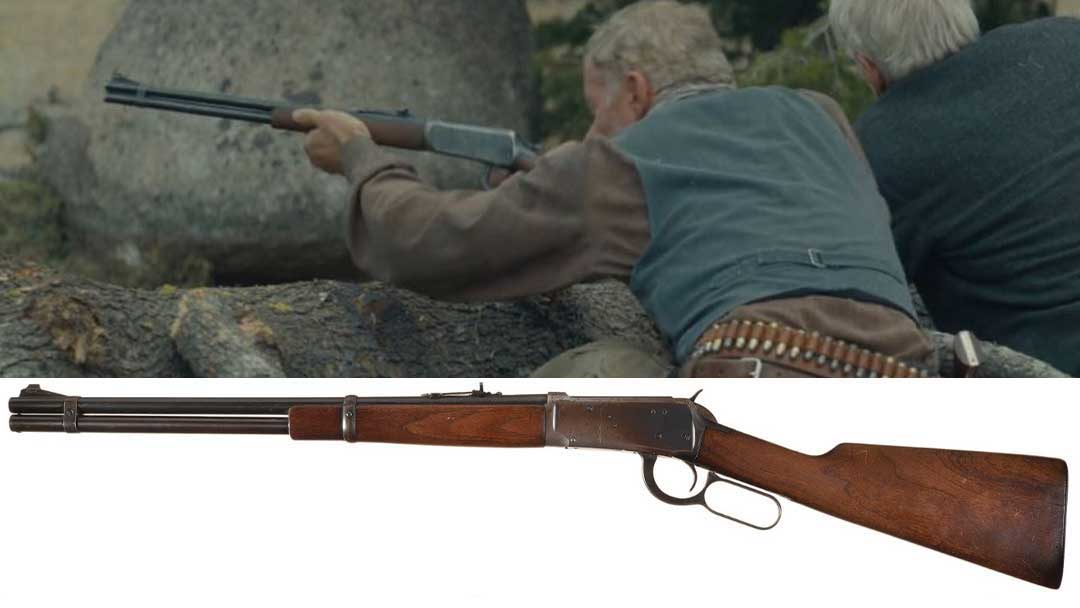 40 years after the 1883 series, John Dutton I defends the ranch alongside his uncle, Jacob, both wielding Winchester 94 carbines. John I is presumed to be the great-grandfather of Kevin Costner's iconic Yellowstone Patriarch and one of the key figures in the 1883 and Yellowstone timeline.
As shown in Yellowstone Season 5, Episode 6, James and Margaret are buried on the ranch on either side of their daughter Elsa. John Dutton III has pointed out numerous times throughout the Yellowstone series that the Dutton homestead is a seventh-generation ranch, with five generations Montana born. This places Jack Dutton, John Dutton I's son, as the most likely link between past and present in the current Dutton family tree, with a 140-year line spanning from James Dutton in 1883 to Tate Dutton as the sole seventh-generation Dutton in the current Yellowstone series.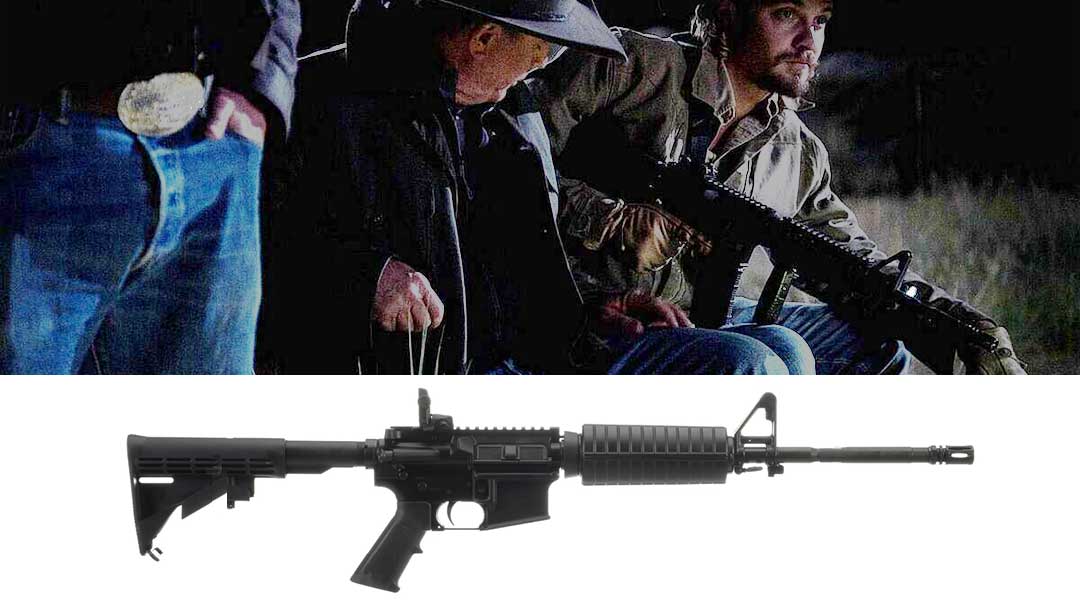 John Dutton III and his son Kaycee nearly 100 years after the events in 1923. Kayce carries an M4 carbine.
"My father had three children," Elsa Dutton's ghostly voice narrates as the 1923 series opens. "Only one would live to see their own children grown. Only one would carry the fate of this family through the depression and every other hell the 20th century hurled at them."
The Winchester 1894: A Yellowstone Legacy Gun
While James Dutton favored the Winchester 1873 lever action rifle in 1883, his brother, son, and grandson are seen toting the Winchester 94 carbine. Invented by the prolific John Browning, the Winchester 94 was affordable, reliable, and frequently chambered in .30-30, a smokeless cartridge that quickly became one of the most wide serving and prevalent types of ammunition available.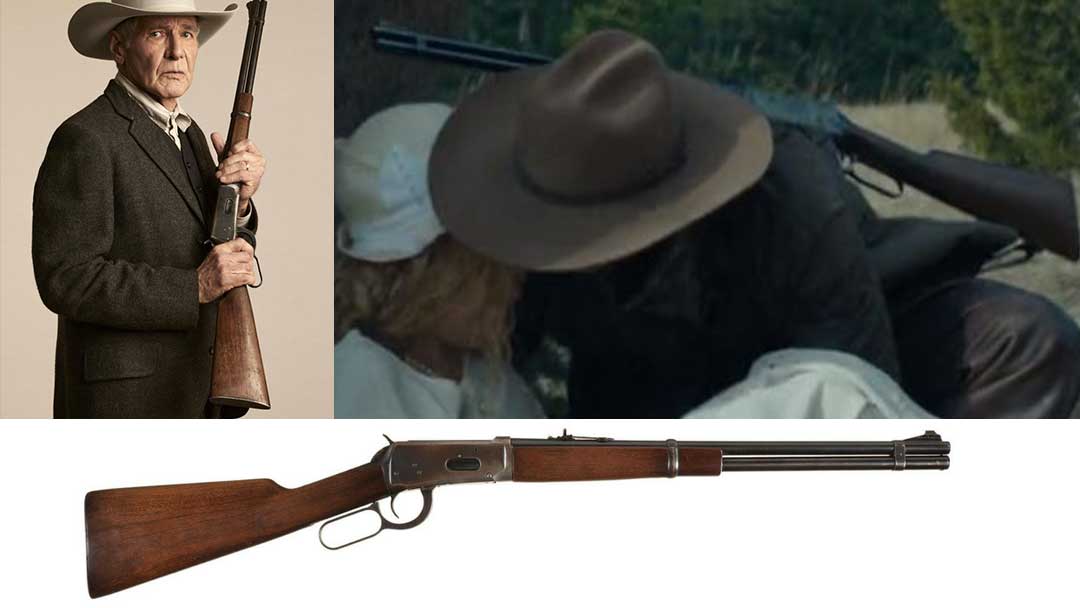 Out of all the guns of 1923 that have seen on-screen action thus far, the Winchester 94 carbine may be the most prominent.
The Winchester 94 carbines carried by Jacob, John I, and Jack Dutton all appear to be the same model, possibly 1940s "flat band" carbines (only manufactured from 1946 to 1948) that share similar butt plates and front sights. Though this style of Model 94 is anachronistic to the 1923 time period, the Winchester 94 was certainly one of the most popular guns of the era.
The three Winchester carbines depicted in 1923 all appear to match the gun John Dutton owns in the present-day Yellowstone show, so the intention of the showrunners may be to illustrate that one of these guns was passed down through the Dutton family, a common practice with prized hunting arms like the Winchester 94.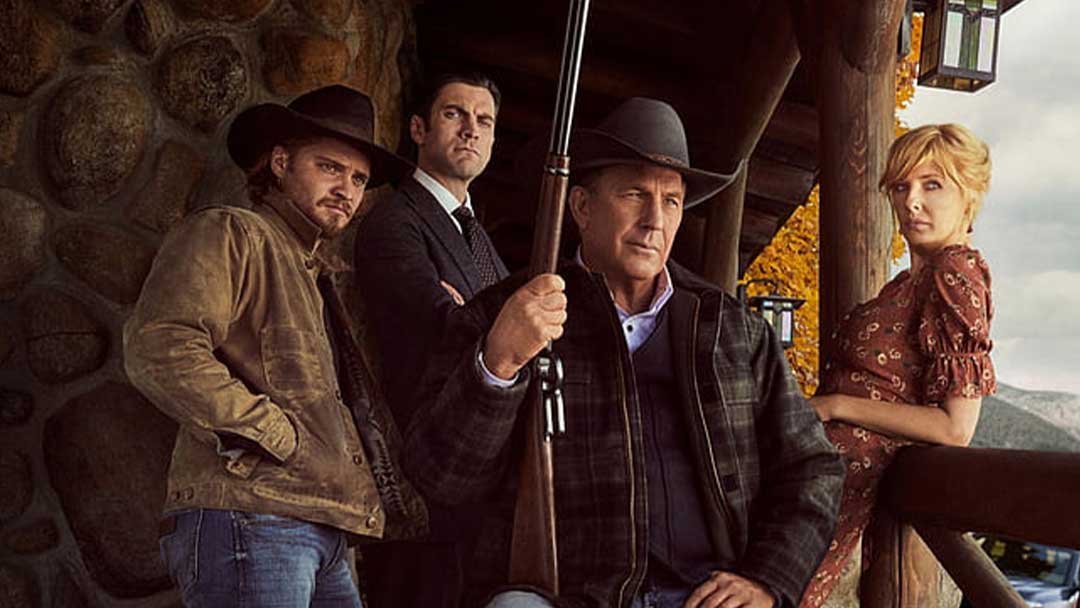 John Dutton III in the present day holding a Winchester 94 carbine, perhaps a heritage gun passed down from one of his ancestors from the 1923 series.
John Dutton's Yellowstone gun is also a real-life legacy firearm owned by Kevin Costner's father. "My dad was a fistfighting, single-minded tough guy coming out of the Dust Bowl in the Great Depression," Costner explained. "He wanted a job and never let it be taken away from him. The [Winchester] .30-30 gun I use in the show was his. When I put it up to my cheek, my dad's right there. I know what it's like to be a person that's kind of a John Dutton—minus the murder."
Cara Dutton's Shotgun
The Dutton family tree has no shortage of strong women, and Cara Dutton is no exception. As the matriarch of the series, it's only appropriate that Cara's shotgun is the first gun featured on screen in 1923. Cara's hammerless side-by-side shares a resemblance to an Ithaca Flues Field Grade shotgun, which were manufactured between 1908 and 1926. The model is named for Emil Flues, who designed and patterned the gun. Cara's shotgun appears to have Damascus barrels, as evident by their twisted steel pattern.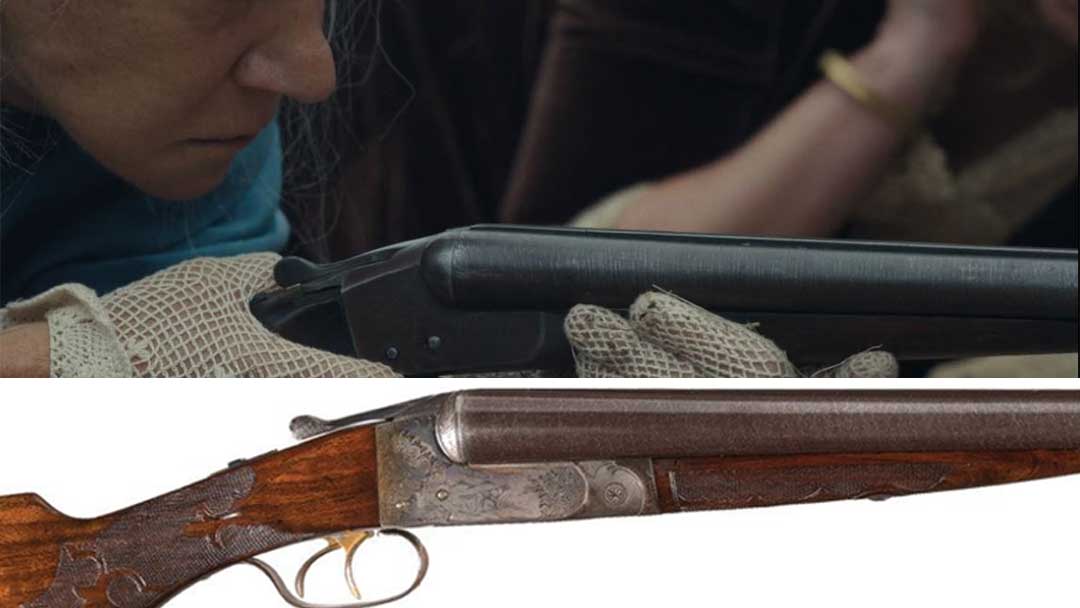 "Violence has always haunted this family," Elsa narrates after Cara Dutton confronts an intruder with her shotgun.
A solid scattergun has served as a favored firearm for two other leading ladies of the Yellowstone franchise. Margaret Dutton handled a 12 gauge Colt 1878 with skill in 1883, and her great-great-granddaughter, Beth Dutton, kept a Parker Brothers 1878 12 gauge close by after improbably surviving an explosive attack.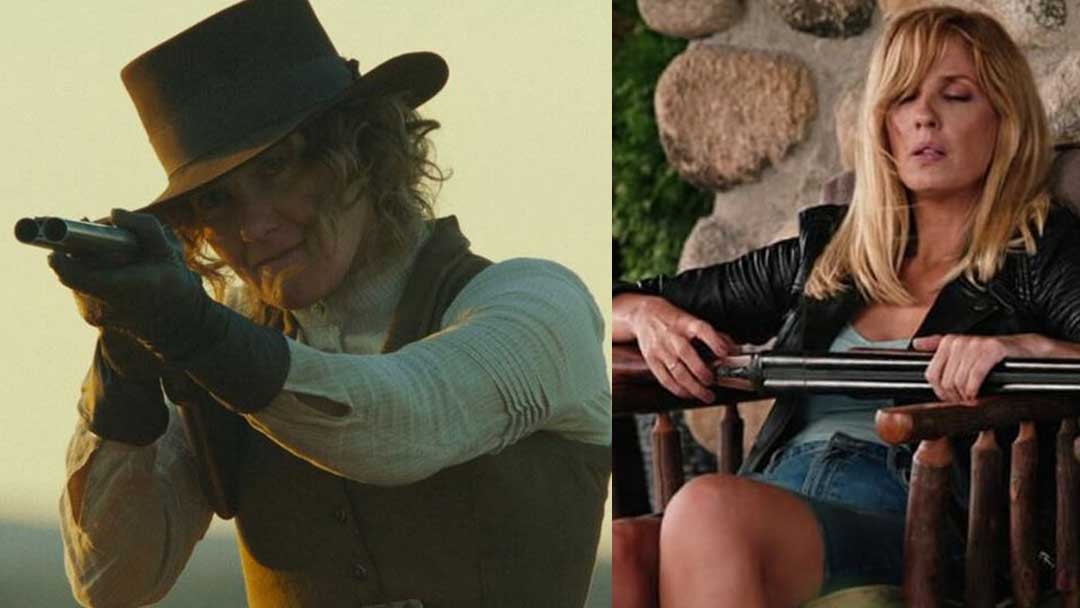 The trusty 12 gauge side-by-side, a classic choice for self-defense.
Who is Spencer Dutton?
Spencer Dutton's lineage on the Dutton family tree seems like a potential dead end after Elsa's ominous prediction, but things may not be that clear cut. Fans of 'Legends of the Fall' will find parallels between Tristan Ludlow and Spencer Dutton, both prodigal sons from Montana ranching families. Like many young men of his era, Spencer became caught up in WW1.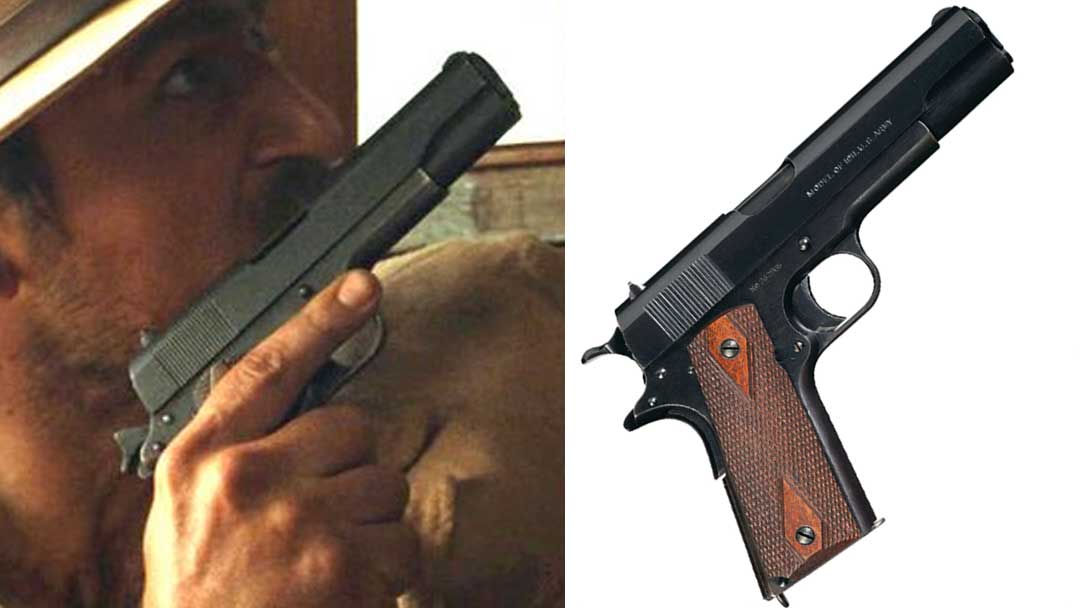 An M1911 pistol, Spencer Dutton's service weapon during WW1, retained as his personal sidearm. The 1911 pistol would have been a popular gun in 1923, with an assortment of military surplus available to police and civilians.
After the war, Spencer Dutton traveled to Africa and became a hunter employed by the British Protectorate of Kenya. In both instances, Spencer's poise and aptitude with firearms have kept him alive. Spencer also seems to share his late sister Elsa's wanderlust. Though he was born several years after Elsa's passing, Spencer honors her memory by carrying his sister's knife and sheath.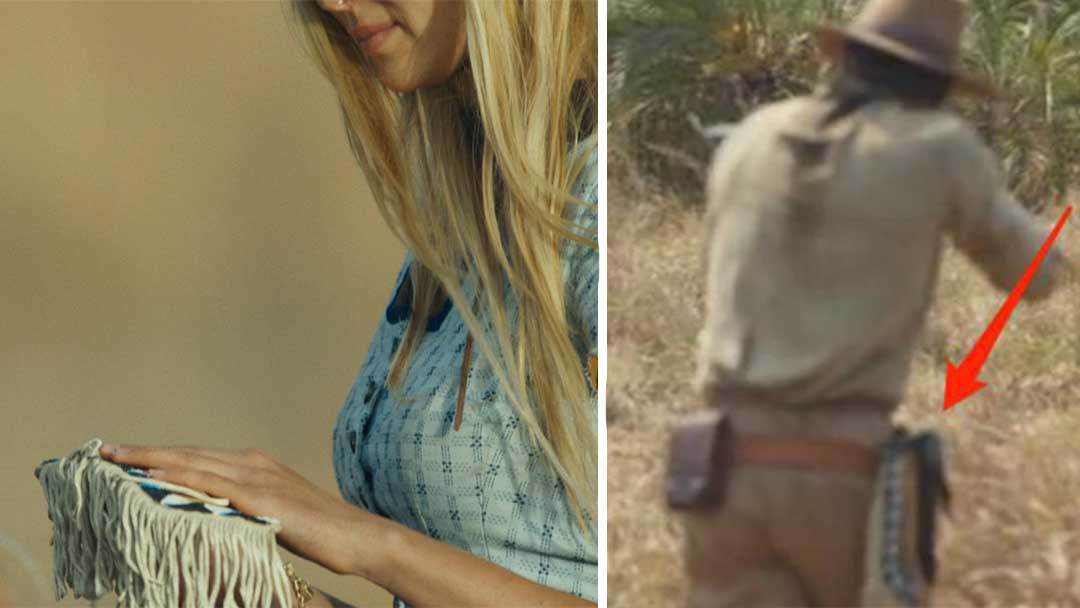 Another Dutton family legacy arm, Elsa's knife was a gift from Sam, her Comanche husband, and is now carried by her brother Spencer 40 years later.
Guns of WW1
The Great War and its aftermath represented a dramatic change in both the world economy and the firearms industry. It also exposed a generation of young men to the horrors of modern warfare, as depicted in 1923. A variety of guns are seen on screen, from shotguns and bolt action rifles to the latest in belt-fed machine gun technology like the Browning 1917A1.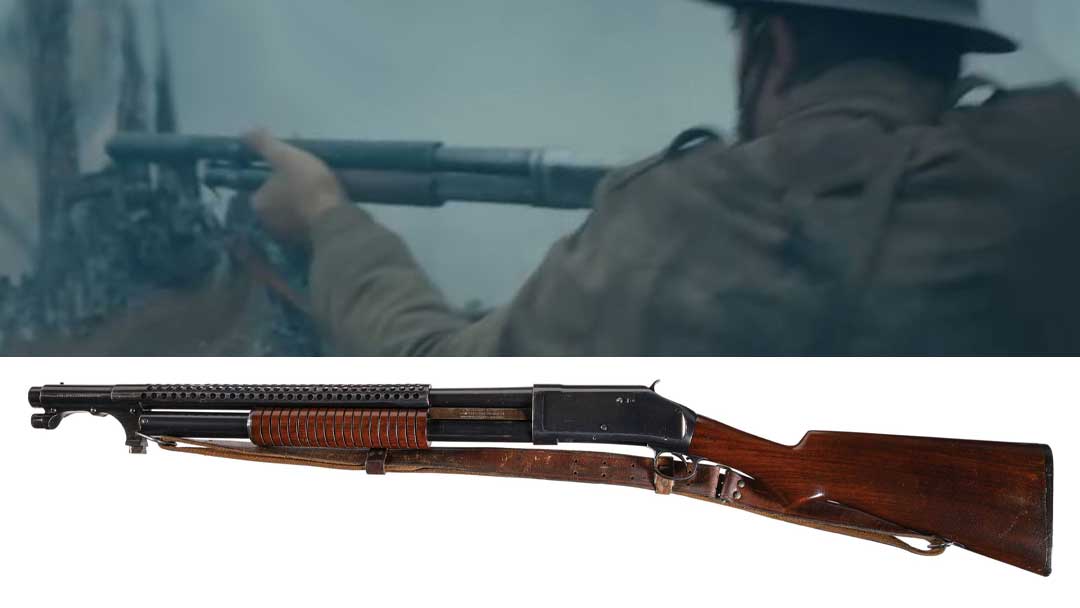 Sergeant Spencer Dutton fires the Winchester Model 1897. The infamous "Trench Sweeper" shotgun was feared by the Germans, who issued a diplomatic protest to America claiming that the weapon caused "unnecessary suffering."
Just as James Dutton was traumatized by the Battle of Antietam during the Civil War, his son Spencer is haunted by his experiences in WW1. Given the forested terrain, the ferocity of fighting, and the late-war Browning machine gun depicted in Spencer's nightmares, this battle may have occurred during the Meuse-Argonne offensive, the final major campaign of WW1, and the deadliest action in American military history.
Charging Germans armed with Gewehr 98 rifles clash with Americans carrying the M1903.
Spencer Dutton's Rifle
While Jack Dutton's story is shot against the sweeping mountain landscapes of western Montana, Spencer's adventures are filmed on location in South Africa and Tanzania. Spencer Dutton's travels take him from the Nairobi municipality to the Tanganyika territory, tracking down man-eating leopards and lions. His firearm of choice has become one of the most talked about guns of 1923, with its exact make, model, and chambering debated by fans.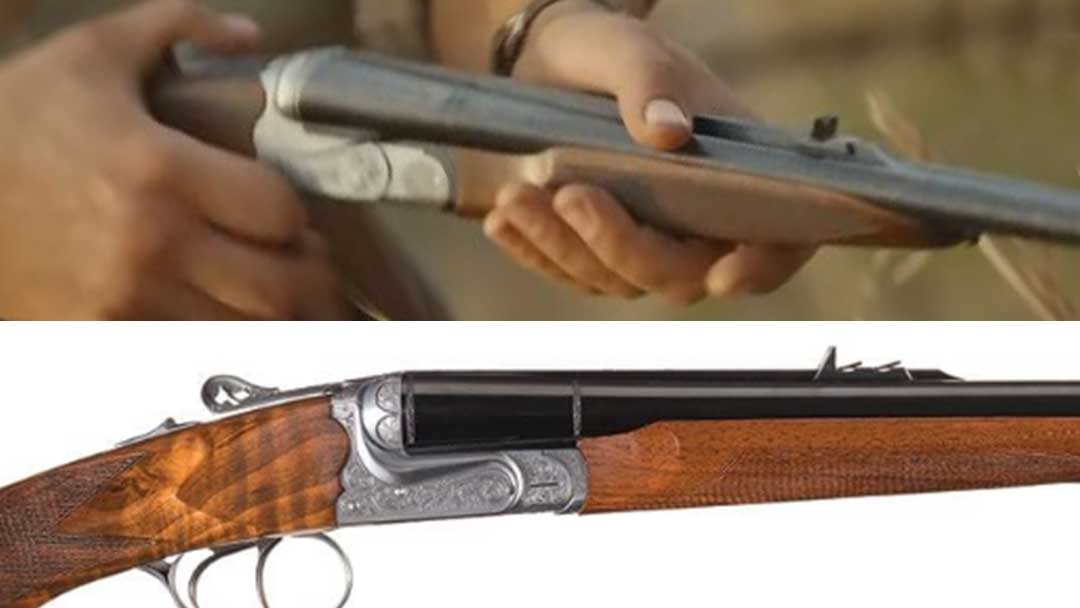 A Sabatti or similarly affordable modern Italian model is likely the gun during 1923's dangerous game scenes in Africa.
Though the production gun is almost certainly neither period-correct nor of British make, Spencer's rifle is probably intended to represent a British dangerous game gun of the period, such as a Holland & Holland Royal. Some clues can be found in the comparisons the show draws between Spencer Dutton and Col. John Henry Patterson. One of the British tourists asks Spencer if he was the one who killed the man-eaters of Tsavo, and he points out how he was only a child during the incident.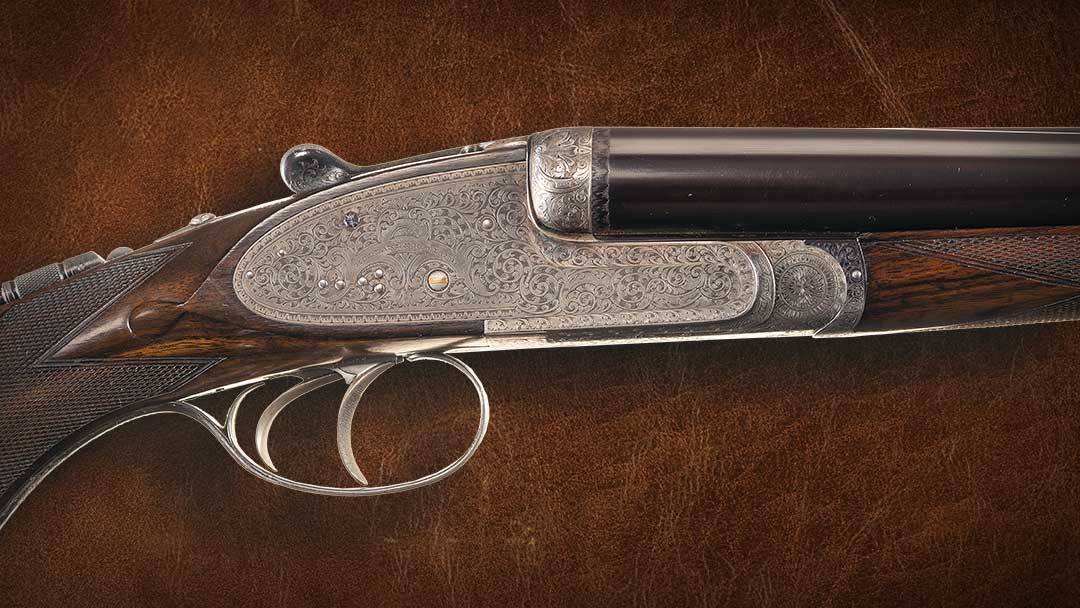 A Holland & Holland Royal in .500/465 Nitro Express, a classic big game double rifle from the golden era of British gunmaking that an African hunter in 1923 might have used.
The two lions of Tsavo were hunted and slain in 1898 by John Patterson, who later recounted the events in a book. Paramount's 1996 'Ghost in the Darkness' retold the famous tale using firearms similar to the guns Col. Patterson carried during his hunt, including a double rifle chambered in .450 Express. In 1923, the .450 Black Powder Express would have been long overtaken by John Rigby's .450 Nitro Express and its competitors, such as Holland & Holland's .500/450.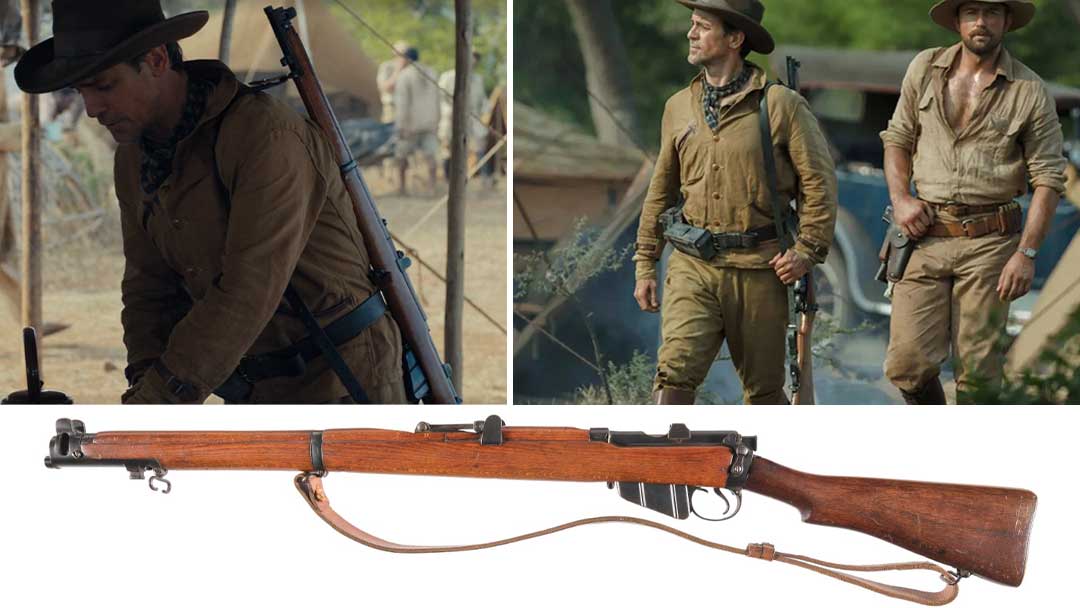 In Tanganyika, Spencer meets Charles Hardin, one of the British railroad camp overseers. Charles carries an Enfield rifle in .303 British, similar to the Lee-Speed rifle Colonel Patterson used to slay the man-eaters of Tsavo.
Revolvers of 1923
In 1923, Harrison Ford has traded in his DL-44 blaster for a Smith & Wesson Military & Police revolver. Introduced as the "Smith & Wesson .38 Hand Ejector Model of 1899," the double action Smith & Wesson Model 10 M&P has been offered in numerous variations and has been purchased by countless military and police departments across the globe.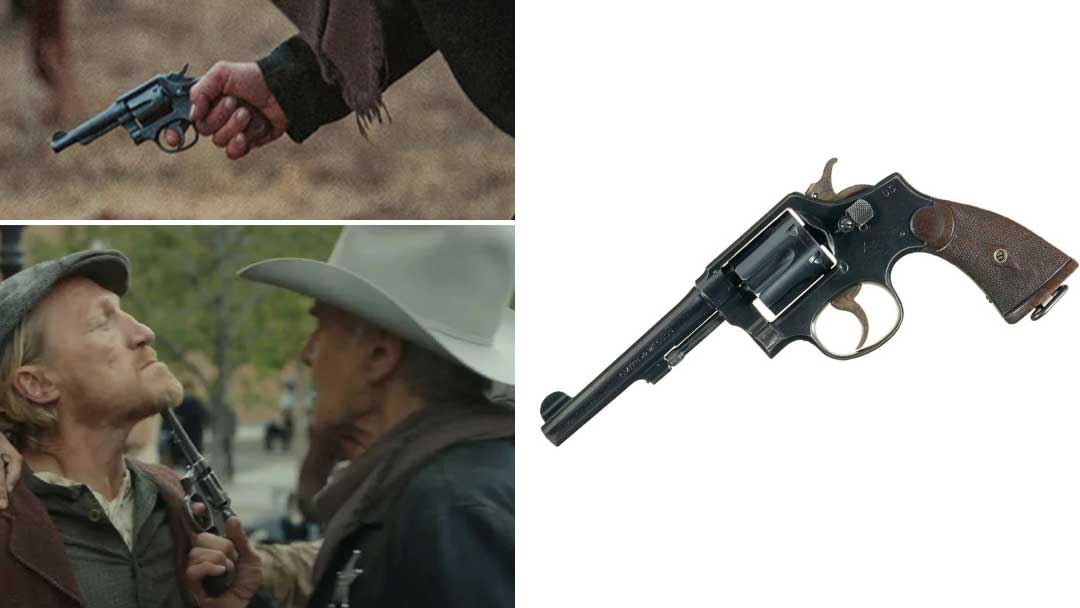 With a production run of over 6 million and counting, the Smith & Wesson Military & Police revolver is one of the most popular handguns ever produced.
The Colt Single Action Army is one of the most ubiquitous guns of 1923, carried by John Dutton I and his son Jack, as well as many other ranch hands throughout the series. By 1923, production numbers for Hollywood's favorite cowboy gun had slowed down from its peak popularity. But with nearly 350,000 of the famous SAAs already in circulation, they would have been a widely available and proven sidearm.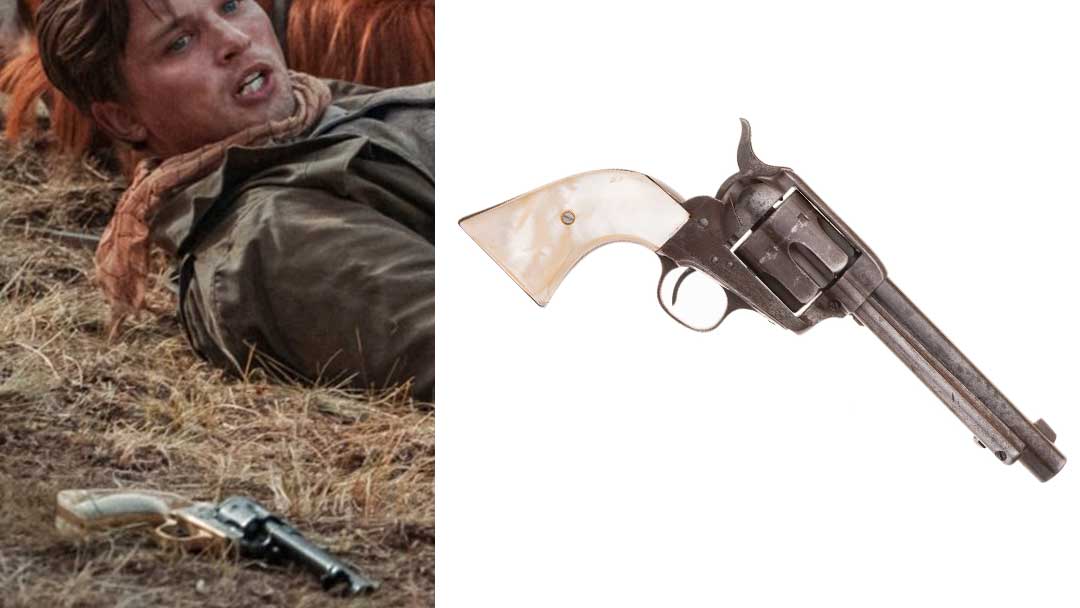 In a tense confrontation, Jack struggles to reach for his SAA. Jack's relationship to Yellowstone's John Dutton III is currently the most debated portion of the Dutton family timeline.
In 1923's opening scene, Cara Dutton trains her shotgun on a rival rancher, an Irish immigrant scrambling to reload his Webley & Scott top break revolver. These well-known wheelguns, familiar to fans of the Peaky Blinders series, were the primary sidearms of British military officers of the period and also a popular choice with police and civilians throughout the UK from the late 19th century through the early 20th century.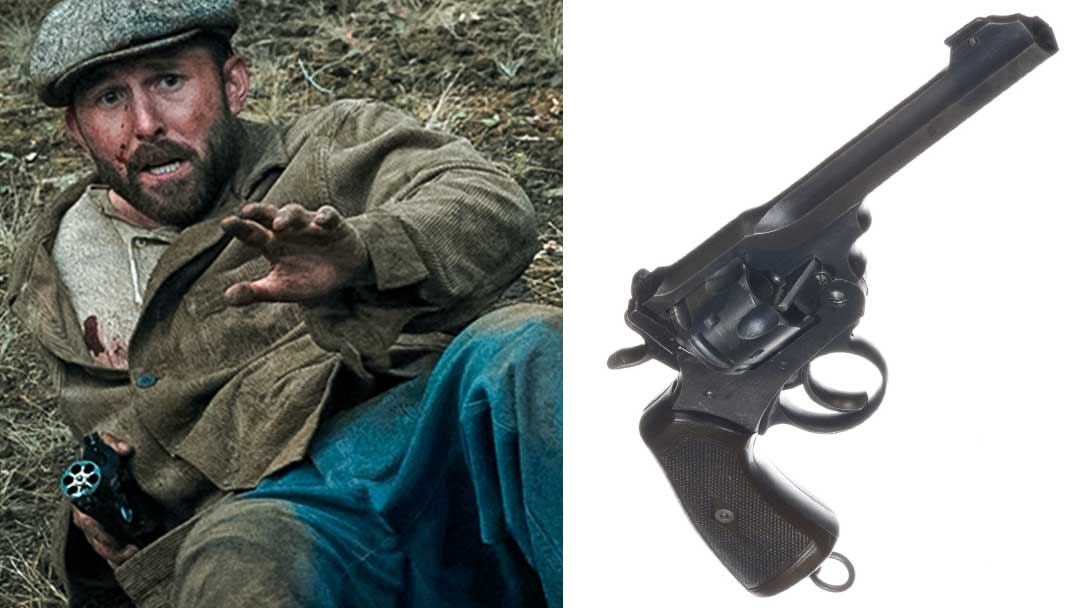 The Webley & Scott Mark VI, a common top break DA revolver throughout the UK in 1923.
Sheriff William McDowell's gun may be a Colt Officer's Model Match Fifth or Sixth Issue. Both revolvers would have been too late for the era, though the gun's predecessor, Colt's first medium frame double action target revolver, was available starting in 1904. Though McDowell's gun appears to possess an interesting mix of traits, its 6 inch barrel and front sights are consistent with a later issue Officer's Model.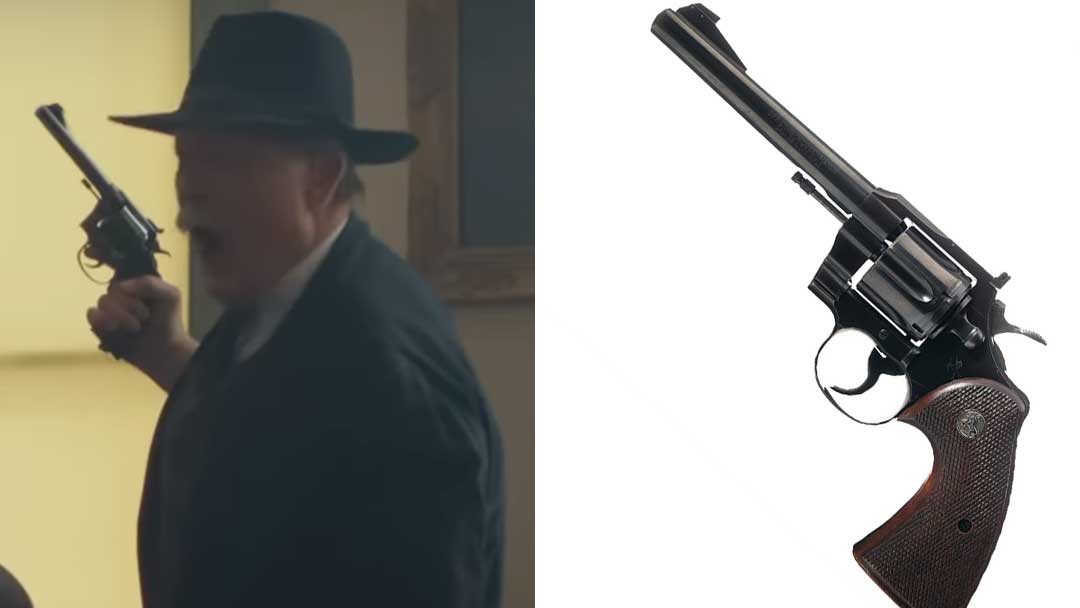 While the Colt Officer's Model Match Fifth and Sixth Issue were produced too late to appear in 1923, Sheriff McDowell's gun may be intended to represent the period-appropriate Colt Officer's Model First or Second Issue.
Heavy Firepower of 1923
One of the themes of 1923 is technology clashing with tradition, and nothing embodies that conflict more dramatically than the introduction of automatic weapons. The overwhelming firepower offered by machine guns like the Maxim, Vickers, the Lewis gun, and the Browning Model 1917 contributed to the trench warfare stalemates and high death tolls of WW1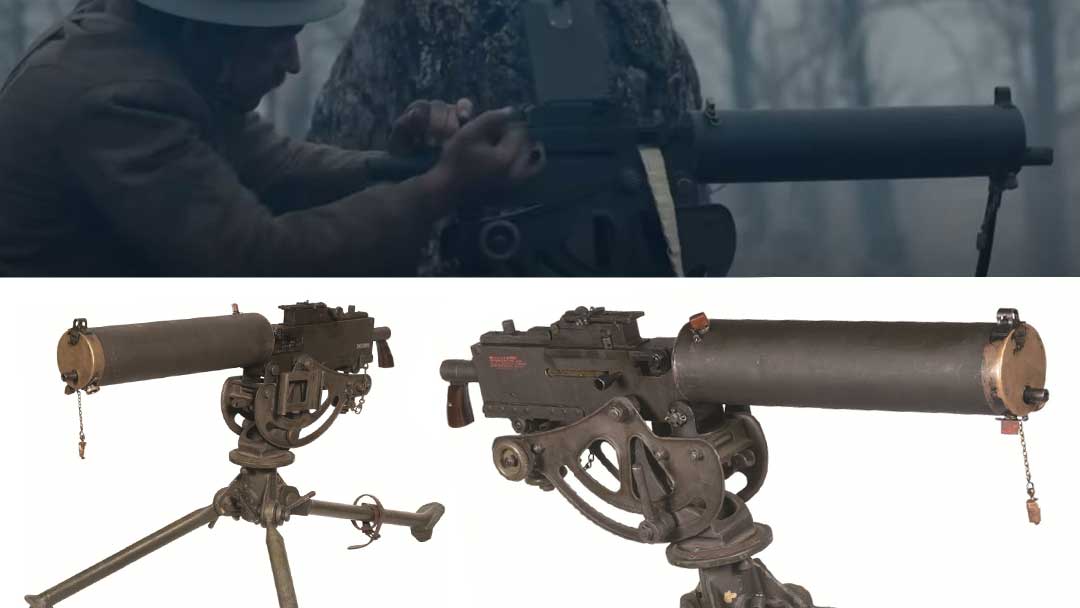 Spencer Dutton mans a Model 1917A1 belt-fed machine gun. The extended flanges for the bottom plate coming up over the sides of the receiver were the chief upgrade between the Model 1917 and the Model 1917A1.
While the heavy machine gun ruled the trenches of Europe, submachine guns like the Thompson found a market with civilians and law enforcement after the war. In the time period of the 1923 TV series, the Thompson 1921 AC would have been the likely candidate available. The 'A' stood for automatic, while the 'C' meant that the gun had been fitted with the Cutts Compensator, an attachment intended to reduce muzzle rise and recoil.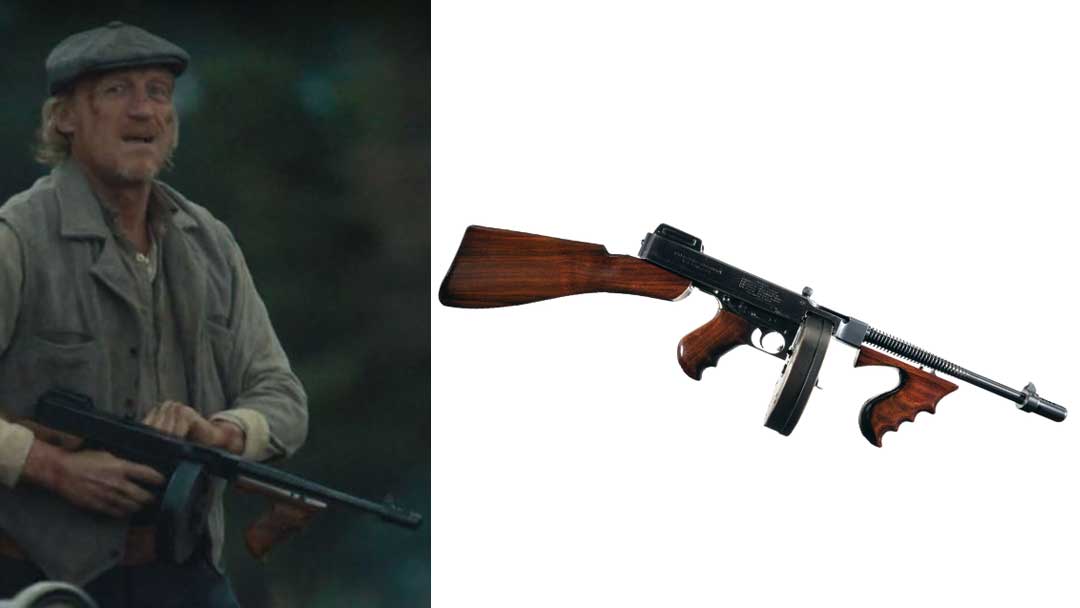 Banner Creighton, played by Jerome Flynn (AKA Ser Bronn of the Blackwater), unleashes one of the most formidable guns of 1923, the Thompson SMG.
During the period following WW1, Auto-Ordnance found themselves with a submachine gun designed for war, but no war to ship it to. They instead turned their marketing efforts to anyone in need of security, including advertising the firearm to ranch owners as the "Thompson Anti-Bandit Gun."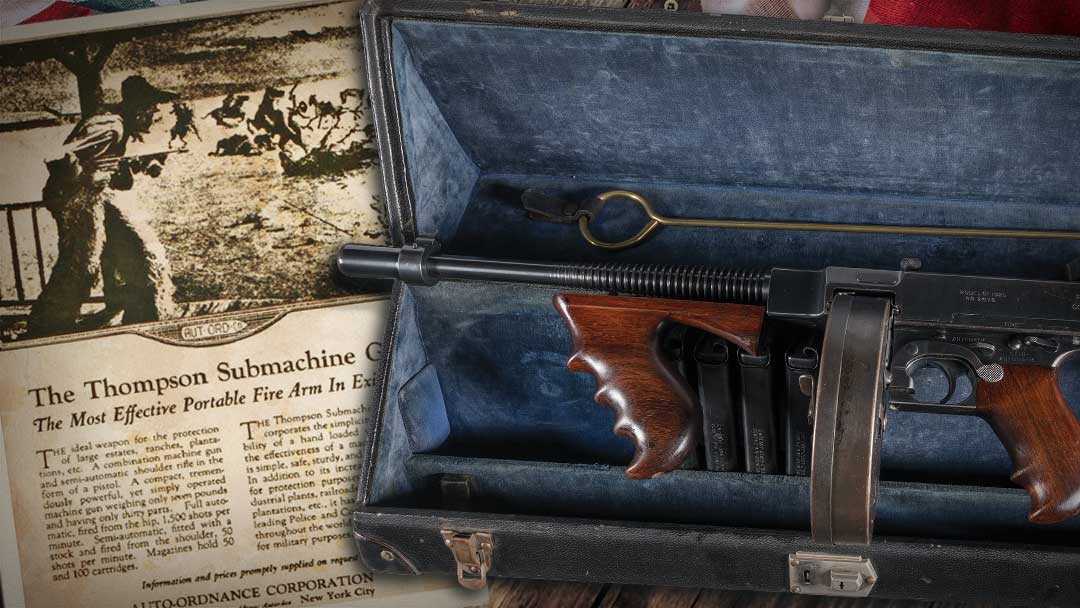 The "Thompson Anti-Bandit Gun." In the 1923 series, Banner Creighton, leader of a desperate group of sheepherders competing for healthy grass, employs the gun for less than noble purposes.
The Guns of 1923 and Beyond
As Cara Dutton writes to Spencer at the end of Episode 3, "War has descended upon this place and your family. Whatever war you fight within yourself must wait. You must come home and fight this one." Foreboding words for the enemies of the Dutton family, as well as a promise of more action and firearms onscreen in the weeks to come, and we'll update this page accordingly.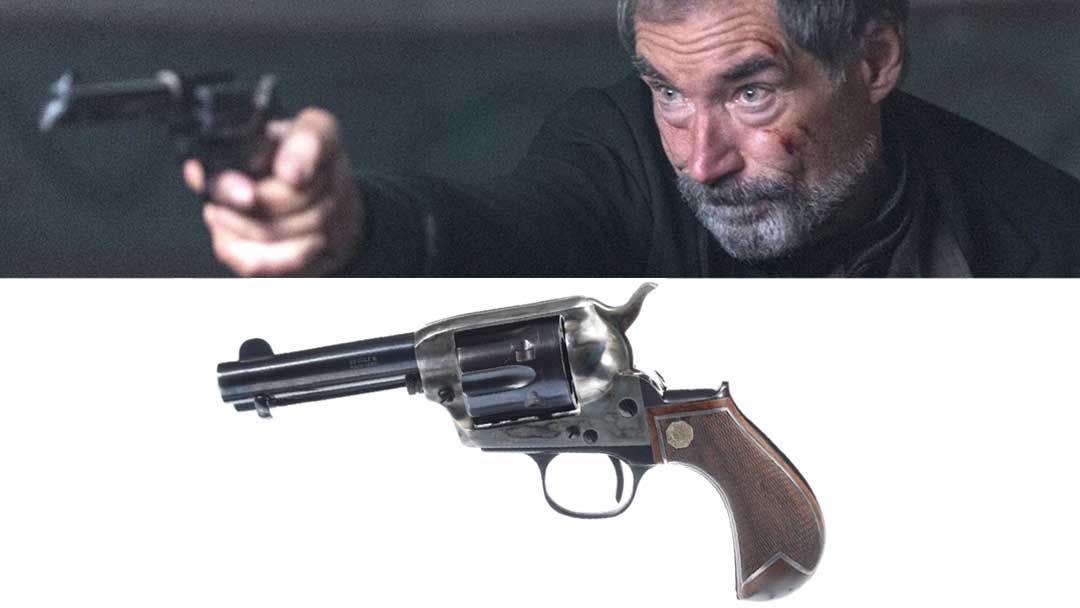 Donald Whitfield (Timothy Dalton) brandishes what may be a short-barreled Colt Lightning or Thunderer (or an Uberti/Cimarron reproduction).
Rock Island Auction Company's Premier and Sporting & Collector Auctions include a wide assortment of authentic lever guns, revolvers, sporting rifles, and military arms dating to the same period as the 1923 TV series, and there's no better time to start or expand your gun collection. From affordable antique Colts and Winchesters to Tommy guns and Trench Sweepers, RIAC offers something for every collecting aspiration.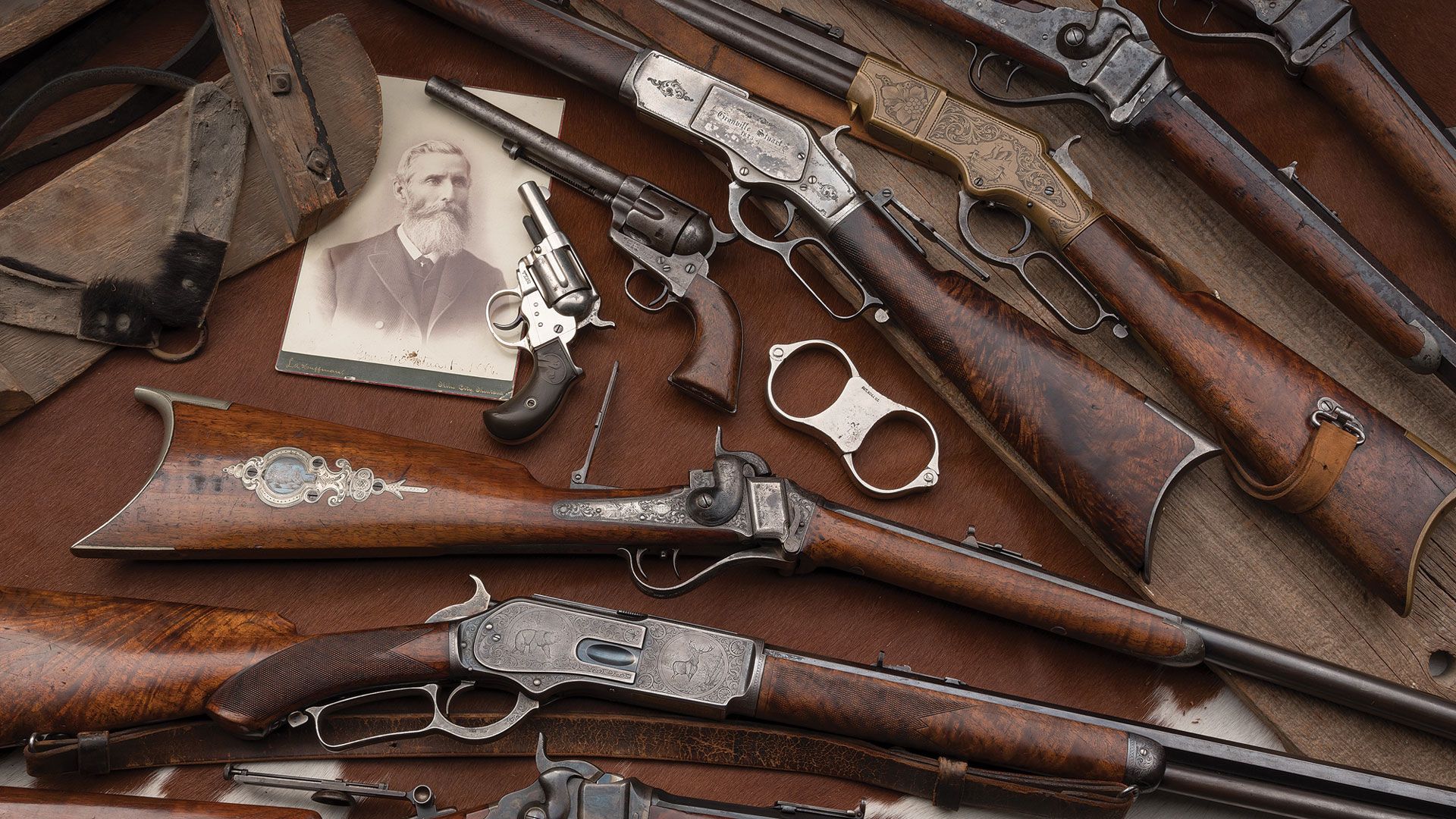 Sold by RIAC in 2020, this historic collection of firearms was owned by Granville Stuart, a ranching icon and an inspiration for the Dutton family. He walked a tightrope between what was right and what was legal in order to protect his land in late 19th and early 20th century Montana.
Gun collecting and pop culture have always gone hand in hand, so subscribe to the Rock Island Auction newsletter to receive new gun blogs and gun videos every week. From articles on popular period pieces like Winchester 73, True Grit, Quigley Down Under, and Outlander to movies and television featuring modern guns such as the Walking Dead, Star Wars, Tomb Raider, and Die Hard, we explore the most popular and intriguing guns of Hollywood.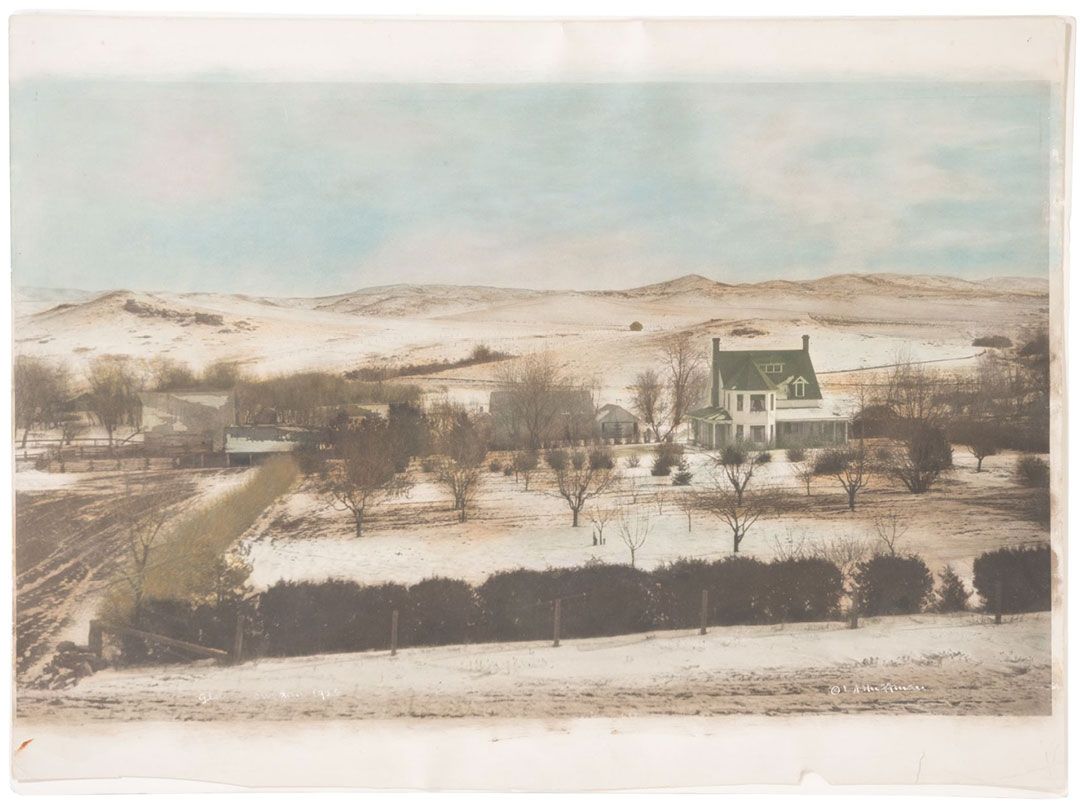 An L.A. Huffman print of the Montana ranch of Glenarrow in January 1926. Through his extensive photography, Huffman documented the peoples, wildlife, landscapes, and industry of Montana during the periods depicted in the two Yellowstone prequels.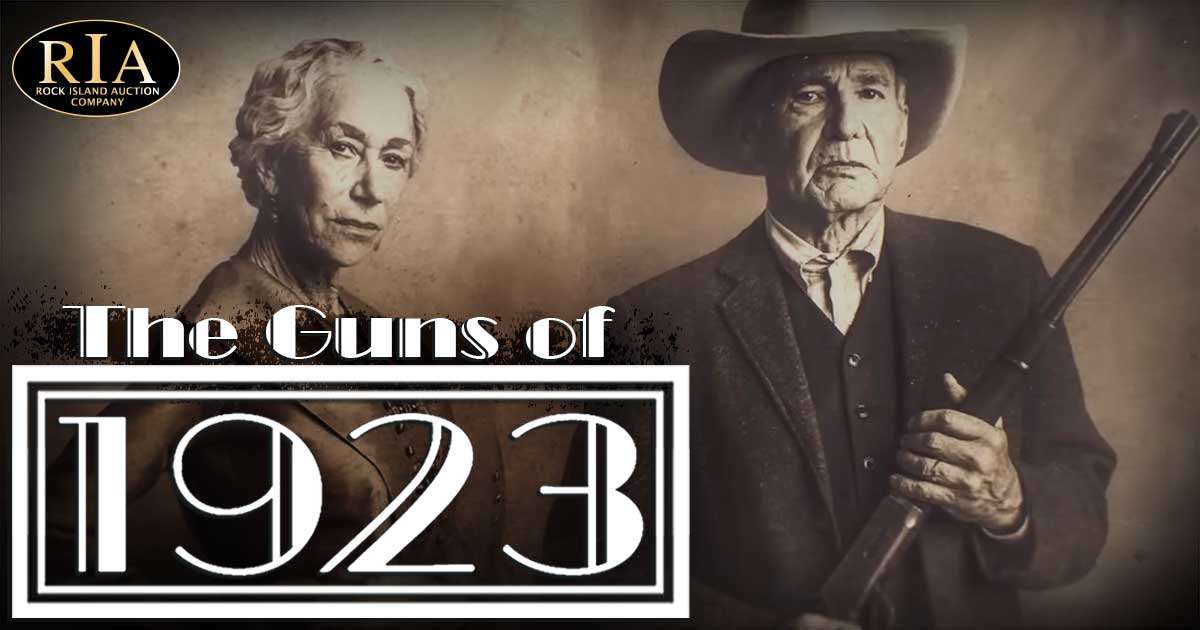 Rock Island Auction Company