Arthur William Merrifield (1855-1929) was a Canadian by birth but a man of the American West through and through. He worked as a rancher in the Dakota Territory in the 1880s with Sylvane and Joseph Ferris and personally guided Theodore Roosevelt on some of his first hunts in the West after Roosevelt first came to their Chimney Butte Range to hunt buffalo in September 1883. Merrifield guided his first grizzly bear hunt in 1884 in the Bighorn Mountains, during which Merrifield tracked the grizzly Roosevelt shot.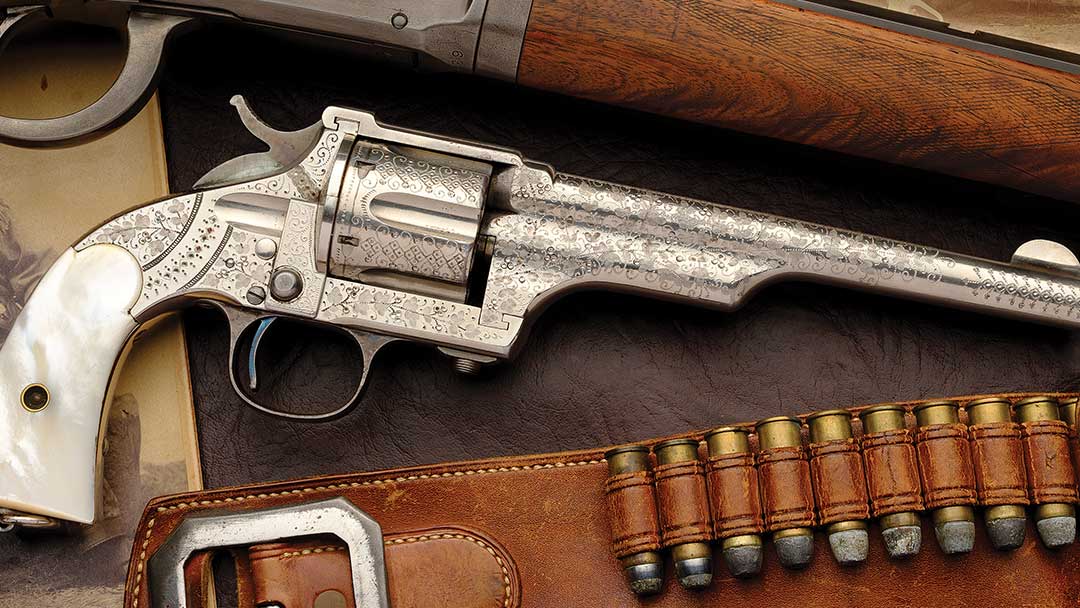 Theodore Roosevelt went back and forth from the east coast to the Dakota Territory in the early 1880s. It was during this time, that the future Rough Rider presented this Merwin, Hulbert revolver to hunting guide, business partner, and friend Arthur William Merrifield. Available this December.
Initially skeptical of the easterner, Merrifield became close personal friends with the future president as well as his business partner after Roosevelt invested ranches in the Dakota Territory in the 1880s. Both men had lost their wives in the early 1880s shortly after the births of their first children, and they shared a love of hunting, the West, and animals. Merrifield continued to correspond with Roosevelt as the New Yorker's political clout grew and visited with him on a number of occasions. Later, as president, Roosevelt appointed Merrifield as a U.S. Marshal for Montana.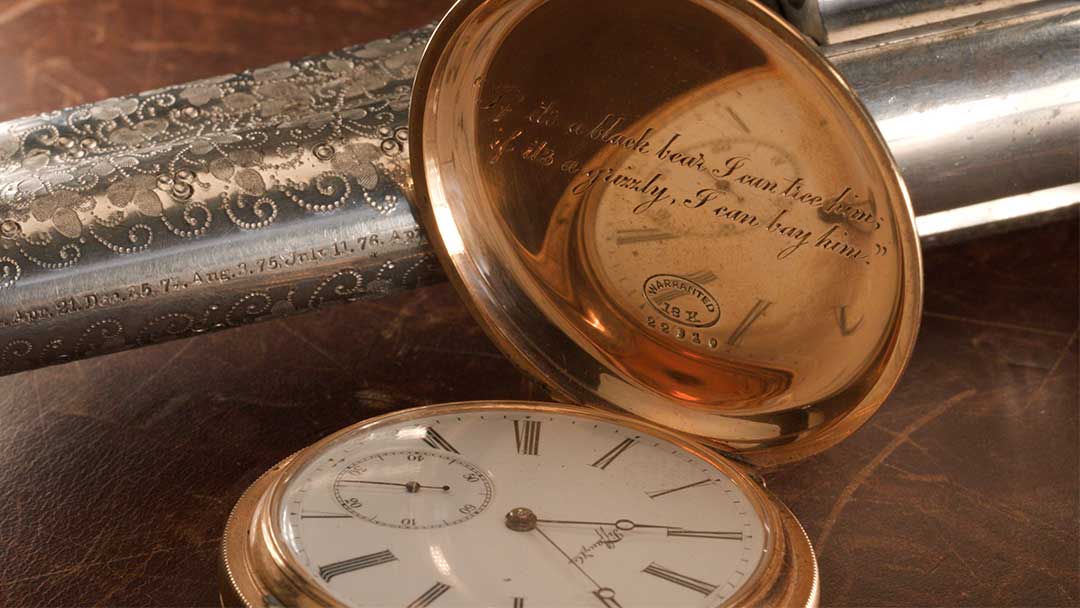 Theodore Roosevelt gifted a Merwin, Hulbert revolver to his friend Arthur William Merrifield while he was living in the Dakota Territory in the 1880s. The pocket watch was a reward from Roosevelt to Merrifield for guiding him on a hunt that resulted in the future president taking a grizzly bear. It is inscribed with Merrifield's quote from a hunt, "If it's a black bear, I can tree him. If it's a grizzly, I can bay him." Available this December.
The Goliath-sized grizzly bear taken by Roosevelt on his hunt with Merrifield was reported to be nine feet and over 1,000 lbs. As recorded in multiple publications, Roosevelt offered Merrifield $150 or a gold watch in return, and Merrifield selected a pocket watch which is inscribed with a quote from Merrifield during the hunt: "If it's a black bear, I can tree him. If it's a grizzly, I can bay him."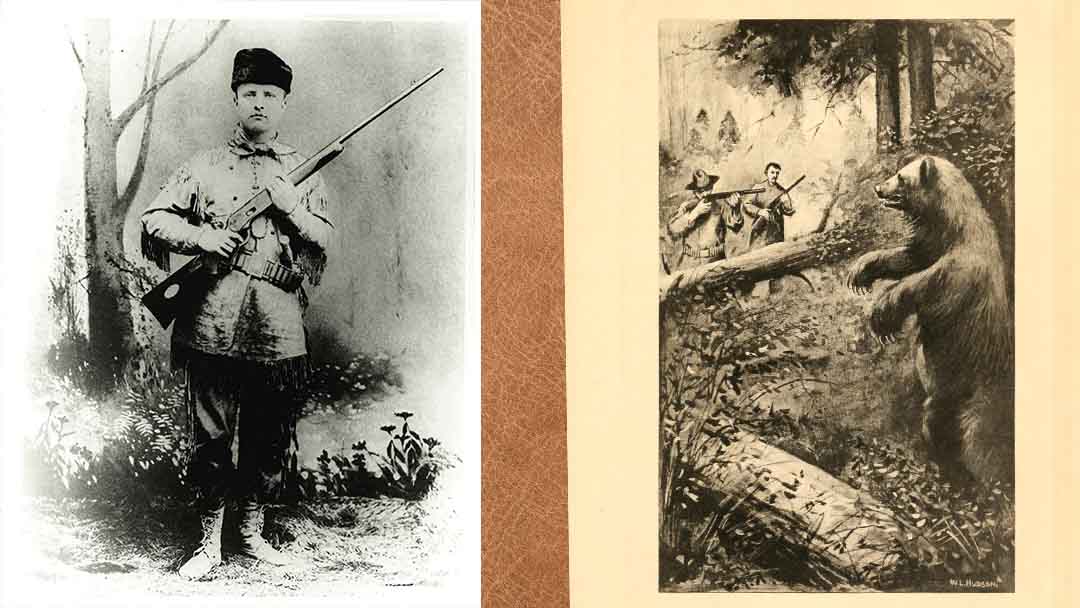 Theodore Roosevelt as a young hunter on the left in the early 1880s in the Dakotas. On the right is a rendering of the future Rough Rider and U.S. president taking a massive grizzly on the hunt with Arthur William Merrifield.
Theodore Roosevelt Writes About His Grizzly Bear Hunt
The Theodore Roosevelt Center has Roosevelt's letter to his sister Bamie on September 20, 1884, after his hunting trip into the Bighorn Mountains with Merrifield. He wrote,
"I shall not soon forget the first one [grizzly bear] I killed. We had found where he had been feeding on the carcass of an elk; and followed his trail into a dense pine forest, fairly choked with fallen timber. While noiselessly and slowly threading our way through the thickest part of it I saw Merrifield, who was directly ahead of me, sink suddenly to his knees and turn half round, his face fairly ablaze with excitement. Cocking my rifle and stepping quickly forward, I found myself face to face with the great bear, who was less than twenty five feet off — not eight steps. He had been roused from his sleep by our approach; he sat up in his lair, and turned his huge head slowly towards us. At that distance and in such a place it was very necessary to kill or disable him at the first fire; doubtless my face was pretty white, but the blue barrel was as steady as a rock as I glanced along it until I could see the top of the bead fairly between his two sinister looking eyes; as I pulled the trigger I jumped aside out of the smoke, to be ready if he charged; but it was needless, for the great brute was struggling in the death agony, and as you will see when I bring home his skin, the bullet hole in his skull was as exactly between his eyes as if I had measured the distance with a carpenter's rule."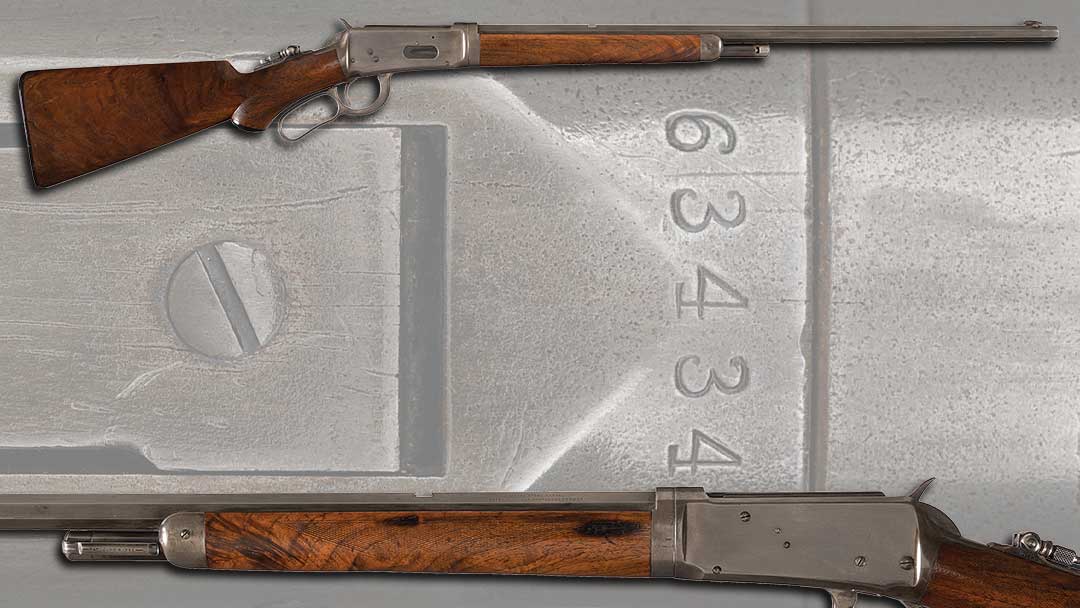 In 1906, Arthur William Merrifield hosted Theodore Roosevelt's nephews Monroe and Stewart Robinson on a hunting trip and its believed they presented him with this Winchester Model 1894, likely recommended by the president. Available this December.
Sometime during this period Roosevelt is reported to have presented Merrifield with the Merwin, Hulbert & Co. revolver and J.S. Collins & Co. holster rig. The revolver, holster, and watch were among the items that remained in the Merrifield family deep into the 20th century and were owned by his granddaughter Blanche Merrifield McDaniel.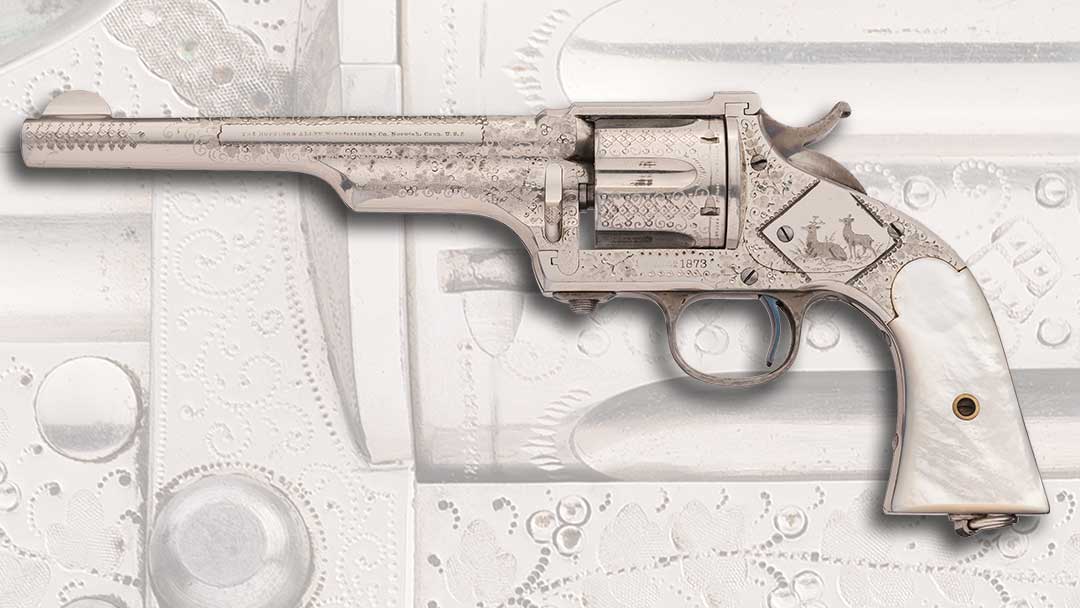 A Teddy Roosevelt presention Merwin, Hulbert & Co. revolver. Available this December.
The inscribed Merwin, Hulbert & Co. single action revolver given to Merrifield by Roosevelt and the inscribed pocket watch from the bear hunt are in one lot during RIAC's inaugural event in our newly expanded Bedford, Texas, location. A second lot is Merrifield's Colt Model 1903 Pocket Hammerless, shoulder holster rig, and badge he carried as a U.S. Marshal in Montana. A special order Winchester Model 1894 presented to Merrifield by Roosevelt's nephews on a hunting trip is a third lot available in the auction.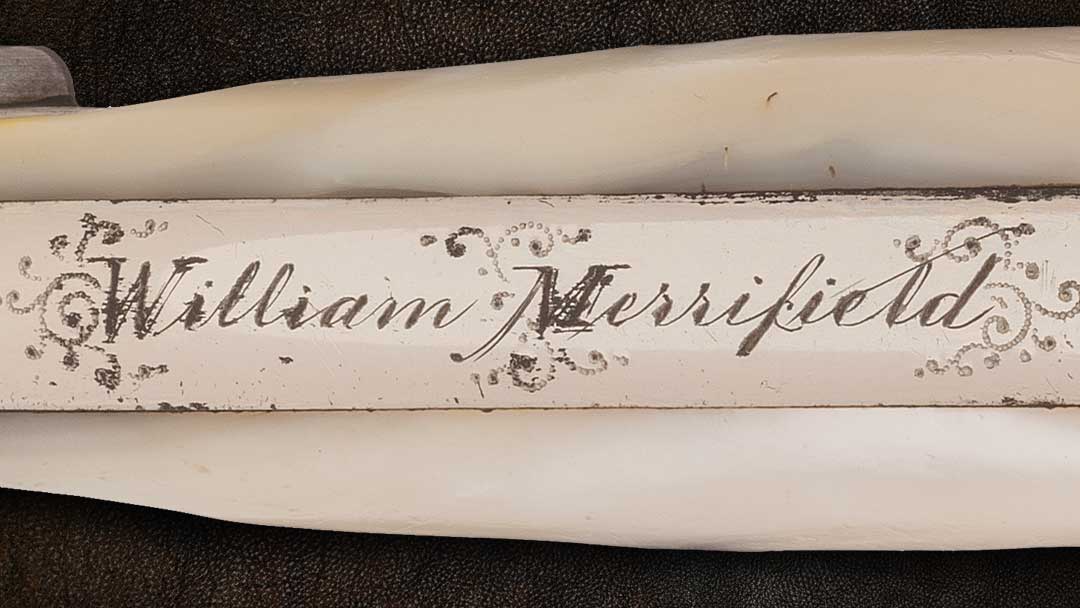 A Merwin, Hulbert & Co. revolver inscribed to Merrifield. Available this December.
Theodore Roosevelt and Merrifield Correspond
Merrifield and Sylvane Ferris continued to manage Roosevelt's herd after the closure of the Elkhorn Ranch in 1887. In an included letter from Sagamore Hill dated Oct. 13th, 1889, Roosevelt writes to Merrifield telling him of the birth of his new son and noting his regret of his loss running for office and also asks about cattle shipments and payment. The letter is signed, "Your friend, Theodore Roosevelt."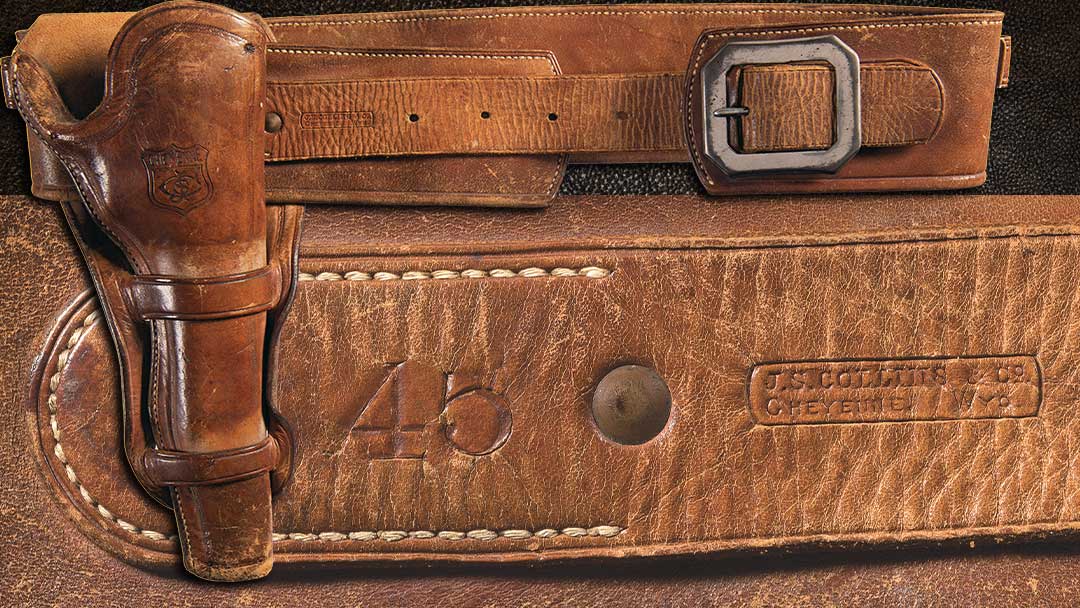 The holster rig for Merrifield's Merwin, Hulbert & Co. revolver. Available this December.
Merrifield remained on for a few more years and finally sold out in the early 1890s and moved to Montana where he established his own ranch at the headwaters of the Kooteni River on Pleasant Valley Creek. Later he formed the Pleasant Valley Land & Cattle Company in 1901 and served as its general manager. Ferris managed the herd in the Dakota Territory which Roosevelt continued to have an interest in until the Rough Rider leader sold his interest in 1898, something he'd discussed for several years.
Merrifield remained in contact with Roosevelt who had returned to the East and was elected governor of New York, served as vice president under President McKinley, and then president upon McKinley's assassination in 1901. When Roosevelt ran for re-election in 1903, Merrifield went to Spokane, Washington, to see Roosevelt's speech, and Roosevelt was filled with joy upon seeing his old friend, pulling him aside for a chat in the speaker's box before the speech. Merrifield served as Montana's elector when Roosevelt won the election and visited with the president while in Washington, D.C., in 1905.
Merrifield's pistol, its holster rig and the badge he carried after Roosevelt appointed him a U.S. Marshal for Montana are available this December.
Theodore Roosevelt Appoints Merrifield as U.S. Marshal
In the fall of 1905, Merrifield wrote to his friend President Roosevelt seeking a position as a U.S. marshal in Montana. Marshal positions are appointed by the president, and Roosevelt gladly worked to place his friend in the office. Merrifield was a man he respected and trusted, but they had to wait until the sitting marshal's term ended before he could take the position. He was sworn in on January 2, 1907, as the 12th U.S. Marshal for the District of Montana the year after the Colt Pocket Hammerless pistol was manufactured.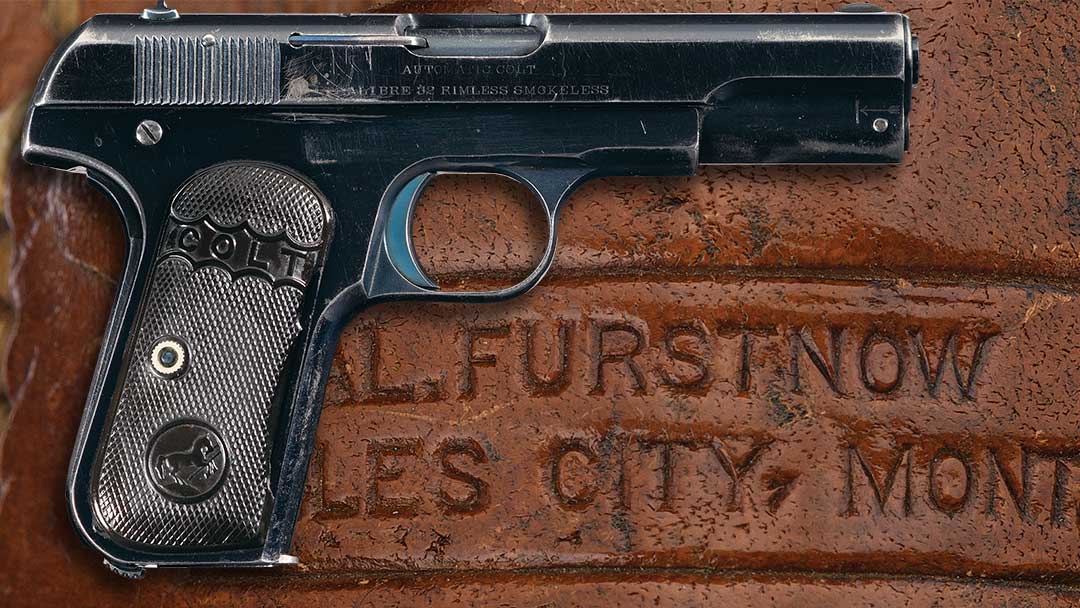 Theodore Roosevelt's friend and business partner Arthur William Merrifield asked for an appointment to be a U.S. Marshal for Montana in 1905. He was appointed and sworn in in 1907. During that time, Merrifield carried this Colt 1903 Pocket Hammerless and its holster. Available this December.
Earlier in 1906, two of Roosevelt's nephews, Monroe and Stewart Robinson, traveled to Merrifield's ranch to go hunting. While there, Merrifield was injured during a fall from a haystack leading to a broken wrist preventing him from going on the trip, but he arranged suitable guides in his stead. It was during this hunting trip that Merrifield is believed to have been presented the Winchester Model 1894 by the Robinsons. Theodore Roosevelt likely recommended the rifle as a gift for his longtime friend. Roosevelt wrote to Merrifield on November 29, 1906, thanking him for being "mighty good to Monroe and Stewart. I am greatly obliged to you. I look forward to sending in your appointment soon." He also wrote to Merrifield on January 16, 1907, about 16-year-old Oliver Roosevelt coming out to do some hunting and asked Merrifield to write to the boy's mother, Mrs. J. West Roosevelt of New York City, as to what steps the teenager should take.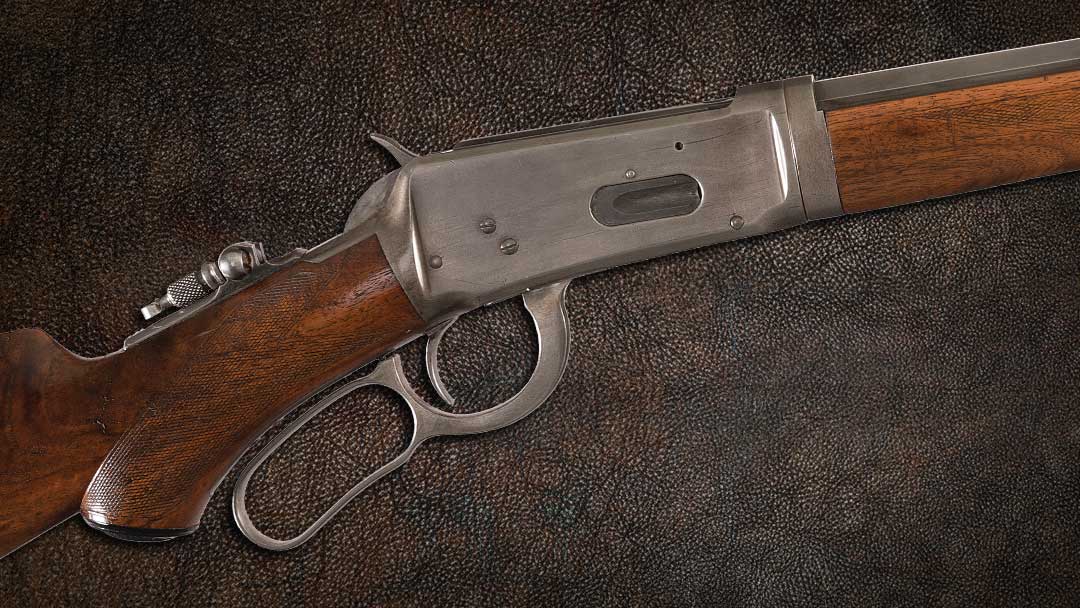 A Winchester Model 1894 attributed as presented to Merrifield by Roosevelt's nephews. Available this December.
Included documents show that the rifle, like the other items in this auction, was owned by Arthur William Merrifield's family for many years. Norman V. Chatterman first used the rifle on a hunt in 1947 with his uncle John A. McDaniel, husband of Blanche Merrifield McDaniel, Merrifield's granddaughter. She reported that the rifle had been purchased as a thank you gift for Merrifield hosting members of the Roosevelt family at his ranch and "it had been told to her that the gun was made special order from the Winchester factory to be a duplicate of one that Theodore Roosevelt had." Blanche Merrifield McDaniel had inherited the rifle from her grandfather and later sold it to Chatterman in 1990, and he later sold the rifle to Greg Lampe in 1999.
Roosevelt wrote about shooting pronghorn with one of his Winchester Model 1894s in Good Hunting: In Pursuit of Big Game in the West, stating that after he had shot a pronghorn through the flank at 180 yards, Joe Ferris remarked, "I guess that little 30-30 is the ace" to which Roosevelt added, "I guessed so too." He also owned many other Winchesters and famously took several along with thousands of rounds of ammunition on the Smithsonian-Roosevelt African Expedition in 1909-1911 after leaving the White House. A Winchester Model 1876 presented to Merrifield by Theodore Roosevelt is displayed at the South Unit visitor center in Theodore Roosevelt National Park in North Dakota.
In preparation for his marshal position, Merrifield sold his ranch and purchased a home in Helena near the federal building. He was sworn in on January 2, 1907. His badge and the Colt Model 1903 he used during his time as marshal, along with his holster, are part of the auction and are attributed by Merrifield's descendants as specially ordered by Roosevelt for his western friend. The Colt Pocket Hammerless and its holster items were purchased by Greg Lampe directly from Gary McDaniel, Merrifield's great-grandson.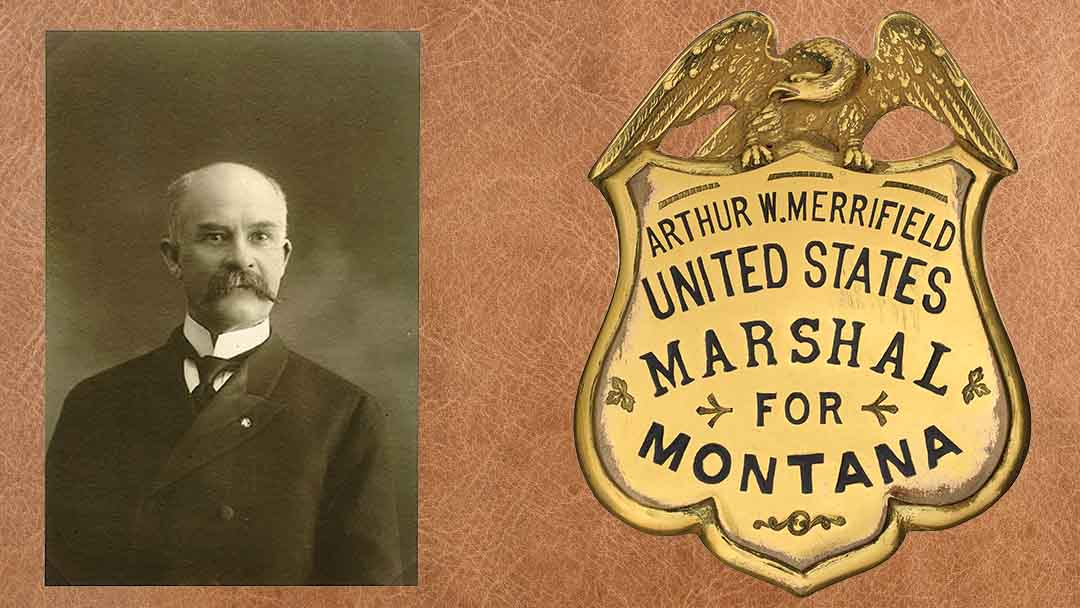 Arthur William Merrifield who served as the 12th U.S. Marshal for the Montana District met Theodore Roosevelt as a hunting guide in the 1880s and the men became friends and business partners. Roosevelt appointed Merrifield to be the U.S. Marshal in 1907.
Merrifield was very active as marshal, and in four years, his office served over 400 warrants. He also transported seven Chinese prisoners back to China on-board the ship `North Dakota' and toured China and Japan with his wife. The ship actually was grounded at Yokohama Bay causing them to be stuck for a few days.
The robbery of the Great Northern Railroad Oriental Limited express car near Rexford, Montana, on September 12, 1907, by Charles McDonald and George Frankhauser (aka Ed Smith) was probably the most famous incident in Merrifield's career as a lawman. The two men took over the train at gunpoint and then blew open the safe in the baggage car with dynamite and severely damaged the car. Finding nothing of value, they then pilfered the mail bags and found around $40,000 destined for the Old National Bank of Spokane and then slipped away.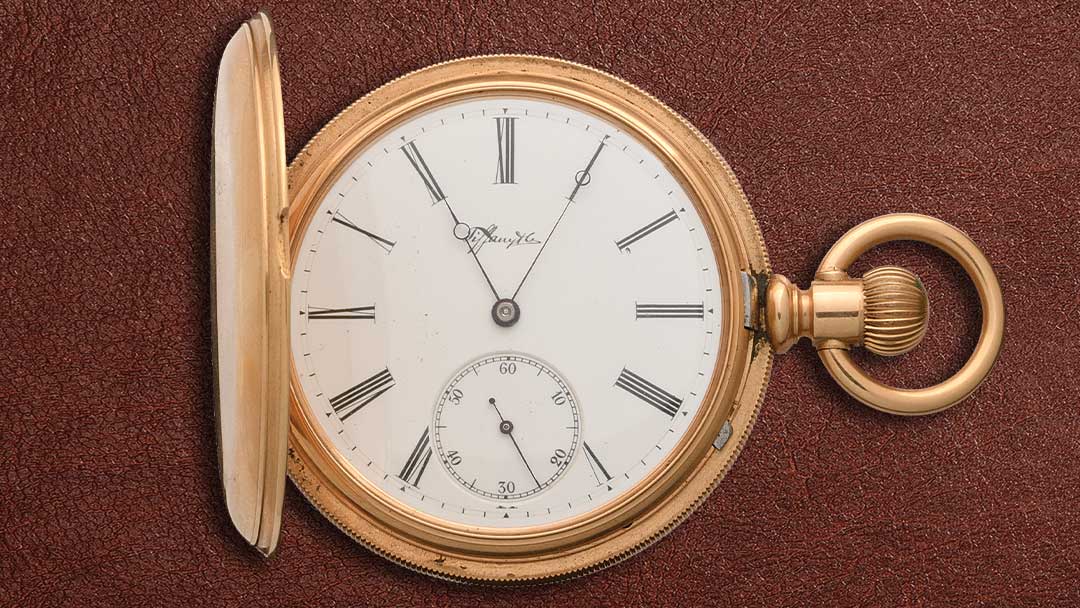 Roosevelt gift to his friend and hunting mentor, an inscribed pocket watch. Available this December.
Soon their partying antics got them arrested in Bonners Ferry, Idaho, and Merrifield delivered them to the Lewis and Clark County jail, but they sawed their way out of jail and escaped. They committed several robberies before splitting up. McDonald was reportedly never seen again. Frankhauser boldly took a job working for the Northern Pacific Railroad but was arrested in Minnesota and extradited back to Montana where he was convicted and sentenced to life in prison doing hard labor at Leavenworth.
Theodore Roosevelt Follows His Friend's Career
Roosevelt watched Merrifield's career from afar, including corresponding with both Merrifield and other Montana officials to learn of his friend's activities. Upon learning from Judge William Hunt of his good work, Roosevelt wrote him noting, "I cannot tell you how proud this made me feel. I want you to show this to your wife because she will be proud of it also." He also came and visited with Merrifield and his second wife, Miriam, while visiting Montana in 1911.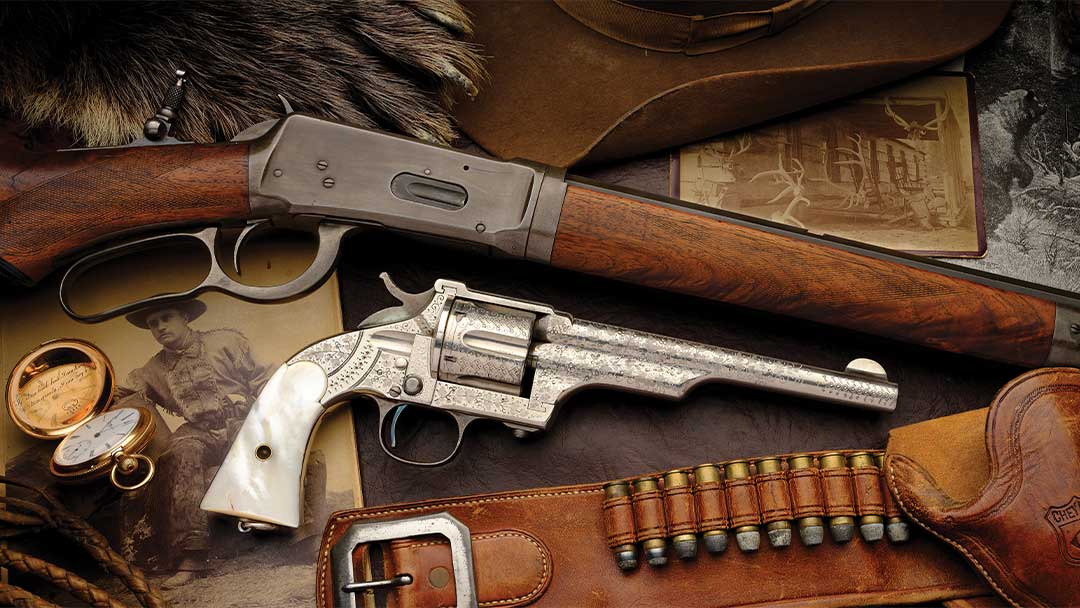 Merrifield's guns, badge, and inscribed watch are among legacy collector's pieces available this December.
After his term as marshal ended in 1911, Merrifield and Miriam moved to Flathead Lake, Montana and he remained in contact with Roosevelt as demonstrated by included original correspondence, such as a letter from Oyster Bay to Merrifield in Somers, Montana, dated June 3rd, 1915, in which Roosevelt writes: "I wish I could come this summer. I should particularly like to visit Glacier National Park and stay with you at your home; but it just is not possible. By the way, I have become pretty stiff and old and the other day was thrown off a horse and 'bust' two ribs. However, I smashed out Mr. Barnes in the libel suit and I would have been willing to 'bust' every rib I had twice over to have achieved that."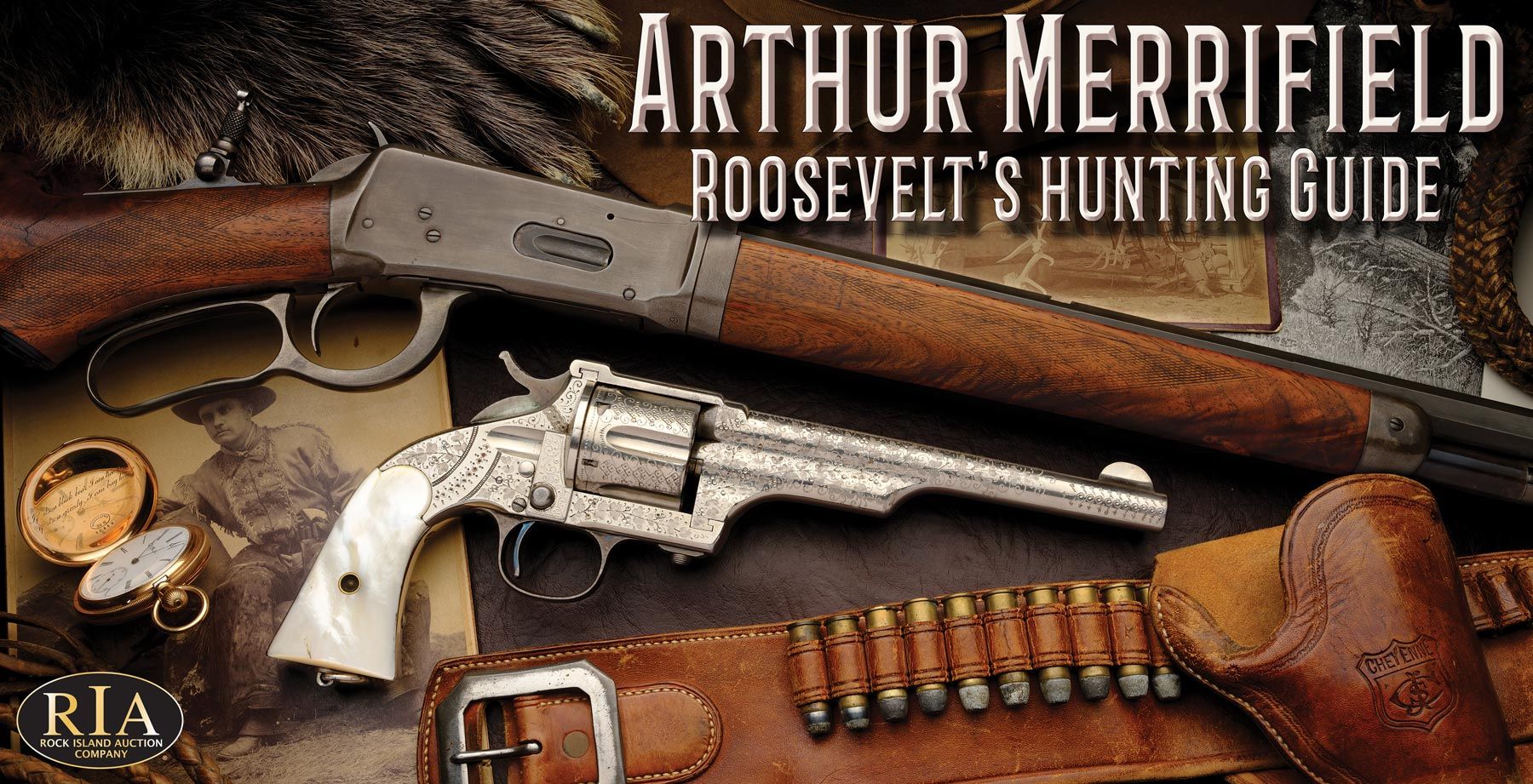 Rock Island Auction Company