Paramount's 'Lawmen: Bass Reeves', a Western miniseries developed by 'Yellowstone' creator Taylor Sheridan, follows the life of the titular character during the Civil War and the volatile decades to follow, an era where some of the most iconic firearms were introduced to the American frontier. Like the real story of the historic Bass Reeves, Paramount's series is a tale of survival and justice in a lawless corner of the American West.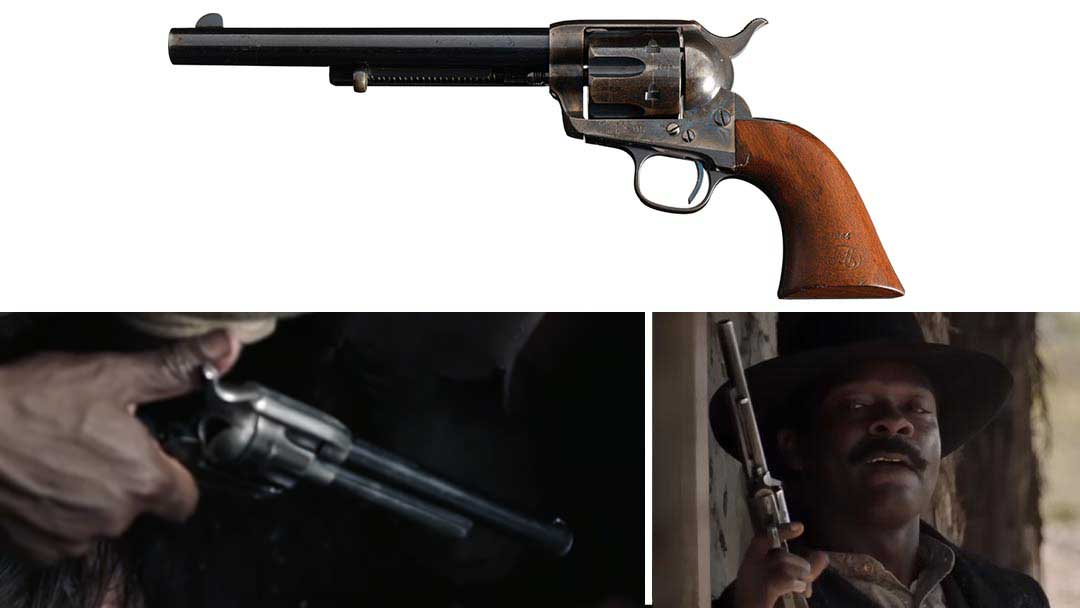 (Bottom) Bass Reeves (David Oyelowo) brandishes a Colt SAA Cavalry Model, one of his signature guns in the Paramount series. (Top) A David F. Clark inspected U.S. Colt Cavalry Model SAA with a factory letter and John Kopec Gold Seal Letter, available this December.
Though the historical accuracy of the Bass Reeves series varies, most of the guns depicted are real firearm models that are highly collectible today, and similar examples can be found in Rock Island Auction Company's December 8 – 10 Premier Firearms Auction. Click on the images throughout this article to learn more about each model.
In addition to featuring a multitude of frontier firearms, December's selection includes a number of guns and artifacts owned by U.S. Marshals who served during the tenure of Bass Reeves, including the badge of U.S. Marshal James F. Fagan of Fort Smith, Arkansas. Fagan deputized Reeves and started the legendary lawman on what would become a more than three decade's mission to restore order to Indian Territory.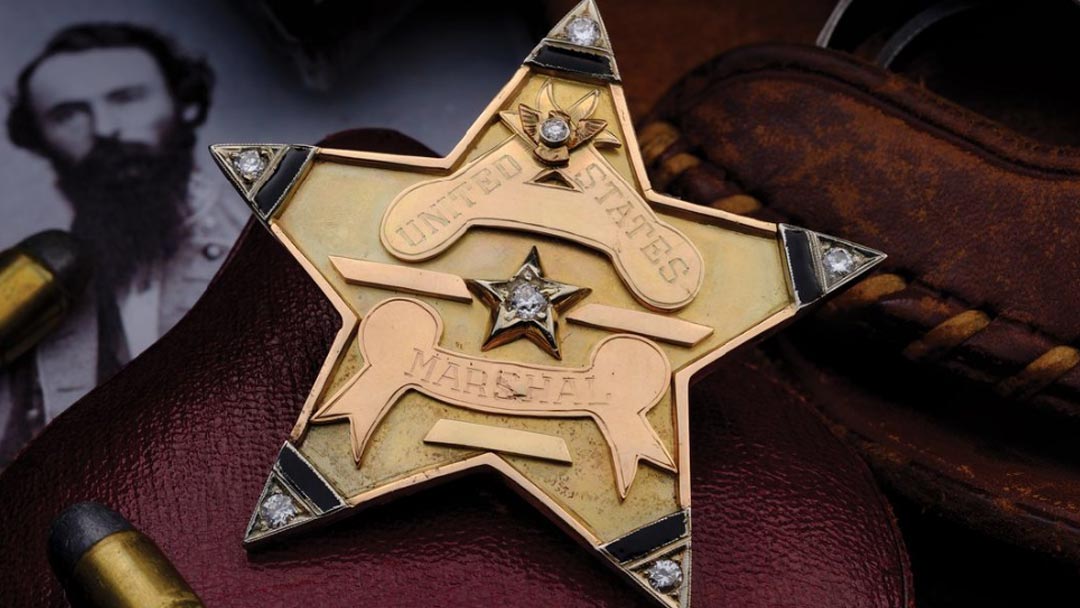 A historic presentation, 1875 dated, diamond-studded 14K gold U.S. Marshals badge inscribed to James Fagan, the man who recruited Bass Reeves later that year. The inscription on the back reads, "PRESENTED BY/WIFE AND FRIENDS TO/JIM FAGAN/FT. SMITH ARK./1875." The badge comes in a period velvet-lined presentation case. Available this December.
In 1875, "Hanging Judge" Isaac C. Parker tasked James Fagan with hiring 200 Deputy U.S. Marshals. Fagan had been recently appointed U.S. Marshal for the Western District of Arkansas by President Ulysses S. Grant. Fagan added Bass Reeves to his team in 1875, the same year he was presented with the diamond-studded U.S. Marshals badge pictured above.
In little more than a decade, Bass Reeves went from escaping the bonds of slavery to becoming one of the first Black U.S. Marshals west of the Mississippi. We'll explore the world of Bass Reeves, the guns depicted in the series, and the history behind one of the most prolific lawmen to ever don the badge. Spoiler warning: If you haven't watched the series yet, and are hoping to go in fresh, read no further.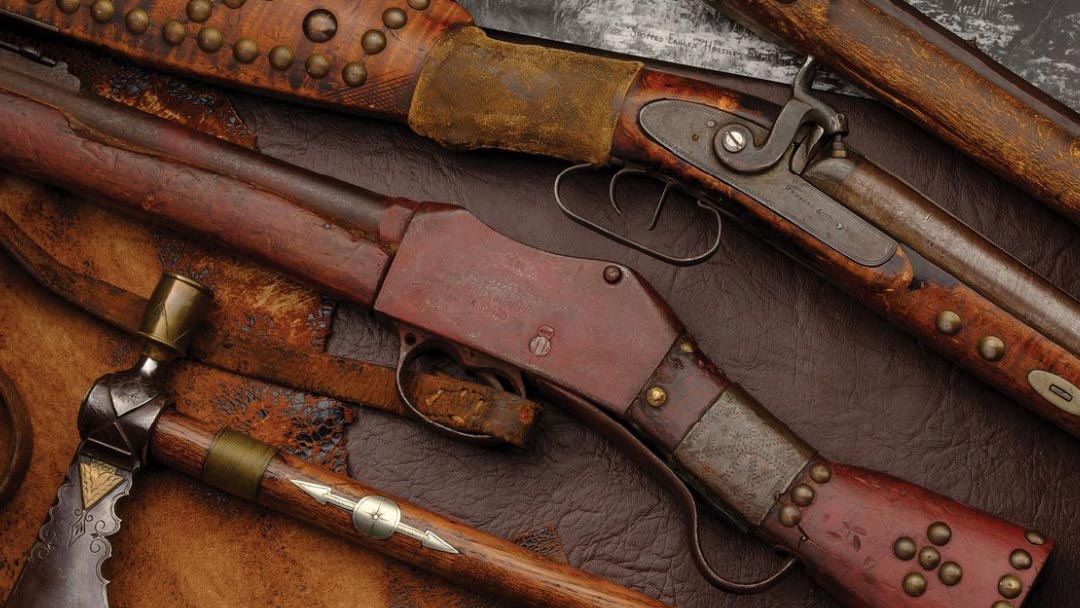 Find real frontier guns and more this December at Rock Island Auction Company.
The Guns and Legend of Bass Reeves
After the Civil War, the Indian Territory became a haven for criminals looking to escape the reach of the American justice system. The federal court for the Western District of Arkansas was relocated to Fort Smith in 1871 and focused its efforts on apprehending the murderers, horse thieves, smugglers, and other fugitives who frequented the lawless region.
Bass Reeves, who'd been farming in the nearby town of Van Burren, was recruited due to his familiarity with the land, languages, and native peoples of Indian Territory. Reeves also knew a thing or two about guns, an absolute necessity for anyone venturing beyond the "Dead Line," the Missouri-Kansas-Texas Railroad that marked the southwestern fringe of civilization.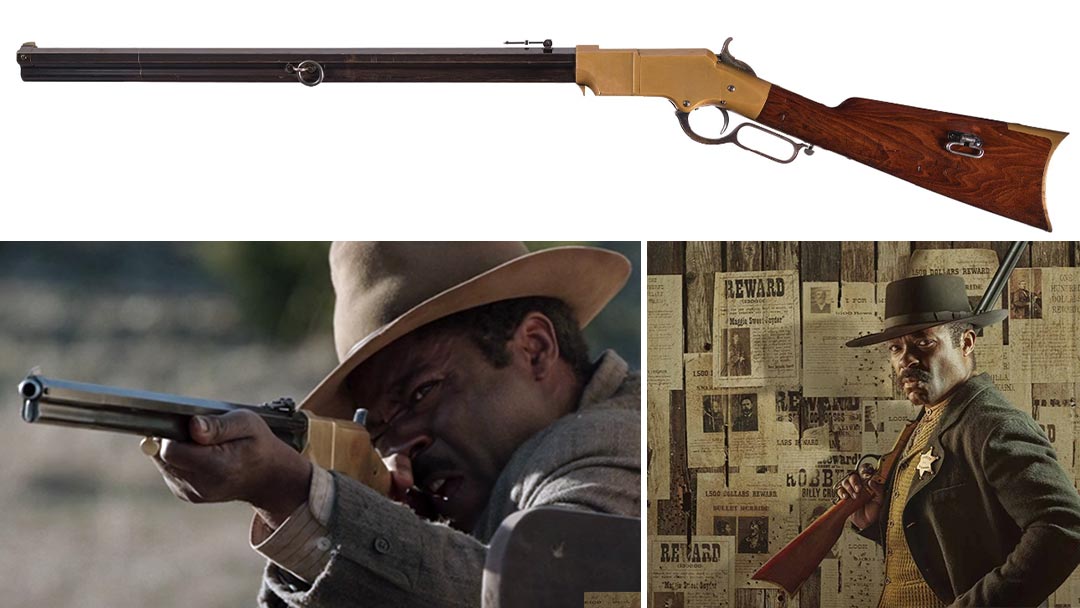 (Bottom) In the Paramount series, Bass Reeves prefers the Henry rifle as his longarm of choice. (Top) An outstanding Civil War production New Haven Arms Company Henry rifle available this December.
Between 1850 and 1907, nearly 120 U.S. Marshals lost their lives in Indian Territory, more than half the total number of U.S. Marshals ever killed in the line of duty. Judge Isaac C. Parker, a familiar name to fans of Western novels and films like 'True Grit' had a well-earned reputation as a hangman, leaving fugitives facing Parker's deputies all the more inclined to engage in a gunfight when they were backed into a corner.
One of the most nefarious gangs to operate out of Indian Territory in the late 19th century was known as The Wild Bunch, or The Doolin–Dalton Gang. During the 1890s, Bill Tilghman became a Deputy U.S. Marshal and one of Oklahoma's "Three Guardsmen," toting a Colt revolver like Bass Reeves as he helped capture and kill several members of the gang and drove them from the region.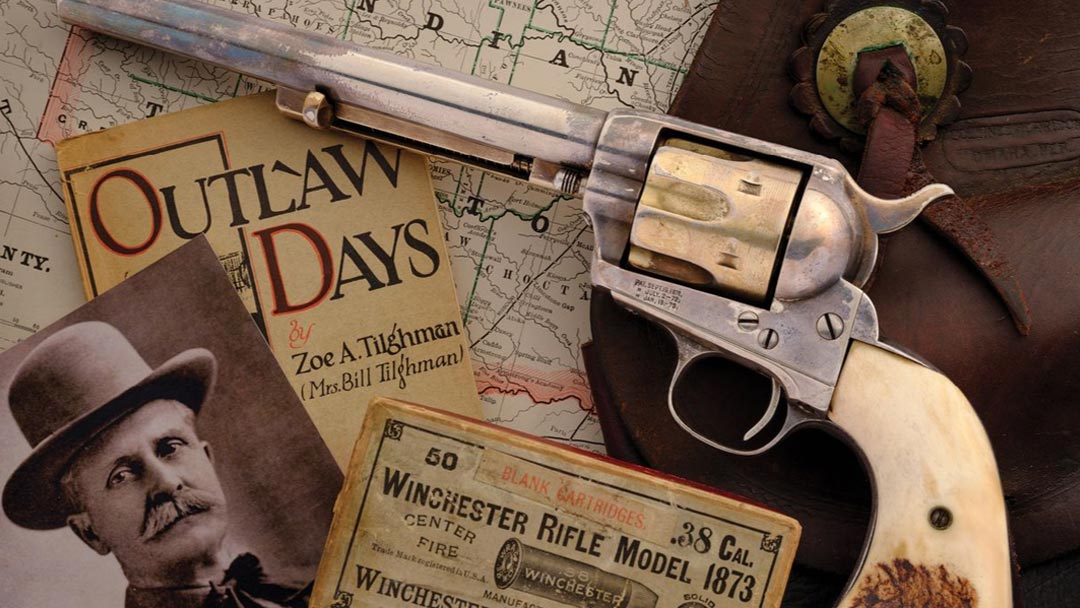 An 1888 shipped silver and gold plated Colt SAA inscribed "WM TILGHMAN DEPT. U.S.M." attributed as Bill Tilghman's personal sidearm. Available this December.
On Bass Reeves's experience operating in the lawless region of Indian Territory, a February 28, 1907 article in the Charleston, West Virginia Advocate recounted, "Eighty miles west of Fort Smith was known as "the dead line" and whenever a deputy marshal from Fort Smith or Paris, Tex., crossed the M. K. & T. track he took his life in his hands and knew it. On nearly every trail would be found posted by the outlaws a small card warning certain deputies that, if they ever crossed the dead line, they would be killed. Reeves has a dozen of these cards which were posted for his special benefit."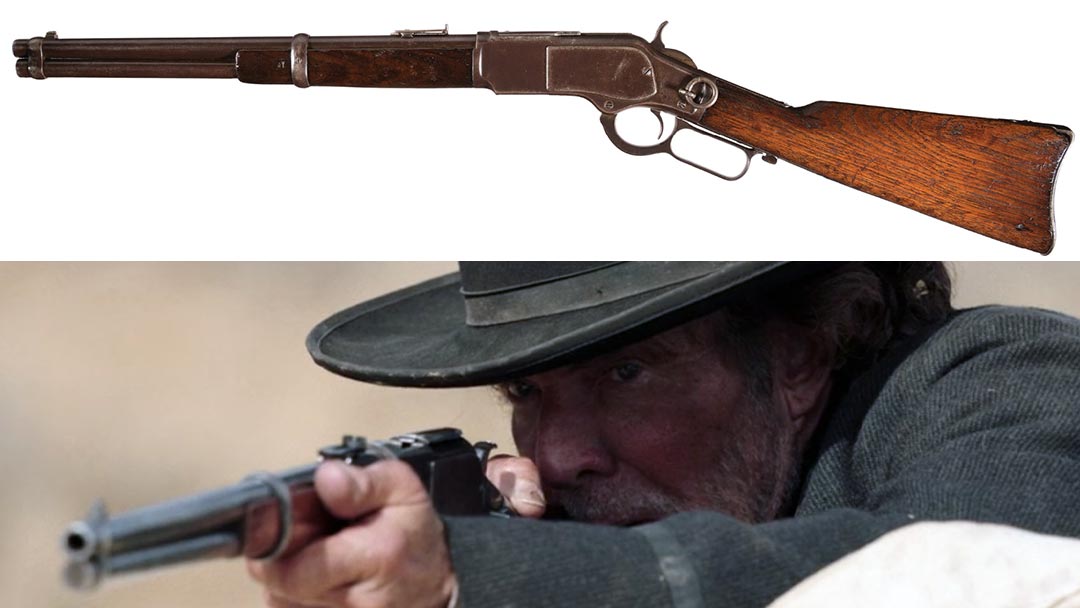 "Out here there ain't no law – only outlaws." (Bottom) Marshal Sherrill Lynn (Dennis Quaid) returns fire with his Winchester as he and Bass Reeves hunt a fugitive in Indian Territory. (Top) A Winchester Model 1873 saddle ring carbine available this December.
Bass Reeves was well aware of the risks of riding the bloody Seminole and Pottawottamine trails and he knew the threats against him were no idle boast, yet this wasn't the first time he'd faced mortal danger. Like many U.S. Marshals of his era, Bass Reeves had seen the horrors of the Civil War and survived to tell the tale.
Bass Reeves in the Civil War
According to Bass Reeves, he was forced to accompany his master, Colonel George Robertson Reeves to several Civil War battles, including the Battle of Pea Ridge in northwestern Arkansas. Bass Reeves was one of thousands of slaves pressed into the role of body servants during the conflict, functioning primarily as support rather than engaging in combat.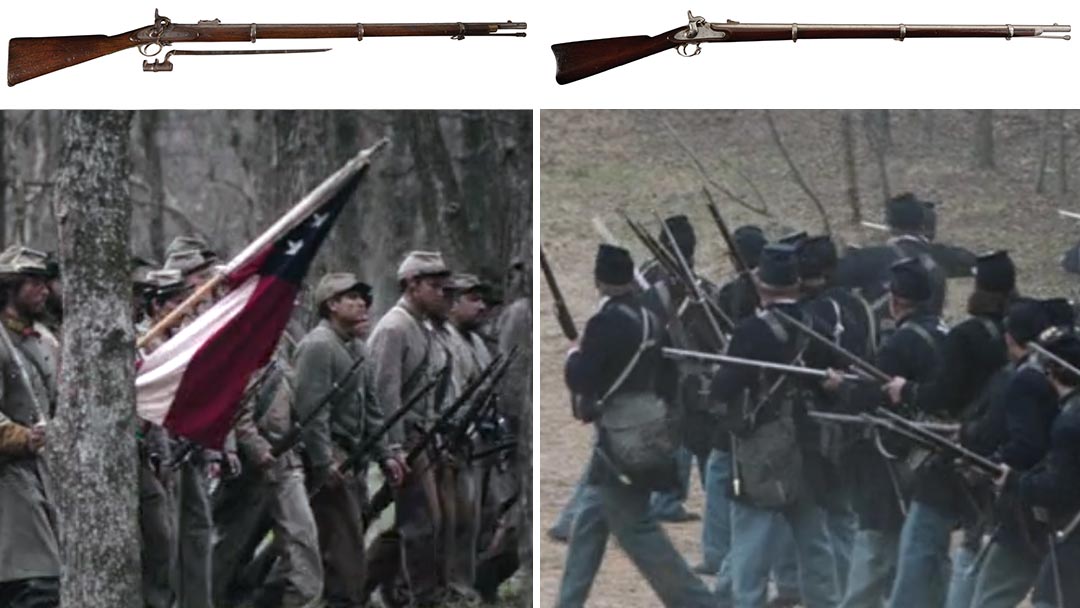 A variety of Civil War guns are featured in the Bass Reeves series. During the Battle of Pea Ridge, Confederates are armed primarily with pattern 1853 Enfield rifles, while the Union soldiers appear to be chiefly equipped with the famous Springfield Model 1861.
The first scene of the Bass Reeves series depicts the Confederates facing off with a Union artillery position near Pea Ridge on the morning of March 7th, 1862. Union cannon open fire, and George Reeves quotes 'The Charge of the Light Brigade' and rallies the 11th Texas Cavalry Regiment to charge. George Reeves carries what appears to be a Third Model Dragoon pistol, a sidearm employed by cavalry on both sides of the Civil War.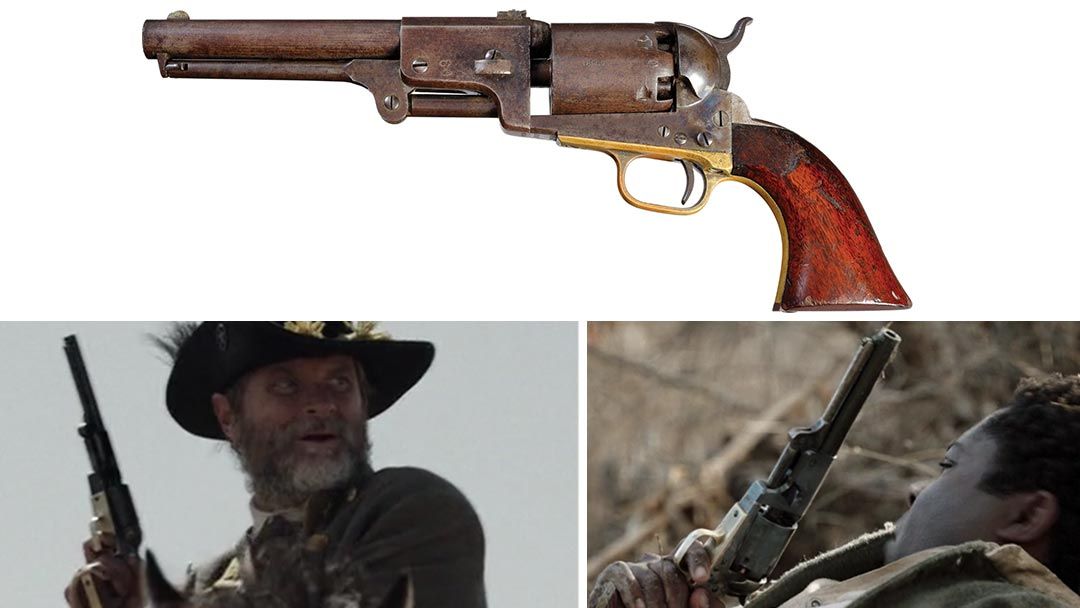 (Bottom) The Colt Dragoon, George Reeves' primary sidearm, is later taken by Bass. (Top) A London Colt Hartford Third Model Dragoon revolver available this December.
Leading up to the Civil War, southern states purchased thousands of revolvers from Colt's Manufacturing Company. Even after Lincoln ordered the Union Blockade in April of 1861, Colt revolvers continued to find their way into the Confederacy. The Colt Dragoon pictured below was likely smuggled into the South by arms dealer Cooper & Pond of New York and intended to equip an Alabama cavalry company that became known as the C.L. Dragoons.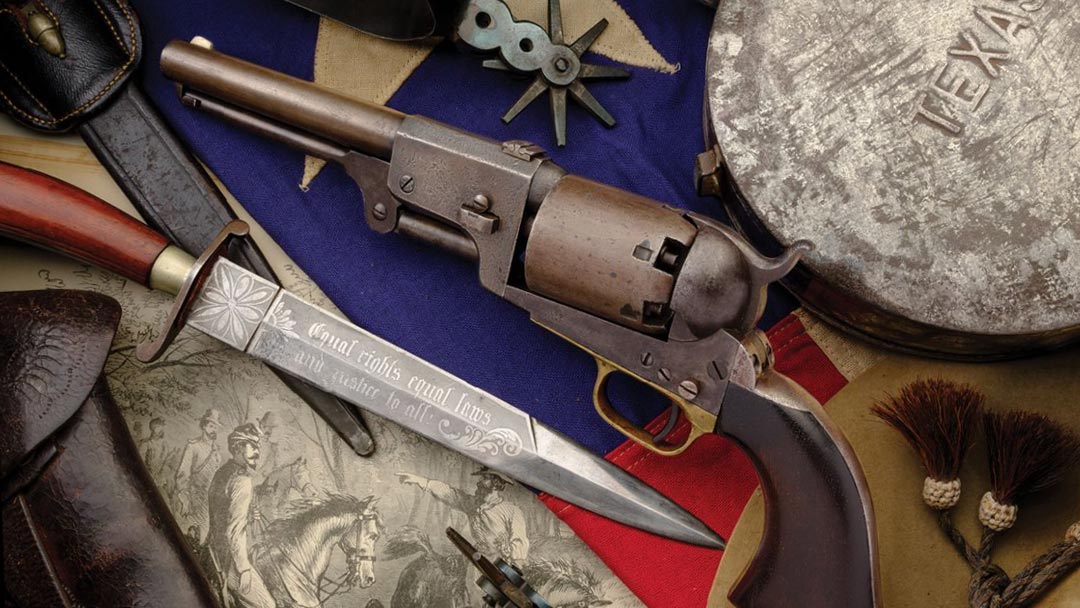 A historic, documented "C.L. DRAGOON'S." marked Colt Third Model Dragoon percussion revolver attributed to the Confederate Crocheron Light Dragoons. Available this December.
During the fighting, Bass Reeves encounters Confederate Major Esau Pierce (Barry Pepper). Esau, one of the officers in General Albert Pike's 1st Cherokee Mounted Rifles, dismounts and scalps a wounded Union soldier with a classic clip-point Bowie knife, howling as he displays his gruesome trophy. Historically, the scalpings committed by the 1st Cherokee Mounted Rifles at Pea Ridge caused a nationwide uproar, with General Pike resigning his commission later that year. Pike was indicted for war crimes in Federal court and tried and convicted in absentia due to the incident.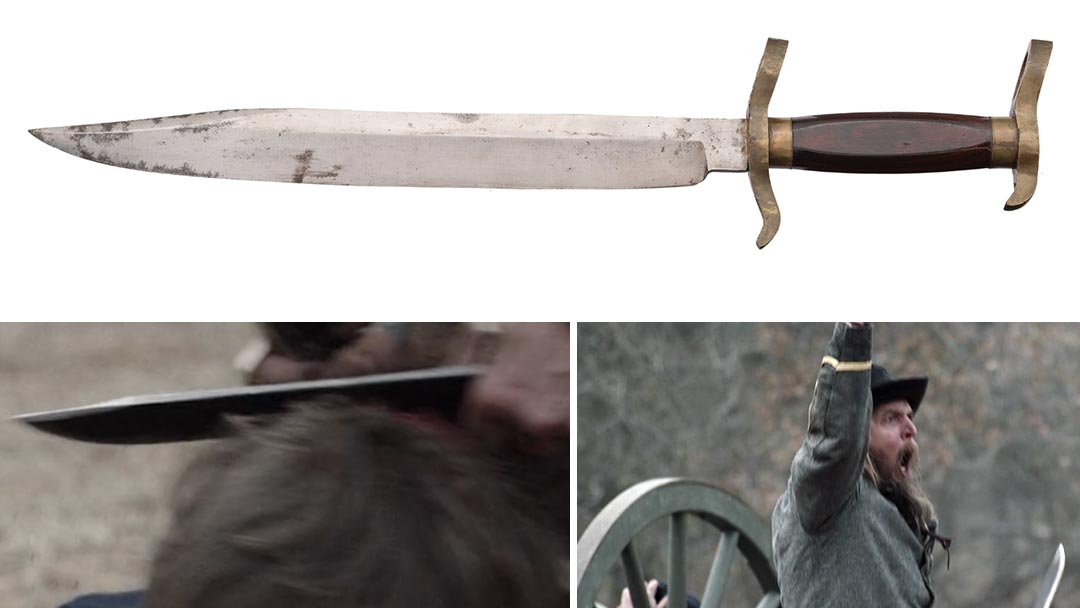 (Bottom) Major Esau Pierce takes a trophy with his Bowie knife. (Top) A rare Confederate "pike head/bayonet" Bowie knife available this December.
The Confederates would ultimately lose the battle due to poor planning. As George Reeves points out to Major-General Earl Van Dorn in the series, "We marched fast, only to find ourselves outflanked, outmaneuvered, and now out-supplied."
The series portrays this dispute as the reason George Reeves resigned his commission. While historically, Reeves didn't depart until much later in the conflict and became the longest-serving leader of the Texas 11th Cavalry Regiment, the Bass Reeves series accurately depicts both George's eventual disillusionment with his commanders and the prevailing disgust with Major-General Earl Van Dorn's strategic failure.
After returning to Grayson County, George Reeves cheats Bass in a game of cards, leading to Bass delivering an epic beatdown in response. Bass takes George's Colt Dragoon and flees to Indian Territory, but not before gaining some first-hand experience with the revolver that will become his primary sidearm for the next decade.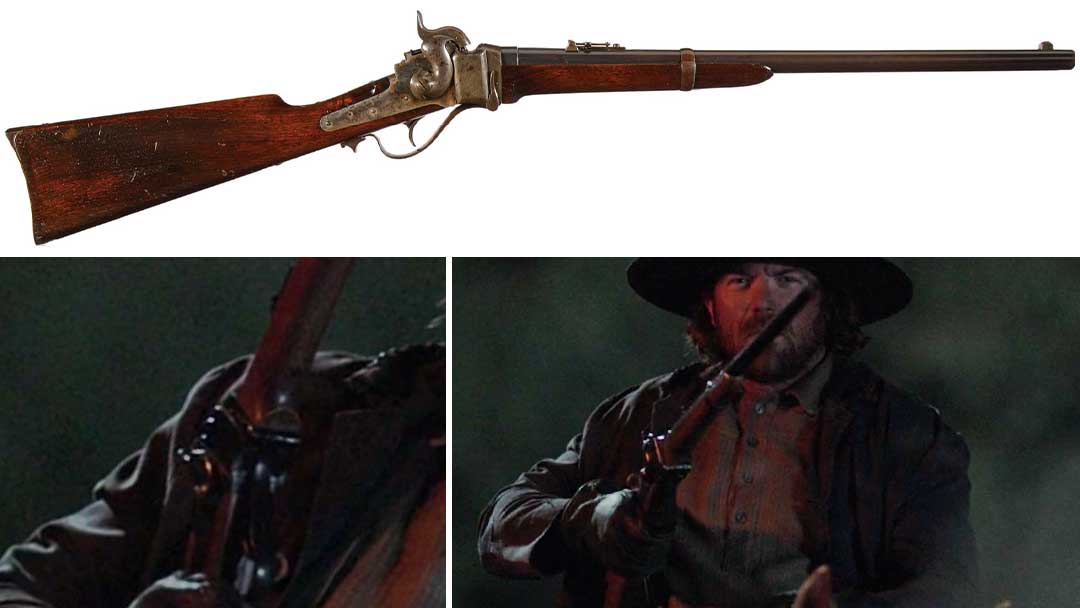 (Bottom) Bass Reeves is confronted by a slave patrolman toting a Sharps carbine. (Top) A Civil War U.S. Sharps New Model 1863 saddle ring carbine available this December.
Lever Action Rifles of Lawman: Bass Reeves
Bass Reeves was known for his skill with a Winchester, and the series depicts George Reeves introducing Bass to the platform by way of the Henry rifle. Though not impossible, a Confederate soldier owning a Henry rifle in early 1862 would have been highly unlikely. The New Haven factory was producing fewer than 200 Henry rifles per month during this period and the aforementioned Union Blockade made smuggling such weapons into the South a daunting task, so George Reeves' rifle would have been far more likely to be a Union capture.
In the series, Bass Reeves acquires another Henry rifle at some point after returning to Arkansaw in 1865, a time when there would have been ample Civil War surplus guns available.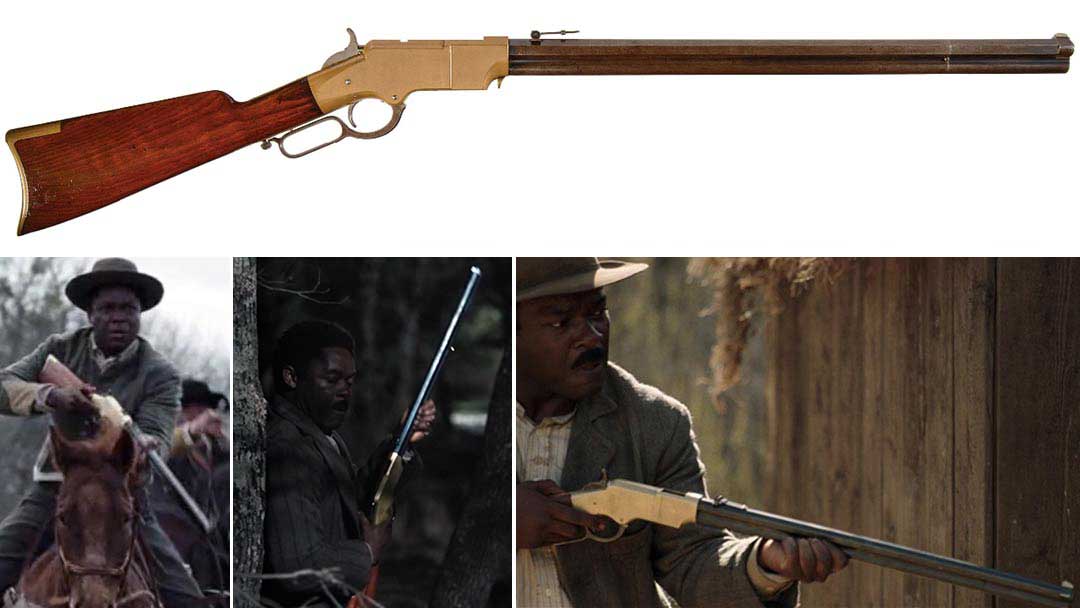 (Bottom) Bass Reeves in action with the Henry rifle, one of the most prominent guns of the Bass Reeves series so far. (Top) A Civil War production First Model Henry rifle available this December.
Most U.S. deputy marshals carried multiple guns when venturing into Indian Territory, and Bass Reeves was no exception. Revolvers were used for backup and close-quarters encounters, while long guns were preferred for their range, power, and accuracy. During Reeves' early career, the Winchester Model 66, or "Yellowboy,"would have been in ample supply.
The "Improved Henry" design sped up the loading and reloading process, was better suited to the elements with its closed magazine tube, and offered a wooden forearm that improved handling and protected the shooter's supporting hand from a hot barrel. The Winchester Model 66 also eliminated the "Henry hop" of its predecessor, where the shooter would need to reposition their support hand to avoid blocking the follower.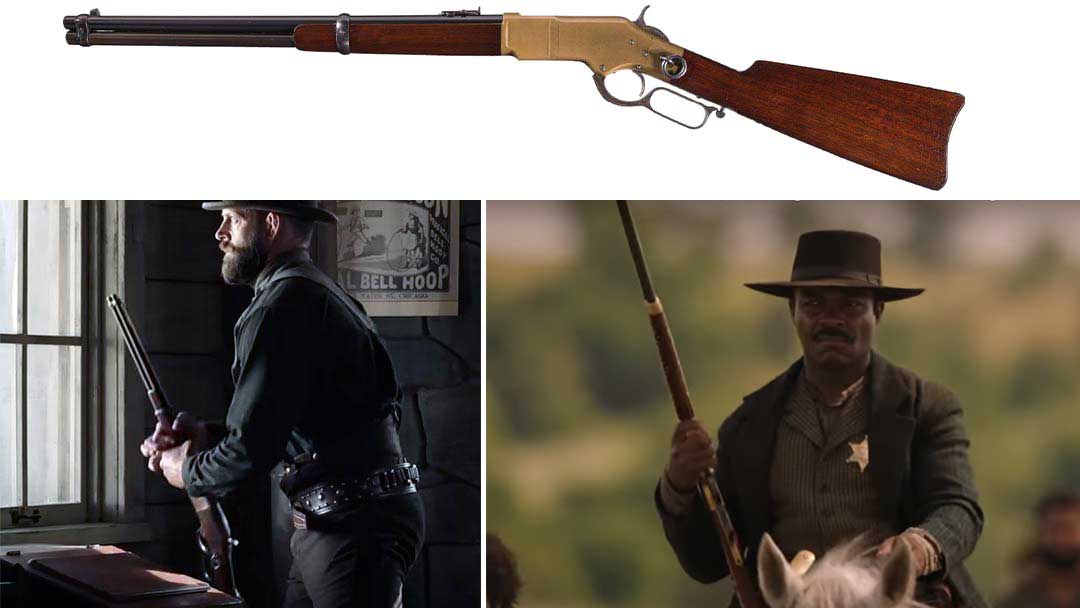 (Bottom) The famous Winchester Model 66 appears in the Bass Reeves series. (Top) An exceptional Winchester Model 1866 saddle ring carbine with its factory letter available this December.
Marshal Sherrill Lynn, who first hires Bass Reeves as a "posseman," carries Winchester's most famous frontier incarnation in the Model 73. Commenting on Reeves' Henry rifle, Lynn quips, "Best load that antique of yours." The Model 1873 did indeed offer an upgrade matched up against its Henry rifle and Model 1866 predecessors. While the latter two guns were chambered in the comparatively weak, copper-cased .44-caliber Henry Flat rimfire, the steel-framed Model 1873 was designed for Winchester's new brass-cased .44-40 centerfire cartridge.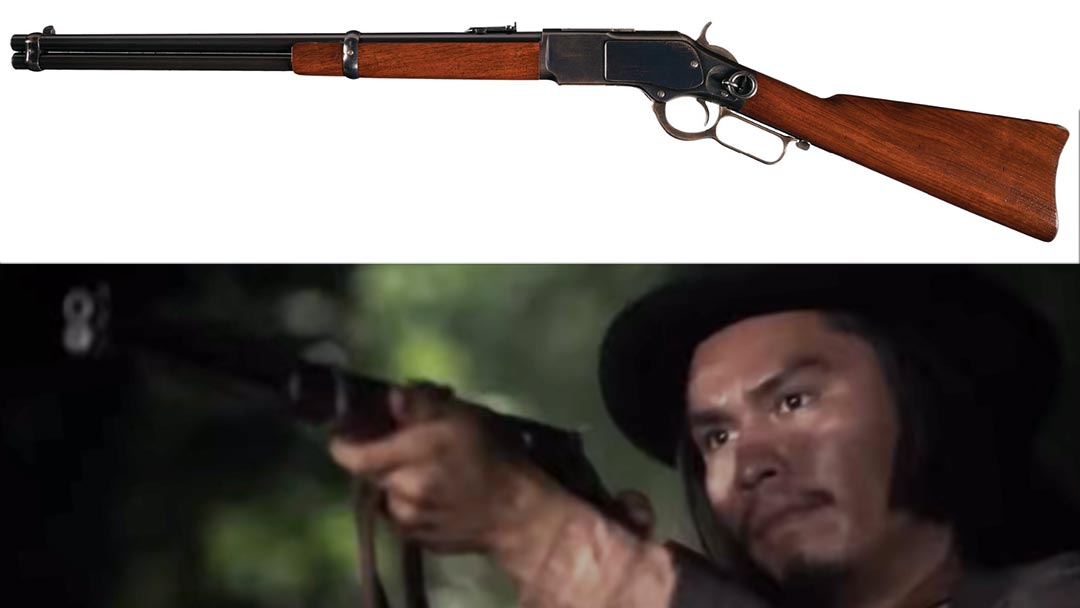 (Bottom) Billy Crow (Forrest Goodluck) aims a Winchester Model 73 carbine. (Top) A high condition Winchester Model 73 carbine available this December.
In 1884, Bass Reeves engaged a killer named Jim Webb, both men wielding lever action rifles. According to Reeves, "I shifted my six-shooter and grabbed my Winchester and shot twice. He dropped, and when I picked him up I found that my two bullets had struck within a half-inch of each other. He shot four times, and every time he shot he kept running closer to me. He was 500 yards away from me when I killed him."
Historically, Bass Reeves eventually came to prefer the Winchester Model 1873 as his long gun of choice due to its ability to share ammunition with revolvers like the Colt Frontier chambered .44-40 WCF. This meant one less cartridge belt to keep track of and less chance for confusion when reloading in an occupation where every second could be the difference between life and death. New Winchester lever action models like the 1876 and 1886 offered even more powerful cartridges, and the U.S. Marshals adapted accordingly.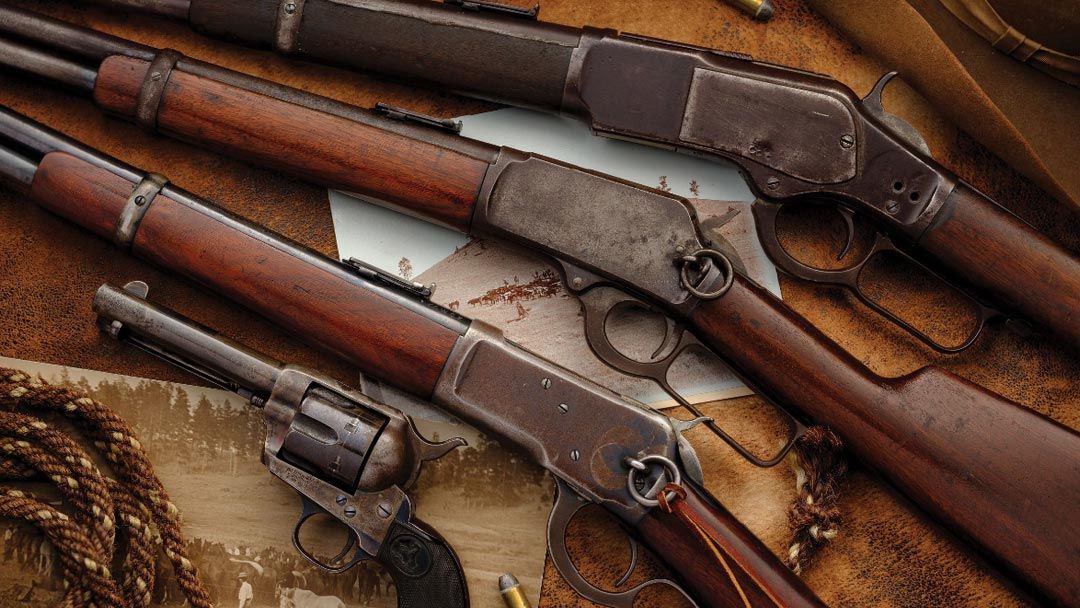 Real frontier firearms are some of the most desirable guns in the collecting pursuit. Available this December.
Revolvers of Bass Reeves
Like all great Westerns, the Bass Reeves series features a plethora of revolver models, including the distinct LeMat carried by Marshal Lynn. Based on Lynn's account of being injured during the Confederate ambush of the steamboat J.R. Williams in Indian Territory, he likely fought with the Union during the war, so his First Model LeMat could have been acquired as a Confederate capture.
(Bottom) Marshal Lynn fires his First Model LeMat revolver. (Top) A historic Civil War First Model LeMat revolver belonging to Confederate Brigadier General Lucius Jeremiah Gartrell sold in RIAC's August Premier for $64,625.
The LeMat two-barrel grapeshot revolver was one of the most unconventional handguns of the Civil War era. Conceived by a French inventor, the LeMat percussion models offered nine .40 caliber pistol rounds and a powerful 18 gauge shotgun blast, making the weapon a terror at close range. After the war, Dr. LeMat continued to upgrade the design, including developing pinfire examples and centerfire models like the two rare pieces pictured below.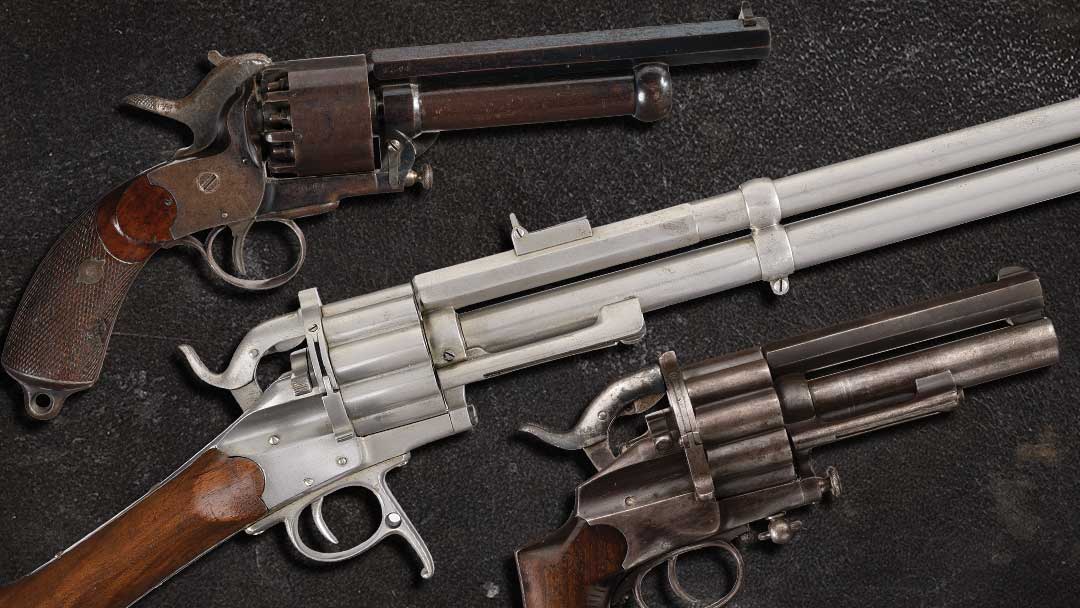 The LeMat revolvers for sale at RIAC this December cover numerous models, including (from left to right) a Civil War-era Second Model LeMat percussion revolver, a Belgian LeMat Patent SA centerfire revolver, a centerfire LeMat revolving carbine.
The Bass Reeves series features a number of cartridge conversion revolvers, including the Colt Richards-Mason Model 1851 Navy and the Colt Richards-Mason 1860 Army. While conversions would have been anachronistic during the Turkey Creek ambush scene near the end of the first episode, they would have been fairly abundant by the 1870s.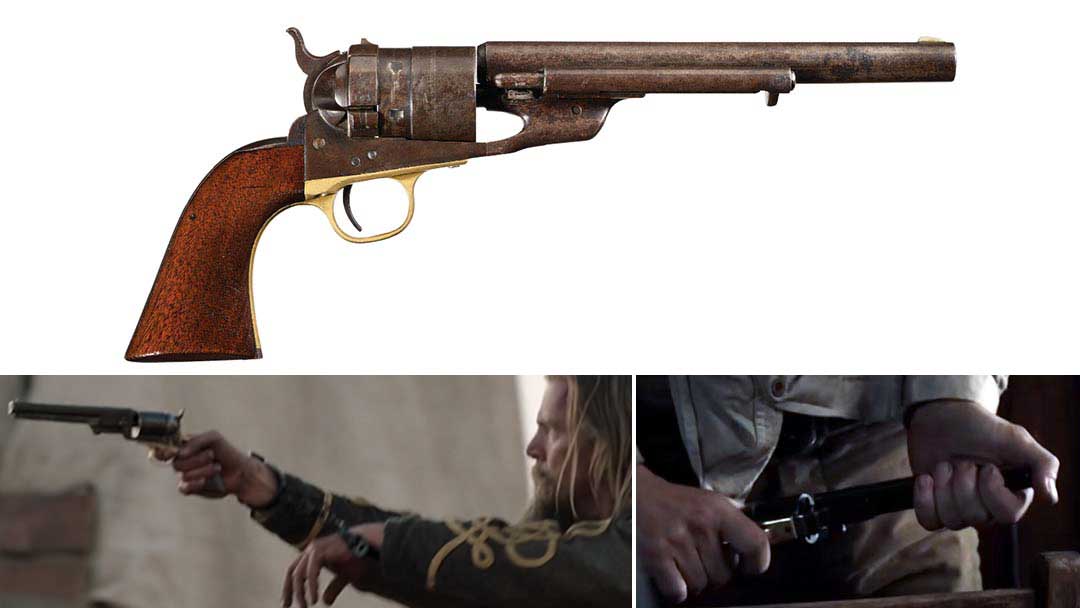 (Bottom) A Colt Richards-Mason Model 1851 Navy and a Colt Richards-Mason 1860 Army. (Top) A U.S. Contract Colt 1860 Army Richards Conversion revolver delivered to the U.S. Ordnance Department in the early 1870s. Available this December.
Many deputy marshals of the Old West packed two revolvers, and Esau Pierce is no exception in the Bass Reeves series. The Jonny Reb turned lawman carries a pair of Smith & Wesson Schofields. Introduced in 1875, the First Model Schofields were almost all issued to American cavalry units, with the latter Second Model Schofield revolvers finding a home with state militias, law enforcement agencies, and the civilian market.
The Schofield is a fitting choice for a rival of Bass Reeves, since these S&W top break revolvers were intended to compete with the Colt Single Action Army, the signature sixgun Reeves became known for and the most iconic revolver model of the Wild West.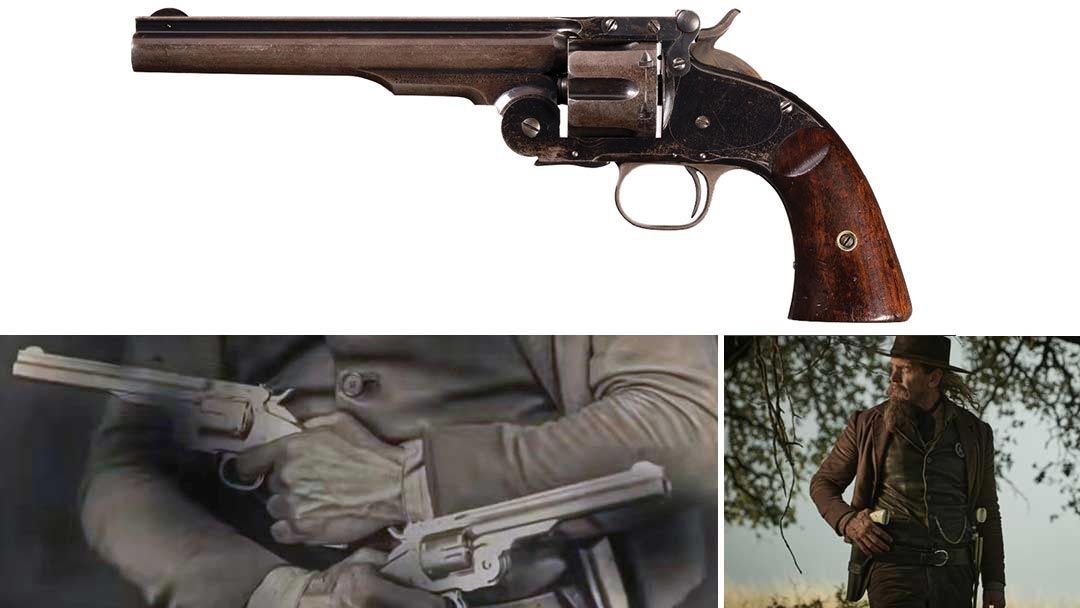 (Bottom) Esau Pierce carries two S&W Schofield revolvers. (Top) A San Francisco Police issued U.S. Smith & Wesson Second Model Schofield Single Action revolver with a U.S. holster rig, available this December.
Bass Reeves Guns: The Colt Single Action Army
According to Bass Reeves, he frequently practiced drawing and shooting his revolvers early in his career, eventually becoming a crack shot with both hands. While most lawmen who carried a second gun did so to avoid having to reload during a gunfight, Bass Reeves learned to dual-wield his Colt Single Action Army revolvers at the same time.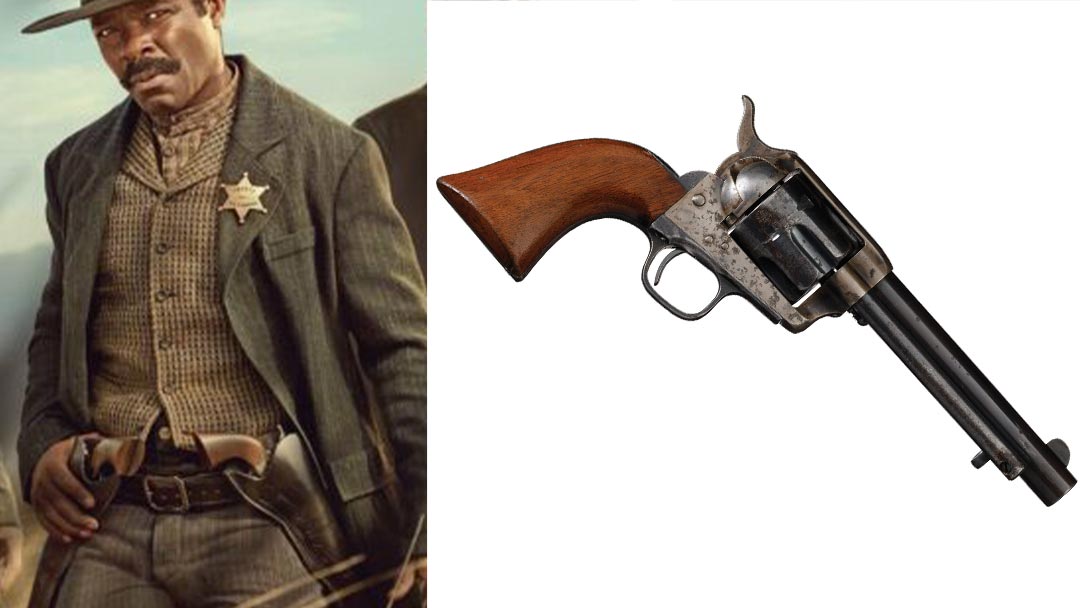 (Left) Bass Reeves wearing his signature guns, two Colt .45 revolvers. (Right) A documented U.S. Colt Artillery Model SAA attributed to U.S. Marshal Reuben A. Jager, with a letter from author and Colt historian Keith Cochran. Available this December.
A standard Colt Single Action in 1875 would have been chambered in .45 Colt with a 7 ½ inch barrel and offered in a blue and casehardened finish, and these traits are accurately depicted in the Bass Reeves series. Prior to 1880, other barrel lengths were not widely available from the factory, but shorter lengths like the 5 1/2 inch Cavalry Model and 4 3/4 inch Sheriff's Model became common options going forward, particularly with civilians, lawmen, and the outlaws they hunted.
An exceptionally fine, documented 1875 production Colt Single Action Army revolver with its factory letter. Available this December.
As noted earlier, Bass Reeves eventually purchased Colt revolvers chambered in calibers that would be interchangeable with his Winchester rifles, such as .44-40 and .38 WCF. The pair of Colt revolvers below were owned by the Collins brothers, two deputy U.S. Marshals of Indian Territory who would have been contemporaries of Bass Reeves toward the end of his career. Each gun is chambered in .38 WCF.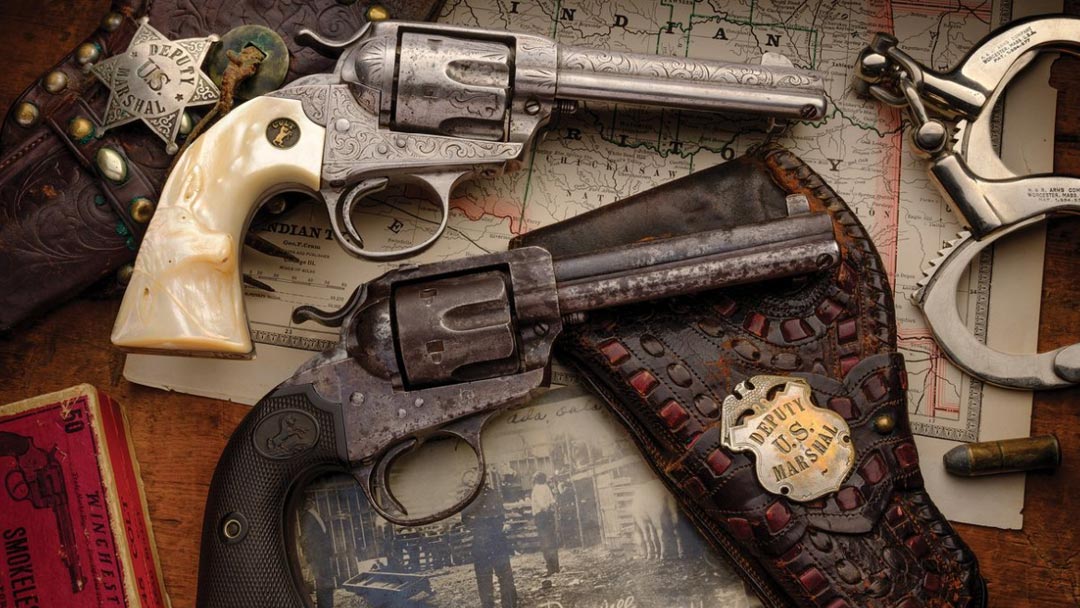 A pair of Colt Bisley SAA revolvers, two holsters, and two badges from the Collins family. Deputy U.S. Marshal Dan Collins and Deputy U.S. Marshal Benjamin Carter Collins worked "in Southeastern Indian Territory during the day of the James Brothers, the Younger Brothers, the Daltons, and the Starrs" and "took prisoners to Fort Smith to "Hanging Judge" Isaac Parker." Available this December.
Old West Shotguns of Bass Reeves
Bass Reeves and many other U.S. Marshals of the era also carried a double barrel hammer shotgun slung on their saddle. One of the most common firearms of the frontier, the shotgun could arguably be called the real gun that won the West. The double barrel scattergun was an affordable firearm for the average settler and offered a reliable means of hunting and self-defense. The gun is featured prominently in the Bass Reeves series.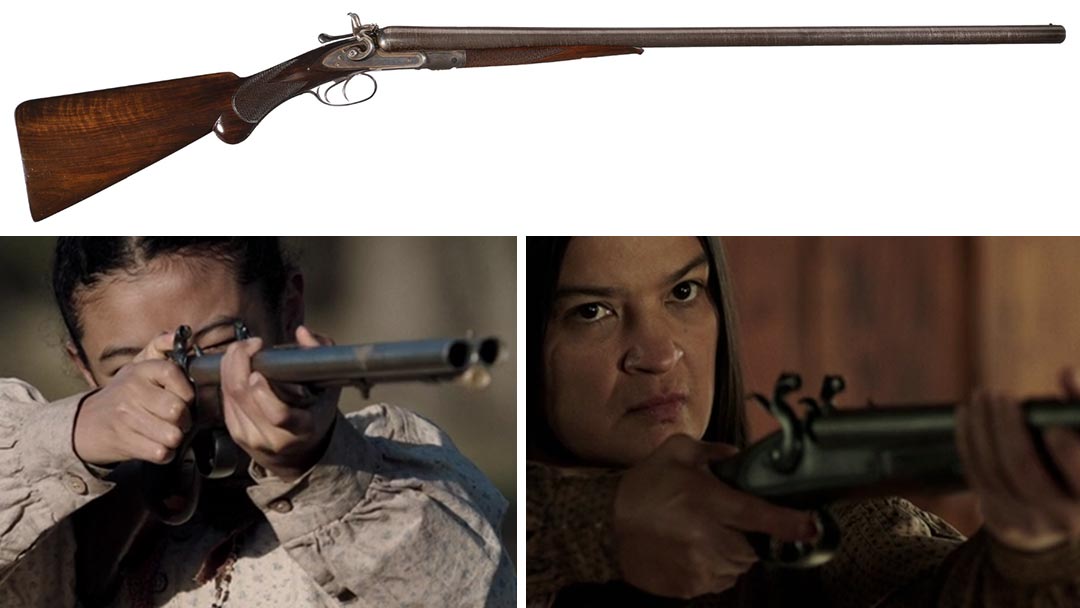 (Bottom) The double barrel shotty, one of the most prominent guns in the Bass Reeves series. (Top) A Colt Model 1878 double barrel hammer shotgun available this December.
The Old West scattergun came in many makes and models, with plenty of older muzzle loading percussion examples, various English and Belgian imports, the Remington-Whitmore line (Models 1874/1876/1878), and the Colt Model 1878 double barrel. A limited number of 'coach guns,' or shotguns with barrel lengths shorter than 26 inches, were also available to storeowners and shotgun messengers who protected trains, stagecoaches, and freight wagons. The shotgun used by Jennie Reeves (Lauren E. Bank) appears similar to these shorter-barreled coach gun models.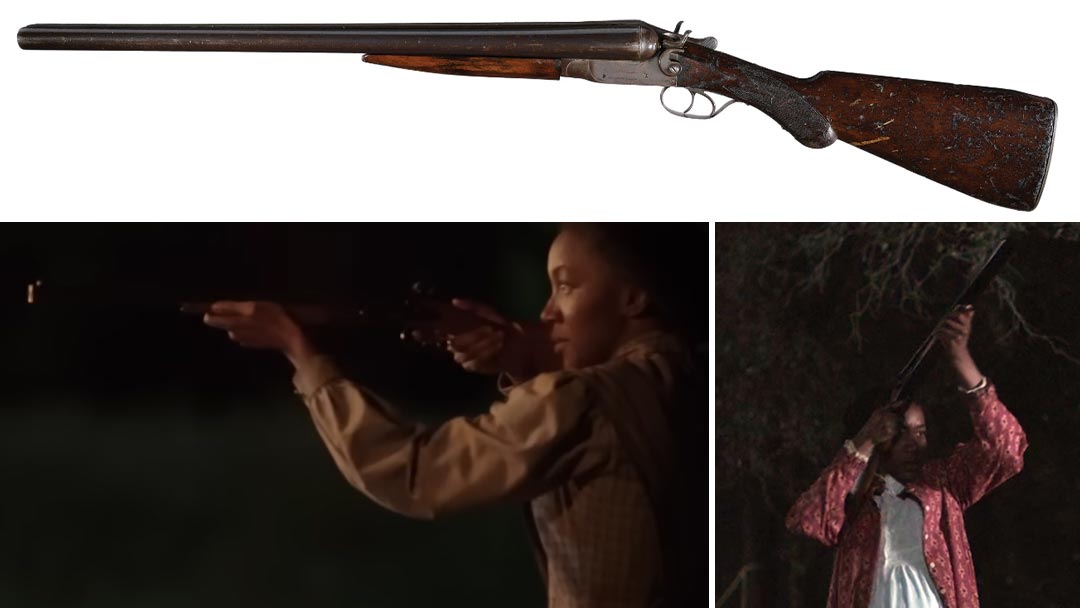 (Bottom) Jennie Reeves makes an impression with her double barrel coach gun. (Top) A documented Wells Fargo & Co. Express shipped and marked Ithaca Grade X coach shotgun sold in RIAC's August 2023 Premier Auction.
Guns of Bass Reeves and the Lawmen of the Old West
Though the history of the Wild West is filled with mythmaking and tall tales, Bass Reeves was a man who lived up to his larger-than-life persona. From shotguns to revolvers to the lever action rifle, Bass Reeves was proficient with every type of gun a lawman in the late 19th century needed to survive.
Beyond his gunfighting abilities, Reeves was a skilled horseman, an expert tracker, and a master of covert disguises that he often employed to get the drop on his quarry. This impressive array of skills has led some historians to attribute Bass Reeves as the inspiration for the Lone Ranger. Whether true or not, Reeves certainly was one of the few Old West figures who lived a life worthy of the comparison, and Paramount's Bass Reeves series delivers a riveting portrayal of the legendary lawman.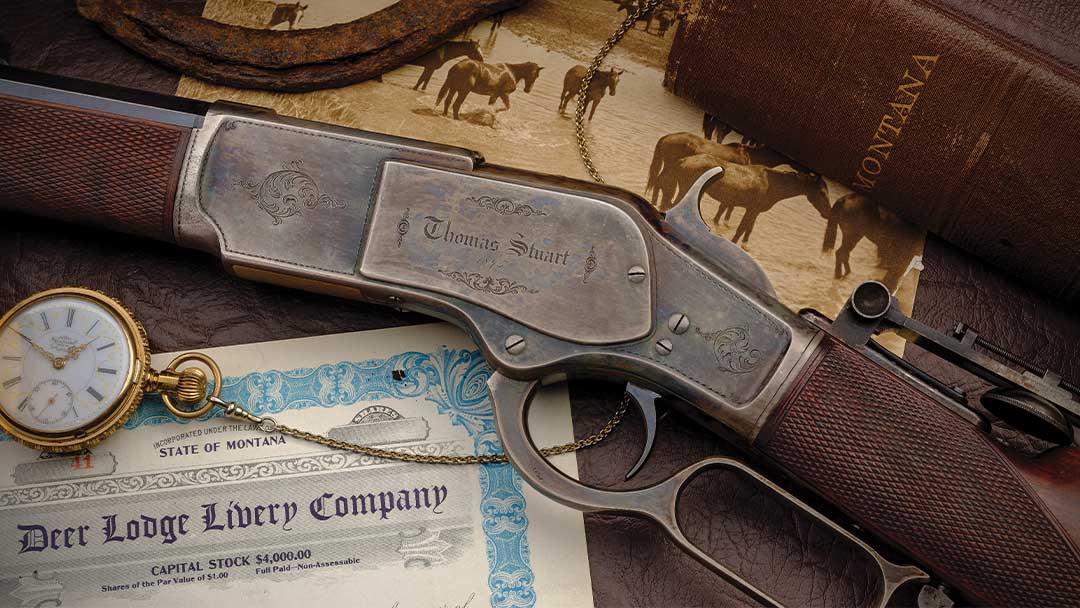 The rifle of an Old West lawman, Thomas Stuart's extraordinarily fine, factory engraved "One of One Thousand" Winchester Model 1873 is a well-documented piece of the American West and hails from the legendary Mac McCroskie Collection. Available this December.
Rock Island Auction Company's December 8 – 10 Auction marks the inaugural Premier Auction at the company's new facility in Bedford, Texas, an event filled with firearms belonging to some of history's greatest lawmen. With names like Frank Hamer, Arthur Merrifield, Bill Tilghman, Manuel 'Solo Lobo' Gonzaullas, Jay Banks, and Jess Sweeten leading the lineup, anyone interested in legacy guns steeped in history will find ample opportunities to expand their collections this December.
Arthur Merrifield, Teddy Roosevelt's friend and hunting guide, carried this pistol, holster rig, and badge after Roosevelt appointed him a U.S. Marshal for Montana. Available this December.
Like other recent properties from Paramount such as 1883 and 1923, the Bass Reeves series has created a renewed interest in both the historic settings depicted and the firearms featured onscreen. The gun videos and gun blogs in the weekly Rock Island Auction newsletter cover some of the most popular classic and modern properties, from articles on Winchester 73, Star Wars, and Indiana Jones to more recent productions such as John Wick, Tomb Raider, Peaky Blinders, the Walking Dead, and more.
Rock Island Auction Company