The archetype BlasTech DL-44 Heavy Blaster wielded by Han Solo against the Empire in "Star Wars: A New Hope," as recognizable a part of the film franchise as a lightsaber or TIE fighter, has arrived from a galaxy far, far away at Rock Island Auction Company.
The 1977 film launched a cultural megaforce of movies, animated series, television series, novels, comic books, and toys. Han Solo's blaster is a Hollywood icon carried by a hero recognized as one of the top 50 movie heroes of all time by the American Film Institute.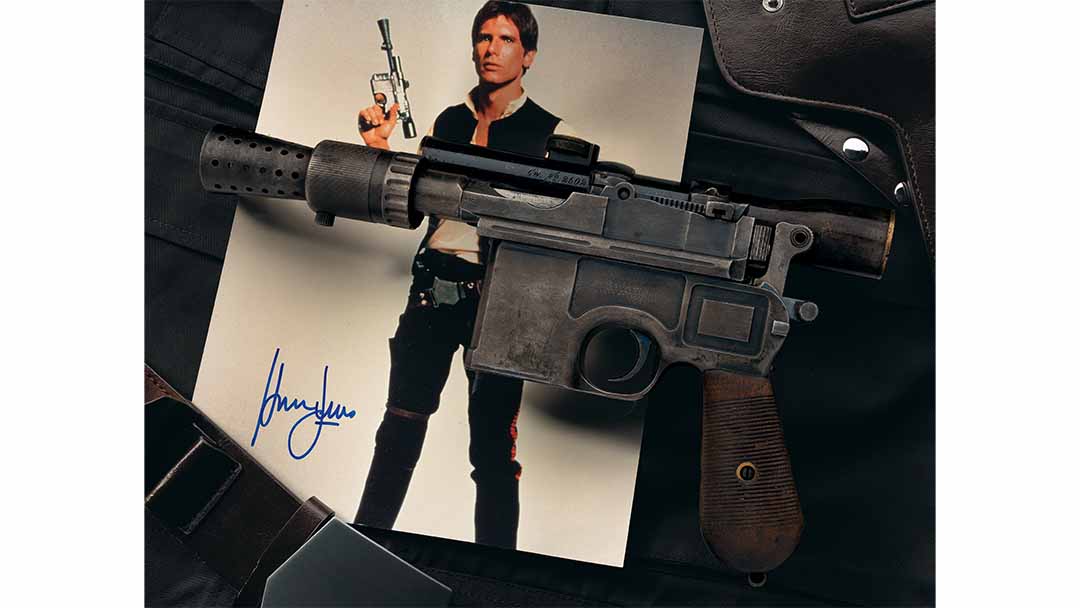 The documented only surviving BlasTech DL-44 Heavy Blaster wielded by Han Solo in "Star Wars: A New Hope" is available in Rock Island Auction Company's Aug. 26-28 Premier Auction.
The Han Solo blaster, one of the most commanding and celebrated firearms in the world, will be on offer in Rock Island Auction Company's Aug. 26-28 Premier Auction.
Solo has a definite opinion of the blaster he wears strapped to his thigh.
"Hokey religions and ancient weapons are no match for a good blaster at your side, kid," he told Skywalker as the newly-minted padawan trained with a light saber on board the Millennium Falcon in "A New Hope."'
The history of the legendary prop gun is as adventurous as the nerf herder who carried it.
Han Solo Blaster: A Mauser C96
The German-made Mauser C96 is one of the first and most recognizable semi-automatic handguns made. The gun, with its 10-cartridge capacity and short recoil operated firing system, was ahead of its time. Stripper clips loaded with 7.63x25mm Mauser cartridges fed into the internal box magazine.
It is nicknamed the "Broomhandle" because of its round wooden grip. The gun spurred a number of knockoffs made in China and Spain, among other nations. More than 1.1 million German Mausers were made between 1896 and 1939.
Mauser C96, with a serial number of 299415, was made between 1915 and 1921 so it could've seen action in World War I or been exported to China where there was also plenty of conflict. Wherever it spent its intervening years, the Gun That Would Be Han's ended up in the weapons inventory of a British movie prop house, Bapty & Co., in London.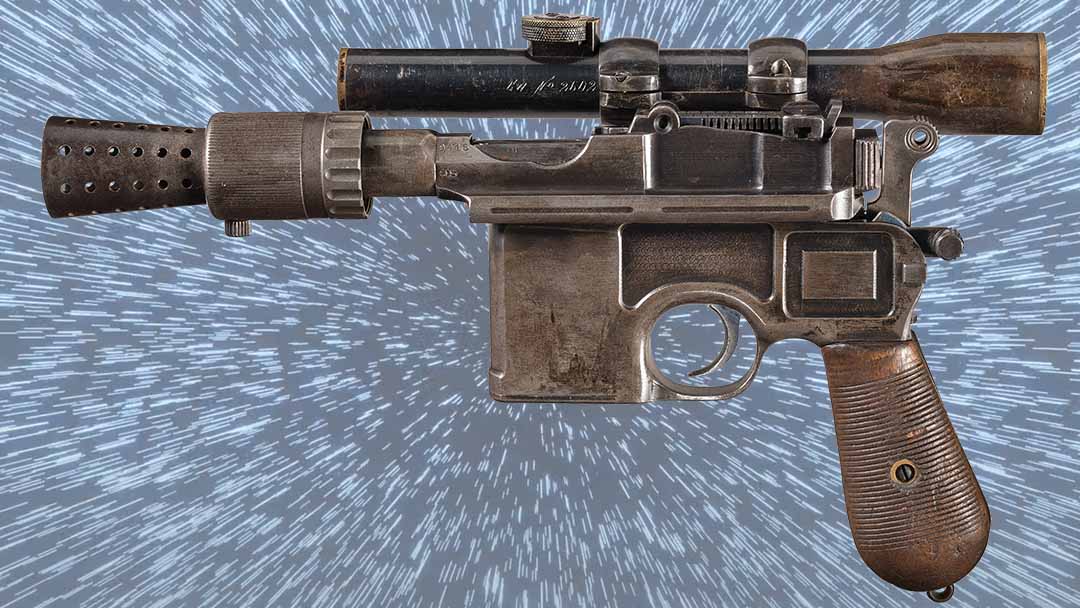 From a galaxy far, far away, the only surviving Han Solo blaster from "Star Wars: A New Hope" is on offer in Rock Island Auction Company's Aug. 26-28 Premier Auction.
Bapty & Co.
The London prop house started life as a gun store selling Bapty branded rifles and military surplus, and became a theatrical armory in 1919. In the early 1930s, the gunshop converted to purely a prop house and armory for stage and screen. The company changed hands a few times and in 1999, Tony Watts and his wife Anne bought the company.
Watts served in the British military and worked at the BBC as an in-house armorer and prop buyer before obtaining Bapty & Co. Under Watts' ownership, the company's armory grew to more than 19,000 firearms.
The company's armory includes medieval swords, maces and suits of armor, along with firearms from muzzleloaders to modern Class III weapons. Bapty's artillery collection is considered one of the finest private collections in the world.
Bapty provided props to recognizable World War II movies like "A Bridge to Far," "The Dirty Dozen," and "Saving Private Ryan." The armory's credits list one blockbuster after another, ranging from the original "Star Wars" trilogy, to Marvel and DC films, to 21 James Bond films, "National Treasure," "The Dark Knight" and "The Dark Night Rises," "Aliens," and "Lara Croft: Tomb Raider," and many others.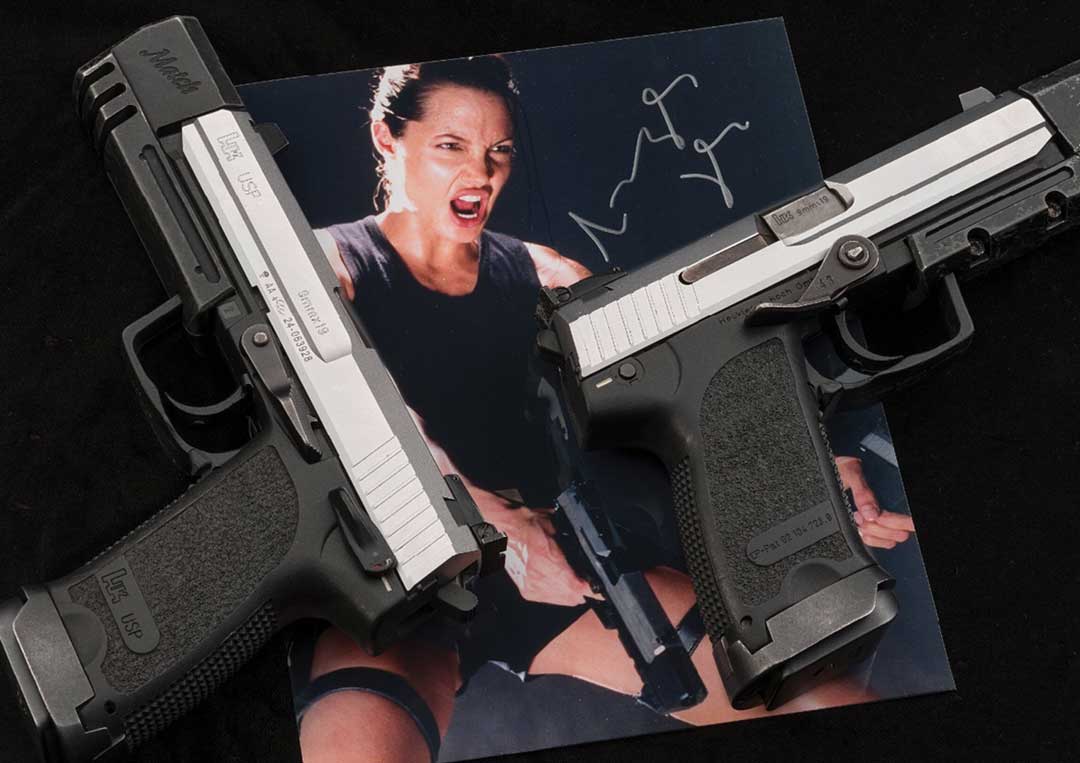 Documented brace of H&K USP 9 match semi-automatic pistols from the London-based prop house Baptys & Co. as Angelina Jolie's on-screen "hero" pistols from the 2001 film "Lara Croft: Tomb Raider." Includes a Lara Croft photograph signed by Angelina Jolie.
Han Solo Blaster: A Long Time Ago
Director George Lucas's space opera began with a modest budget of $9.5 million and would open in fewer than 50 theaters initially with its success in doubt. With a small budget, production design had to be lean and creative.
Set director Roger Christian and production designer John Barry were among the first people hired by Lucas as he prepared for "Star Wars." Lucas had a world-building idea and wanted a lived-in, gritty look, different from the sanitized perspective of other science fiction films. That aesthetic would also serve to keep down production costs. The bric-a-brac in markets, the droids and droid parts spilling out of a Jawa sandcrawler, and the guns of heroes and villains were loosely described to his designers by Lucas who called them "greebles," leaving the designer and set director to create them from various materials and spare parts.
When it came time to design guns, it came down to surplus weapons in the inventory of Bapty & Co. and gunsmith Karl Schmidt (or Carl Schmidt as his name appears in multiple sources, including on IMDB.com!). Wanting an old west gunslinger feel for the captain of the Millennium Falcon, the designers selected the Mauser C96 as the basis of Han Solo's iconic blaster. The C96 had a western vibe and was carried by Clint Eastwood in 1972's "Joe Kidd."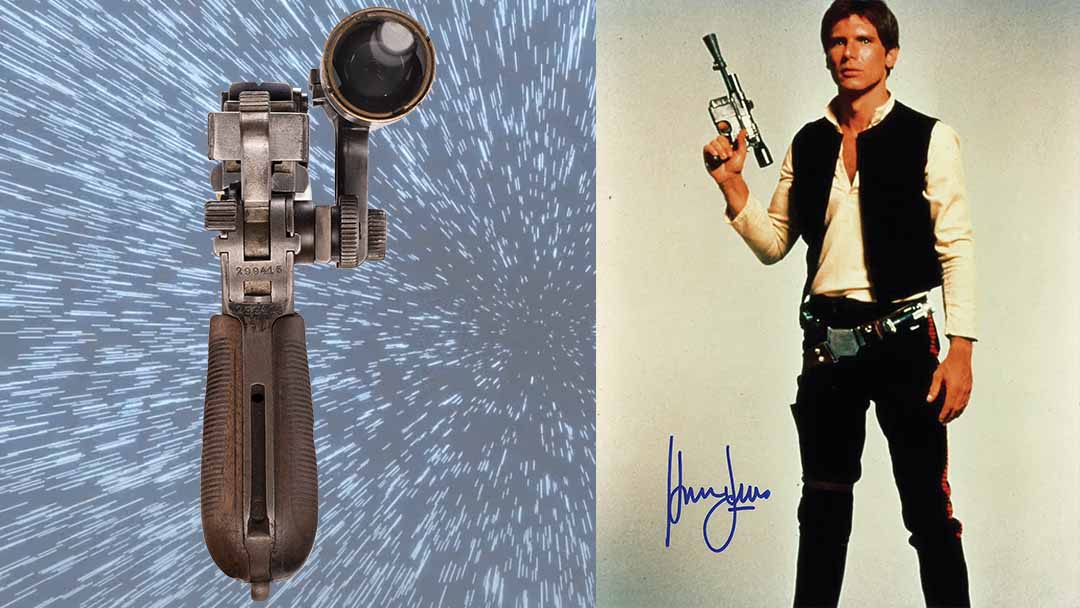 A view of the Han Solo BlasTech DL-44 Heavy Blaster from the back and the Han Solo photograph signed by Harrison Ford that is up for auction with the blaster in Rock Island Auction's Aug. 26-28 Premier Auction.
"I had been successful showing George my idea of adapting real guns so that they'd look used and natural," Christian told Esquire. "For Han Solo's blaster gun, I wanted it like a Western gun, so I stuck old sights (apparently a Hensoldt & Wetzlar Ziel Dialyth 3x scope also dating back to World War II) on it and everything (there's the muzzle from an plane-mounted machine gun, various antenna – or not, as the case may be – and other appendages). And I called John Barry and I said, 'You better get George around here to see this idea,' because we could afford to do it this way. Plus these work, you could fire them and get the recoil, on-set, and not like actors going, 'Beep beep.'"
The blaster met Lucas's approval and a star was born, but no one would know until the movie opened. Legendary director, Francis Ford Coppola, wondered why Lucas wanted to make a film for 10-year-olds. Steven Spielberg who also got a screening before its release was the only one of a handful of executives and directors who enjoyed the film.
Han Solo's BlasTech DL-44 Heavy Blaster
Like Han Solo's blaster, other guns in the Star Wars universe are surplus weapons. Modified Sterling submachine guns served as blasters for both Stormtroopers and Rebel fighters. The BlasTech DL-44 was clearly seen as Han Solo and the motley crew of rebels and droids fought their way off of Tatooine.
Watts, who no longer owns Bapty, offers up a more detailed — and more complicated story — of the blaster than Christian did to Esquire magazine that will be shared later. Yes, the Mauser was equipped with a Hensoldt scope, having been previously used on a Frank Sinatra film, "The Naked Runner," and a MG81 flash hider on a cut down barrel. Two pistols were prepared and the need for a third was realized so another was made for stunt double needs, publicity requirements, and to have a spare on hand. There was only one genuine scope and mount that was transferred as closeups were needed. The trio of C96s all came from Bapty & Co. inventory and had minor differences and marks.
Han Solo Blaster after Star Wars
Not knowing the movie's fate — after all it was opening small, props were returned to their owners. The C96s were stripped back to their original conditions, refinished for future use, and went back into Bapty & Co.'s inventory.
"Star Wars," not yet "A New Hope," blew up. The film distribution quickly expanded to 1,750 screens and drew lines of people waiting to see this sci-fi megahit. The movie's success would beget a sequel, "Empire Strikes Back."
Cast resin models of the BlasTech DL-44 were used for "Empire" and the third film, "Return of the Jedi."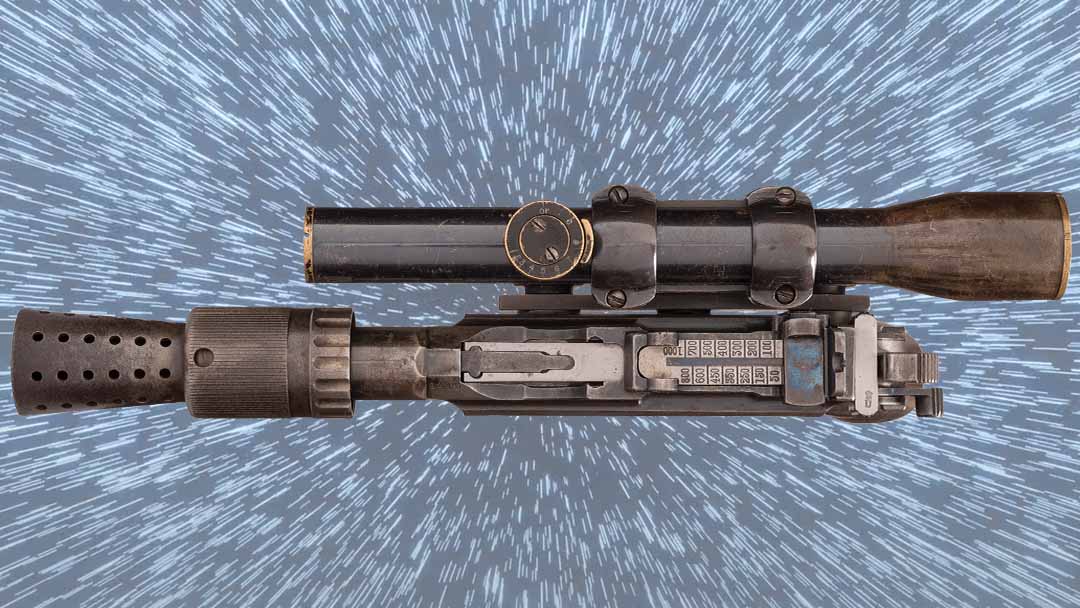 A view from above of the Han Solo blaster available in Rock Island Auction Company's Aug. 26-28 Premier Auction.
A Letter about the Han Solo Blaster
Watts, who acquired Bapty & Co. in 2000, had little knowledge of "Star Wars" nor Han Solo's blaster. He wrote an extensive letter regarding the history of Han Solo's blaster.
"It was only when a film memorabilia company bought the last of our prop Sterlings and other known pieces from 'Star Wars' that the question of what happened to the Han Solo blaster awakened my interest," Watts wrote in the letter included in the blaster's provenance.
"I asked Carl Schmidt, who was the lead armorer on the film, what the true history was. As often the case the reality is something more complicated and sometimes much simpler than ever imagined, confounded with a near fifty-year memory gap," Watts wrote.
"Due to restrictive firearms laws in the UK, the guns were stripped back to their original condition with added lugs cut off, barrel extensions (blank firing only) or moderators added and refinished for use in future films," Watts wrote. "The importance of 'Star Wars' or these items used in the film not being recognised at the time.
"Fast forward to 2010, and after constant badgering from myself, Carl Schmidt proudly came to me with the original Hensoldt-Wetzlar 'Ziel Dialyt 3x' scope he had found in one of the multitude of Bapty & Co. oddments boxes. Then in 2018 he made my year by discovering the remains of the original scope mount in the bottom of one of his parts chests. Sadly it was only the upper two-thirds of the mount as the base had been cut off sometime in the intervening years. Now my attention was spent in looking at our remaining stock of C96 Mauser pistols. Many had been lost in a government hand-in scheme in 1997 but we still possessed five much worn and abused complete C96 pistols. Four had their original length barrels but one, serial number 299415, had a re-lengthened barrel and faint witness marks on the side which had been linnished and re-coloured. This was undoubtably one of the three original guns used on the 1977 'Star Wars' set and the only one to survive.
"Now for my own personal satisfaction I asked Carl, although retired, if he was prepared to return to Bapty and rebuild what he had helped create all those years earlier and he agreed but with the proviso that he would only re-assemble the parts we had in the spirit of how they were originally put together," Watts wrote. "A flash hider was taken from our MG81 spares box, given their rarity feasibly the same one as used in 1977, and he got to work. The base of the scope mount in 1977 was possibly a complicated slide on dovetail but it was decided not to try and replicate that as the exact detail has been forgotten and just create speculation amongst 'Stars Wars' enthusiasts. Also the gizmos and small pieces glued on by the Art Department to make the C96 look suitably futuristic have not been replaced, even though replica parts are available, for the sake of purity. Whilst not being in the exact form seen by millions in the film, the end result contains 80% of the last remaining pieces of this iconic prop."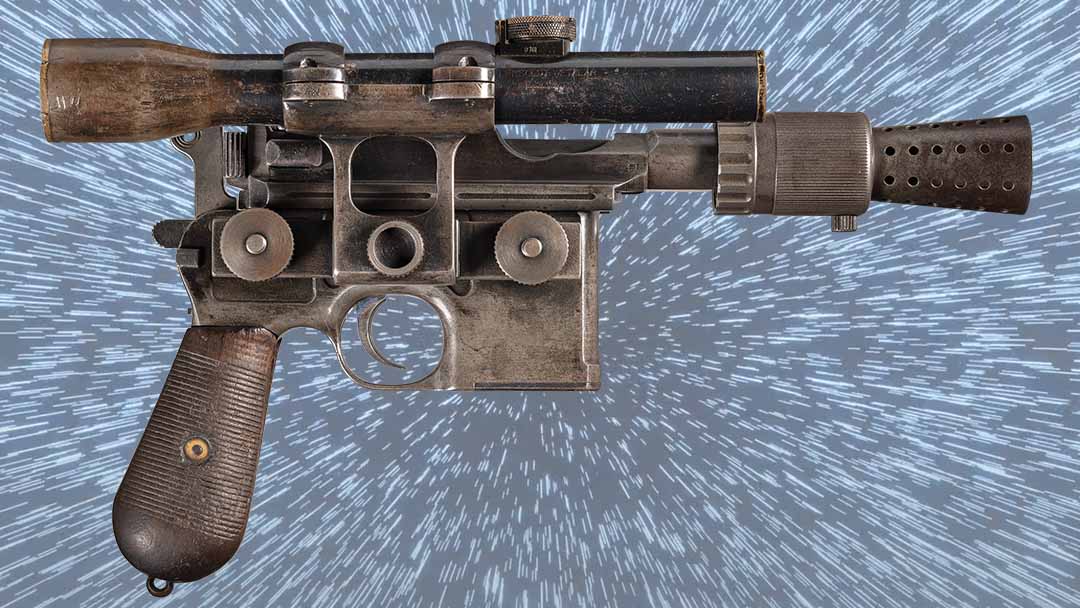 The Han Solo blaster from "Star Wars: A New Hope" is on offer in Rock Island Auction Company's Aug. 26-28 Premier Auction.
The Other Han Solo Blasters
A non-firing BlasTech DL-44 that was used in "The Empire Strikes Back" and "Return of the Jedi" sold in 2013 for $200,000 after being up for auction for 20 days. The blaster was a resin-cast replica of the blaster from the original film.
A blaster from "Return of the Jedi" sold at auction in 2018 for $550,000, bought by museum chain Ripley's Believe It or Not. The blaster came from the collection of "Return of the Jedi" art director James L. Schoppe.
"Star Wars: A New Hope" Blaster
To think, this legendary film firearm was held not just by Han Solo, but also Hollywood icon Harrison Ford.  What child, or adult for that matter, doesn't dream of owning a gun they've imagined blasting stormtroopers while saving a princess?
There has been endless speculation as to the whereabouts of Han Solo's blaster from "A New Hope," and Tony Watts ends that with a letter of provenance about the Mauser C96, its scope, and the blaster's history. This monumental and iconic firearm is a piece of Hollywood film-making history  — the on-screen blaster of a cocksure smuggler who gets involved in fighting the Empire — that propelled epic science fiction and the summer blockbuster into the movie-watching public's conscience.
Han Solo's BlasTech DL-44 Heavy Blaster will be available in Rock Island Auction Company's Aug. 26-28 Premier Auction and may not come around again to public auction, so may the Force be with the many movie buffs, film historians, and firearms collectors who clamor for this long-lost piece of "Star Wars" memorabilia.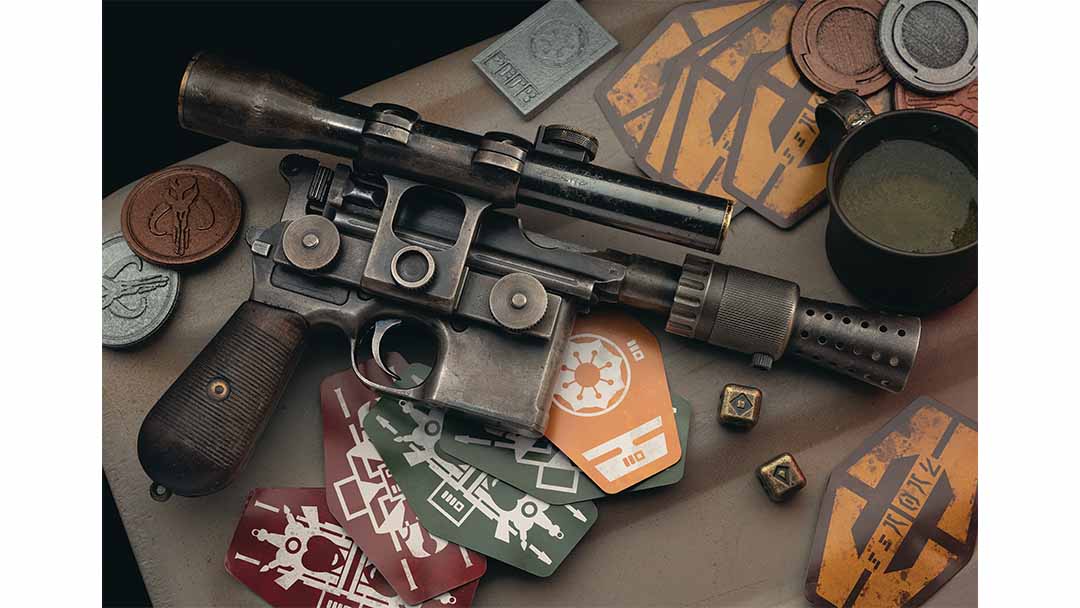 May the force be with bidders for the iconic Han Solo blaster, a piece of Hollywood film-making history, available in Rock Island Auction Company's Aug. 26-28 Premier Auction.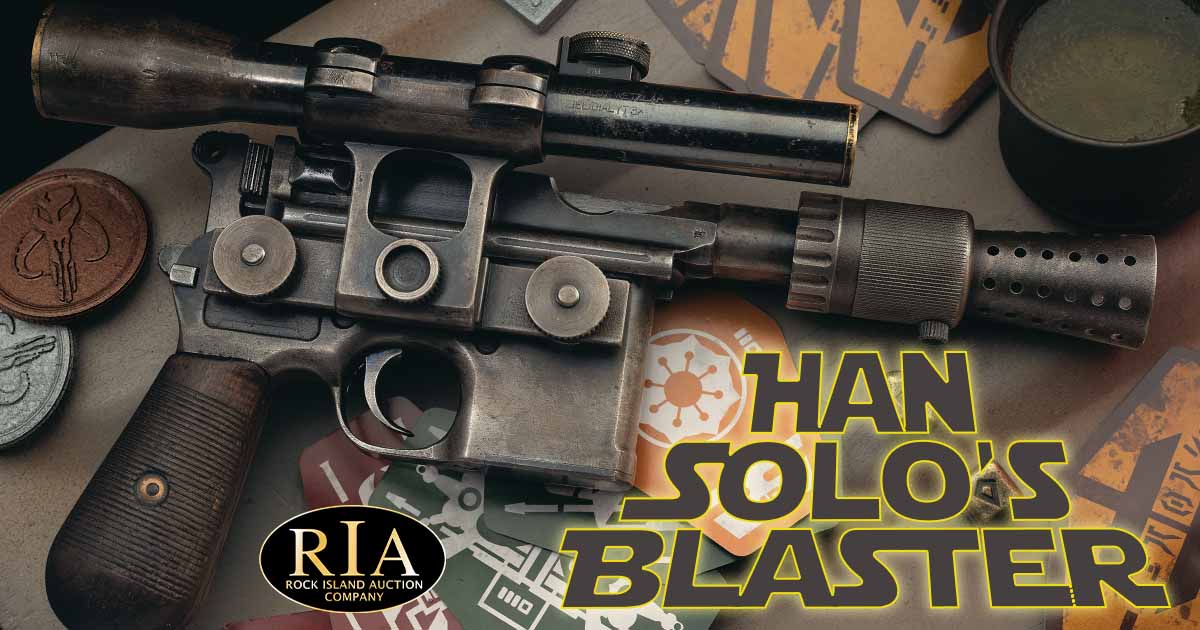 Rock Island Auction Company