"Every time a hunter pulls the trigger, he makes a game management decision," famed hunting author John Wootters wrote. Wooters' statement particularly applies to handgun hunting, a pastime he took up in his later years and promoted for its challenge, excitement, and requisite for exceptional marksmanship, stalking, and positioning skills.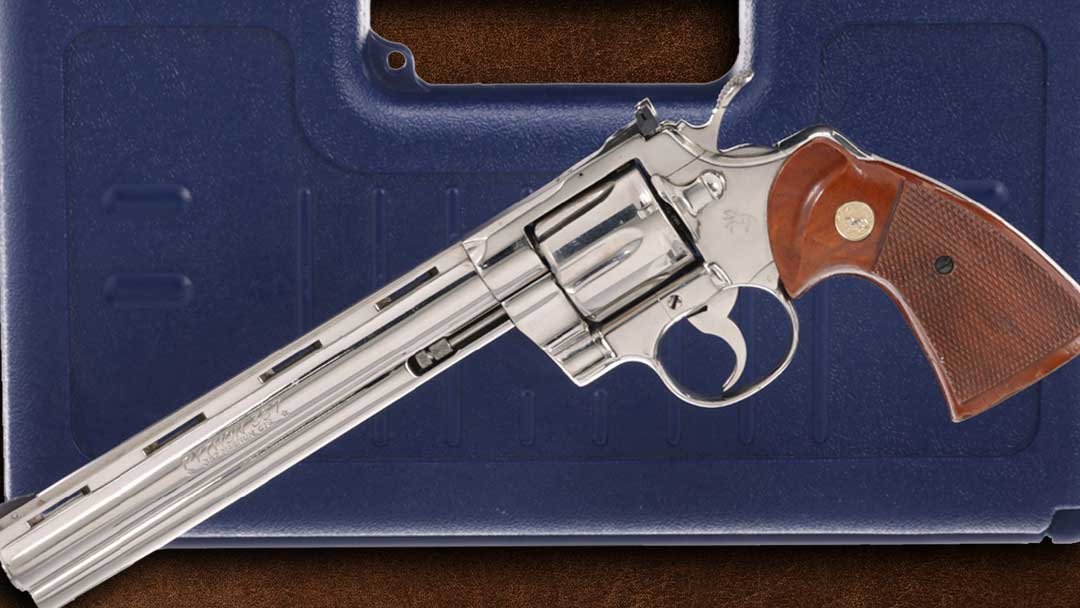 A Colt Python, one of the classic .357 Magnum deer hunting pistols. Available this October.
As with bow and muzzleloader hunting, taking game with hunting pistols requires practice and patience. Despite the learning curve, the committed handgun hunter is rewarded with an added dimension to the pursuit that many sportsmen find immensely gratifying, the potential for thrilling up close and personal encounters, and the ability to field and travel with a more portable hunting arm.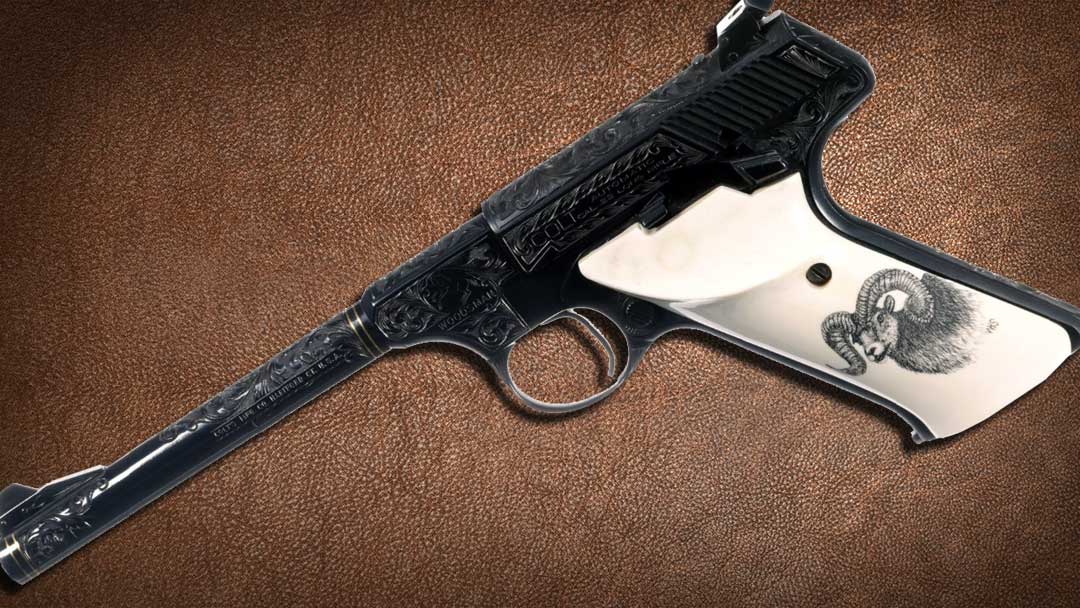 A Ben Shostle signed, master engraved and gold inlaid Colt Second Series Woodsman pistol with Scrimshaw grips, chambered in .22LR, an ideal caliber for small game hunting and varminting. Available this October.
From the classic .357 Magnum revolver to the Thompson Contender single shot pistol, Rock Island Auction Company's upcoming gun auctions feature a wide range of hunting pistols, particularly October's 4 – 6 Sporting & Collector Auction, where firearms fans from across the country are invited to stop by and handle their dream guns firsthand.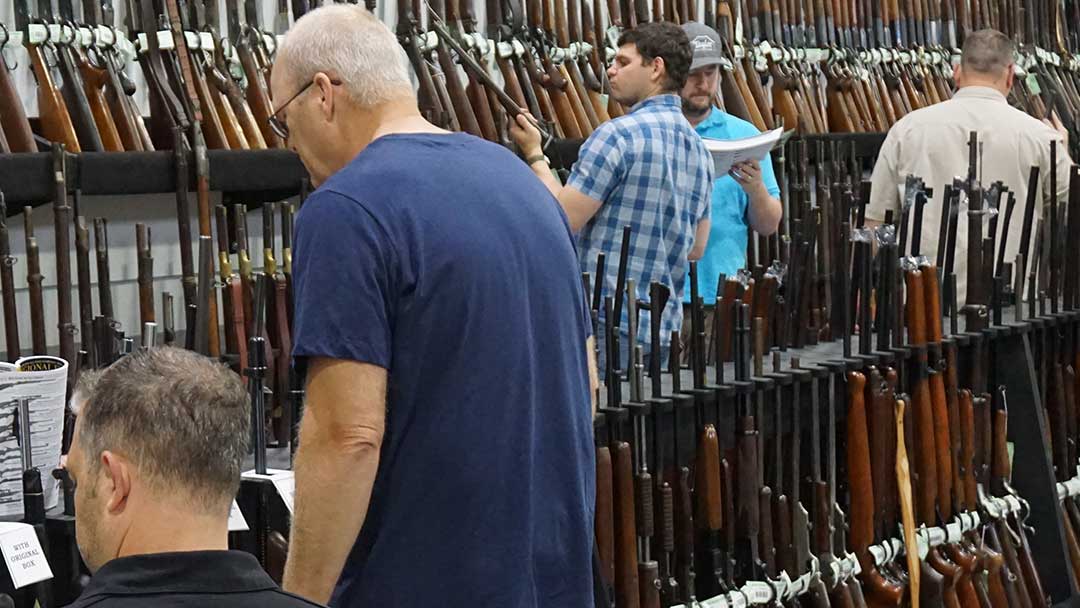 From antiques to military arms, October's auction has it all, and admission is free of charge!
Early Hunting Pistols
While most antique flintlock and wheelock pistols were designed for self-defense or martial purposes, some rare examples are decorated with a hunting motif that suggests use in the field. By the 19th century, hunting pistols were designed for specialized tasks like the big bore Howdah pistols deployed against dangerous game in India and the long-barreled bear pistols of the American South.
In 'Sixguns' by Elmer Keith, the author details how the rifled revolver became a more prominently used tool of the hunt, offering more accuracy and firepower than its single shot, smoothbored predecessors. The photo below is an illustration by George Catlin, an artist paid by Samuel Colt to produce paintings of Colt revolvers used to take game out West. Today, taking on big game with such low-velocity rounds would be considered highly unethical.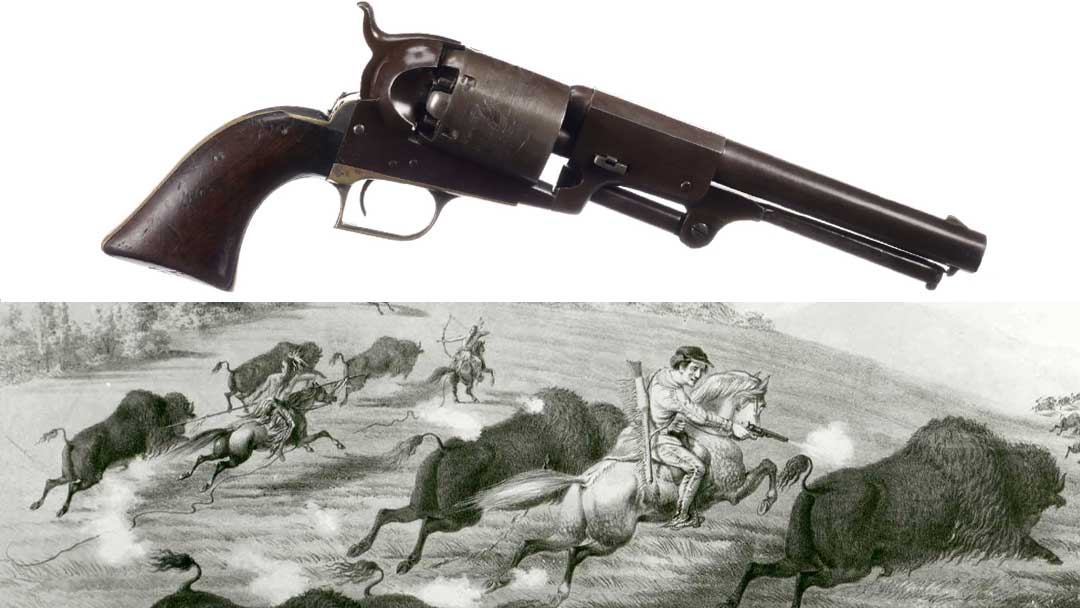 (Bottom) A drawing taken from a lithograph by George Catlin titled, "Catlin the Artist Shooting Buffalo's with Colt's Revolving Pistol". (Top) A scarce U.S. Colt Second Model Dragoon percussion revolver for sale this October. Available this October.
The Spanish Edition Colt advertisement below, from 1921, depicts another unusual example of early handgun hunting. In this case, a woman in western clothing armed with a Colt double action revolver fires her pistol at a jaguar which she has roped from horseback. While this strategy might be effective in video games like 'Red Dead Redemption', firing from horseback would be a far safer technique.
(Left) A framed 1921 Spanish Edition Colt advertisement from The George F. Gamble Collection that sold for $8,225 in December of 2022. (Right) A pair of early 20th century Colt double action revolvers available this October.
Handgun Hunting and the .357 Magnum
Hunting pistols continued to serve in more niche roles until the 1930s, when Elmer Keith, "the father of big bore handgunning," helped drive a series of innovations in ammunition and revolver technology. The heavy-framed .S&W .38/44 Outdoorsman was built to chamber the higher pressured .38 Special wildcat rounds Keith had popularized.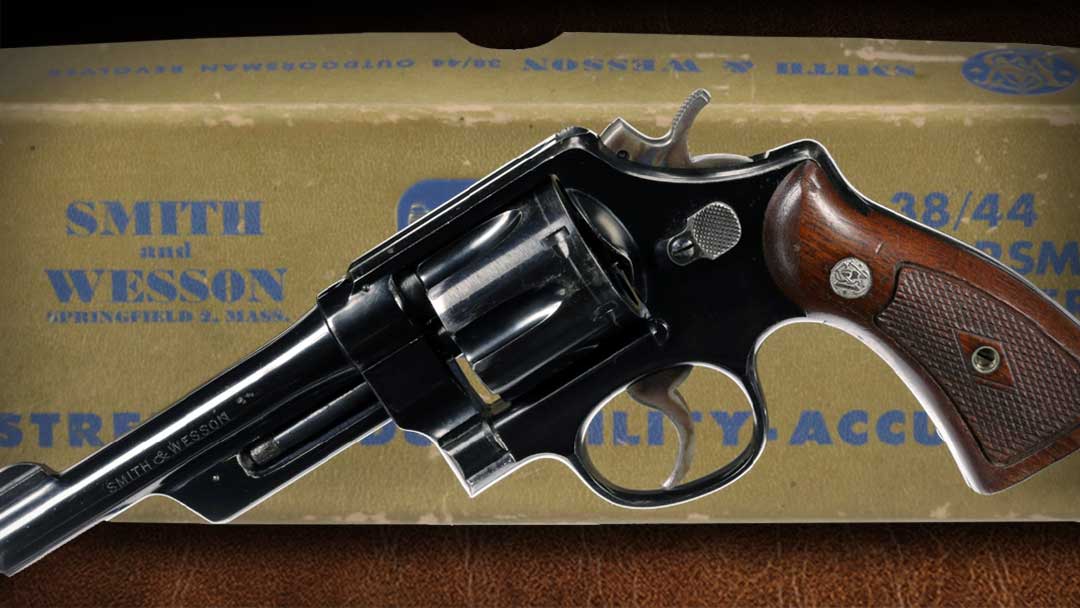 A Smith & Wesson .38/44 Heavy Duty Model of 1950 "Pre-Model 20" revolver with its S&W gold box. The .38/44 helped establish a long line of S&W hunting pistols. Available this October.
The .38/44 Outdoorsman saw use as a hunting pistol by numerous sportsmen of the era, including Douglas B. Wesson, the grandson of Smith & Wesson co-founder Daniel Wesson, but it was the revolver's .357 Magnum successor that truly launched a wider interest in handgun hunting. Wesson generated publicity for his new gun and cartridge on numerous hunting trips, using long barreled revolvers to take everything from small game to moose, elk, and grizzly bears.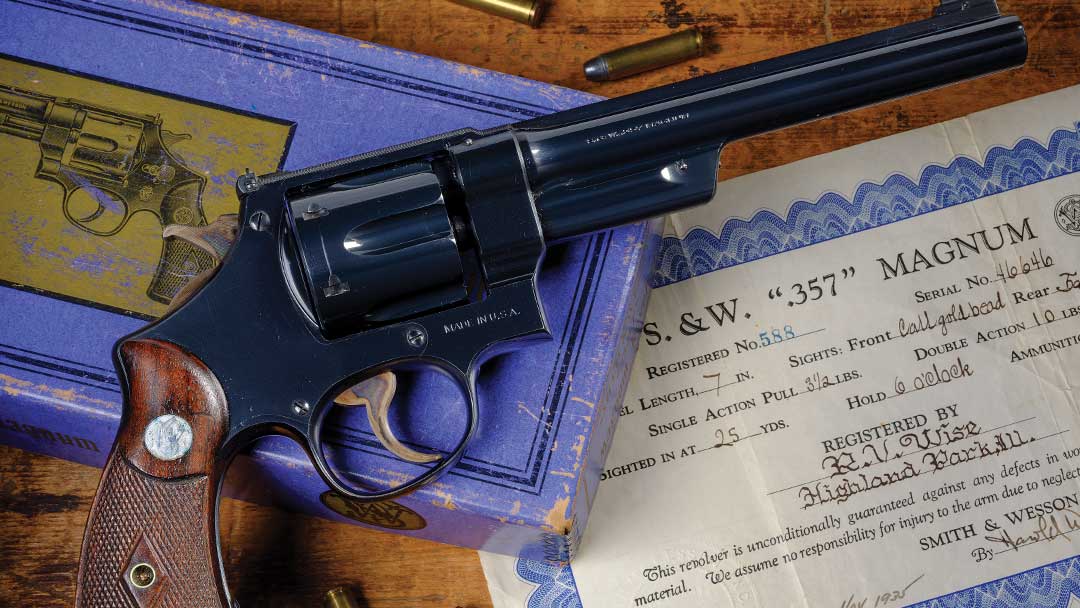 An excellent Smith & Wesson 357 Registered Magnum revolver with the extremely scarce 7 inch barrel length, from the Dave Ballantyne Collection. The revolver includes its registration certificate and its original box. Available this December.
Douglas Wesson's highly publicized hunts helped establish the .357 Magnum as a big game hunting pistol. After WW2, the .357 Magnum revolver became a standard catalog item and more affordable to the general public. The Smith & Wesson Model 27 revolver served in a variety of roles, with handgun hunters preferring the 6 inch, 6 1/2 inch, and 8 3/8 inch barrel variants.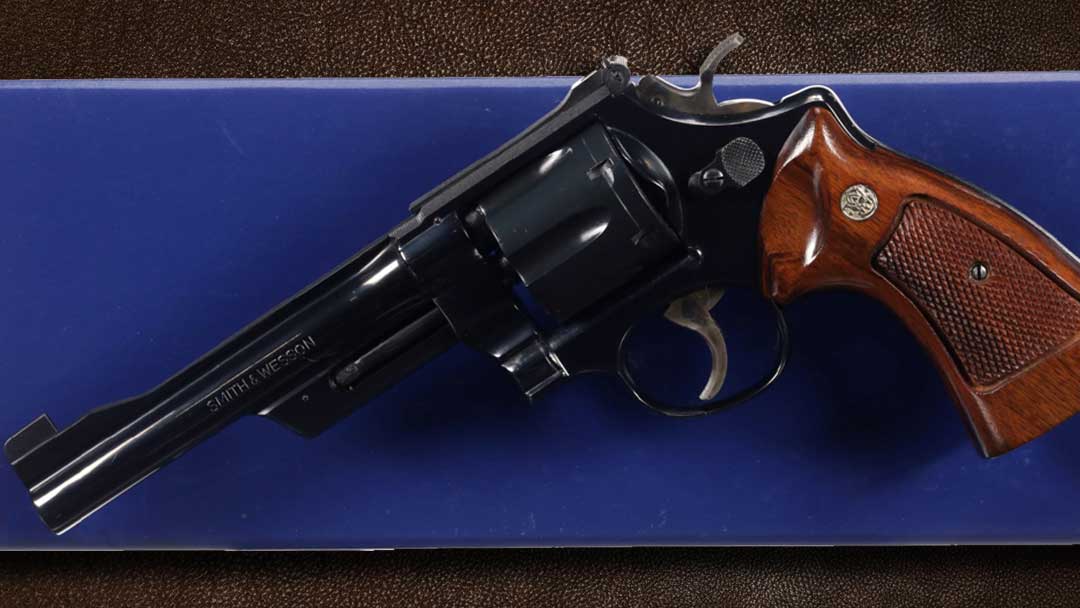 A Smith & Wesson Model 27-2 revolver. Available this October.
The .44 Magnum
The .357 cartridge established "The Magnum Era", where larger caliber revolvers dominated the firearms market for decades. In the hands of an expert, the .357 Magnum is a fine hunting pistol, but an even more powerful cartridge was needed to open the revolver hunting pursuit to the masses.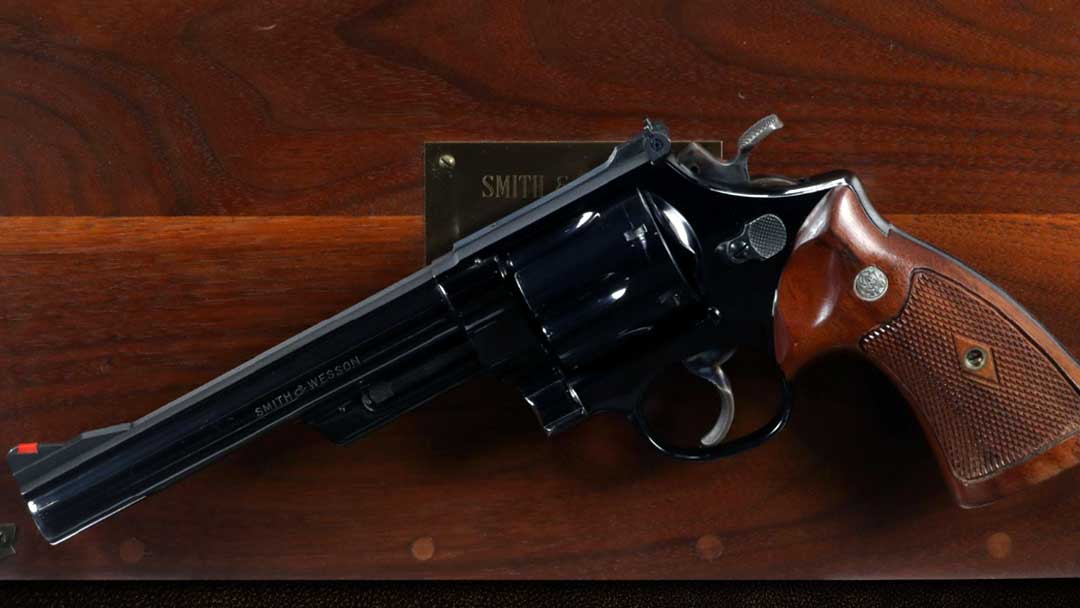 A Smith & Wesson .44 Magnum Pre-Model 29. The included factory letter confirms the current configuration when the revolver was shipped on December 12, 1956, to Seattle Hardware Co. of Seattle, WA. Available this October.
In the mid-1950s, Elmer Keith pushed Smith & Wesson and Remington Arms to produce a stronger factory variant of the .44 Special cartridge and a revolver frame sturdy enough to handle it. In January 1956, Remington's .44 Magnum ammunition and Smith & Wesson's new revolver were unveiled to the general public. Bill Ruger stepped into the market shortly after with a Blackhawk model chambered in Remington's powerful new cartridge, offering his revolver at a slightly lower price point than Smith & Wesson.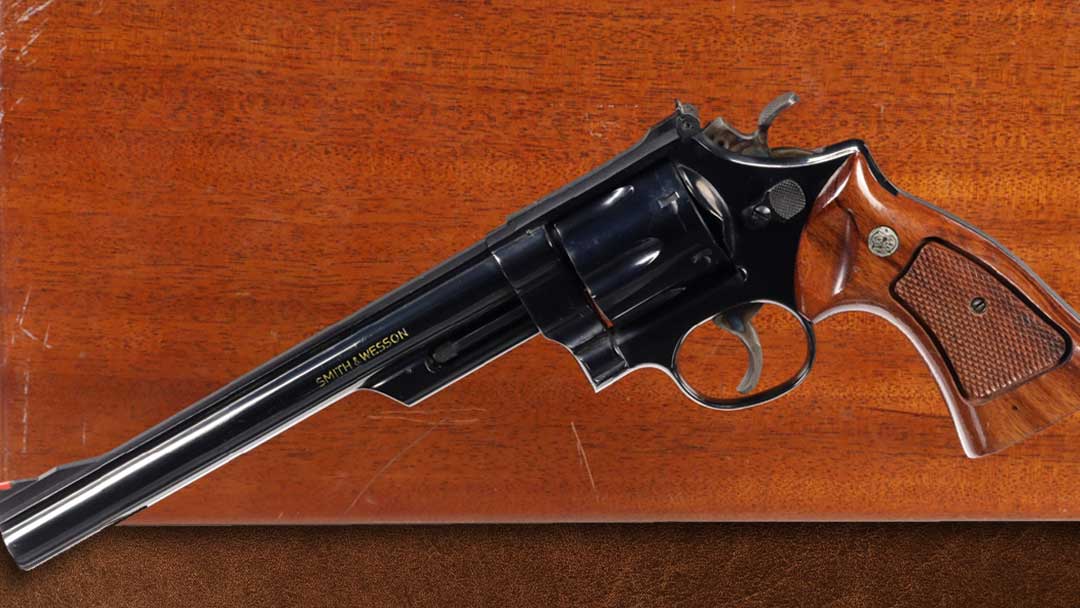 A Smith & Wesson Model 29-2, manufactured in 1975/76. Includes a relined factory hardwood case. Available this October.
The .44 Magnum revolver met with swift success and dealers struggled to keep the guns in stock. The hefty cartridge performed well on deer and larger game, offering the accuracy, power, and down-range performance that handgun hunters were looking for. Numerous revolvers have been chambered in .44 Magnum over the years, with the successors of the S&W Model 29 and Ruger .44 Blackhawk still popular hunting pistols today.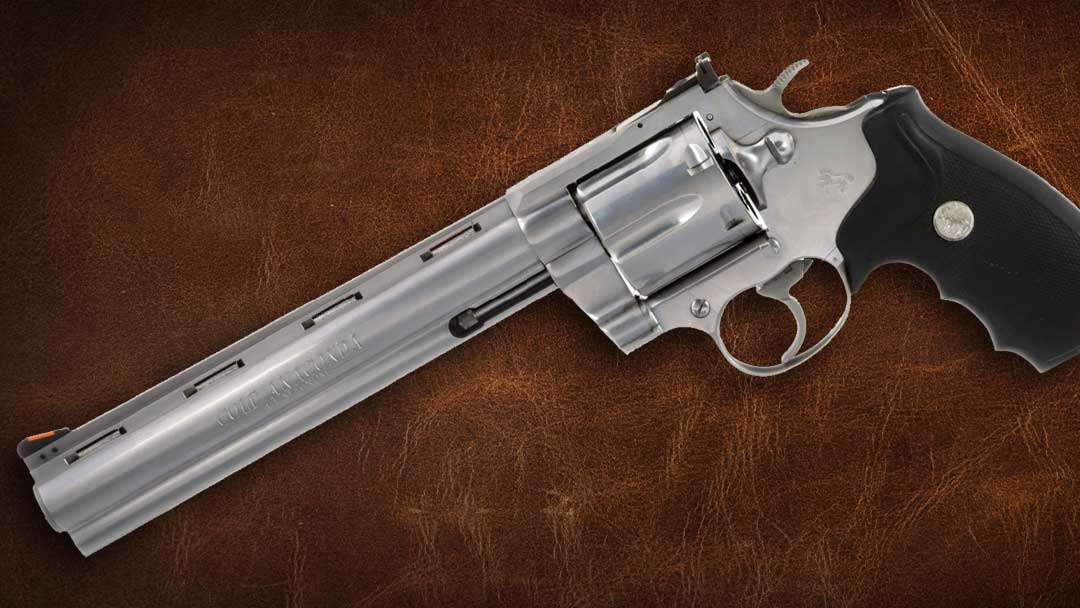 A Colt Anaconda, a .44 Magnum revolver from Colt's popular snake gun line. Available this October.
Elmer Keith lobbied Remington and Smith & Wesson again in 1963, this time advocating for a cartridge that could fall somewhere in between .357 and .44 Magnum. The .41 Magnum was born, along with the S&W Model 57 revolver and its Ruger .41 Blackhawk competitor. For handgun hunting enthusiasts, the .41 Magnum offered more power than the .357 cartridge and a more manageable recoil compared to its larger .44 Magnum sibling.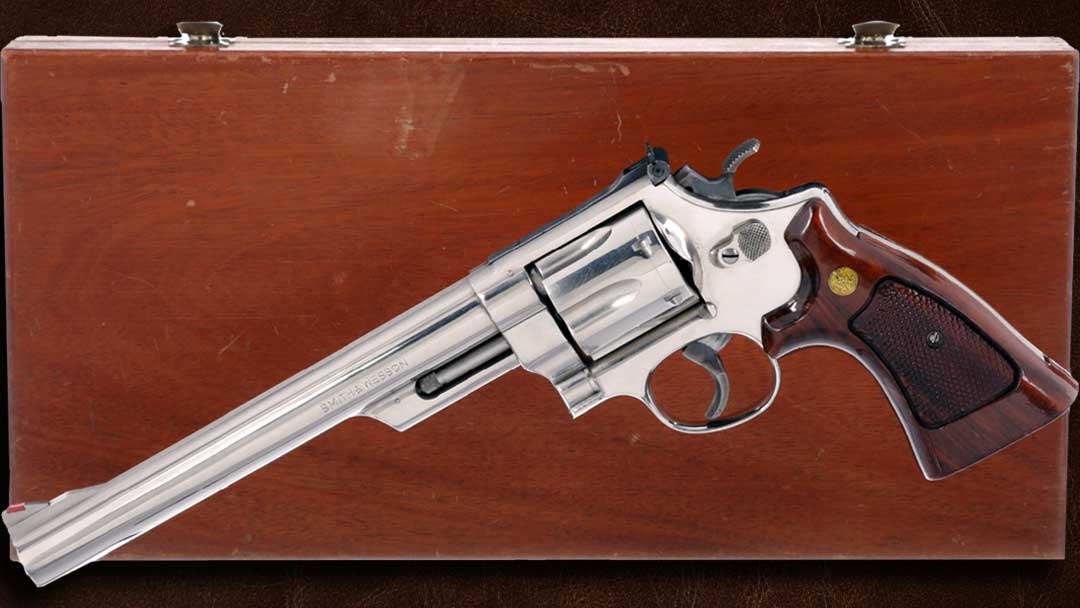 A Smith & Wesson Model 57 double action revolver with its case, one of the most popular hunting pistols in .41 Magnum. Available this October.
Though the .41 Magnum revolver never reached the popularity of its .44 caliber counterpart thanks to the cultural influence of 1971's "Dirty Harry" film and the .44 Magnum craze that swept America, the .41 Magnum is viewed as an effective cartridge today, with revolvers like the .41 New Model Blackhawk continuing to meet the demand for the underrated round.
Choosing the Right Hunting Pistols
Handgun hunting has been popularized over the decades by writers such as Al Georg, Bob Milek, J.D. Jones, and Hal Swiggett, and today the sport is enjoyed by millions of hunters each year. Hunting pistols can serve in nearly any niche, taking everything from rabbits to hogs to big game such as elk, moose, and bear when utilizing the right combination of gun model, ammunition, knowledge, and accurate shooting.
Two Smith & Wessons. (Top) A S&W Model 29-3 Classic Hunter revolver chambered in the mighty.44 Magnum. (Bottom) A S&W Model 16-4 revolver in .327 Federal Magnum, a round which provides a hefty punch in a small package. Available this October.
While iron sights can serve a skilled handgun hunter in close-range encounters, optics like the red dot or reflex sights can greatly extend a hunting pistol's distance potential. Handgun scopes are another popular option and can be mounted on many revolver and pistol models.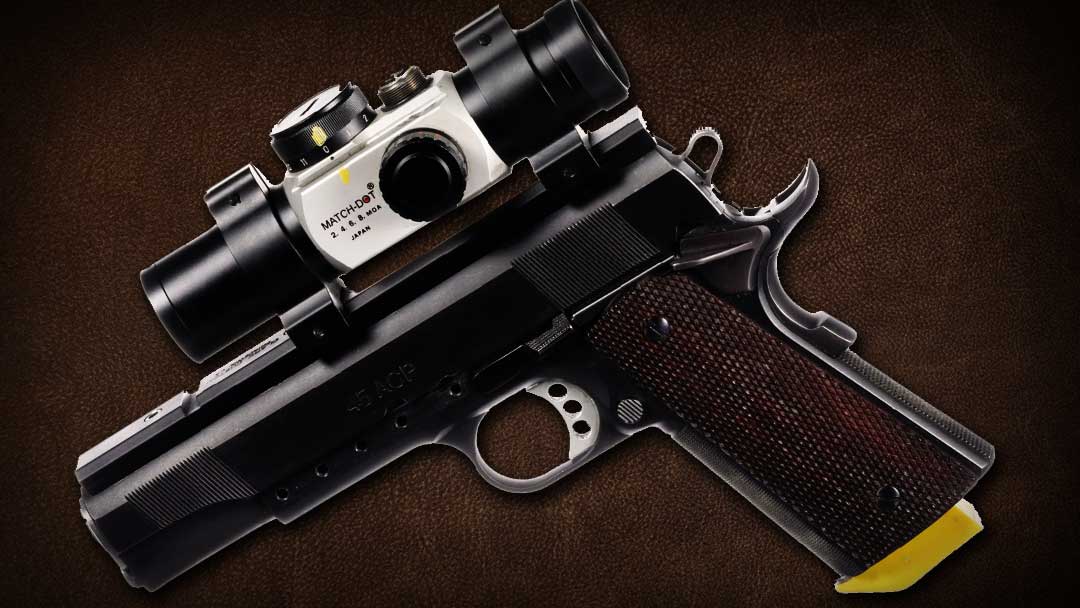 A Les Baer Model 1911 Bullseye Wadcutter .45 ACP semi-automatic pistol with a Match-Dot red dot sight. Available this September 13th.
The most important factor in selecting the right hunting pistol is choosing a weapon capable of reliably hitting the prey inside the effective range with enough power to take the animal in a single shot. Weaker rounds can leave less margin for error and require more precise bullet placement, reducing the odds of an ethical kill. As John Wooters noted, each trigger pull in the field is a game management decision, and a serious sportsman owes their prey a clean, quick demise.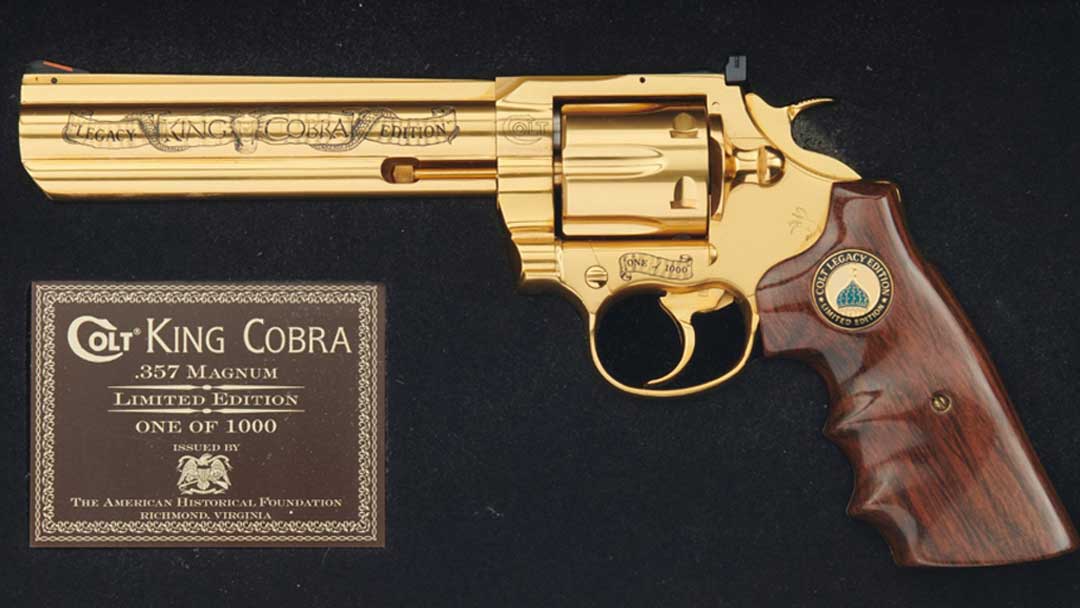 A Legacy Edition Colt King Cobra .357 Magnum revolver, one of 1,000 manufactured and subsequently embellished for The American Historical Foundation. Includes its certificate of authenticity and glass top display case. Available this October.
Single Shot Hunting Pistols
In 1967, Thompson Center Arms released the Contender pistol, a break-action, single shot design. Initially only offered in .22 LR and .38 Special, the rugged pistol proved more than capable of handling a range of powerful cartridges and quickly became one of the most popular handgun hunting pistols on the market.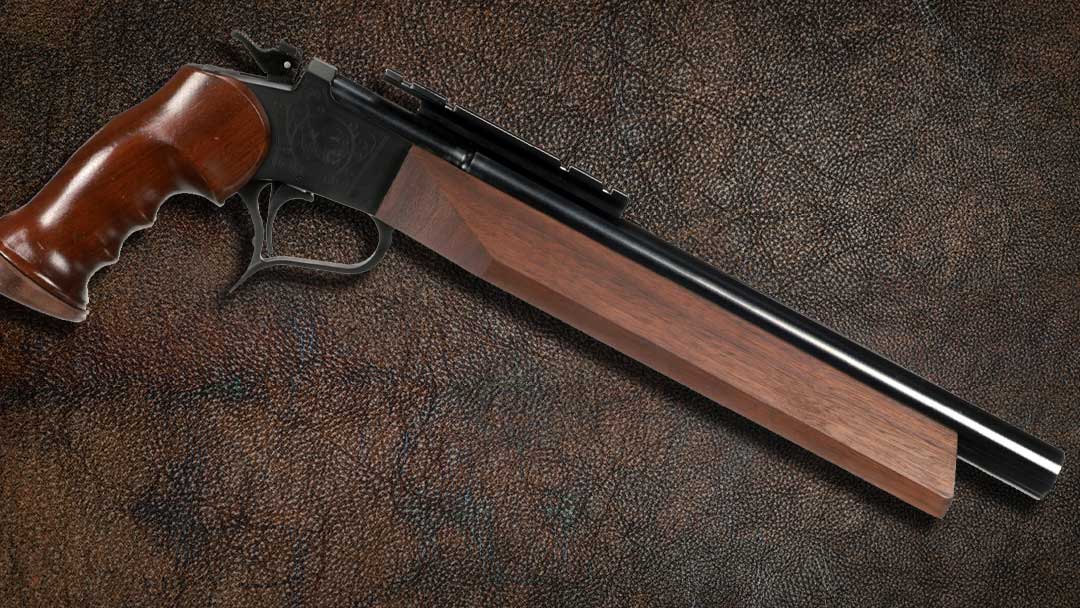 A Thompson Center Contender single shot pistol with three extra barrels, cartridge cases, and case. Available this October.
With a simple barrel swap, the Thompson Center Contender can be adapted to almost any hunting need. The example below includes seven extra barrels and illustrates the utility the platform offers in terms of chambering, barrel lengths, and the pistol's ability to be equipped with many types of scopes.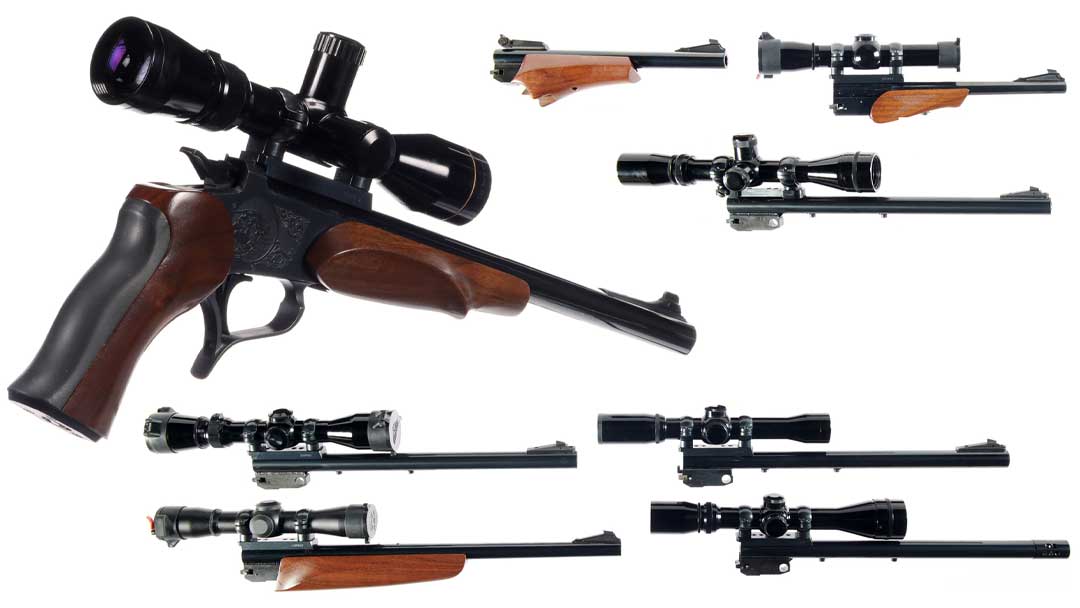 A Thompson Center Arms Contender single shot pistol with seven extra barrels, including a 16 inch barrel chambered in .45-70 Government with a Leupold M8-4x Extended E.R. scope, a 14 inch barrel chambered in .44 Rem Mag with a Burris 4x scope, and a 10 inch part octagon barrel chambered in .256 Win with a Leupold "M8-2x Extended ER" scope. Available this October.
Bolt Action Hunting Pistols
In 1963, Remington released the XP-100 pistol. The handgun utilized the now-famous Remington 700 action and was initially chambered specifically for the .221 Fireball, a shorted version of the .222 Remington rifle cartridge. Like the Thompson Contender, the Remington XP-100 was well-suited to scopes and quickly caught the attention of the handgun hunting community. The pistol was soon chambered in a variety of full-sized rifle rounds.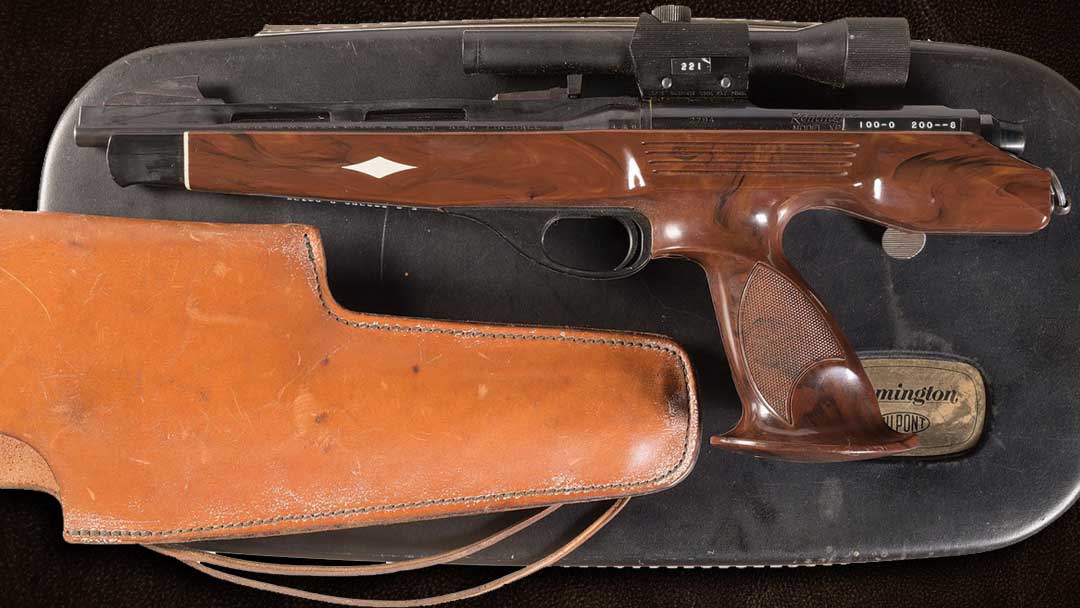 A classic hunting pistol. This Remington Model XP-100 single shot bolt action pistol sold in June of 2019 at RIAC.
The Remington XP-100 lives on in the XR-100 model, and today's sportsmen enjoy numerous options for bolt action hunting pistols offered in a variety of rifle chamberings. The popular Savage Arms 110 series and its 10 round box magazine design demonstrates the desire for a high-capacity big game hunting pistol, while models like the Keystone Sporting Arms Cricket single shot bolt action pistol family present reliable options targeted toward the entry-level handgun hunter. Firearms fans are well familiar with both of these actions from their rifle counterparts.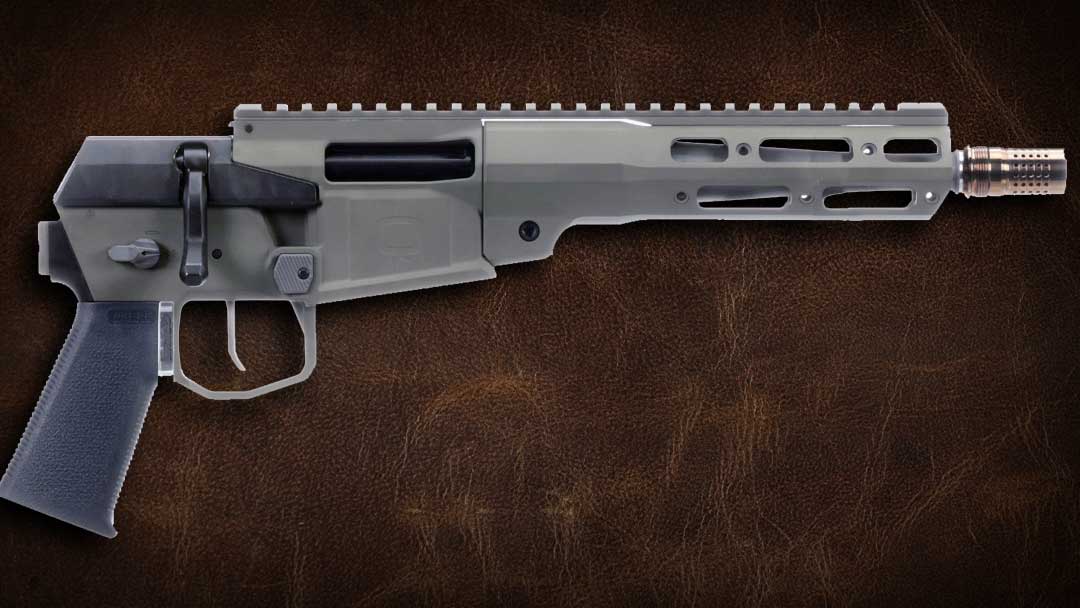 A Q LLC Mini Fix bolt action pistol chambered in 300 Blackout, a capable deer hunting round. Available September 13th.
Semi Automatic Hunting Pistols
Though revolvers and single shot hunting pistols dominate the handgun hunting pursuit, semi automatic pistols are also a viable platform in some jurisdictions. During Arizona's Handgun, Archery, and Muzzleloader season every spring, for example, semi automatic hunting pistols have become an increasingly popular option for taking Javelinas.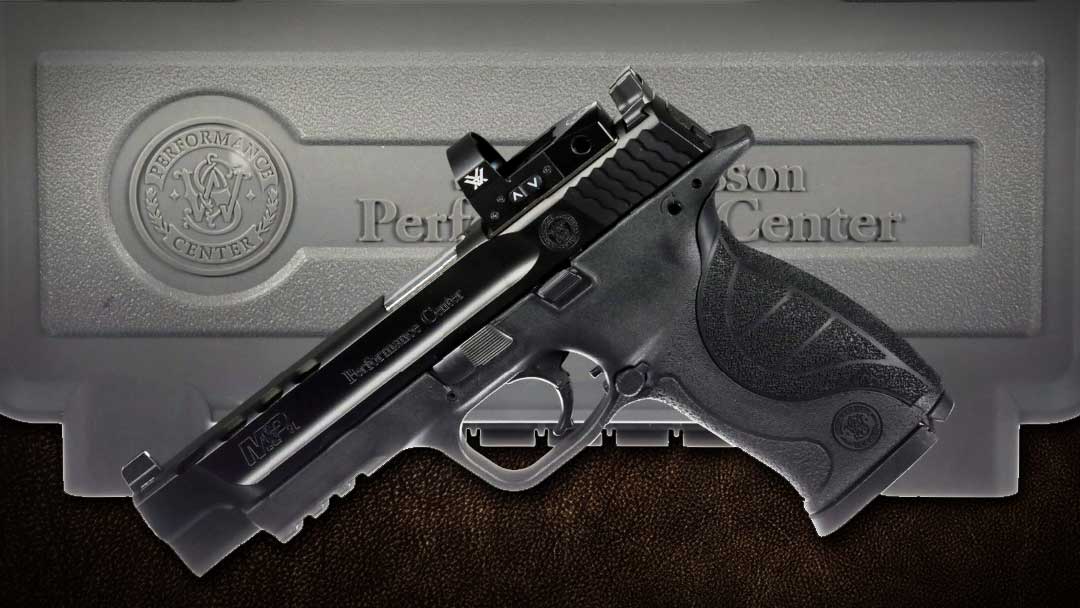 A Smith & Wesson Performance Center M&P9L ported semi automatic pistol with matching factory case, Vortex Venom red dot sight, lock, extra back straps, extra magazine, and extra optics mounting plates. Available September 13th.
Cartridges like the tried-and-true .45 ACP, the potent 10mm, and the less appreciated .40 Smith & Wesson are all effective options for semi automatic hunting pistols in the right hands and used on appropriately-sized game, with calibers like .22LR serving as a more appropriate small game hunting and pest control round.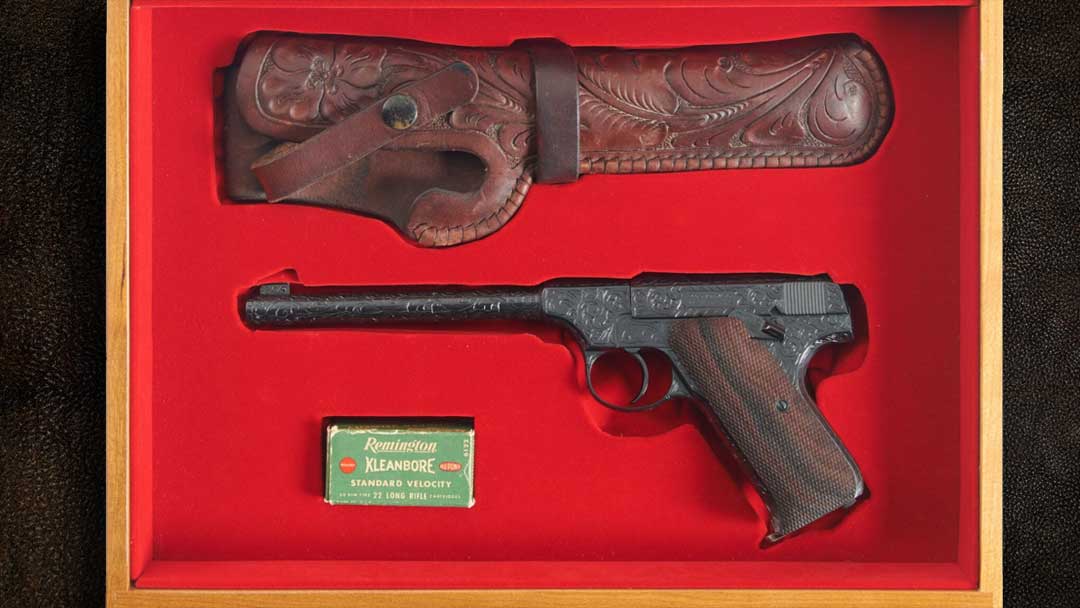 One of two consecutively numbered Colt pre-Woodman pistols, this set was manufactured in 1916 and engraved and signed by the renowned Robert Valade. Includes a custom matching numbered wooden Colt display case, two holsters, and two boxes of vintage .22LR ammunition. Available this October.
Big Calibers for Hunting Pistols
Big game falls best to the biggest rounds, and today's handgun hunting fans have no shortage of options to consider. Ammunition and firearms designer John Linebaugh, following in Elmer Keith's footsteps, introduced several hefty cartridges in the 1980s more than capable of felling big game. The early '80s also saw the commercial introduction of the .454 Casull, a cartridge that famous wildcatter Dick Casull had been offering since the 1950s.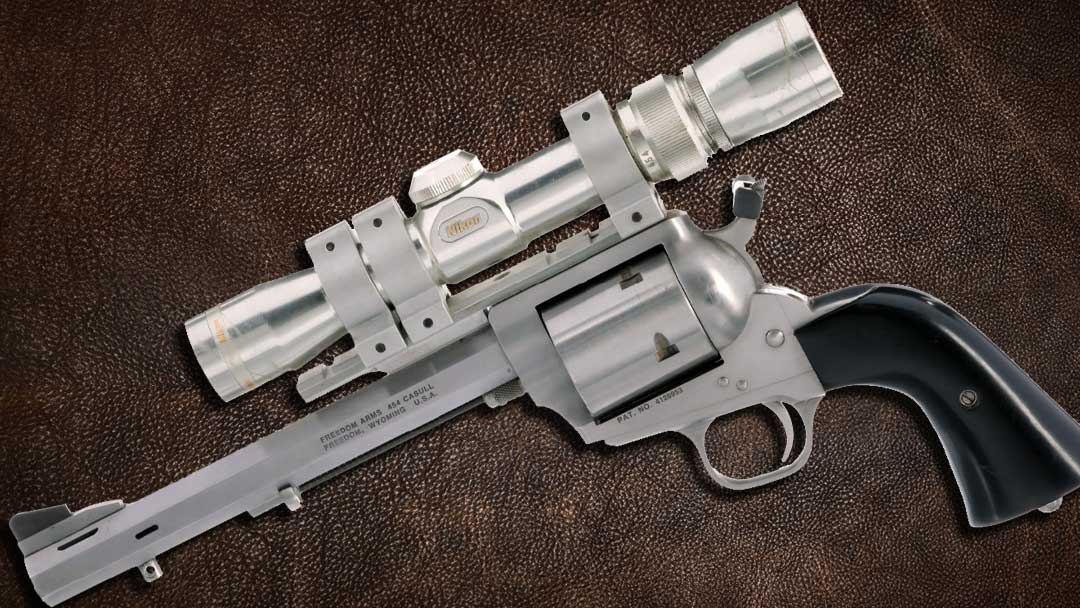 A Freedom Arms Model 97 Premier Grade SA revolver chambered in 454 Casull. Includes a Nikon 1.5-4.5x24mm extended eye relief scope and a leather holster and belt. Available this October.
The .460 S&W and .500 S&W hit the market in the early 2000s, as did .480 Ruger, a slightly lighter version of the .475 Linebaugh. Though all these rounds produce tremendous recoil, they carry more than enough energy to humanely cull any North American game animal as well as many of Africa's most dangerous game.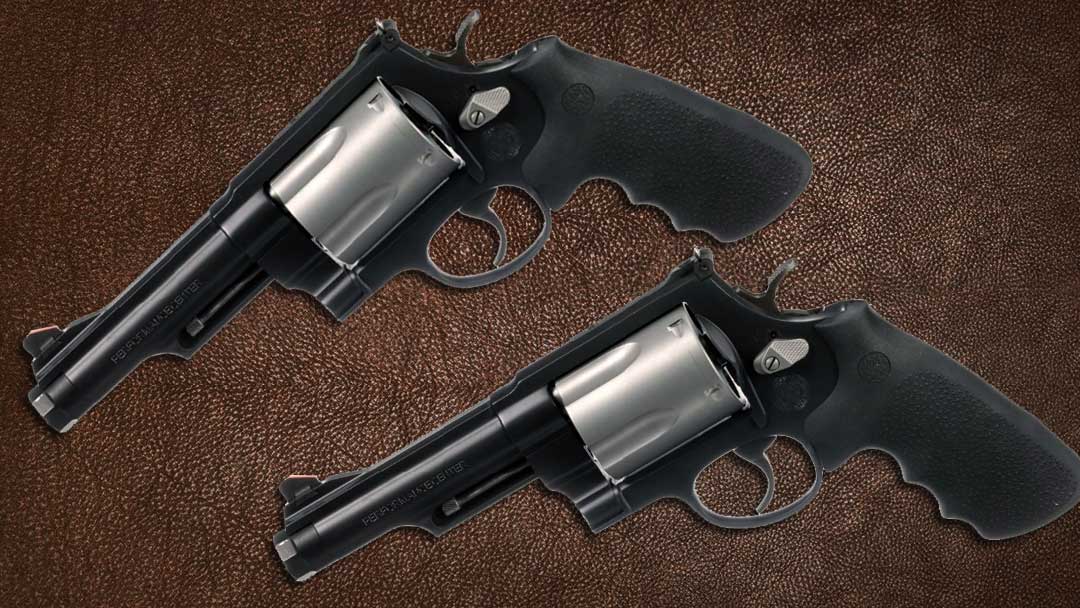 A pair of powerhouse hunting pistols, these two consecutive serial number Smith & Wesson Model 500 Performance Center/John Ross revolvers are chambered in 500 S&W Magnum. Available this October.
Hunting Pistols for Sale
Handgun hunting can be enjoyed using a wide variety of pistols that each offer a unique experience. Whether you're interested in owning one of the vintage classics like the .44 Registered Magnum and its Model 29 successors, a single shot Thompson Center Arms Contender, or a modern powerhouse big bore Ruger Super Redhawk, you'll find dozens of options to field this fall at RIAC.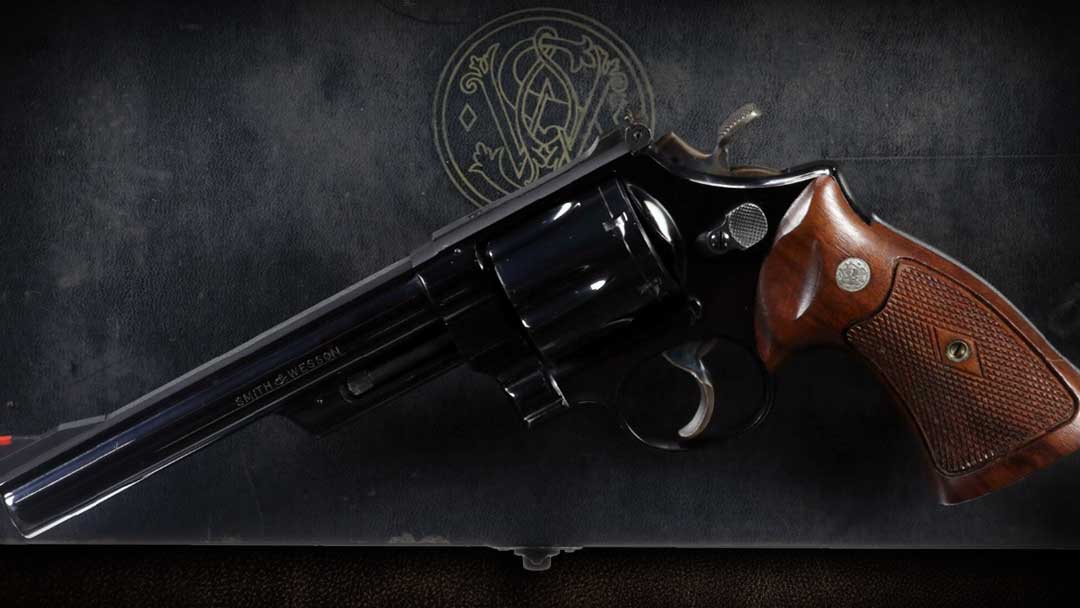 Smith & Wesson .44 Magnum Pre-Model 29 Double Action Revolver Manufactured in 1956. With factory .44 Magnum case and a soft case. Available this October.
A vast selection of hunting pistols for sale are offered during Rock Island Auction Company's October 4 – 6 Sporting & Collector Auction, along with rifles, shotguns, military arms, and every genre a firearms fan could ask for. With so many lots available and virtually no reserves, there's no shortage of deals to be had at this remarkable event, and attending in person is an experience unlike any other.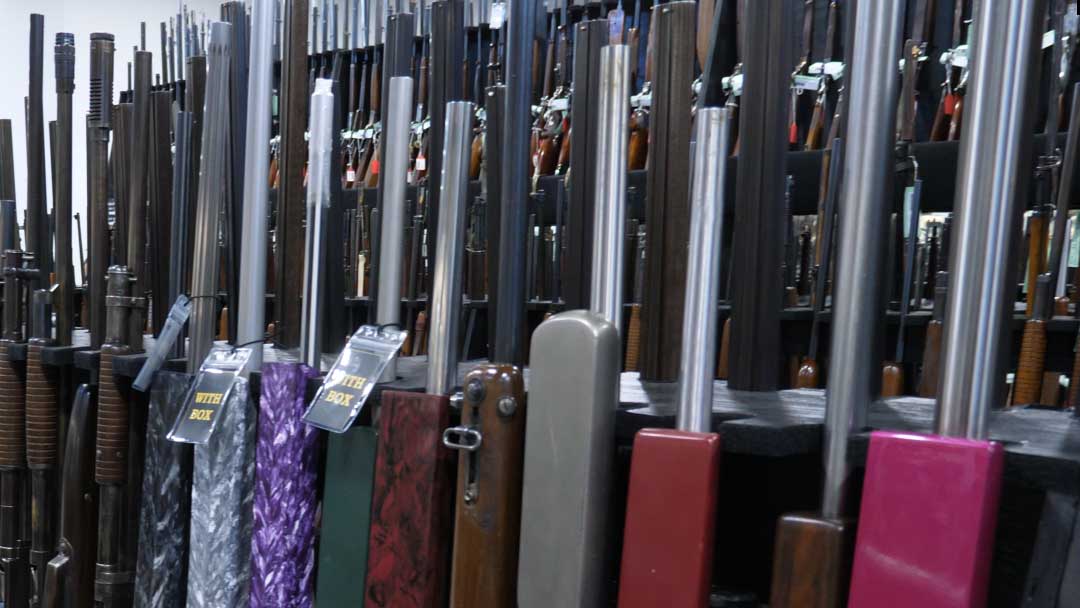 Rock Island Auction Company's Sporting & Collector events are the best gun shows you've never been to, and October's 4 – 6 S&C Auction promises to be the finest firearms show of the fall. It's a gun show unlike any other, a museum you can touch.‌
History is filled with unique and unusual sporting arm variants, so subscribe to the Rock Island Auction newsletter for more gun blogs and gun videos on curiosities like the Punt gun, the Paradox gun, the .950 JDJ Fat Mac, the SPAS-12, the M30 Drilling, and more.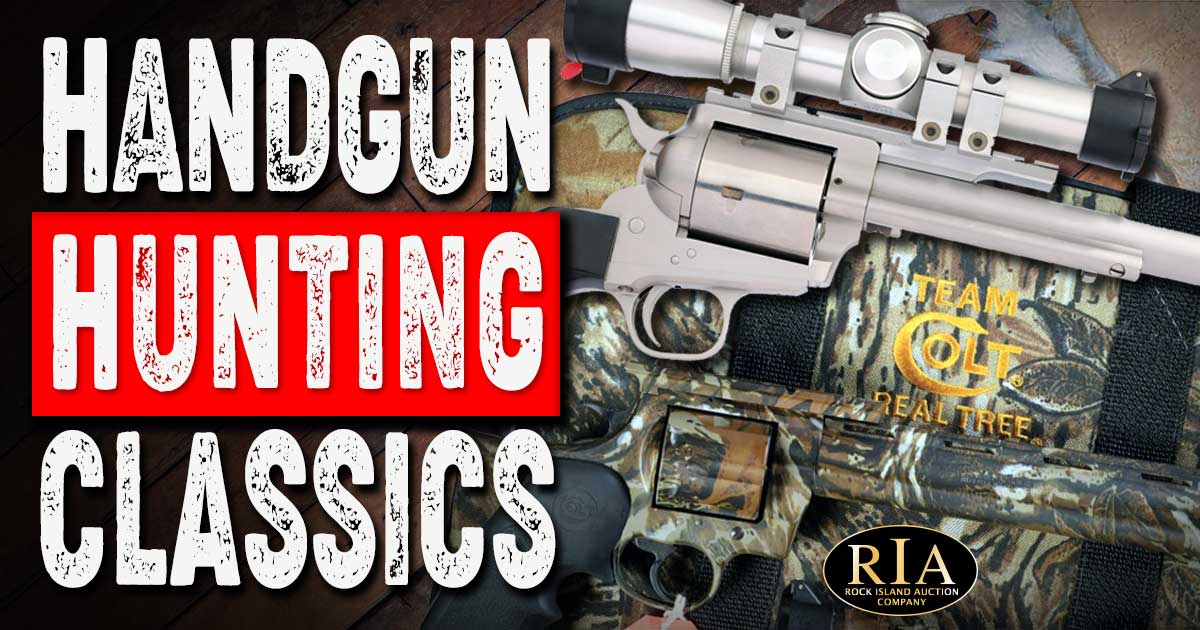 Rock Island Auction Company