The Henry repeating rifle is legendary among collectors for its American Civil War ingenuity and as the base of the iconic Winchester 1866 rifle, and Rock Island Auction Company is proud to offer historic and dazzling examples in an exemplary lineup of six of these innovative repeaters in its Aug. 26-28 Premier Auction.
They include a NRA silver medal-winning, engraved, silver-plated Henry rifle made in 1863, an exceptional and martially inspected Henry manufactured in 1864, and an 1865 engraved model that was presented to David Kalakaua, the last king of Hawaii.
Two of the six on offer are attributed to the Union Army's Veteran Volunteer Infantry in the Civil War, while another has Confederate ties. One is considered "an untouched original Henry." Also available is a rare full crate of Remington-UMC .44 Henry flat cartridges.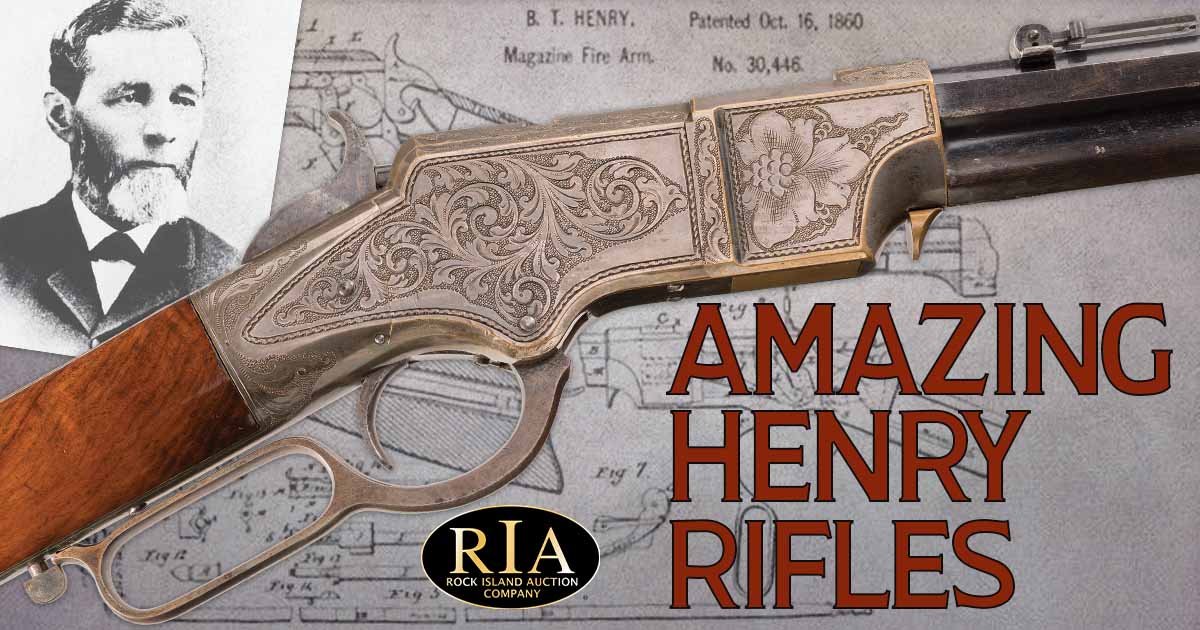 A slate of six Henry Repeating Rifles, from a NRA silver medal-winning Henry rifle to a simple but fine conditioned sample, as well as a full crate of ammunition are on offer in the Aug. 26-28 Premier Auction.
Henry Repeater: The Basics
Charged with trying to fix the Volcanic repeating pistol that regularly malfunctioned, Benjamin Tyler Henry, superintendent of the New Haven Arms Company, took charge. He made a self-contained cartridge, making it more potent, and fashioned a beefier gun receiver out of brass all while perfecting a loading system and mechanism to eject the spent casing. The Henry repeating rifle was born on the eve of the American Civil War.
Only 1,731 were purchased by the federal government and about 14,000 were made by New Haven Arms Company before being discontinued in 1866. During that time between 6,000 and 7,000 privately purchased Henrys saw action in the Civil War, mostly on the Union side.
The rifle, with 15 in the magazine and one in the chamber offered far more firepower than a musket, which an experienced rifleman fire at the rate of three shots per minute. Union soldiers were willing to fork over $40 — about $1,200 now, for a Henry, thinking its high capacity and rapid fire could be a life saver.
Benjamin Tyler Henry's lever action rifle intimidated the Confederates with its high rate of fire. One Union commander wrote to Oliver Winchester, partner of New Haven Arms Company, that a captured Confederate told them, "Give us anything but that damned Yankee rifle that can be loaded on Sunday and fire all week."
Medal-Winning Henry Rifle
A limited number of factory engraved Henry rifles were made and Lot 14 is a remarkable example among them, having received a silver medal for "Ten Best Arms" at the 2000 NRA National Convention. The rifle has been inspected by authors George Madis and R.L. Wilson. The Madis description states that the rifle is "all original as made by the New Havens Arms Co.," and that "Every pin, screw and all components are as they left the factory."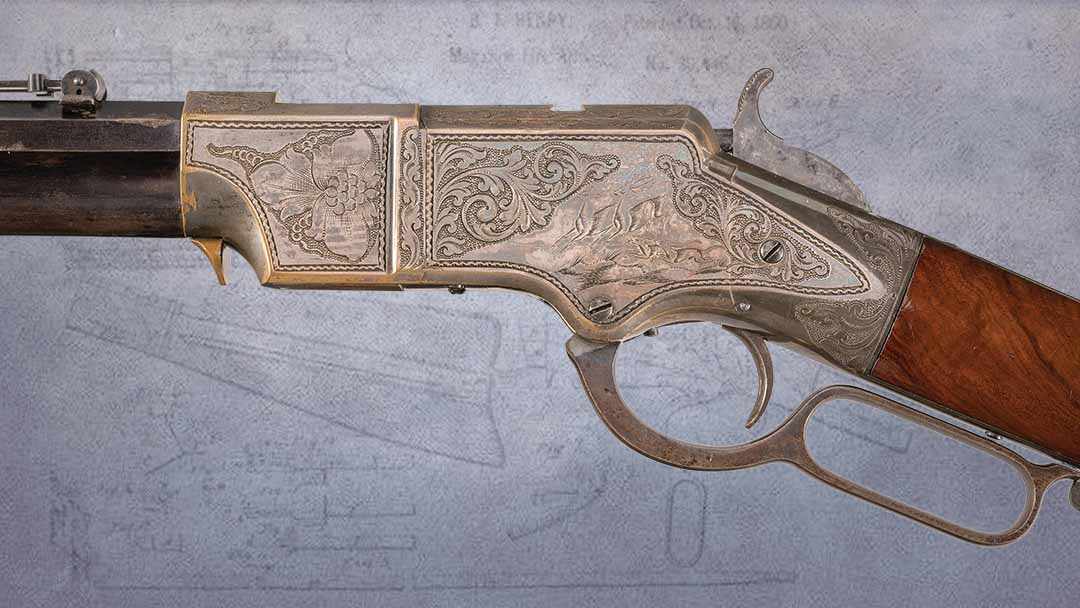 This remarkable Henry Repeater earned a sliver medal for "Ten Best Arms" at the 2000 NRA National Convention.
The rifle retains 90 percent of its original blue and silver-plated finish. The New Haven Arms legend and serial number are perfect. The factory engraving has a combination of scrollwork on a punch-dot background, floral designs, and a rare game scene. The game scene on the left side plate features two deer being pursued by a pair of hounds and is the only factory engraved Henry rifle known with four animals in the scene. The rifle has extensive scrollwork on the top and rear of the receiver, upper tang, and buttplate.
Henry Rifles as Inducements
While many soldiers paid for Henry repeaters out of their own pockets, some units provided the rifles as a recruiting incentive, allowing the soldiers who signed up to keep the rifles when their enlistment was up.
Two of the Henry rifles on offer in the August Premier Auction are from volunteer units including one that has soldier engraving. In December 1864 the Federal Army organized nine regiments composed of honorably discharged volunteers to act as an elite infantry corps. These regiments were armed with Sharps, Spencer, or Henry rifles. As an enlistment bonus, the volunteers were authorized to keep their rifles when they mustered out of federal service. Rifles documented to individual soldiers are rare.
Approximately 800 Henry rifles were issued to the 3rd Veteran Volunteer Infantry (VVI) including a number of rifles initially purchased to arm the 1st District of Columbia Cavalry regiment in 1864. The 1st D.C. Cavalry and 3rd VVI were the only federal regiments issued Henry rifles by the Ordnance Department during the Civil War.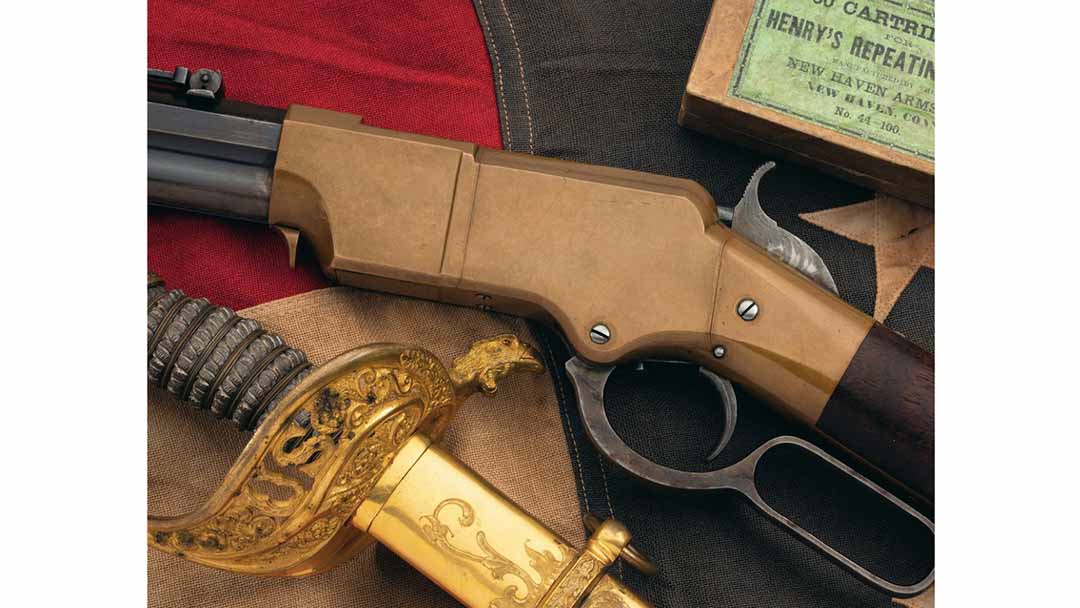 This Henry lever Action rifle was issued to a soldier of the Veteran Volunteer Infantry soldier as an inducement to re-enlist.
Lot 1011 is serial number 7614 which falls within the serial number range of 627 Henry rifles purchased by the Ordnance Department for the 3rd VVI, assigned to the defense of Washington, D.C. The rifle is described as one of the best Henry rifles in existence. The barrel and magazine maintain more than 70 percent of the original blue finish and the brass frame has a highly attractive, untouched, aged appearance. The receiver has tight fitting sideplates and 40 percent of the original nitre blue remains on the bolt and even the hammer still possesses touches of the original case colors.
A soldier-engraved Henry Rifle, Lot 75, was also issued to the 3rd VVI and has engraving by Pvt. Lewis Reibrecht featured in the 2016 issue of "Man at Arms" magazine. Reibrecht was a period engraver and the only one known in his regiment. His own engraved Henry was sold at Rock Island Auction in 2013, but this is one of the 26 he engraved, this specific example for Pvt. George Bemfer. The rifle's engraving consists of floral and scroll patterns and wavy line borders on the frame and buttplate along with a figure-eight and banner design on the right side plate, a cross on the front left, and a patriotic shield, flags, and arrows and spears on the left side plate.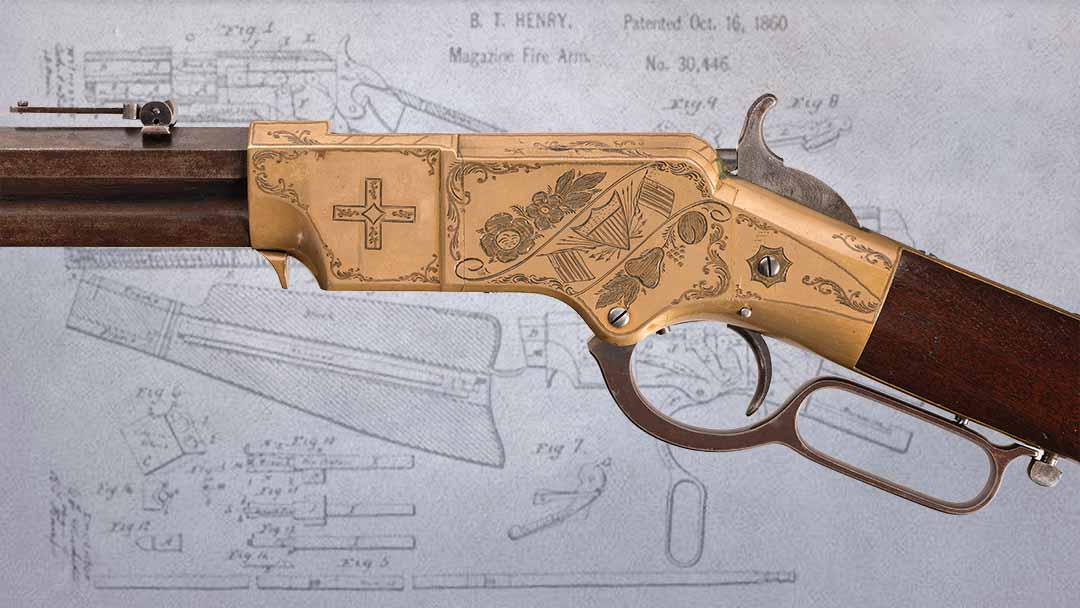 This engraved Henry Repeating Rifle was issued to a soldier of the Veteran Volunteer Infantry. The engraving was done by a fellow soldier.
Confederate Henry Repeater
While Confederate soldiers were cowed by the Henry's firepower, they also believed that Union soldiers could be talked into selling them. One anecdote tells of a soldier saying he isn't afraid of a Yankee with a Henry. "If I should see a Yankee with his gun leveled and looking right at me, I would draw out my pocket-book and ask him what he would take for his gun and the fight would end right there."
A Henry rifle attributed to Confederate Major John H. Hannah is Lot 1130 in the August Premier Auction. Some Confederate soldiers were able to buy Henry rifles, but most were captured. A family letter states the rifle was passed down through the family until it was sold in 1979. The gun is described in good "out of the attic" condition and is mechanically fine.
Major Hannah served in the Old 19th Tennessee. The unit fought in nearly every campaign with the Army of Tennessee including Fishing Creek and Shiloh. It was at Shiloh where it is believed Major Hannah suffered a chest wound that would leave him with lung issues for the remainder of his life.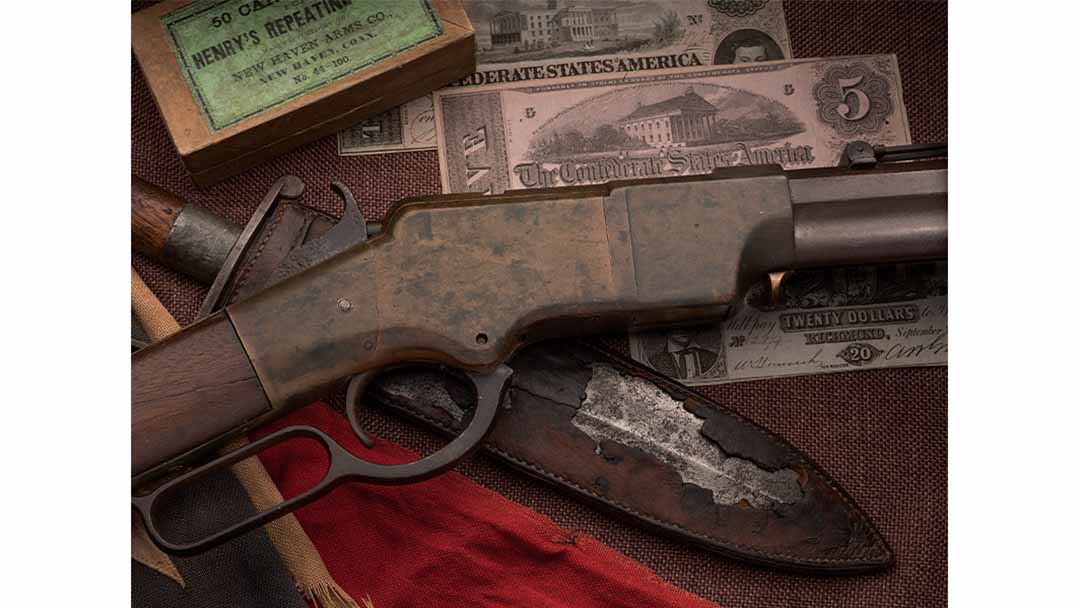 A Henry Repeater attributed to a Confederate soldier is rare. A Confederate soldier could buy them but most were captured.
Henry Rifle Fit for a King
Edward Moody McCook was from a long family line that fought for the Union in the Civil War. He served as a secret agent for the U.S. government before the war and was appointed a 2nd lieutenant commissioned in the 4th U.S. Cavalry in 1861. He was promoted up to major general for gallant and meritorious services before being mustered out in 1866.
McCook was appointed as minister to Hawaii from 1866 to 1868 and concluded the peace that led to annexation of the islands while King Kamehameha V ruled. The rifle was likely given to David Kalakaua, the last king of Hawaii. The gun, Lot 3023, was presented to him before he was king and on Kamehameha's staff, or during Kalakaua's visit to the U.S. from November 1874 to February 1875. The Henry rifle given to Kalakaua has a mottled gray-brown patina and some silver plating. The floral engraving is throughout the receiver with a leaping deer on the left side above the trigger.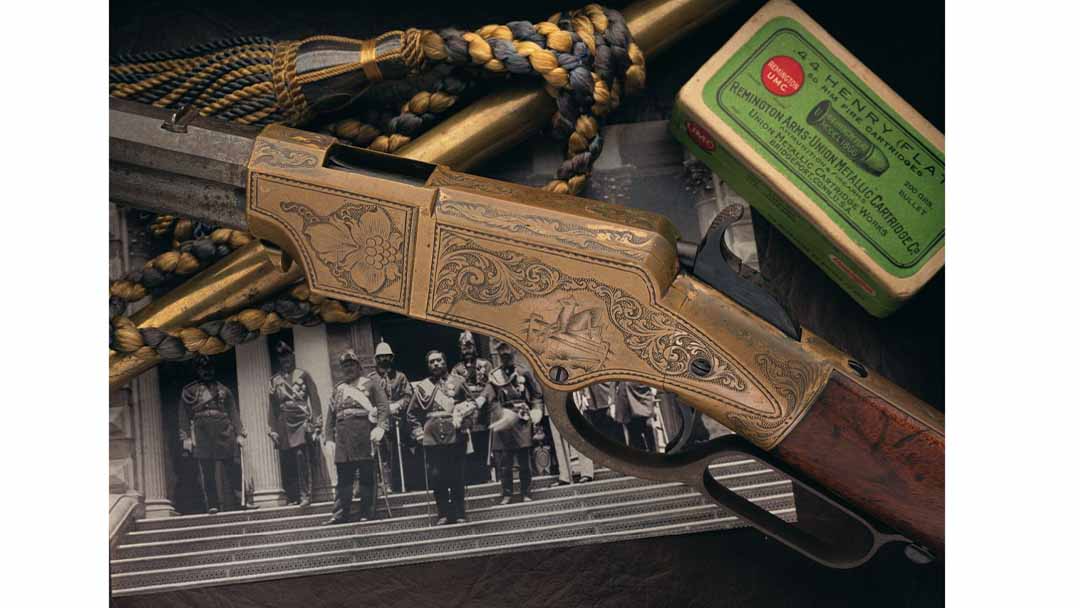 This engraved Henry Repeater was a gift to the last king of Hawaii, David Kalakaua.
"An Untouched" Henry Rifle
Some Henry rifles don't bear an epic story of Pacific royalty, Civil War heroics, amazing engraving and condition, or even a hint of mystery, but are still amazing arms by way of their authenticity and originality. This rifle, Lot 3041, manufactured in January 1864 still catches the eye with the smooth, dark patina on its barrel and magazine and the brass's mellow appearance and is officially appraised as an "untouched original Henry." Mechanically excellent, this is a solid representative example of a Henry rifle with the original condition that collectors crave.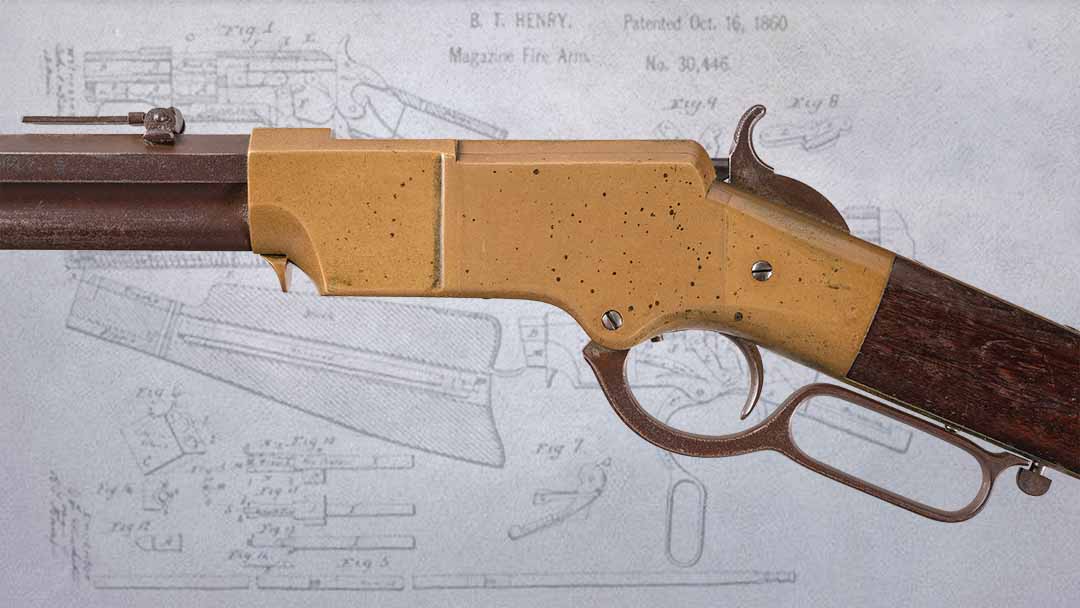 This Henry Lever Action rifle is described by an appraiser an "untouched."
A Crate of .44 Henry Ammunition
The .44 Henry rimfire, or .44 Henry Flat was introduced in 1860, at the same time as the lever action rifle. The ammunition was made until around the Great Depression. Since then, most of the .44 Henry ammunition was used up, so a single box remains hugely collectable. Rock Island Auction has on offer with Lot 1012, a full crate of sealed boxes of .44 Henry ammunition dated April 1924. This highly desirable crate of cartridges with 20 50-round boxes of ammunition making this an unheard of opportunity to get 1,000 rounds of this rare cartridge.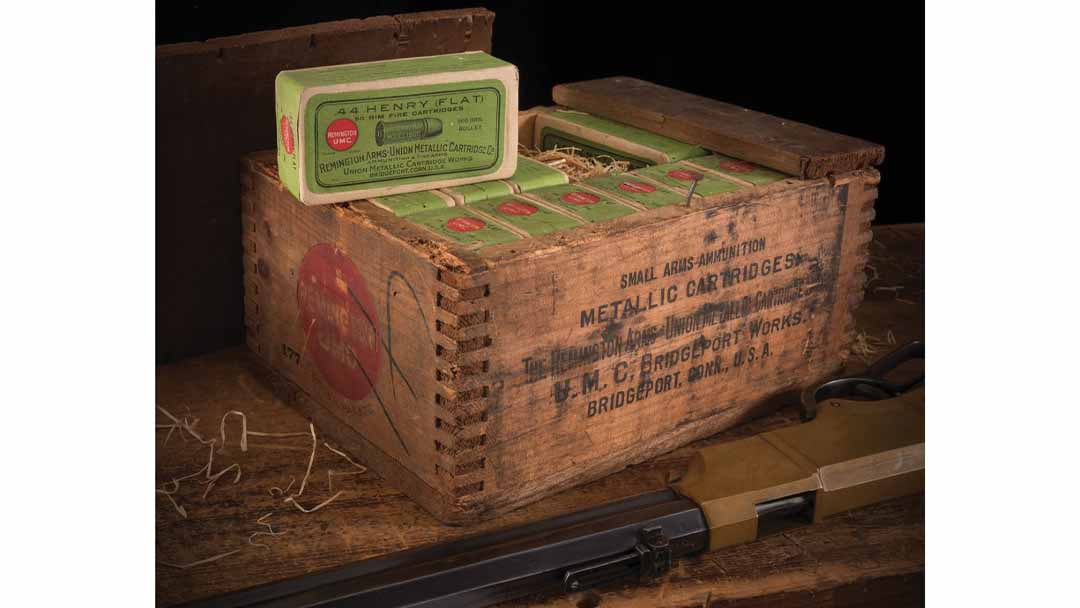 The .44 Henry rimfire cartridge were introduced in 1860 and manufactured until the Great Depression, so this crate of 20 50-round sealed boxes of ammunition is highly desireable.
Remarkable Henry Rifles
The slate of Henry rifles in the August Premier Auction can awe at any level, from the experienced collector looking to add that spectacular piece to those just dipping their toe into the world of fine arms collecting. There is the beauty of an NRA medal-winning firearm, the majesty of Hawaiian imperialism, the rugged history of the American Civil War, or the simple, original rifle that is a joy to own in these rare offerings of Henry lever action rifles in the Aug. 26-28 Premier Auction by Rock Island Auction Company.
Source:
Civil War Guns, by William B. Edwards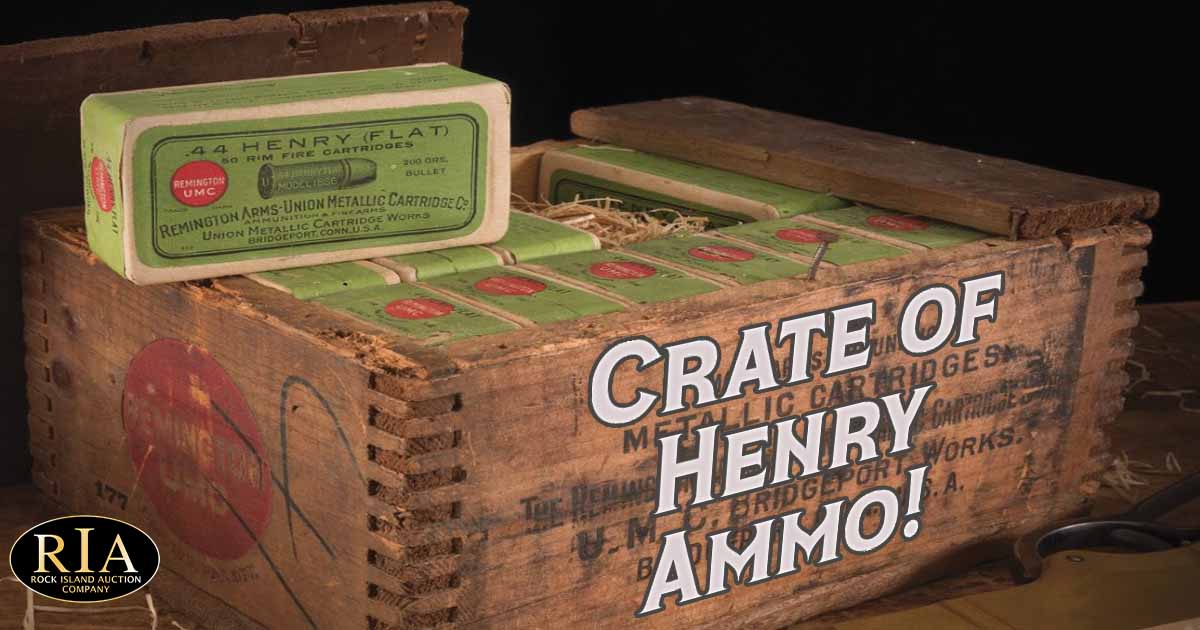 Rock Island Auction Company