Hollywood guns attributed to an Academy Award winner, a TV detective and big screen cowboy, "King of the Cowboys," the "King of Comedy," and "Mister Show Business" are on offer in Rock Island Auction's Premier Auction debuting in Bedford, Texas, Dec. 8-10.
These Hollywood guns were owned by household names: screen legend Gary Cooper, 80s sex symbol Tom Selleck, silent film and early talkies star Tom Mix, comedy great Jerry Lewis, and multi-talented Sammy Davis Jr. All of the guns below will be able to be viewed and inspected at the auction's Dec. 7 preview day. Let's take a look.
Gary Cooper's Guns
Gary Cooper arrived in Hollywood first playing horseback riding extras before getting regular roles and playing memorable characters like his Oscar-winning portrayals of "Sergeant York," and Marshal Will Kane in "High Noon" in his 36-year career. Cooper grew up in Montana where he learned to ride and shoot. During a slow point in his career in 1931 he went on safari in Africa where he collected 82 kills, including a lion, tigers, impala, gazelles, an Oryx, and a rhinoceros.
The rifle on offer is a .30-06 Springfield rifle crafted by Griffin & Howe that bears his initials on a silver oval on the underside of the stock and has a Zeiss scope. Cooper was a close friend and hunting companion of towering literary figure Ernest Hemingway. The men admired each other's gun collections and Hemingway had expressed jealousy over at least one of Cooper's rifles. This gun appears to be shown in photos of Cooper on the hunt in Idaho with Hemingway. It was originally chambered in .220 Swift according to factory documents before it was rechambered, likely by Griffin & Howe.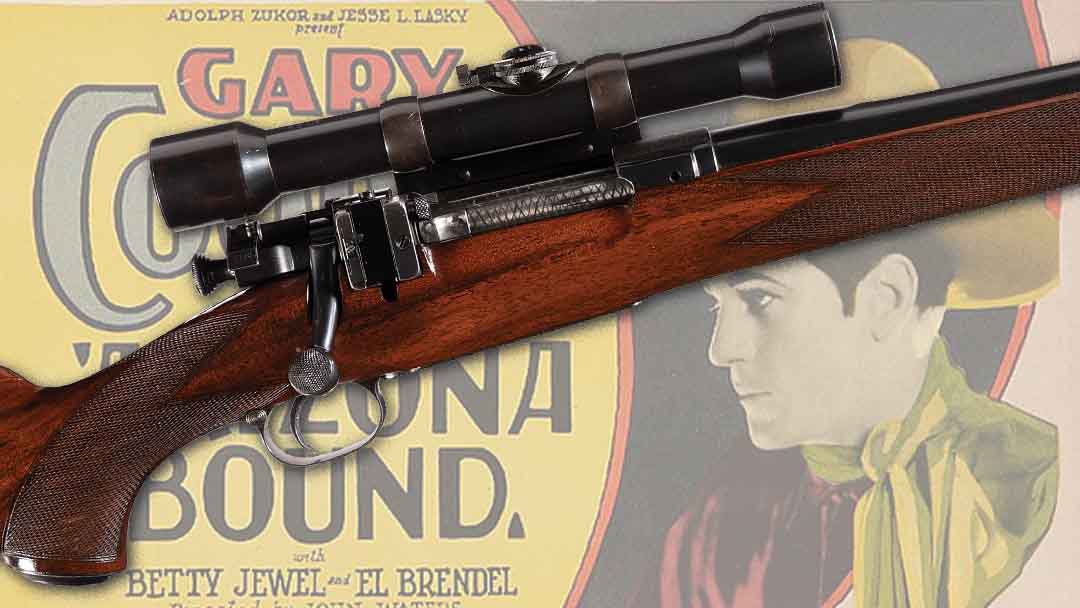 This .30-06 Springfield rifle with a silver oval on the underside inscribed with "GC" for Gary Cooper. It was originally chambered in .220 Swift. The original caliber has been milled off and replaced with ".30-06." It has a Zeiss scope and knurled bolt handle and a deluxe checkered shadow line cheekpiece stock.
The limited edition book "High on the Wild with HEMINGWAY" by Lloyd Arnold has an image on pg. 188 of Gary Cooper in the snowy mountains outside of Ernest Hemingway's Trail Creek Cabin in Sun Valley, Idaho with what appears to be this exact rifle over his right shoulder while holding a slain bobcat in his left hand. Page 187 states, "…Coop came to the shop one cold morning to tell me he got a fine "bobkitty" the day before… he wondered if someone could take a picture of him with it."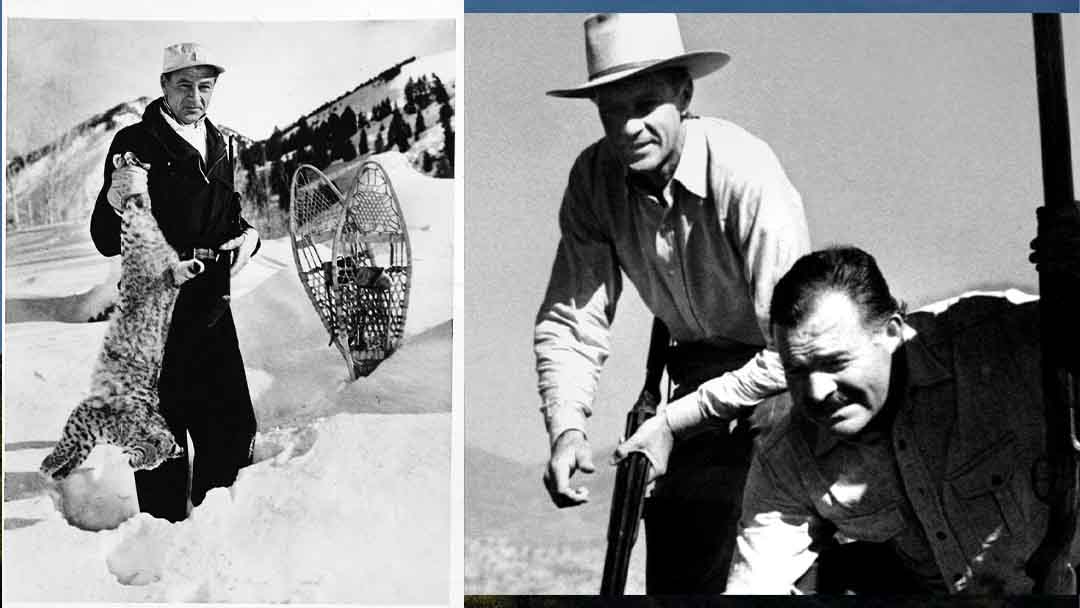 Two-time Oscar winner Gary Cooper hunted the west with good friend Ernest Hemingway. At left is a photo of Cooper holding a bobcat he shot outside Hemingtway's Idaho cabin. At right is Cooper, left, with the legendary author.
Likewise, the Smith & Wesson Military & Police revolver with a rare 2-inch barrel and a hair trigger was also beloved by Cooper, according to his widow, Veronica Cooper, who went by "Rocky." She said it was "Coop's favorite belly gun." Cooper's widow eventually gave the gun to the police chief of Southampton, New York, on Long Island in 1977. The wheel gun is one of 250 or less manufactured prior to World War 2 with a two-inch barrel.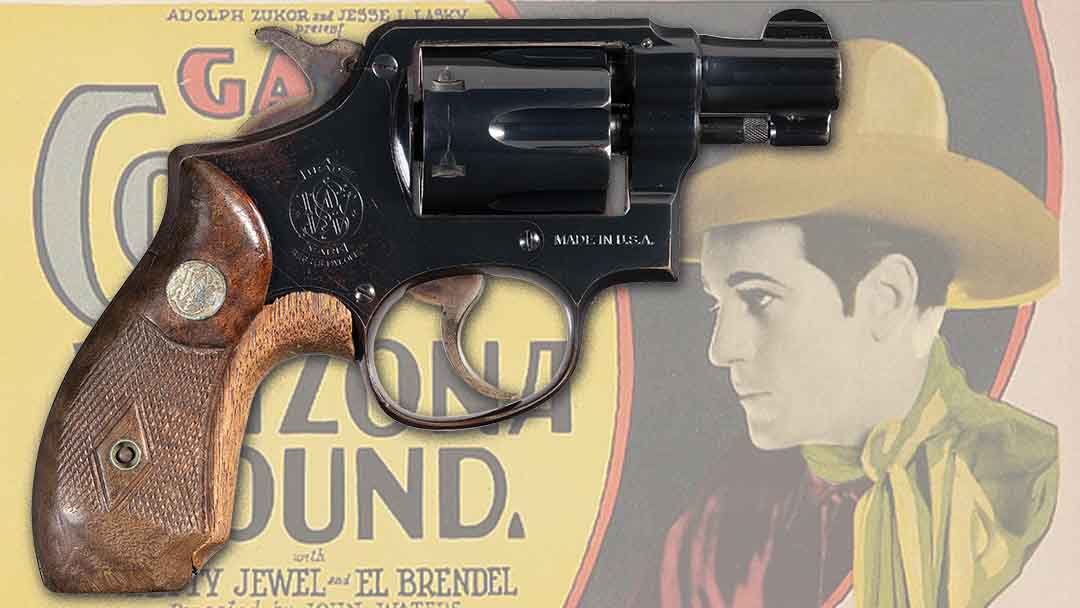 According to Cooper's widow, "This 38-cailiber Smith & Wesson has a hair trigger and was Coop's favorite belly gun. He carried it shoved in his belt and used to walk around the streets of Belair half hoping someone would hold him up." The revolvers two-inch barrel makes it a rarity, as only 250 or less were made before World War 2 in that configuration.
Tom Selleck's Guns
The Hollywood guns of the beloved the star of "Magnum P.I." and "Quigley Down Under" are both related to those roles. Selleck is an avid shooter and collector and Rock Island Auction has had the privilege of offering guns from his collection in previous auctions.
The iconic Shiloh-Sharps Model 1874 single shot falling block rifle is just as Matthew Quigley described it in the 1990 movie with a 34-inch barrel, "Usual barrel length's thirty inches. This one has an extra four. It's converted to use a special forty-five caliber, hundred-and-ten-grain metal cartridge, with a five-hundred-forty-grain paper patch bullet. It's fitted with double-set triggers, and a Vernier sight, marked up to twelve-hundred yards. This one shoots a mite further."
The rifle also has a custom patchbox in the stock and has a 15 ¼-inch length of pull to fit the lanky 6-feet, 4-inch Selleck. The gun was custom "antiqued" for the movie. Selleck took possession of the three rifles made for the movie and donated the one on offer to National Rifle Association in 2006 for a fundraising raffle.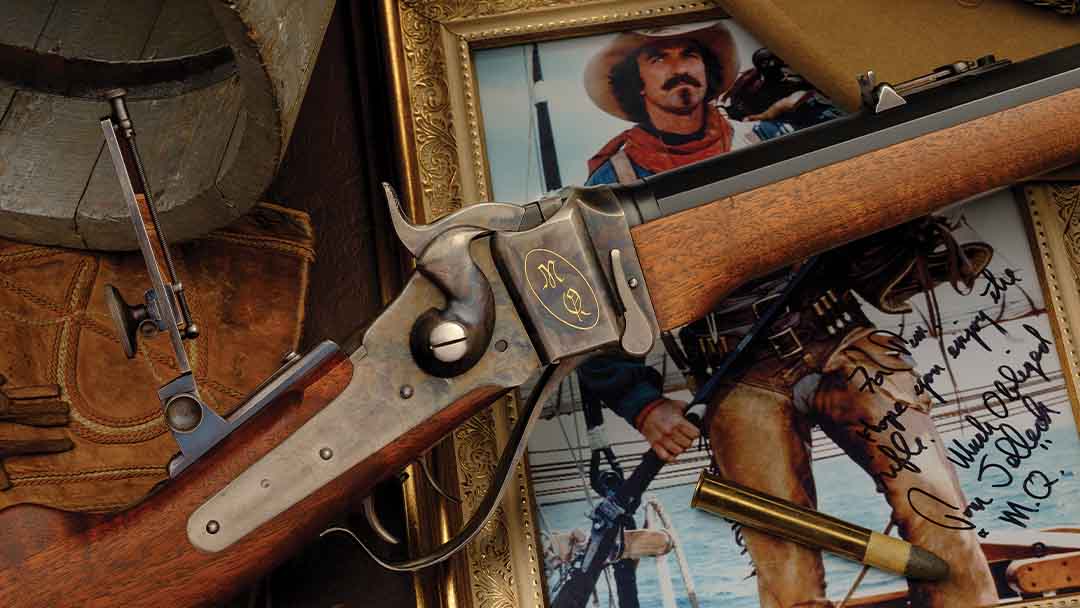 This Shiloh Sharps Model 1874 single shot falling block rifle is one of three made for the 1990 film "Quigley Down Under" starring Tom Selleck as the titular cowboy. An accompanying letter states the rifles were sent to MGM Grade of Hollywood, California and that it has a fitted buttstock to accommodate Selleck's longer length of pull. It has a hooded post and ball front and semi-buckhorn folding ladder rear sight as well as double set triggers and an adjustable Vernier tang-mounted peep sight.
While Quigley didn't have much use for pistols, Thomas Magnum certainly did. A three-gun set made for Selleck from the Colt Custom Shop will be available in December. He ordered the guns to commemorate the CBS show, writing in an accompanying letter "that literally changed my life." The guns bear special serial numbers signifying his hugely successful role as the Hawaiian detective. A Special Combat Government Model bears MAGNUM-1, while a Special Combat Officer's Model is marked MAGNUM-2, and a Mark V Series 80 Mustang is MAGNUM-3.
The guns were loaned to the NRA Firearms Museum for display that included Hollywood guns like the Smith & Wesson Model 29 from "Dirty Harry," and a Beretta 92FS from "Die Hard." The guns are accompanied by a letter of thanks from the museum to Selleck for the loan of the pistols, as well as a copy of "Hollywood Guns: An NRA National Firearms Museum Production."
Rock Island Auction was privileged to sell the factory engraved and inlaid Colt Combat Commander pistol, serial number MAGNUM4 in May 2023 for $19,975.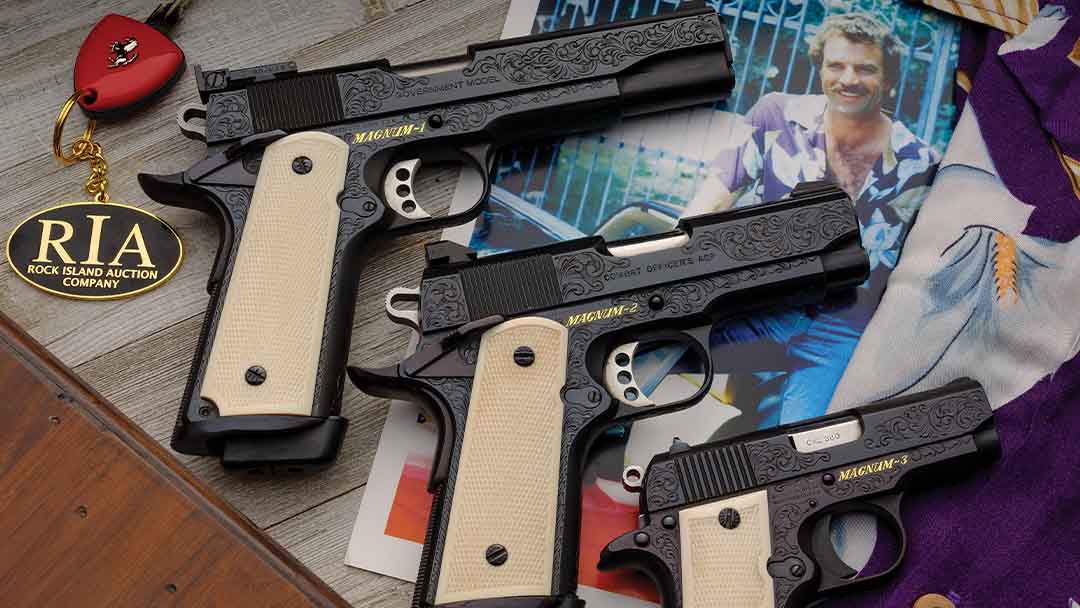 Tom Selleck's three pistols from the Colt Custom Shop have special serial numbers, with floral scroll engraving on a punch-dot background over 50 percent of each gun. The serial numbers on each gun are gold inlaid. The guns are a Special Combat Government Model (MAGNUM-1 serial number), a Special Combat Officers' Model (MAGNUM-2), and an MkV Series 80 Mustang (MAGNUM-3).
Tom's Mix's Shotgun
"King of the Cowboys" Tom Mix took a circuitous route to Hollywood, busting broncs for a Ponca City, Oklahoma ranch and Wild West show from 1905 to 1908 before moving on to another Wild West show performing with his third wife. He was a champion rodeo rider and roper. His first appearance on film was as a Wild West performer in 1909. He finally signed with a studio in 1917 and was the highest paid actor in Hollywood by 1928. He was a friend of Wyatt Earp and served as a pallbearer at his 1929 funeral.
Often flamboyantly dressed, Mix made about 300 films before his death in a car accident at age 60 in 1940. He licensed his name in 1933 for the Tom Mix Ralston Straight Shooters radio show that proved popular during the decade and after his death in the 1940s.
Marlin Firearms presented Mix this engraved and gold inlaid Marlin 20 gauge Model 90 over/under shotgun — one of the few presentation pieces offered by the company — for working with the company on a gun handling and safety program for American youngsters and his promotion of the Marlin Model 100-S "Tom Mix Special" rifle. The shotgun, with its engraved scrollwork surrounding cowboys busting broncos on the left side and "Tom Mix" inlaid in gold script on the right on a matted background with a cowboy hat, belt rig and single action revolver, is considered one of the premier pieces in Marlin collecting by author William Brophy.
This Marlin 20 gauge Model 90 over/under shotgun and its engraving by Charles Preiss and Dan Cavanaugh is featured in William Brophy's book, "Marlin Firearms: A History of the Guns and the Company that Made Them." The gold inlaid inscription and engraving on the right side of the receiver is illustrated in "The Gun Digest Book of Single Action Revolvers." This Model 90 is also believed to be one of only two Marlin presentation guns held privately.
Jerry Lewis's Pistol
Jerry Lewis started as a Borscht Belt comedian before teaming with Dean Martin in 1946 that led to television appearances and several movies together before they fizzled out in 1956. Lewis would go on to perform in Las Vegas and make television appearances before breaking into films, becoming the highest paid talent in Hollywood with a 1959 Paramount contract that paid $10 million plus 60 percent of profits from 14 films over 10 years. In later years "the King of Comedy" was best known for being the host of the Muscular Dystrophy Association's Labor Day Telethon that he led from 1966 to 2010. He died in 2017 at the age of 91.
Lewis's pistol is an engraved Beretta Model 21A. In 1994, it was revealed that a man had been stalking Lewis and his family. He was convicted and served four years in prison. Along with the gun is Lewis's 2009 Las Vegas registration card for the pistol and a nylon holster.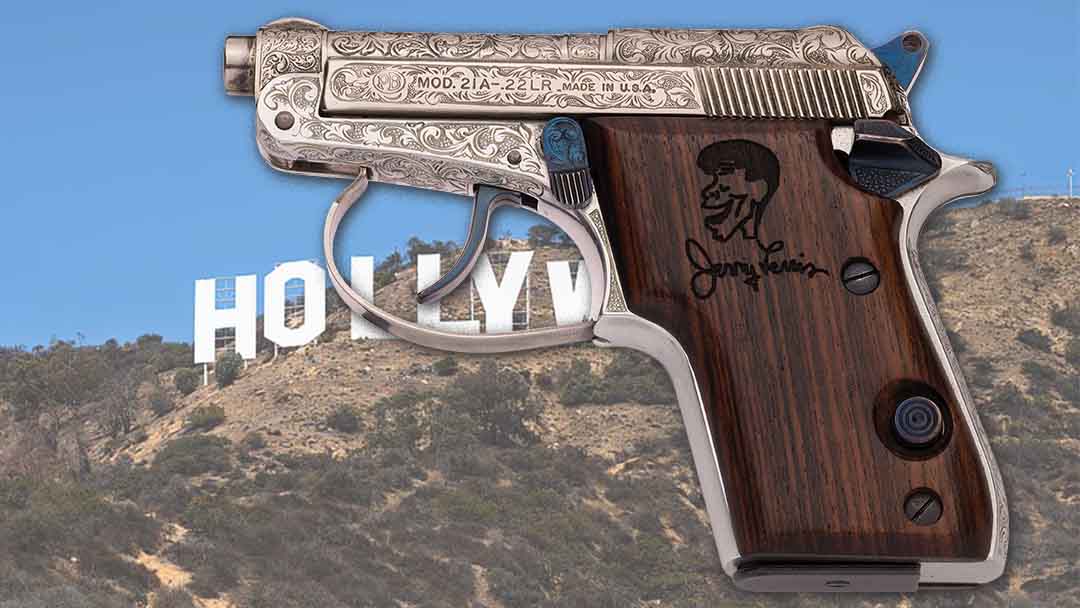 This Beretta Model 21A owned by comedy legend Jerry Lewis has scroll coverage with a punch-dot background and smooth walnut grips, with the left side laser engraved with the comedian's signature and cartoon caricature of his head.
Sammy Davis Jr.'s Colt Single Action Army
"Mr. Show Business" Sammy Davis Jr.  was a multi-talented nightclub performer, actor, recording star — and among the original members of Frank Sinatra's "Rat Pack." Born into a family of entertainers, he sang with his father on stage from an early age and learned tap dance from his mother. He enjoyed success on the Broadway stage, and appeared in a several films, including a number with Sinatra and company. His biggest singing hit was "The Candy Man" in 1972. He died in 1990 at the age of 64.
Davis was also a quick draw artist and reportedly trailed only Jerry Lewis as the fastest gun in Hollywood. Taught by stuntman and marksman Arvo Ojala, who was opposite Marshal Matt Dillion in the intro to "Gunsmoke," Davis showed off his quick draw and twirling talents on television's "Zane Gray Theatre," "Lawman," and "The Rifleman." He also showed his moves on talk shows where poor quality clips are available on the internet.
Rock Island Auction had the privilege of selling another of Sammy Davis Jr.'s Colt Single Action Army revolvers, spectacularly engraved and gold inlaid by Master Engraver Joseph Condon, crossing the podium for $19,550 at the September, 2019 Premier Auction.
Davis's Single Action Army includes a quick draw holster rig of black leather with "SAMMY" carved on the inside of the belt with engraved sterling silver buckles on the belt and holster. The revolver was modified by Ojala and the holster made by him as well. The gun and holster were returned to Ojala by Davis as a gesture of friendship.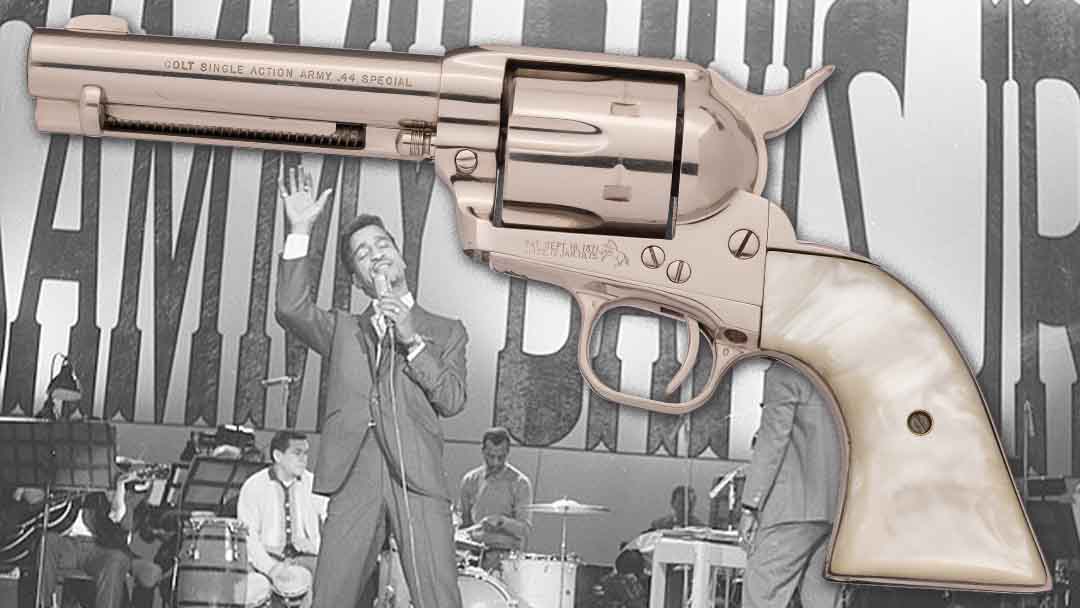 This third generation nickel-plated Single Action Army of Sammy Davis Jr. is modified with a shortened front sight blade, narrowed hammer slightly turned to the right, a pair of smooth pearlite grips, and a lightened mainspring. As well as a holster with "SAMMY" carved on the inside.
Hollywood Guns for Sale
What a tremendous collection of firearms from a legendary lineup of Hollywood royalty available in Rock Island Auction Company's Premier Auction in Bedford, Texas on Dec. 8-10! Fantastic guns attributed to a cowboy king, a two-time Oscar winner, a comedy great, a superstar of the small screen, and a quick draw expert from the Rat Pack will all be on offer at Texas's biggest gun auction.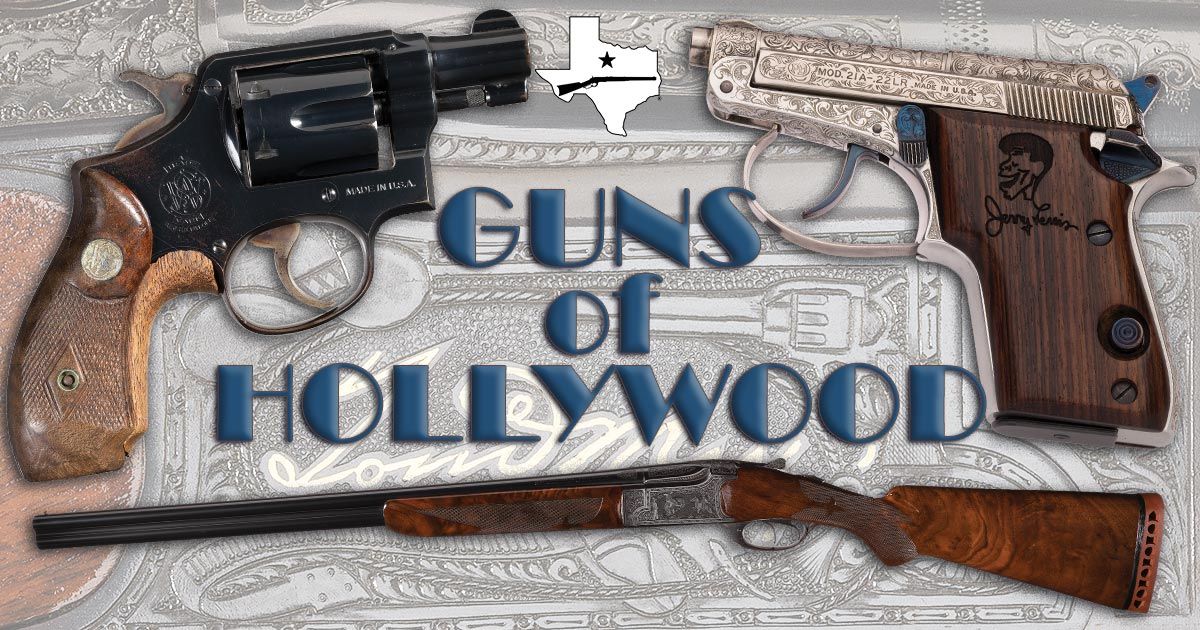 Rock Island Auction Company