The John Wick series has everything an action movie fan could ask for: great pacing, quality stuntwork, and some of the coolest gunplay in modern cinema. With John Wick 4 set to hit theaters on March 24, 2023, there's no better time to look back at some of our favorite firearms used onscreen throughout the franchise.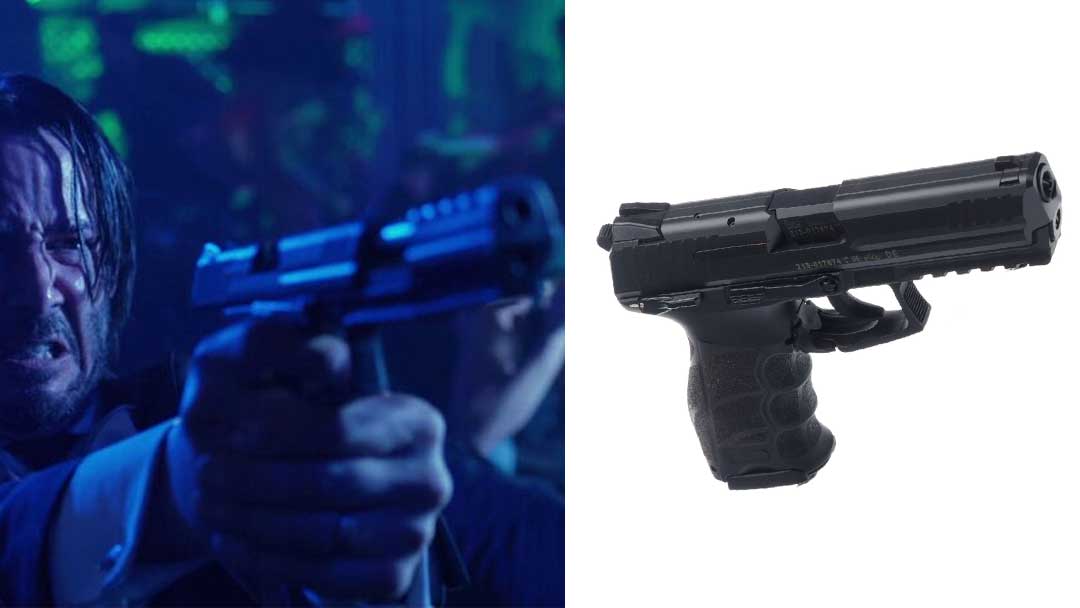 The H&K P30L, outfitted with a custom compensator, served as Wick's primary sidearm in the original film. If you've ever wondered what gun does John Wick use, many of the answers can be found below.
Unlike some action heroes who favor a specific signature weapon, part of the fun of the John Wick series is watching the title character use anything at his disposal to dispatch his foes. Whether it's blades, pencils, horses, or Ford Mustangs, John Wick (Keanu Reeves) is not picky about his tools of violence. But like any great action film, it's the guns that take center stage.
The John Wick guns featured onscreen cover a wide range of genres, and many identical or similar firearm models can be found in RIAC's past and upcoming gun auctions. Click on the images throughout this article to learn more about each gun.
If you haven't watched the series yet and are hoping to remain spoiler free, read no further. You've been warned!
John Wick 1 Guns
Never mess with a hitman and his dog. John Wick's retirement is violently interrupted by the son of a Russian mobster, setting off an explosive series of firefights as Wick seeks vengeance for his loss. Aside from Wick's iconic Heckler & Koch P30L pistol, some of the most memorable John Wick guns from the first film include the Coharie Arms CA-415, the Glock 17, and Wick's compact backup pistol, the Glock 26.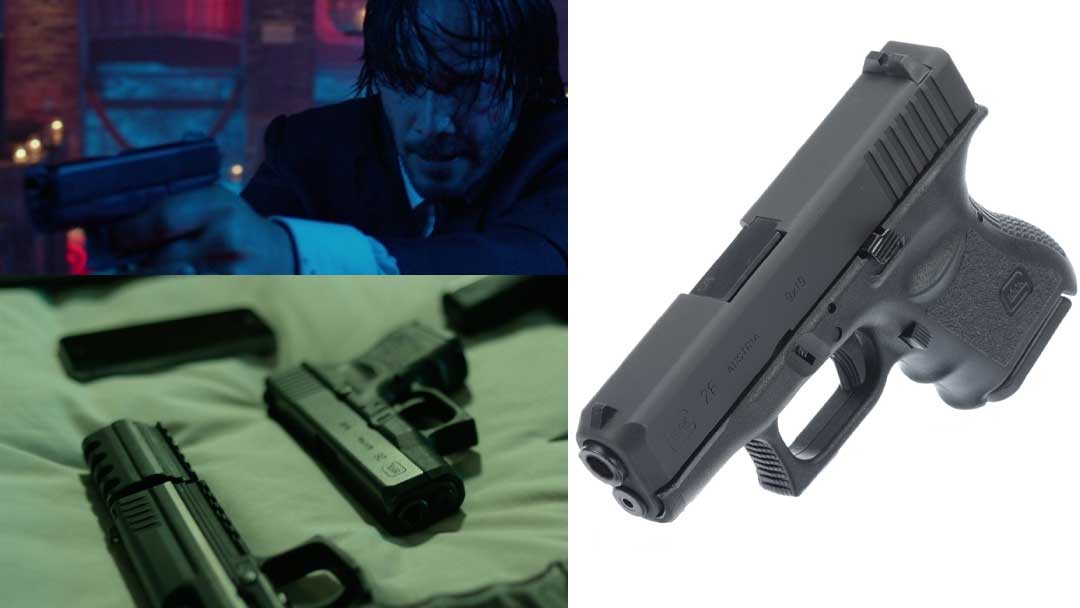 One of the familiar John Wick guns of the original film, a Glock Model 26 chambered in 9x19mm Parabellum.
John Wick loves shotguns almost as much as he loves American muscle cars, and the Kel-Tec KSG makes an impression in one of the film's most pivotal scenes. Just as Russian crime boss Viggo Tarasov (Michael Nyqvist) thinks he's in the clear, Wick fights his way to freedom and pins Tarasov down with a commandeered Kel-Tec Model KSG tactical slide action 12 gauge bullpup shotgun fitted with a foregrip and a holographic sight. With its dual magazine tubes, each carrying seven shells, the Kel-Tec KSG offers more than enough firepower for Tarasov to back down.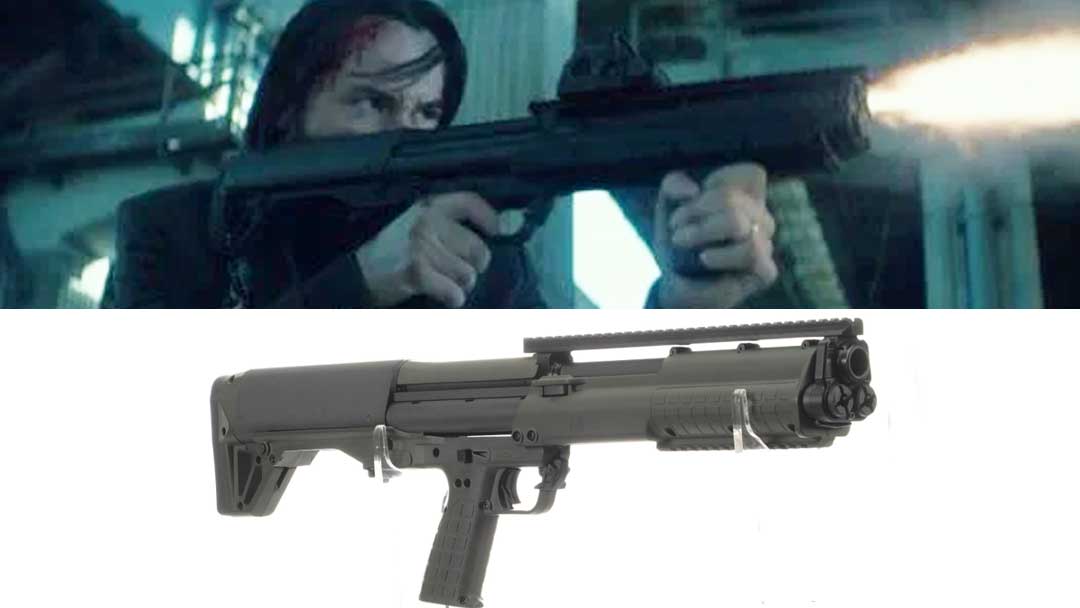 "Where is he?" John demands, backed up by the power of a Kel-Tech Model KSG shotgun.
Some of the most memorable guns of John Wick 1 are carried by Viggo's hired assassins. Marcus (Willem Dafoe) wields a Ruger M77 bolt action rifle fitted with a scope, suppressor, and bipod. The ruthless Ms. Perkins (Adrianne Palicki) prefers an up close and personal approach, coming at John Wick guns blazing with a Walther P99 pistol, and putting up an impressive showing of hand-to-hand combat before Wick manages to get the upper hand.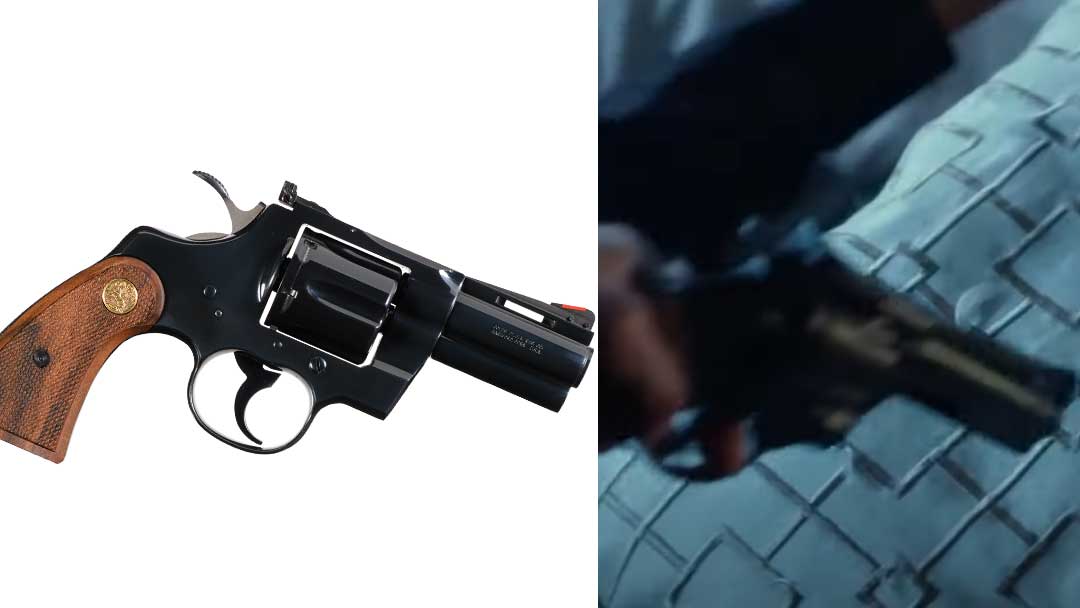 Even the classic Colt Python gets in on the action as Ms. Perkins dispatches one of Wick's acquaintances, Harry, at the Continental hotel, leaving a mess for housekeeping. Available this May.
Viggo's impeccably dressed henchmen display an arsenal of heavy firepower throughout John Wick 1, including the FN SCAR-H, the DTA Stealth Recon Scout, the Savage 10BA, and several variations of the MP5K. A short-barreled version of the famous MP5, the Heckler & Koch MP5K is a compact, closed bolt submachine gun that was developed with Special Forces, law enforcement, and VIP security teams in mind, and the gun still sees service today around the world.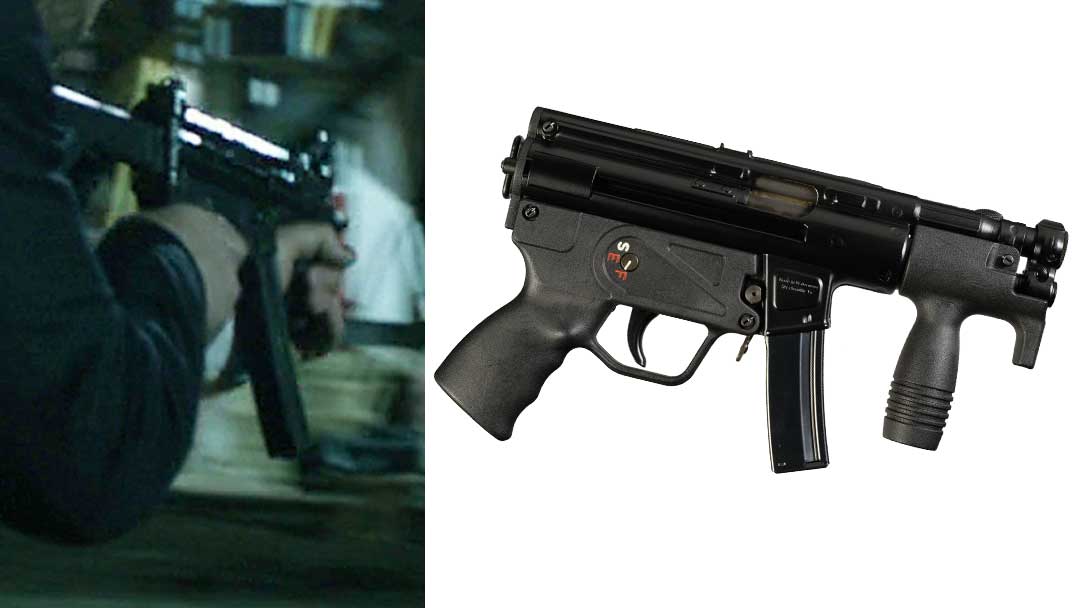 When it comes to heavy firepower, the MP5K is one of the most formidable John Wick guns. Available this May.
John Wick 2 Guns
The second installment of John Wick picks up with a new dog, new villains, and a bevy of new guns to keep the action fresh. Mob boss Santino D'Antonio (Riccardo Dario Scamarcio) forces John out of retirement and sends him off to Italy on an assassination mission. Wick is double-crossed, resulting in a frantic shootout in the Roman catacombs, where John takes advantage of his recent shopping spree and breaks out his new Benelli M4 Super 90 shotgun, a big and bold "Italian classic."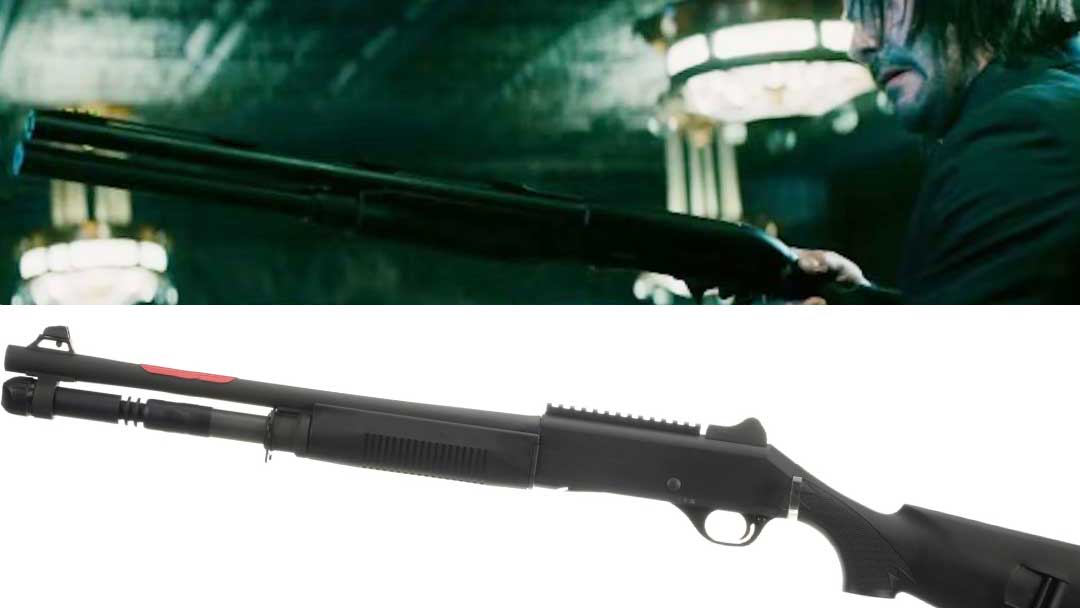 The Benelli M4 series of semiautomatic shotguns has earned a reputation as a reliable 12 gauge autoloader. Like many of the John Wick guns in the franchise, Wick's M4 has been customized by Taran Tactical Innovations.
John Wick is pitted against two of the D'Antonio family's most lethal enforcers, Ares (Ruby Rose) and Cassian (Common.) Ares wields the SW1911SC E-Series, a comparatively new 1911 variant from Smith & Wesson that offers the reliable stopping power of .45 ACP packed in a lightweight but durable scandium alloy frame. Cassian, by contrast, prefers the Arsenal Firearms Strike One, an elegant Italian-manufactured pistol with a smooth trigger and light recoil.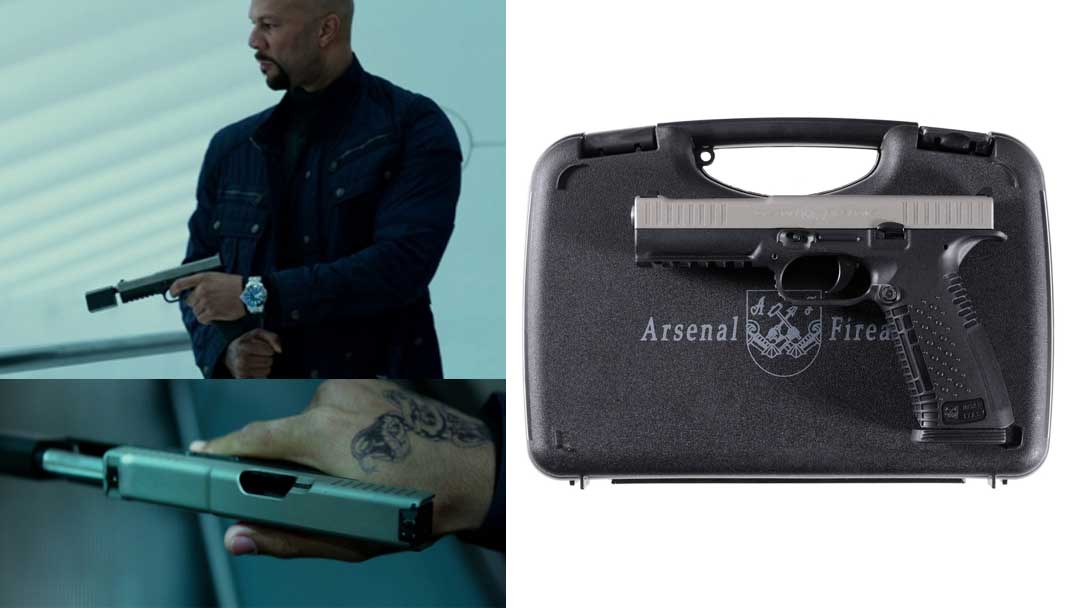 One of the more stylish guns of John Wick 2, the Arsenal Firearms Strike One pistol has a reputation for its speed and accuracy.
Santino places a $7 million bounty on John's head, prompting every assassin in New York to try their luck against Wick. Unarmed and injured, John seeks help from the mysterious Bowery King (Laurence Fishburne) who offers Wick a Kimber Warrior pistol with exactly 7 rounds, a familiar number to fans of the 1911 platform. "7 million dollars gets you 7 rounds," the Bowery King states with amusement, echoing the feelings of many gun owners buying ammo in 2021.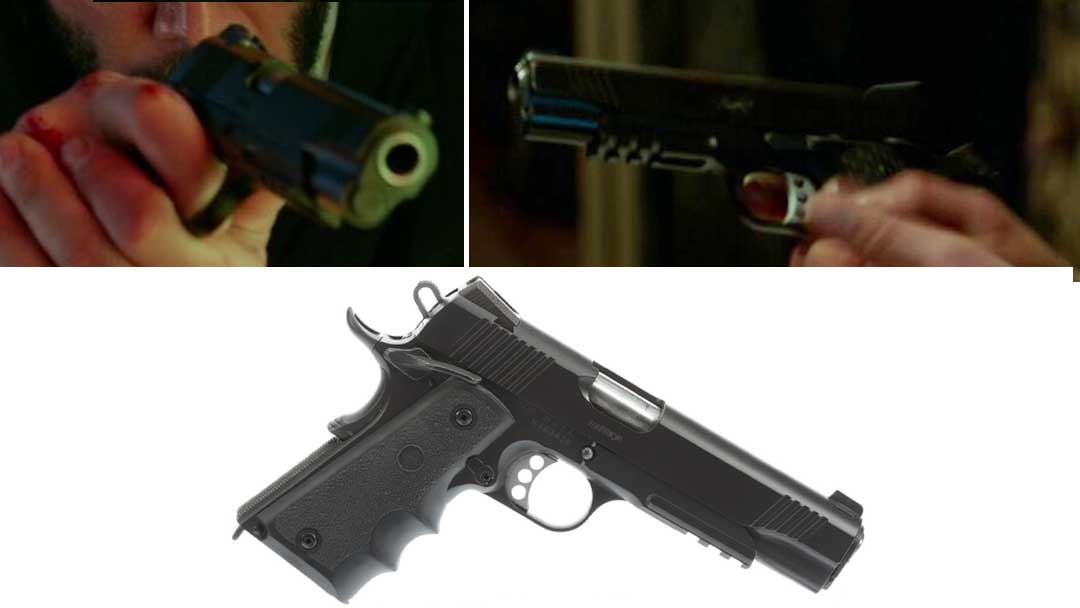 "Somebody please get this man a gun!" The Kimber Warrior is another John Wick gun with a clever on-screen introduction.
John takes the fight to Santino, leading to a fantastic set-piece in a hall of mirrors. Inspired by the Bruce Lee vs Mr. Han duel from 'Enter the Dragon,' the art museum mirror room battle was one of the first ideas Director Chad Stahelski conceived for John Wick 2. During the ensuing symphony of violence, Wick manages to grab a couple of Sig-Sauer P320s from Santino's men and demonstrates why these 9mm striker-fired pistols have been adopted by the U.S. military as the M17.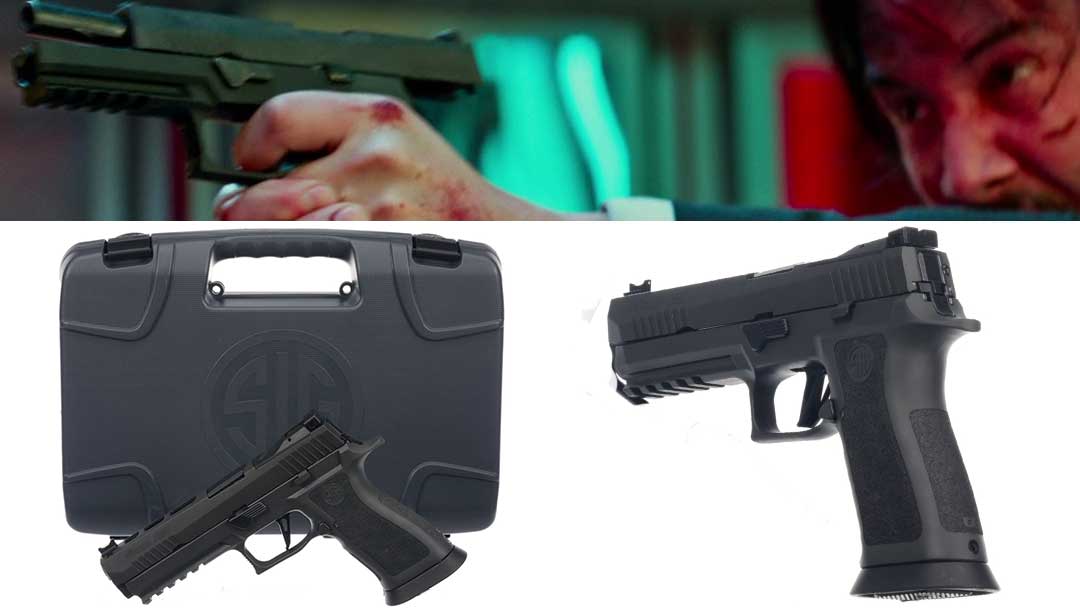 Keanu Reeves employs the C.A.R. shooting system, or "Center Axis Relock," while firing a SIG-Sauer P320 pistol.
John Wick 3 Guns
John Wick 3 picks up immediately where the second film left off, with John and his dog on the run from the entire criminal underworld. Early on, in a homage to a scene from 'The Good, the Bad, and the Ugly,' John Wick enters a museum and assembles a working sixshooter using parts from several antique guns, including two Remington Model 1875 revolvers, a Colt Model 1851 Navy, and a Colt Model 1860 Army. Wick manages to load a .44-40 cartridge into his makeshift wheel gun and slay one of his would-be killers.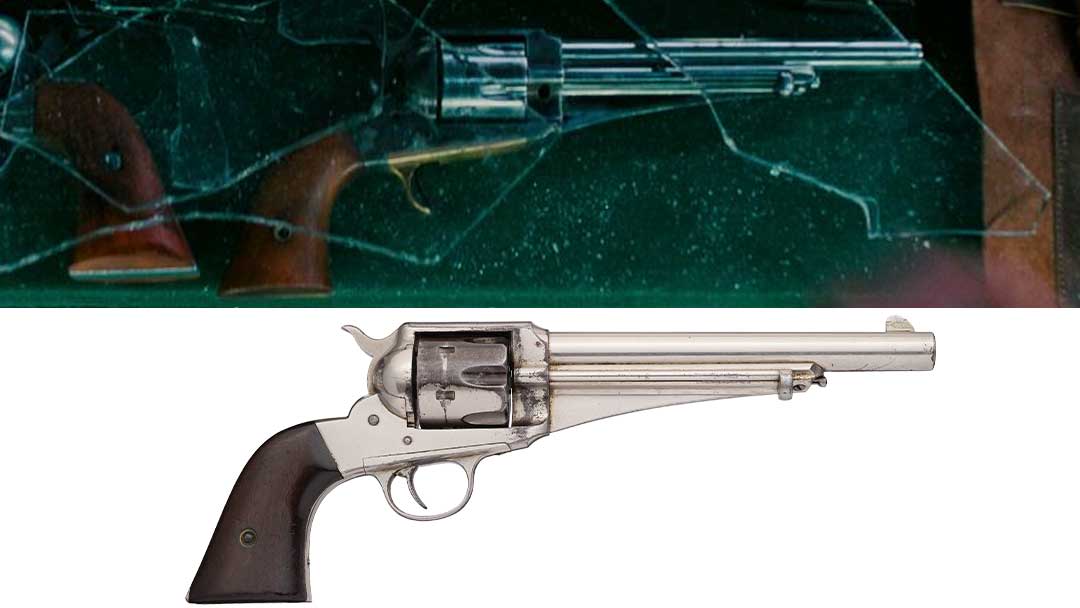 An antique John Wick gun inspired by classic Westerns, the Remington Model 1875 Single Action Army. Available this May.
From vintage revolvers to modded-out submachine guns, the guns of John Wick 3 are more diverse than ever. Keanu Reeves trained heavily with professional shooter Taran Butler, the founder of Taran Tactical Innovations, and a number of John Wick 3 guns have been upgraded by TTI, including the Benelli M2 Super 90 and John Wick's Sig Sauer MPX carbine. Though originally designed as a submachine gun, the semiautomatic pistol and carbine versions of the MPX have become popular range guns and one of Taran Butler's favorite competition pieces.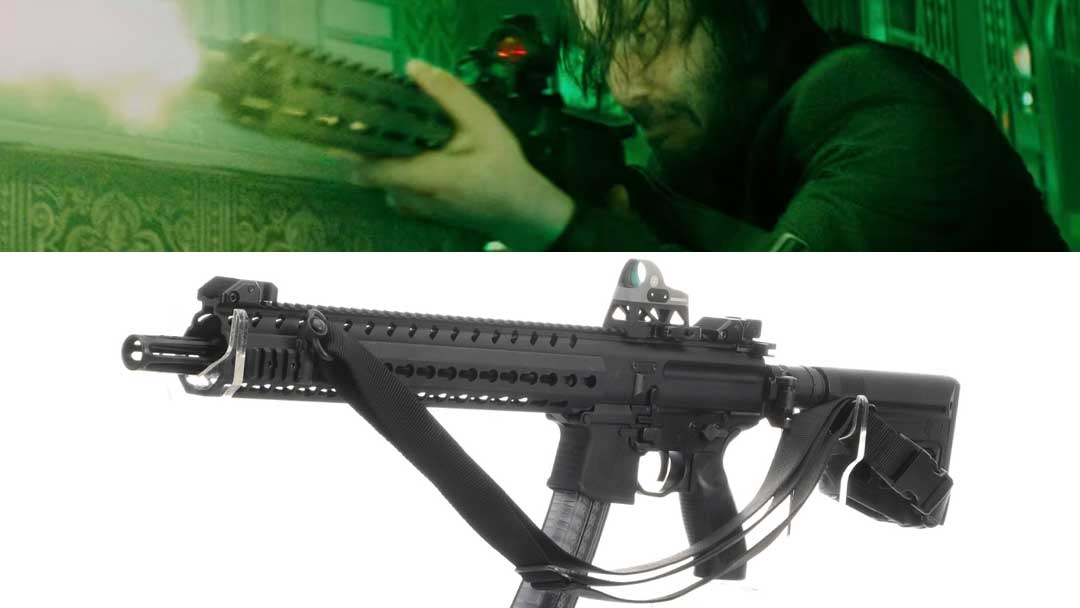 One of the coolest John Wick guns, the Sig Sauer MPX.
The Walther PPQ pistol is featured numerous times throughout John Wick 3, carried by Zero (Mark Dacasos) and his band of sushi-slicing assassins as they hunt for Wick. Introduced in 2011, the Walther Police Pistol Quick-Defense pistol is an updated iteration of the successful Walther P99, one of the most popular guns in modern action films. The Walther PPQ is lighter than its P99 forerunner, with a fully ambidextrous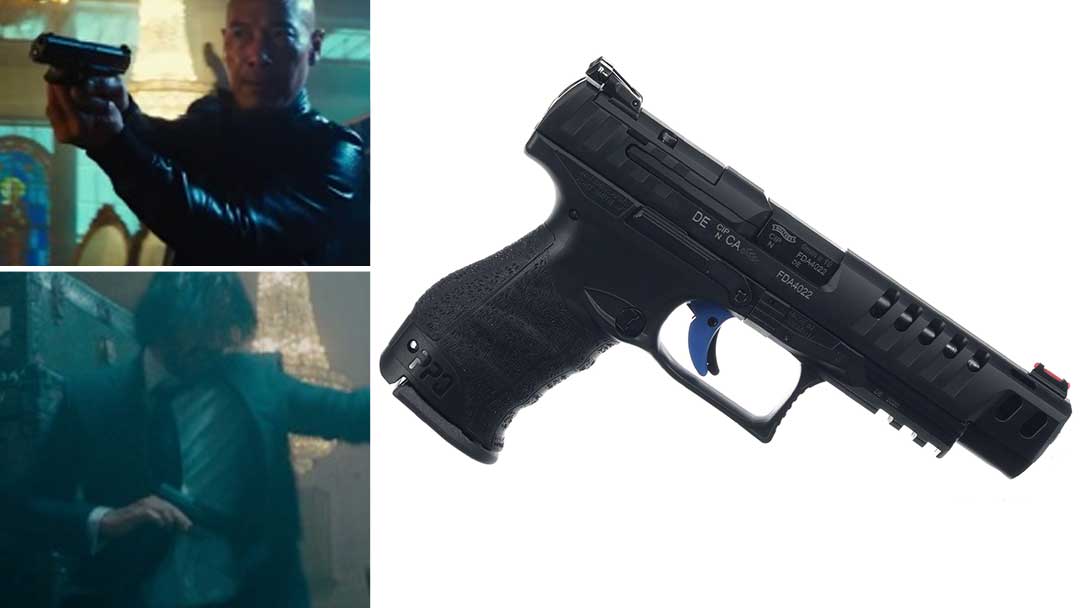 The Walther PPQ pistol, one of the standout guns of John Wick 3.
The Continental's armory is a gun lover's dream, displaying numerous genres familiar to firearm collectors. From flintlock pistols and blunderbusses to Uzis, Barretts, and a bounty of modern shotguns, the hotel's arsenal has something for everyone. The enigmatic curator of the Continental, Winston (Ian McShane,) carries a magnificent nickel-plated Colt 1903 Pocket Hammerless pistol that plays a major role in the film's third act.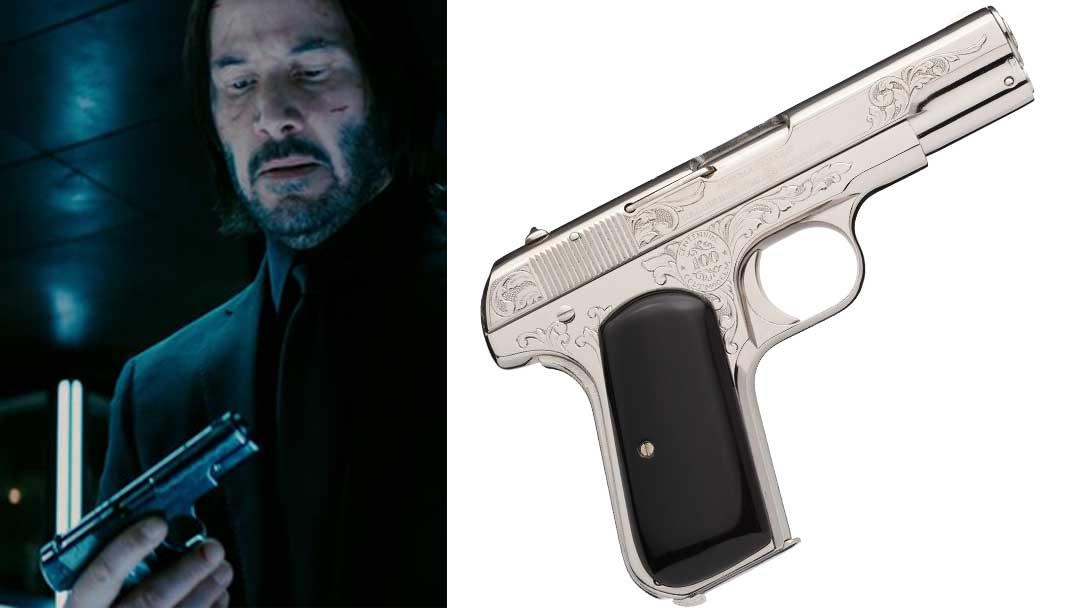 One of the classic guns of John Wick 3. Winston offers John his Colt 1903 Pocket Hammerless pistol, placing his fate in Wick's hands. Available this May.
John Wick 4 Guns
Most of the guns of John Wick 4 have yet to be revealed, but the trailer hints at a deadly array of new and familiar firearms. The fourth installment of the Wick franchise promises an even more expansive globe-trotting adventure, filmed in five different countries, including Japan. Combine this with a cast of veteran action stars like Hiroyuki Sanada and Donnie Yen, trailers featuring nunchucks and samurai swords, and a director hoping to push the boundaries of the 90s style Hong Kong gun-fu stuntwork that has defined the previous films, and all the makings of a must-see blockbuster are in place.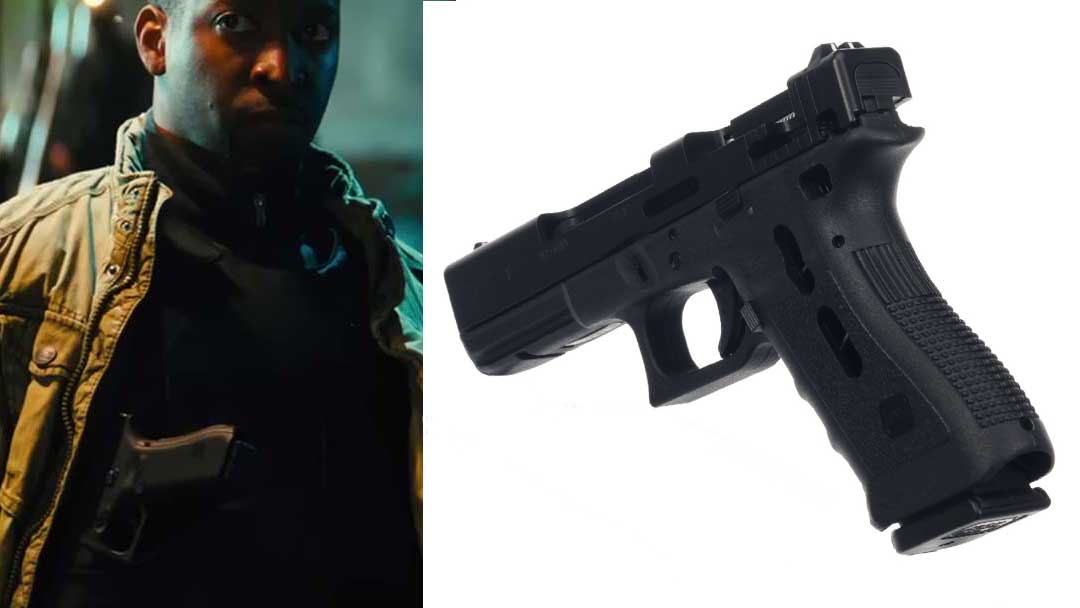 The Glock Model 17 pistol, a familiar gun in the John Wick series.
Reeve's training with Taran Tactical Innovations has resulted in a more accurate depiction of firearms shooting and handling than the typical Hollywood fare. Some of the John Wick guns throughout the series have been modified by Taran Tactical, and the fourth film not only features a souped-up Genesis Arms GEN-12 SBM shotgun, but a Taran Tactical Pit Viper, a fully custom-built, hand-fitted Model 2011 pistol.
Fans have been speculating about a pair of unique-looking guns from the John Wick 4 trailer, two cased pistols. These appear to be Thompson/Center Arms pistols, either Encores or G2 Contenders with custom furniture and engraving. The hammers of the pistols are obscured in the trailer, and their use in the film is currently unknown, but a scene with one of the new antagonists may hint to the role of these mysterious guns. When John Wick confronts Marquis de Gramont (Bill Skarsgård), another high-ranking hitman in an immaculately tailored suit, Wick challenges him to a duel and chooses pistols as their weapon.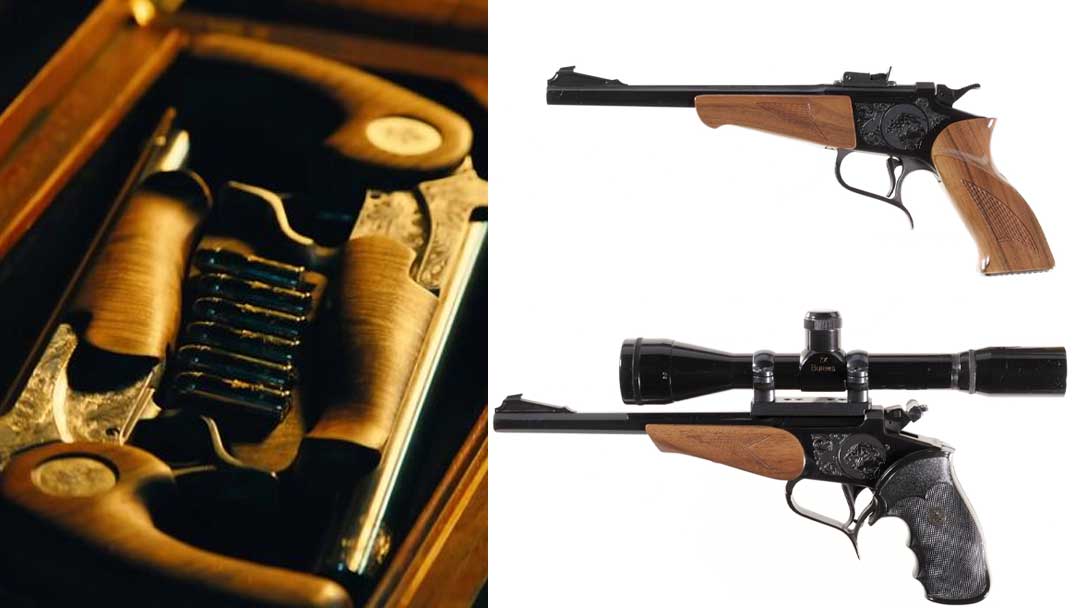 "Dueling pistols. 30 paces." The pair of Thompson/Center Arms pistols seen in the John Wick 4 trailer may come into play as dueling weapons.
John Wick Guns and the Guns of Hollywood
The creative variety of John Wick guns seen throughout the franchise is a big part of the series appeal, and even the handful we've highlighted covers a lot of ground. Historic and modern, single shot pistols and full auto SMGS, the guns of John Wick hit on every genre of arms collecting, and many of the same models can be found at Rock Island Auction Company.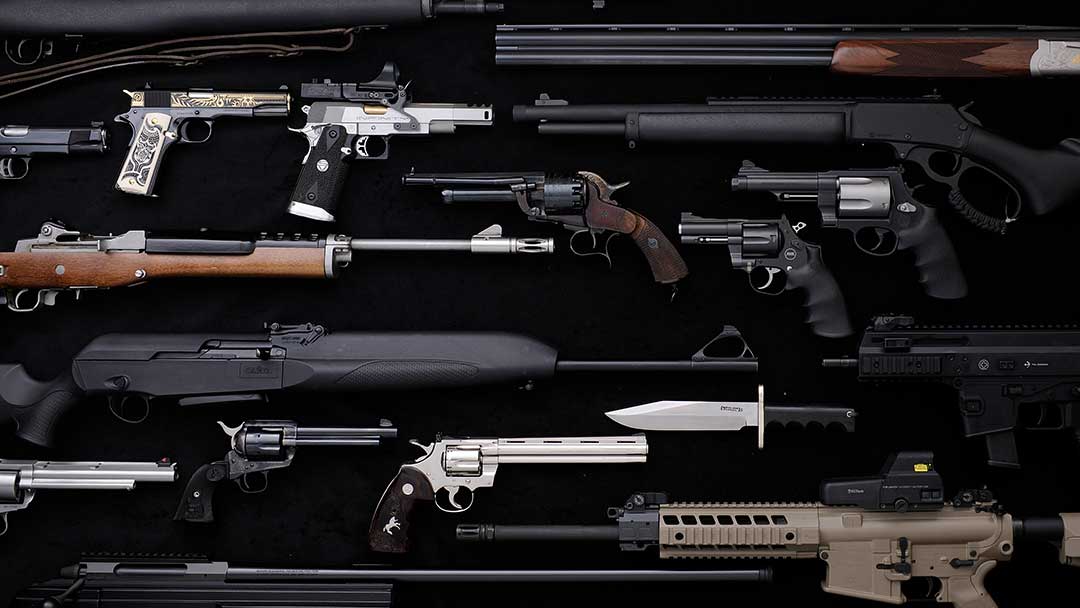 With plenty of Glock pistols, Benelli shotguns, and Sig Sauer rifles to choose from, RIAC's A&A auctions offer something for every John Wick movie fan.
Hollywood action films have made stars out of numerous gun models, enhancing their value in the eyes of the collecting community. Some Hollywood guns are more attainable, such as the Beretta 92FS and the Browning High Power, both carried by famous silver screen cops, while other models that gained fame in the entertainment world like the Mac-10 SMG, the Bren Ten pistol, and Jurassic Park's  Spas-12 shotgun can be harder to track down at the local gun store. Rock Island Auction Company is the best place to find all of the above, as well as genuine screen-used hero guns like Lara Croft's pistols, John Wayne's 'True Grit' revolver, and Han Solo's DL-44 blaster from the original 'Star Wars.'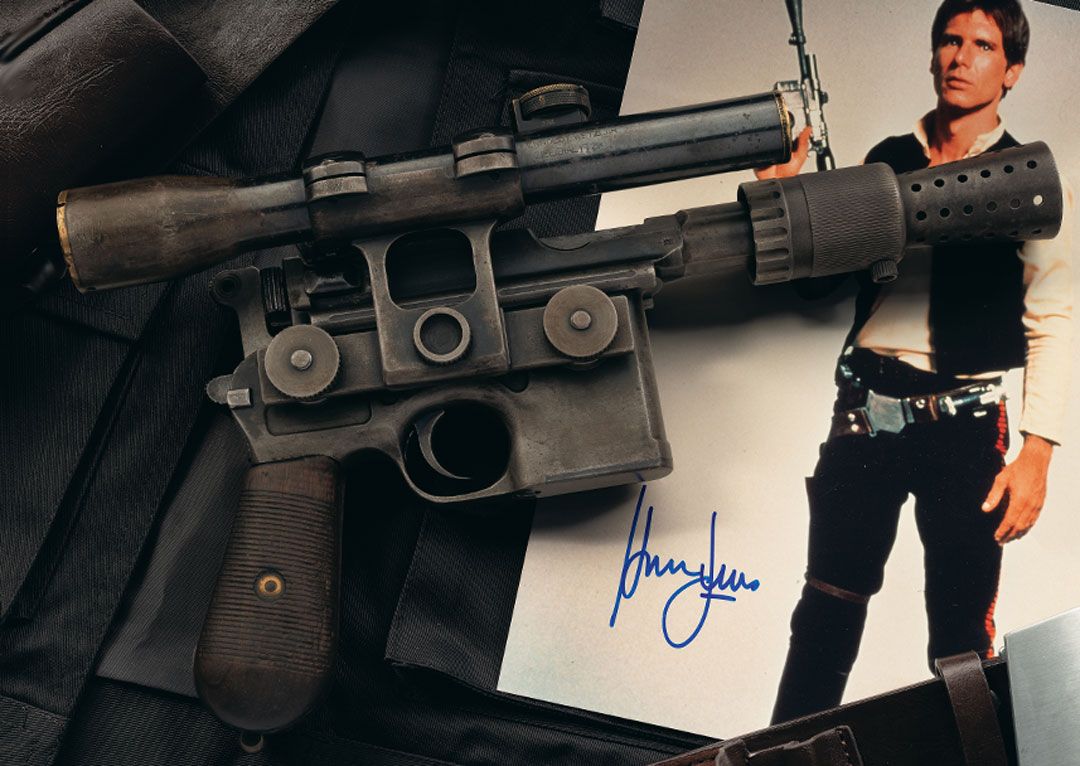 The only surviving Han Solo blaster from 'Star Wars: A New Hope' sold for $1,057,500 at Rock Island Auction Company in August of 2023.
Every week, the Rock Island Auction newsletter offers our readers new gun blogs and gun videos on a range of fascinating topics, including the guns of pop culture. From classic films such as Winchester 73, and Quigley Down Under to more recent productions like Peaky Blinders, the Walking Dead, 1883, and more, we take a deeper dive into the greatest guns of Hollywood.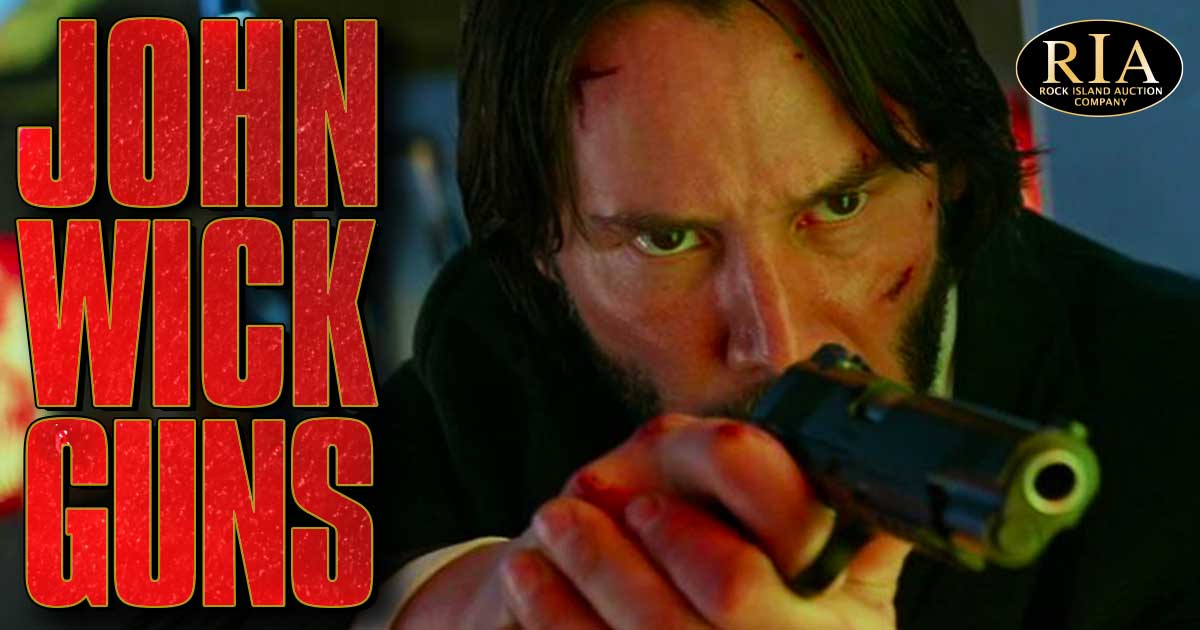 Rock Island Auction Company