1985 saw the adoption of the Beretta M9 as the sidearm of choice for America's military. The M9 was intended to replace the 1911, which venerably served troops through two world wars. While the 1911 was (and always will be) a great platform, its design was antiquated and the DOD saw the need to modernize its arsenal.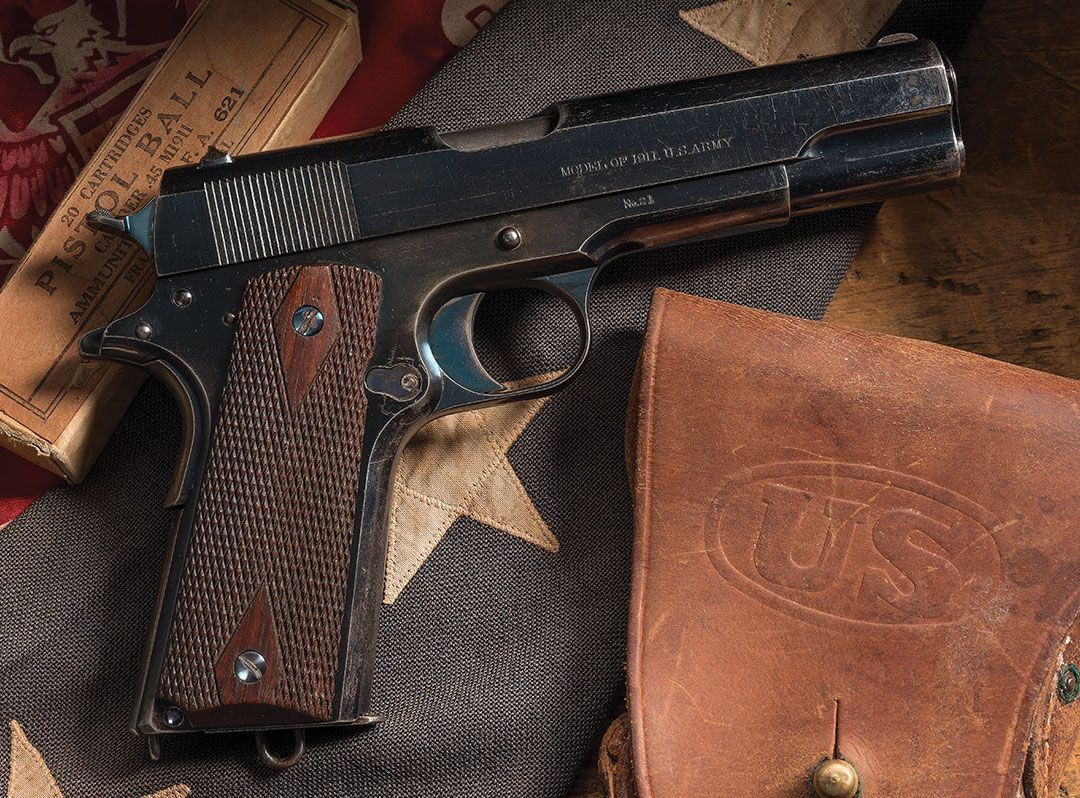 Documented early production two digit serial number 21 U.S. contract Colt Model 1911, America's longest serving military sidearm. Available this May
2014 would see the start of a program (known as the XM17 Modular Handgun System competition, or MHS for short) aimed at finding a replacement for the M9. Numerous companies entered their weapons into the running, but in 2017 it was announced that the Sig Sauer M17 and M18 pistols won and would soon find a home in the holsters of America's service members.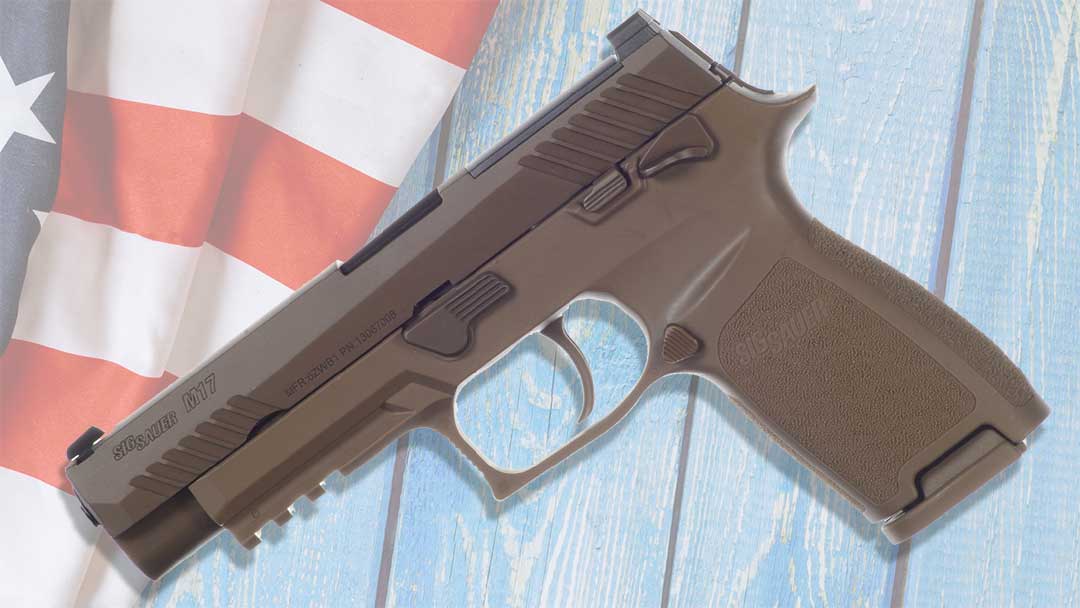 Sig Sauer M17 limited edition commemorative pistol, Lot 310 in March 2nd's A&A Auction.
The Beretta M9
The Beretta M9 was far from despised, but it was replaced for a reason. For starters, it is not a small gun. Nor is it a light platform, weighing in just shy of 35 ounces unloaded. Beyond these concerns, its double action trigger and exposed hammer are dated in a world of striker-fired pistols. The initial trigger pull, which cocks the hammer, requires some muscle, and in a combat scenario where accuracy and milliseconds matter this could mean life or death.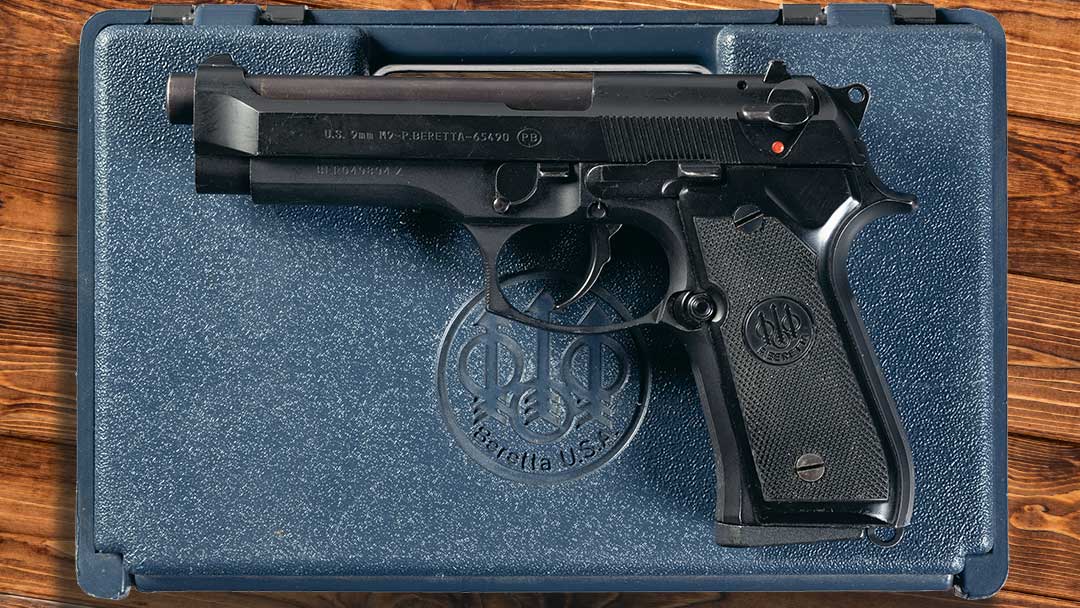 U.S. Army Reserve Pistol Team special order civilian Beretta M9. Available this May
Some have said that the M9 wasn't suitable for operations in a desert environment. As a good friend of mine who served in Afghanistan told me: "It has big *** openings for sand to get in". Beyond that, magazines made on contract by Check-Mate industries allegedly were of lower quality and failed frequently when introduced to arid conditions. As to not dwell on the negatives, it should be noted that the M9 is generally a reliable system. In testing it survived a wide range of temperatures and conditions. It is known to be an accurate and durable platform, yet all good things must come to an end.
The Beretta's Replacement
When the time came to search for a replacement, many companies entered the Moduler Handgun competition in the hopes of securing a lucrative government contract. Colt, Glock, FN, and others put forth entries, but Sig Sauer would come out victorious with their M17 and M18 pistols.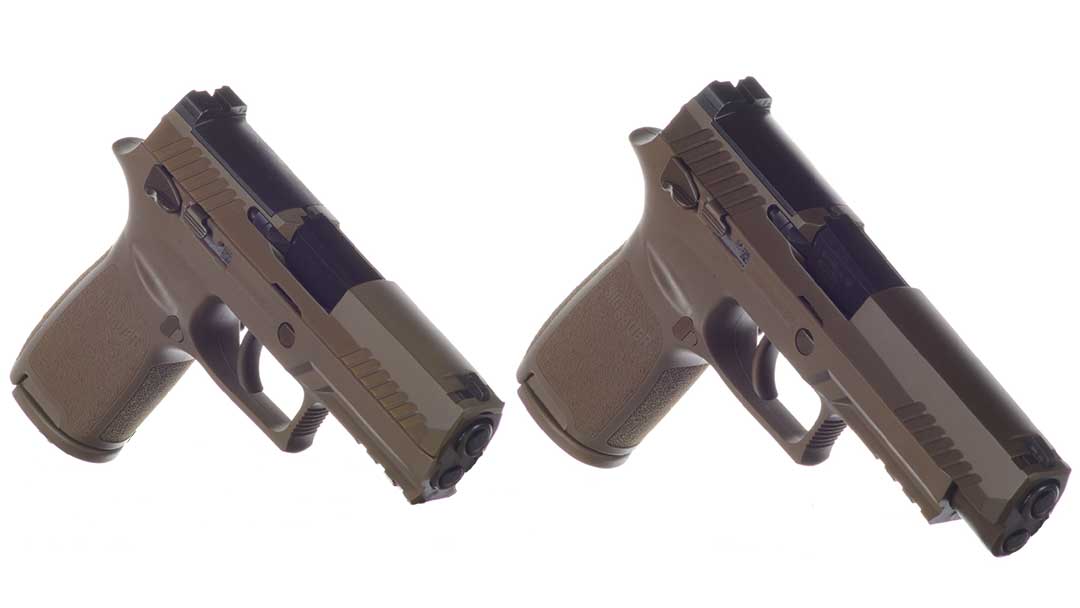 Both the Sig M17 and M18 are 9mm handguns built on the P320 platform. The SIG M17 Pistol is a full size variant with the M18 being its carry-sized counterpart.
The M17 is a full sized pistol, and the M18 is a compact version. Both designs were based off of their P320 platform, a modern striker-fired pistol chambered in 9mm. Additional changes were made for the competition, including a cutout for a slide mounted optic and a loaded chamber indicator.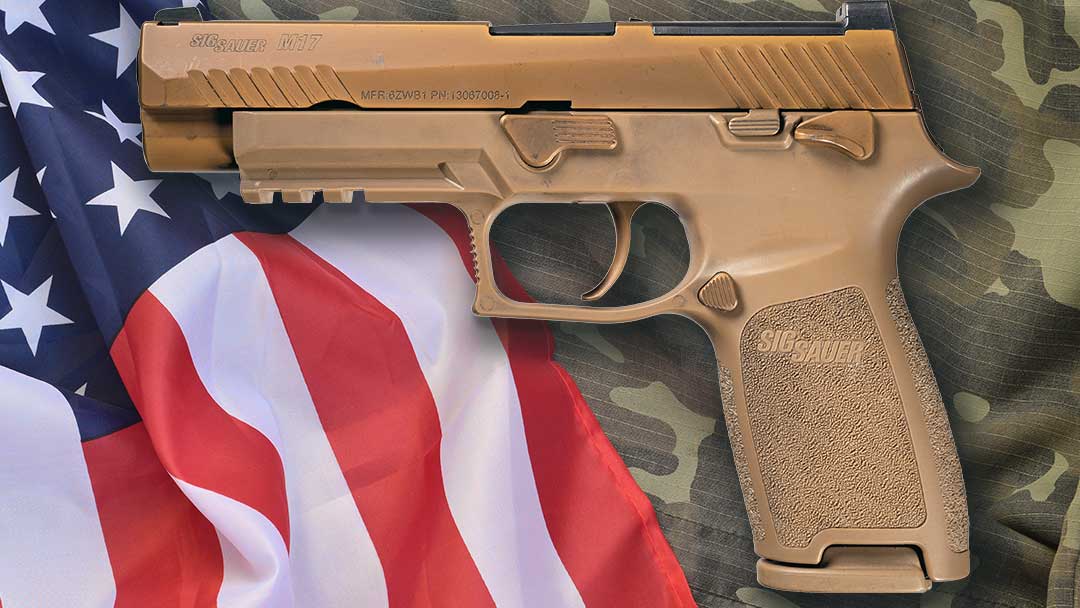 One of the first M17 pistols issued to the 101st Airborne Division for field testing, and one of only 3,000 returned to SIG Sauer for sale on the commercial market. Available this May
The Sig Sauer M17
Sig triumphed over the competition with their ammunition procurement plan, working closely with Winchester to develop and utilize a jacketed hollow point round (dubbed XM1153 Special Purpose ammunition) in the M17 and M18. The ergonomics of Sig's platform are, in my opinion, just beautiful.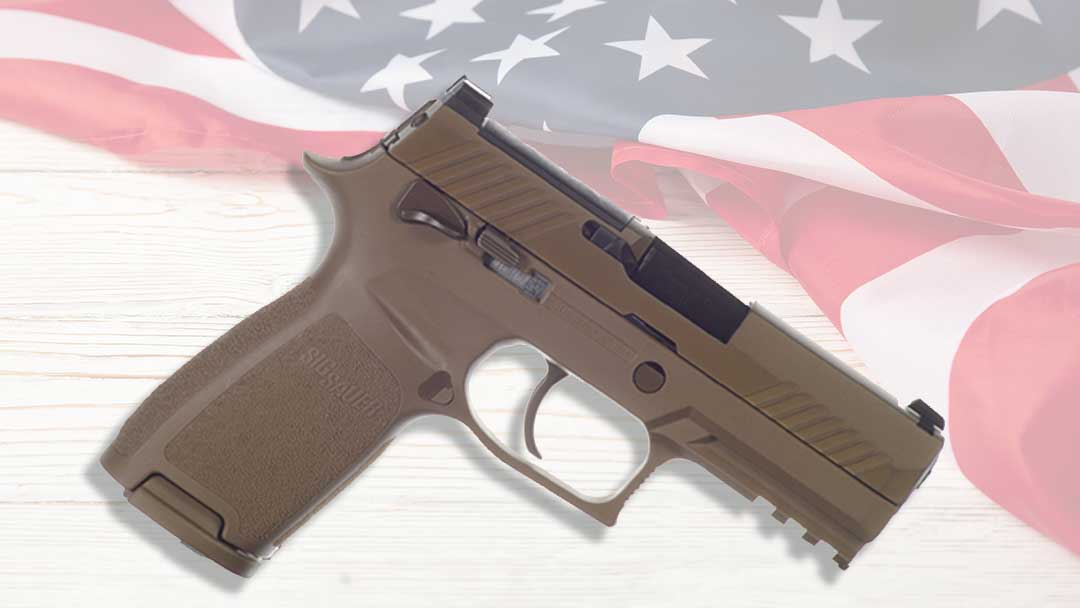 Sig Sauer M18 limited edition commemorative pistol, Lot 828 in March 2nd's A&A Auction.
I have slightly large hands and the pistol could not be more comfortable to hold. Compared to its predecessor, it is incredibly light. At just over 29 ounces (according to the Sig Sauer website) it is about 6 ounces lighter than the M9. As previously stated, weight matters so a lighter sidearm is preferable. These features made for a thoroughly modern sidearm, and were greeted with enthusiasm. Though Sig's design won the contract, trouble would soon arise for the company.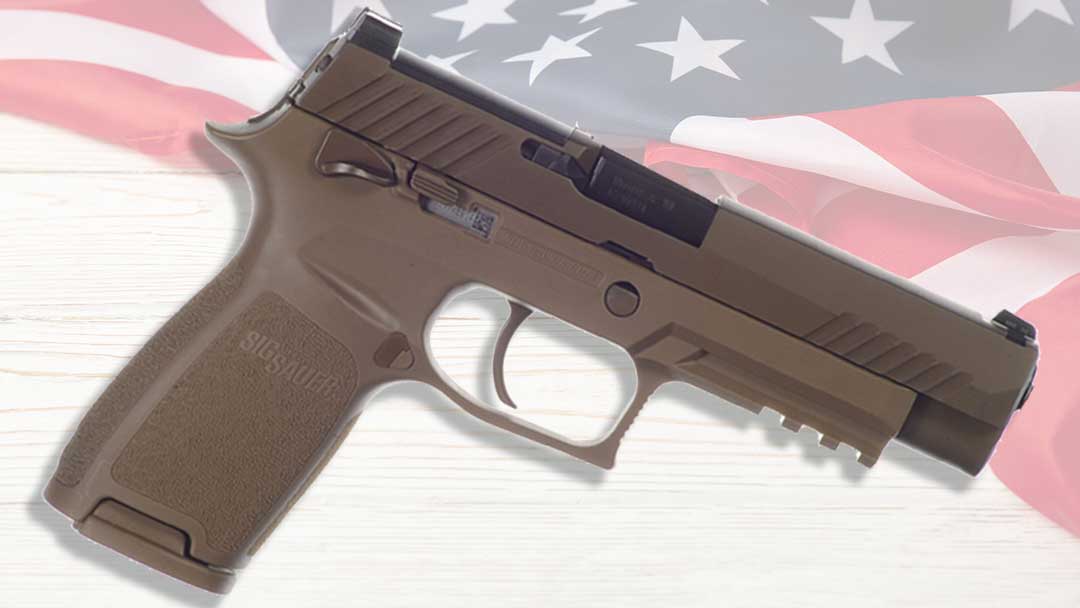 One of only 5000 Sig Sauer M18 limited edition commemorative pistols produced, with matching factory box, papers, certificate of authenticity, and 2 extra magazines. The complete package.
Sig Sauer Challenged
First, Sig was hit with a copyright infringement lawsuit from Steyr Arms. In the claim, Steyr says that both the P250 and the P320 (which would serve as the basis for the M17) contains a housing that is similar enough to a 2001 Steyr patent to warrant a lawsuit. However, the courts did not see it that way, and Sig would win the case in 2020.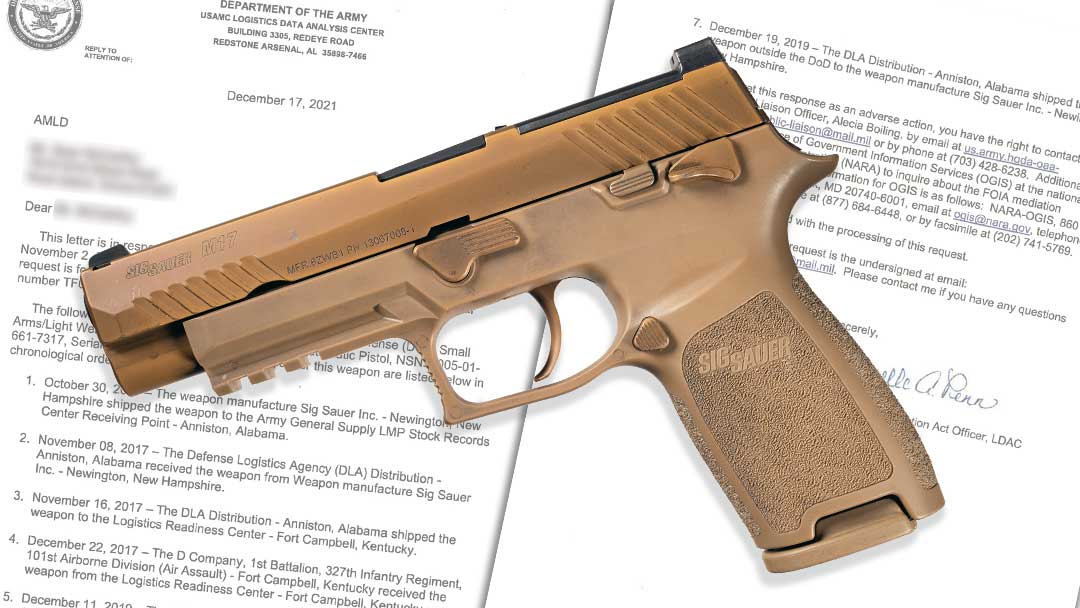 Documented U.S. Army issued SIG Sauer M17 semi-automatic pistol. Available this May
Second, Glock formally challenged the decision to approve the M17. In a complaint filed in 2017 with the U.S. Government Accountability Office, Glock alleged that the trials were evaluated unfairly in favor of Sig. According to Glock, their pistol (the Glock 19X) performed better in the military tests. Interestingly enough, the GAO report admits that the M17 suffered from more stoppages than the 19X.
As well, Glock contended that the 19X served as a "crossover" pistol in that it can easily be concealed. The fact that the army chose the Sig design which utilizes 2 different pistols did not sit well with Glock. This protest was denied by the office. The fact that Sig Sauer's offer was $102 million less than Glock's probably had something to do with it.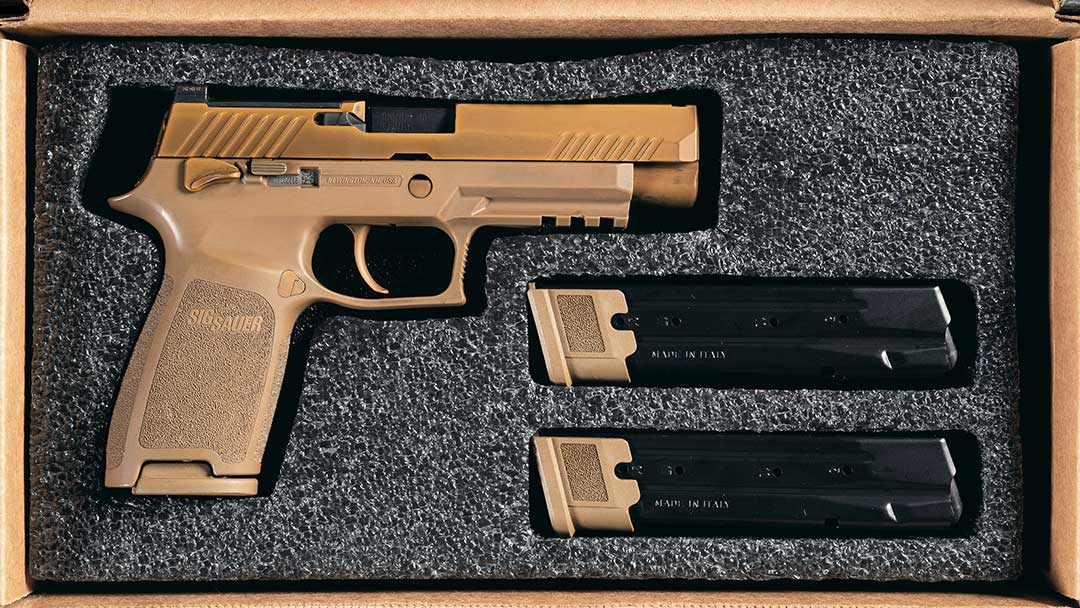 An M17 issued to D Company, 1st Battalion, 327th Infantry Regiment, 101st Airborne Division, one of the U.S. Army's most legendary units.
Third, after the M17 and M18 were approved, issues began to arise regarding unintentional discharges and various mechanical failures with the platform. In both Army and independent testing, dropping the pistol sometimes leads to an accidental discharge of the weapon, which is something that NOBODY wants to worry about in a combat situation. As well, the pistol would sometimes eject a live round in addition to ejecting a spent casing after firing. The M18 in particular would often jam if using standard ball ammunition, but ran appropriately when utilizing the Special Purpose ammunition.
In 2015, John McCain raised concerns about the MHS program, seeing it as a bloated bureaucratic endeavor to accomplish the simple task of procuring handguns. A tenured statesman such as McCain surely knew what he was talking about, and the litany of issues that followed the adoption of the M17 and M18 make his statements a bit more foreboding in nature. Either way, Sig seems to have put these issues to bed, as the platform is now well received.
M17 Pistol for Sale
If you want to get your hands on an M17 or M18, there are several options available to you. Sig produces the P320-M17 and P320-M18, which are basically the same as the military versions. Also available is a "commemorative version" of each, only 5,000 of which will be produced. These are near indistinguishable from their in-service counterparts; they even come in the same cardboard boxes which they get sent to the military in.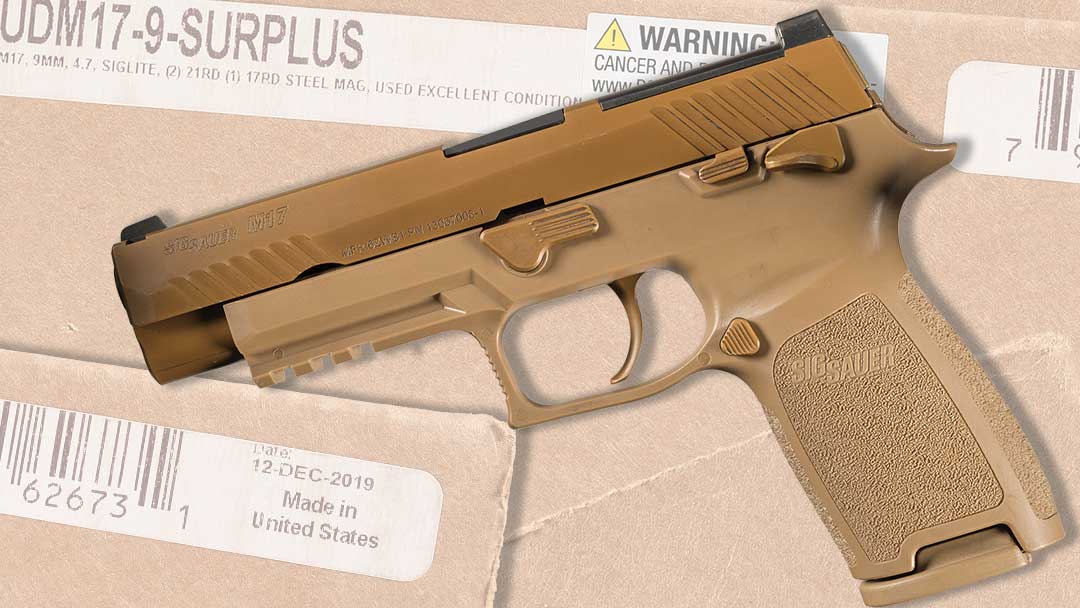 An M17 delivered from SIG Sauer to Defense Logistics Agency Distribution in Anniston, Alabama who in turn delivered it to the 320th Field Artillery, 1st Battalion, Bravo Battery at Fort Campbell, Kentucky, where it served for two years.
Another option would be to find a surplus M17. Just after the delivery of the 100,000th M17 to the military, Sig Sauer announced that they would be releasing a limited number of early-run pistols that saw service with the U.S. Army.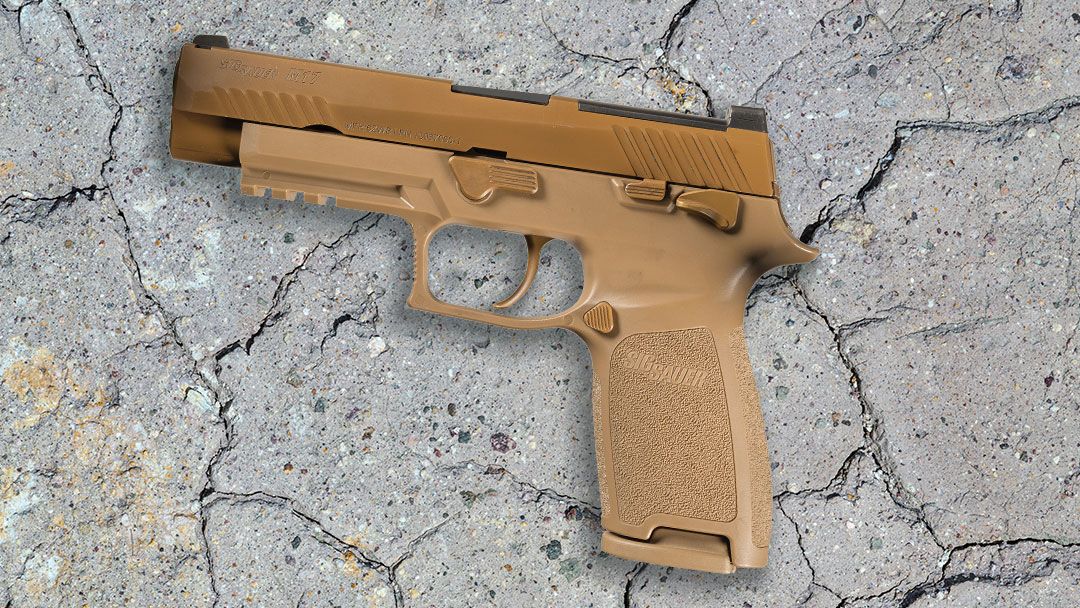 An M17 issued to the famed 101rst Airborne Division.
Considering these pistols were fielded, the condition varies piece by piece with some displaying bonafide use-related wear. They come in the proper brown cardboard boxes and include a Sig Sauer certificate of authenticity. On top of that, one can go through some bureaucratic hurdles and obtain a data sheet through the FOIA (Freedom of Information Act) service, which details your pistols history from its initial departure from the Sig Sauer factory, through its service life, and beyond.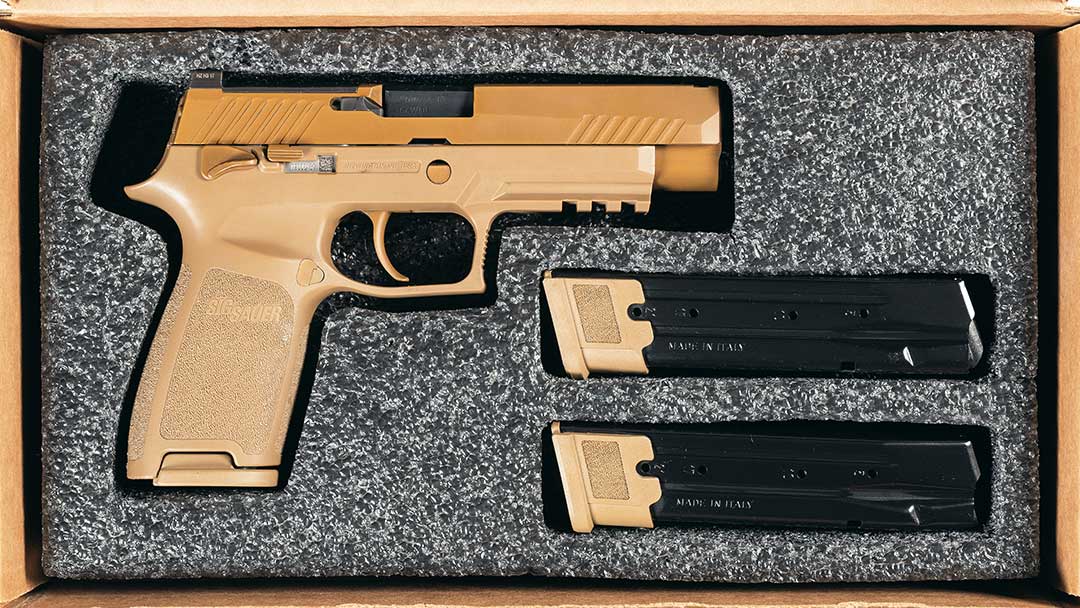 One of the first M17 pistols issued for field testing and combat use. Available this May
Whichever version of the M17 appeals to you, RIAC can (and will) help you get your hands on one. We frequently have M17's in our auctions and that momentum doesn't appear to be going away any time soon. Whether it be a true-blue surplus M17, a commemorative M17, or a standard Sig Sauer P320, all make frequent appearances at Rock Island Auction Company.
Sig Sauer M17 Pistol
The M17 is a solid pistol, and despite the issues it faced during its genesis, it has become a well-loved sidearm for both our troops and the general population. Sig Sauer's release of surplus pistols is a unique move that set the collecting community abuzz.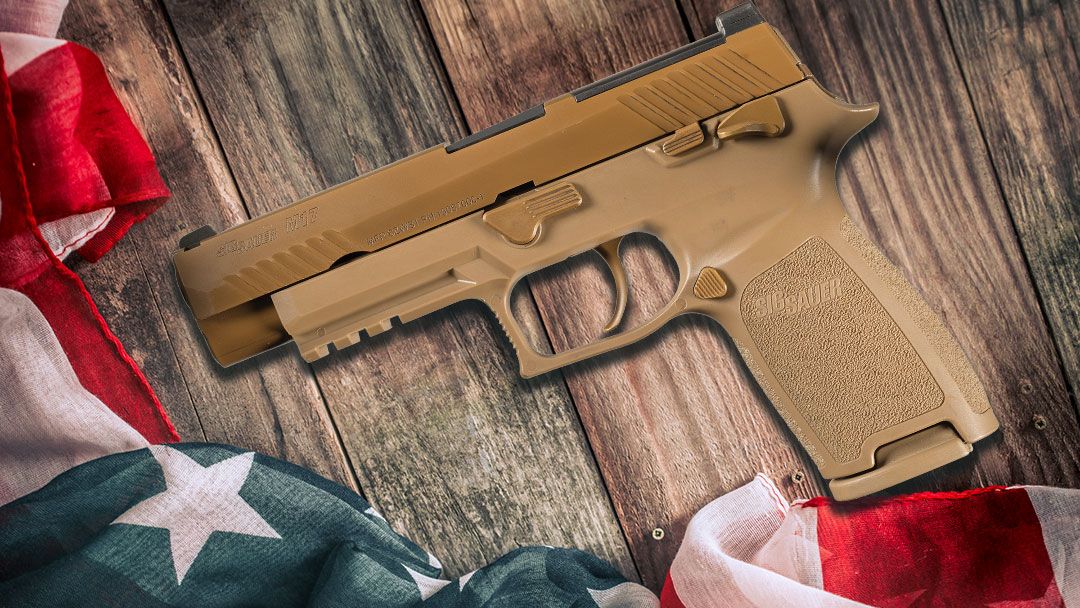 If the service life of the M1911A1 and M9 are any indication, the M17 will have a lengthy run as the standard U.S. military sidearm, and early issued examples will only gain more collector interest. Available this May
Firearm collectors and history buffs tend to be kindred spirits. Whether it be a US Property marked 1911 or a surplus M17, owning a piece of American military history is a goal of many. Sig Sauer took the initiative and provided an easier route to achieve that goal, and arms collectors from around the world eagerly compete for a chance to own these fantastic pistols.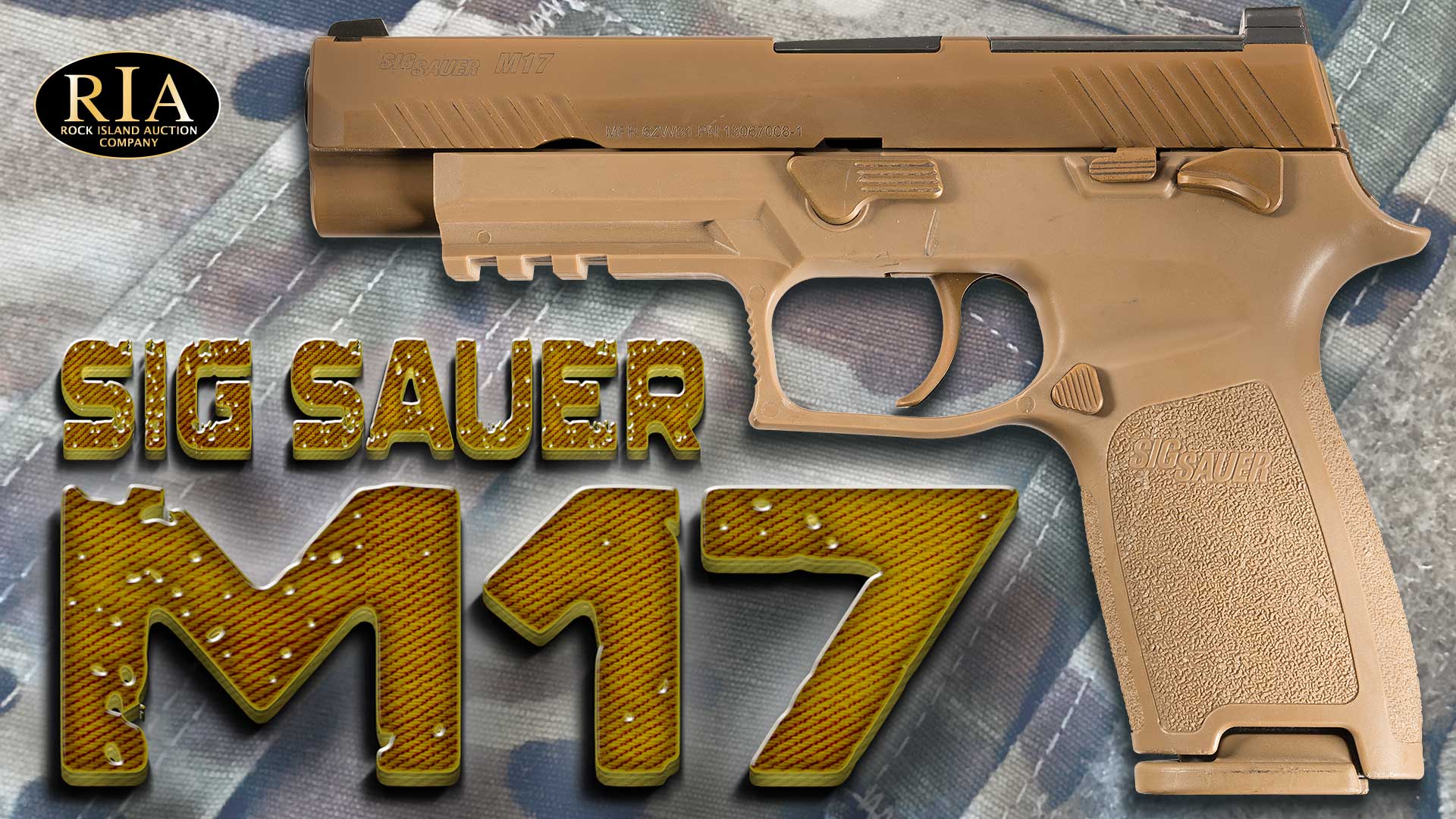 Rock Island Auction Company