John Marlin founded one of America's finest sporting arms manufacturers. His eldest son, Mahlon, continued John's legacy and completed development on his father's line of slide action shotguns and rifles, including the Marlin Model 20. Rock Island Auction is proud to offer an exquisitely engraved Marlin Model 20 slide action takedown rifle owned by Mahlon Henry Marlin during his tenure as President of Marlin Firearms Co.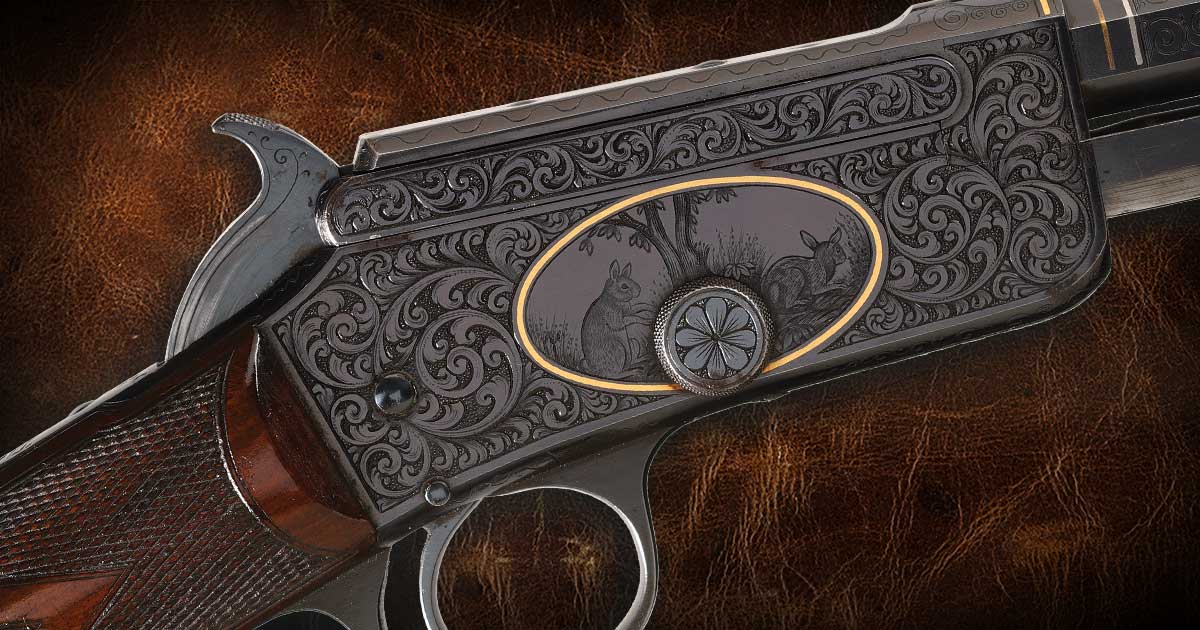 An Ulrich factory master engraved, gold and platinum inlaid, deluxe Marlin Model 20 slide action takedown rifle.
The Marlin Arms Company
John Marlin's first son, Mahlon Henry Marlin, was born on Jul 23, 1864. During this period John worked as a machinist for Colt Patent Fire-Arms in Hartford, Connecticut before deciding to venture out on his own in April of 1870, moving his small family to New Haven and opening a tiny shop on State Street known as "J.M. Marlin." Handguns were John Marlin's first love and the intrepid gun inventor produced about a dozen models of derringers, revolvers, and single shot pistols with names such as "Victor," "Little Joker," and "Never Miss."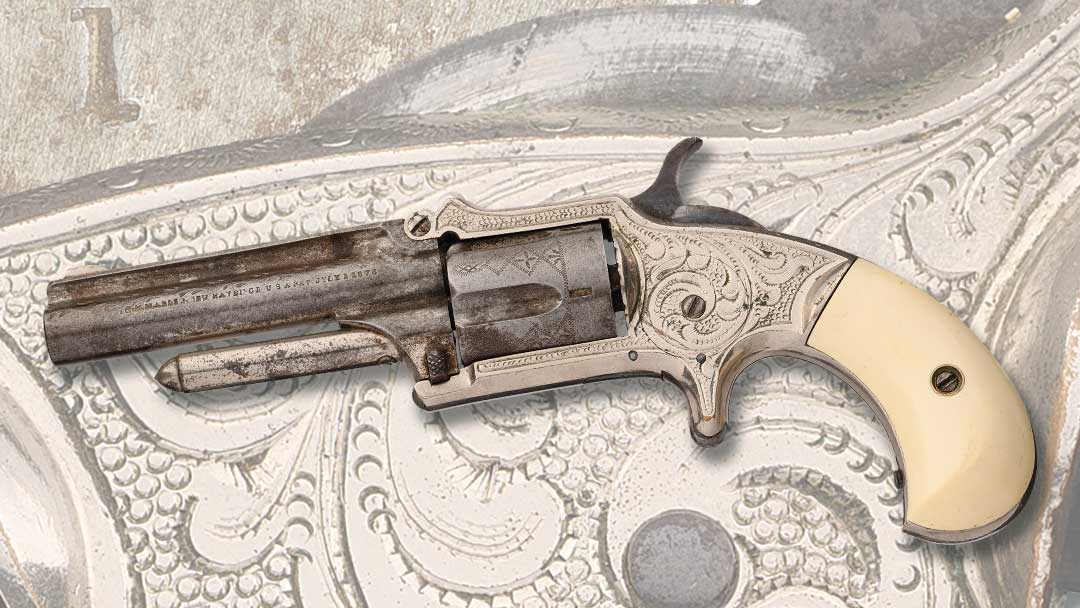 Handguns were John Marlin's main source of livelihood during the early days of his career, like this rare factory-engraved Marlin No. 32 standard 1875 revolver, serial number 1.
In the years following the Civil War, the firearms business was booming as an influx of settlers heading out west sought the best means to hunt and to protect their families. Looking to expand his firearms line, Marlin kept his eye open for patents that could be manufactured on a light production basis. The Ballard rifle design, a patent acquired from New York retailer Shoverling & Daly, proved to be an ideal match. Recognizing Marlin's talent, Charles Daly and August Schoverling approached John Marlin to produce the Ballard rifle and requested he improve the design to appeal to the sporting market.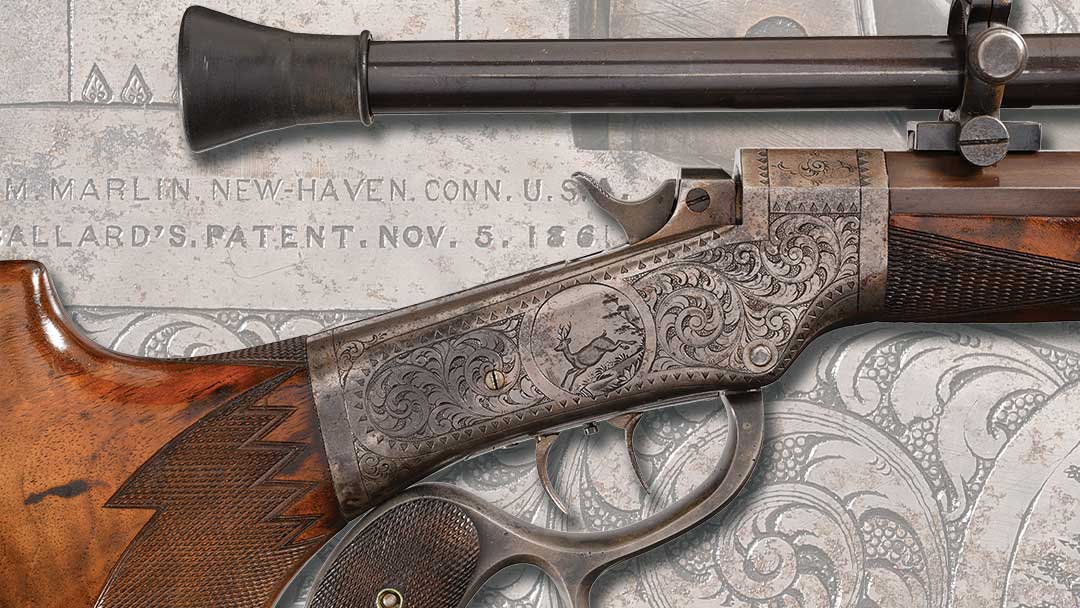 Ballard rifles thrived in the late 19th century, like this factory game scene engraved J. M. Marlin-Joseph Meunier Ballard single shot Schuetzen rifle with scope. John Marlin's Feb 9, 1875 patent for a reversible firing pin permitted the use of rim-fire and center-fire cartridges in these new Ballard models.
Producing single shot pistols and Ballard rifles helped John Marlin gain the engineering knowledge and manufacturing experience to produce the lever action and slide action firearms that would later define his brand. In 1881, John Marlin registered patents for his Model 1881 lever action rifle, the first repeater sturdy enough to chamber the .45-70 big bore caliber. Shoverling & Daly secured the capital and stakeholders necessary to incorporate the company, and Marlin Fire Arms Co. was born.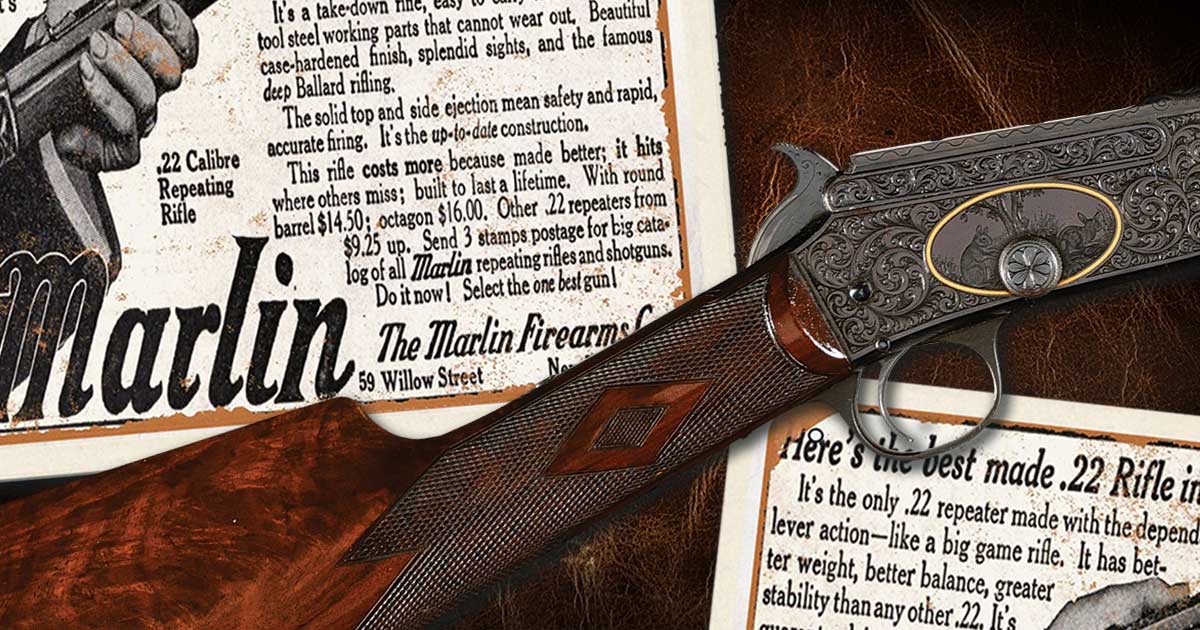 One of the finest known Marlin Model 20 rifles.
Mahlon Marlin and the Marlin Fire Arms Co.
Mahlon Henry Marlin was the first of four sons of John Marlin and Martha Susan Moore. Sadly, only two of the boys, Mahlon and his younger brother, John Howard, would survive to adulthood. Both brothers took an early interest in their father's business, with Mahlon expressing a talent for art and engineering.
A rare engraved deluxe Marlin Model 20 slide action takedown rifle belonging to John Marlin's first son, Mahlon Henry Marlin.
Mahlon attended Yale University and graduated from the Sheffield Scientific School in 1886, then returned to New Haven to work as a draftsman in his father's factory and learn the family trade firsthand. Ever the engineer, Mahlon registered U.S. Patent 384,990 on June 26, 1888 for a "Velocipede," an early bicycle design, but most of his creative efforts for the next three decades would be spent growing the Marlin brand.
Mahlon worked his way up the ladder during an age of prosperity for his father's company. The Model 1881 had formed the blueprint for a generation of solid top, side ejecting Marlin lever action rifles to follow, including the Marlin Models 1891 and 1897 that were famously toted by Wild West Show performers like Annie Oakley. John Marlin's high standards led to a reputation for quality craftsmanship throughout the firearm industry, and Mahlon would emphasize this philosophy in his efforts in sales and his eventual role as the company vice president.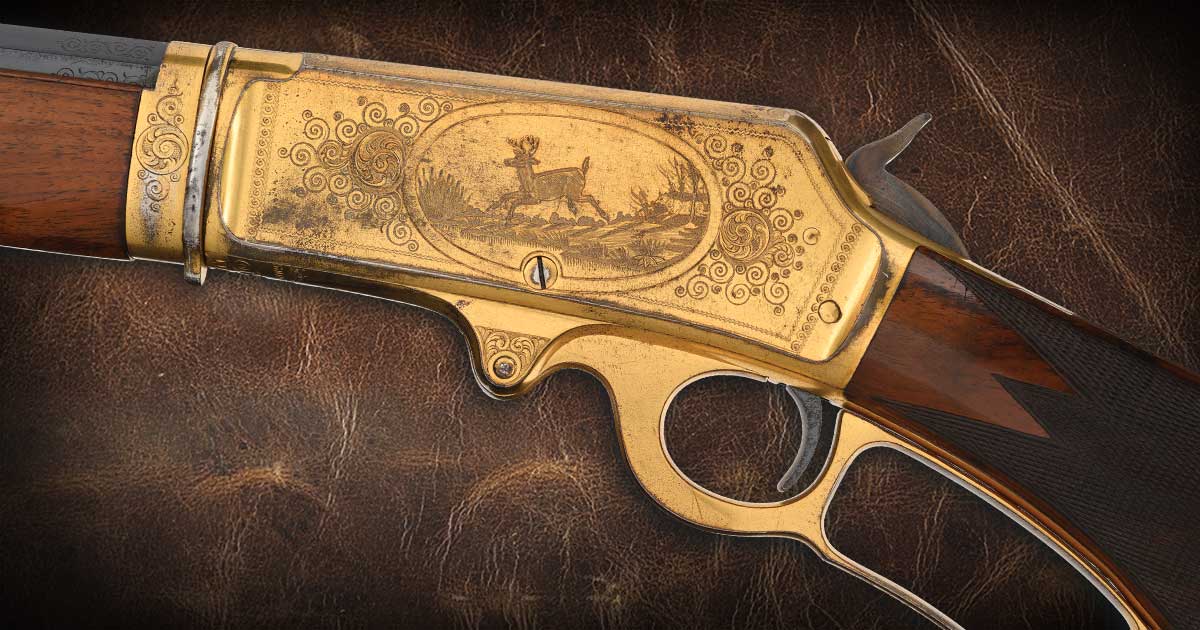 A wonderful, high condition and rare factory engraved Marlin Model 1893 masterpiece that was manufactured in 1903. This Model 1893 is a rarity in Marlin collecting as it is not only factory engraved and inscribed, but it also features a factory two-tone finish of blue and gold that give a very striking contrast.
The Marlin Model 20
Takedown rifles and shotguns became popular in the sporting arms community in the late 1800s, where the barrels could be removed from the receiver and stock, then packed and carried in a compact two-piece unit. John Marlin was awarded a patent for his takedown system in 1894 and designed a number of takedown lever actions, but the Marlin Model 18 became his company's first slide action takedown rifle that went head to head with the highly successful Winchester Model 1890/1906 product line.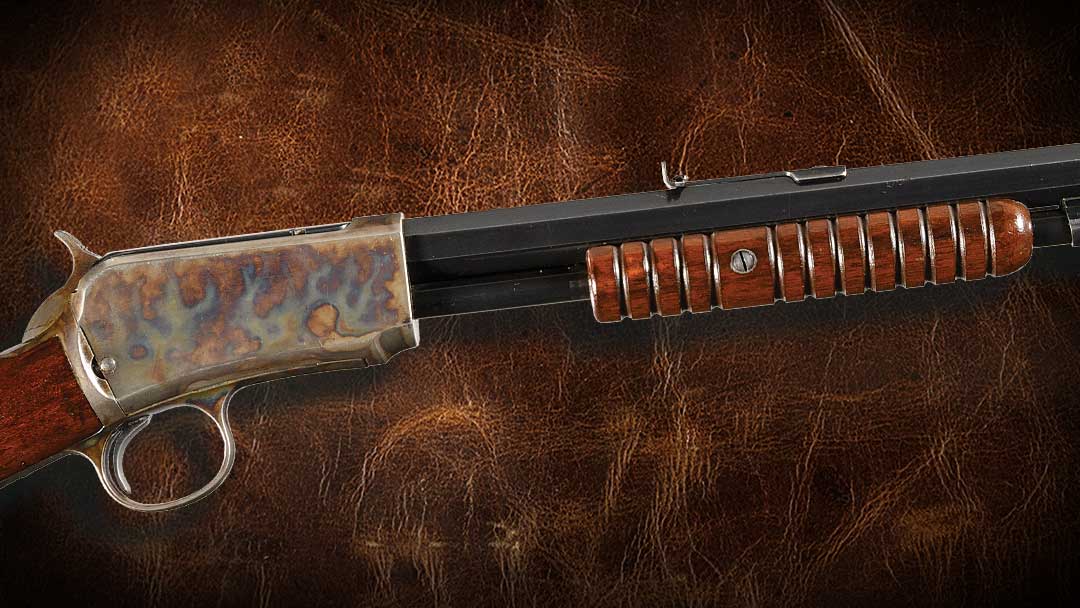 An excellent Winchester Model 1890, manufactured in 1898, a leading commercial pump action .22 rifle.
While a fine, affordable long gun, the Marlin Model 18 "Baby Featherweight" .22 repeating rifle had a complicated takedown system and was only produced from 1906 to 1909. It was replaced by the Marlin Model 20, a more robust and streamlined .22 slide action rifle. Weighing just over four pounds, the Model 20 only came in a single style for the first five years of its nine-year production run.
"The barrel is 23 inches long, octagon, made from the best quality special gun-barrel steel," Marlin's 1908 catalog describes. "The rifle has a tubular half magazine, as used in our Models 1892, 1897, and Model 18, and handles at one loading, 15 short, 12 long, or 11 long rifle cartridges. The cartridges may be loaded into the magazine, all of one kind, or mixed indiscriminately, and the gun will handle them perfectly."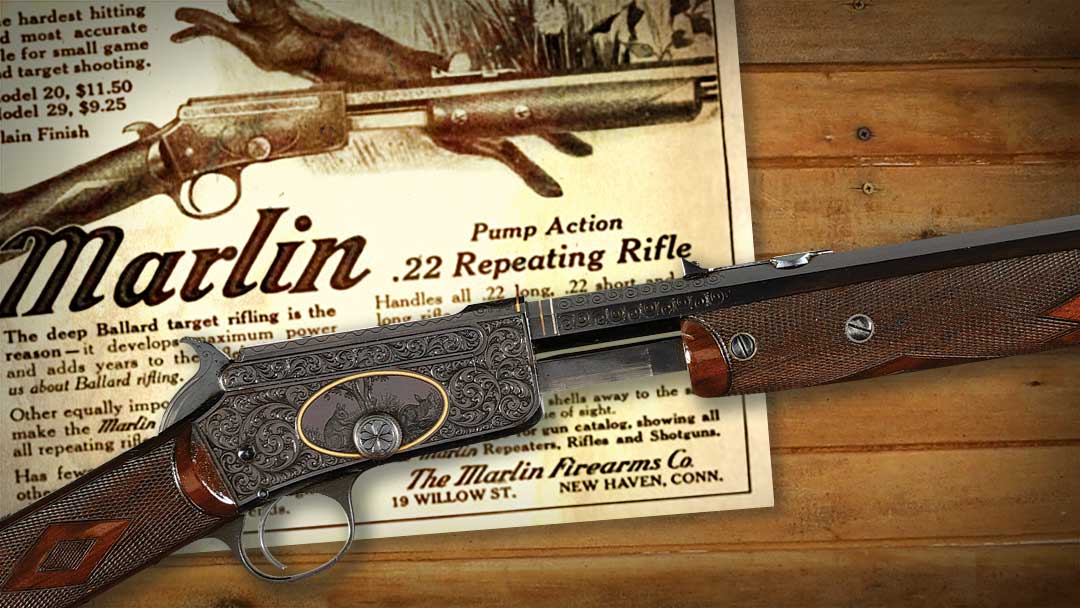 The Marlin Model 18, 20, and 29 shared a squared receiver profile, with the classic "split receiver" type action held together by a single screw that was used on various Marlin rifles like the wildly successful Marlin Model 39A.
More variations of the Marlin Model 20 were eventually offered, including the scarce Model 20-S and the Model 20-A. All versions of the Model 20 were produced with a special rear sight, flat on top with an elevator, found on no other Marlin models. The Marlon Model 20 has sometimes been confused with the Marlin Glenfield Model 20, a bolt-action .22 rifle produced by Marlin's offshoot brand that catered to big chain department stores from 1960 to 1966, but the two guns have no relation save for a similar name.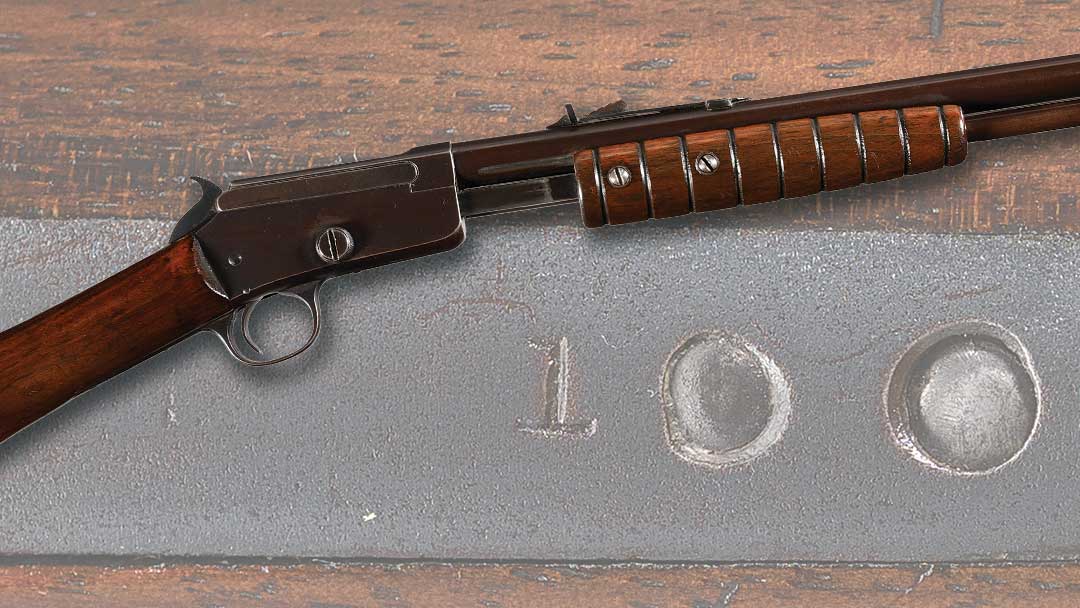 The Marlin Model 37, a popular successor to the Marlin Model 20. This example, manufactured in 1913, is serial number one and was on display at the NRA National Sporting Arms Museum from 2013-2022. Provenance: The Supica Collection
"The Model 20 has the Marlin Solid Top and Side Ejector. The solid top does not catch rain or snow, and the side ejector throws the shell away from you, not in your face, and you do not get into the habit of flinching. You can make repeat shots instantly."                  – Marlin's 1908 Catalog.
Mahlon Henry Marlin's Model 20 Rifle
The Marlin Model 20 rifle offered in Rock Island Auction's December 9-11 Premier Firearms Auction is identified as having been owned by Mahlon Henry Marlin. Not only is this magnificent rifle one of the scant few Marlin Model 20s engraved, but the engraving was performed by one of the legendary Ulrichs. In this case, either Conrad Friedrich Ulrich Jr., who left Marlin in 1910 to work for Winchester, or Conrad's son Alden George Ulrich, who remained with Marlin from 1905 to 1920 before also taking a position with Winchester.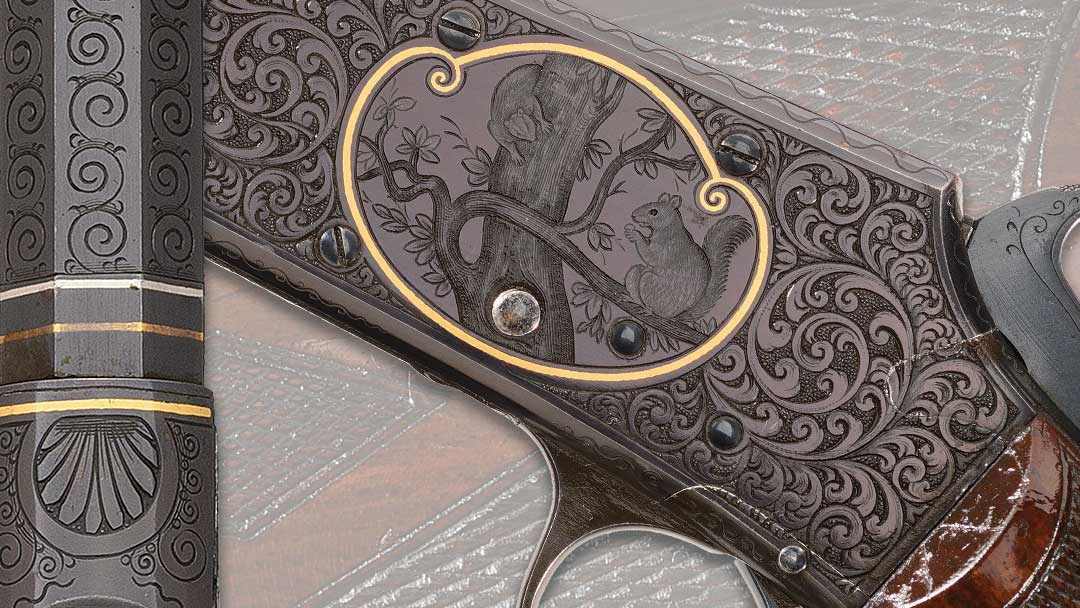 Bands of gold and platinum embellish the breech end of the barrel, and gold borders frame finely detailed games scenes on each side of the rifle in the styles found on many Ulrich engraved rifles.
This Model 20 rifle appears in a copy of a July 13, 1911 dated advertisement for the Marlin Model 20 and Marlin Model 29, and on an Oct. 1911 dated copy of a "Marlin/Special Bargain Sheet, NO. 8" as job no. 15 based on the description: "1 Model 20, 22 caliber, 23-inch, octagon, extra selected stock and forearm, 'F' checked, extra finish, engraved and inlaid," and listed for $55.50 retail price and a special bargain price of $42.00.
In more recent times, this stunning Model 20 has been pictured in "The Marlin Collector" Volume 30, Issue 4 from October 2010 and Volume 36, Issue 2, from March 2016. The rifle was also featured on the cover of the 28th Edition of "The Blue Book of Firearms Values" from 2007.
This exquisite looking rifle features fine scrollwork backed by punch dot texture on the balance of the receiver, additional flourishes of scrollwork on the buttplate, and F pattern checkering on the fancy grade forearm and stock.
This historic Marlin Model 20 rifle was awarded a silver medal for "One of Ten Best Arms" at the National Rifle Association's annual meeting in 2000 and included the medal, medal case, and plaque. A very similar example is pictured on page 444 of "Marlin Firearms" by Brophy on which he calls it "one of the two finest pump action .22 rifles produced by Marlin. Gold and platinum inlays, pristine engraving with No. F-checked deluxe wood are exceptionally rare."
Marlin under Mahlon
John Marlin passed away in 1901, leaving a 37-year-old Mahlon to inherit the role as president and treasurer of Marlin Firearms. Mahlon's brother, Howard, would become vice president and secretary, but it took several years for the pair to fully regain their father's position as de facto heads of the company. Mahlon shared his father's appreciation for quality hand-crafted firearms and this sentiment was evident in how he managed the business. When Mahlon started his tenure, Marlin's slide action rifles like the Model 20 and improved slide action shotgun designs were still in the early stages, and Mahlon prioritized their development and production.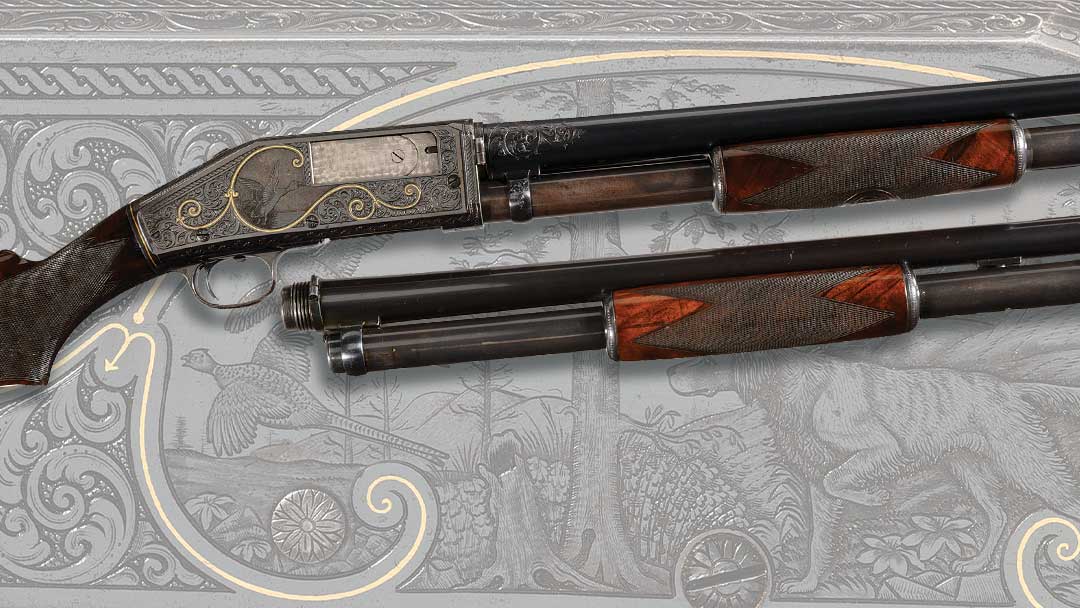 An outstanding, documented, factory master engraved and gold inlaid Marlin Model 28 grade D slide action shotgun with an extra barrel.
In addition to promoting the company's slide action line, Mahlon continued to produce many older Marlin models in his father's memory. Business prospered, but Mahlon preferred tradition and failed to procure any new firearms patents or branch off into uncharted territory. During his term as president, for example, Marlin Firearms discontinued the Model 1898 shotgun and did not produce any double barrel or lever action shotgun models. This conservative philosophy suited the early 1900s market, but WW1was about to upend the sporting arms industry.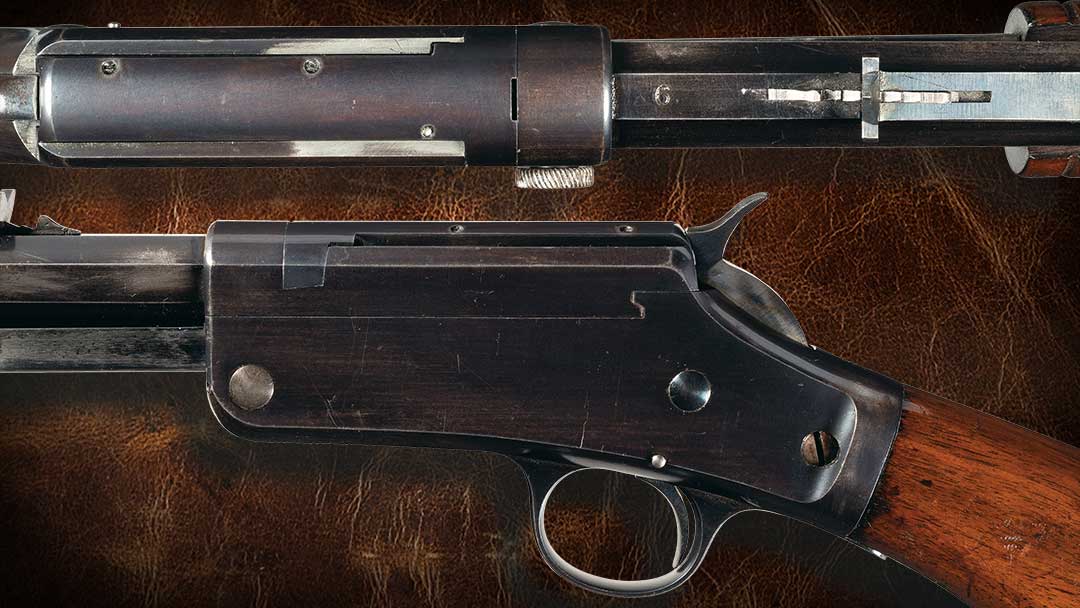 A rare prototype Marlin pump action rifle chambered in .22.
With war erupting in Europe and the United States working to rapidly expand and modernize its armed forces, almost every major firearms manufacturer was presented with lucrative military contracts. Mahlon at first resisted, having no personal interest in producing military weapons, but by 1915 a declining sporting arms market and a 1.5 million dollar offer from a New York syndicate finally convinced him to sell.
At the age of 52, Mahlon Marlin retired from the firearms business he'd grown up with and devoted his remaining years to oil painting, an interest he'd been unable to pursue before due to his time committed to his father's company. Mahlon poured the same passion he had for sporting arms into his artistic endeavors and became an accomplished landscape painter whose works are featured today in museums and reference books like "The Blue Book of Art Values."
The Legacy of Marlin Firearms
In 1916, the Marlin factory and all assets were sold to the A.F. Rockwell Group, who renamed the company "Marlin-Rockwell Corporation" and transitioned from sporting arms to military weapons like the Model 1914 machine gun and the Browning Automatic Rifle. The company changed ownership again in 1922, then was purchased at auction two years later by Frank Kenna Sr., a New Haven attorney and real estate investor. Kenna and his sons managed to restore Marlin's legacy as a family owned business until 2007, when Remington purchased the company, which was subsequently obtained by Sturm, Ruger & Co. in 2020.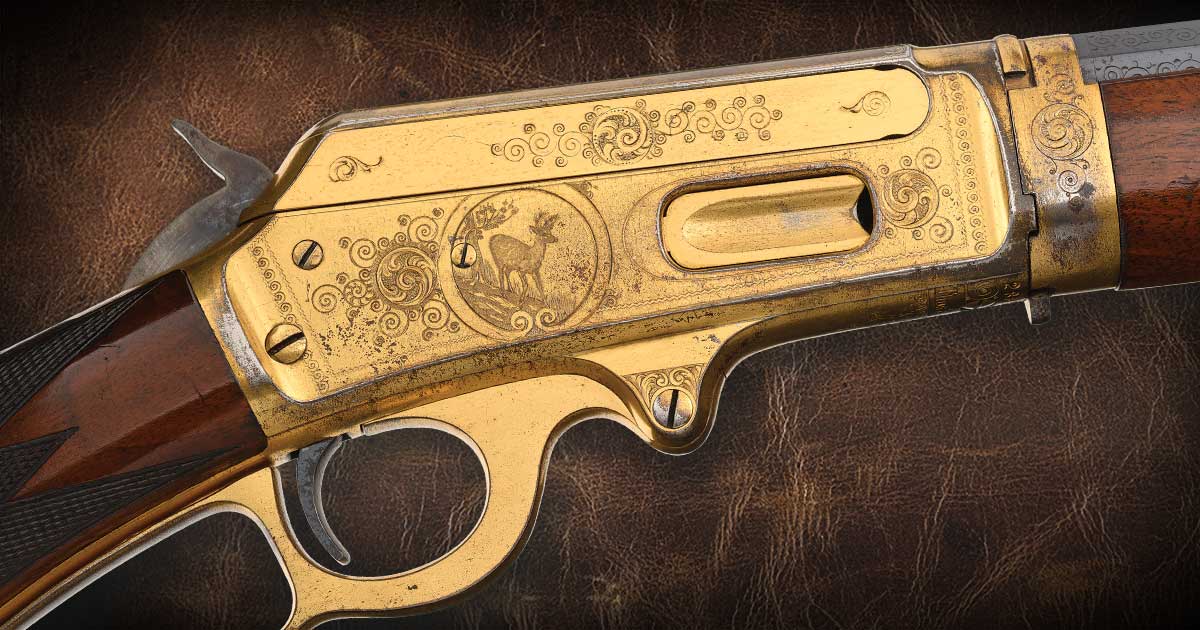 This breathtaking factory engraved Marlin Model 1893 takedown rifle is documented in William Brophy's "Marlin Firearms" on page 198.
Today, antique Marlin rifles like the Model 20 garner high demand from gun collectors and have seen a handsome appreciation in value at Rock Island Auction Company. The exquisite example offered in RIAC's December 9-11 Premier Firearms Auction checks all the right marks for a headline-worthy collector's piece, including stunning condition, gorgeous engraving, and historic provenance to Mahlon Henry Marlin, who led his father's business during one of Marlin's most prosperous eras.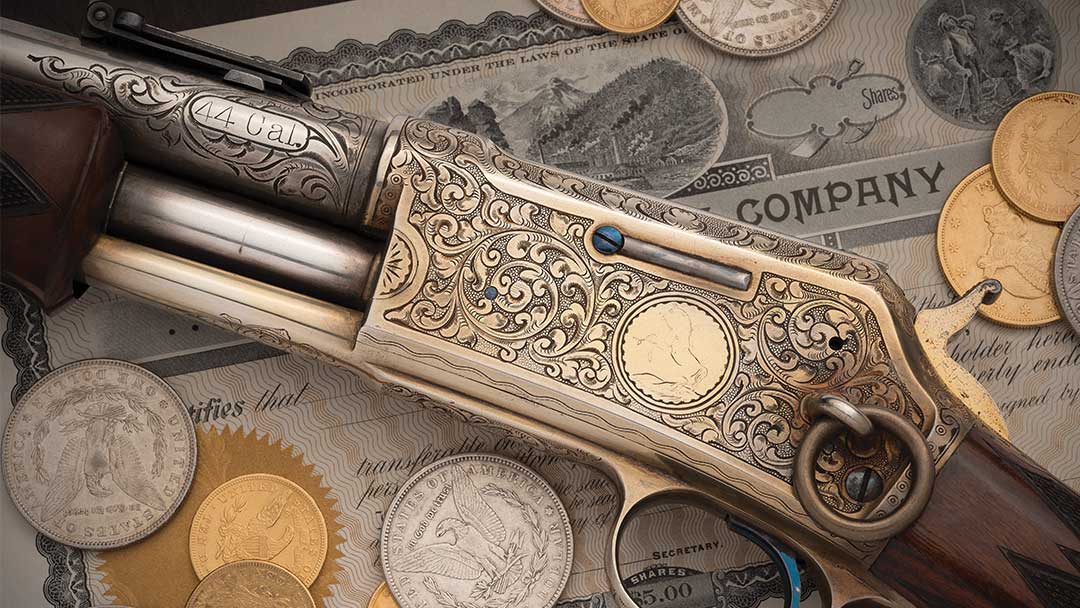 Another fine example of early slide action, a Colt Deluxe gold and silver finished L.D. Nimschke engraved Lightning magazine "Baby Carbine" with factory letter.
Subscribe to the Rock Island Auction newsletter for more gun blogs and gun videos on modern sporting arms, vintage classics such as Parker Brothers shotguns, the Winchester 21, and historic curiosities like the Howdah pistol, the Paradox gun, and the punt gun mega fowler.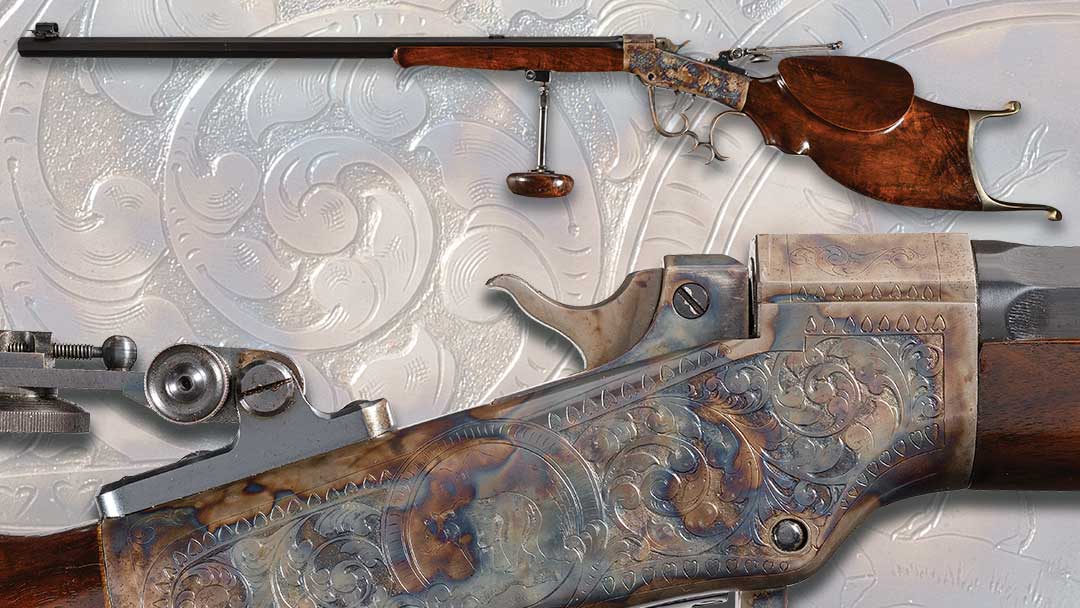 Game scene engraved J. M. Marlin Ballard single shot Schuetzen rifle.
Sources:
Marlin Firearms: A History Of The Guns & The Company That Made Them:  Brophy, William
Marlin and Ballard: Firearms & History: West, Bill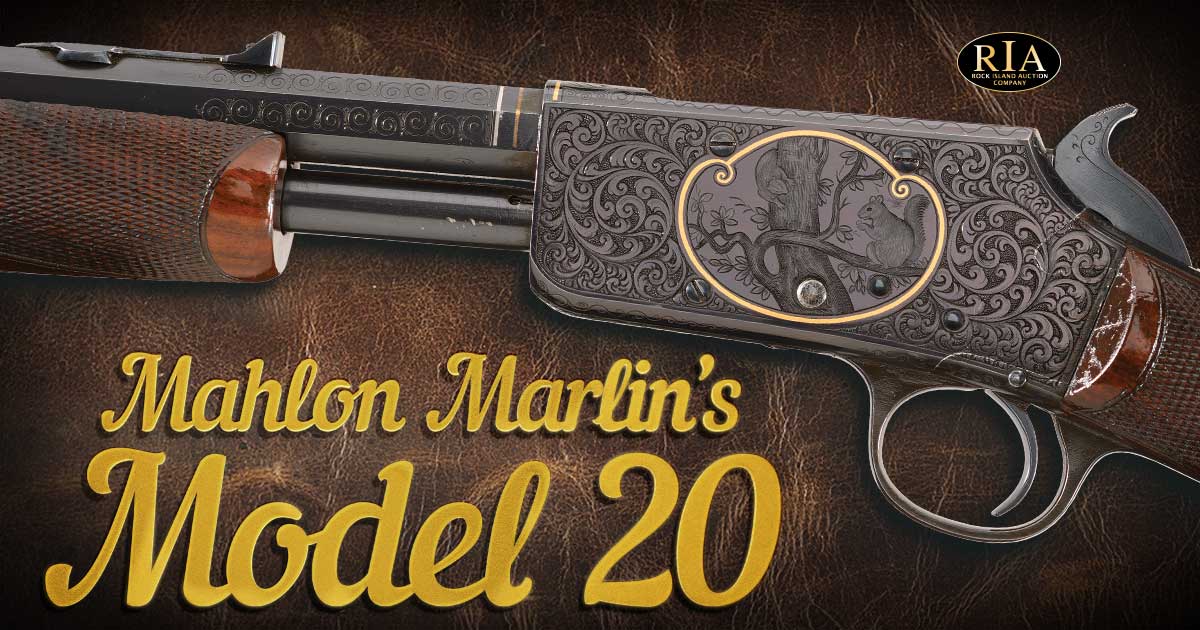 Rock Island Auction Company