I'm itchy. Spring has sprung and the woods are emerald green. So I have been tilling compost into the garden and topping the lawn, while attracting the smallest insects that leave the biggest welts. Today, I got a break. It is drizzling now, but heavy rain is in the forecast, so I can gather my notes and finish writing about the new Marlin Model 1895 Trapper.
The right company culture making the right firearm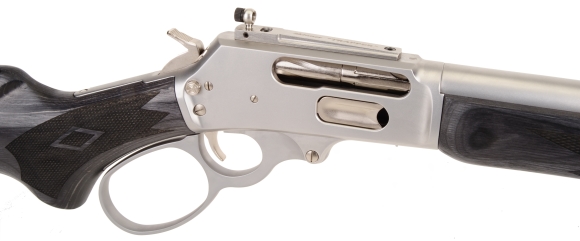 Ruger did more than bring continuity to the Marlin brand, they restored the brand's reputation.
Between the Marlin Company's 2000-2008 production, and production following Remington's acquisition of Marlin, it had become common for new guns to be delivered with handling scratches, tweaked screw heads, compression spots on checkering, and ill-fitting stocks.
Now, when I open a box containing a Ruger-produced Marlin, the product inside is pristine, the manuals are of good quality and pride of ownership is packaged with the purchase. Credit given where credit is due.
The return of the Trapper
December 2021 brought the Model 1895 SBL and the first Marlin production under the stewardship of Ruger. May 2022 brings us the Model 1895 Trapper's return to production, with Ruger now leading with two powerful 45-70 lever action rifles.
Marlin 1895 Trapper


Origin
Mayodan, NC

Manufacturer
Marlin
Model #
70450
Type
Lever Action
Caliber
45-70 Government

Magazine Capacity
5+1
Barrel
16.10″ – 11/16″x24 Threads

Rifling
1:20″

Nominal Weight
7.1 Lbs

Overall Length
34.25″
Stock
Black Laminate Hardwood

Hardware
Satin Stainless

Length of Pull
13.38″
Drop at comb
1.25″
Drop at heel
2.00″
Sights
Adjustable Skinner

Optical Sight Mount

Drilled & Tapped

Trigger Pull
4 lbs. 7 oz.
Safety
Cross Bolt

MSRP
$1349.00
If you are not familiar with the Trapper version of the Model 1895, it is shorter, lighter and less superfluously accessorized and embellished than the SBL. Both models provide the same 45-70 thumper power.
Both SBL and Trapper are smooth operating lever action rifles but, personally, I like the Trapper's satin finish stainless aesthetics and the omission of the Picatinny rail as an accommodation for New England woodland and brush hunting.
The Ruger manufactured Marlin 1895 Trapper is nicely done. Ruger's choice of a quality black laminate stock and resilient recoil pad, versus Remington's years past choice of a hardwood stock with textured black, rat rod paint job. The overall quality of current production speaks volumes to Ruger's commitment to the brand.
And the improvements are not limited to the visible surfaces. This is the first time in years I didn't get a cut thumb when trying to push rounds through an unfinished, sharp edged loading gate.
Checking off the list of features
The fluted bolt is nickel plated. Fluting prevents build up on bearing surfaces so operation remains slick and nickel is a great barrier to corrosion. The receiver sides and trigger guard plate are fashioned from 416 Stainless, CNC machined from forgings. The barrel is 410 Stainless and cold hammer forged.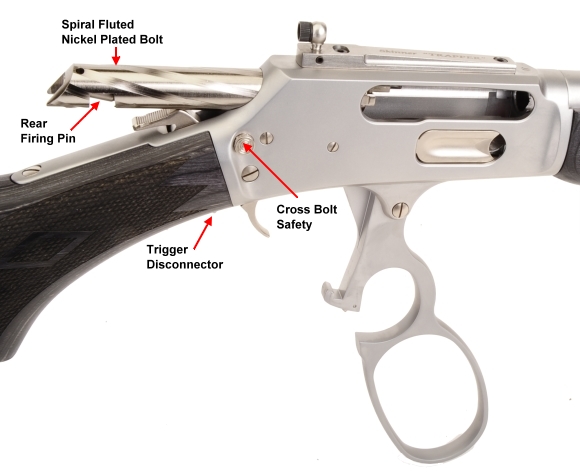 Safety features abound… Yes, you read that correctly, "abound". The rear firing pin is blocked from forward travel until the lever moved the forged locking bolt into position in the bolt notch. For traditionalists who need to hear the right number of clicks, the Marlin 1895 retains a half cocked position… which is, of course, redundant for deer hunters coming in from the city. Half cocked position is old school safe, but the cross bolt is double and welcome assurance.

The large loop lever allows the use of heavy gloves without deterring operation. Nice way to keep your fingers on your hands when temps drop well below zero. The trigger disconnector renders the trigger inoperable until the lever closes, closes the breech and depresses the disconnector. The cross bolt safety mechanically blocks the hammer from falling to the firing pin. The forearm is slimmed down compared to other companies attempts at making the Model 1895. Very nice.
Sight accommodations
Both front and rear sights are Skinner pieces. The rifle ships with an 0.096″ rear aperture, but there are other sizes available from Skinner. Maybe they will end up in the Ruger Store. Aperture sizes are Fine 0.040″, Medium 0.070″, Standard 0.096″, Large 0.125, X-Large 0.155″. The front sight is 0.560″ tall, 0.080″ wide and secured with two 6-48 fasteners on 1″ hole spacing.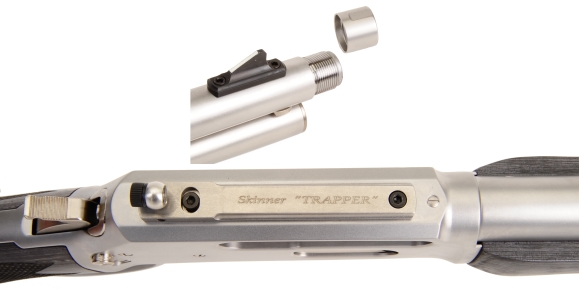 Muzzle threads are 11/16″-24 for affixing brakes or silencers. The thread protector pictured is included. The Trapper was shot considerably with a SilencerCo Hybrid 46 which is rated for the short barrel. It did a great job suppressing noise and reducing recoil.
If you get one of the limited production guns with the arrows in place, let me know. The Model 1895 receiver and barrel are tapped to allow for many configurations of sights. The Skinner rear sight uses three holes, counting from the back.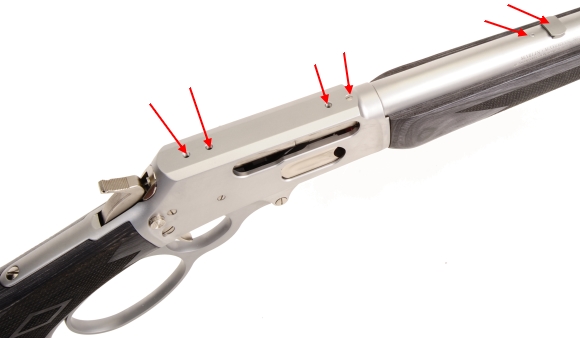 A receiver length rail uses four holes. A long rail uses the receiver top mount points, the tapped hole on the barrel and the barrel dovetail. The receiver top accepts standard Model 1895 two piece mounts and the barrel details accepts many aftermarket rear open sight styles.
Setup for the range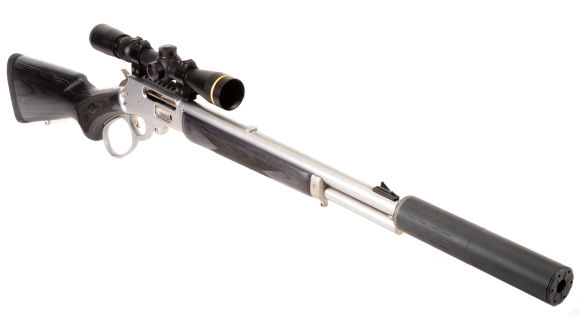 Who in the world puts a scope and silencer on a nifty little carbine? Anyone who wants to separate eyesight from a rifles mechanical accuracy and plans on shooting a lot of full tilt ammunition from a shooting bench. Specifically, me.
Muzzle velocity with differing barrel lengths was recorded using the same ammunition, from the same production lots under very similar environmental conditions.
It is a tack driver. Just a really big tack.
 Cartridge
Bullet
Type
Bullet
Weight
Grains
Manufacturer
Rated FPS 24″ Barrel
Actual
FPS 22.00″ Barrel

Actual
FPS 19.00″ Barrel

Actual
FPS 16.10″ Barrel
3 Shot
100 Yard
Groups

Winchester Supreme
FNSP
300
1880
1712

1672

1531

1.2

HSM A-Frame
FNSP
350
2050
2183

2102

2141

0.8

Buffalo Bore Magnum
FNJ
350
2150
2205

2125

2116

1.1

Remington Core-Lokt
SP
405
1330
1051

1179

1022

1.0

Buffalo Bore Magnum
LFN
430
1925
1999

1904

1817

0.6

Garrett Hammerhead
LFN
540
1550
1547

1528

1446

0.8
It is easy to shoot a little shoulder pounding carbine over a long range day, just park it in a shot bag laden shooting sled. These little lever guns are accurate, as is the factory 45-70 cartridge and quality handloads.
Loss of velocity due to the shortish barrel varies from an actual uptick in performance over longer barrel guns, to a moderate loss. For me, barrel length would not be a concern, so why not go with the lighter, compact gun?
Pros and… some more pros

Could just be me, but I like stubby powerful rifles. In this case, a rifle that is easy to haul around in the woods, accurate and convincingly powerful enough for any North American game.
Best Zero – HSM 350 Grain Bear Load
Near-Zero – yards
18
Mid Range – yards
94
Far-Zero – Yards.
162
Max Ordinate "
+3.0
Point Blank – Yards
172
Best Zero
Yards
0
50
100
150
200
Velocity – fps
2141
1918
1710
1521
1354
Energy – ft.-lbs.
3562
2859
2272
1797
1424
Momentum – lbs-sec
107
96
86
76
68
Path – in.
-1.50
1.91
2.95
1.00
-4.72
Two hundred yards is a along way off in woodland hunting. In a recent impromptu survey of FedEx and UPS drivers, the consensus was that fifty yards is a long shot in most parts of Maine. The Trapper is point blank range out to 172 yards with the bullet never rising more than 3″ above line of sight. And the Trapper does it with bolt action like accuracy.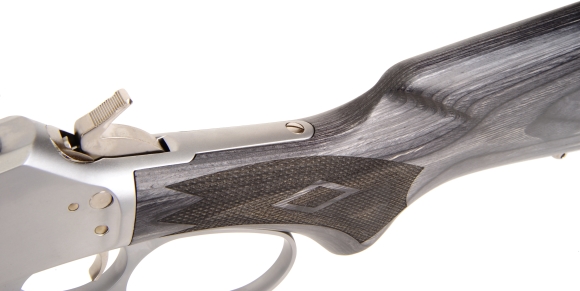 Stock fit is so nice wherever wood meets metal. No rises, no sink holes, no space to stow your lunch between the barrel and forearm. Ruger must have really put in the overtime to get this production result.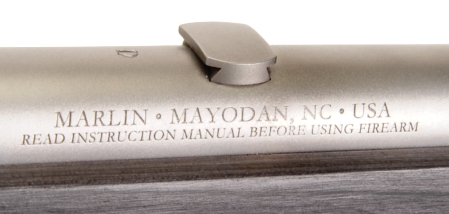 Ruger produced Marlins are manufactured in Mayodan, North Carolina. Why would I not want the good people of North Carolina to provide for themselves and their families as a reward for making an excellent product? A long time ago, it was easy to get lost in the notion of old world, gun manufacturing in foreign lands. Not any more.
Today, Western European companies may have administrative office addresses in places like Belgium, Germany and Italy, but predominately, their manufacturing for U.S. import is done in low cost labor markets like Portugal or Turkey. Many of the piece parts are actually made in China or Korea.
The Marlin 1895 Trapper is a super little lever gun. Can't wait to see what Marlin will have for us next.
Real Guns – A Firearm and related publication