Military arms are one of the most popular genres in gun collecting. That success has led to record prices year after year for storied favorites like the M1 Garand and the 1911 pistol, but how does the lesser revered Mosin Nagant stack up?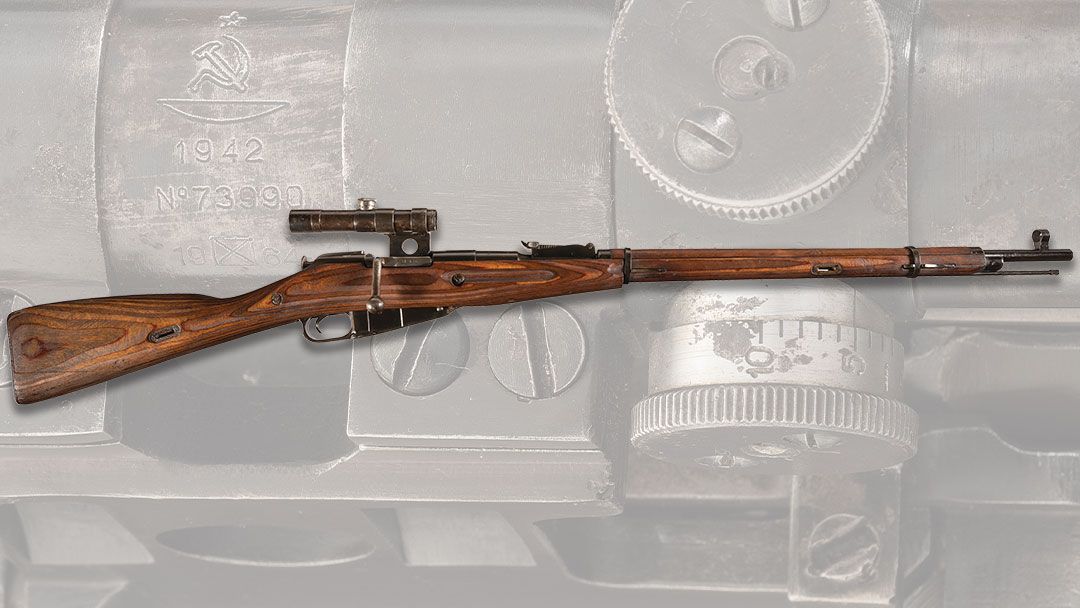 An Izhevsk Model 91/30 Mosin Nagant scoped sniper rifle.
From the Mosin Nagant's invention in 1891 to its continued irregular use in warfare today, the Russian-born rifle and its variants are some of the most prolific longarms in history. The Mosin Nagant rifle's immense production numbers bred surplus for decades, but gone are the days when local gun stores offered an entire Mosin crate for figurative pocket change. Though the rifle is still widely found for sale in the current collecting environment, Mosin Nagant price trends reflect a shift in supply status and the market's continued desire to own these historic bolt actions.
For shooters today, the Mosin Nagant is viewed as a sturdy rifle with a powerful round and an explosive muzzle flash, a fun weapon to let fly at the range to say the least. With their low-cost entry point compared to other vintage military rifles, the Mosan Nagant continues to be a favorite at Rock Island Auction Company. Below, we've assembled more than seven years' worth of auction data to help collectors and gun consigners better gauge the current market value of the Mosin Nagant.
Mosin Nagant Price by Year
When considering the average Mosin Nagant price by year at Rock Island Auction Company, we've gathered data from every Sporting & Collector Auction and Premier Auction dating back to 2015.
In an effort to maintain consistency and accuracy, the graphs presented below have excluded rare Mosin Nagant prototypes, presentation pieces, and other extremely scarce and atypical examples. The buyer's premium is included in the sales price (15% during the periods analyzed), as this properly reflects what a collector paid to own their Mosin Nagant rifles.
We've also excluded any lots that feature guns other than a Mosin Nagant since those prices cannot be easily attributed to a single rifle type within their respective lot. Since Mosin Nagant rifles tend to be bundled into lots of two or more guns, the price of each Mosin-only lot achieved has been divided by the total number of rifles in that lot to give a more accurate representation of the average Mosin Nagant price by year at Rock Island Auction Company. In short, the graph below is a compilation of hundreds of examples and over seven years of sales data intended to present a detailed snapshot of how the Mosin Nagant market has changed over time.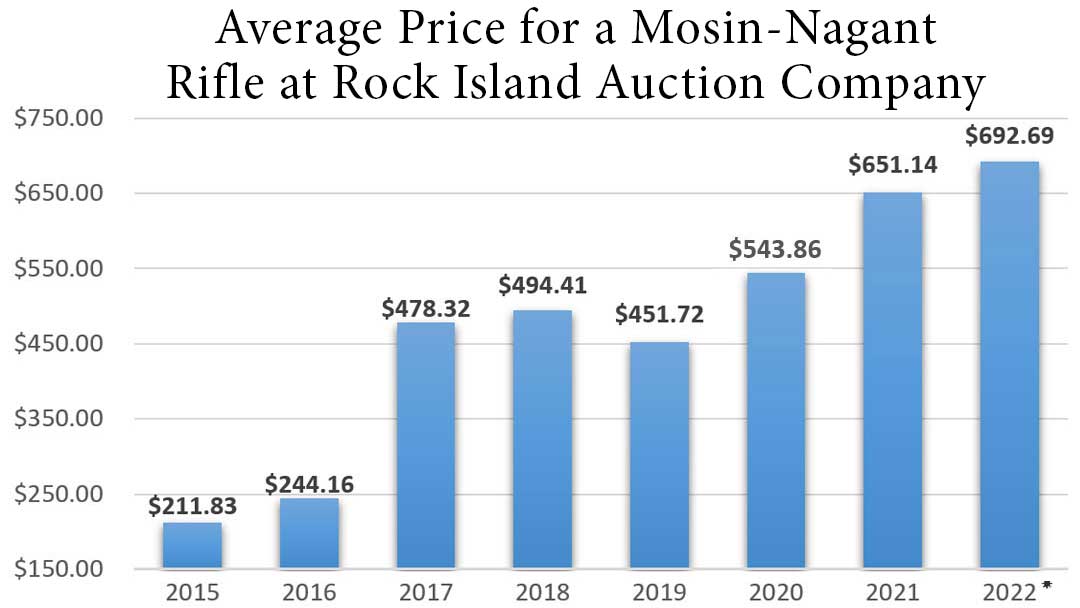 The average Mosin Nagant price at Rock Island Auction Company since 2015. The 2022 Mosin Nagant price figure is based on auctions to date.
In only a six year span, the average Mosin Nagant price at Rock Island Auction Company more than tripled, a dramatic surge in value that equals or surpasses some of the hottest collectible guns on the market right now by growth percentage. In 2015, a Mosin Nagant averaged $211.83 in price, inching up another $32.33 in 2016 before rocketing up more than $200 and holding that average for the next three years before continuing its impressive ascent to its current $692.69 mark, a number that would have seemed unimaginable ten years ago.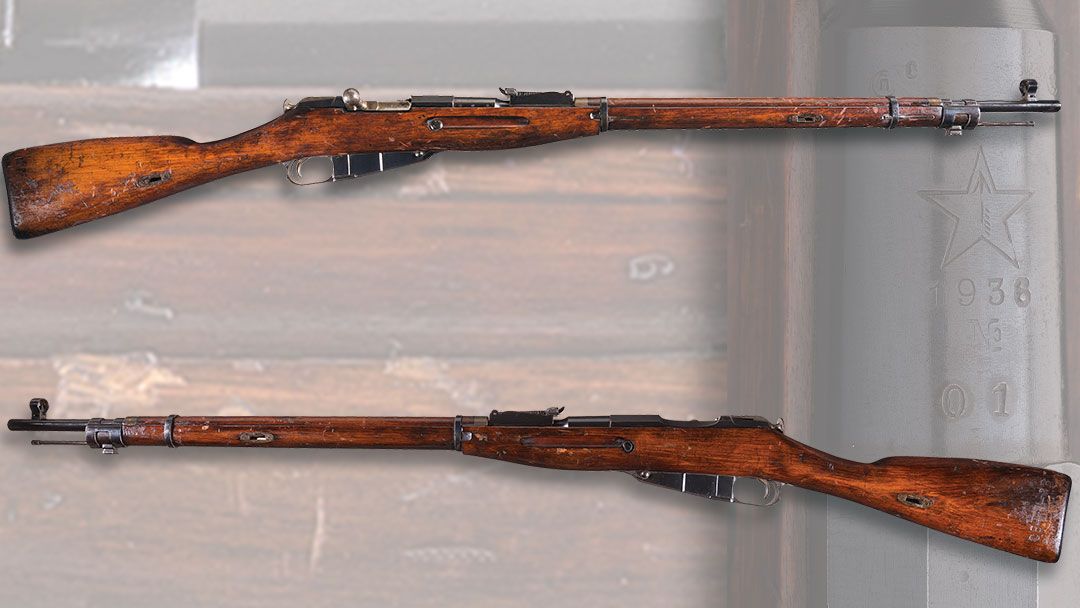 An example of a rifle that was excluded from the dataset, a "1936" dated first production/prototype Model 1891/30 Mosin Nagant that is all original and unaltered. Selling for $14,950 in 2018 at Rock Island Auction Company, this scarce example of the genre demonstrates that rare Mosin Nagant rifles can achieve impressive results in the current gun collecting market.
Gun prices are going up across the board, but saying that the Mosin Nagant is experiencing a rapid upswing is a gross understatement. Like many military arms, the Mosin Nagant has received some Hollywood coverage in films such as 'Enemy at the Gates' and 'Black Widow,' has been featured in almost every iteration of Call of Duty and countless other video game series, and has been well represented by popular Guntubers like Garand Thumb and Brandon Herrera. It's little wonder this Russian-invented workhorse rifle continues to garner interest from gun collectors across the globe.
Beyond the Mosin Crate
Historically, Russian military doctrine has always been to stick to what works and what can be produced en masse. This was certainly the case with the Mighty Mosin, originally called the Model M1891 or "Three Line Rifles" and updated four decades later with the well-known M91/30 design. With over 37 million Mosin Nagant rifles and M44 carbines manufactured in Russia alone, it's no wonder vast quantities of surplus found their way to America, where a Mosin crate became a common sight at gun stores.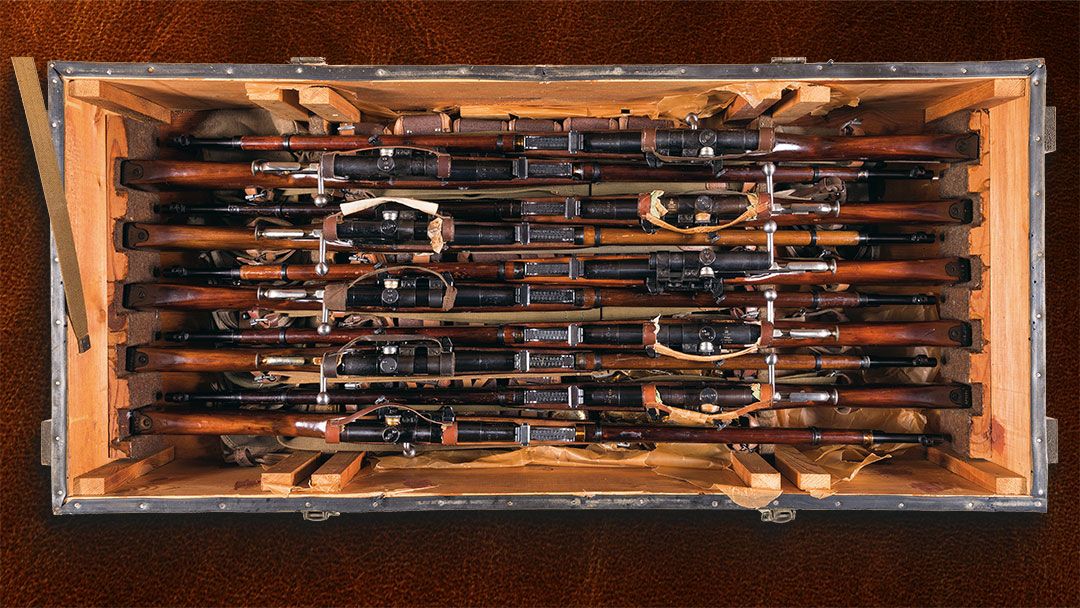 A Mosin crate for today's collector. Ten Soviet Nagant 91/30 bolt action sniper rifles with scopes, accessories, and transit case sold for $9,200 in December of 2018 at Rock Island Auction Company.
In recent years, various import restrictions have been imposed on some Russian companies that have traditionally imported large quantities of Mosin Nagants, specifically a round of economic sanctions in March of 2014 which was expanded three years later. The Russo-Ukrainian War resulted in a much stricter embargo on all Russian arms and ammunition, but our first graph demonstrated that the rising Mosins Nagant price had been an ongoing trend for years prior. The reality is that shooters and gun collectors today are willing to pay more for a Mosin Nagant.
While the days of buying a cheap Mosin crate have passed, the rugged bolt action rifle can still be purchased in quantity at Rock Island Auction Company. Our second dataset compares the average price for a bundled lot of three Mosin Nagant rifles over the last eight years.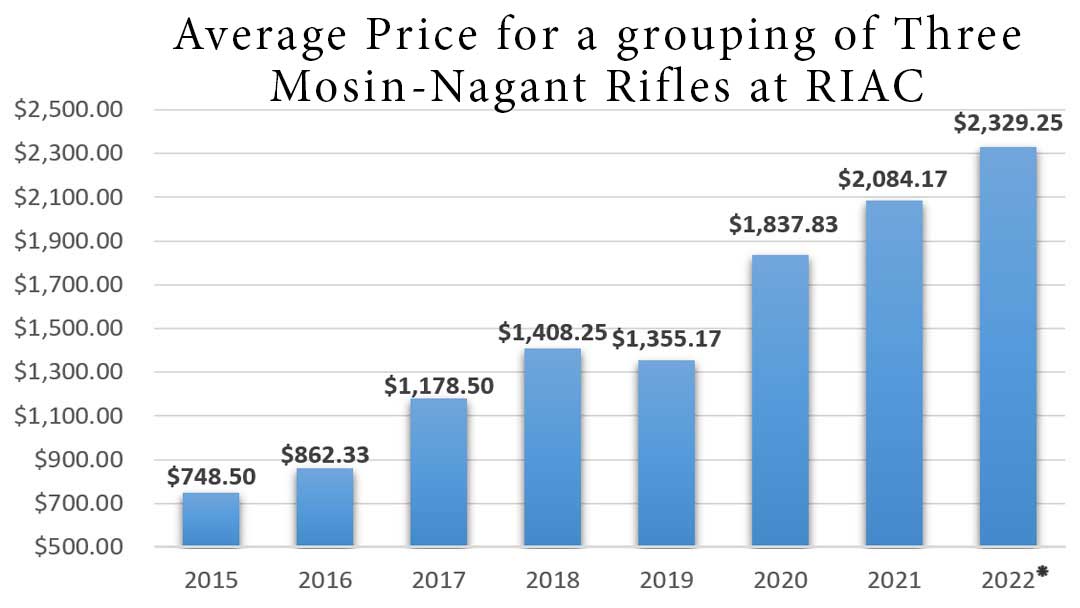 The average Mosin Nagant price for lots that include three Mosin rifles at Rock Island Auction Company since 2015. The 2022 Mosin Nagant price figure is based on the auctions to date.
The average Mosin Nagant price for lots with three rifles grouped together followed a somewhat similar trend to our last dataset, including a slight market correction in 2019 that rebounded and soared to new heights in 2020, 2021, and the first half of 2022. Going from a $748.50 average in 2015 to an average of $2,329.25 less than eight years later, an increase of more than 300%, is yet more evidence that the market for the Mosin Nagant is thriving at Rock Island Auction Company.
Mosin Nagant Price: Rare and Desirable
Next, let's take a look at Mosin Nagant rifles that are offered as standalone lots. These "best of the best" Mosins are oftenhighly collectible variations or original condition rifles that include sniper scopes and other valued accessories. Though this dataset includes far fewer examples, it still offers a snapshot of not only the approximate value of the most sought-after Mosin Nagants available, but an examination of the expanding price ceiling in this rising genre and how top-tier examples of the Russian-born rifle can perform as quality collector's guns.
The average Mosin Nagant price at Rock Island Auction Company for standalone lots.
Starting at $776.50 in 2015, the average standalone Mosin Nagant price at Rock Island Auction Company experienced a gradual increase over the next two years before jumping to an impressive $1,807.14. The average price shattered the $2,000 barrier in 2019 and has remained above $3,000 over the last two years, nearly four times the price five years ago, demonstrating how original, high condition, fully accessorized Mosin Nagant rifles can compete with some of their traditionally more expensive cousins in the military arms collecting genre.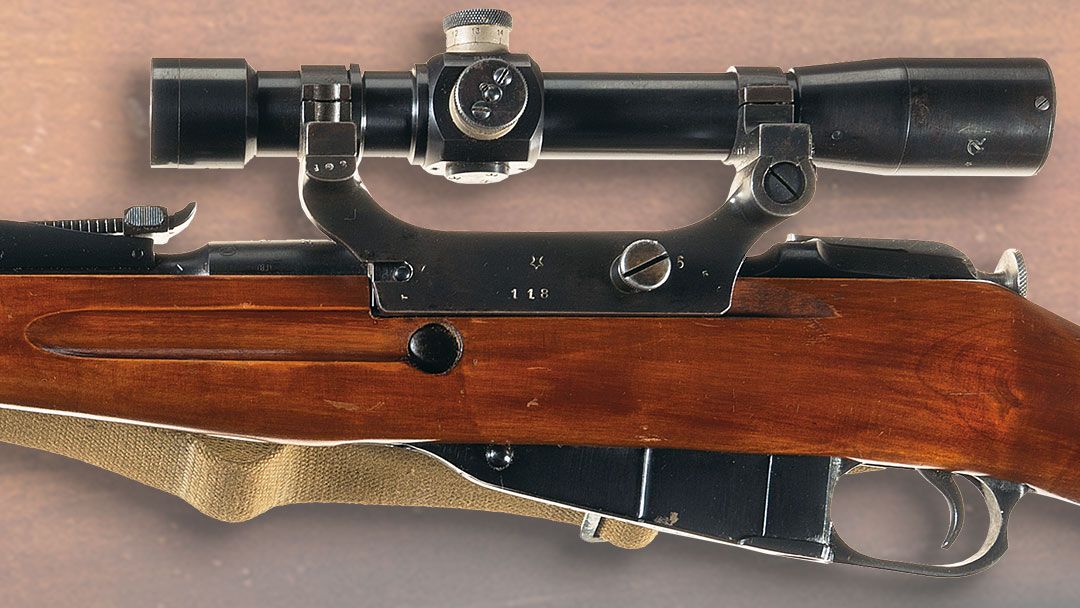 Some Mosin Nagants were converted to specialized marksmen rifles like this fine example of a WWII Soviet M91/30 with a side mounted PEM scope.
Mosin Nagant Price: Two Rifle Groupings
Finally, let's compare the sales data for Mosin Nagant rifles that have been bundled in pairs at Rock Island Auction Company. Single Mosin lots tend to represent the high point of the genre, while the first graph we featured presented an average of all Mosin Nagant-only lots sold at Rock Island Auction Company, including lots with five, six, seven or more Mosin rifles. Examining the Mosin Nagant lots bundled in pairs can provide a more accurate look at what a gun collector would consider above-average examples of the Mosin Nagant genre that isn't skewed by some of the rarities found in the single lot offerings or the more common examples found in the higher quantity lots.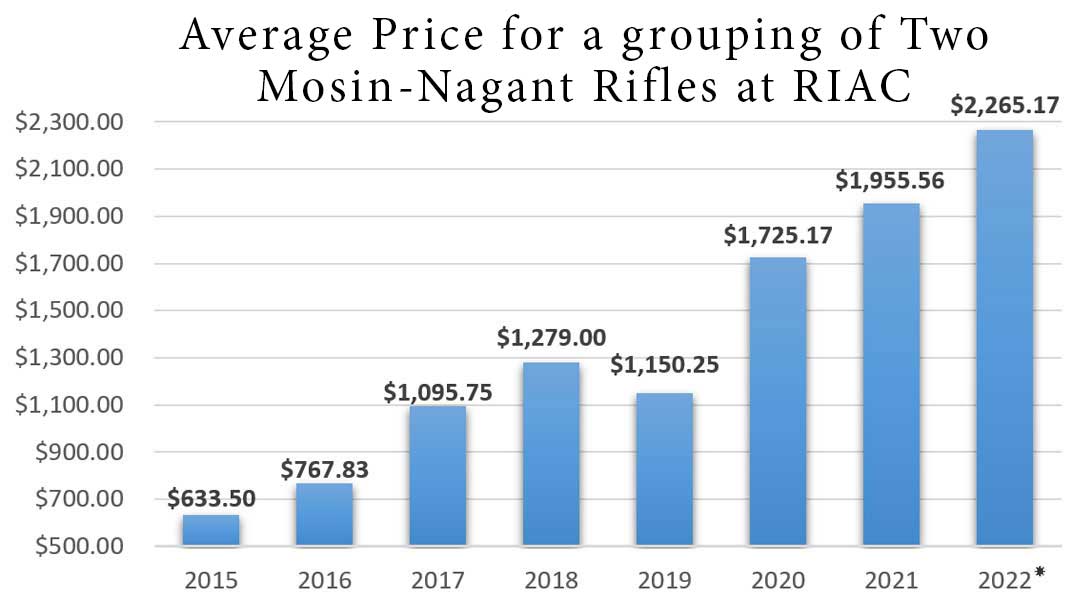 The average Mosin Nagant price for lots that include two Mosin rifles at Rock Island Auction Company since 2015. The 2022 Mosin Nagant price figure is based on the auctions to date.
The average Mosin Nagant price for lots with two rifles grouped together more than tripled over the course of five years. The 2019 price correction observed in the first two datasets resurfaces here, and so does the dramatic upswing that follows in 2020, 2021, and the first half of 2022, which has already seen a nearly 16% increase from the already remarkable $1,955.56 average Mosin Nagant price for two rifle lots in 2021. As stated, Mosin lots that are bundled as a pair tend to be above-average examples compared to lots that include five, six, and seven or more Mosin Nagant rifles, and the values we see at Rock Island Auction Company reflect the desire to own quality examples of these bolt action classics.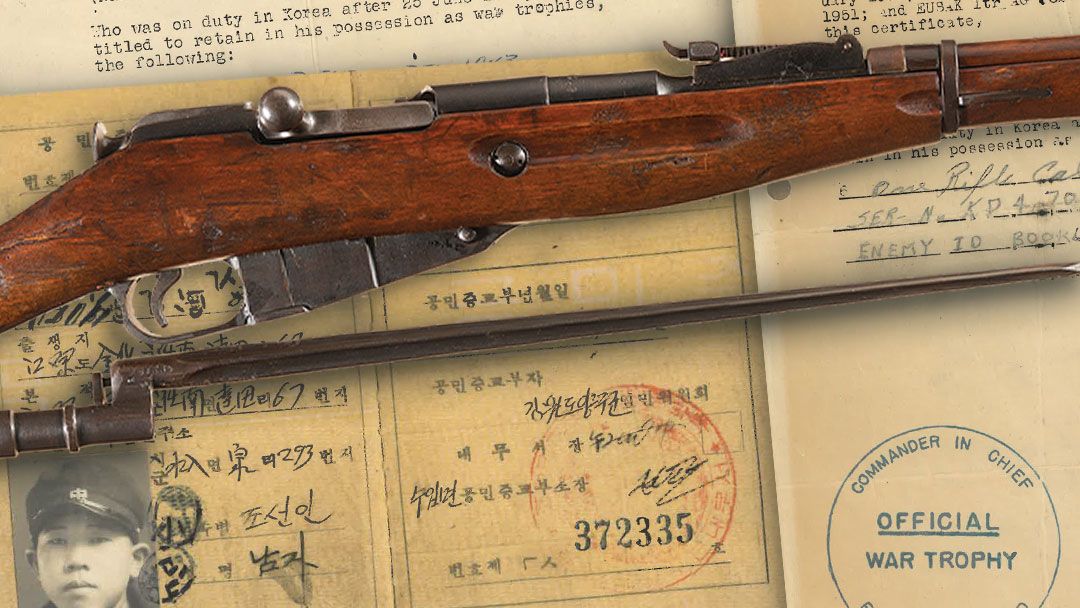 Russian Model 91/30 documented as a USMC Korean War trophy. The Chinese and North Koreans carried the rugged Mosin Nagant rifle during the Korean War, and the Viet Cong fielded them during the Vietnam War. Mosin Nagant war trophies brought back by American GIs are valued collector guns.
Mosin Nagant Prices 2022
The average Mosin Nagant price in 2021 broke new boundaries, and all data indicates that the trend shows no sign of slowing through the remainder of 2022. Even when taking into account record inflation, Russian embargos, and limited surplus imports, Mosin Nagant values are experiencing a truly historic ascent.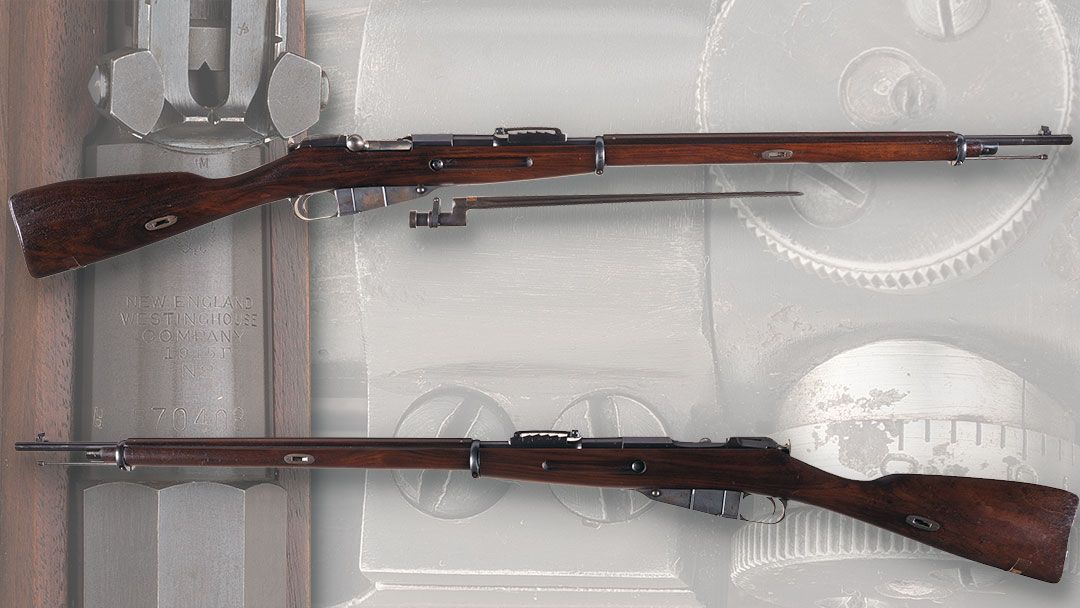 A Westinghouse Imperial Russian contract Model 1891 Mosin Nagant. U.S. manufacturers Westinghouse and Remington produced large orders of Mosin Nagant rifles for the Imperial Russian government when Russia entered WW2. After the outbreak of the October Revolution, the Russian monarchy fell and the resulting government defaulted on their orders for rifles.
Estimating just how high the average Mosin Nagant price will climb in 2023 and the years to follow is difficult to predict. Though the days of cheap Mosin crates are long behind us, the rugged rifle's forward momentum, continued demand, and the perception of scarcity presents gun sellers with a chance to make a handsome profit and buyers with a firearm that has real investment potential.
Gun Values at Rock Island Auction Company
Most vintage military rifles are viewed as a great store of value in the firearms community, and when it comes to estimating true gun value and predicting forthcoming sales trends, Rock Island Auction's free gun catalogs are one of the finest tools around. Price trends on other Russian military rifles like the SKS or the SVT-40 rifle can be monitored using past auction data, like the example presented below.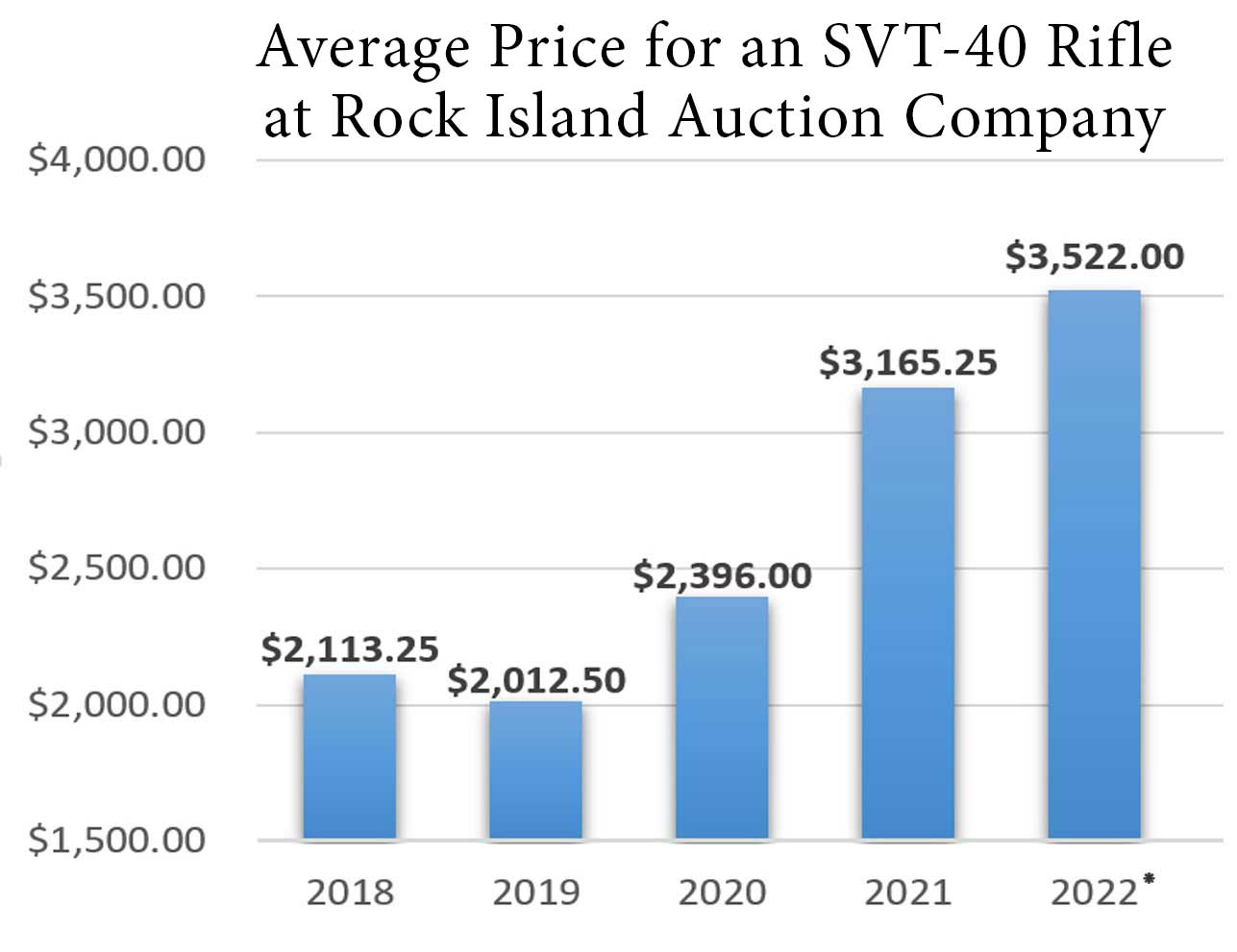 The average SVT-40 price at Rock Island Auction Company since 2018. Super collectible examples have been struck from the dataset. The 2022 SVT-40 price is based on the average to date.
It's an exciting time in the world of fine arms collecting, so subscribe to the weekly Rock Island Auction newsletter to receive new gun blogs on the latest prices and trends. We look at the values of popular guns like the Colt Python, the Browning Hi Power, and broader price trends in the gun collecting pursuit.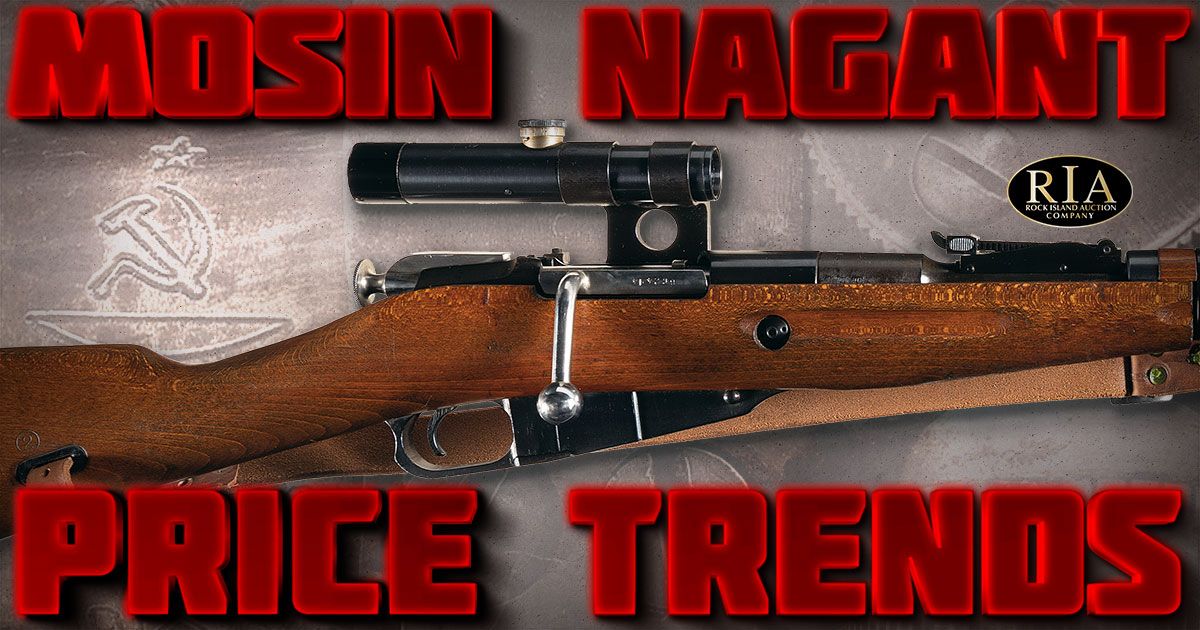 Rock Island Auction Company