11/28/2021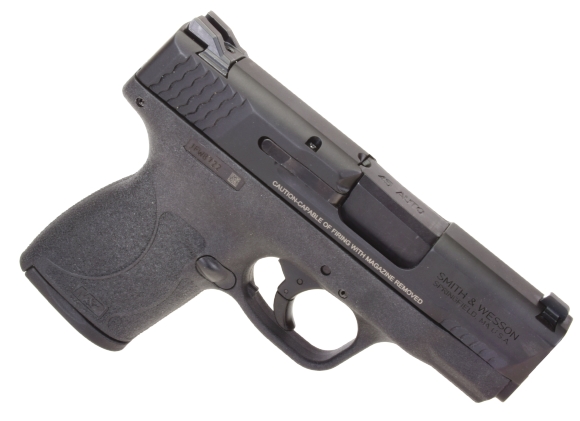 I'm easily distracted. My plan was to gather my notes and write this evening, but I played the movie Monster Island in the background, got to the point where they found that the giant starfish had magma for blood and could not, would not, look away. Later, the movie of choice was Monster Hunters, then Claw, then Jurassic Galaxy as I over dosed on B Movies.
The scripts are juvenile, the story lines are banal, the acting is atrocious, and the special effects are peer to finger puppets. When I am not watching wonderfully terrible movies, it is reading digital pulp SciFi. What is a SciFi story without a genetically altered last reaper, aided by a semi functioning AI, off to save civilization with a rag tag gang of other castoffs? At what exact point does a man accumulate enough artificial body parts to be properly labeled a cyborg?
The Smith & Wesson M&P®45 SHIELD M2.0™ is curious. It has none of the flaws… Oh! Oh! a poorly animated raptor just ate some minor character's face!… As I was saying, before I so rudely interrupted myself, The M&P®45 SHIELD M2.0™ has none of the flaws and/or foibles of my other interests. Certainly none of their mechanical shortcomings or failures.
During live fire, I found myself perfectly content, trying to double tap into playing cards at 10 yards and 25 yards and consistently hitting larger targets at 50 yards. Not having to once clear the Shield of jams or rack the slide beyond the first shot to manually fill a chamber was a bonus.
So the M&P®45 SHIELD M2.0™ in a tabular nutshell
Smith & Wesson M&P 45 Shield M2.0

SKU #

11531

Manufacturer

Smith and Wesson

Point of Origin

Springfield, MA

Type

Striker

Caliber

45 Automatic


Magazine Capacity

6 and 7 Round Included

Barrel

3.3″ Stainless Steel

Rifling

1:10″

Overall Length

6.45″

Overall Height*

4.8″ –  5.0″


Overall Width

1.0"

Weight

20.5 Oz.

Sight Radius

5.5″

Trigger Pull – Actual

4 Lbs. 9 Oz.

Sights

3 Dot – White


Slide Material

Stainless Steel

Slide & Barrel Finish

Armornite® – Black Nitride

Frame Chassis

Stainless Steel

Grip Frame

Polymer

Safety

Trigger


Magazine Disconnect

No

Chamber Check

Barrel Hood View Port

MSRP

$490
The 45 Shield in context….
The S&W M&P 45 Shield M2.0 is 2″ shorter than a full size 1911 and approximately 0.1″ more narrow. The Shield, at 20 Oz, is just about half the weight of an all steel full size 1911 and matches magazine capacity. The 1911 is single action and must be carried empty chamber or cocked and locked. The Shield is a striker and may be carried safely with a loaded chamber, so the only effort required to shoot is a trigger pull.
Why am I comparing a synthetic grip striker to John Browning's finest? Because it is an alternative to friends of the 45 Automatic cartridge. I am a big fan of the 1911 auto, full size and Commander. When I am not concerned with concealment, where the tug of the extra weight on clothes and belt doesn't matter, I often carry one. However, regardless the holster setup, even a Lightweight Commander at 30 oz is not easy for me to conceal. The S&W M&P 45 Shield has less weight, less mass and it delivers 45 Auto power.
Easy to maintain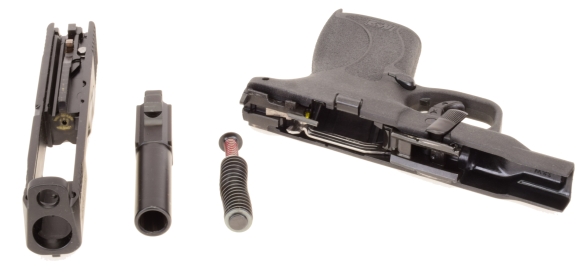 The M&P®45 SHIELD is an easy pistil to field strip for cleaning and inspecting; pull the magazine, pull the slide back and chamber check the chamber for empty, rotate the sear deactivation lever down, rotate the takedown lever down, release the slide and removed from frame. The captive double sprung recoil spring lifts out, as does the linkless ramped barrel, and the pistol is disassembled enough for cleaning and lubricating.
Low profile three dot sight system

The slide top is clean and sights are low profile. Windage adjustment is made by drifting the dovetail mounted front sight. Good thing I read manuals, or I could have spent the day loosening the rear sight set screw, attempting to horizontally adjust the rear sight and reaching the only possible conclusion; failing thumb synapse disease. The rear sight can be moved/removed, but it should be with the right tools… sight pusher, or a knowledgeable gunsmith.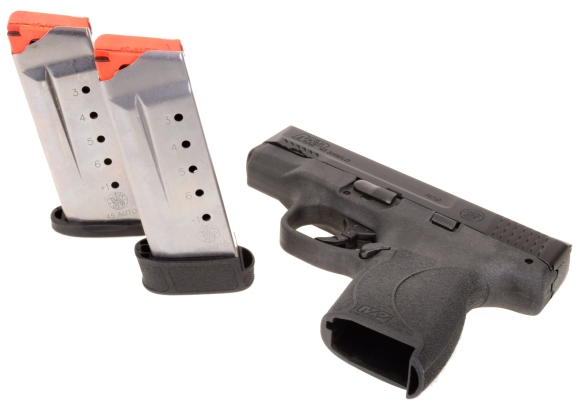 The S&W M&P 45 Shield M2.0 is supplied with two magazines. The one with the slightly extended grip hold 7 round, plus one in the chamber. The other is a 6+1.
I did find some ammunition and I did some shooting
After several days of conducting an analysis of the most popular 45 Automatic ammunition types… Let's call "bull" right there. The most common types of 45 Automatic ammunition I shoot, were selected for the S&W, M&P 45 Shield M2.0 live fire component of the project. Lord, forgive me. I am an imperfect man, no different than the rest of your gun shooting flock, but I strive, everyday, to do better.
Ammunition
 Bullet
Type
Bullet
Grains
Factory
Rated
MV FPS
Recorded
MV FPS
25 Yard
5 Shot
Group "
ARX
Composite
114
1350
1257
3.1

Federal Personal Defense
 JHP
185
 950
 849
2.6

Semi Wad Cutter
 FMJ
185
770
692
2.3

Federal American Eagle
FMJ
230
 890
730
2.7

Remington UHD
BJHP
230
 875
 742
 2.6
Shooting was done from a rest, shortly after a rest. I would not say the rest was high tech, or an AI guided robotic… or tied into an app that runs on my phone and uses its camera lens to measure group size and my blood pressure. However, it is a very old and very comfortable stack of premium leather shot bags, with aft supporting bunny bag affair. Its name is Burt, named after the mono brow member of team Burt & Ernie. Our kids loved them when they were toddlers. See, "Easily distracted" at the project intro.
With a barrel 1.7″ shorter than the SAAMI spec test barrel manufacturers use to establish spec muzzle velocity, I thought the M&P 45 Shield's output was laudable. The ARX was fast enough to produce its lateral fluid shock, The Federal Personal Defense and Remington Ultra Home Defense were fast enough to expand and deliver 10″ to 12″ of penetration in ballistic gel.  My wad cutter handloads that typically are stuffed in a National match Colt Gold Cup did not roll to a stop in the Shield's barrel, but actually performed well. The Federal American Eagle was great for casual target shooting, while still pretending it was inexpensive to shoot. In short, the S&W delivered 45 Automatic performance despite its compact form.
Last and/or lasting impressions?
The M&P 45 Shield is easier to shoot than a Colt Officer's Model in the same chamber, even though the S&W has a shorter barrel and is significantly lighter; respectively 3.3″ compared to 3.5″ and 20.5 oz compared to 34 oz.. Part of this might be attributed to the shock absorbing quality of the polymer frame. Part might be attributed to reduced reciprocating weight. Part may be attributed to the compounded rate recoil spring progressively decreasing slide velocity.  Regardless, an important characteristic for a defensive firearm.
Accuracy is very good. I have no doubt that the odds defending at 25 yards are remote, but it is nice to know the M&P 456 Shield has that potential. I wish some of these compact firearms would have adjustable sights. Days gone by, a compact 1911 would deliver 4″ – 5″ 25 yard precision so fixed sights, low profile sights were appropriate.
In this chamber, and with this level of performance, compact adjustable sights would be a nice add for a trail gun. I could also be assuaged with fire sights. They are not functionally any better than three dot white, but they are entertaining and uplifting.
The Shield is well made, nicely finished and easy to maintain. Defensive carry, recreational target shooting, hunting season back up where legal. Personally, I think the price makes the 45 Shield a great value, particularly at a time where some manufacturers are just piling on consumers under the cover of national inflation. Good gun, good performance, good price.